Hello my friends, we are already in the fourth week of Lent, and I have been waiting for the longest time to publish this insanely delicious custard dessert recipe: a Traditional Swiss Easter Rice Tart. This dessert is very popular in Switzerland as "gâteau de Pâquesrt," and it's only served during Easter Week. In my house, this tart will be served any time of the year!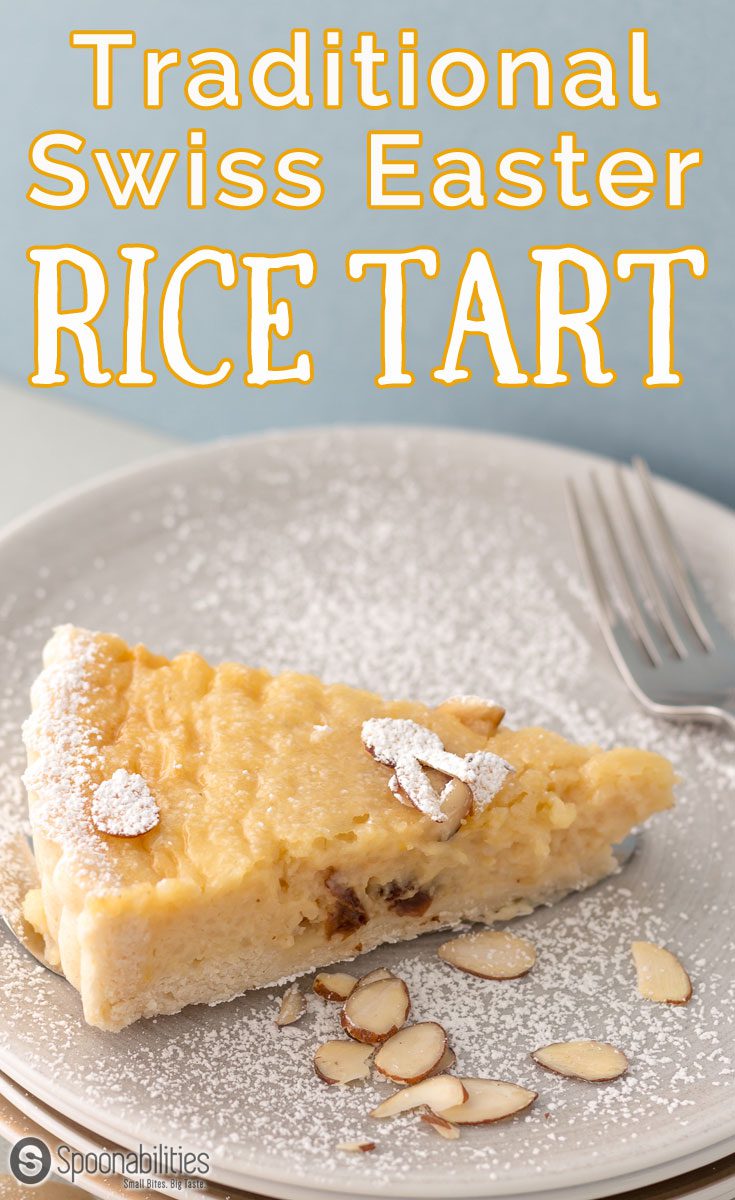 Blog post contains affiliate links. Read our Disclosure Policy
My Personal Touches to this Traditional Swiss Easter Rice Tart Recipe
I found this recipe in the NYT Cooking section. This traditional Swiss dessert is a custard tart, with rice, lemon, and almonds in the filling. I made it extra special with my personal additions like evaporate milk, amaretto liquor & raisins. Holding this wonderful custard filling is a sweet pastry crust.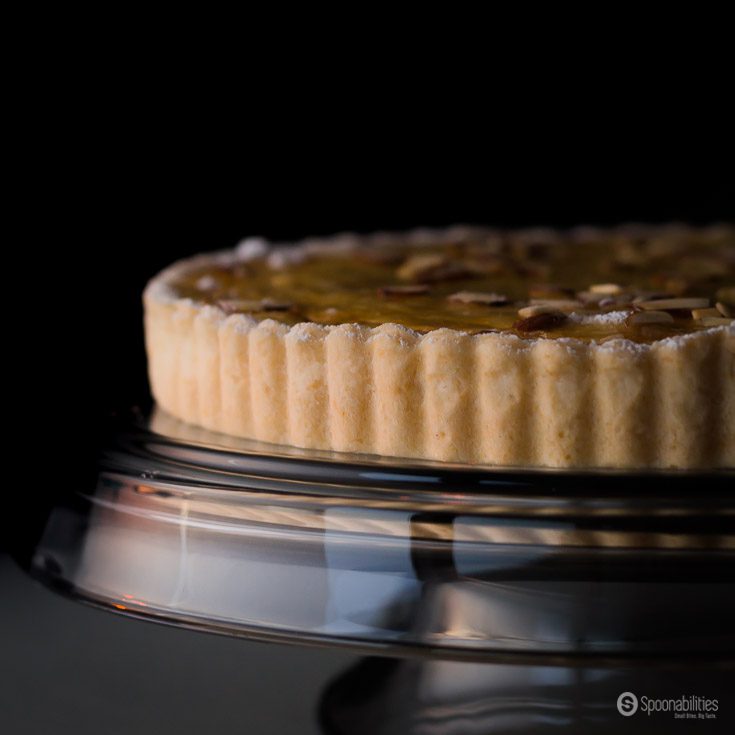 The critical step that will help you to reach the right texture for the filling is to cook the rice extra soft. This will help you get a creamier consistency and better result when you go to puree the mixture.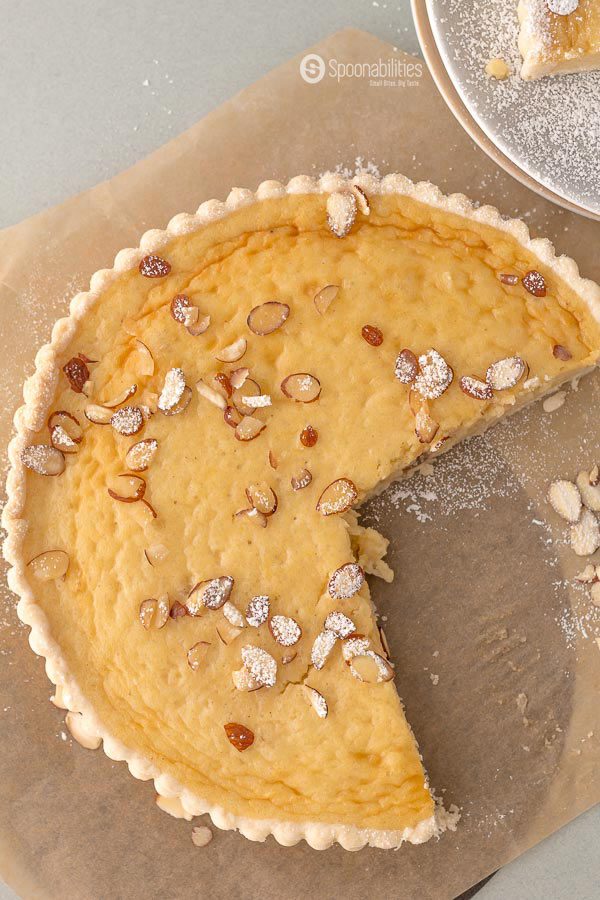 Additional ingredients like ground almonds, amaretto liquor, raisin and citrusy lemon zest add a taste of decadence to this rice pudding custard-style pastry. This Traditional Swiss Easter Rice Tart Recipe is my new obsession because it has the best of my favorite dessert flavors: custard and rice pudding.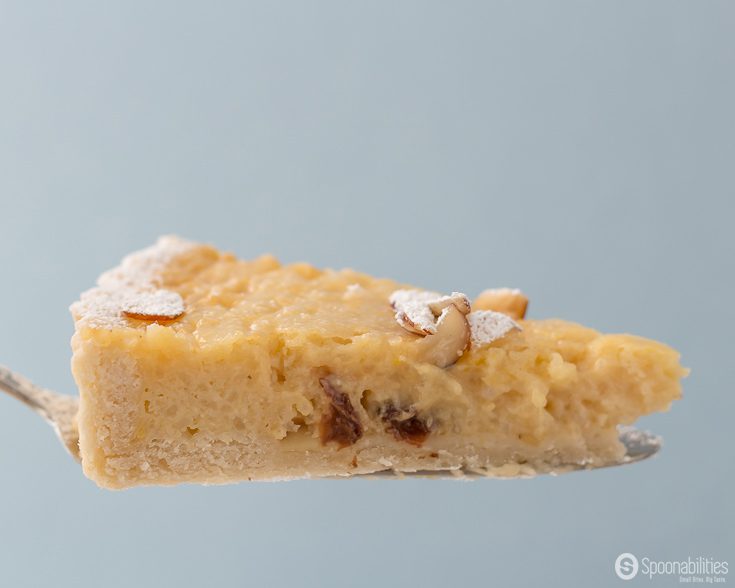 Dominican Republic Traditions during Holy Week!
Like I said in the beginning, this week is the fourth week of Lent, or how we call in Spanish, Cuaresma. As a Latin country, the Dominican Republic is very Catholic and follows strong traditions during the period of Lent with several religious services and practices.  Most of the traditions are shared worldwide in the Catholic faith, like Ash Wednesday as the first day of Lent – the beginning of this religious period, forty days of fasting, Domingo De Ramos - Palm Sunday, Christ's passion and death, and His resurrection on Easter Sunday.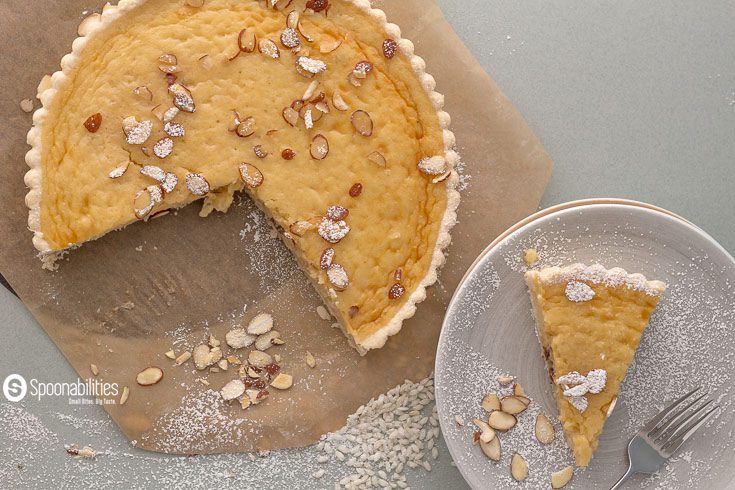 During Holy Week (Semana Santa) in my country, some companies and all schools are closed for the whole week. Others start to close on Wednesday. Something that I found very shocking when I arrived in the USA is that Holy Week is "nothing important," here. You don't even notice Easter is coming except for the commercial side with all the bunnies and chocolates and jelly beans for the kids.
Like this recipe so far? Be first to know when we release new ones!
How to Make Swiss Easter Tart Recipe
The time of Holy Week and Easter is a national holiday in DR. The local tradition is to go to church almost every day because there are different services related to Jesus's last days with us. Another different tradition, for example, is on Good Friday the TV and radio stations don't play loud music or Merengue (our traditional music). We don't eat red meat or chicken - only fish - and some people fast completely. After all those activities, on Easter Sunday we eat A LOT of desserts!!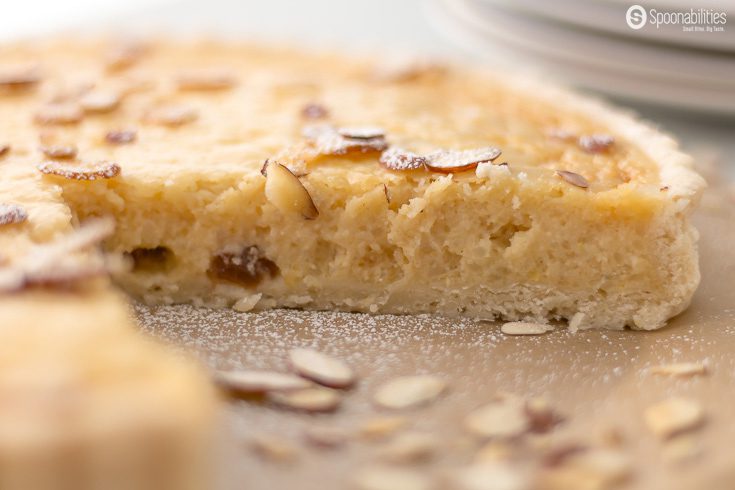 In addition to the strict Catholic traditions of the last days of Lent, there are some more relaxed, but just as religiously followed traditions. Starting the Wednesday of Holy Week, the streets are empty until Sunday. The streets are empty not because everyone is in the church. It's also a national tradition in Dominican to take time off from work and go visit with friends and family. People share time together in resorts, mountains or any relaxing and fun place to escape from the daily routine. I preferred to stay at home eating all the yummy desserts made by my mother and grandmother. Plus, every neighbor as they finish making their own desserts, share their dishes with all the families in the neighborhood. You can imagine how many pounds I gained by the end of the week.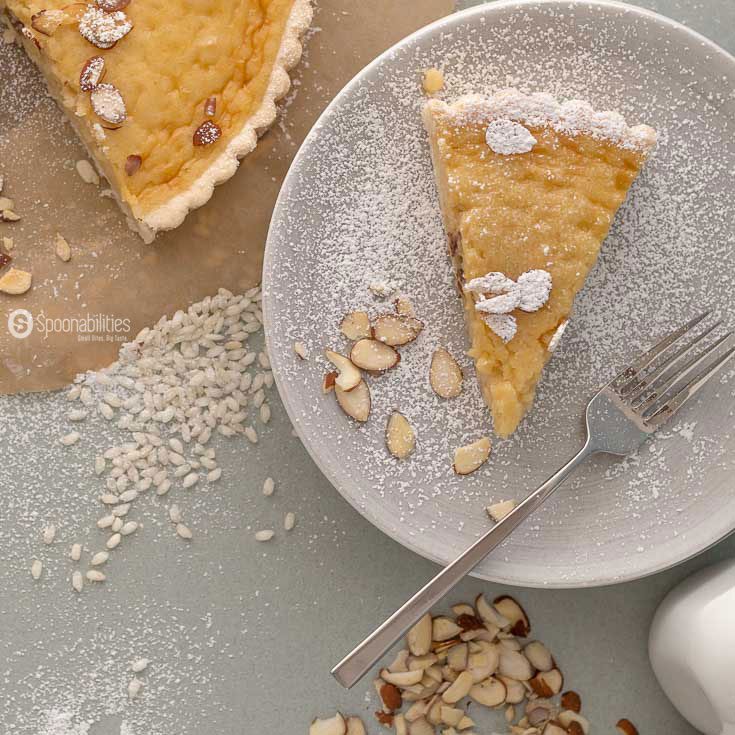 You can see that desserts and pastries are no stranger to me during Easter time. So, I have been waiting and waiting to make and share this Traditional Swiss Easter Rice Tart Recipe with all of you. And if making (or eating) tarts is your thing, why not try this Lemon Tart Recipe. I hope that you enjoy these tarts as much as I enjoyed making, photographing, and eating them. Enjoy!
Happy week my friends!
Carlos
Print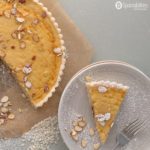 Traditional Swiss Easter Rice Tart Recipe
---
Author:

Carlos Leo

Total Time:

2 hours

Yield:

8

-

10

serving

1

x
Description
Traditional Swiss Easter Rice Tart Recipe has a custard type filling with rice pudding, citrusy lemon, ground almond and a crunchy, sweet tart crust. This custard tart, traditionally only served during Easter in Switzerland, has the additional flavor enhancers of amaretto liquor and raisins which pairs perfectly with the citrus.
I adapted this recipe from NYT Cooking with several changes including these substitutions:
Whole Milk - I use evaporate milk & skim milk.
Long-grain rice - I use Arborio rice
Whole blanched almonds - I use almond meal flour
Extra personal touch: amaretto liquor & raisins
---
Sweet Pastry Crust
1 ½

cups

all-purpose flour, more for dusting

1 Tablespoon

sugar

½ teaspoon

salt

1 teaspoon

baking powder

10 Tablespoons

(cut in

11

slices) cold unsalted butter

3 Tablespoons

cold water
Rice pudding custard
½

cup

Arborio rice

1 ½

cups

water

2

cups

evaporated milk

1

cup

skim milk

1 Tablespoon

cold unsalted butter

½

cup

sugar

½ teaspoon

salt

½

cup

amaretto liqueur

½

cup

raisins

2 teaspoons

grated lemon zest

½

cup

almond meal flour

1 Tablespoon

all-purpose flour

3

large eggs

¼

cup

sliced almonds

⅓

cup

confectioners' sugar
---
Instructions
Combine 1 ½ cups flour, 1 Tablespoon sugar, ½ teaspoon salt and the baking powder in food processor. Pulse to blend.
Add 10 Tablespoons butter and pulse 3 to 4 times, until butter is in pea-size pieces. Sprinkle in 3 Tablespoons cold water. Pulse 4 times. Dough will not come together.
Turn dough out on lightly floured work surface and knead gently a few times to form a disk.
Wrap in plastic and refrigerate at least 1 hour.
Add ½ cup amaretto liqueur & ½ cup raisins, in a small bowl. Let the raisins soak until you are ready to add to the rice pudding custard.
Meanwhile, half fill a 3-quart saucepan with 1½ cups water, bring to a boil. Stir in rice, lower heat to medium and cook until rice is soft - about 15 minutes or longer until the water almost evaporates completely.
Add evaporated milk & skim milk, 1 Tablespoon butter, ½ cup sugar and ½ teaspoon salt. Bring to a quick boil. Reduce heat to low and add the amaretto liqueur. Leave the raisin aside.
Simmer until mixture has thickened almost to a risotto consistency, about 20 minutes.
Place saucepan in a large bowl of ice water for 10 minutes to cool mixture.
When cooled, purée mixture in food processor. Then pour into a bowl and add lemon zest and raisins.
Mix ground almonds with 1 Tablespoon flour and add to bowl. Stir in eggs one at a time.
Place oven rack in lowest position and preheat oven to 350 degrees.
Remove pastry from refrigerator and place on lightly floured surface.
Lightly dust top with flour. Use a rolling pin to press down on dough to soften it.
Roll out disk to 12 inches in diameter. Transfer to a 10-inch tart pan with a removable bottom.
Press dough evenly into pan. Trim edges flush with pan. Pour filling into pastry dough.
Bake about 35 minutes, until filling is set and golden.
Cool on a rack. Dust with sifted confectioners' sugar before serving.
Notes
Vitamin A 22% , Vitamin C 3%, Calcium 25% , Iron 11%
Prep Time:

1 hours

Cook Time:

1 hours

Category:

Dessert

Method:

baking

Cuisine:

Switzerland
Nutrition
Serving Size:

1 serving

Calories:

491

Sugar:

31.5 g

Sodium:

362.5 mg

Fat:

22.2 g

Saturated Fat:

11.2 g

Carbohydrates:

58.4 g

Fiber:

2 g

Protein:

10.9 g

Cholesterol:

104.5 mg
Keywords: Switzerland dessert, Easter tart, rice dessert
Recipe Card powered by
Products and displays used in this recipe:
Disclaimer: Links that open in another site, i.e. Amazon, may be affiliate links where at no additional cost to you, we may receive a small commission should you decide to purchase the item. Read our Disclosure Policy