Maple Cheesecake Bars with Maple Bourbon Drizzle are decadently flavorful. The reduction of Bourbon Barrel-Aged Vermont Maple Syrup becomes a fantastic maple bourbon drizzle that brings out the best of these soft and creamy cheesecake bars. We're crafting our all-butter pecan pie crust, our cheesecake, and our drizzle in three steps. We're also visiting the Spoonabilities science corner to discover why this flavor combination works!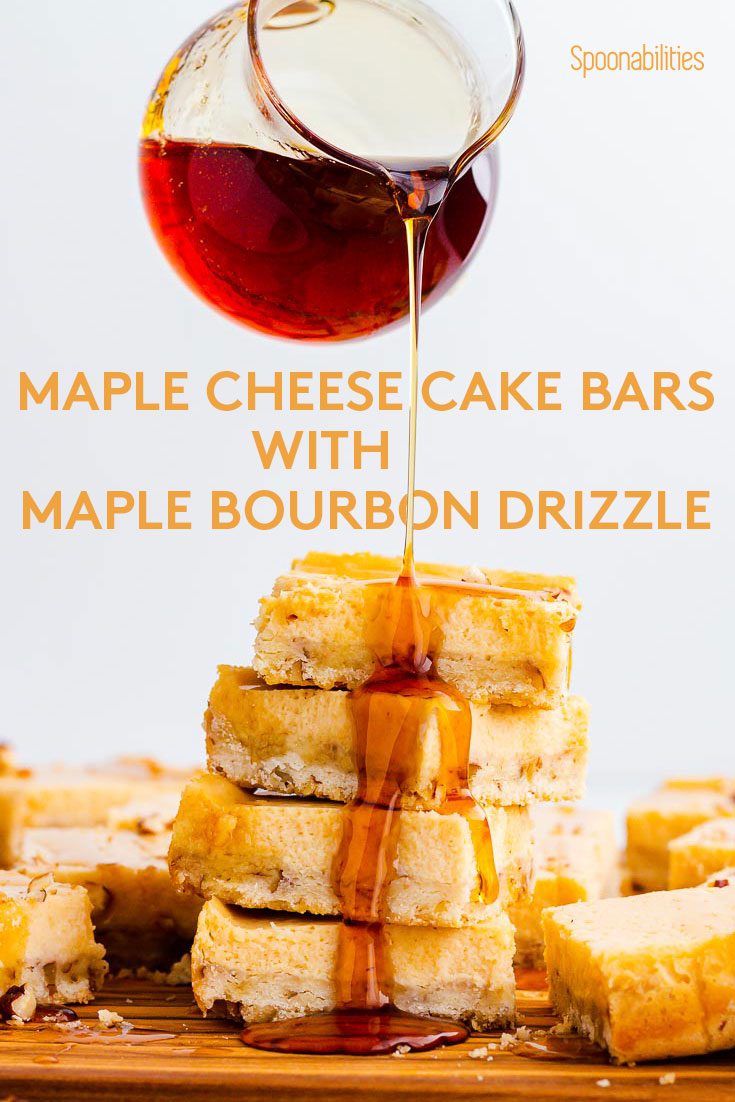 Blog post contains products you can purchase in our online shop, and affiliate links.
Read our Disclosure Policy.
Hello my friends. Today we're baking a fascinating baking treat; maple cheesecake bars elevated by pecan and bourbon flavors. No chocolate or vanilla today; it's all about all-natural, pure, rustic, brown flavors.
It all starts with our reliable cheesecake bar recipe. An oven-baked, crumbly pie crust topped with a luscious cheesecake made with eggs, flour, and cream cheese. These alone are cheesecake bars hard to forget, but with an extra drizzle of reduced bourbon barrel-aged Vermont maple syrup, you get yourself a very grown-up tasting version of everyone's favorite creamy dessert.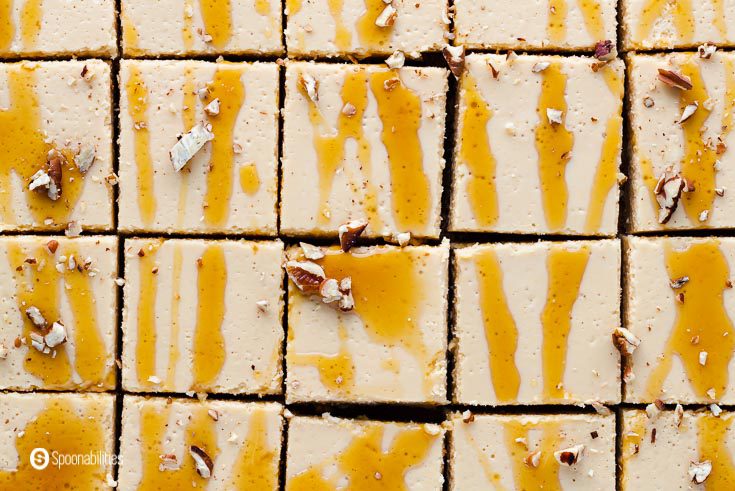 We enjoy adding bourbon in our cocktail creations once in a while, so we usually have a dusty bottle of Wild Turkey or Maker's Mark way in the back of our liquor cabinet. For this recipe, we are using a product that we have that has both pure maple syrup and the essence of bourbon in one bottle: our Organic Bourbon Barrel-Aged Vermont Maple Syrup. We highly recommend this authentic maple syrup, but if you want to use your own syrup for our cheesecake, the substitute is only two tablespoons of bourbon, so don't go spending more than you need to if you're not a bourbon type of person.
Today's cheesecake bar recipe is everything but ordinary, but there's a secret behind this fantastic flavor combination. For that, let's pay a visit to Spoonabilities science corner.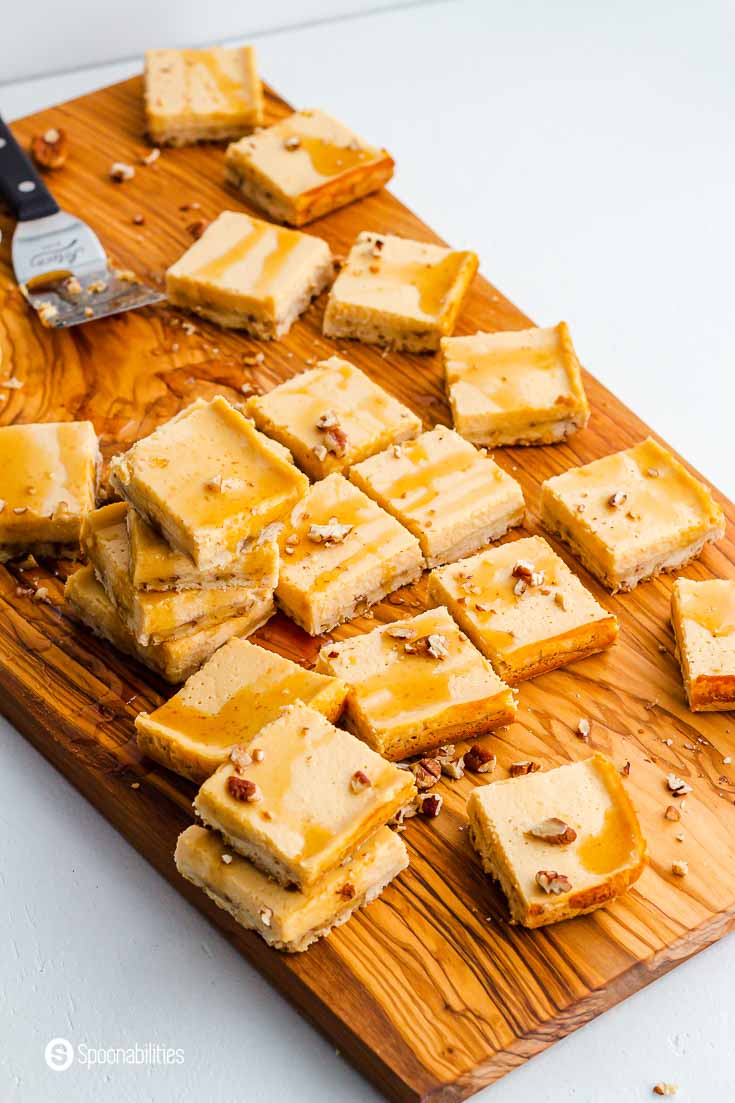 Why do Maple Syrup and Bourbon Go So Well Together?
Why do brown liqueurs in general taste so good with maple syrup? The answer is more interesting than you think.
It turns out there's an aroma compound called sotolon, and it just tastes and smells like maple syrup. It's obviously naturally present in authentic maple syrup, but it's also a key element in other foods.
You'll find sotolon in sugar cane molasses as well, and interestingly, in charred oak barrels, just like the ones used to age bourbon. The compound is leached into the bourbon, adding to the sweet spirit a caramelly, maple scent. Aged rum and other whiskeys also share this tasty trait. As you see, maple syrup and bourbon were born to be enjoyed together, and they're incredibly compatible with nutty flavors too.
The thing is, sneaky producers use the sotolon essence to flavor artificial maple-style syrups to help them smell like the real thing.
Like this recipe so far? Be the first to know when we release new ones!
---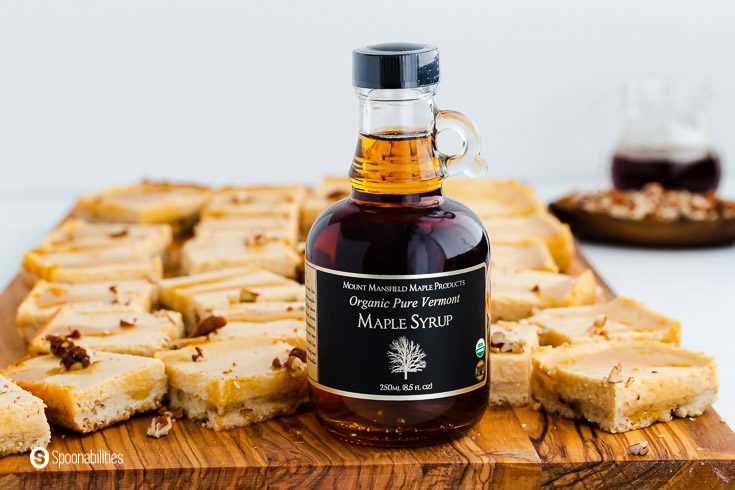 Bourbon Barrel-Aged Vermont Maple Syrup
By the way, if you want fantastic maple syrup, check out Mount Mansfield maple syrup which we carry in our online store. Bottled in small batches, this real maple syrup is the product of a family-owned artisan business.
Their Bourbon Barrel-Aged Maple Syrup is 100% organic maple syrup that is infused with bourbon flavor from it developing in barrels that were used to age bourbon. The result is silky-sweet amber rich maple syrup with a wonderful bourbon scent along with a touch of cloves, vanilla, and caramel.
Mt. Mansfield makes both amber-rich and dark robust maple syrup, as well as a variety of flavor-infused and barrel-aged syrups. There's nothing like them. For me, it was a game-changer.
How to Make Bourbon Maple Cheesecake Bars
Let's get on with today's recipe. Pour yourself a glass of good ol' bourbon and let's make the best maple cheesecake bars you've tried.
Way before you pour yourself a drink, early in the morning, remember to take the butter and cream cheese out of the refrigerator so they are at room temperature when you start to prepare the maple cheesecake bars. Our advice is always to have all your ingredients ready and measured before you begin to make this cheesecake recipe, or any recipe. Also, prepare your baking dish with aluminum foil lightly coated with oil or cooking spray.

Make the Crust
Beat the butter for 30 seconds and add the powdered sugar until combined. Then add the finely chopped pecans and stir until combined. You can mix the pecans with the spatula.

Add the crust to the prepared baking dish by pressing down and form an even layer. Then bake for 20 minutes.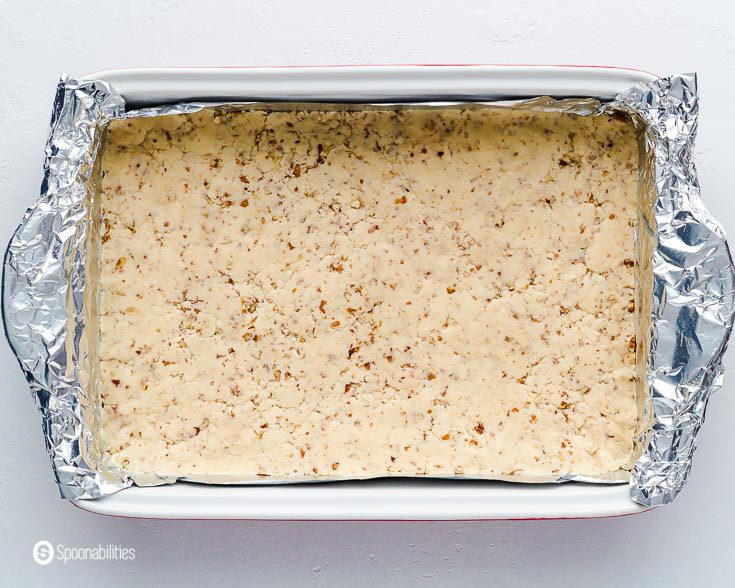 Make the Maple Cheesecake Filling
Beat the cream cheese and then add the maple syrup, flour, and salt until combined. Then add the eggs and beat until combined.

Add the cheesecake mixture to the baked crust and bake the maple cheesecake for 25 minutes.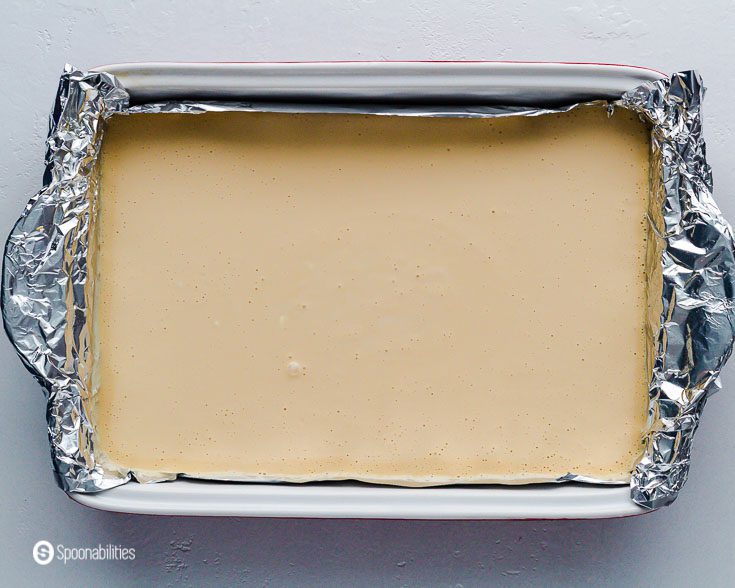 Make the Bourbon Maple Syrup Drizzle
Add Bourbon Barrel-Aged Vermont Maple Syrup to a small saucepan. Bring to a boil and then reduce the heat and simmer for about 12 minutes until slightly thickened.
If you don't have Bourbon Barrel-Aged Vermont Maple Syrup (and don't want to get some from our shop,) in the recipe card below, we provide an alternative option for you to still get the bourbon flavor in these cheesecake bars.
That's it. Could it be any easier? Soon you'll be taking a bite of these cheesecake bars and wishing you made more.
Want More Recipes with Maple Syrup?
I hope you get a chance to make this Maple Cheesecake Bars Recipe. Did you make this or another recipe? Tag @Spoonabilities on Instagram or add a photo or comment on Pinterest, so we can find you! And we love to hear from you in the comment section below.
Happy Maple-ing,
Carlos Leo
Your Recipe Concierge!
Print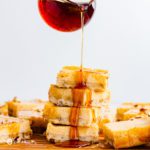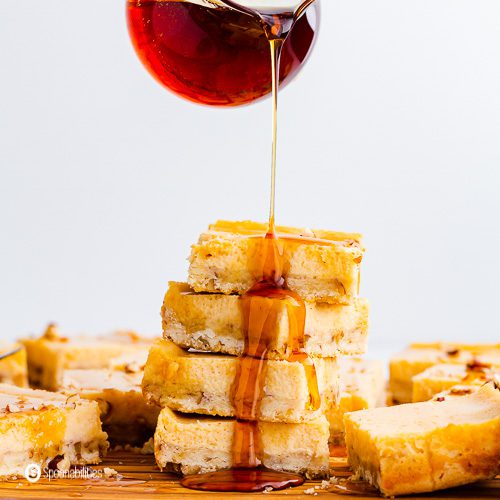 Maple Cheesecake Bars with Maple Bourbon Drizzle
---
Author:

Carlos Leo

Total Time:

1 hour 15 minutes

Yield:

2

4

1

x
Description
Maple cheesecake bars that are one great flavor after another: soft and creamy, intensely caramelly and nutty, and a bit boozy too. When maple syrup, pecans, and bourbon come together over freshly made cheesecake bars, you get beautiful single-serving bits of heaven.
---
¾

cup

softened butter

½

cup

powdered sugar

1 ½

cups

all-purpose flour

½

cup

finely chopped pecans

16

ounces

(2 x 8oz packages) softened cream cheese

1 ¼

cup

(separated ¾ cup for bars, and ½ cup for drizzle) pure Vermont Organic Bourbon Barrel-Aged Maple Syrup

Substitute:

3 tablespoons (separated 2 tablespoons for bars, and 1 tablespoon for drizzle) bourbon

1 ¼

cup

(separated ¾ cup for bars, and ½ cup for drizzle) pure Vermont Maple Syrup

1 tablespoon

all-purpose flour

¼ teaspoon

sea salt

2

lightly beaten eggs
toasted pecan halves (optional)
---
Instructions
Soften butter and cream cheese to room temperature. Then preheat oven to 350°F. Line a 13x9-inch baking pan with aluminum foil, extending the foil over the edges of the pan. Lightly coat with cooking spray.
Make the crust: In a medium bowl, beat butter with a mixer on medium-high for about 30 seconds. Beat in powdered sugar until combined. Add the 1 ½ cups flour and beat on low until mixture begins to stick together. Stir in the pecans. Press firmly into bottom of the prepared pan, and bake 20 minutes.
Make the Filling: In a large bowl, beat the cream cheese with a mixer on medium until fluffy. Mix in the maple syrup (and bourbon if using the substitution), the tablespoon of flour, and the salt. Beat the eggs in on low just until everything combines. Pour filling over baked crust.
Bake for 25 minutes until edges are puffy and the center is set. Cool on a cooling rack. Cover and put in the refrigerator for a minimum of 2 hours.
Make Maple Drizzle: In a small saucepan, bring the bourbon-aged maple syrup (or syrup and bourbon if using the substitute) to a boil. Reduce heat and simmer for 10-12 minutes until reduced and slightly thickened. Then let it cool down.
To Serve, use the edges of the foil to lift uncut bars out of the pan. Transfer to a cutting board, and cut into bars. Drizzle with maple drizzle and top with pecan halves.
Notes
To Store: Keep bars and syrup separate until ready to serve. Place bars in a single layer in an airtight container, and cover. Store in the refrigerator for up a week (you'll eat them before then) or freeze for up to 3 months.
We partner (affiliate links) with Drizly delivery service, so if you don't have the alcoholic ingredients you can have them delivered.
Drink responsibly. If you are under the legal drinking age limit for your state or country, this recipe is not for you. Sorry.
Prep Time:

30

Cook Time:

45

Category:

Dessert

Method:

Baking

Cuisine:

American
Keywords: cheesecake, cheesecake bar, Maple Syrup, dessert bars, dessert, holiday dessert, Vermont maple syrup, all-butter pecan pie crust
Recipe Card powered by
Available via these affiliate links:
Disclaimer: Links that open in another site, i.e. Amazon, may be affiliate links where at no additional cost to you, as an Amazon Associate I earn from qualifying purchases, should you decide to purchase the item. Read our Disclosure Policy.