Chocolate chip cookies are an all-time favorite, and the very best chocolate chip cookies begin with the Nestle Toll House cookie recipe. Read on to find out about a utensil to make your cookie baking life easier, and advice on what to do if you have dark or light baking trays. We also go into some chocolate chip cookie history, if you can bake 2 pans of cookies at the same time, and how to get the magazine quality cookie with chocolate morsels bursting out of your cookies.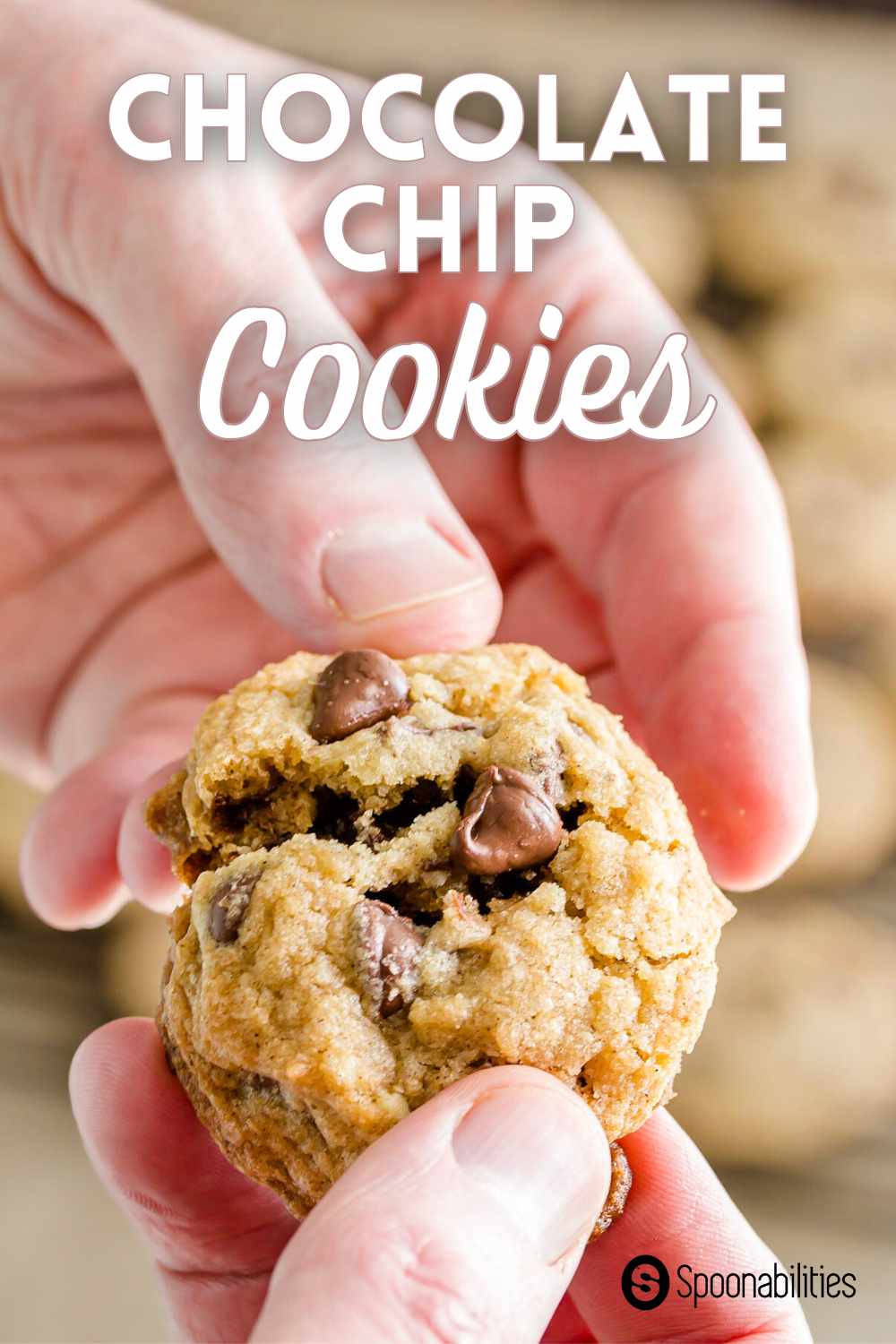 Hello our friends. Geoffrey here - Carlos's official cookie baker. Chocolate chip cookies are my personal all-time favorite cookie, dessert, and snack. I've tried a number of different recipes, but the one that I and everyone else seem to like the best is actually the original Nestle toll house recipe found on the back of the chocolate chip bag. I've changed it slightly, and the recipe in my "recipe box" is doubled because one batch is just not enough for all the requests I get. But for you today, I'm giving you the "undoubled" recipe.
Related: Best Peanut Butter Cookie Recipe | Death by Chocolate Cake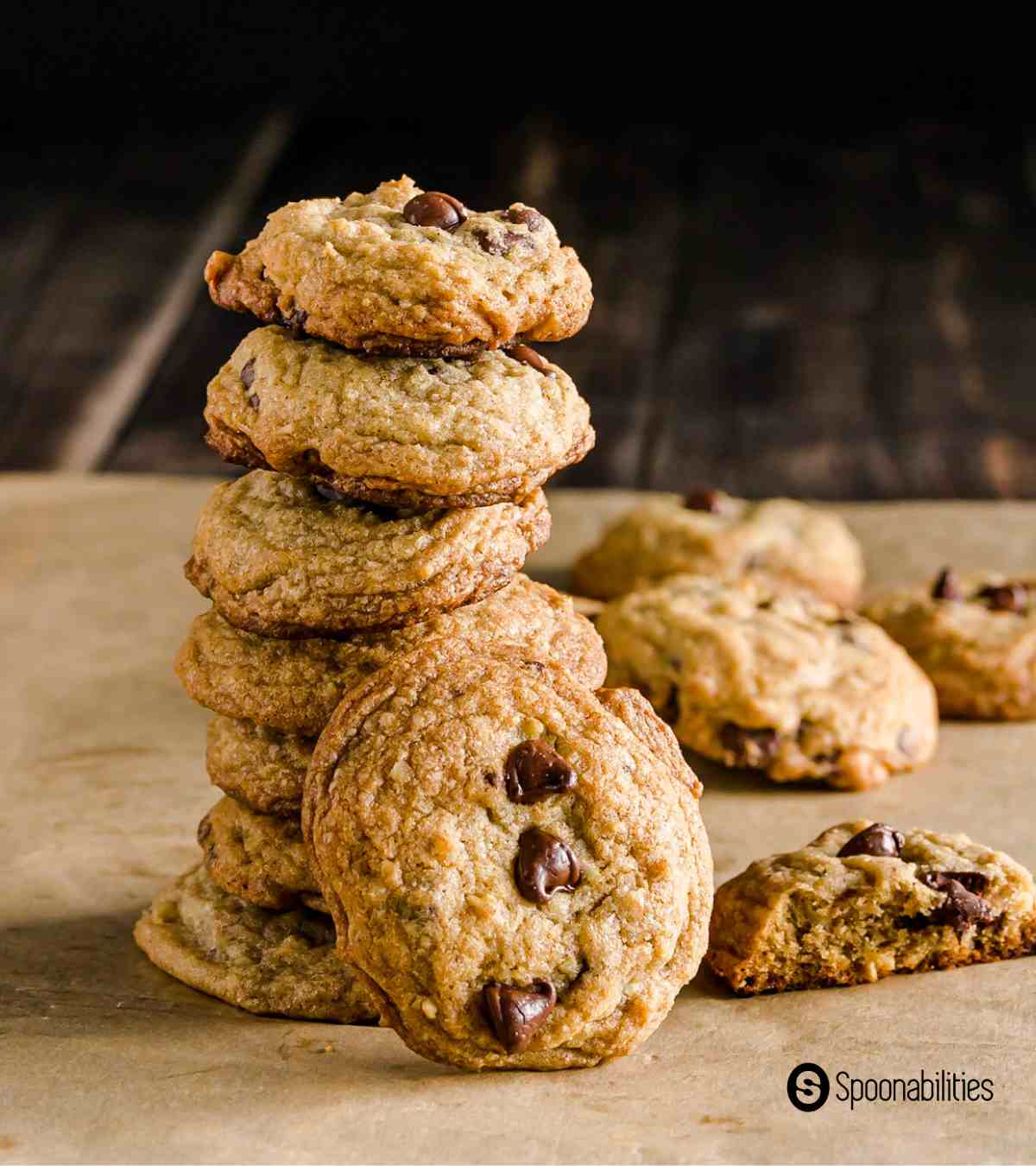 I LOVE chocolate, and I love these cookies, and I make them every year. Last year, I used half regular-sized milk chocolate chips, and half larger-sized dark chocolate chips. It gave a special dark chocolate gooey taste to them, especially when they first come out of the oven and melt in your mouth. And besides, studies show that dark chocolate can improve health and lower the risk of heart disease. So these cookies are healthy for you… right?
Watch Video How to Make these Chocolate Chip Cookies
Where did Chocolate Chip Cookies come from?
Ruth Graves Wakefield was an American chef who owned the Toll House Inn in Massachusetts. Back in 1938, she had been serving a butterscotch nut cookie with ice cream, and even though everyone loved this cookie, she wanted to try something new. She added some chopped-up pieces of a Nestlé chocolate bar in a cookie, and the rest was history. She originally called her cookie "Toll House Chocolate Crunch Cookies," and when she sold the recipe to Nestle, they gave it the name we all know.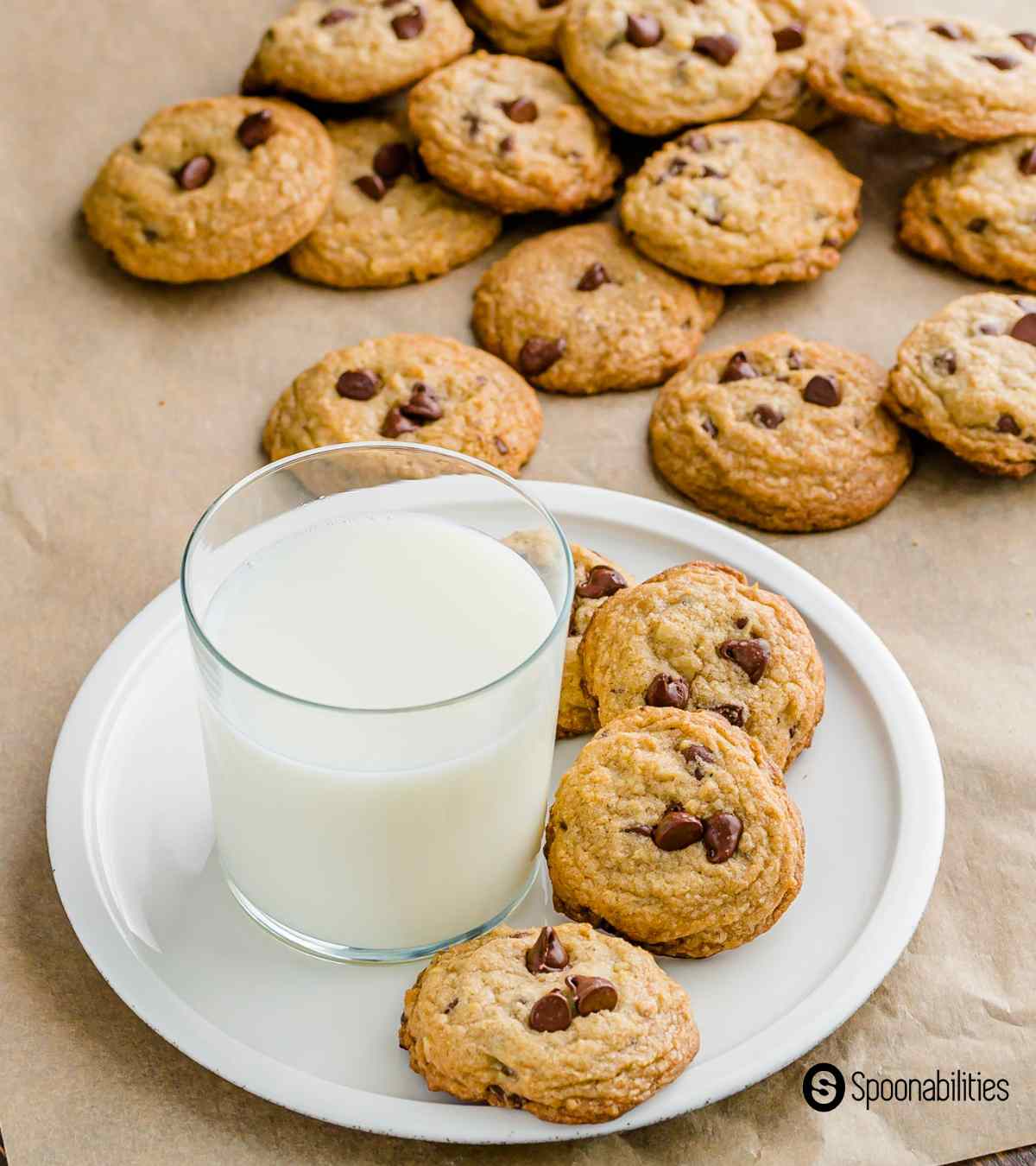 The Scoop on the Christmas Cookie Gift
I've been making these cookies ever since I can remember, and to make my life easier, Carlos gave me a simple yet wonderful gift. All these years I've been using a teaspoon to take the batter from the bowl and put it on the cookie trays. He bought me a medium-sized ice cream scoop with a purple handle. It was perfect, not only because purple is my favorite color, but because it was so much easier than using a teaspoon! Why didn't I think of that? I highly recommend getting one if you are baking cookies. Just spray it with some baking spray so that the dough doesn't stick to it.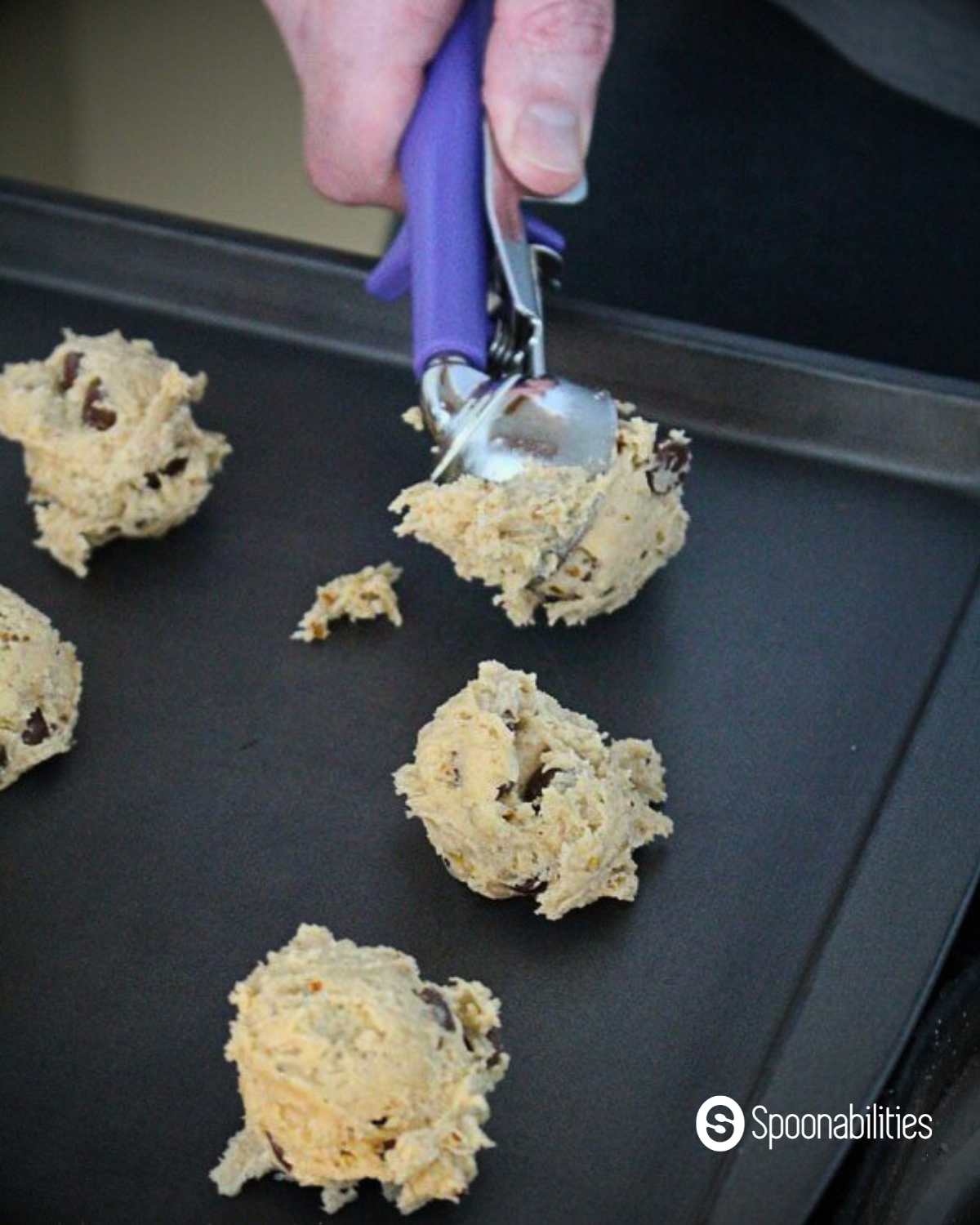 Like this recipe so far? Be the first to know when we release new ones!
Getting Your Cookies to Burst with Chocolate Chips
Do you know how some homemade chocolate chip cookies look like plain cookies with one or two chocolate chips hidden in them? Ever wonder how to get your chocolate chip cookies to look like they are jammed packed with so many chocolate morsels that they are bursting out of the seams? I recently discovered a pro tip that is so easy and yet most people don't think about it.
For better looking, magazine quality cookies, after you have the dough balls lined up in the baking pan, press two or three chips on top of the dough. They will bake right there on the top and give the final cookie such as great-looking quality. Just be sure to press the chocolate chips down far enough so they look like they were originally mixed in the dough and not placed on top, like some of the ones I did this year. Practice makes perfect.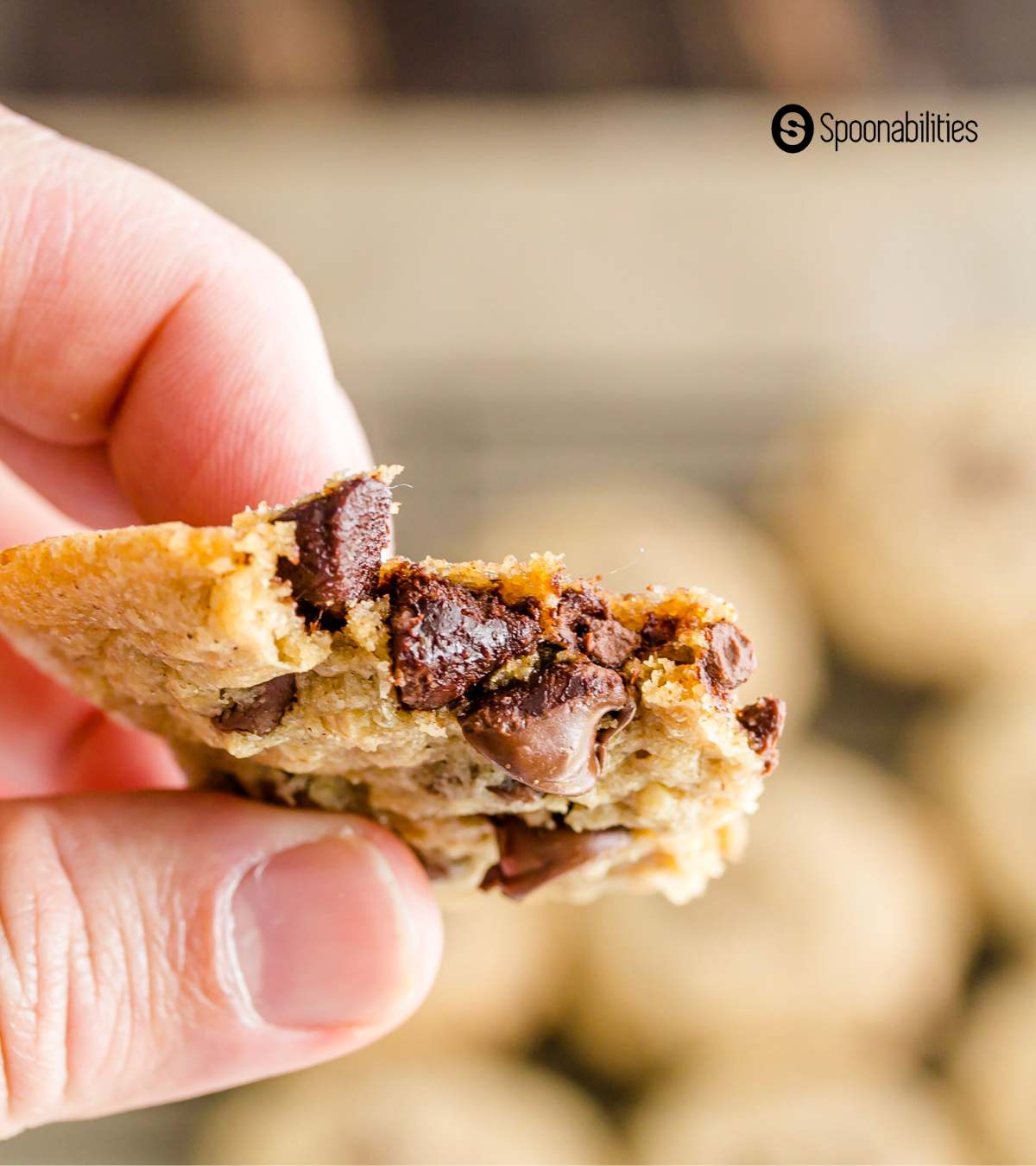 Can You Put Two Cookie Trays in the Oven at the Same Time?
The short answer is yes. I used to put only one tray in the oven at a time. But during the month of December, I'm making a lot of Christmas cookies, and sometimes 2 or 3 different cookies on the same day. I am always looking for more efficient ways of doing things, and, I get impatient. Once I got a total of 4 baking trays, I started baking two trays at that same time. So, two trays are in the oven while I prepare the other two trays.
The main thing you need to know is that you may need to adjust the cooking time to add a couple of minutes (for example, a total of 13-15 minutes for these toll house cookies). Also, if you bake two trays at the same time, be sure to adjust your oven racks so there is ample space for the hot air to circulate between them.
Do Dark or Light Colored Baking Sheets Make a Difference?
First, just so you know, there is a difference between a baking pan and a cookie tray. Baking pans typically have short sides, and are thicker. Cookie trays have no sides and are thinner and often lighter in color.
Personally, I use a dark, non-stick baking pan. Why? It's what I grew up using with my mom, and it's what we have in the house to use with all of Carlos's vegetable roasting and sheet cake baking. I also don't want to risk having a cookie slide off the edge of a cookie tray, onto the floor where it gets in our dogs' stomachs before mine! Besides, it's what I'm used to and I know how to manage my cookie baking time.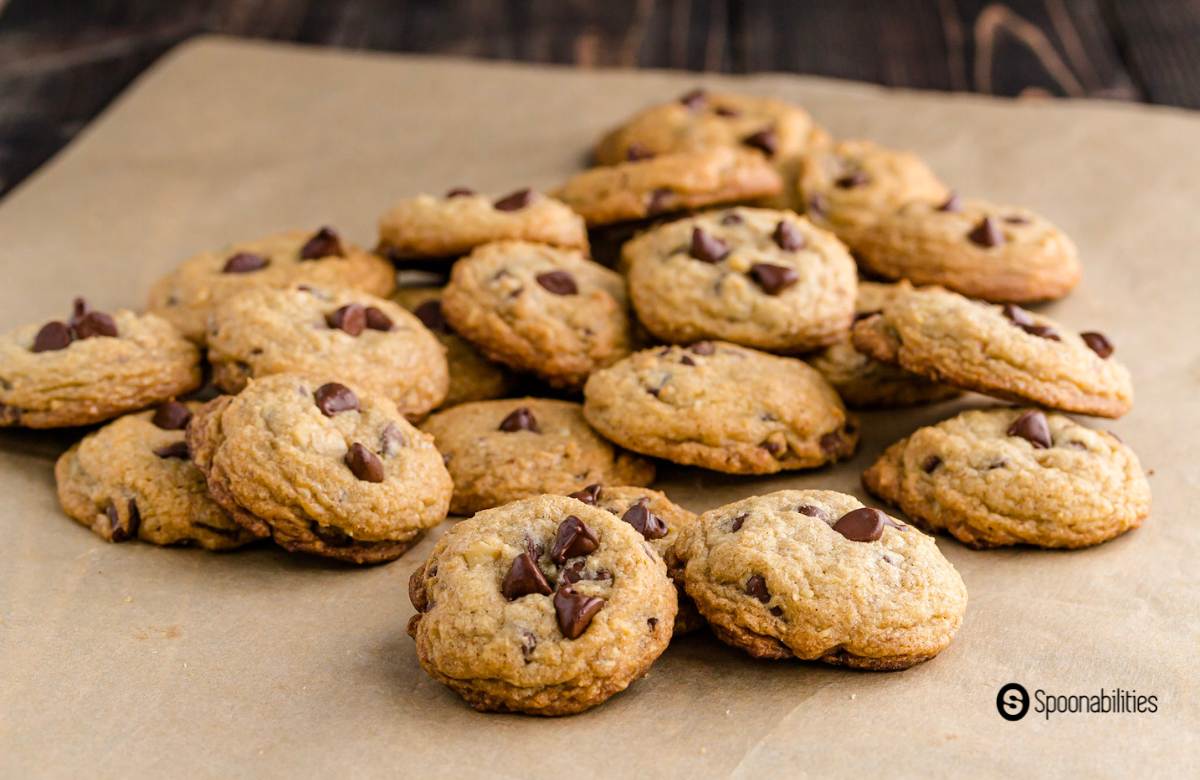 However, when I make a new cookie in my dark baking pans, I need to watch that first batch carefully. Darker pans tend to cook faster than lighter colored pans, so you have to make sure you don't burn the cookies. Trust me; I know what I'm talking about here.
Dark baking pans will often absorb more heat, whereas light pans will reflect the heat, so if you are accustomed to using one or the other, I say stick with what you know.
Also, since most people don't tell you which kind of pan they are using, always watch that first batch of cookies in the oven. Now, since you know I use dark pans, don't be alarmed if you use a light-colored cookie tray and need to keep the cookies in the oven for an extra 3-4 minutes. Once you get the hang of it, make some notes on the recipe card for next time and both you and your chocolate chip cookies will be golden.
I need more cookie recipes!
If you are like me and December is all about making cookies, I know you have your tried-and-true, go-to recipes. But in case you are looking for something new, here are a few:
Are you making this Nestle Tollhouse cookie recipe? Tag @Spoonabilities on Instagram or add a photo or comment on Pinterest! We' love seeing 'd love to see your creation. And we also love to hear from you in the comment section below.
Happy Baking!
Geoffrey Swetz
Your Cookie Concierge
Print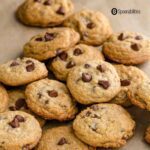 Chocolate Chip Cookies - Nestle Toll House Cookie Recipe Re-do
---
Description
To bake the best chocolate chip cookies that your family and friends will be begging you for more, we start with the Nestle Tollhouse cookie recipe, make a few changes, and use a brilliant utensil, and give you some advice depending on if you have dark or light baking trays – they make a difference.
If you like this recipe, join our newsletter to know about future ones.
---
2 ½

cups

all-purpose flour

1 teaspoon

baking soda

2 teaspoons

cinnamon

1 teaspoon

salt

1

cup

(2 sticks) room-temperature butter

¾

cup

granulated sugar

¾

cup

packed brown sugar

1 teaspoon

vanilla extract

2

large eggs

2

cups

(12-ounce package) semi-sweet chocolate chips
Optional
---
Instructions
Preheat oven to 375° F.
Sift together flour, baking soda, cinnamon and salt in small bowl.
Beat butter, granulated sugar, brown sugar and vanilla extract with a stand mixer until creamy.
Add eggs, one at a time, beating well after each one.
Mix in flour mixture gradually. Stir in chocolate chips and nuts.
Drop by rounded tablespoon (or medium ice cream scoop) onto ungreased baking sheets.
Bake for 10 to 12 minutes or until golden brown.*
Cool on baking sheets for 2 minutes; remove to wire racks to cool completely.
Notes
* If you bake two trays at the same time, be sure to adjust your oven racks so there is ample space between them, and bake for 13-15 minutes
Different cookie trays will bake differently. See blog post for explanation. Watch to not overbake.
For cookies that look better, press 2-3 chips on top of the round dough in the trays
Prep Time:

15

Cook Time:

12

Category:

dessert

Method:

baking

Cuisine:

American
Keywords: Christmas cookie, choc chip cookies, toll house cookies, chocolate cookies, holiday cookies, christmas cookies, 1938 toll house cookie recipe, nestle toll house cookie recipe, toll house cookie recipe, nestle chocolate chip cookie recipe, nestle chocolate chip recipe
Recipe Card powered by
Available via these affiliate links:
Disclaimer: Links that open in another site, i.e. Amazon, may be affiliate links where at no additional cost to you, as an Amazon Associate I earn from qualifying purchases, should you decide to purchase the item. Read our Disclosure Policy.
Interested in more related recipes?
Looking for other similar recipes? Try these: