Caramel Coconut Bars are reminiscent of the cult-favorite samoas cookie that the Girl Scouts sell every year, but they're more practical; we're making bars and not cookies, so you have more bites to enjoy. Goat's milk caramel sauce, grated coconut, and chocolate chips really do the trick. The good news: You don't have to bend over backwards trying to get these right; the recipe is super intuitive. We're also learning how to make our own grated coconut - if you want.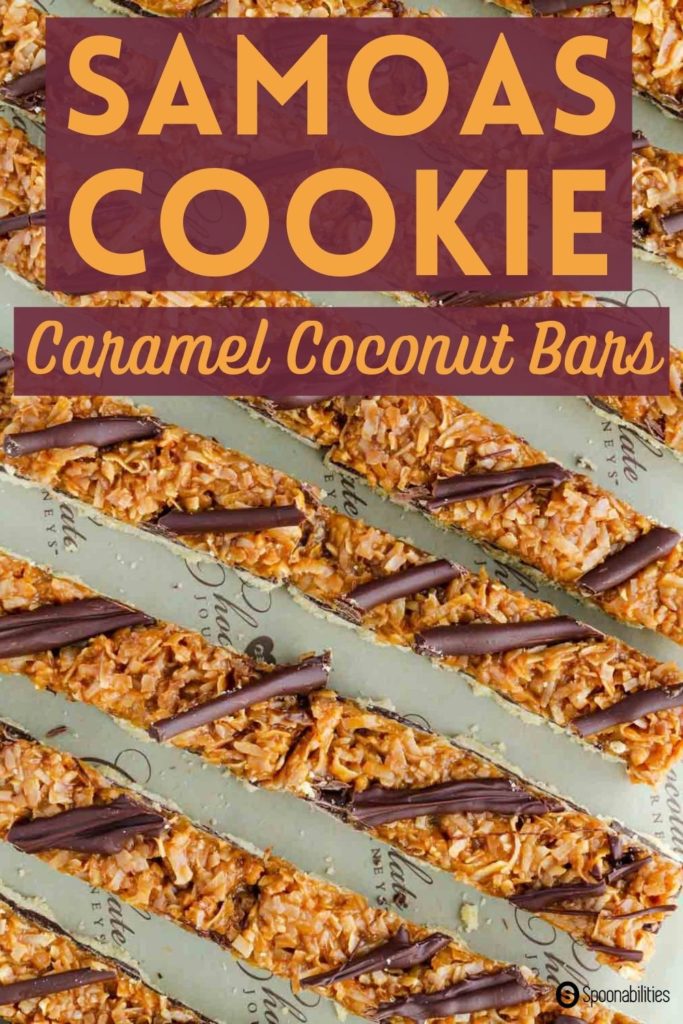 Hello my friends. A few weeks ago, I talked with Geoffrey over dinner about some new recipe ideas for the blog, and one thing he kept going back to is the Girl Scout cookies he loves so much. I knew nothing about them except that I need to pull him away from the little table they set up in the supermarket, and make sure he doesn't have any cash in his pocket – or he'll buy them out.
Inspired by the Girl Scout Cookie Everyone Loves
As Geoffrey told me about each and every Girl Scout cookie he loves, the idea of making caramel coconut bars came to us. Inspired by the samoas cookies, which are also called Caramel deLites, we came up with the caramel coconut bars we're making today.
The idea here is creating easy-to-make and easy to carry treats, and making bars instead of shaping each cookie seemed like a good idea, and it was.
These coconut caramel bars are fabulous cookies to make any time of the year, but these Caramel DeLites bars are great holiday cookies too including for birthdays, picnics, general family gatherings, and later this year they'll be the staple Christmas cookies in our home.
Like this recipe so far? Be first to know when we release new ones!
These coconut bars are difficult to keep around; we started eating them before they were even cool. They're that good! But, they are also too good not to share. If you make them for a get-together, tempt your guests by making them close their eyes before taking a bite, and see if they remind them of something. Your friends might get a flashback to the last time they bought some Caramel DeLites from the Girl Scouts and remember the good times right there in your kitchen.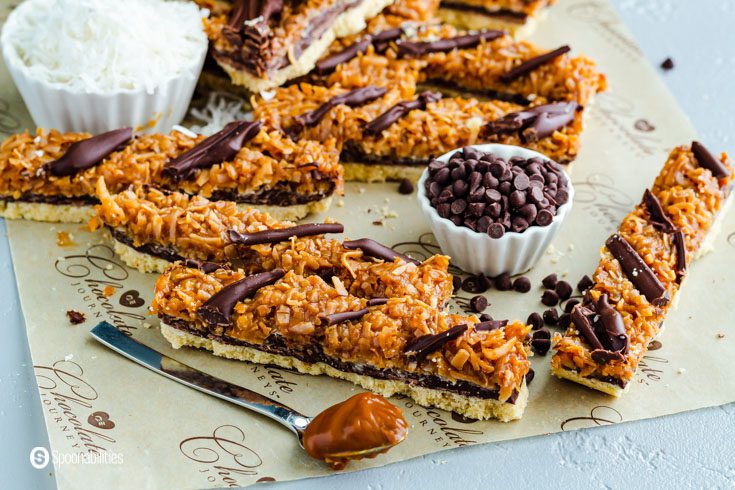 Samoas Cookie Bars with Homemade Grated Coconut
Besides caramel sauce, there's another essential ingredient in today's samoas cookie bar recipe, and I'd like to dig deep into it; grated coconut.
You can buy pre-grated coconut flakes from the supermarket, which is what we did for this somoas cookie recipe, but back in the Dominican Republic we make our own fresh from the whole coconut. So I decided to let you in on how you do it.
How to Make Coconut Flakes at Home
Get yourself a couple of coconuts. That's tons of fun already because, to be honest, nobody does that anymore. Then it's time to crack open these bad boys. By the way, did I mention that I LOVE coconut?
First you drain the super healthy coconut water by piercing one of the coconut's 'eyes' with a screwdriver. Keep that coconut water for later, or drink it right away. It's yummy.
By the way, did I mention I LOVE coconut?
Then you bake the coconut at 400 degrees for around 20 minutes until it starts to crack. Carefully remove the coconut and cover it with a kitchen towel you're not very fond of and tap it with a hammer until it cracks open.
Scoop out the coconut meat and spin it in your food processor until finely grated. Spread the coconut in a baking tray and bake at your oven's lowest setting for an hour or so until dry. Don't let it burn!
Now you've got a whole batch of homemade grated coconut for all your baking projects, including the coconut caramel bars we're baking today. Let's get to it!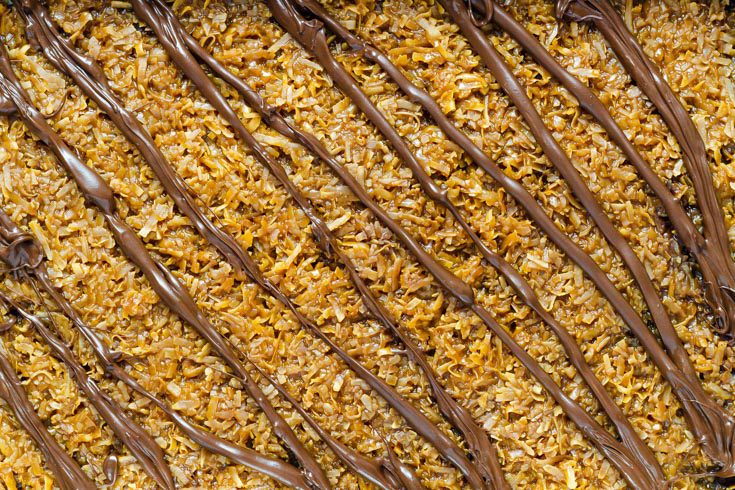 I hope you get a chance to make these homemade samoas cookie bars. If you make this or another recipe, tag @Spoonabilities on Instagram or add a photo or comment on Pinterest, so we can find you!
And we love to hear from you in the comment section below.
Carlos Leo
Your Recipe Concierge!
Want More Recipes?
Here are a few related recipe ideas you might enjoy:
Print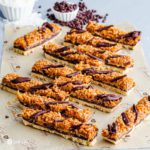 Samoas Cookie Caramel Coconut Bars
---
Author:

Carlos Leo

Total Time:

50 minutes

Yield:

24

bars

1

x
Description
These caramel coconut bars, inspired by one of the most popular Girl Scout's cookies, are the perfect combination between the tropical flavor of coconut and an authentic goat's milk caramel sauce. Make 24 tasty bars in just under one hour, and you'll have some comforting two-biters to take you back down memory lane.
If you like this recipe, join our newsletter.
---
1 ½

cups

all-purpose flour

1 Tablespoon

cornstarch

½ teaspoon

baking powder

½ teaspoon

salt

½

cup

softened butter

¼

cup

granulated sugar

¼

cup

packed brown sugar

1

egg yolk

1 teaspoon

vanilla

1

jar (8 ounces) caramel sauce

1

(14 ounce) package sweetened flaked coconut

1 ½

(18 ounces) packages semisweet chocolate chips
---
Instructions
Preheat oven to 350°F. Line a 13x9-inch baking pan with foil, extending foil over edges. Coat foil with cooking spray.
For the crust, in a small bowl, stir together flour, cornstarch, baking powder, and salt. Set aside.
Beat butter with a mixer on medium for 30 seconds in a large bowl.
Add both sugars and beat on medium to high until light and fluffy. Beat in egg yolk and vanilla.
Beat in flour mixture (mixture will be crumbly).
Press the dough into the bottom of the prepared pan, and bake 10 to 12 minutes or until edges are light brown.
While the crust is baking, place the coconut in a large bowl, pour in the caramel sauce and stir to combine.
Remove the crust from the oven and immediately sprinkle 1 ½ cups of the chocolate chips over the hot crust; let stand 5 minutes. Then spread the chocolate over the crust.
Carefully spread coconut mixture over the chocolate layer. Bake 10 minutes more. Cool in pan on a wire rack.
Microwave remaining chocolate chips in a small bowl for 20 seconds. Then stir and microwave for another 10-15 seconds until melted and smooth. Drizzle over coconut mixture.
Cover and put in the refrigerator for at least 1 hour until it sets. Pulling on the foil edges, lift out the uncut block, and cut into bars.
Notes
Storage: Layer bars between waxed paper in an airtight container, and store in the refrigerator up to 3 days, or freeze up to 3 months. (But you'll eat them before that)
Prep Time:

30 minutes

Cook Time:

20 minutes

Category:

Dessert

Method:

baking

Cuisine:

American
Keywords: Girl Scout Cookies, Caramel DeLites, holiday cookies
Recipe Card powered by