The BEST Peanut Butter Cookie Recipe is the one you make for your family and friends during the holidays. These classic peanut butter cookies are asked for all year round, and my nephew Nick is the reason I'm writing this recipe out today - well after the holidays.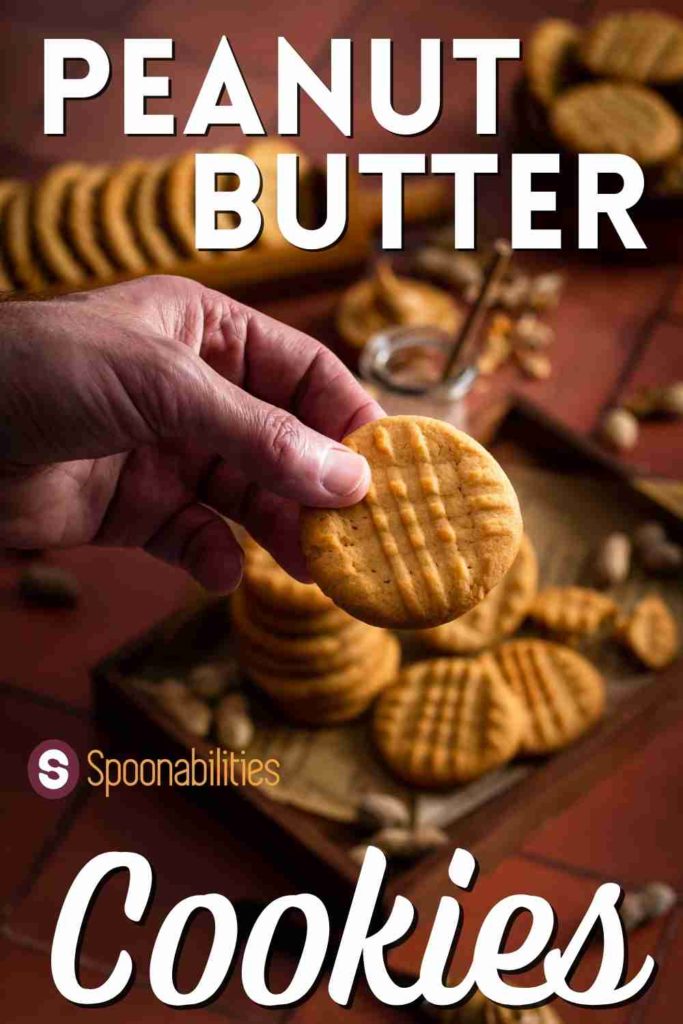 Why is this Peanut Butter Cookie Recipe the BEST?
Homemade peanut butter cookies are my second favorite type of cookie, after chocolate chip cookies. Sometimes the batter somehow ends up in my mouth instead of on the baking sheet. This recipe was handed down (or rather stolen) from my mother many years ago. She is not sure where she got it, so most likely was from my grandmother. Those recipes are the best because they are tried and true, made with a lot of love, and made specifically for the enjoyment of friends and family.
Remember when you helped your mom make cookies so that you could lick the bowl? No?, that was just me? Well, when you make your own homemade peanut butter cookie recipe, and nobody is watching, you don't have to wait until the bowl is empty!
Carlos doesn't like classic peanut butter cookies, so I don't have to worry about them disappearing on me. I can relax and eat them at my leisure. I love how these cookies just melt in your mouth, and who doesn't like peanut butter? Well, besides Carlos...he's weird.
Watch this How to Make Peanut Butter Cookies Video
How do you make Peanut Butter Cookies?
As with most baking, I recommend softening the butter to room temperature, or at least 45-60 minutes out of the refrigerator. It's not absolute but suggested. I also like to measure out my larger ingredients like flour, peanut butter, and brown sugar. Once that's done, we're ready to go.
Following the classic peanut butter cookie recipe is pretty easy. Sift all the dry ingredients together; combine the wet ingredients in stages, then add the dry mixture to the wet. The cookie recipe below is doubled from my mom's original recipe. If you find that the mixture seems too wet, just add another ½ cup of flour. For peanut butter cookies, the dough should be moist, but not too moist... I know very scientific terms.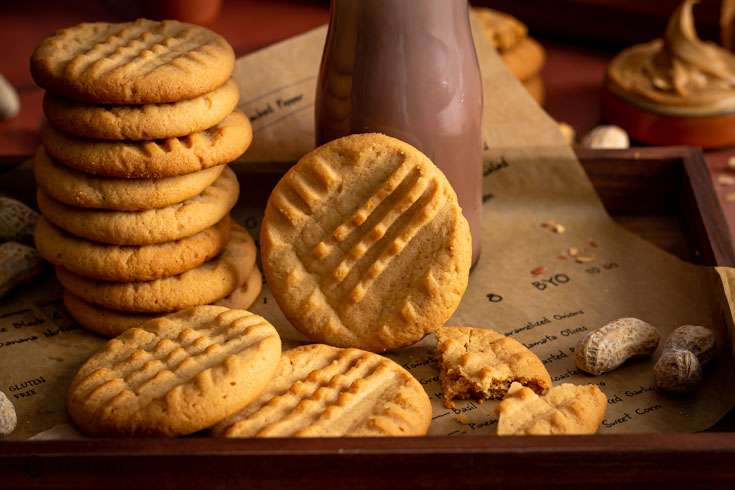 Preparing the Peanut Butter Cookie Baking Trays
I try to be very efficient in everything I do, and baking is no exception. Each tray of the peanut butter cookies bakes in the oven for 10-12 minutes each. I will usually prepare two trays of cookies at a time. While they are baking I'm getting the next two trays ready to pop in the oven. If you want to be even more efficient, and you have the space for 6 cookie trays, you can have 2 in the oven, 2 cooling, and 2 being prepped to go in the oven. Or, you can have a glass of wine (or milk) and just take your time.
Like this recipe so far? Be the first to know when we release new ones!
---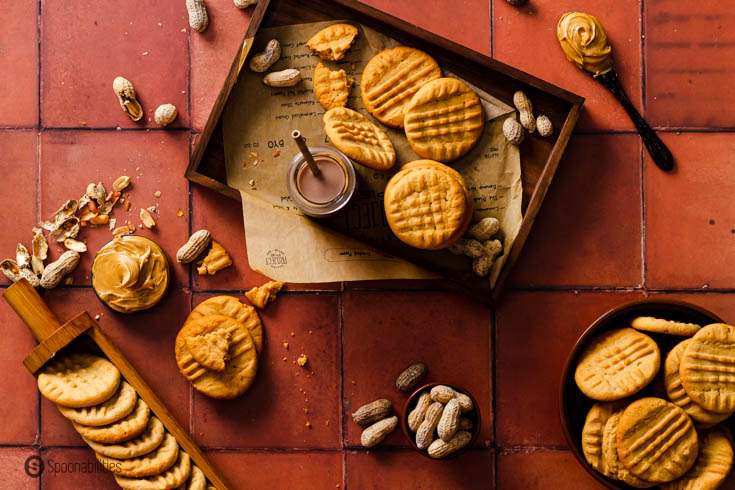 How do you give Classic Peanut Butter Cookies their signature look?
I love the way these cookies look too. Once you spoon the dough on the baking sheet, the classic way is just to use a fork and double press it down on the dough to give it that "oh that must be a peanut butter cookie" look. I recently tried using a potato masher that had all horizontal grooves. It looked like a good idea but didn't work so well.
PRO TIP: after every other cookie, press the fork in flour, and then tap off the excess flour. This keeps the fork from sticking to the cookie.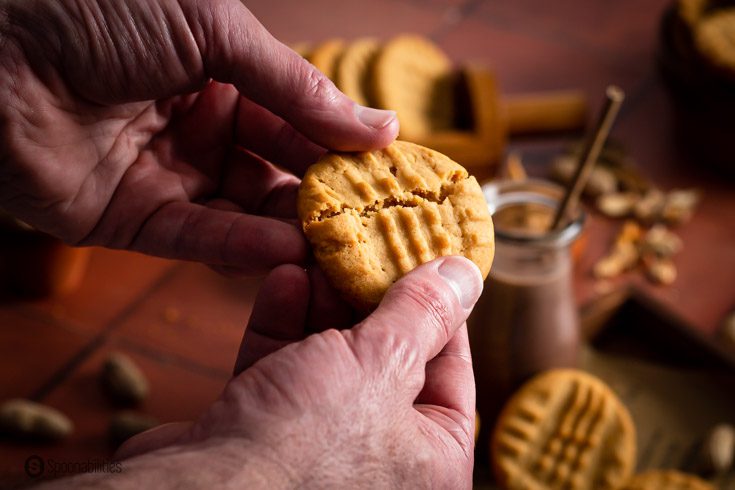 So family and friends agree this is the best peanut butter cookie recipe ever, and my nephew Nick will be so happy that I finished this post. Did I mention that he asked for it right after Christmas, and it took me at least a month to give it to him? What an awesome uncle I am. Don't let your family down, go ahead and make this delicious peanut butter cookie recipe.
If making cookies is your thing, you can try:
If peanut butter is your thing, give these recipes a whirl:
So why don't you give it a try? Send us pictures of your cookies and let us know who in your family loves them the best.
Warm Regards,
Geoffrey
Chief Tasting Officer, and occasional baker for Spoonabilities
Print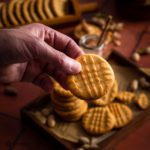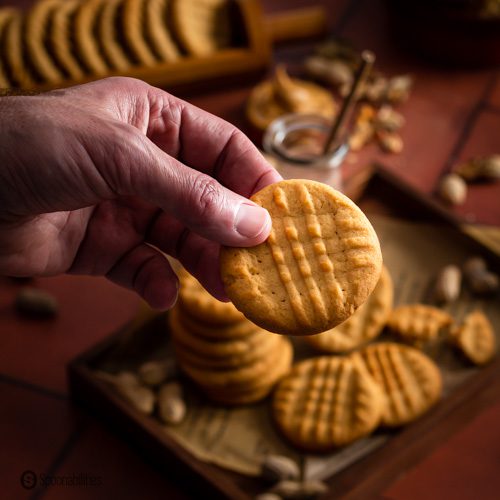 Classic Peanut Butter Cookie Recipe
---
Description
The BEST Peanut Butter Cookie recipe is the one you make for your family and friends during the holidays. Once you make them once, these peanut butter cookies will be asked for all year-round.
---
3

cups

flour

1 teaspoon

salt

3 teaspoons

baking powder

1 ⅓

cup

unsalted butter, or Brown Butter

1

cup

of chunky peanut butter

2

cups

firmly packed brown sugar

2

eggs

1 teaspoon

vanilla extract
---
Instructions
Preheat the oven to 350 F, and if haven't done so already, take the butter out of the refrigerator.
Sift the flour, salt, and baking powder in a bowl and set aside.
Blend butter with peanut butter in mixing bowl.
Gradually add brown sugar, creaming until light and fluffy.
Add eggs and vanilla extract. Beat well.
Mix in sifted dry ingredients thoroughly. [see note below]
Scoop a rounded teaspoon of dough for each cookie, and shape into ball; place on ungreased cookie sheet. I started using a small ice cream scooper which makes it easier and less messy.
Flatten balls with fork in a crisscross fashion.
Bake for 12-13 minutes, or golden.
Notes
The dough should be very moist, but thick. If it seems to too thin or sticky, add ½ cup more flour.
Prep Time:

20 minutes

Cook Time:

12 minutes

Category:

Dessert

Method:

Baking

Cuisine:

American
Keywords: Christmas cookies, holiday cookies, peanut butter cookies, PB cookies
Recipe Card powered by
Available via these Amazon links:
Disclaimer: Links that open in another site, i.e. Amazon, may be affiliate links where at no additional cost to you, we may receive a small commission should you decide to purchase the item. Read our Disclosure Policy