Sourdough Banana Bread is the perfect version of the traditional bake. This is a fantastic sourdough discard recipe as well, and it has all the flavors of autumn we love. Whole wheat flour, ripe bananas, butter, Greek olive oil, honey, and warm spices are all you need for this new classic.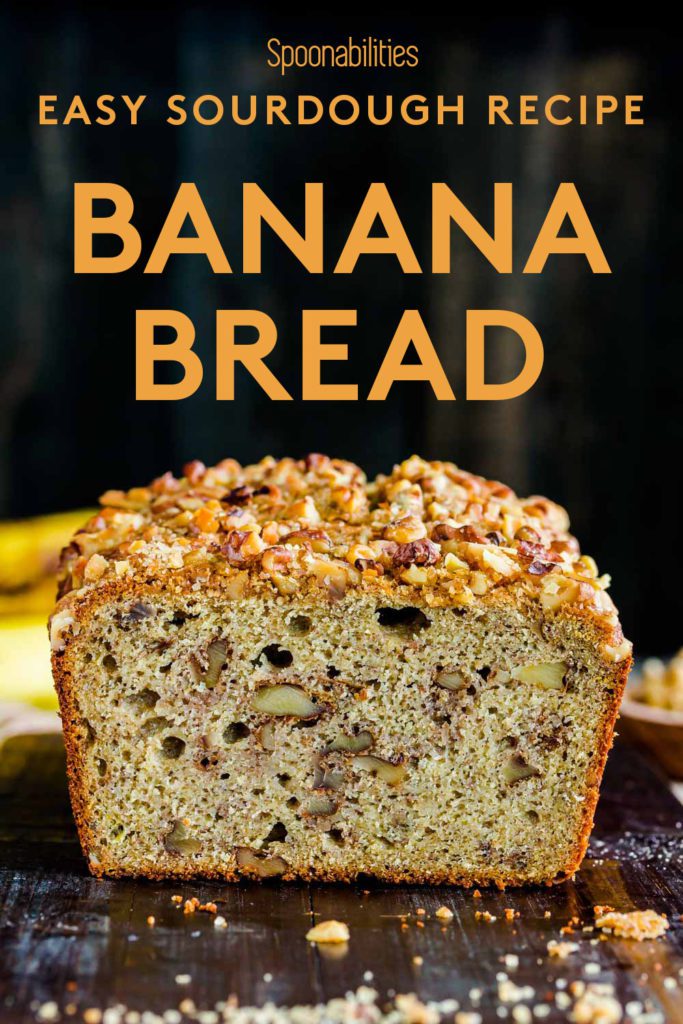 Hello my friends. Sourdough banana bread is a fall classic and the best thing you can bake when you have some over-ripe bananas around.
Yes, there are tons of banana bread recipes out there, but to get it right you really have to put your heart into finding the right ingredients. Whole wheat flour, chopped nuts, softened butter, brown sugar, and super ripe bananas all play a part, and the result is one great banana bread loaf.
We're also using classic spices and aromatics, from lemon zest and honey to the famous trio of ground cinnamon, cardamom, and ginger. I'm sure you can smell this fluffy bread already!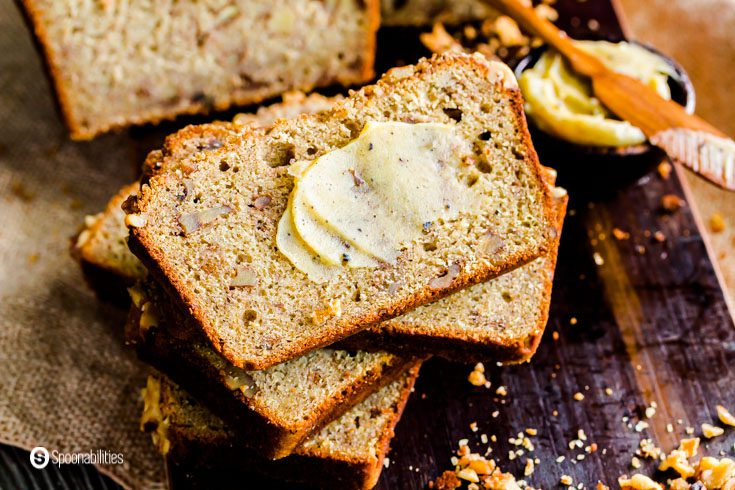 Sourdough Banana Bread is Awesome, Because of Sourdough!
Using a sourdough starter instead of bakers' yeast for any baking project is a sure way of improving your baking skills and getting in touch with your most primal side.
Sourdough is how people made bread thousands of years ago, and it's super satisfying! If you still don't have some sourdough starter living in your fridge, start one today - it's our favorite pet, and we call it Maria. Yes, sourdough is kind of a pet! You must feed it and keep it comfortable. And it's definitely better behaved than a chihuahua.
It's our favorite pet, and we call it Maria!
More Sourdough Discard Recipes
Sourdough grows, so you must discard some of it every time you feed it with fresh flour and water. Of course, instead of throwing out the discarded sourdough, you can use it in recipes like the one you'll find below for sourdough banana bread. Here are a few more you may enjoy: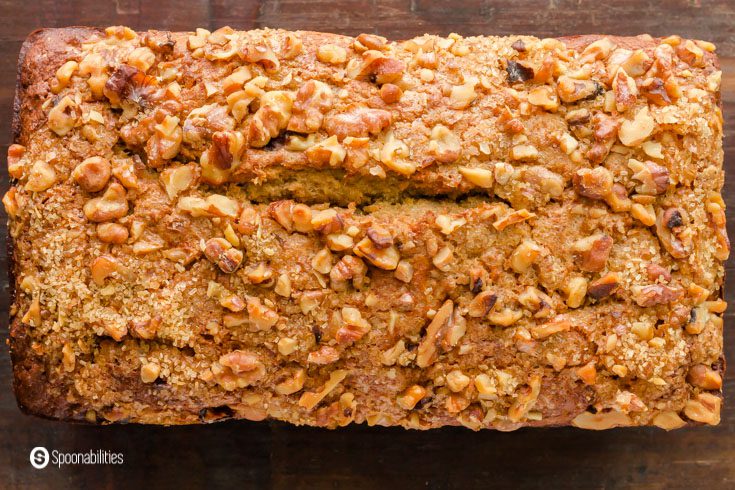 Baking with Olive Oil
When you think of olive oil, you might think of salads or pasta, but the stuff is authentic liquid gold. It's super healthy and all, but it's also delicious!
We're pretty happy with the premium olive oil selection we've put together for you throughout the years, which you'll find in our online store. All these premium extra virgin olive oils, sourced from all over Greece, are more than excellent alternatives to take your banana bread to another level.
Yes, butter plays a big role in banana bread, but olive oil's silkiness and coating mouthfeel have no substitute. We are using only two tablespoons of the award-winning LIÁ Premium Greek EVOO for the recipe below, but it makes all the difference.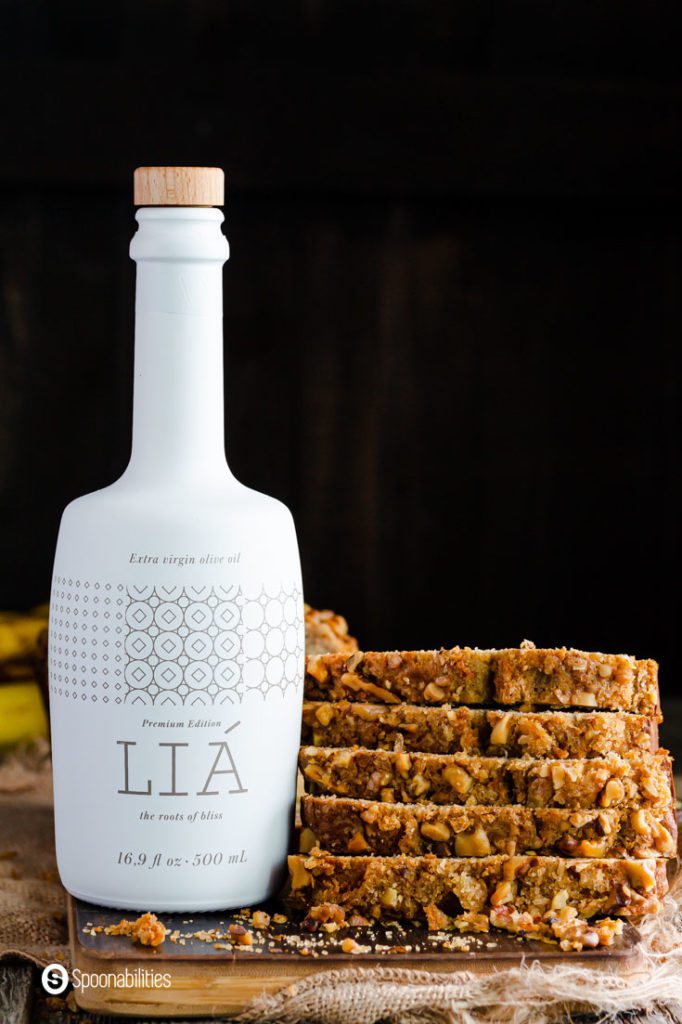 Like this recipe so far? Be first to know when we release new ones!
Here's a Banana Bread Sweet Secret
Banana bread is always sweet but never sugary. It's just right. Well, the secret to the perfect sourdough banana bread is sweetening it in three ways:
First, you have the bananas of course, and you want them super ripe - their peels should have dark spots and don't worry, they're totally okay to eat.
Then you have the brown sugar. Its flavor, reminiscent of sugar cane molasses, has no substitute and is deliciously compatible with warm brown spices.
Finally, you need two tablespoons of rich honey. If you're aiming for perfection, don't just use the regular stuff. We use TREA Greek Wildflower Honey, which is totally natural with no additives, and yes, close your eyes, and you can taste the faintest memory of wildflowers!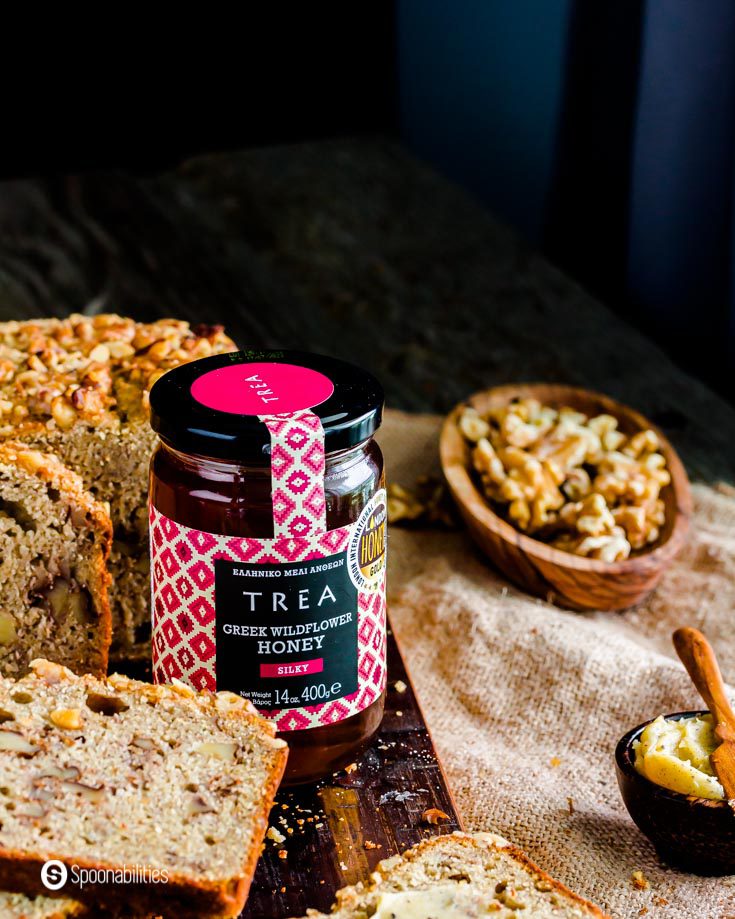 How Long does Sourdough Banana Bread Last?
Before we head on to the recipe, let's talk storage for a second. Chances are this sourdough banana bread disappears before it cools down, especially if you share it with friends and family.
If you do happen to have some leftovers, which are in my opinion even tastier the day after, store them either on the counter for up to four days; in the fridge inside a container with a lid for about a week; or the freezer for future enjoyment.
If you store the banana bread in the fridge, warm it up for a few seconds in the microwave before serving, and if frozen, use the oven or let it thaw first; and don't forget to enjoy with a smear of brown butter.
Now we're ready to make some sourdough banana bread!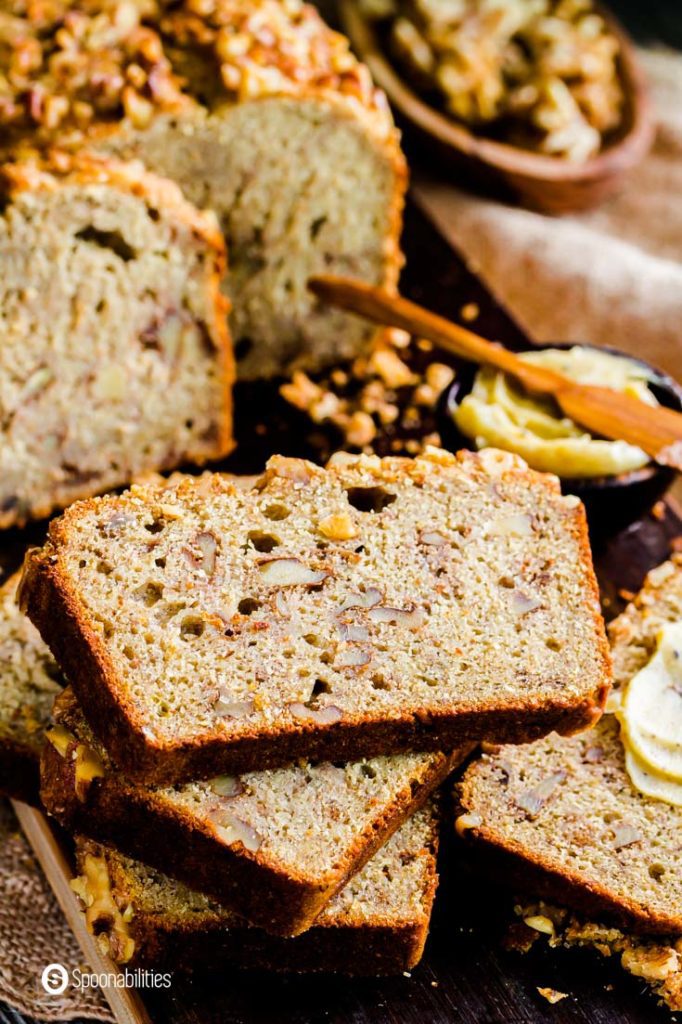 Did you make this or another recipe? Tag @Spoonabilities on Instagram or add a photo or comment on Pinterest, so we can find you! And we love to hear from you in the comment section below.
Carlos Leo
Your Recipe Concierge!
Print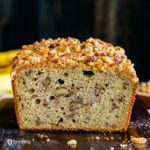 Sourdough Banana Bread
---
Author:

Carlos Leo

Total Time:

1 hour 15 minutes

Yield:

1

2

1

x
Description
Make a loaf of traditional banana bread that has no equal with this recipe made with a mix of white flour and whole wheat flour, bananas, nuts, butter, olive oil, honey, and warm spices. Use either sourdough starter or sourdough discard for this recipe.
---
1

cup

white whole wheat flour

1

cup

all-purpose flour

½ teaspoon

baking soda

½ teaspoon

cinnamon

¼ teaspoon

cardamom

½ teaspoon

ground ginger

½ teaspoon

sea salt

1

cup

+

3

tablespoons

(separated) chopped walnuts

½

cup

lightly packed brown sugar

½

cup

(1 stick) room temperature butter

2

eggs

125

g

sourdough starter or discard

2 Tablespoons

honey - TREA Greek Wildflower Honey

3

ripe mashed bananas

2 Tablespoons

olive oil - LIA Extra Virgin Olive Oil

1 teaspoon

vanilla paste
zest of

1

lemon

1 Tablespoon

demerara sugar
---
Instructions
Remove butter from the refrigerator at least 40 minutes before starting and leave it on the counter to come to room temperature.
Preheat oven to 350

o

F and grease a 9.5″ x 5.5″ loaf pan. Optionally, you can line the loaf pan with parchment paper with two overhanging flaps for easy removal from the pan.
Coat the 1 cup of chopped walnuts with one tablespoon of flour in a small bowl. Set aside.
Mix the white whole wheat flour, all-purpose flour, baking soda, cinnamon, cardamom, ground ginger, and salt together in a medium mixing bowl
Cream butter and sugar until fluffy in a large mixing bowl.
Add eggs to the butter-sugar mixture one at a time, and make sure to scrape the side of the bowl to mix thoroughly.
Add the sourdough starter/discard, honey, vanilla paste, mashed bananas, and extra virgin olive oil, and mix.
Stir in the flour mixture slowly; make sure to combine and scrape sides.
Fold in chopped walnuts and lemon zest.
Pour batter into the loaf pan. Tap the pan on the countertop to release any air bubbles, and smooth the top with a spatula.
Toss the remaining 3 Tablespoons of chopped walnuts with 1 Tablespoon of demerara sugar and sprinkle on top of the batter. You can use any sugar that you have on hand if you don't have demerara sugar.
Bake for 60 minutes. Insert a toothpick in the center of the loaf to make sure the banana bread is fully baked - the toothpick will come out clean.
Cool in the pan for 10 minutes, and then remove to a wire cooling rack.
Serve with butter, or even better with brown butter (available at our shop)
Prep Time:

15 minutes

Cook Time:

60 minutes

Category:

Breakfast

Method:

Baking

Cuisine:

American
Keywords: bread recipe, sourdough discard recipe, sourdough starter recipe, recipe with bananas, sourdough recipe, banana recipe, breakfast recipe, dessert recipe
Recipe Card powered by
Available via these affiliate links:
Disclaimer: Links that open in another site, i.e. Amazon, may be affiliate links where at no additional cost to you, as an Amazon Associate I earn from qualifying purchases, should you decide to purchase the item. Read our Disclosure Policy.