Banana Chocolate Chip Sourdough Muffins are not your regular muffins. For this recipe, you're using a winning combination of sourdough starter discard, chocolate chips, and some overripe bananas. Also use a good Greek extra virgin olive oil which gives these sourdough muffins a wonderfully moist and fluffy texture. You'll also learn more about sourdough starters and how to best make this muffin recipe.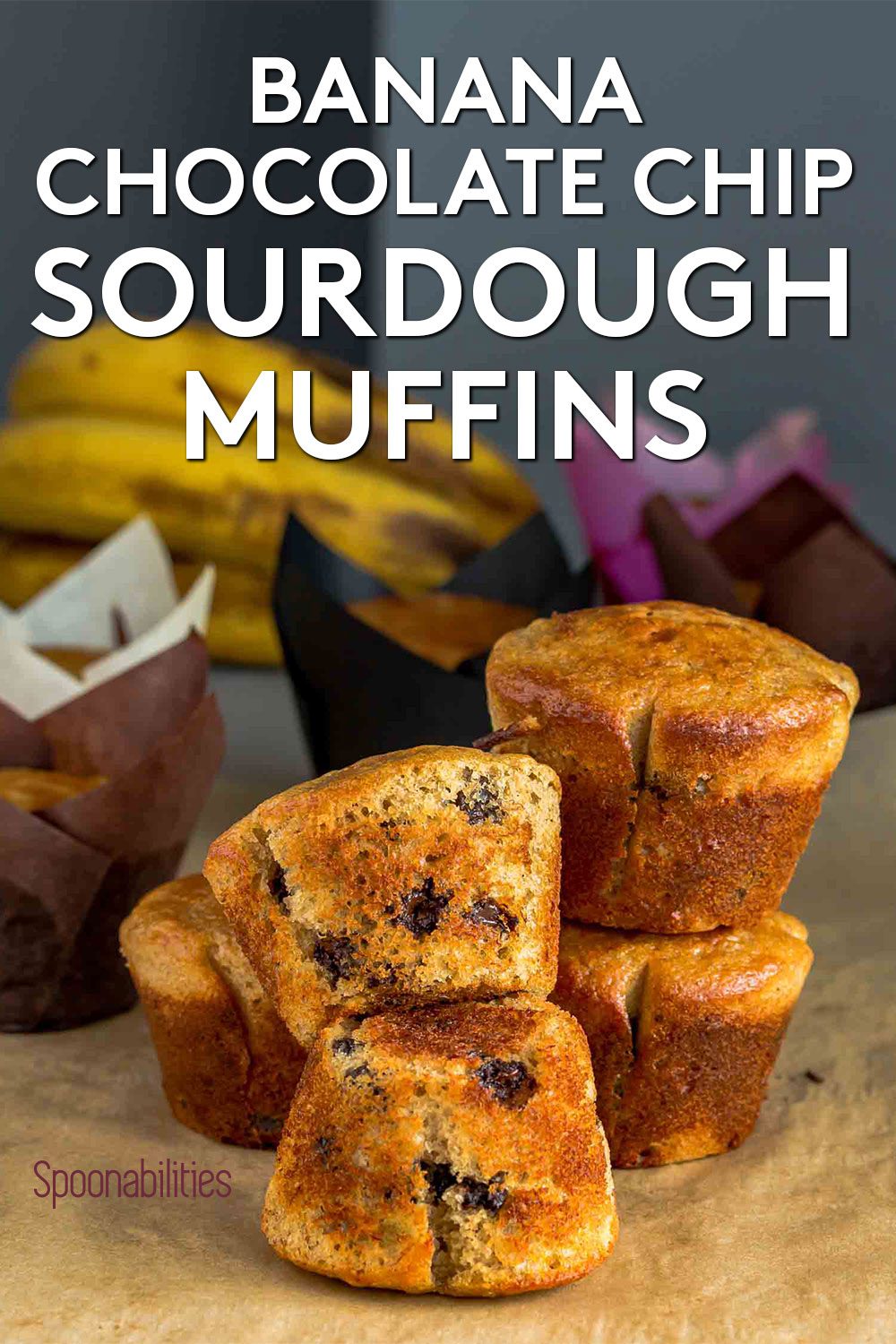 Blog post contains products you can purchase in our online shop, and affiliate links.
Read our Disclosure Policy.
Hello my friends. Welcome to my new series of recipes using sourdough starter discard. Like many of you at the beginning of the pandemic, I joined the sourdough fever, and I am still going strong baking my sourdough bread. Since I got way too many sourdough discards, I started to test recipes, and these sourdough muffins are one of my favorites. So, this is the first recipe from the official Spoonabilities sourdough discard recipe series.
If you've never brought sourdough starter to life, give it a go. Bringing dough to life with just flour and water is so primal and honest, you should really try it! Flour, water, and two weeks of patience is all you need to have a good amount of living dough capable of becoming the loveliest loafs of bread.
Once you have a starter going on, you'll have to keep feeding it every week with more flour and water, and it can grow quite a lot. That's why you discard some of it. But why waste that precious bubbly dough? Here's where today's muffins come in.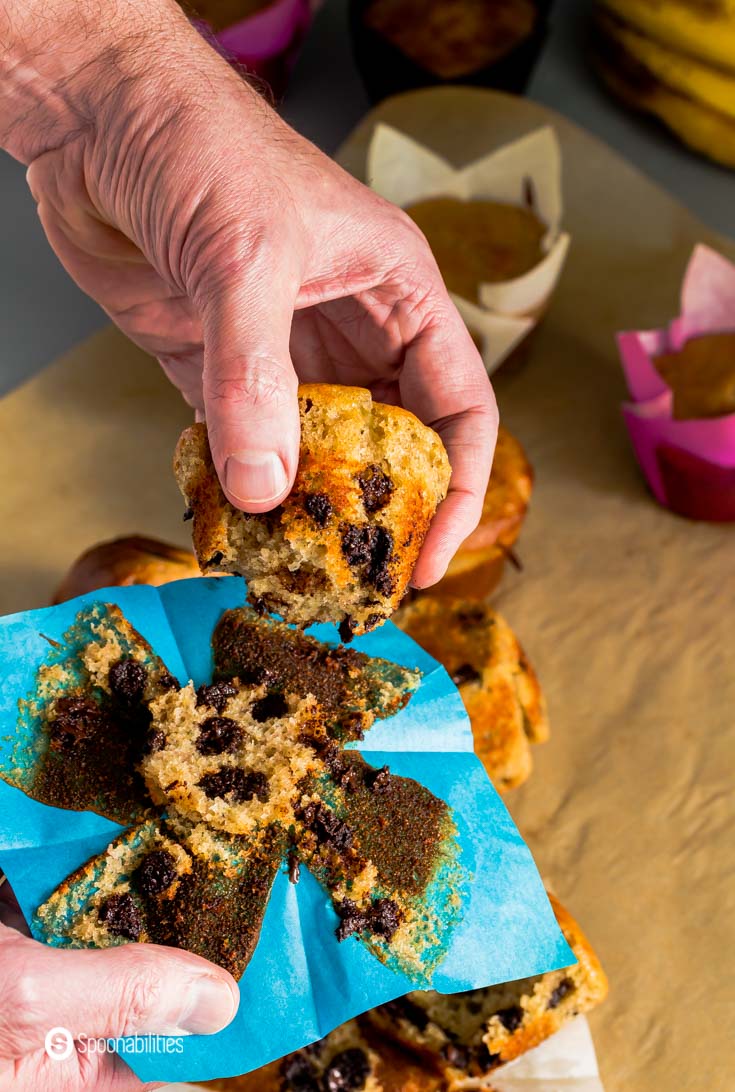 When it seems like we've seen every kind of muffin possible, of all types of flavors and colors, something new comes along. For me, the revelation came in the form of sourdough discard and bananas. These sourdough muffins are tender and moist, and have the perfect balance of sweetness.
Today we're making banana chocolate chip sourdough muffins, and the keyword here is sourdough.
Ingredients for Sourdough Muffins
Bananas are a fantastic baking ingredient. They're not only naturally sweet and fragrant, they give anything you bake with them the softest and moistest texture. For this recipe we are using overripe bananas which means nothing but fantastically soft and moist muffins.
Muffins are rarely prepared with sourdough, and that's a shame because their flavor is unbeatable. I'm using sourdough discard but you can also use sourdough starter 100% hydration. The beauty of this sourdough recipe is that you can use whichever you have on hand.
We are adding a good addition of Greek yogurt along with our usual baking staples of eggs, sugar, flour, vanilla paste, baking powder, and baking soda.
I love to use extra virgin olive oil when I bake. Olive oil gives such a rich moistness and depth of taste that enhances any baked good; it gives a fruity flavor without overpowering your recipe. If your recipe calls for vegetable oil, you can easily substitute the oil with an equal amount of olive oil; it's an easy, no-brainer switch. Today I'm using Hellenic Farms Extra Virgin Olive Oil PDO Sitia direct from Greece.
This EVOO from Hellenic Farms is a top-quality Cretan extra-virgin olive oil. The "PDO Sitia" signifies the legal protection of the quality that comes from that region, representing one of the best agricultural products of the island. All-natural and cold-pressed, this oil is subtle but sophisticated, straightforward but astoundingly complex on the palate.
Geoffrey loves chocolate chips, and he was in heaven when I made these sourdough muffins. Have you looked at how packed the banana sourdough muffins are with chocolate chips? They are the perfect treat for chocolate lovers!
Like this recipe so far? Be the first to know when we release new ones!
---
How to Make Chocolate Chip Banana Sourdough Muffins
First take four mixing bowls out, and with those you will separate the ingredients as follows. Remember doing your mes en place (having all your ingredients measured and separated) will help you speed up the process and you'll get this sourdough muffin recipe done in a couple of minutes.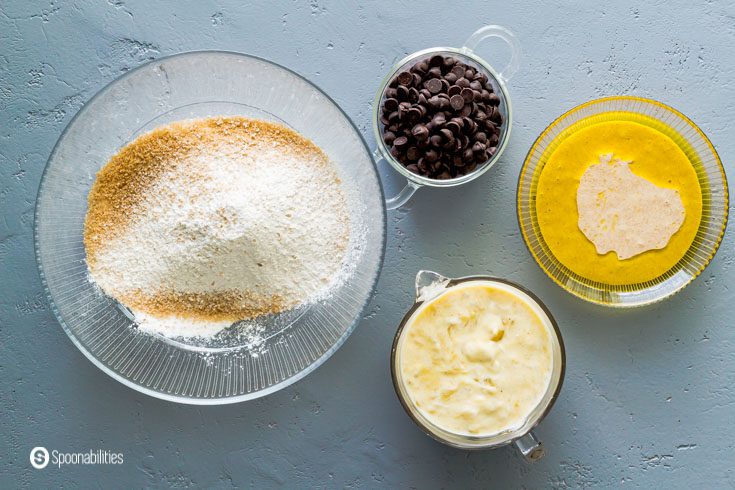 In a large mixing bowl, combine the flour, white and brown sugars, baking powder, baking soda, and sea salt.
In a medium bowl, add the sourdough discard and olive oil and stir until well combined.
In a small bowl, add the mashed banana, sour cream, beaten egg, and vanilla paste and mix to combine.
In another small bowl, add the chocolate chips.
Add the small bowl with the banana mixture to the medium bowl with the sourdough mixture. Combine until it's smooth. Then, add this mixture to the dry ingredients that are in the large bowl. The last step is to add the chocolate chips to the batter and stir with a spatula until well-combined.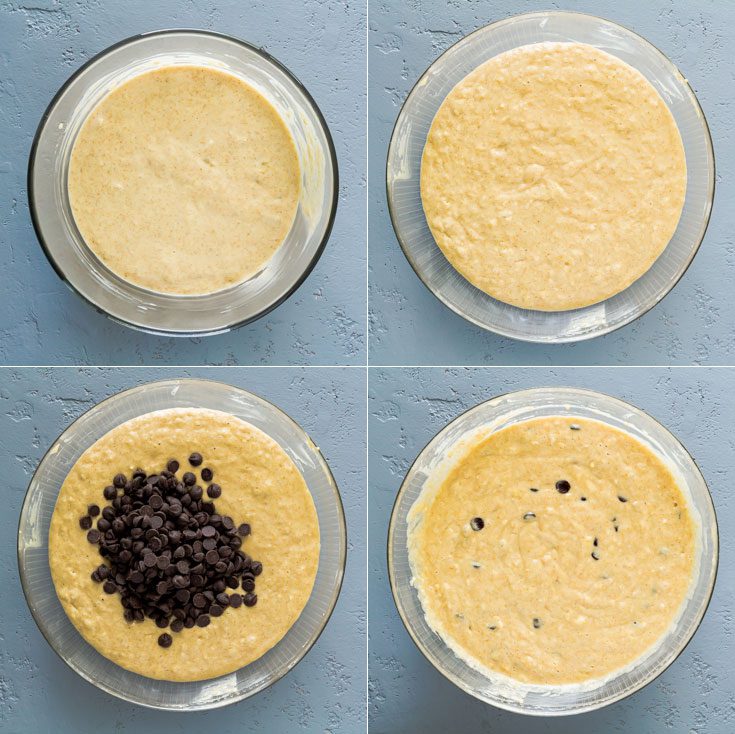 Spoon the batter into the prepared muffin tray with the muffin liners. PRO TIP: Use an ice cream scooper. You will thank me because it will make your job so easy!
Bake them for 25 minutes and cool on a wire cooling rack for about 15 minutes. Then, remove the sourdough muffins from the muffin pan, and cool them completely on the wire rack.

Is it REALLY so Hard to Make a Sourdough Starter?
Before we go over the fun and super easy sourdough starter basics, let's start by defining what a starter is. To make bread you need dough, and if you want that bread to end up pillowy, it must be filled with air bubbles. To do that you need it to ferment.
You can use store-bought yeast to ferment dough, but that wouldn't be sourdough, that would be regular baker's dough. Sourdough is wild! Luckily for us, wild yeast lives everywhere, even in your home, and it never misses a meal.
Leave a mixture of equal parts flour and water in a safe place at room temp and watch it bubble in a few days. Once it gets started, feed it regularly with more flour and water, always equal parts. Once it's frothy, simply combine a part of it with other ingredients like what we're doing for today's banana chocolate chip muffins, and voilà!
I gave you a general idea of how to do the starter, but you need a specific formula because the science behind the sourdough starter is based on precise weight measurements. If you are interested to know the recipe and the steps, leave me a comment below and I'll send to you.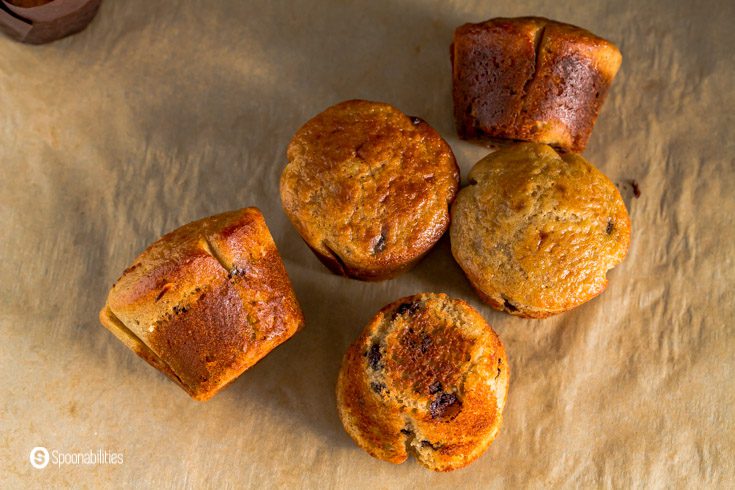 How do you Store and Freeze Sourdough Muffins?
You can store your sourdough muffins in an air-tight container at room temperature, and they will last three days on the kitchen counter if you don't eat them all before that. If you want to refrigerate them, place them in an air-tight container and they should last around a week. To reheat, put one in the microwave for less than 30 seconds.
If you want to freeze some of them, wrap them individually with aluminum foil and then put in a freezer bag. You can freeze them for up to three months, but sometimes I keep them longer (when Geoffrey forgets or doesn't know they're in there). To thaw them, leave them in the refrigerator the night before and reheat the next day for less than 30 seconds in the microwave.
I hope you get a chance to make this Chocolate Chip Banana Sourdough Muffin recipe. Did you make this or another recipe? Tag @Spoonabilities on Instagram or add a photo or comment on Pinterest, so we can find you!
And we love to hear from you in the comment section below.
Carlos Leo
Your Recipe Concierge!
Do you want more dessert made with olive oil?
Print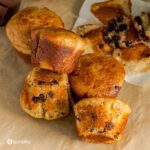 Sourdough Banana Chocolate Chip Muffins
---
Author:

Carlos Leo

Total Time:

40 minutes

Yield:

1

2

1

x
Description
Don't throw away your sourdough discard; make muffins with it! Along with overripe bananas and chocolate chips, you end up with the most delicious version of muffins ever. And don't think for a second these aren't fun; these are the very definition of fun! Inspired by a recipe from Baked from Scratch
---
1 ¼

cups

(156 grams) all-purpose flour

½

cup

firmly packed light brown sugar

⅓

cup

white sugar

2 teaspoons

baking powder

1 teaspoon

baking soda

½ teaspoon

sea salt

1

cup

(275 grams) sourdough starter or discard, room temperature

5 tablespoons

Hellenic Farms Extra Virgin Olive Oil

1

cup

well-mashed ripe bananas

½

cup

cold Greek yogurt

1

large lightly beaten egg

1 teaspoon

vanilla paste
---
Instructions
Preheat oven to 375°F. Line a 12-cup muffin pan with muffins liners.
Combine the flour, white and brown sugars, baking powder, baking soda, and sea salt in a large bowl.
Put the sourdough discard and olive oil in a medium bowl, and stir until well combined.
Place the mashed banana, sour cream, beaten egg, and vanilla paste in a small bowl, and mix to combine.
Join the banana mixture to the discard mixture, whisking until smooth.
Add the banana-sourdough mixture to the flour mixture, and fold with a spatula to combine. Add the chocolate chips and stir until combined.
Spoon batter into prepared muffin holders (use an ice cream scoop). Fill the muffins cups up between two-thirds to three-fourths full.
Bake for 25 minutes and insert a wooden toothpick in the center to make sure the muffins are cooked through. They should be brown and golden outside.
Take the muffins out of the oven and let them cool on a cooling rack for about 15 minutes. Then, remove the sourdough muffins from the tray, and let cool completely on the wire rack.
Notes
Store in an airtight container at room temperature for up to 4 days, or freeze for up to 3 months.
Use overripe bananas. They are the best for baked goods.
Prep Time:

15 minutes

Cook Time:

25 minutes

Category:

Dessert/breakfast

Method:

Baking

Cuisine:

American
Keywords: banana muffins, chocolate chips muffins, chocolate muffins, sourdough discard, sourdough discard recipe, sourdough starter recipe, sourdough recipe
Recipe Card powered by
Available via these affiliate links:
Disclaimer: Links that open in another site, i.e. Amazon, may be affiliate links where at no additional cost to you, as an Amazon Associate I earn from qualifying purchases, should you decide to purchase the item. Read our Disclosure Policy.