This almond sourdough muffin recipe is the perfect breakfast recipe for your sourdough starter or sourdough discard. These muffins are flavored with vanilla, almond, and orange, filled with sliced almonds and raisins, and topped with demerara sugar for extra crunch and sweetness. Read on and you'll also find answers to your main sourdough discard questions.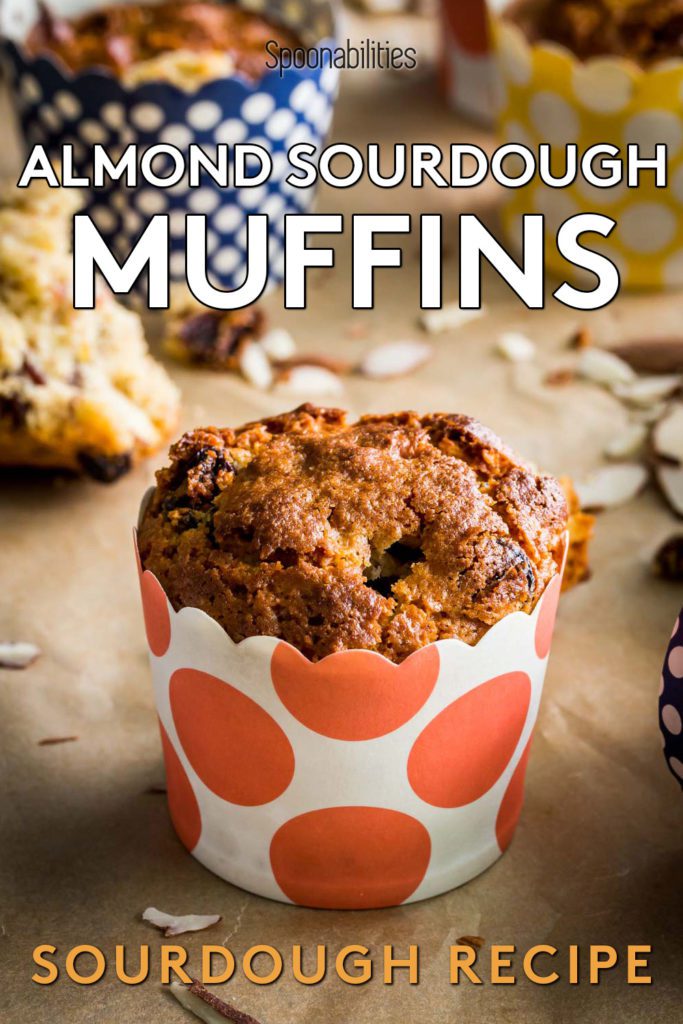 Hello my friends. Not all muffins are created equal, and although all of them are a great grab-and-go breakfast, some are authentic gastronomic experiences. This recipe is part of our sourdough series that showcase recipes that use leftover sourdough starter and sourdough discard.
I'm not saying I've mastered the art of baking muffins or anything, but I've learned the quality of the ingredients makes all the difference. Use the right stuff in the right proportion, and you have a guaranteed success in your hands – if you remember to weigh the ingredients, people!
That's precisely what we did with this almond sourdough muffin recipe with orange zest and raisins. More than sourdough muffins, these are the perfect combination between the nuttiest almond muffins and the "summery-est" orange muffins you've tried. We flavor these beauties with bright orange zest, vanilla paste, almond extract, and one good extra virgin olive oil from Greece!
Why Make This Sourdough Muffin Recipe?
Once you go sourdough, you never go back. If you're into nutrition, sourdough is for you; if you're all about artisan baking, try sourdough; if you're here for the flavor, sourdough is the answer too! Besides, tending a sourdough starter is just fun!
You can use a sourdough starter for today's sourdough muffin recipe, but this is also a sourdough discard recipe. If you are nurturing sourdough, you'll find out soon enough that you have plenty of the stuff readily available.
We'll talk a bit more about sourdough in the sourdough starter FAQs below, but first, I want to tell you about the muffins.
Drooling over this recipe? Be first to receive new recipes!
How to Make Almond Sourdough Muffins
For this recipe, we're using both all-purpose flour and almond flour; that's our base. With a few tablespoons of sourdough starter, sugar, egg, and a pinch of salt, you'll have a dense batter that will rise beautifully in the oven.
Then we have all the add-ons. Vanilla paste and almond extract will give the muffins the most comforting flavors, livened by a fresh orange zest for a high-end feel. Sliced almonds and raisins give some texture to the fluffy single-serving bakes. Of course, you can use other dried fruits if you're not a raisin kind of person.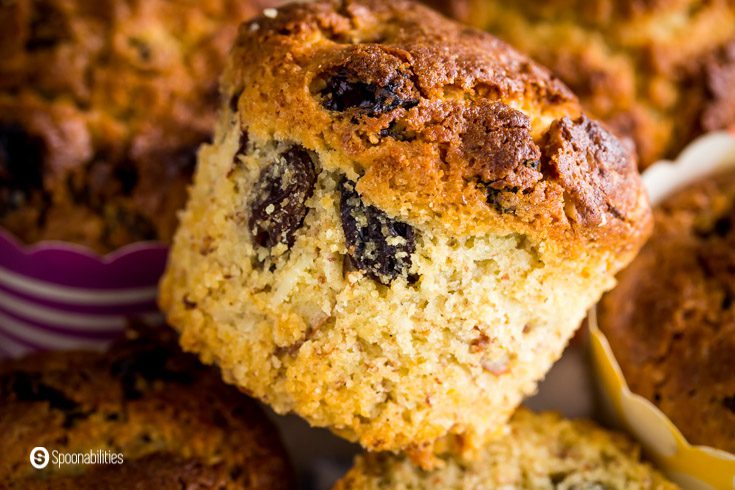 As a final note, I love baking with olive oil, and for this muffin recipe, I use Hellenic Farms extra virgin olive oil, . This EVOO is an all-natural, cold-pressed oil, and its quality is guaranteed by European law. So, it makes all the difference!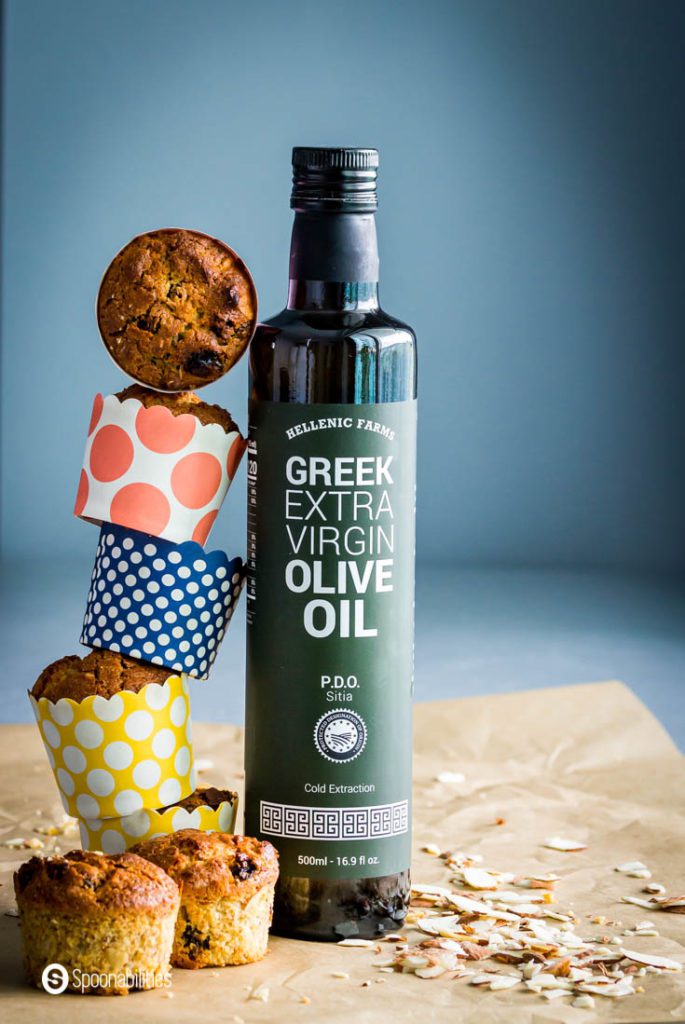 The easy breakfast recipe below yields 8 muffins and they're definitely best eaten the day they are made. If you have leftovers (doubtful), you can store them in an airtight container for up to three days.
Sourdough Starter FAQs
What is sourdough starter?
A sourdough starter is basically living yeast you keep in the fridge. You must add fresh flour and some water to keep it healthy. Sourdough is a substitute for dry bakers' yeast and is more flavorful and nutritious than regular yeast.
What is sourdough discard?
Since sourdough starter grows, each time you feed it you must discard some of it before feeding to keep things manageable. The discard, although a bit weaker and less bubbly than the actual starter, has many uses!
How do you use sourdough discard?
You can use sourdough discard instead of dry yeast in most recipes for a better, more flavorful version of the bake. Still, since discard doesn't have strong enough raising power, you must complement it with baking powder or baking soda.
How long does sourdough discard last?
Sourdough starters and discards both last a long time as long as you feed them. Still, the discard is better used as soon as you harvest it. Unfed, it will last up to three days. You can even freeze both starter and discard for future use! If your sourdough starter or discard look or smell off, throw them away and start again. That's a real bummer, but you learn with each batch!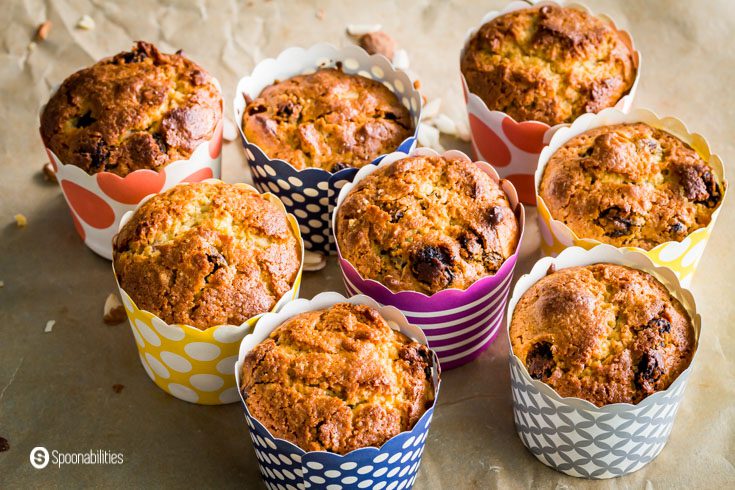 I hope you get a chance to make this almond sourdough muffin recipe with raisins & orange zest. Did you make this or another recipe? Tag @Spoonabilities on Instagram or add a photo or comment on Pinterest, so we can find you!
And we love to hear from you in the comment section below.
Carlos Leo
Your Recipe Concierge!
Want More Muffin & Scone Recipes?
Here are a few muffin and scone recipe ideas you might enjoy:
Print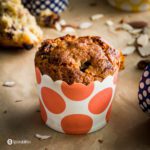 Almond Sourdough Muffin Recipe with Raisins & Orange Zest
---
Author:

Carlos Leo

Total Time:

26 minutes

Yield:

8

1

x
Description
This almond sourdough muffin recipe uses a sourdough starter or sourdough discard. The sourdough makes fluffy and wholesome almond muffins flavored with orange zest and livened by a fistful of sliced almonds and raisins.
---
½

cup

all-purpose flour

⅓

cup

almond flour

1 ½ teaspoons

baking powder

½ teaspoon

sea salt

½

cup

sugar

1

large room temperature egg

¼ teaspoon

almond extract

1 teaspoon

vanilla paste

100

g

room temperature sourdough starter (100% hydration) or sourdough discard

½

cup

dried raisins, combine with ½ teaspoon of flour

1 teaspoon

orange zest

½

cup

sliced almonds
Demerara sugar for topping - optional
---
Instructions
Preheat oven to 400

o

F, and prepare the muffin tin with parchment paper and spray with oil.
Add the dry ingredients to a large bowl: AP flour, almond flour, baking powder, and salt. Whisk and set aside.
Whisk together the extra virgin olive oil, sugar, egg, almond extract, and vanilla paste until is well combined.
Pour the wet ingredients into the dry ingredients along with the sourdough starter. Combine using a spatula until ingredients are completely incorporated.
Fold in raisins and sliced almonds until is well combined. Don't overmix.
Scoop batter using a medium ice cream scoop, and release two scoops into each prepared cups. If you don't have an ice cream scoop, fill the prepared cups about ⅔ of the way. Sprinkle tops with demerara sugar.
Bake for 14 to 16 minutes. Insert a toothpick in the center of a muffin in the middle of the muffin tray to confirm they are ready. If the toothpick comes out clean, take them out of the oven.
Remove from oven and let cool.
Notes
Muffins are best the day they are made
Store in an airtight container for up to 3 days
For this recipe, you can use sourdough discard or sourdough starter
Substitute raisins for your favorite other dried fruits
Quantity may vary from 8 to 10 muffins.
Two small ice cream scoops for each muffin = 4 teaspoons = 0.66 oz
Prep Time:

10 minutes

Cook Time:

16 minutes

Category:

Breakfast

Method:

Baking

Cuisine:

International
Keywords: sourdough muffins, sourdough discard recipe, sourdough starter recipe, almond muffins, orange muffins, sourdough recipe, muffin recipe
Recipe Card powered by
Available via these affiliate links:
Disclaimer: Links that open in another site, i.e. Amazon, may be affiliate links where at no additional cost to you, as an Amazon Associate I earn from qualifying purchases, should you decide to purchase the item. Read our Disclosure Policy.