Spiced Lamb Burger is a mouthwatering recipe that is heavily seasoned with all your favorite Mediterranean spices. Accompanied by a fennel, cucumber and celery slaw, this burger is easy to make with four main components. I created this gourmet, spiced lamb burger as part of "Burger Month" which included incredible giveaways in which Spoonabilities is proud to be one of the sponsors, donating an incredible collection of Greek Gourmet Products to 4 weekly winners.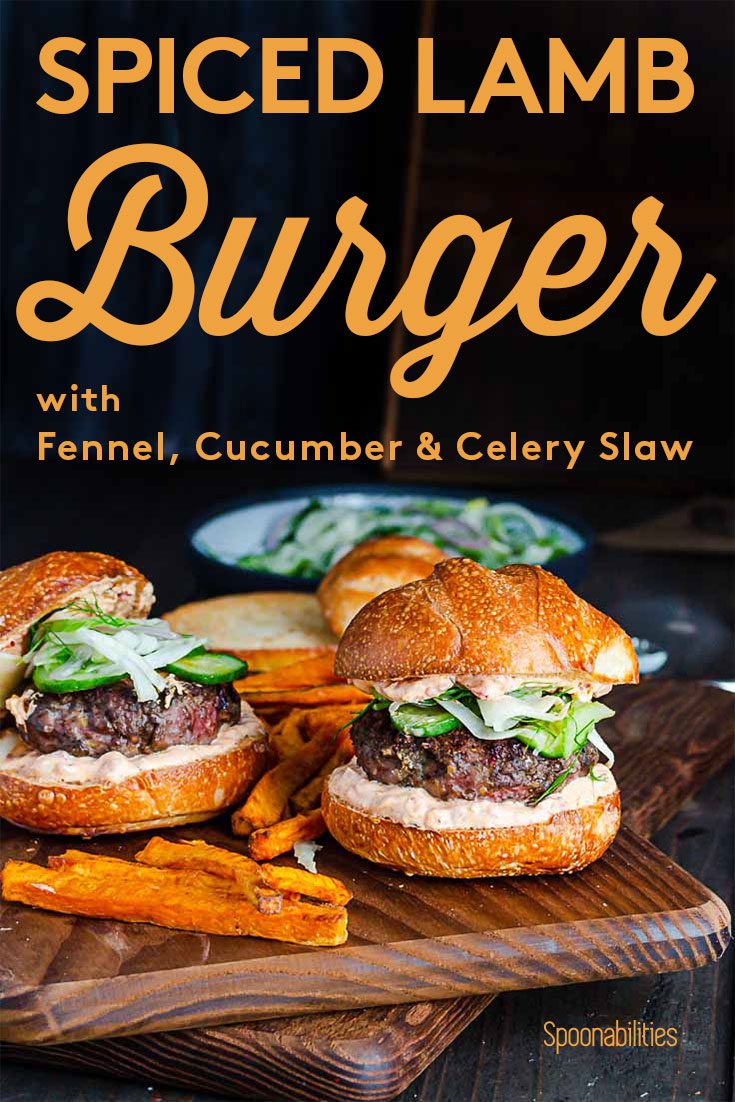 Blog post contains products you can purchase in our online shop, and affiliate links.
Read our Disclosure Policy
Hello my friends. As part of the burger month celebration, today I'm sharing this spiced lamb burger that is heavily seasoned with warm and aromatic spices like coriander, cumin, oregano, and smoked chili flakes. The buns have a delicious spread of tangy Greek yogurt combined with sweet red pepper & graviera cheese spread. This spread combination helps to balance the rich flavor of the lamb. As for the topping, we're going to use a Fennel Cucumber & Celery Slaw lightly seasoned with premium olive oil and Greek sea salt. This slaw gives an incredible bright freshness to this spiced lamb burger while also providing a lovely crunch.
Last year for this annual burger month celebration, I made a
Gourmet Dominican Chimichurri Hamburger
. I recommend you check out this other recipe of deliciousness too!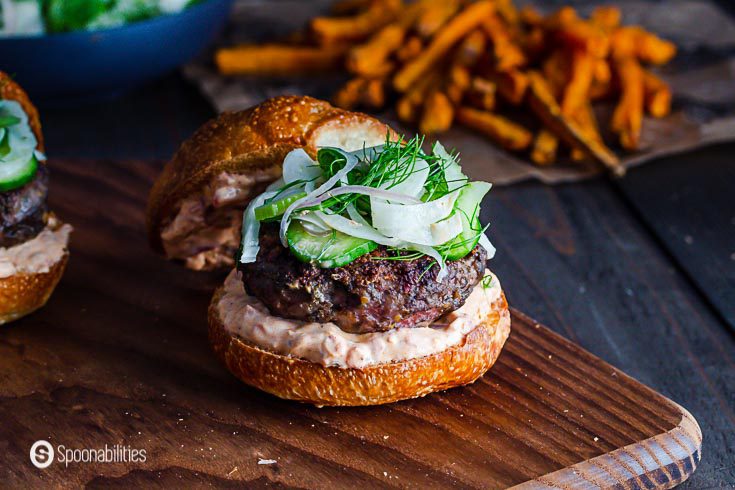 Four Key Elements are Essential to a Delicious Spiced Lamb Burger
These four elements are essential to create a flavorful and tasty spiced lamb burger:
The Lamb Patties: The ground lamb is heavily seasoned with a lot of oregano, coriander, crushed smoked chili flakes, cumin, and the zest of one lemon for a citrusy touch. Plus, sea salt & pepper. All this seasoning will shine through in every bite.
The Bun: Use a French-style burger bun around 4" round because it holds up well supporting not only the meat, but the sauce and slaw as well. A softer bun will break apart. You also can use a kaiser roll or ciabatta roll. The bun shown here is the same bread used for my Dominican Burger recipe, which is called a "Baguette Style Burger Bun."
The Sauce: The sauce is the star element of this burger recipe that will bind all the flavors together. More about that and how to make it later.
The Slaw: This slaw is made with very thinly sliced fennel, cucumber, celery, shallots, and fennel fronds, lightly seasoned with lemon juice, Eleia Greek Olive Oil, and Greek Sea Salt with Oregano and Sesame, also . The Fennel Cucumber & Celery Slaw gives such an exceptional brightness to the spiced lamb burger along with a crunchy bite. You really will love our seasoned finishing salts. But if you aren't able to order this right now, at home you can make your own mix of sea salt, oregano, and sesame seeds.
These four elements are essential to create this flavorful and tasty spiced lamb burger. We ended up making this recipe twice in the same week, so in seven days, we ate this spiced lamb burger for four lunches. Not a bad week indeed.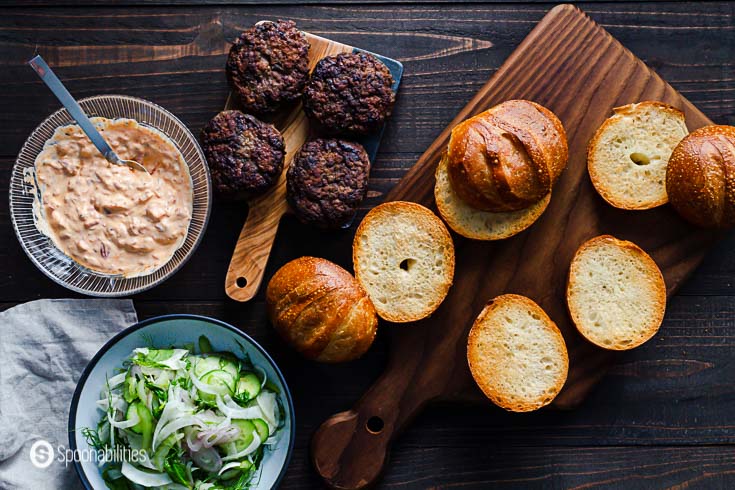 Grilling This Easy Spiced Lamb Burger
Here are the steps to make this easy spiced lamb burger:
First, make the Mediterranean seasoning mix of crushed smoked red chile flakes, oregano, cumin, sea salt, ground coriander, lemon zest, and black pepper.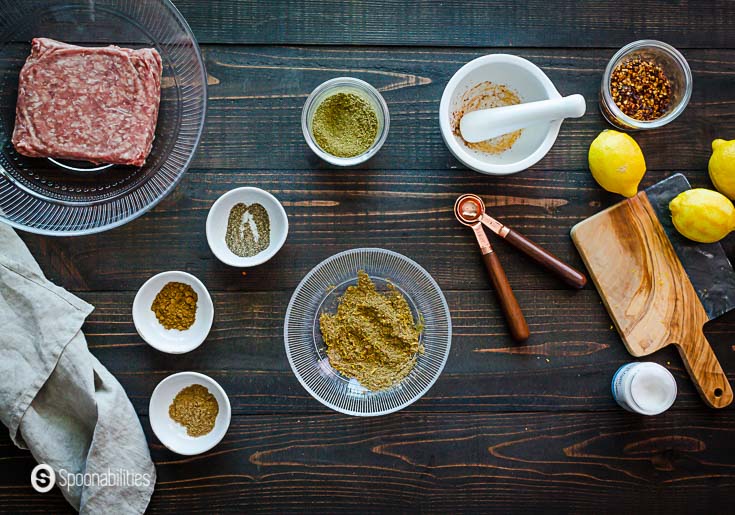 Now, dump the Mediterranean seasoning mix into a large bowl with the ground lamb, and mix gently until it's well combined.
Then form 4 patties. Some Patty Tips:

One pound of ground lamb will give you four 4oz patties that are around ¾" thick and 3-½" round. I recommend making them thinner and a bit larger. After you put them on the grill, they will shrink about half an inch. You don't want to end up with little patties on a huge bun (like I did on the first try).
Press your thumb in the center of the patties to create a dimple. Doing this will prevent the lamb patties from creating a bump in the center while they are cooking.
Keep the patties in the refrigerator for about 15-30 minutes before grilling.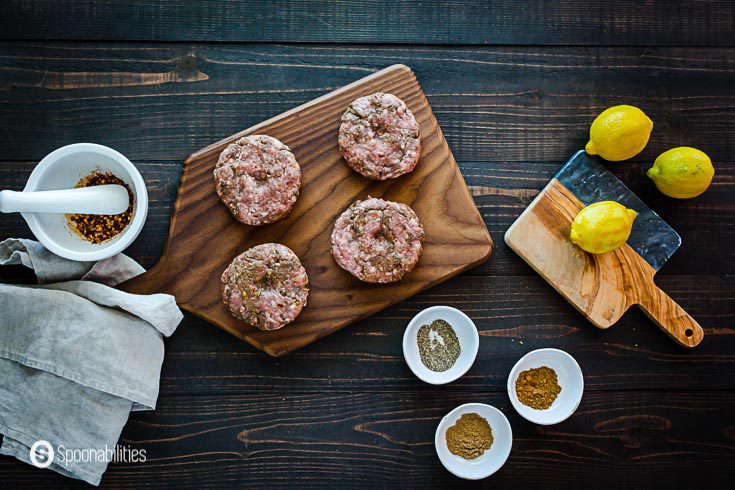 To grill them, I use an electric grill and I set the temperature to 400F degrees, and after the first side is cooked, I reduce the heat to 350F degrees. Some Grilling Tips:

Lamb is a leaner meat than beef, so the cooking time is approximately 4-5 minutes per side for medium to medium-rare. My patties came out as medium after 5 minutes.
Use a thermometer and confirm that the lamb patties reach internal temperature of 160F degrees.
In the recipe card, I provide instructions on how to cook the lamb patties on a gas grill, electric grill, and a cast-iron pan.
Transfer the patties to a plate and let them rest. Cover the lamb patties with tin foil to keep it warm.
Yogurt, Red Pepper, Cheese Spread for the Spiced Lamb Burger
Now, let's make the delicious spread for the buns of the spiced lamb burger. This sauce is a mixture (equal amounts, about ⅓ of a cup each) of plain Greek yogurt, and Sweet Red Pepper & Graviera Cheese Spread. This flavorful Greek spread is a blend of roasted sweet red peppers, P.D.O. Cretan graviera cheese, capers, herbs, and spices blended in Greek extra virgin olive oil. Graviera cheese is made with a combination of sheep and goat's milk. You don't want to substitute this spread, and if you are not sure where to find it, you can buy some here in our online shop.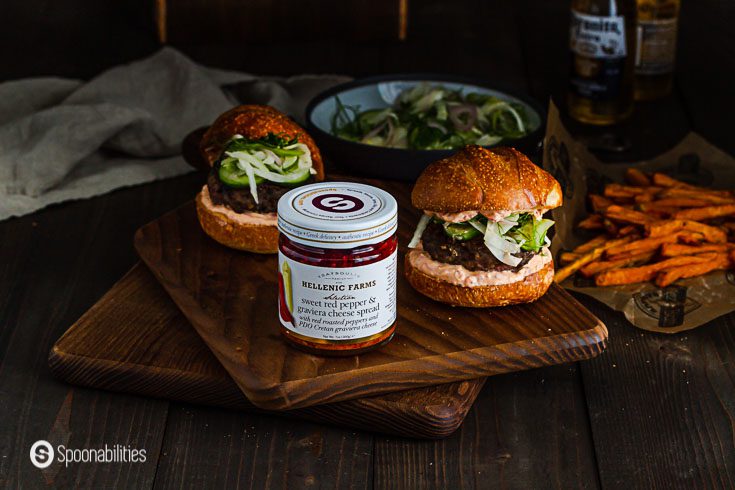 Alternatively, here is a similar spread that you can make at home, but the flavor won't be the same. In a food processor, mix jarred roasted red pepper, plain Greek yogurt, olive oil, gruyere cheese, and salt & pepper to taste.
Once your spread is ready, set it next to the other elements to assemble the burgers.
Let's Assemble the Spiced Lamb Burger
First, collect on a table your lightly toasted buns, spread, patties, and the slaw
Spread the red pepper graviera cheese mixture on both sides of the buns and add the spiced lamb patties to the bottom bun.
Top the lamb patties with as much slaw and you can fit or want. When grabbing the slaw, give it a shake above the bowl so you release any extra dressing to reduce the amount of liquid you bring to the burger.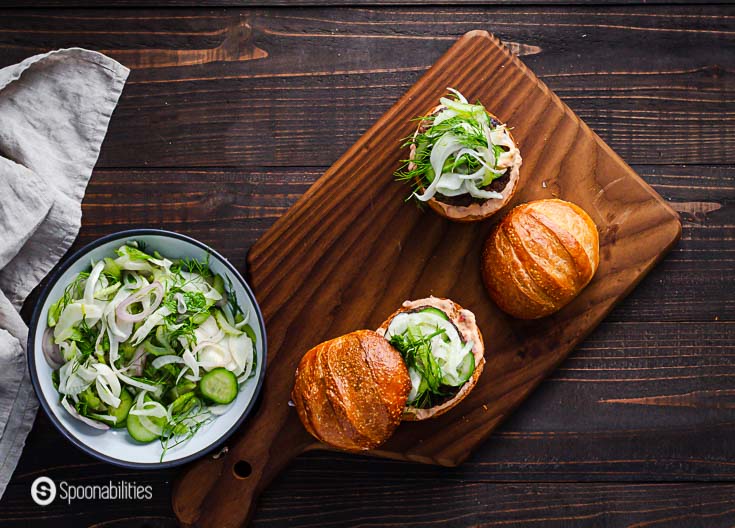 Put on the top bun and your spiced lamb burger is ready to eat. Eat the burger with some additional slaw on the side or some sweet potato fries.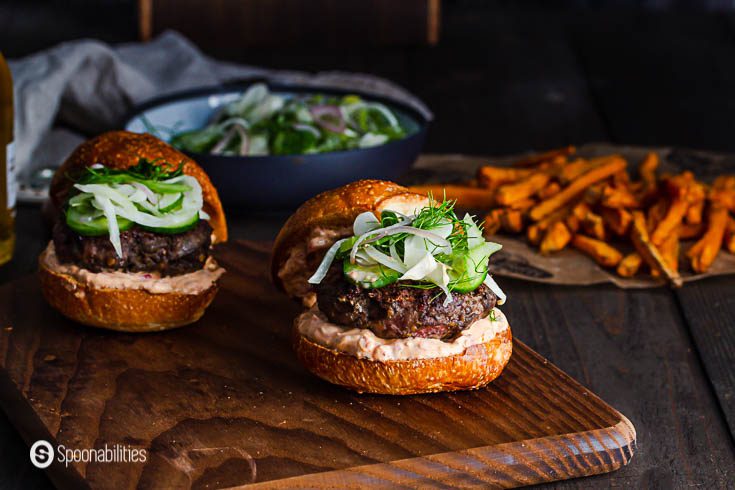 Start the summer season early by heating up the grill to cook this flavorful, juicy, and easy to make spiced lamb burger with your family. We would love to know if you make this recipe, and do take some photos! Share your creation with us by leaving a comment below and remember to rate this recipe. Share your photos on social media and tag @spoonabilities using the hashtag #nojarsleftbehind. I can't wait to see what you created.
Happy Burger Month!
Carlos Leo
Your Recipe Concierge
Interested in More Grilling Recipes?
Print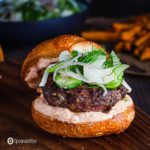 Spiced Lamb Burger with Fennel Cucumber & Celery Slaw
---
Author:

Carlos Leo

Total Time:

30 minutes

Yield:

4

1

x
Description
This Spiced Lamb Burger is mouthwatering and heavily seasoned with all your favorite Mediterranean spices. It is accompanied by a Fennel Cucumber & Celery Slaw. For the condiment, instead of ketchup or mayonnaise, use a combination of Greek yogurt and sweet red pepper & graviera cheese spread.
---
Lamb Patties:
1

lb

. ground lamb

½ teaspoon

pestle-crushed smoked chili flakes which you can find in our online shop

2 teaspoons

oregano

1 teaspoon

cumin

1

+½ teaspoons Pure Sea Salt which you can find in our online shop

1 teaspoon

ground coriander

¼ teaspoon

black pepper

1

lemon's zest

4

lightly toasted hamburger buns (kaiser rolls, ciabatta rolls, or Baguette Style Burger Buns),
 The Bun Spread
---
Instructions
Making the Spread:
Mix together equal parts plain Greek yogurt, and Sweet Red Pepper & Graviera Cheese Spread. See notes for alternative sauce.
Making the Burger Patties:
Combine the spices in a small bowl: cumin, oregano, ground coriander, crushed smoked chili flakes, lemon zest, pepper, and salt.
Add in a large bowl, the ground lamb and the Mediterranean spice mix. Gently combine.
Form four 4oz patties each around ¾" thick and 4" round. Press a dimple in the center to prevent the patties from getting taller. Put the patties uncovered in the refrigerator for about 30 minutes.
Heat the electric grill at medium-high heat (400F) then reduce to 350F. You can use the flat or grill side. I prefer to use the flat surface.
Cook lamb patties until browned, 5 minutes per side for medium. An instant-read thermometer inserted into the center should read 160F degrees.
Transfer patties to a plate and let rest 10 minutes.
To Assemble:
Generously spread the graviera cheese spread mixture on both buns and build each burger first with the lamb patty, followed by the slaw and top with the other bun.
Notes
Leaving the patties uncovered in the refrigerator will help to dry the outside and will create a better seal.
The meat will push up in the center as the patties cooks. Making a little dimple in the middle of each patty helps the burgers hold their flat shape and cook evenly.
Lamb is better to eat medium-rare. Don't overcook.
Alternative sauce: Roasted red pepper + gruyere cheese + olive oil. Taste and add salt and pepper if need it. Add all the ingredients in the food processor for a chunky but smooth texture. Gruyere cheese and Graviera have similar flavor profiles.
Cut all your vegetables before you make the lamb patties and keep them in a bowl without adding the seasoning. Season after your patties are ready.
Nutritional information below is for the burger only (uncooked). You will have left over slaw and sauce.
Prep Time:

20

Cook Time:

10

Category:

Lunch, burger

Method:

Grilling

Cuisine:

Mediterranean
Keywords: Summer recipe, burger, Mediterranean food, Greek Food, Lamb Recipe
Recipe Card powered by
[products ids="48839, 44804, 48854"]
Available via these Amazon links:
Disclaimer: Links that open in another site, i.e. Amazon, may be affiliate links where at no additional cost to you, we may receive a small commission should you decide to purchase the item. Read our Disclosure Policy