This Skirt Steak Tacos recipe, also known as carne asada tacos, is the best taco recipe ever. Juicy and tender skirt steak is grilled to perfection and marinated in jalapeño, lime, cilantro, garlic, cumin, salt & pepper, and olive oil. The marinated grilled skirt steak is sliced and placed in a corn tortilla with microgreens and topped with avocado, sour cream, queso fresco, cilantro, scallions, and tomatillo salsa.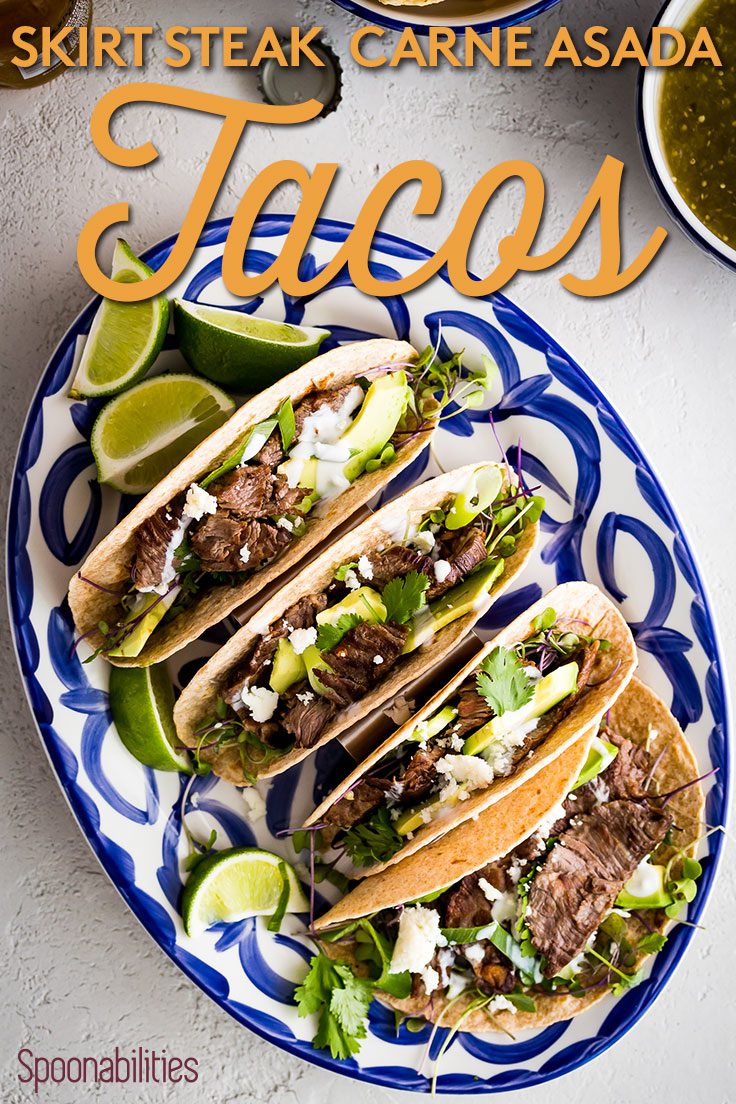 Blog post may contain affiliate links. Read our Disclosure Policy. All photographs are copyright Carlos Leo, Spoonabilities
Hello my friends. Today I am sharing my recipe for grilled Skirt Steak Tacos. Who doesn't love tacos? I still haven't met someone who doesn't love tacos. I could eat them every day. Although Cinco de Mayo has passed, an amazing "Tuesday Taco Night" dinner is always a welcome treat any (Tues)day of the year. That's why I am so excited to share this Skirt Steak Tacos recipe with you. It is really THE best and easiest taco recipe EVER.
Not to get off the subject of the Mexican Steak Tacos, but as I write this, my thoughts keep wandering off to another Mexican dish that I love - Mexican rice. You know that great Mexican place that has THE BEST Mexican rice served as a side, but it's so good that you forget it's just the side dish? I still have not figured out how they get the rice to be so fluffy and light, and so muy deliciso. That my friends, is on my recipe to-do list. I'll have to practice a lot. How terrible. So, stay tuned!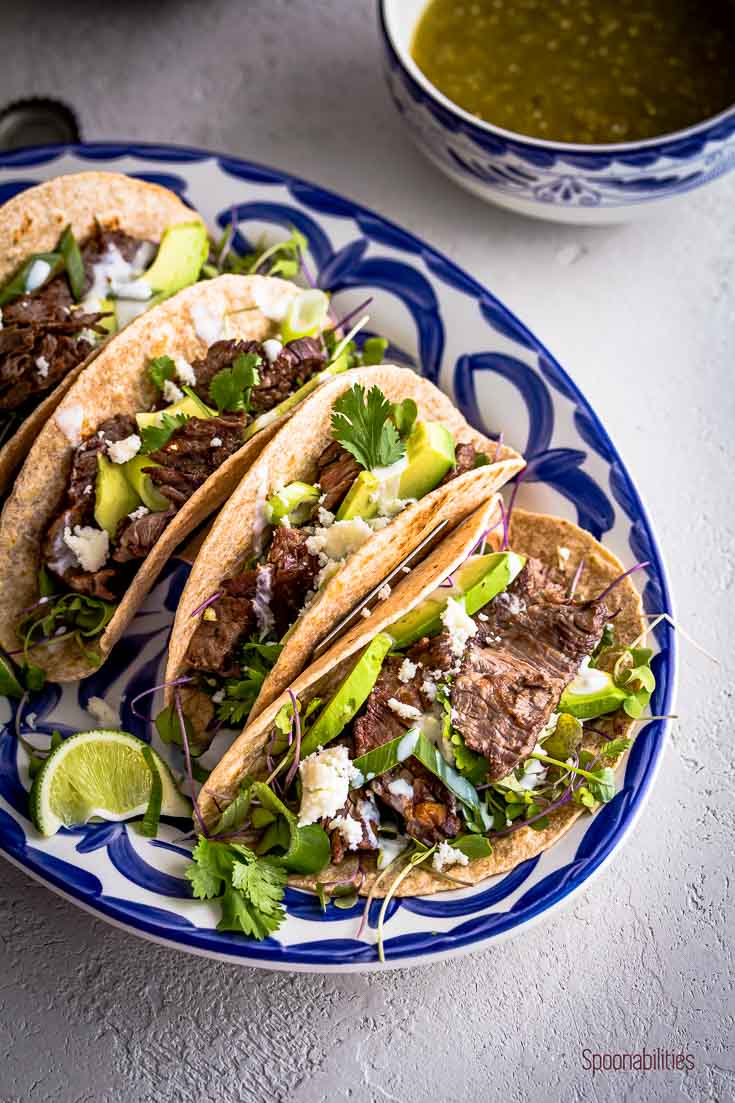 Mexican Recipes Celebrating Cinco de Mayo and Taco Tuesdays
I didn't realize until recently that we have a lot of Mexican recipes here at Spoonabilities. So, we put together a round-up called "Mexican food recipes to celebrate Cinco de Mayo." I love all those recipes but my all-time favorite is The Best Guacamole Recipe with Charred Corn & Bacon, and my newest recipe is Southwest Veggie Quesadillas with Cherry Tomato-Avocado Salsa. Since one of our visions for this blog is to cook more ethnic food from different regions around the world, we will be sharing more Mexican, Dominican & Mediterranean recipes with you this year. I am beginning to embrace and share my love for the Latin & Mediterranean cuisine.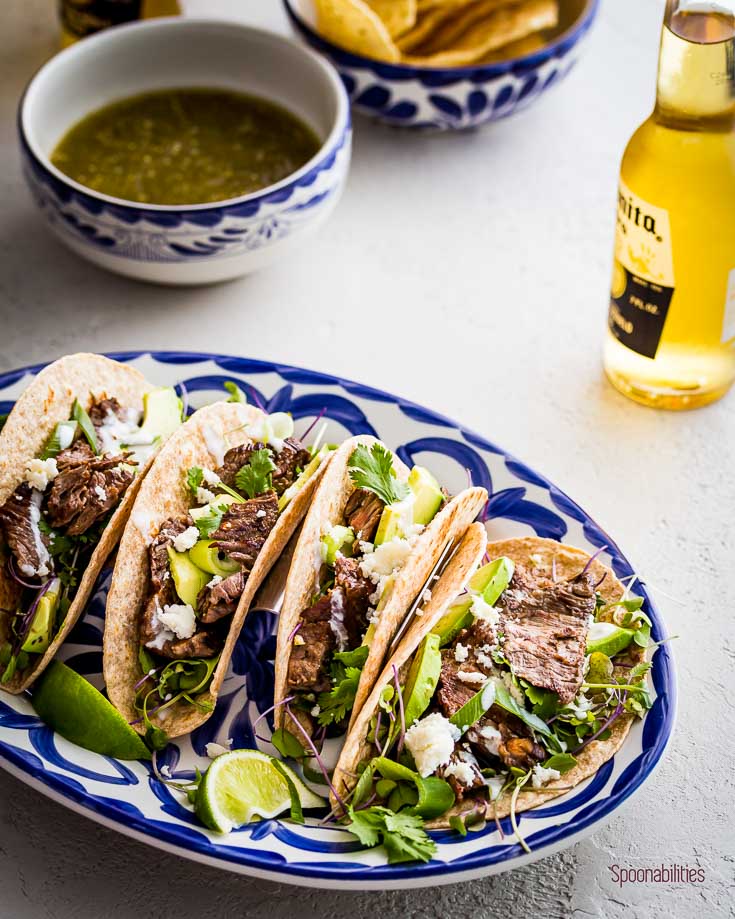 Is Skirt Steak Tacos is the same as Carne Asada Tacos?
Yes, it is. Carne asada translates to "grilled meat." The only difference is some people make the carne asada with skirt steak and some with flank steak. Those two similar cuts of meat come from the same general area of the cow. The carne asada can be served as a main dish or as a component for other dishes like in tacos, fajitas, quesadillas, burritos, in bowls with rice and other toppings, in salads, in Philly cheesesteaks and more.
When I was getting the ingredients for this skirt steak tacos recipe at the supermarket, I forgot to get the most important part - the skirt steak. So, I sent Geoffrey back to the supermarket. When he got to the store, he found flank steak and called to ask me if flank steak was the same as skirt steak. It's not. So, at that moment I knew I needed to share with you (and Geoffrey) some information about the difference between skirt steak and flank steak.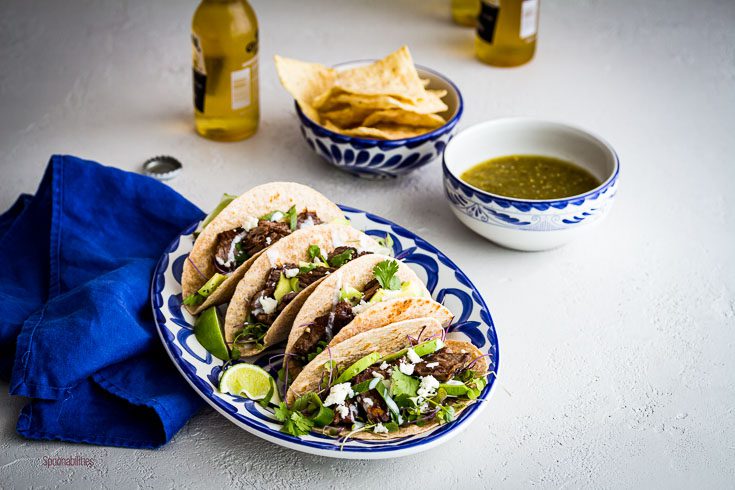 What is the difference between Skirt Steak and Flank Steak?
Skirt Steak and Flank Steak part of the cow:
Flank steak comes from the bottom abdominal area of the cow, so it contains a lot of hard-working muscles. The meat has a lot of tough fibers running through it and is fairly lean. It's a thicker, wider cut of meat than skirt steak. In some Latin countries this cut of beef is called "Sobrebarriga" (over the belly).
Skirt steak is the outer layer of the cut of beef steak from the plate. It is long, flat, and prized for its flavor rather than tenderness. It is not to be confused with flank steak, a generally similar adjacent cut nearer the animal's rear quarter. It is also fairly lean and contains a lot of tough fibers.
Beef plate is the primal cut of meat. The short plate primal cut is basically the underbelly of the cow. It stretches from the front legs to just before you hit the hind legs on the lower section of the animal.
Skirt Steak and Flank Steak flavor and texture:
Flank steak has tons of intense beefy flavor but can be a little tough. Eat it thinly sliced and cut against the grain for maximum tenderness.
Skirt steak has even more intense beefy flavor than flank steak. It does contain more tough muscles than flank steak. So, it should only be cooked to rare or medium rare for the tenderest texture.
How to cook Skirt Steak and Flank Steak:
Flank steak captures marinades well, and some marinades can help to tenderize the meat. High heat and quick cooking are the best way to cook flank steak. It can be grilled, pan-fried, broiled, or braised for increased tenderness.
Skirt steak captures marinades even better than flank steak. The marinade helps to minimize toughness and add flavor. Skirt steaks are often grilled, pan-seared very quickly, or cooked very slowly, typically braised.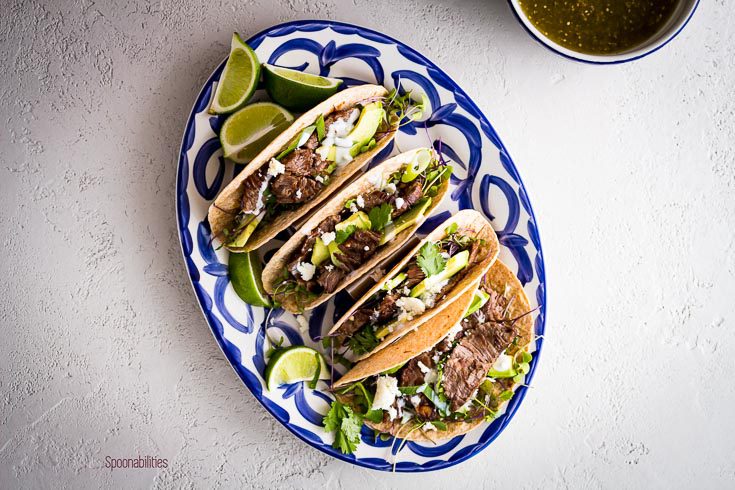 How to cut Skirt Steak and Flank Steak:
Similar to most meats, Skirt Steak and Flank Steak are typically sliced against the grain before serving to maximize tenderness. Cutting against the grain means that you cut crosswise and sever those fibers rather than cutting along them. The grain refers to the long strands of tough fibers that you can see running through the meat. This makes the meat much easier for the diner to cut and chew.
Like this recipe so far? Be the first to know when we release new ones!
---
What kind of dishes can you make with Skirt Steak and Flank Steak?
Skirt steak is the cut of choice for making fajitas, ranchera, Chinese stir-fry, churrasco, and cornish pasties.
Flank steak is used in a variety of dishes including London broil and as an alternative to the traditional skirt steak in fajitas. It is frequently used in Asian cuisine, often sold in Chinese markets as "stir-fry beef," and is served in French cuisine as an at most medium-rare steak.
What is the best steak for tacos?
Both flank steak and skirt steak. I prefer the skirt steak in tacos. But, if you cannot find either cut of meats, you can use the following alternatives: Sirloin flap meat or trimmed brisket cut into 1 inch thick "steaks" and then into thin strips.
Fast & Easy Marinade for Skirt Steak Tacos
Ok, let's talk now about the steak taco marinade. It's easy, fast, and very versatile. First, chop the cilantro, jalapeño, garlic, fresh lime juice, salt & pepper, ground cumin and a high quality Extra Virgin Olive Oil. For this marinade we typically use Melies which is available from our partner Hellenic Farms. Melies Extra Virgin Olive Oil is mildly fruity with a balanced taste, fresh aroma, and smooth aftertaste. With a distinctive character, it is excellent as a finishing olive oil, and a good, healthy Kosher cooking oil ideal for everyday use. This Kosher EVOO is a blend of 70% Koroneiki and 30% Arbequina olive cultivars.
What Can I Make with Leftover Steak Taco Marinade?
I recommend doubling the recipe and put the unused marinade in the refrigerator. You can use your left-over marinade as a drizzle over warm, freshly fried plantains, roasted potatoes, grilled chicken, or grilled fish, and of course, over the skirt steak tacos. You can use it as a salad dressing or just simply drizzle some on fresh tomato slices. One of my favorite uses is to drizzle it over slices of bread, and then pop the slices in a hot oven to make the most amazing toast.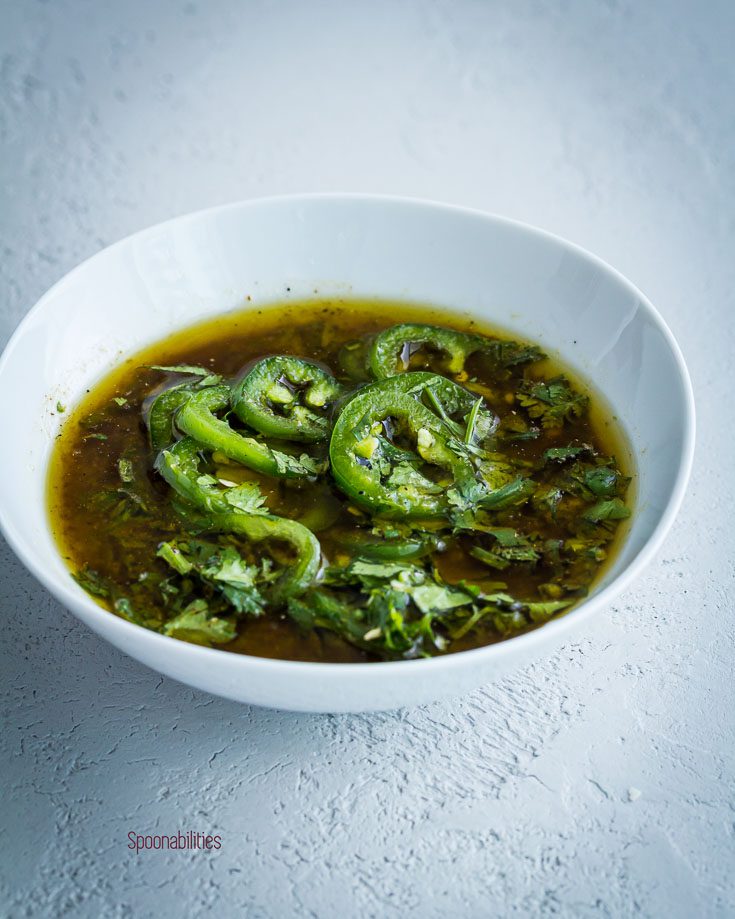 What You Can Make with Leftover Skirt Steak
You certainly will end up having left-over steak from your Skirt Steak Taco night. Here are a couple of ideas to make a quick & easy meal:
A delicious quesadilla: Create a mouth-watering, quick meal using your left-over Skirt Steak Taco meat by folding it into a warm, flour tortilla with melted queso fresco, cilantro and toppings of your choice.
A healthy and hearty salad: Combine romaine lettuce, your left-over skirt steak, sliced avocado, crumbles of queso fresco, drizzled with the extra marinade.
Skirt steak fajitas: Drizzle some marinade on red and green bell peppers, red onion, and roast or grill the vegetables.
Serve as a main dish thinly slicing the skirt steak and placing it on an oval serving plate. Slice some cherry tomatoes, avocado, corn, and cucumber; chop some extra herbs like parsley; and mix with the marinade for a flavorful salsa. Pour all over the skirt steak. Serve with white rice.
We hope you enjoy our Skirt Steak Taco recipe as much as we do. Don't wait until the next Cinco de Mayo to enjoy these delicious tacos. Make it a Skirt Steak Taco night all year long!
Carlos
Your Recipe concierge
Interested in More Grilling Recipes?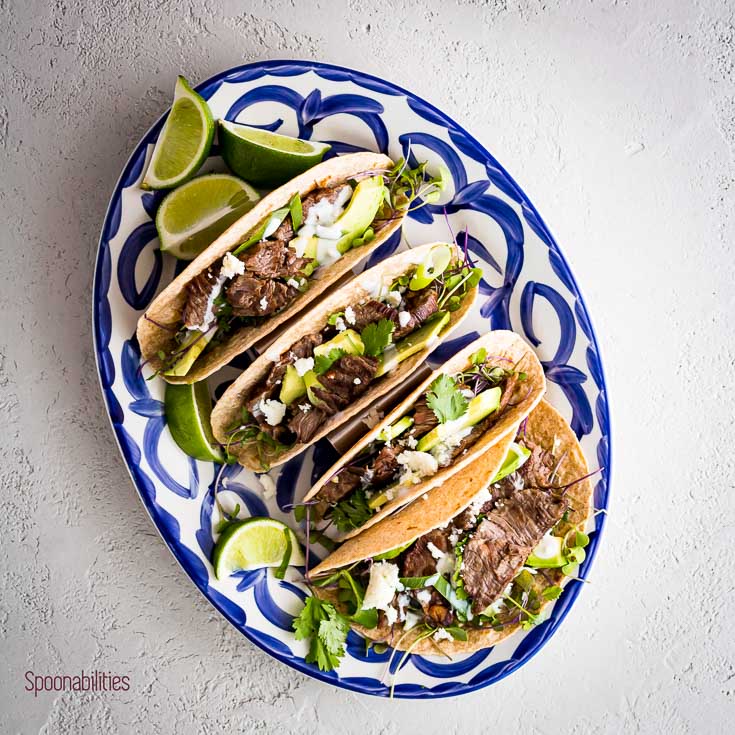 Print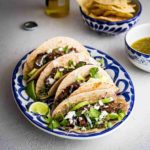 Skirt Steak Tacos Recipe | Carne Asada
---
Author:

Carlos Leo

Total Time:

46 minutes

Yield:

12

Tacos (+/-)

1

x
Description
Juicy and tender grilled Skirt Steak Tacos topped with avocado, cilantro, queso fresco, and sour cream. The skirt steak has been marinated in jalapeño, lime, cilantro, garlic, cumin, salt & pepper, and olive oil. This Mexican dish is also known as carne asada.
Adapted from Epicurious
---
For the steak and marinade:
1

medium jalapeño, thinly sliced

2

garlic cloves, finely chopped

¼

cup

coarsely chopped cilantro

¼

cup

fresh lime juice

¼

cup

Extra Virgin Olive Oil

1 teaspoon

Sea Salt

½ teaspoon

freshly ground black pepper

¾ teaspoon

ground cumin

1

lbs

skirt steak. The package at the store will have almost 2 pounds.
For the tacos:
8

(8-inch) corn tortillas
Microgreens
Topping for the skirt steak tacos: The toppings are optional
½

medium avocado, sliced

⅓

cup

sour cream, thinned with a Tablespoon of lime juice
Crumbled queso fresco
Cilantro leaves
Green onions/scallion
lime wedges
Homemade or store-bought tomatillo salsa
---
Instructions
Marinate and cook the steak:
In a bowl, combine the jalapeño, garlic, cilantro, lime juice, extra virgin olive oil, salt, pepper, and cumin.
In a resealable bag, add the steak and enough marinade to coat every piece of the steak. If you have left over marinade, read suggestions in the blog for additional uses.
Marinate for at least 30 minutes at room temperature, or overnight in refrigerator, tossing once or twice.
If chilled, let steak sit at room temperature for 30 minutes before cooking. Prepare a grill or grill pan at medium-high heat. Remove steak from marinade, scraping off any bits that cling to meat. Discard used marinade.
Grill steak for 3 minutes per side for medium rare. Let rest for 8 minutes before thinly slicing against the grain.
Assemble the tacos:
Warm tortillas in a microwave, oven, or on the grill. Divide steak and microgreens among tortillas. Then add your favorite toppings like salsa, avocado, sour cream, queso fresco, cilantro, and scallion. Serve with lime wedges alongside.
Prep Time:

10 minutes

Cook Time:

6 minutes

Category:

Dinner

Cuisine:

Mexican
Nutrition
Calories:

250

Sodium:

281 mg

Fat:

17 g

Saturated Fat:

4 g

Unsaturated Fat:

2 g

Trans Fat:

10 g

Carbohydrates:

14 g

Fiber:

3 g

Protein:

13 g

Cholesterol:

37 mg
Recipe Card powered by
Available via these Amazon links:
Disclaimer: Links that open in another site, i.e. Amazon, may be affiliate links where at no additional cost to you, we may receive a small commission should you decide to purchase the item. Read our Disclosure Policy