Grilled Pork Chops with Raspberry Peach Chipotle Sauce is so quick and easy, and has become one of our favorite white meat grill recipes, and we hope you add it to your repertoire too. Summer is at its peak, and I hope you've been honing your grilling skills. There's nothing wrong with sizzling thick steaks, but remember, cooking is all about pushing your boundaries and trying new things. That's why today we're grilling pork chops with plums, lemons, and halloumi cheese. I know it sounds delicious, and trust me, it tastes even better. It's a looker too.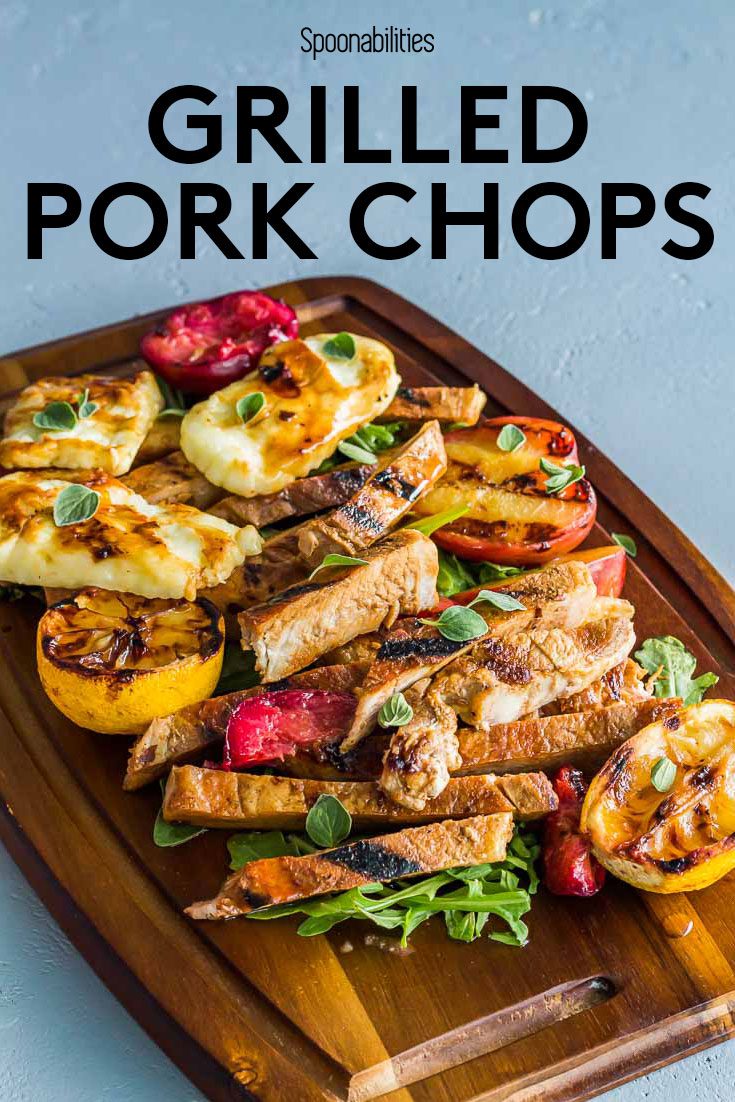 Blog post contains products you can purchase in our online shop, and affiliate links.
Read our Disclosure Policy.
Hello my friends. How's that grilling going? This has been quite a unique summer. For us, it has been all about not cooking the same dishes twice. We have been experimenting grilling other foods besides beef like salmon, pork chops, lamb, etc… If you are like Geoffrey and I, and love to grill, you probably don't work with pork chops enough, but hopefully this recipe will change all that.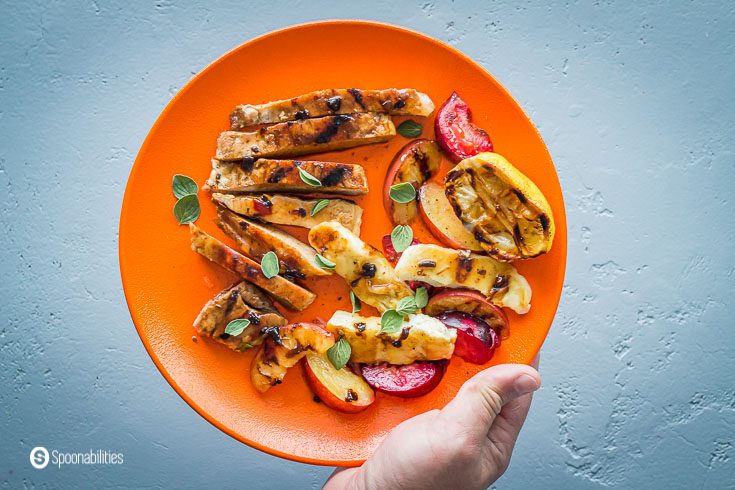 Complementary Ingredients for Grilled Pork Chops
For today's recipe, it's all about the quality of the ingredients, so pay a visit to your local butcher and get yourself the meanest pork chops you can find. Did you know pork chops are the most popular part of the pig? And we can see why. When done right, they're fork tender, juicy, and massively flavorful. If you think about it, that's not surprising. Fatty, meaty, and tender pork chops rock, especially if you grill them with plums. Come see how we do it!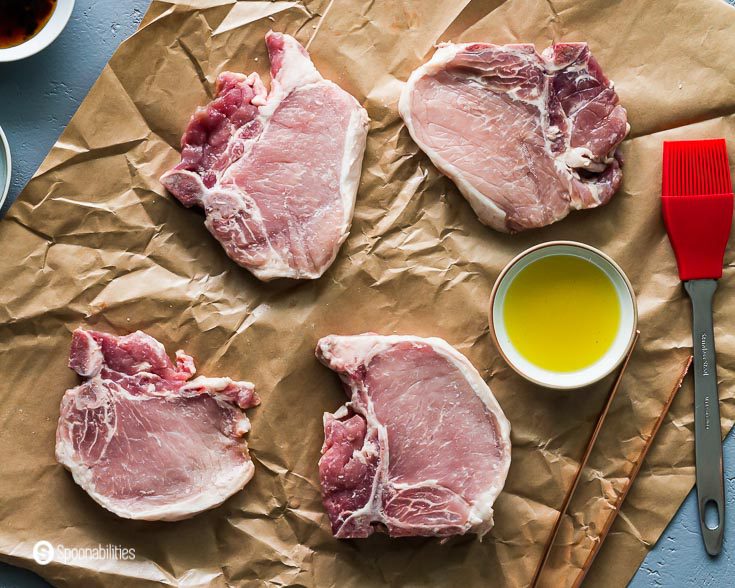 Plums are a quintessential summer fruit; all varieties ripen somewhere from May to September. It's a shame not to make use of them when they're at their best, particularly during the season's grilling sessions.
Lemons are available all year round, but summer is their peak season. We use lemon to give added flavor to food like baked goods, sauces and marinades, salad dressings, cocktails, as well as use it as a garnish, and brighten up any desserts. They are also a good source of vitamin C.
We're also using olive oil to get a nice char going, so choose a quality one too, we have several premium EVOOs .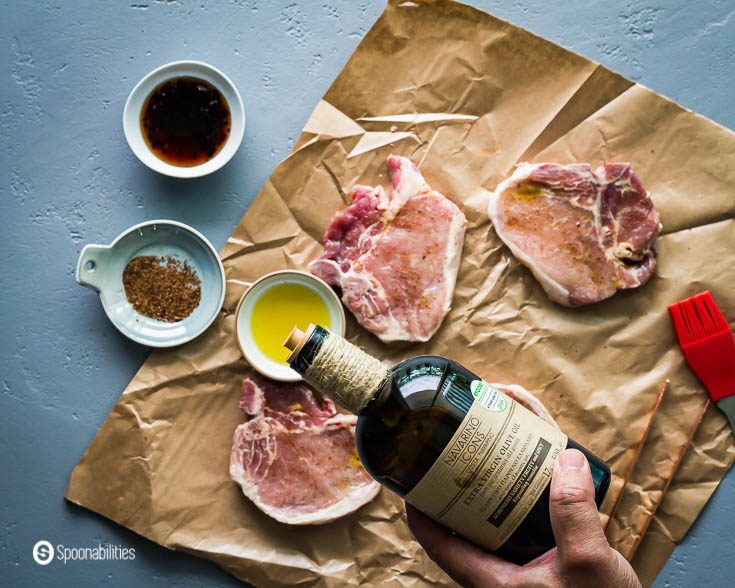 Greek Sea Salt Smoked in Beechwood. Why use regular salt? Let's give a smoky touch using this wonderfully aromatic sea salt. Smoked with beachwood's scent for 140 hours, this natural sea salt is truly gourmet.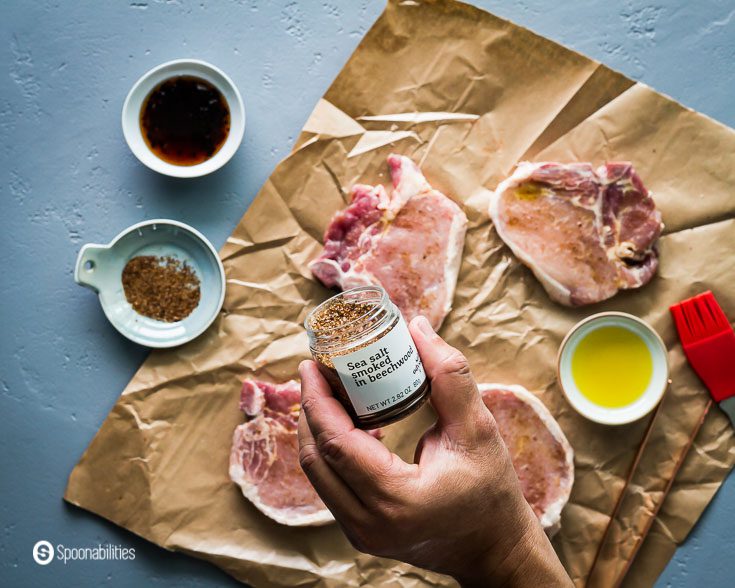 Pork chops are compatible with fruity sweetness, and we're pretty excited about using Raspberry Peach Chipotle Sauce. It's slightly spicy and enticingly sweet, what a beauty! This sauce is a take on barbecue sauce and has a bright combination of ripe, juicy peaches, pristine raspberries and smoky chipotle peppers. Terrapin Ridge made this one as an incredible glaze that will brighten grilled meat.
Our final critical ingredient is Halloumi cheese, and I'll tell you all about it below. For us, it's love at first sight. There's cheese, and then there's halloumi. This is tasty stuff, really.
---
Like this recipe so far? Be the first to know when we release new ones!
---
Halloumi, The Cheese You Never Knew You Needed
Halloumi cheese is an ancient style of cheese that dates back to the middle ages in the Arabian countries. It's now a staple in the picturesque Mediterranean island of Cyprus.
Halloumi is semi-hard brined cheese, traditionally made with sheep's or goat's milk, but today also with cow's milk. It has a high melting point, and that means it's perfect for grilling.
Halloumi has a salty taste, and a firm bite. It's rather hearty and almost addictive. There are few other cheese styles like this one.
You can substitute halloumi with Indian paneer, Mexican panela, and Feta if it's not too crumbly. You can use tofu too, just don't tell Geoffrey.
According to Greek mythology, Aphrodite, the goddess of love and pleasure, was supposedly born in Cyprus. I wonder if halloumi has aphrodisiac properties, I kinda think it does.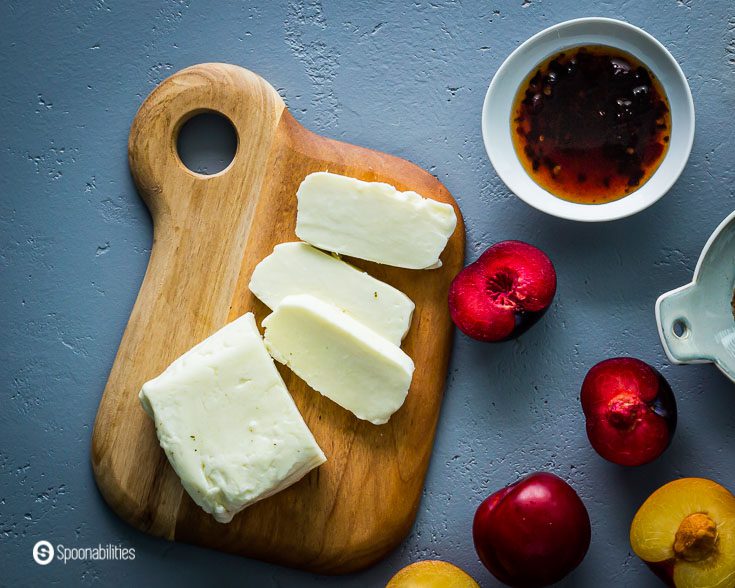 Pork chops, plums, halloumi, and Raspberry Peach Chipotle Sauce are today's stars, and they're nothing less than a dream team. Your friends and family will love this dish, and you'll have a new ace up your sleeve to take your grilling game to the next level.
Interested in More Grilling Recipes?
Remember to share your creations with us by leaving us a comment here or tagging @Spoonabilities on social media and using the hashtag #Spoonabilities.
Carlos Leo
Your Recipe Concierge!
Print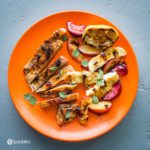 Grilled Pork Chops Recipe with Raspberry Peach Chipotle Sauce
---
Author:

Carlos Leo

Total Time:

20 minutes

Yield:

4

1

x
Description
Pork chops are super harmonious with fruits, so they work very well with plums and lemons in this recipe. Together with the exceptional Halloumi cheese, a specialty from Cyprus, you've got yourself a winning combo. We glaze these pork chops with Terrapin Ridge Raspberry Peach Chipotle Sauce, which is tangy and slightly sweet with a spicy note.
---
For pork:
For grilled plums, lemon & halloumi:
1 Tablespoons

Eleon Extra Virgin Olive Oil by Navarino Icons,

4

ripe medium red or black plums, halved

2

lemons, halved, seeds removed

8.8

oz

halloumi cheese, sliced into ½" thick strips
Garnish with fresh oregano leaves
---
Instructions
Prepare a grill for medium-high heat, and oil grill. Brush pork chops with olive oil and season generously with smoked sea salt.
Place plums, lemon, and halloumi on a rimmed baking sheet and drizzle with 1 Tablespoon oil; toss to coat.
Grill pork, turning every 2 minutes and brush with the raspberry peach chipotle sauce. It will take about 6-8 minutes. Using an instant-read thermometer, make sure to reach 145F. Transfer to a cutting board and let rest for 10 minutes.
Grill the plums and lemons cut side down, and grill the halloumi turning once. Cook plums and lemons until grill marks appear and plums start to release their juices, about 4 minutes.
Transfer plums, lemon, and halloumi to cutting board with pork and let cool 1 minute. Slice each plum in wedges and cut each halloumi into 1" pieces.
Cut pork away from the bone and slice ½" thick. Discard bones.
Arrange meat on plates on top of some arugula. Arrange the plums and halloumi around the pork chop pieces. Squeeze juice from grilled lemon on top, and season with more smoked sea salt. Serve with some raspberry peach chipotle sauce on the side.
Prep Time:

10

Cook Time:

10

Category:

Lunch

Method:

Grilling

Cuisine:

American
Keywords: grilling, smoked, bbq, summer recipe, Mexican food, tex-mex food, Greek food, halloumi cheese, stone fruits, summer fruits, pork
Recipe Card powered by
Available via these affiliate links:
Disclaimer: Links that open in another site, i.e. Amazon, may be affiliate links where at no additional cost to you, we may receive a small commission should you decide to purchase the item. Read our Disclosure Policy.