This Grilled Summer Vegetables recipe has my favorite veggies like yellow beets, zucchini, yellow squash, red onion, eggplant, green onions / scallions and corn. This healthy grilling recipe has a flavorful black olive vinaigrette full of Greek flavors. You will also learn how long to perfectly cook vegetables on the grill, what are some great grilling vegetables, and my favorite indoor grills.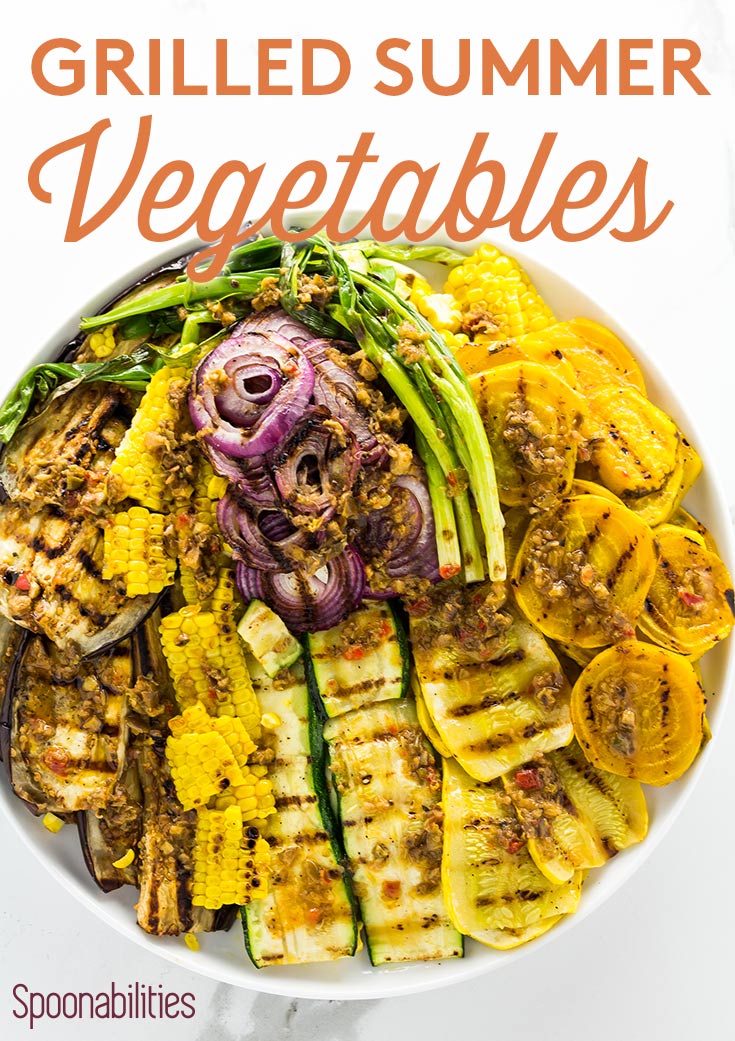 Blog post contains affiliate links. Read our Disclosure Policy
Hello my friends. Grilled Summer Vegetables is another summer recipe just for you. Grilling these summer vegetables is an easy task, but it will take some proper timing because each vegetable has their own cooking time. If you grill on a small indoor grill like me, you will have to grill the vegetables in small batches. But if you have a large outdoor grill, the cooking time will be reduced almost a half. This recipe is a great excuse to fire up your grill and enjoy the summer outdoors.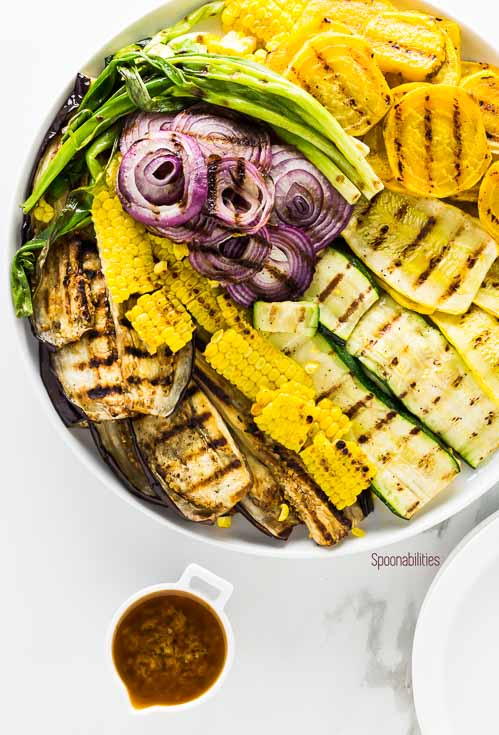 Why are vegetables great for grilling?
Vegetables are one of my favorite ingredients to grill because grilling brings out the delicious sweetness when they are caramelized which combines with the terrific charred flavor. In the past, the list of vegetables that I used to grill was just a handful. But now I love to grill everything from vegetables to fruits. The next recipe I'll be sharing with you is delicious grilled stone fruits and a grilled salmon.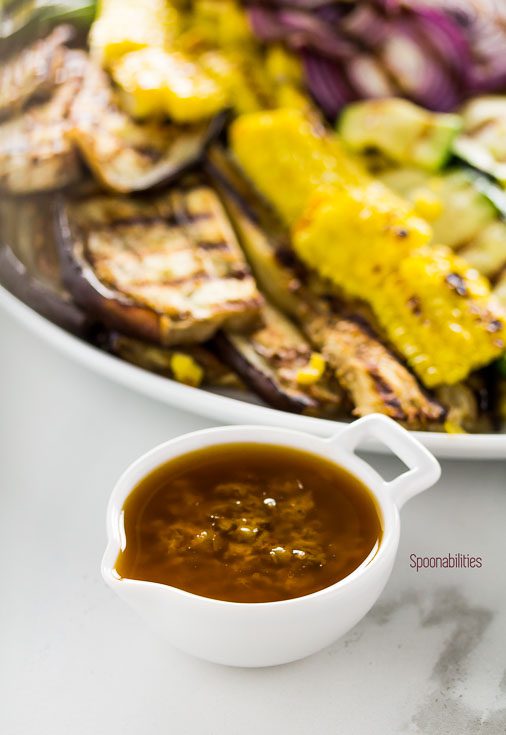 My Two Favorite Indoor Grills
I live in a condo in Miami. So, I don't have a backyard for a real big "manly" grill, but I have two indoor grills that do the job pretty well. I love both grills, and I use each of them depending on the amount or type of food that I'm cooking. The first indoor grill is the Hamilton Beach (25361) Electric Smokeless Indoor Grill & Searing Grill with Removable Plates and Viewing Window. The grilling surface is a medium size and it comes with a hood. When you close the hood, the temperature increases and it helps to cook the food faster. The best feature of having a hood on the grill is to control the smoke and also prevent the oil splatter from going all over the counter. I use this grill for the Grilled Summer Vegetables recipe, and therefore it takes me a bit longer to cook each vegetable. What I did in this situation is to turn on the oven to 250 degrees, and put the grilled veggies in the oven to keep them warm until I was done.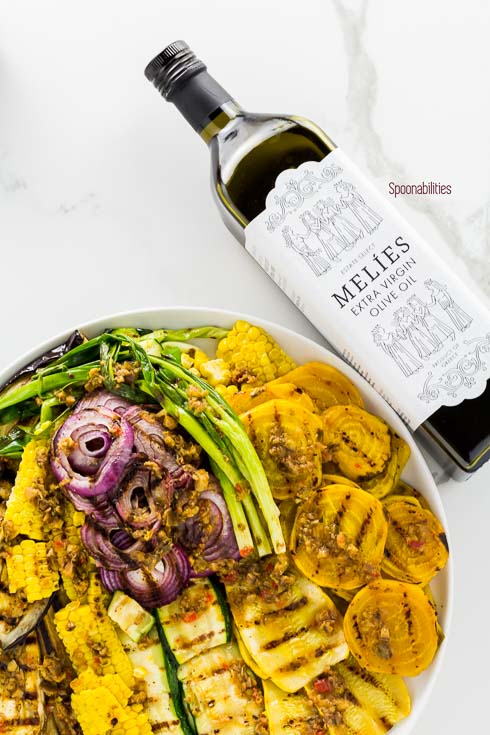 My other favorite indoor grill is the Oster® Titanium Infused DuraCeramic™ Reversible Grill/Griddle. I got this grill because the surface is larger and I needed a larger flat surface for a recipe that I'm testing for a Dominican burger called "Chimichurri." I hope I can get the recipe right before the summer ends so that I can share it with you. Either way, Geoffrey doesn't mind all my practice sessions. For him, the more mistakes the better ;)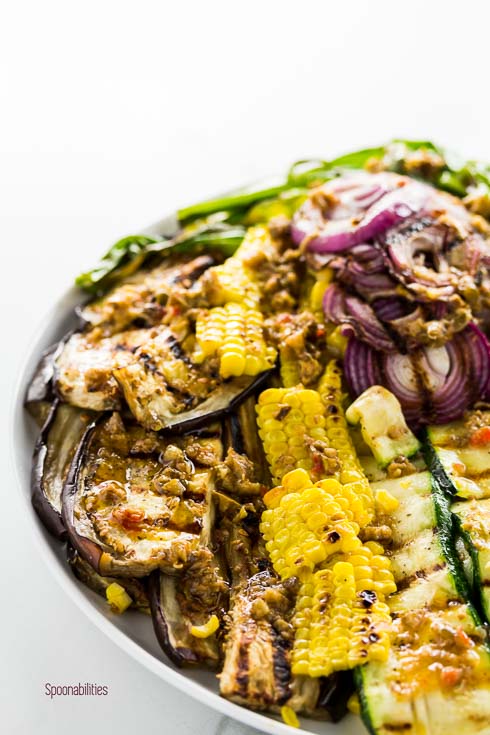 When planning for this grilled summer vegetables recipe, I decided to use one of the half jars that I had in the refrigerator. I knew I wanted to make a vinaigrette that would complement the flavor of each of the vegetables. I decided to use the Kalamata Olive & Oregano Spread (which is available for purchase in our online shop) because the Mediterranean flavor matches perfectly with the eggplant, zucchini, red onion, yellow squash, yellow beets and the corn. I have used the chile red pepper tapenade for other recipes that you can enjoy here like a Hearty Vegetable Soup and Southwestern Chicken Wraps. Another recipe that I cooked with the black olive tapenade, similar to the Kalamata Olive & Oregano Spread, was the Fresh Stuffed Squash Blossoms with Burrata & Black Olive Tapenade.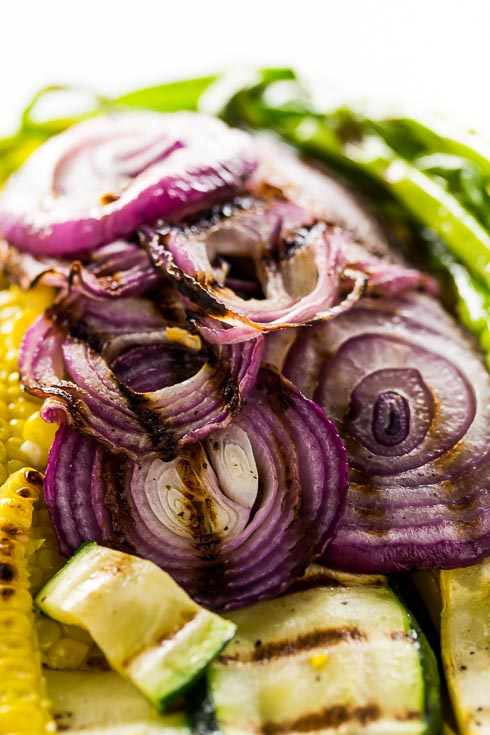 The inspiration for this grilled summer vegetables recipe came from all the fresh produce that I found in my local farmer's market, and of course the leftover jar of Kalamata Olive & Oregano Spread in the refrigerator. As you know, my expertise is to use and repurpose leftover ingredients or jars left in my pantry or fridge. I always have several opened jars in my refrigerator because I'm testing new products or recipes every day. Having tasty products around the house is a good perk of having your own gourmet food store?.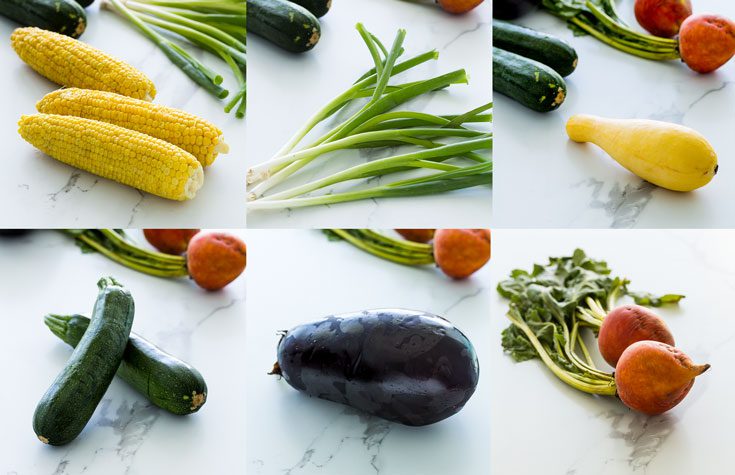 How long do you cook vegetables on the grill?
Not all vegetables have the same grilling time. My hope is that I've done some of the leg work for you and below you have a reference for your summer grilling adventures with vegetables.  Here is a list of the most common vegetables along with some of my favorites with their perfect cooking times.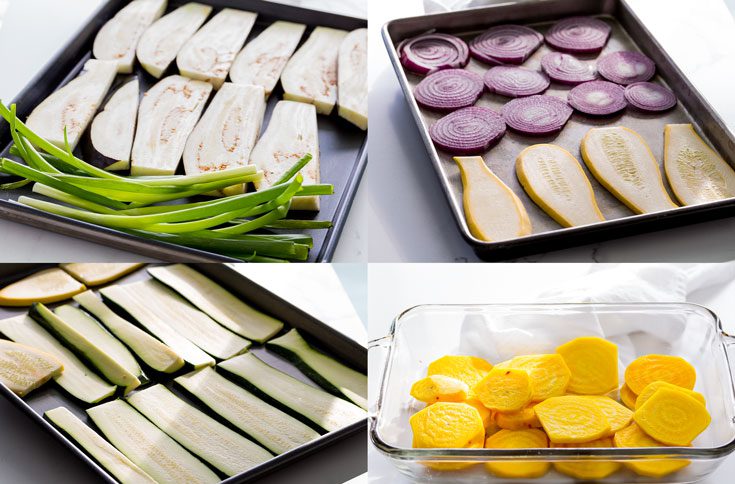 Different Vegetables and their Perfect Grilling Times:
Eggplant: 10-12 minutes – rotate after 5 minutes. Some people prefer to cook it for 7 minutes. For my taste 7 minutes is not enough.
Zucchini & Yellow Squash: 7 minutes total - rotate after 3 minutes. You can leave it on longer but I like it to still have a slightly crunchy texture.
Red Onions: 5-7 minutes each size.
Green Onions / scallions: Grill rotating until you see the grill marks (5 minutes total). The time will depend on the kind of grill that you have.
Yellow Beets: Cook 14 minutes total for thinner cut, and 20 minutes total for a thicker cut. Rotate half way.
Corn: 25-30 minutes and rotate every 5 minutes.
Pre-cooked Corn: Grill each side until you see the charred marks.
Bell Peppers: 8-10 minutes and rotate until you see the charred marks and is tender.
Mini Peppers: 6-8 minutes and rotate until you see the charred marks and is tender.
Cremini Mushrooms: 7 minutes
Portobello Mushrooms: 10 minutes
Asparagus: 4 minutes each side
Potatoes: 10-12 minutes
Sweet Potatoes: 15-20 minutes
Romaine Lettuce: Cut in half lengthwise and grill for around 3 minutes
Pre-cooked Artichokes: 8 minutes total and rotate after 4 minutes.
Carrots: 20-25 minutes or until tender
Fennel: 10-12 minutes
Tomatoes or Cherry Tomatoes: 3 minutes
Okra: 3 minutes
Special notes:
Do not touch the vegetables until one side is completely charred and ready to be rotated
The only seasoning I use when grilling vegetables is olive oil, salt & pepper. The secret is in the dressing!
Grilling time will depend if you are using an electric, charcoal or gas grill.
Thank you and have an awesome summer!
Carlos
Your recipe concierge
Interested in More Grilling Recipes?
Print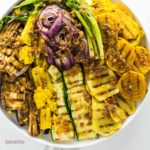 Grilled Summer Vegetables with Black Olive Vinaigrette
---
Author:

Carlos Leo

Total Time:

60 minutes

Yield:

10

serving

1

x
Description
Grilled Summer Vegetables is an easy & healthy recipe with Mediterranean flavor from the tasty Kalamata Olive & Oregano Spread.
---
Vegetables:
2

zucchinis

1

yellow squash

1

eggplant

1

bunch green onions

2

yellow beets

2

ears of corn

1

red onions

3 Tablespoons

Melies EVOO for brushing the vegetables
Salt & pepper
Vinaigrette:
2 Tablespoons

champagne vinegar

¼

cup

Melies EVOO
the zest of 1 lemon

2 Tablespoons

lemon juice
Salt & pepper as needed
---
Instructions
Vegetable Prep and Grilling:
Wash & dry the vegetables.
Preheat the grill as you always do. I use an electric grill from Hamilton Beach and set the grill at 400 degrees.
I set the oven at 200 degrees to keep the vegetables warm after they come off the grill
Cut lengthwise in 1-inch thick slices the eggplant, zucchini & yellow squash.
Cut in 1-inch thick round slices the yellow beets (peel the skin) & red onion. You don't need to cut the green onions.
Brush the vegetables on both sides with olive oil and sprinkle with salt.
In a medium pot boil the corn in water for 10 minutes.
Start to grill the vegetables. See grilling times below.

Eggplant: 10 minutes – turn after 5 minutes.
Zucchini & yellow squash: 7 minutes and turn after 3 minutes. You can leave longer but I like them with a slightly crunchy texture.
Red onions: 5-7 minutes each size.
Green onions / scallions: Grill rotating until you see the grill marks (5 minutes total). The time will depend the kind of grill that you have.
Yellow beets: Cook 7 minutes each size. It will depend how thick you cut the beets. I did mine on the thinner side
Corn: Grill rotating until you see the grill marks. Remember the corn is already cooked. We just need the char marks.

Lay the vegetables on a platter and pile them by sections.
Vinaigrette:
Mix all the ingredients for the vinaigrette and whisk well.
Drizzle the vinaigrette over the grilled vegetables.
Notes
Vitamin A 1%, Vitamin C 38%, Calcium 5%, Iron 8%, Vitamin E 1%, Vitamin K 15%
Prep Time:

15 minutes

Cook Time:

45 minutes

Category:

Side dishes

Cuisine:

Mediterranean
Nutrition
Calories:

116

Sugar:

5.3 g

Sodium:

78.4 mg

Fat:

7 g

Carbohydrates:

14.7 g

Fiber:

4.2 g

Protein:

2.5 g
Recipe Card powered by
Available via these Amazon links:
Disclaimer: Links that open in another site, i.e. Amazon, may be affiliate links where at no additional cost to you, we may receive a small commission should you decide to purchase the item. Read our Disclosure Policy