Dominican Buñuelos are fried dough balls soaked in vanilla cinnamon syrup. A traditional Latin dessert, buñuelos are made from yuca or potatoes, and are one of the many ethnic foods brought to the USA by immigrants like me, and that make America great.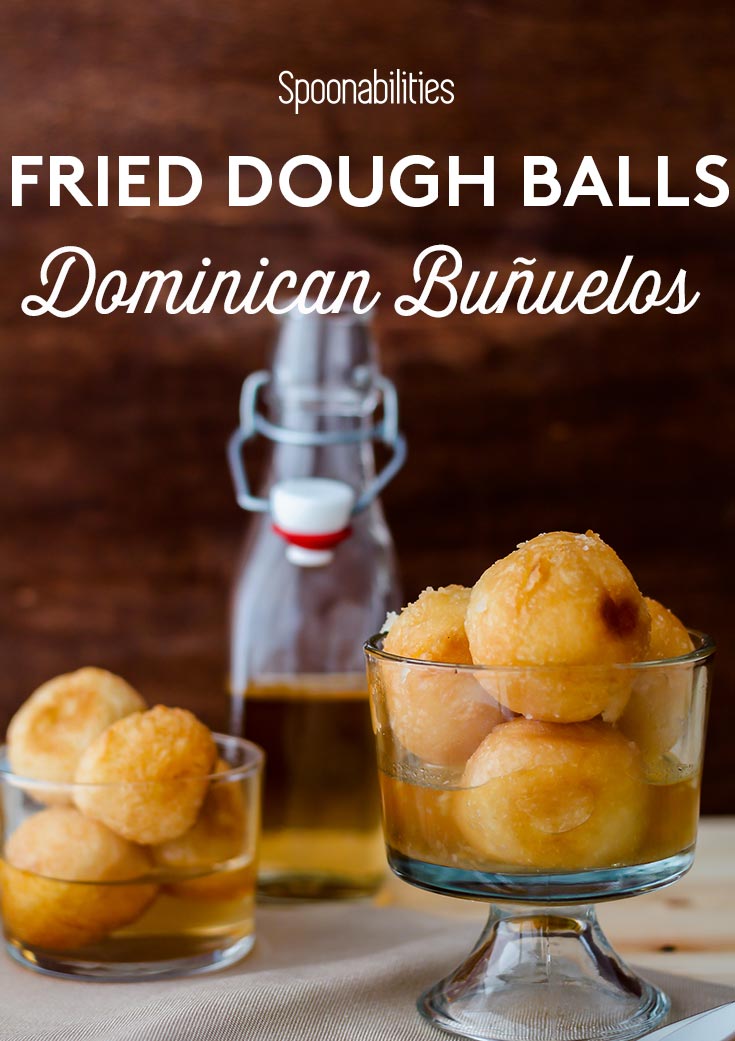 Recipe post may contain affiliate links. Read our Disclosure Policy
Sharing my story about buñuelos brings back so many good memories from my childhood, my family and my country of birth. I believe food gives us the deepest connection with our family, country, and soul. During the last couple of weeks, I have been reading beautiful stories from a group of food bloggers, who through their food, are sharing about their family and their experiences as immigrants. After reading some of their stories, I felt so moved to share my story of immigrating to the United States along with my all-time favorite Dominican dessert soaked in an aromatic syrup, called Buñuelos.
As many of you already know, I was born in Dominican Republic, and I'm also proud to be a United States citizen living in this wonderful country full of opportunities for all of us. We immigrants are a very important part of the economy and the progress of this country, and collectively we bring a huge variety of food choices with us.
Fried dough balls (buñuelos) is a traditional Latin dessert usually served during Easter week. However I love it any time of the year. Geoffrey always jokes about our Latin desserts because most of them are made from legumes (beans) or root vegetables (yuca, potatoes, sweet plantain, sweet potatoes, and many more). For him, desserts are cakes, and cookies, etc. and have nothing to do with beans or vegetables. Although he's not crazy about Dominican desserts, check out one of Geoffrey's favorites Dominican dishes Oven Roasted Chicken Thighs with Sweet Plantain Mash.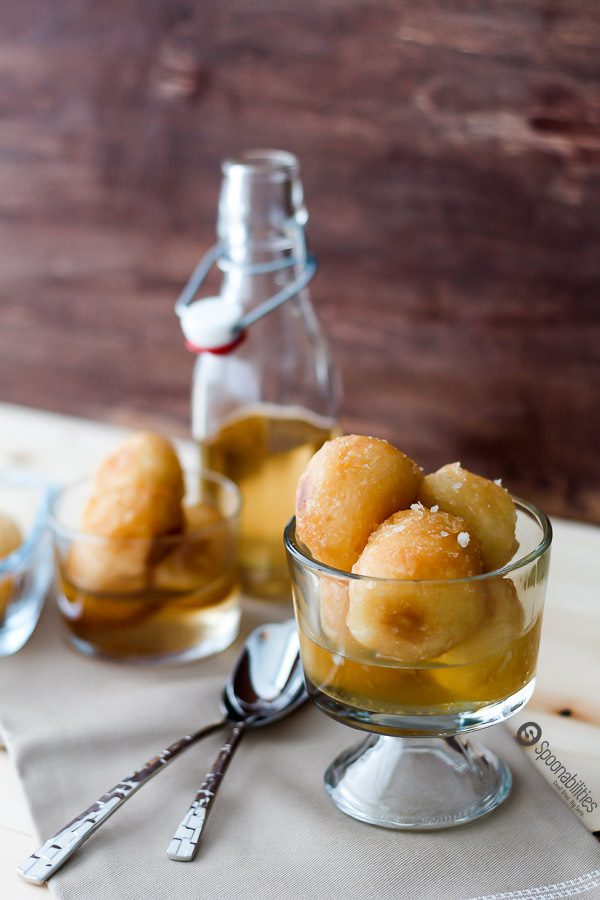 How to make Fried Dough Balls or Buñuelos?
The fried dough balls I made this week are with yuca. The first thing you need to do is boil the yuca until it is soft. Take it out of the water and put it in a bowl. Then we use a meat grinder (moledor de carne) and pass the yuca through. Another tool that you can use is the food mill. In the Dominican Republic, we use the traditional Moledor de Carne. For this recipe I used a meat grinder accessory that you attach to the stand mixer.
Like this recipe so far? Be the first to know when we release new ones!
---
In a large bowl, add the grinded yuca and the other ingredients in the first part of the recipe card below. Combine well and with an ice cream scooper form small-to-medium balls. Place them on a baking sheet. You could fry them right away, but I suggest putting them in the refrigerator for about 15 minutes. It will help to hold their shape during the frying process.
When you are frying the buñuelos, you just need enough oil to cover half of the buñuelos. Also, we just need to give them a nice golden brown color, so don't keep them in there too long. Check in the recipe card the list of the ingredients and the step by step process for this delicious fried dough balls soaked in a wonderful aromatic syrup.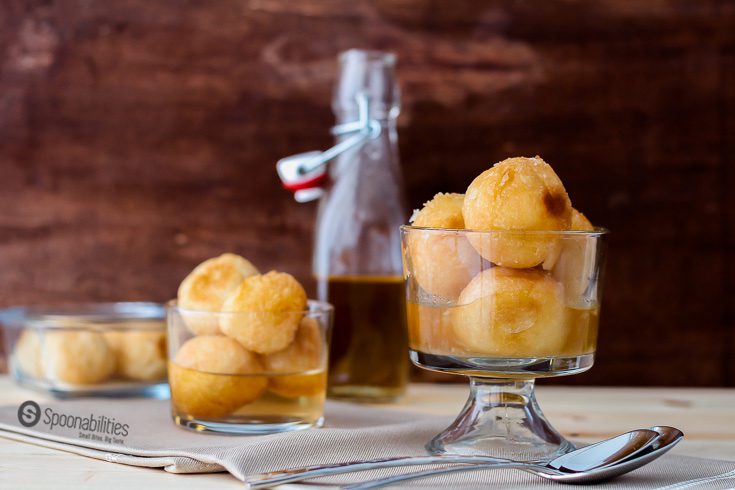 I came to the United States of America looking for happiness in a place that accepts me for who I am. When I arrived, I have been fortunate to meet many beautiful people with a big heart, who have helped me ever since I got to this country, trusting me and giving me the opportunity to follow my dreams - "The American Dream."
When I was planning to move to the USA, I started to chat online to discover more about what it was like being gay and living here. In those online chat rooms was where I met one of my best friends Bill whom I love so much because he was the first person that welcomed me to Miami.
The happiness and success that I have in my life I owe to a special group of friends that accepted me and pushed me to be a better person, and gave me energy to keep fighting against those moments that I missed my family so much and wanted to give up. I want to take a moment to appreciate their friendship, love and support.
Bill "The American" - You are more than a friend to me, you are like my father because you guided me and protected me. You were the first person that extended your heart and hands from the moment that I landed in Miami.
Gorky "The Dominican" - Thanks to you I had a place to live for the first two months without you asking me for anything. I know we were friends from before when I lived in Dominican, but you showed me that you truly honor our friendship and gave me what I needed at that moment - love, patience and true friendship
Ali "The Muslim Lebanese" - I'm so lucky that I met you in Dominican and we kept our friendship alive. Much like Jesus' teachings, you offered me your home when I didn't have a home. You fed me, when I didn't have food or money. And, you didn't ask anything in exchange. I am eternally grateful.
Tim & Meredith "The American Married Gay Couple" - You gave me my first job in this country and treated me with respect and made me feel like part of your family. You trusted me to take care of your beautiful home.
Chaya "The Jewish Girl" - I was very lucky to meet you - a beautiful, smart, independent, and strong woman. You were another huge motivational force who help me throughout this long process and you gave me vital support to become the person that I am today. Your friendship was unconditional.
Geoffrey "My American Husband" - My journey in this country has been blessed since I met you. You gave me the most important things - love, friendship, support, a home, a new family and a new life full of happiness. We have been sharing our lives together for the past 12 years and I'm proud to say: "I'm your husband."
This country has given me so much, and the diversity of the people that are part of my life is what makes America "Great." We all make up a wonderful country with a big heart!
Have a wonderful week,
Carlos
P.S. - I felt so moved by reading some wonderful immigrant stories from food bloggers that I wanted to be part of this beautiful act of kindness. Make sure to search and read their stories on Facebook, Instagram, and Twitter using the hashtag #ImmigrantFoodStories, and please share your own immigrant food stories too!
Here are a few Immigrant Food Stories that spoke to me: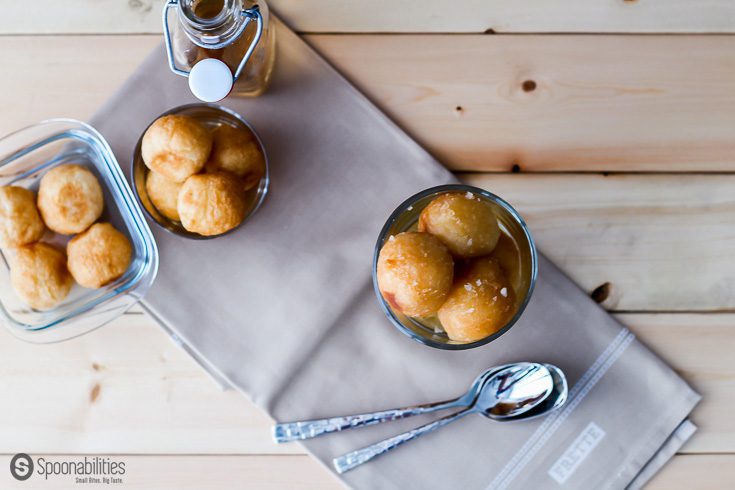 More recipes from the Dominican Republic
Print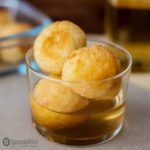 Fried Dough Balls Recipe | Dominican Buñuelos
---
Author:

Carlos Leo

Total Time:

1 hour 15 minutes

Yield:

24

or more

1

x
Description
Dominican Buñuelos are fried dough balls soaked in vanilla cinnamon syrup. This traditional Latin dessert recipe is typically made and served during Easter week. Buñuelos are made from either yuca or potatoes.
---
For the Buñuelos:
1

-

½

lbs

of boiled yuca

1

-

½

Tablespoons of butter

1

egg

1 teaspoon

of baking powder

½ teaspoon

of salt

3 Tablespoons

of sugar

1 ½

cup

frying oil
For the Aromatic Syrup:
1

cup

of sugar

1

strip of lime zest

1

star anise

2

sticks of cinnamon

8

cloves

1

vanilla pod

3

pods of cardamom

4

cup

of water
---
Instructions
How to make Buñuelos or Fried Dough Balls:
Peel, cut, and boil yuca until it is soft - around 10 minutes.
Cooldown the yuca to room temperature. Remove the hard fiber center.
Pass the yuca through the meat grinder (or food mill or electric meat grinder).
In a large bowl place the grinded yuca, egg, baking powder, salt, sugar, and butter. Mix all the ingredients until is well combined.
Start to make the balls using an ice cream scoop and then shape them into a nice round ball. Place them on a baking sheet.
You can place the tray in the refrigerator for 15 minutes. Doing this will help to keep the ball shape during the frying process but this is not necessary to do in our traditional recipe.
Heat the oil over medium heat in a large saucepan. When the oil is really hot, place the balls into the oil. Be careful that the hot oil doesn't splatter.
Do this process in batches and don't overcrowd the pan. Turn them until each side has a nice golden brown color.
 Place them on a plate lined with a paper towel to remove excess oil.
Place the Buñuelos in a large bowl with a lid. Put the lid on after they cool down completely
How to make the Aromatic Vanilla Cinnamon Syrup:
Mix all the ingredients and bring to a quick boil. Then reduce the heat to low and simmer until the liquid has reduced to half. Make sure to stir constantly.
Remove from the heat and cool to room temperature.
To serve the Buñuelos de Yuca:
Many people have different ways to serve the Buñuelos. But, this is the way my family does it.
After the Buñuelos and the syrup have cooled to room temperature, pour the syrup over the Buñuelos and make sure they all get covered completely. Let them soak into the aromatic syrup.
In most cases, you will need to make more syrup because the Buñuelos most likely will soak up all the syrup... which is a good thing
Prep Time:

60 minutes

Cook Time:

15 minutes

Category:

dessert

Method:

frying

Cuisine:

Dominican
Keywords: Dominican desserts, Easter dessert, Caribbean desserts, Latin desserts, fried dessert, Dominican food
Recipe Card powered by
Available via these Amazon links:
Disclaimer: Links that open in another site, i.e. Amazon, may be affiliate links where at no additional cost to you, we may receive a small commission should you decide to purchase the item. Read our Disclosure Policy.