Air Fryer Chicken Wings are not only the most convenient way of making tasty wings fast and easy, but they're also more flavorful and healthier than regular wings. Here's a fool-proof recipe for perfect air fryer wings every time, and we're taking them to the next level with a delicious hot pepper peach bourbon sauce. You'll also get a bonus method of how to make wings in the oven.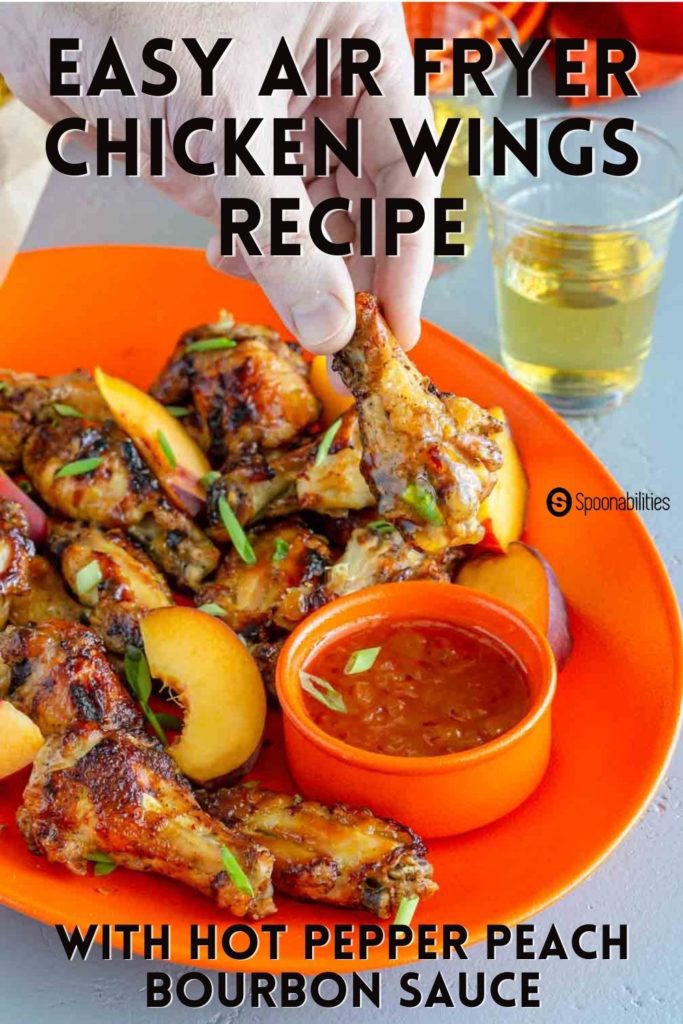 Hello my friends. Before we head on to the recipe for air fryer chicken wings, let's talk a little about air fryers. The magic appliance that uses hot air to 'fry' food to crispness is undoubtedly useful, especially to make bar food staples like chicken wings and fries.
The one question I get most when I post an air-fryer recipe is "what is the best air fryer?" Here's what I think. The best air fryer is the one you already have or the one you can afford. Although some are pretty fancy and sophisticated, all air fryers work similarly. It's not the air fryer but how you use it that matters!
It's not the air fryer but how you use it that matters!
Having said that, I'm comfortable with (and love) the Oster Countertop Oven with Air Fryer. It has all these features to bake, air fry, roast, and toast, and it's quite easy to use. This is the air fryer model I use to make the chicken wings we're talking about today. But like I said, if you don't have one already, get the one you can afford.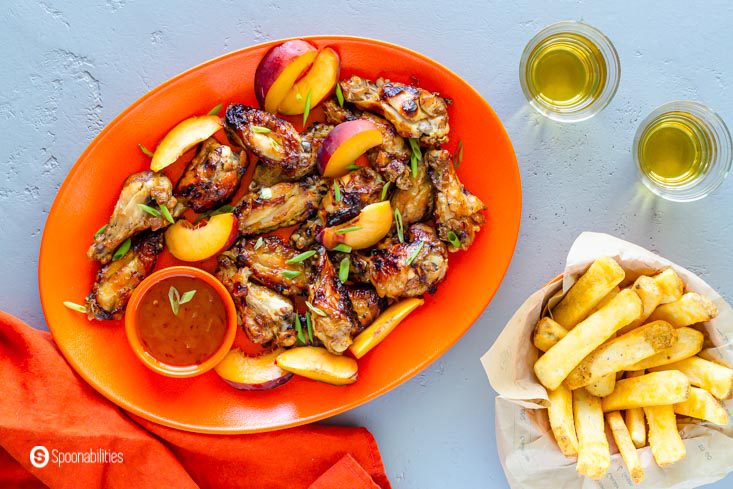 FAQs about Cooking Wings in an Air Fryer
Here are the most common questions about cooking wings in an air fryer, including how to cook them if you (still) don't have and air fryer. Here's what you need to know about Air Fryer Chicken Wings!
By the way, thanks for all your questions!
How do you Make Chicken Wings Crispy in the Air Fryer?
The secret behind crispy air fryer wings is the temperature, which you should set on high (at least at 400°F). Also, make sure the wings are at room temperature and not overly moist when adding them to the air fryer. Make sure you pat dry your wings before applying the seasoning. You know that dry skin helps to create a better crispy skin.

My secret? Adding baking powder to the seasoning. The bubbles from the baking powder expand while in the air fryer, resulting in crispier wings!
What does Baking Soda do to Chicken Wings?
Baking soda has been one of those grandma's tips for crispy fried chicken since forever, but there's science behind adding the unusual ingredient to the yard bird.
Baking soda reacts with moisture, and it bubbles. So, if you're coating the chicken with batter, for example, the bubbles will expand and make the batter lighter — increasing the surface's crispiness. How's that for a neat cooking tip? And it works with air fryer wings too!
When to use Baking Soda and Baking Powder for Crispy Chicken?
Of course, all secret ingredients come with some controversy, and some people say its baking soda and not baking powder that you should use for frying chicken.
It turns out we're all right. Baking powder is better for frying chicken, as the ingredient has both an acidic and an alkaline element. Baking soda is best for baking chicken, mainly if you use some kind of acidic marinade (like lemon juice) in the mix.
How Long Does it Take to Cook Chicken Wings?
For perfectly crispy air fryer wings, you want to 'fry' them for at least 20-25 minutes, flipping them once halfway. All air fryers are different and chicken wings can come in various sizes. And there are many other factors at play, including the wings' temperature, their humidity, and your preference; you must eyeball them to decide when they're exactly right — for you.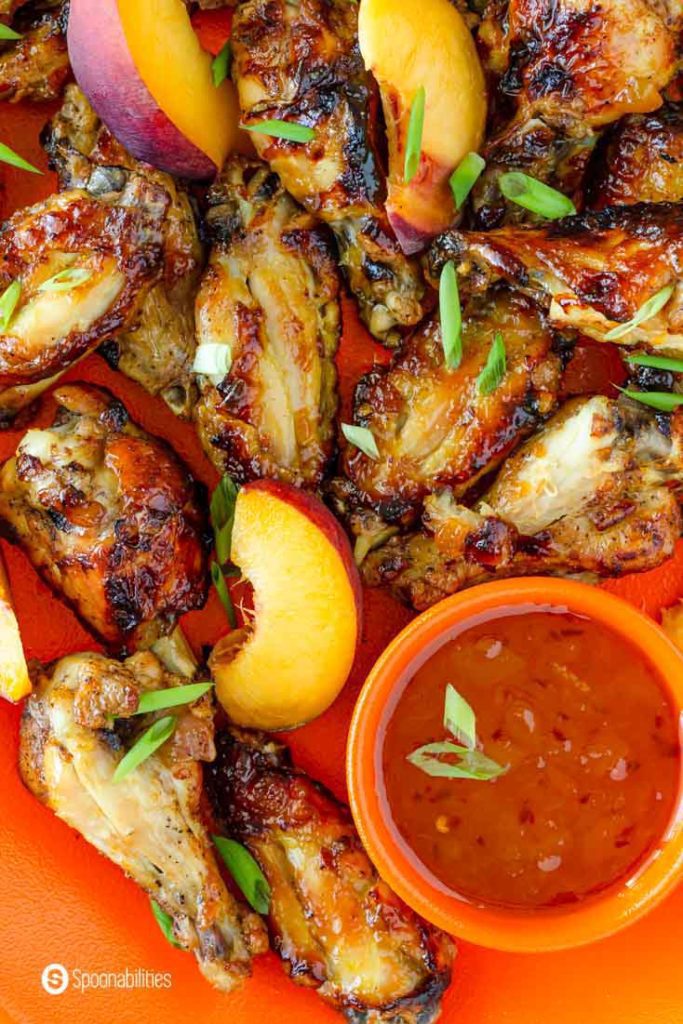 How to Bake Chicken Wings in a Regular Oven
If you don't have an air fryer, you can still enjoy healthier wings by cooking them in the oven. You can use the recipe below using baking soda instead of baking powder. You want to bake the wings at high heat and flip them once for the crispiest results.
Position racks in the center and top third of the oven and preheat to 425°F.
If you have them, cut off and discard any wing tips.
Place the chicken in a zip-lock bag and add your baking soda, salt and pepper. Shake to cover the wings.
Place the wings on a foil-lined baking pan, and bake for 20 minutes.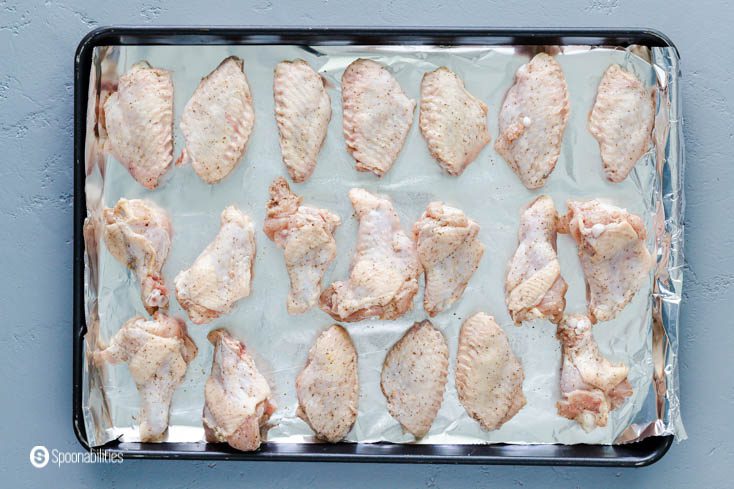 Remove from the oven, flip the wings over, and cook until the wings are golden brown, around 20 minutes more.
Transfer the wings to a heatproof bowl, add the sauce and gently coat.
Optional: you can put them back into the oven to broil for 3 minutes.
Serve with more sauce
Like this recipe so far? Be first to know when we release new ones!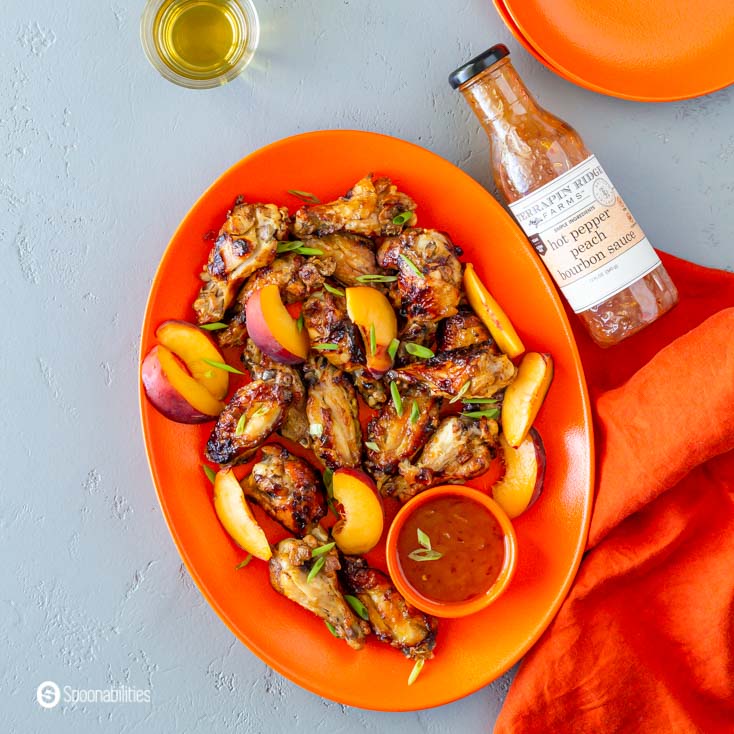 Improve Your Wings with Hot Pepper Peach Bourbon Sauce!
The moment I tried the Hot Pepper Peach Bourbon Sauce from Terrapin Ridge Farms, a vibrant and flavorful dipping sauce, I knew it was ideal for air fryer wings.
Roasted peaches and red peppers turn out to be a perfect flavor combination. Besides, this artisanal sauce is gluten free, oil free, vegan, dairy-free and low in sodium. How about that?
Other Fun Air Fryer Recipes to Try:
If you want another recipe to show off your air frying skills, try our Air Fryer Vegan Egg Rolls with Garam Masala Yogurt Dipping Sauce. These homemade vegan egg rolls are effortless to make, but they're immensely satisfying. I make these with fig salami and Beyond Meat beefy crumbles, and they end up great!
You can also give Air Fryer Salmon Tacos a whirl, and crispy and crunchy Vegetable Egg Rolls with Roasted Pineapple Habanero Sauce.
I hope you get a chance to make these Air Fryer Chicken Wings. Did you make this or another recipe? Tag @Spoonabilities on Instagram or add a photo or comment on Pinterest, so we can find you!
And we love to hear from you in the comment section below.
Carlos Leo
Your Recipe Concierge!
Print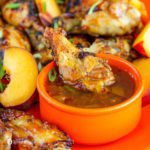 Air Fryer Chicken Wings with Hot Pepper Peach Bourbon Sauce
---
Author:

Carlos Leo

Total Time:

27 minutes

Yield:

24

wings

1

x
Description
This recipe for air fryer chicken wings with hot pepper peach bourbon sauce is the easiest way of making crispy and meaty wings with very little cooking oil. You only need some wings, garlic and onion powder, a pinch of baking powder, salt and pepper to taste. Don't forget the fantastic Hot Pepper Peach Bourbon Sauce!
---
---
Instructions
Set the dial to "air fry" and the temperature to 400°F. Preheating your air fryer will give you the best, crispiest result. Use cooking spray or a fine mist sprayer to lightly coat your wings prior to cooking.
If you have wing tips, using a sharp knife, cut the two wing joints, and discard the wing tips. 
Place the wings in a zip-lock bag and add your baking powder, salt and pepper. Shake to cover the wings.
Position the chicken on the wire rack in the air fryer. Make sure they are not touching each other.
Cook for 10 minutes on first side.
Remove the wings from air fryer and flip with tongs. Continue cooking until crispy for around 10-12 minutes until internal temperature measures 165°F. 
Remove from the air fryer and immediately coat with the Hot Pepper Peach Bourbon Sauce. For this you will use about half the jar.
Serve with more sauce.
Notes
Some air fryers are also ovens by design. If you use this kind like I do, you don't need to flip the wings.
See recipe blog post for instructions on how to cook these wings in a regular oven.
Prep Time:

5 minutes

Cook Time:

22 minutes

Category:

appetizer

Method:

air frying

Cuisine:

American
Keywords: Hot wings, buffalo wings, chicken recipes, air fryer recipes, weeknight meals, summer recipes
Recipe Card powered by
Available via these affiliate links:
Disclaimer: Links that open in another site, i.e. Amazon, may be affiliate links where at no additional cost to you, as an Amazon Associate I earn from qualifying purchases, should you decide to purchase the item. Read our Disclosure Policy.