This simple creamy pumpkin pasta sauce is a delicious, comforting Fall recipe lusciously coating the traditional Tuscany spaghetti Pici pasta flavored with shallots and garlic sautéed in salted honey brown butter. This is the most straightforward pumpkin pasta sauce recipe that you will ever make. For a perfect quick weeknight dinner, add mascarpone cheese, pumpkin puree and top with oven-crispy oyster mushrooms or with crumble crispy pancetta, and at the end season with smoked paprika sea salt.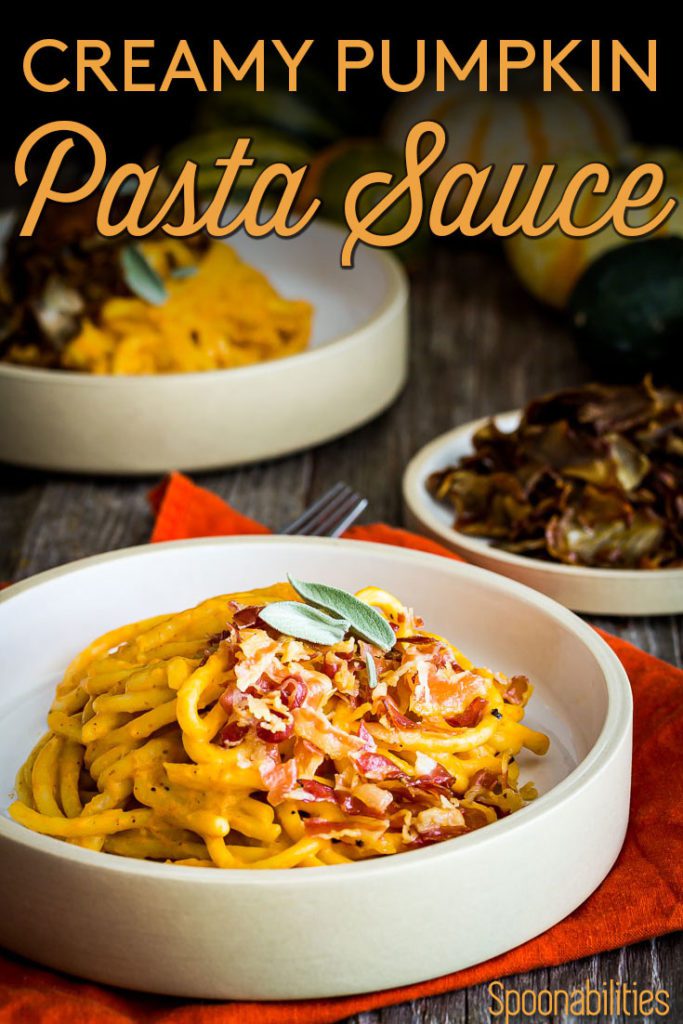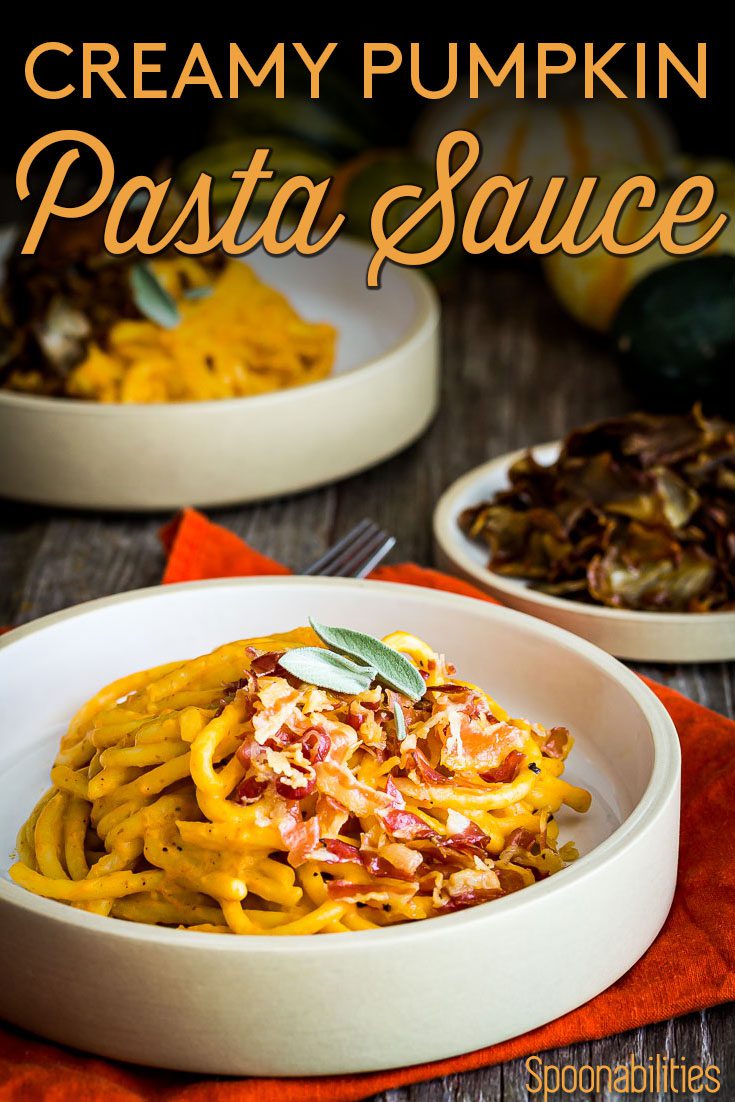 Hello my friends. I can't believe it's November already. Like always, I'm behind on my recipe schedule and really need to speed up my writing because I still have two more pumpkin recipes to release before I start to cook and photograph the Thanksgiving recipes and holidays sweets. The end of the year is quite busy in my full-time job because it's the high season for hotels in the Caribbean. But this October was super chaotically busy because two of the four weeks I was also traveling to The Bahamas and Grand Cayman.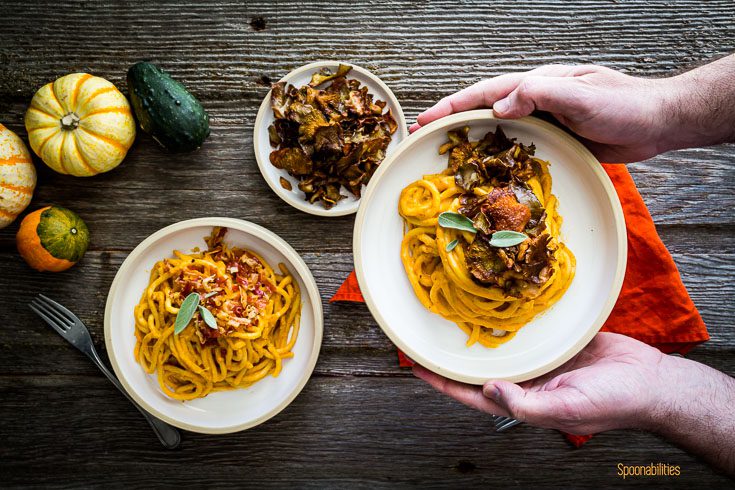 For our next pumpkin recipe this season, I'm bringing you Pumpkin Pasta Sauce with Pici Pasta & Crispy Mushrooms. This pasta sauce recipe is part of our monthly collaboration with Flora Fine Foods, and for this month's recipe, I'm using their organic spaghetti pici pasta imported from Tuscany. As always, I'm very excited to work with Flora's incredible and delicious products. With this post, we celebrate our first year anniversary of this fantastic partnership. Throughout this past year, they won a new customer with me because if I'm looking for a product at the supermarket, and I see that they carry what I'm looking for, I immediate grab their product.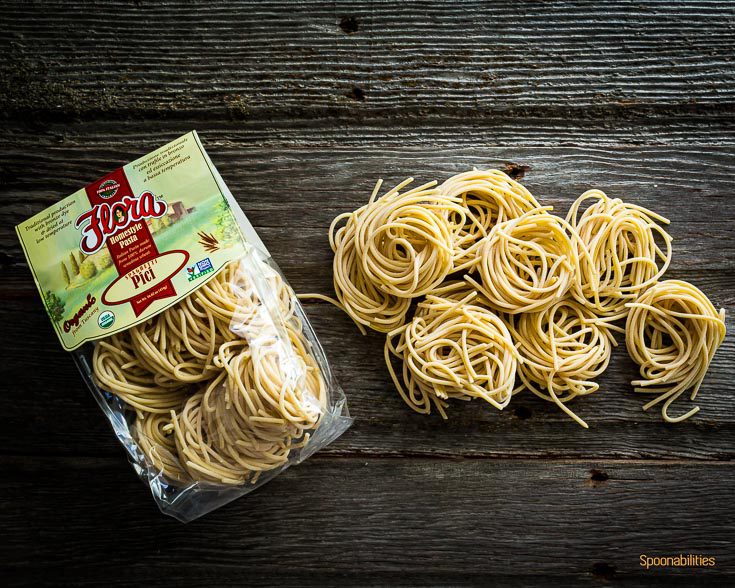 What is Spaghetti Pici Pasta
Pici pasta is a traditional pasta originating in the Province of Siena, Tuscany. The dough for pici is typically made just with semolina flour and water, but you could find some family recipes in the region that also add eggs. The dough is rolled out and then hand-rolled into long strings. It's much easier to make at home, and you don't need special equipment. Pici is like spaghetti but thicker. Pici pasta is excellent with creamy, thick sauces like pumpkin pasta sauce, tomato sauce, ragù bolognese, but is also perfect with cacio e pepe sauce. The texture of this pasta is a bit chewy and must be cooked a bit al dente.
The name pici is a shortened word stemming from the Italian word "appicciare," or "to stick." This Tuscany pasta is also known as pinci. To see how pici pasta is made, watch this video from the Pasta Grannies:
What is the difference between Pici and Bucatini
The main difference is that bucatini has a hollow center, and pici doesn't. Also bucatini cooking time is nine minutes, and pici is around 21-24 minutes. Because the pici pasta takes between 21-24 minutes, I recommend putting the pot on the stove with water before you start to prepare and cook the other ingredients. Note: For this recipe, after the pasta is done cooking, it is very important to reserve 1 or 2 cups of pasta water for the pumpkin pasta sauce.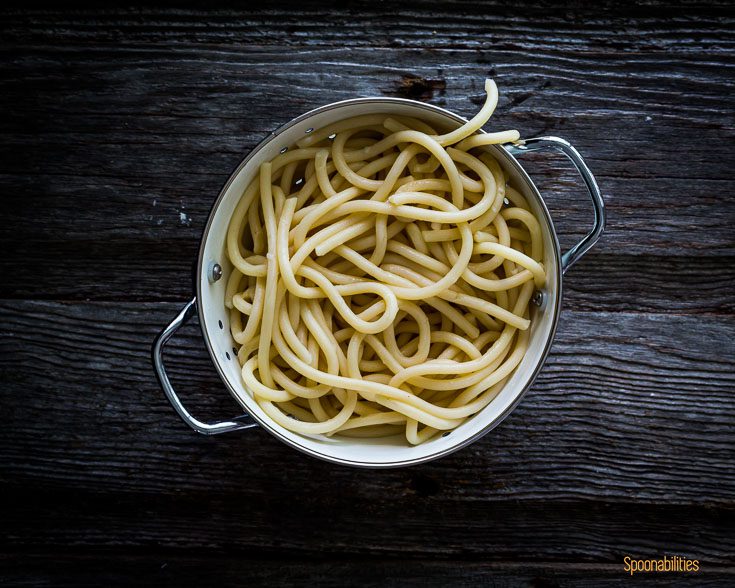 Toppings for your Pici with Pumpkin Pasta Sauce
For this pasta, I made two toppings: crispy oyster mushrooms and crumbled crispy pancetta. But you don't have to make both or use them at the same time. When I was developing this recipe, I was thinking about Geoffrey because although he will eat mushrooms, he is not at all excited when he sees them on his plate. Before I made the pumpkin pasta sauce, I prepared the two toppings:
First, arrange pancetta slices in a single layer on an aluminum foil-lined baking sheet. Bake at 450° for 8 to 10 minutes or until golden. Transfer to a paper towel-lined plate using a spatula. Let stand 10 minutes or until crisp. Then, change the oven setting to roast at 350°F for the mushroom.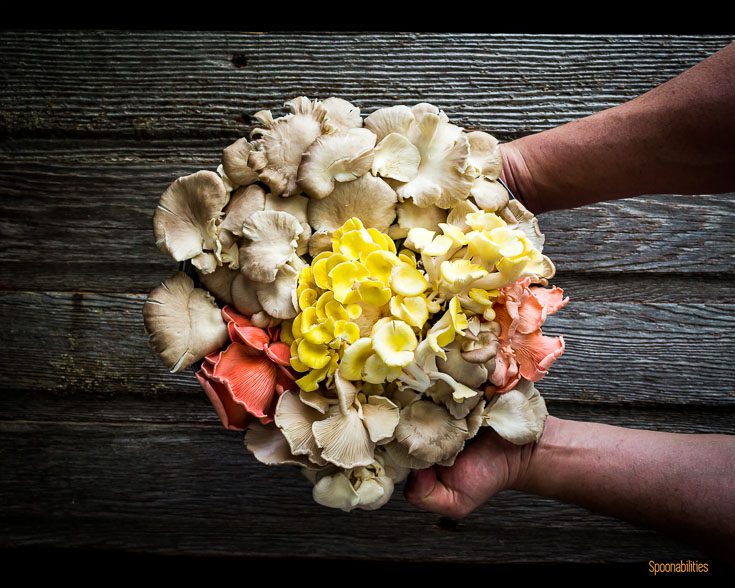 I bought two pounds of mixed oyster mushrooms, and for this quantity I prefer to use two baking trays for a better crispy result. Use a small knife and cut the mushrooms from the base/root and then tear the mushrooms with your hands and place them in the tray. Toss the oyster mushrooms with olive oil, garlic, thyme, smoked chili flakes and salt. Roast for around 25-30 minutes, tossing halfway through until golden brown and crispy.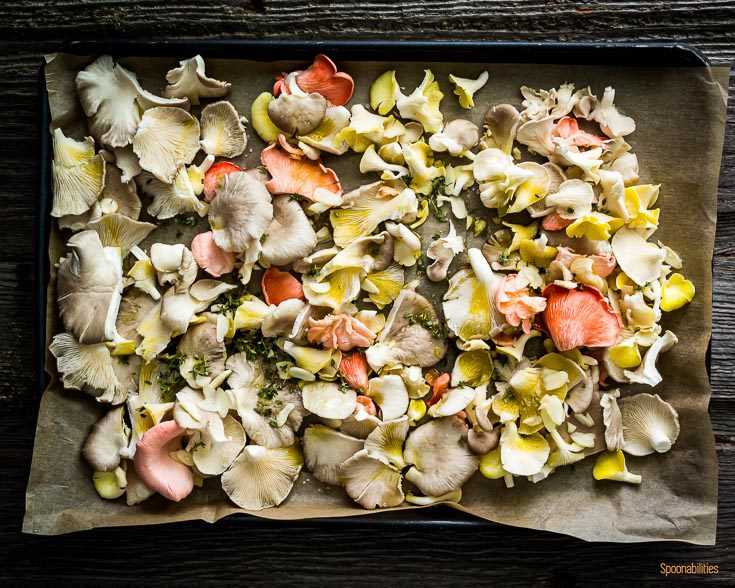 Making this recipe was my first time roasting mushrooms, and this is a life changer for me. The garlicky and thyme flavor of the mushrooms is absolutely AMAZING with a meaty texture and a crispy, tender bite. The experience is extraordinary. I think this is the only way that I will make mushrooms from now on.
How to make Pumpkin Pasta Sauce
This is the most straightforward pumpkin pasta sauce recipe that you will ever make. It will take you less than five minutes to make this sauce. First, sauté the shallots with Salted Honey Browned Butter (click the link to buy online from our pantry) until they become soft and translucent - around two minutes or less. Then add the garlic and cook until fragrant. Add pumpkin puree, mascarpone cheese and pasta water. Cook mixture until the mascarpone cheese is melted and the sauce is heated completely. Add more pasta water if you desire a looser consistency.
For the final step, add the parmesan cheese and combine. Taste to adjust the salt if needed. I add a teaspoon or so of our smoked paprika sea salt, and I have to tell you this last touch really gives the pasta such a nice smoky taste. Serve immediately and add more parmesan cheese, the crispy oyster mushrooms, and/or the crispy crumble pancetta.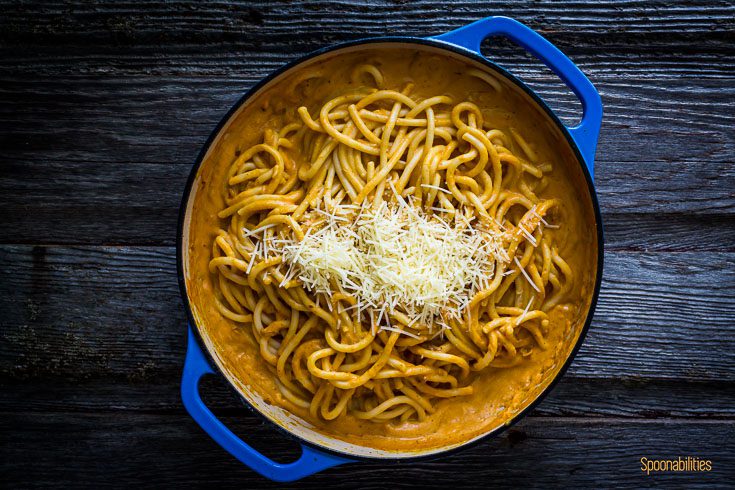 Have you made brown butter?
Have you made brown butter at home? I used to make it myself. But since we found the shelf-stable brown butters from Black & Bolyard, I will never do it again. The nutty toasted brown butter is made with American Grassfed butter, and the honey version is also made with Savannah Bee Company wildeflower honey. Black & Bolyard's brown butters add richness to both your savory and sweet recipes. This season I have many recipes using the different flavors of the brown butter. For next week's recipe using the original brown butter, I made the Dominican Arepa, which is a sweet cornmeal cake with coconut milk. Stay tuned, and make sure you are part of our Tasty Happenings Foodletter community.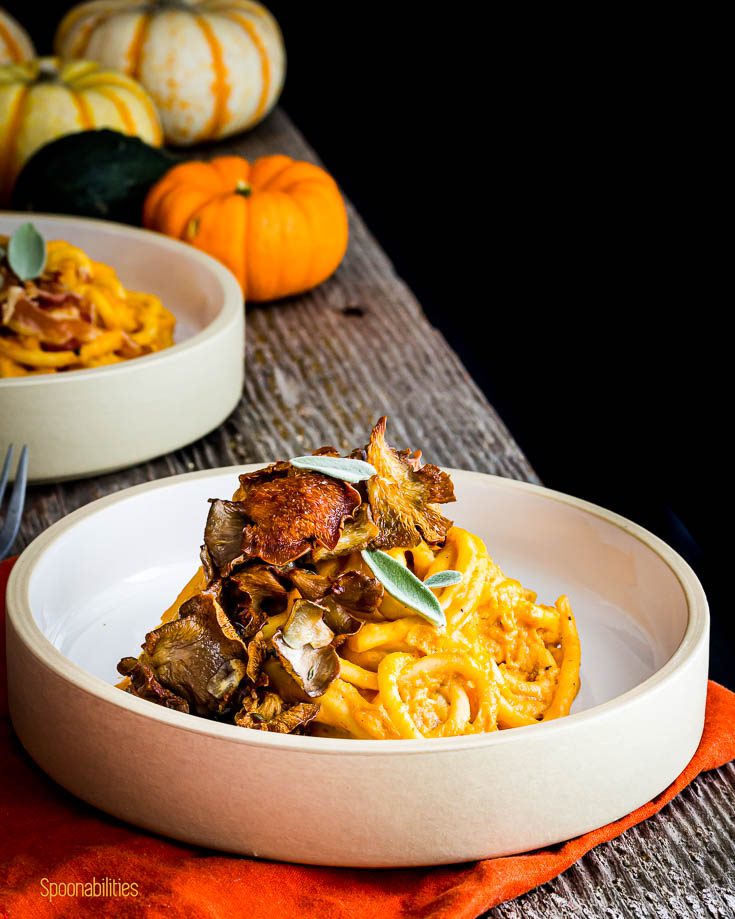 I truly enjoy making this pumpkin pasta sauce with Pici pasta & crispy mushrooms. So much so that I made it again today while writing this recipe post for you ?. Tell me in the comments below what you think about this recipe – with 5 stars I hope. Are you going to make it? It's easy, so you can do it. Share this recipe with your friends, and please tag us @spoonabilities and use the hashtag #Spoonabilities.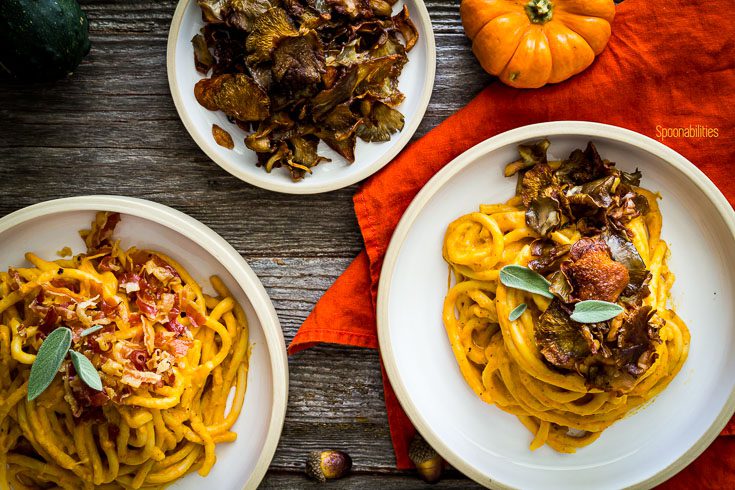 Want more comfort food recipes? Check out some of our Fall favorites and our TOP drink recipe on the site.
Wishing you Tasty Happenings,
Carlos Leo
Your Recipe Concierge!
Print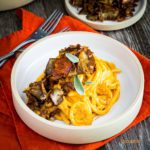 Pumpkin Pasta Sauce with Pici Pasta & Crispy Mushrooms
---
Author:

Carlos Leo

Total Time:

35 minutes

Yield:

4

-

5

serving

1

x
Description
Pumpkin Pasta Sauce is a delicious comforting Fall recipe on a traditional Tuscan spaghetti Pici pasta flavored with honey brown butter, mascarpone cheese, pumpkin puree and topped with crispy oyster mushrooms or crumble pancetta, and seasoned at the end with smoked paprika sea salt. This is the most straightforward pumpkin pasta sauce recipe that you will ever make.
If you like this recipe, why not be part of our newsletter community
---
1

pack of Organic Spaghetti Toscani Pici
Roasted Oyster Mushrooms:
2

lb

. mixed oyster mushrooms, torn into bite-size pieces

¼

cup

oil

½ teaspoon

salt

3

peeled and thinly sliced garlic cloves

½ teaspoon

red pepper flakes or smoked chili flakes

3

thyme sprigs
Pumpkin Pasta Sauce
---
Instructions
Place oven racks in bottom third and middle of oven and preheat to 350°F; Put a pot of water for your pasta on the stove to boil.
Toss mushrooms, garlic, thyme, smoked chili flakes or red pepper flakes, ¼ cup oil, and ½ teaspoon salt on a rimmed baking sheet. Roast on bottom rack around 25 minutes, tossing halfway through until deeply golden brown and crisped. Check the oven after 15 minutes.
Cook pasta according to package. Drain, reserving 2 cups pasta water. Set aside.
Add 2 Tablespoons salted honey brown butter in a skillet. Then add the shallots and sauté until translucent. Add the garlic and cook about 1 minute until fragrant.
Add pumpkin puree, mascarpone cheese and 1 cup of pasta water. If you want pasta sauce that is looser, add more pasta water until it reaches the consistency that you like.
Add the parmesan cheese. Mix to combine.
Taste and adjust salt & pepper if needed. I use smoked paprika sea salt.
Transfer cooked pici pasta to the pan and toss to combine.
Serve the pasta immediately and top with the crispy mushrooms or the crispy pancetta.
Notes
Vitamin A32%, Vitamin C7%, Calcium18%, Iron26%, Vitamin D9%, Vitamin B126%, Vitamin E3%, Vitamin K11%
Prep Time:

5 minutes

Cook Time:

30 minutes

Category:

Dinner

Method:

Sauteing

Cuisine:

Italian
Nutrition
Serving Size:

2 cups

Calories:

595

Sugar:

6.1

Sodium:

356.6

Fat:

23.4

Carbohydrates:

78.5

Fiber:

5.7

Protein:

19.3

Cholesterol:

30.9
Keywords: Pasta, pasta sauce, pumpkin, pumpkin pasta sauce, easy pasta sauce recipe
Recipe Card powered by
Available via these Amazon links:
Disclaimer: Links that open in another site, i.e. Amazon, may be affiliate links where at no additional cost to you, we may receive a small commission should you decide to purchase the item. Read our Disclosure Policy.