Chocolate oatmeal is a fantastic breakfast to start the day on the right foot. This homemade oatmeal is made with just a handful of ingredients; you'll end up with one good morning staple. Also see how to make vegan oatmeal, a list of delicious toppings, and how to choose the right oats!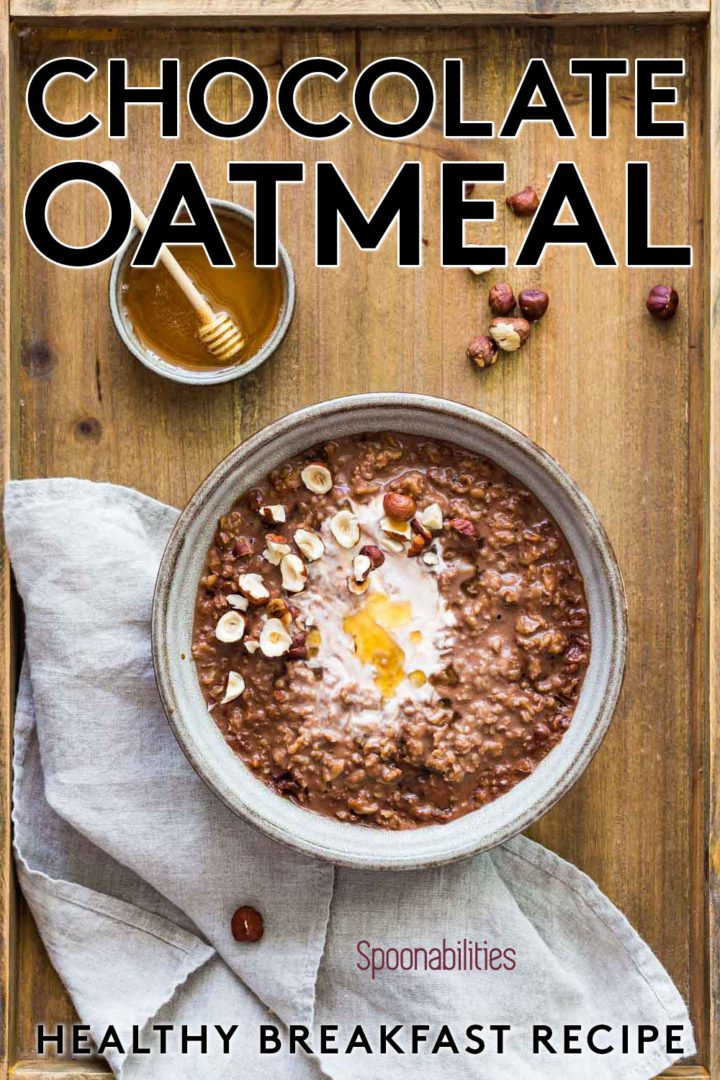 Hello my friends. Breakfast shouldn't be overly complicated. Ultimately, we don't always have time to put together a labor-intensive morning meal. Here's where you'll find a batch of chocolate oatmeal handy. And yes, there are plenty of options in the stores, but nothing tastes better than a homemade batch of chocolate oatmeal!
This chocolate oatmeal recipe with honey and hazelnut is healthy, takes only twenty minutes to make, and is made using just a few wholesome ingredients; old-fashioned oatmeal, milk, and unsweetened cocoa powder, with a drizzle of honey on top, along with hazelnuts, and a dollop of Greek yogurt. All this makes a healthy breakfast that is easy to put together in no time, and it's great as part of a weekly meal plan because it's made in a big batch.
It's great as part of a weekly meal plan because it's made in a big batch.
I love oatmeal for breakfast because it's quick and easy to make, you can customize it with any toppings, use any milk or sweetener you prefer, and it keeps you satisfied with lots of energy to last throughout your morning! My downfall is to find ideas for breakfast every morning, and this is why having a big batch of this cocoa oatmeal gives me a consistent routine in my mornings, and it's a healthy breakfast that will make me feel good.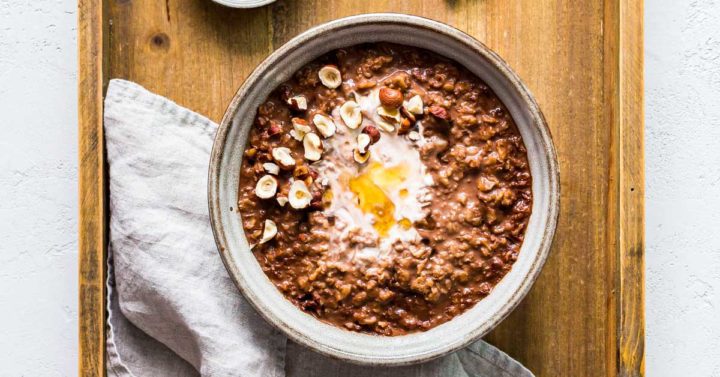 How to Make Chocolate Oatmeal?
The most critical ingredient in a bowl of chocolate oatmeal is the rolled oats, of course. Then you must blend them with unsweetened cocoa powder, sea salt, your favorite sweetener, and then all your favorite add-ons. But not all oatmeal is created equal!
Here are the two easy steps to make oatmeal:
Bring the milk to boil and whisk with cocoa powder and sea salt.
Add the old-fashioned oats, and reduce the heat to a simmer.
That's all; you just need to wait less than 20 minutes until the oats are tender.
You have two options when to add the honey
With the honey, you have two options when to add it; you can add the honey to the pot to sweeten the whole thing, or I prefer to add the honey when I serve the oatmeal in a bowl because I can control better how much I add. Honey is a natural sweetener, but it's still sugar and you must be careful.
Serve the oatmeal in a bowl, top with a spoonful of yogurt, a handful of nuts, and an extra drizzle of honey.
Drooling over this recipe? Be first to receive new recipes!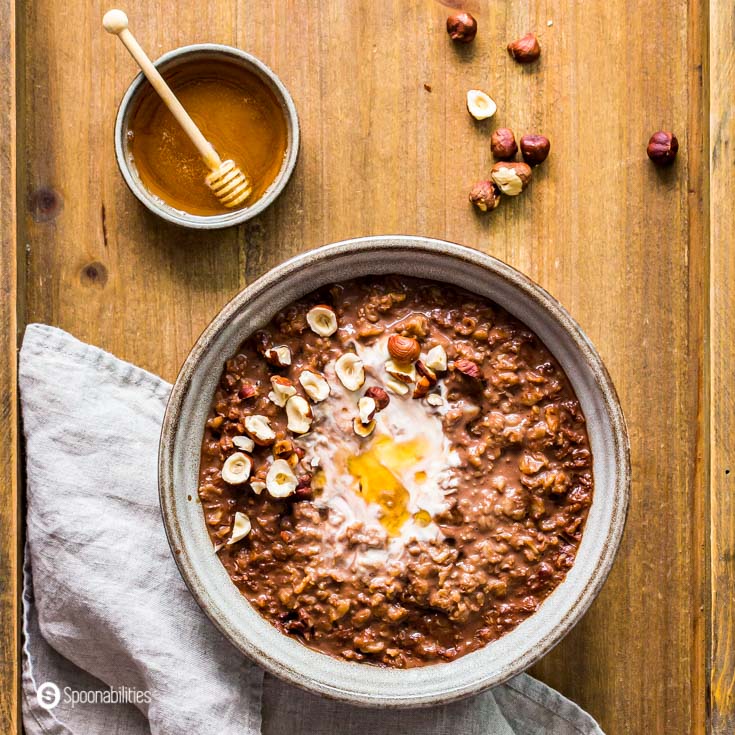 What's the difference between old-fashioned oats, rolled oats, steel-cut oats, and quick-cooking oats?
Oats are whole grains, so they're packed with nutrition and healthy fiber. There are several types of oats. Old-fashioned oats, also called rolled oats, and steel-cut oats are pretty similar; they're whole grains with their outer hull / husk removed to expose the bran, endosperm, and germ.
Old-fashioned / rolled oats are steamed and flattened with huge metallic rollers to create flakes, similar to how cornflakes are made from rolling out corn.
Steel-cut oats aren't pressed but chopped with steel blades, so they're grainier and coarser.
Quick-cooking oats are rolled oats that have been processed even more to reduce the cooking time. They are steamed longer to the point of partially cooking them, and then rolled even thinner than old-fashioned rolled oats. Partially cooking and rolling them out thinner allows them to cook faster on your stove.
TIP: Be aware that quick-cooking oats are not the same as pre-packaged instant oats that may not be 100% all-natural and often contain sugars or other additives in that little packet.
Is oatmeal and porridge the same?
All oatmeal is porridge, but not all porridge is oatmeal. You know, like all squares are rectangles, but not all rectangles are squares. Oatmeal is made with oats, the cereal grain; while porridges can be made with any grain including rice and cornmeal.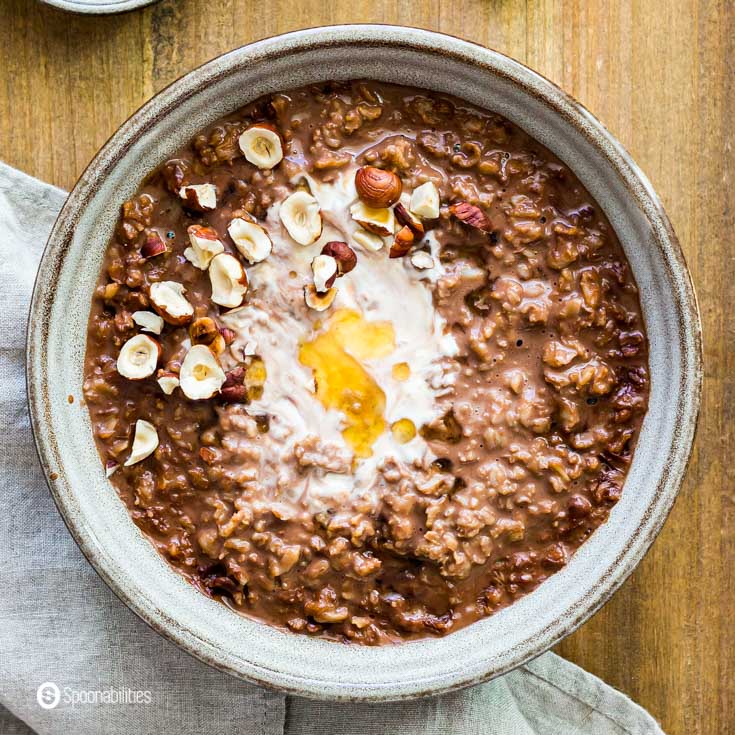 Oatmeal Frequently Asked Questions
Here are a few other questions and answers about oatmeal. Just stuff I thought you should know while creating your first batch of delicious oatmeal with cocoa!
Is eating oatmeal good for you? What are the benefits of oatmeal?
Yes, oatmeal is a whole grain, so it has lots of vitamins and minerals. They're gluten free, by the way, and have large amounts of a soluble fiber called beta-glucan. The compound will help your digestive system while keeping your cholesterol and blood sugar levels in check.
What can I use to sweeten my chocolate oatmeal without sugar?
For today's recipe, we're using the fragrant and syrupy L'Abeille Occitane Provence Flowers Honey, which is a treat in its own right. You can also sweeten your bowl of chocolate oatmeal with brown sugar, maple syrup, date syrup, agave nectar or your favorite zero-calorie sweetener. The sky's the limit!
How can I make this chocolate oatmeal vegan?
Chocolate oatmeal can be an excellent vegan breakfast. Substitute the honey for maple syrup, brown sugar or any vegan sweetener. You can replace the yogurt with any of the brands offering coconut milk yogurt and almond milk yogurt, or leave it out. And of course, instead of using regular milk, use any plant-based milk or even oat milk.
Can you use hot chocolate powder instead of cocoa powder?
Yes, but hot chocolate powder has sugar, so just be careful adding any additional sweetener. Unsweetened cocoa powder will always be a better alternative for all your chocolate needs.
What's the difference between cocoa powder and hot chocolate mix?
Cocoa powder is just powdered dried paste from pressed cacao nibs, while a hot chocolate mix can contain powdered milk, sugar and artificial colorings and flavorings. Some high-quality hot chocolate mixes are pretty natural though, so read the ingredients list on the label and choose wisely!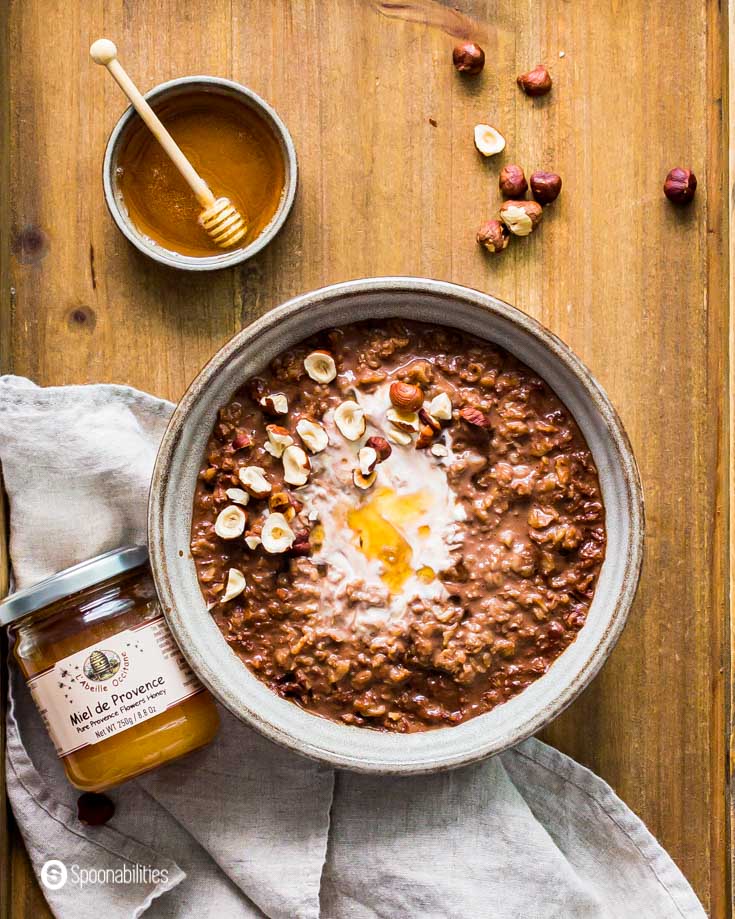 What Toppings can you add to Chocolate Oatmeal?
Oatmeal is extremely versatile and you can use any nut, fruit, syrup, jam or preserve to top yours. I love topping my chocolate oatmeal with:
hazelnuts or any of your favorite nuts from sliced almonds to pistachios,
chocolate chips are an excellent addition too,
throw in some mini marshmallows if you have them on hand,
you can add a dollop of yogurt, crème fraiche or even brown butter,
Oh, and one of my favorites is coconut flakes.
Want more Breakfast Recipes?
Here are a few more breakfast recipe ideas you might enjoy:
I hope you get a chance to make this Chocolate Oatmeal. Did you make this or another recipe? Tag @Spoonabilities on Instagram or add a photo or comment on Pinterest, so we can find you! And we love to hear from you in the comment section below.
Wishing you Tasty Happenings,
Carlos Leo
Your Recipe Concierge!
Print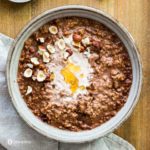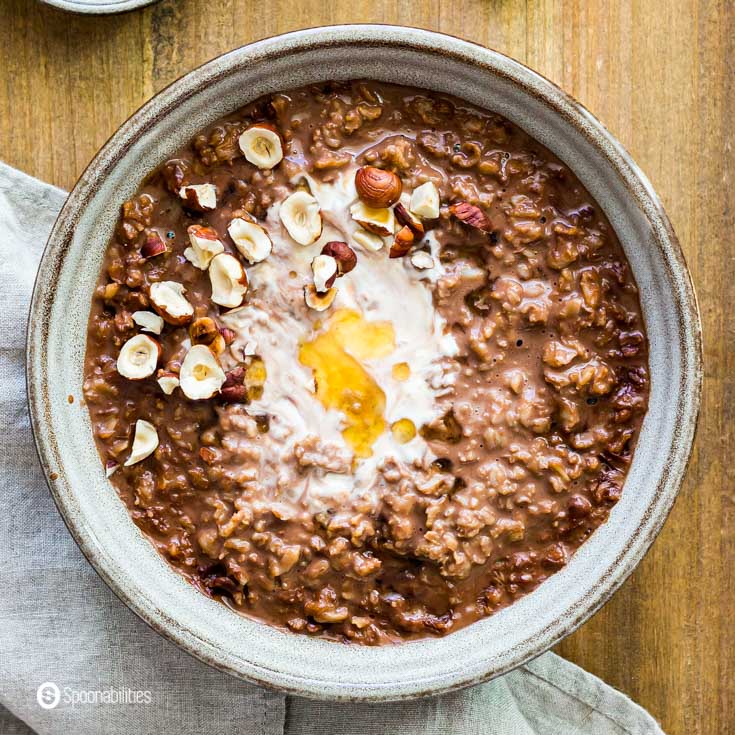 Chocolate Oatmeal with Honey & Hazelnut | Healthy Breakfast
---
Author:

Carlos Leo

Total Time:

25 minutes

Yield:

4

1

x
Description
Make a batch of homemade chocolate oatmeal with old-fashioned rolled oats, cocoa powder, toasted hazelnuts, yogurt, L'Abeille Occitane honey and a pinch of salt!
---
Batch of Oatmeal:
4

cups

of non-fat milk

¼

cup

unsweetened cocoa powder

1 teaspoon

sea salt

2

cups

old-fashioned rolled oats
Toppings for each bowl:
---
Instructions
Bring 4 cups of milk to a boil.
Whisk in ¼ cup of unsweetened cocoa powder and the teaspoon of salt.
Add two cups of rolled oats and reduce heat to simmer. Cook between 15-20 minutes until the oats are tender.
Serve in a bowl and top with the amount of honey, yogurt and hazelnuts you like. You can add fruits too.
Notes
You can use 2% or whole milk
You can use crème fraiche instead of plain yogurt
Nutritional information does not include toppings
Prep Time:

5 minutes

Cook Time:

20 minutes

Category:

breakfast

Method:

stovetop

Cuisine:

American
Keywords: healthy breakfast recipes, healthy oatmeal recipes, healthy breakfast, cocoa powder recipe
Recipe Card powered by
Available via these affiliate links:
Disclaimer: Links that open in another site, i.e. Amazon, may be affiliate links where at no additional cost to you, as an Amazon Associate I earn from qualifying purchases, should you decide to purchase the item. Read our Disclosure Policy.