This Pumpkin Bread is nutty and heartwarming, moist and fluffy. Exemplifying the season's spirit, this Fall bread recipe will surely satisfy your baking fever that takes over as soon as the temperature drops. The seasonal flavors packed in this recipe are pumpkin puree, ginger, cardamom, brown butter, sweet dates, and crunchy hazelnuts. I'm sure you can smell this one already! Really, bake this pumpkin bread, and your house will smell like Thanksgiving breakfast.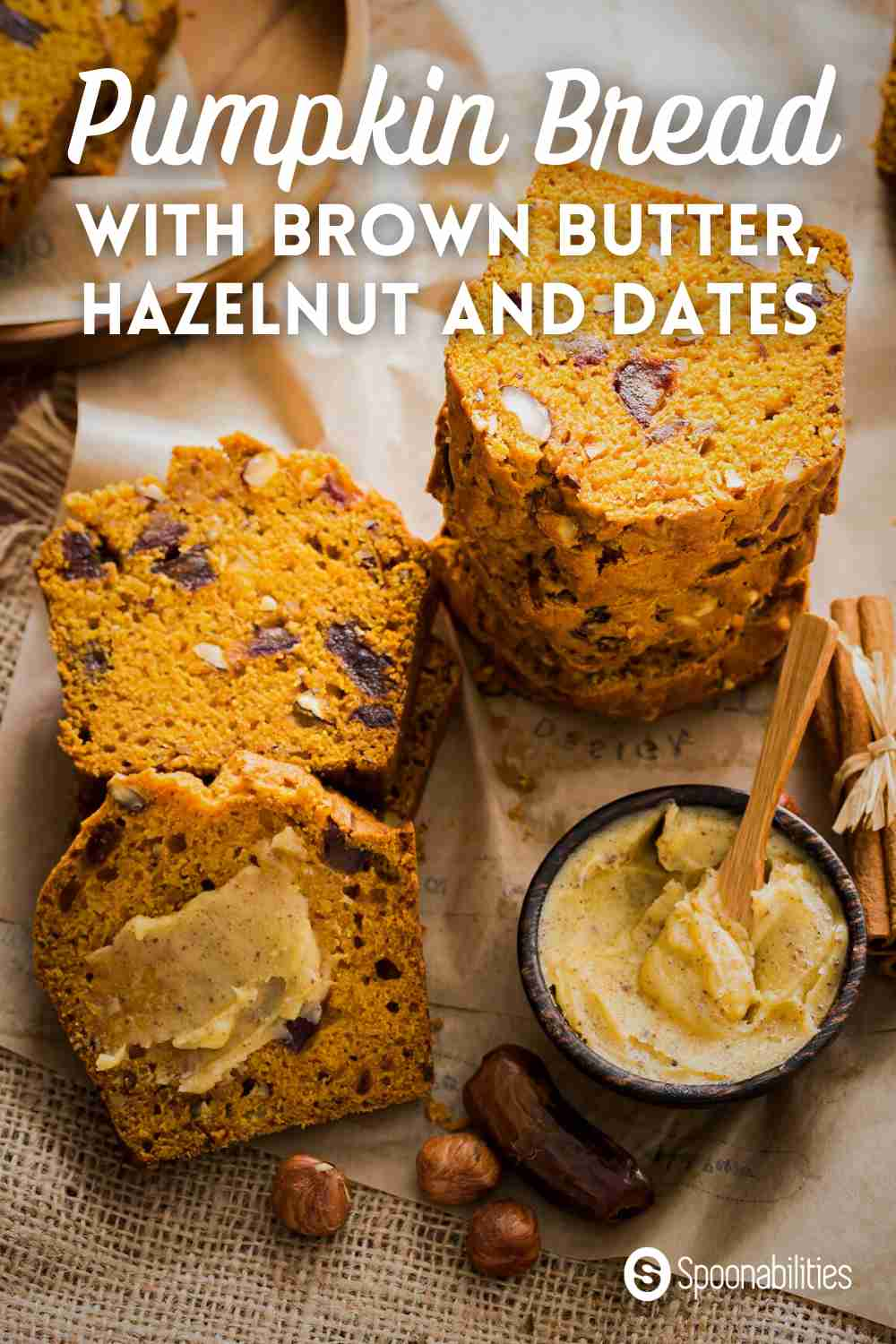 Happy pumpkin season my friends. Please take a moment and look at the photo below. I'm not asking because I made it, but in my eyes that's what pumpkin bread should look like; it's as pretty as bread gets.
Today we're making three Marigold-colored loaves of date pumpkin bread — one for you, one for the freezer, and one for a special someone. Of course, once the warm brown spices hit your nose, and you taste the crunchy hazelnuts, you'll want to keep them all for yourself!
Related: Pumpkin Roll with Cream Cheese Filling | Brown Butter Jalapeño Cheddar Cornbread with Honey Glaze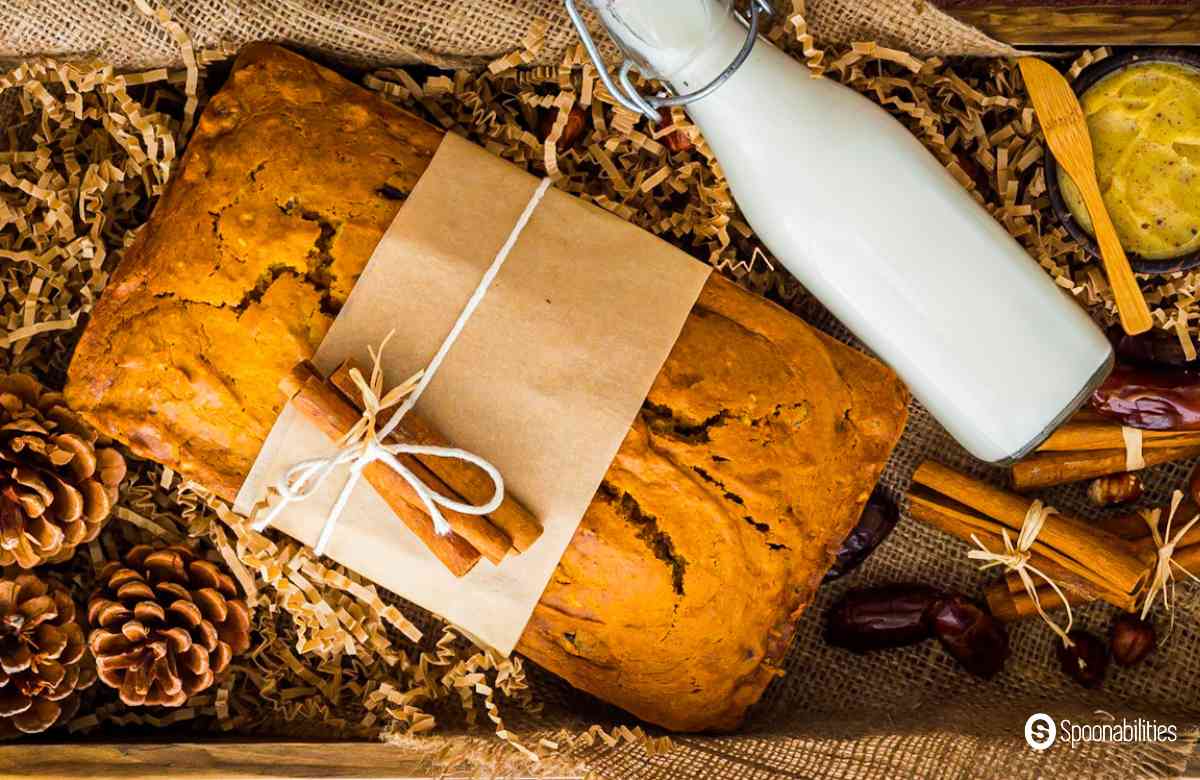 Ingredients for the Best Pumpkin Bread Recipe
Fall baking season is here, so homemade pumpkin bread is in order, and it all starts with pumpkin in a can. Make sure you get the solid-pack pumpkin puree and not the pumpkin pie filling mix (sometimes the label is misleading).
Then we have the always reliable baking staples; all-purpose flour, eggs, milk, sugar, baking soda, vanilla extract, and the especially important pinch of salt. I'm confident you have all these at home.
Where a simple bread becomes a fabulous pumpkin bread is with the spices. Ground ginger, cinnamon, and cardamom will make this moist pumpkin bread really pop. These are the very essence of the autumn season, so if you don't have them on hand, go get them. I'll wait.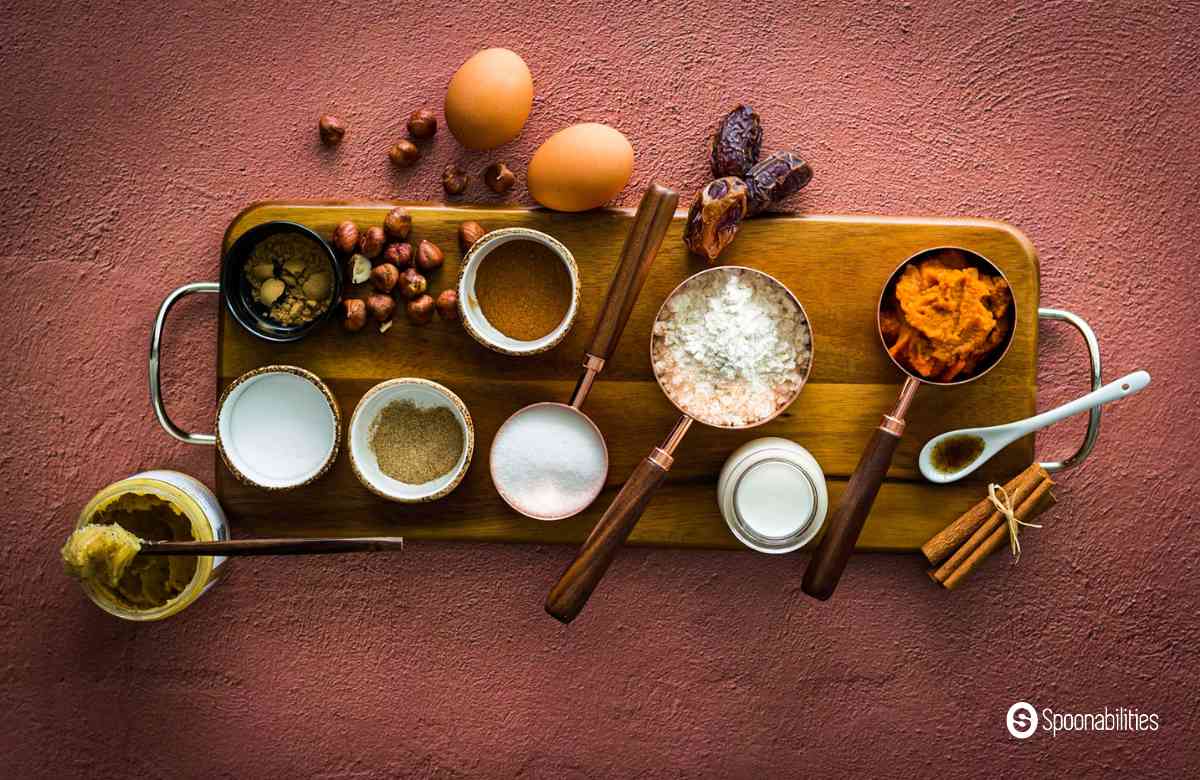 Like this recipe so far? Be the first to know when we release new ones!
---
Date and Hazelnuts Give Pumpkin Bread Texture
Let's talk about the textural ingredients; the dates and hazelnuts. There's nothing like dried fruits and nuts to add a surprise to every bite. To be honest, here you can mix and match. There are many delicious dried fruits out there, and I'm not even getting into nut varieties. Dates and hazelnuts work great together and that's what we're using today. But if you use substitutes, I'd love to know what your favorite combinations are!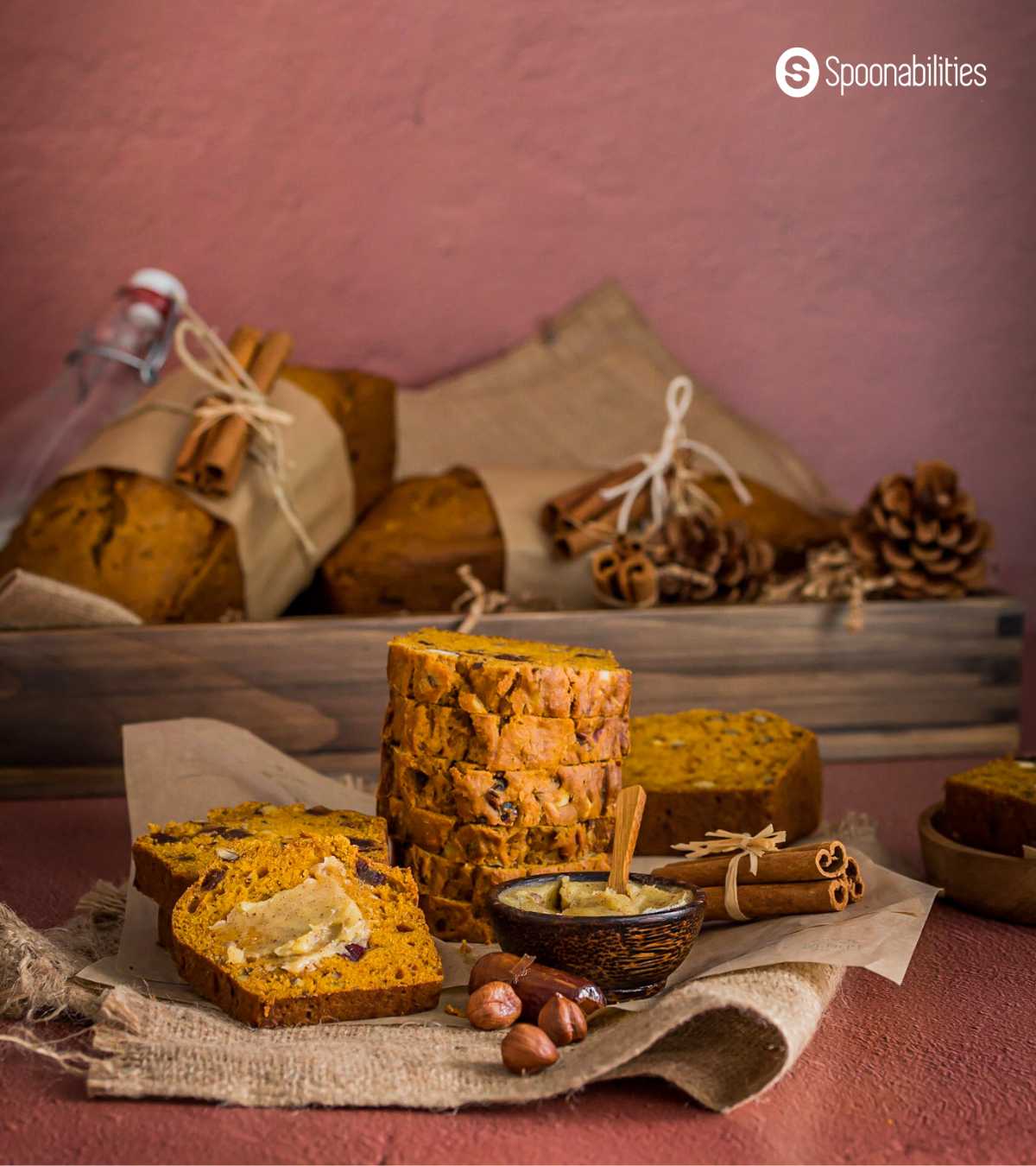 This Pumpkin Bread's Secret Ingredient: Brown Butter
Brown butter is critical; it's the secret ingredient. And if you've never cooked your own, you're in for a treat! Melt your cup of butter and slowly warm it up over low heat while stirring often. See it transform in front of your eyes into a caramel-scented, nutty delight! Have a separate bowl to transfer your butter once it's right. It seems to take forever to brown, but it burns in seconds once it's reached its peak. If you're not really into making one on your own, our gracious food product supplier offer this amazing brown butter at 10% off.
Pro Tips for Making this Easy Pumpkin Bread
If you've never baked pumpkin bread or muffins before, know that the dough is very moist. Once you incorporate all the ingredients, you must transfer the dough into three different molds, and you have to be ready for it from the start.
I recommend using three greased 8x4-inch loaf pans, but you can use any oven-safe molds as long as you distribute the dough evenly between them. If you use larger molds, your bread will take longer to cook through, and you risk ending up with bread too humid to handle.
One more thing... please preheat your oven and wait at least 15 minutes. A bit more if your oven is an older model. Baking pumpkin bread is tons of fun, but you've got to do it right.
We're ready to make the first loaf of the season. A brown butter hazelnut date pumpkin bread that will get you hyped up and turned on for what's left of the year.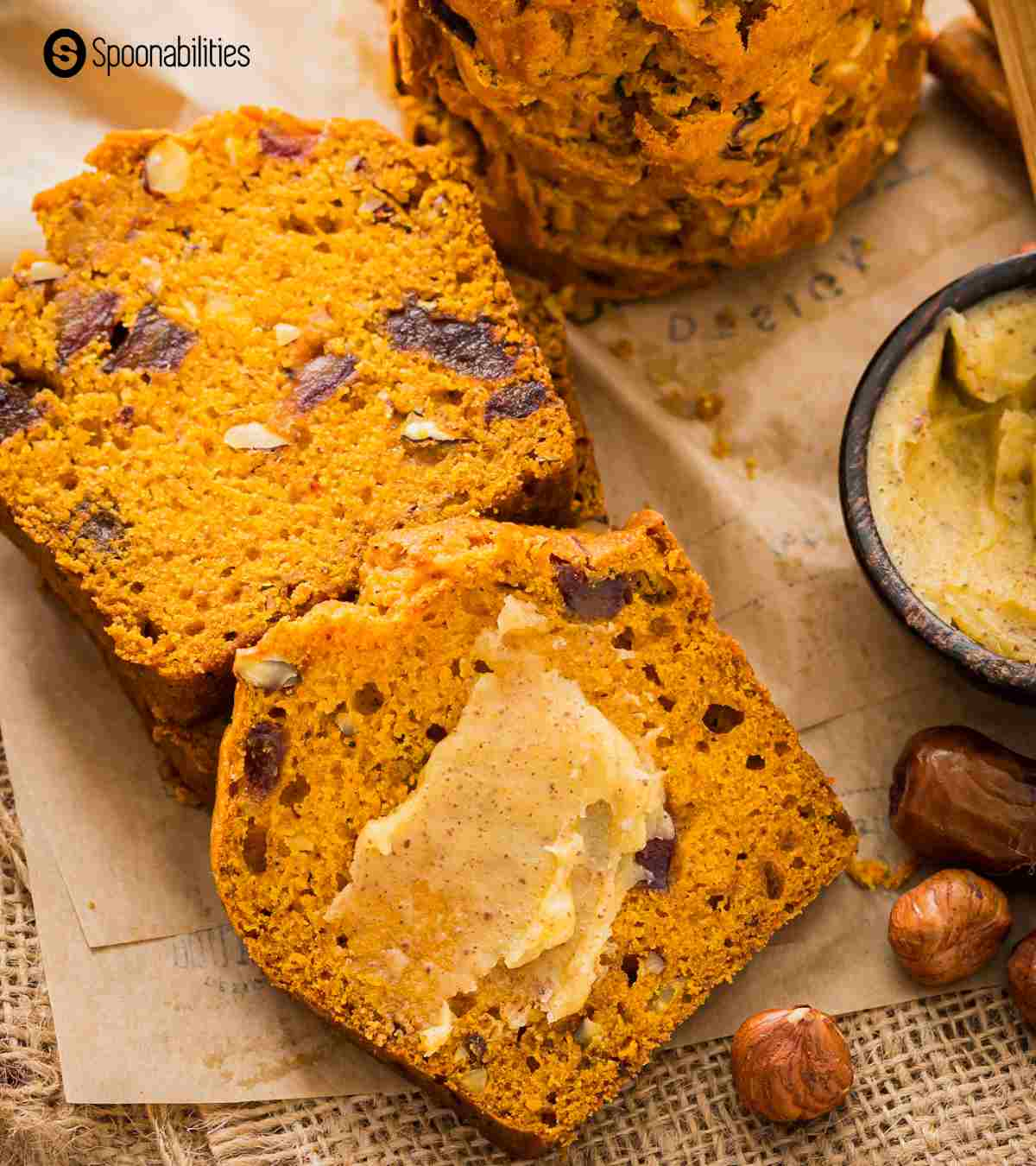 I hope you get a chance to make this moist pumpkin bread with crunchy hazelnut, sweet dates, and nutty brown butter. If you have already made this recipe or another one of our recipes, please tag @Spoonabilities on Instagram or add a photo or comment on the Pin, so we can find you! And we love to hear from you in the comment section below.
Carlos Leo
You Recipe Concierge!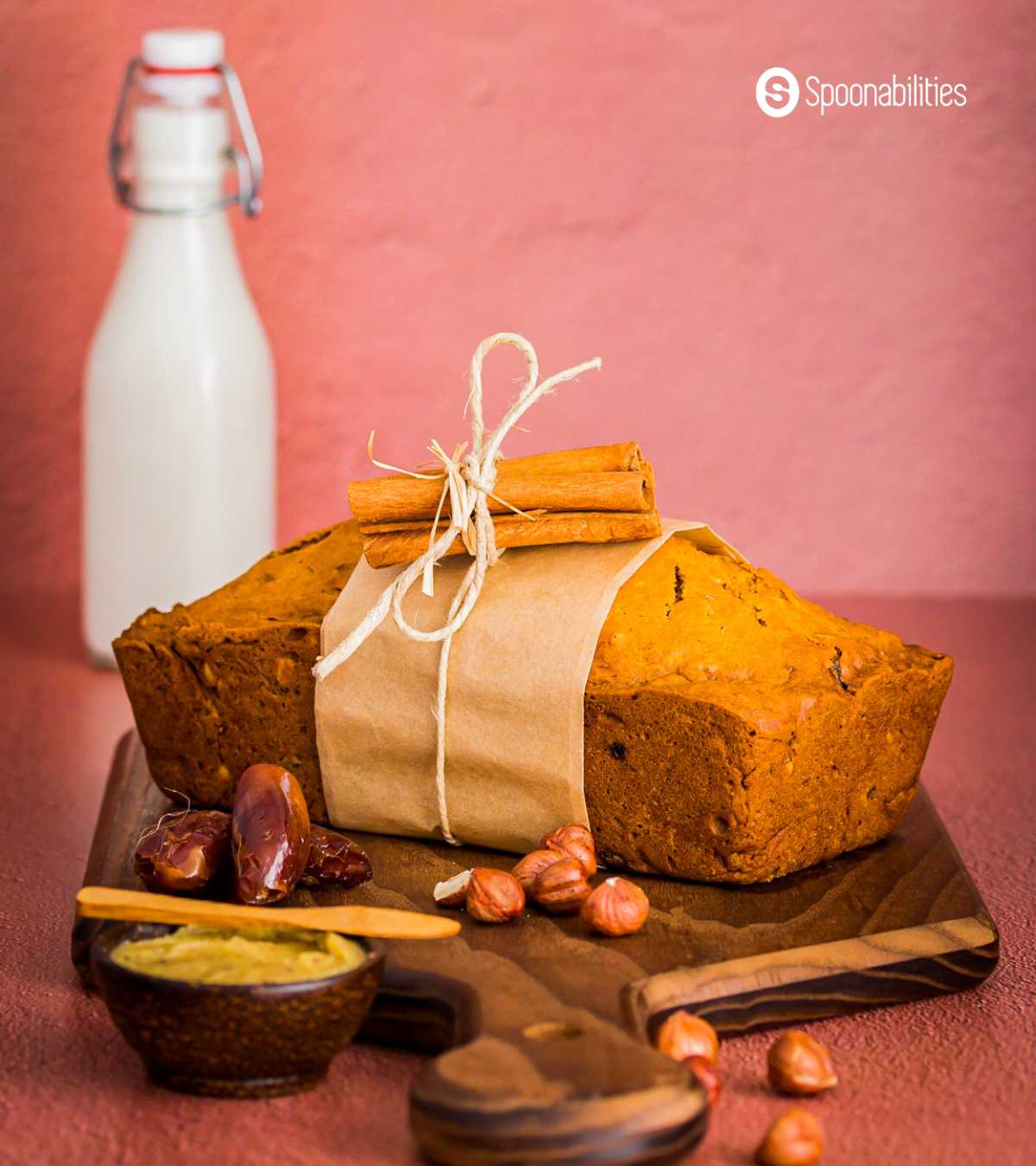 Ready to Fall into Pumpkin Season? Check these other recipes out
Print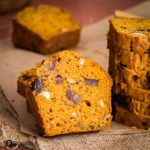 Pumpkin Bread with Brown Butter, Hazelnuts & Dates Recipe
---
Author:

Carlos Leo

Total Time:

1 hour 15 minutes

Yield:

3

6

1

x
Description
This homemade Pumpkin Bread is moist and filled with chopped hazelnut and dates. This autumn bread recipe will make your home smell amazing. It's boosted with the season's warm spices like cinnamon, ginger, cardamom, and the nutty aroma and flavor of brown butter. Beauty and taste never came together more perfectly in this seasonal bread.
Don't worry about running out of bread because this recipe makes 3 loaves of 12 slices each.
This recipe was inspired by a pumpkin bread recipe by TasteofHome.com.
If you like this recipe, join our newsletter to know about future ones.
---
5

cups

all-purpose flour

2 ½

cups

sugar

4 teaspoons

baking soda

1 ¾ teaspoons

ground cinnamon

1 ½ teaspoons

sea salt

¾ teaspoon

ground ginger

¾ teaspoon

ground cardamom

2

large eggs, room temperature

1

can (29 ounces) solid-pack pumpkin puree

1

cup

2% milk

1

cup

melted Brown Butter

1 teaspoon

vanilla paste

2

cups

chopped hazelnuts

2

cups

chopped dates
---
Instructions
Preheat oven to 350°F.
Whisk dry ingredients: In a large bowl, whisk together the all-purpose flour, sugar, baking soda, ground cinnamon, salt, ground ginger, and ground cardamom
Beat wet ingredients: In a stand mixer, beat eggs, pumpkin, milk, melted brown butter, and vanilla paste until blended. Beat in flour mixture just until moistened.
Fold in chopped hazelnuts and chopped dates.
Transfer to 3 greased 8x4-in. loaf pans. Bake until a toothpick inserted in center comes out clean, 50-55 minutes.
Cool in pans for 10 minutes before removing to wire racks to cool completely.
Notes
Freeze option: Securely wrap cooled loaves in foil, and then freeze. To use, thaw at room temperature.
Prep Time:

25

Cook Time:

50

Category:

breakfast/dessert

Method:

baking

Cuisine:

American
Keywords: pumpkin bread, nut bread, date bread, fall baking, fall recipe, pumpkin recipe, bread recipe, date pumpkin bread, nut pumpkin bread, brown butter, fall dessert, pumpkin hazelnut bread, pumpkin date bread, pumpkin date nut bread, pumpkin date nut bread recipe
Recipe Card powered by
Available via these affiliate links:
Disclaimer: Links that open in another site, i.e. Amazon, may be affiliate links where at no additional cost to you, we may receive a small commission should you decide to purchase the item. Read our Disclosure Policy.
Looking for more bread recipes? We recommend these: