Melomakarona is a Greek Christmas Cookie made with olive oil instead of butter and eggs, and a honey syrup with a walnut and cinnamon topping. It's sort of an olive oil no butter baklava in cookie form. At least that's my take on it not being of Greek nationality. Melomakarona Greek Honey Christmas Cookies are great to make for any of your Christmas and New Year parties, dinners, or gifts to family and friends.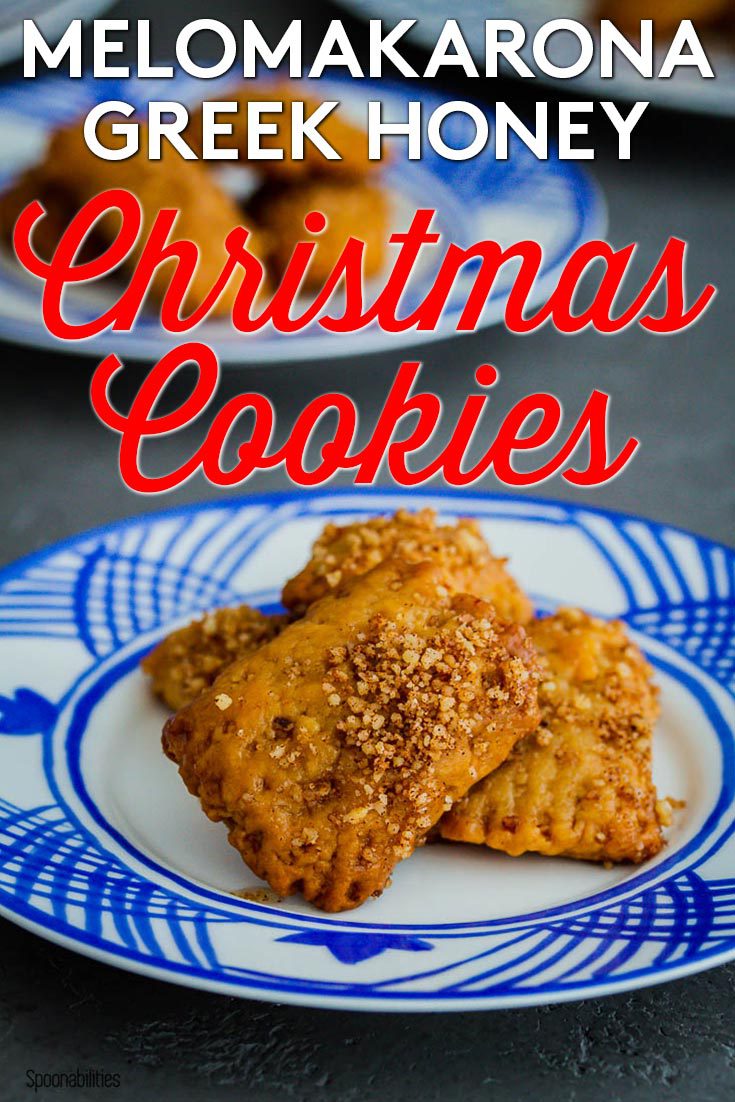 Hello friends. Geoffrey here again – the official Spoonabilities cookie maker and eater. Holidays to me are all about cookies, and if you've been following us for a while, you know I've already shared the four main Christmas cookies that I've made for years, namely Almond Crescents, Chocolate Chip, Peanut Butter, and Oatmeal Raisin. Side note: I haven't posted the recipe for my chocolate chip cookies because it's actually the recipe on the back of the bag of Nestle Tollhouse chocolate chips. Shhhh, don't tell my family. This holiday season I tried my hand at Melomakarona. And when I say "I tried my hand" what I actually mean is Carlos twisted my arm and instructed me to make them. I'm glad he did.
In the last year or two I've been exploring with cookies that I haven't made before. With Carlos's help, we've made:
When Carlos came to me with this Greek Christmas cookie made with honey I said "sure." Then I saw it was also made with olive oil. Yuck! Olive oil in a cookie? Turns out they are delicious! OH, and did I mention there's brandy in them too?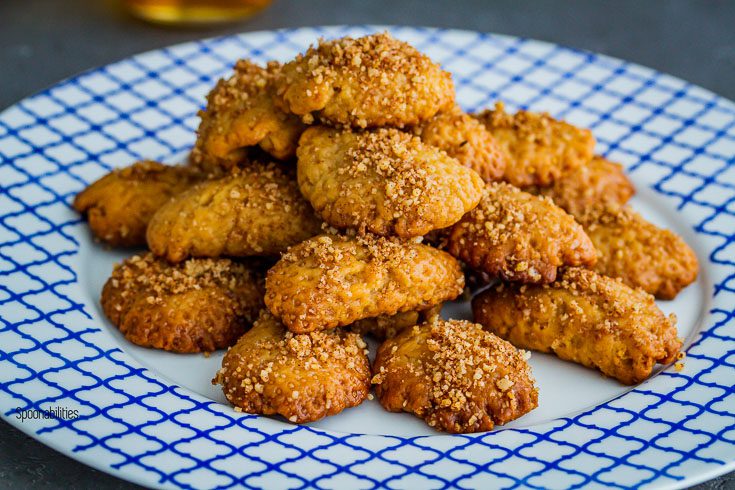 Making Melomakaronas - A labor of Love
Making Melomakarona Greek Honey Christmas Cookies is a labor of love. I can't really put the word "easy" anywhere in this write-up. Actually mixing all the ingredients was very easy, but that's pretty much the extent of the easiness. Rolling the cookie dough and making the pretty marks on top took longer than I anticipated. You need to press the dough against a cheese grater and then carefully roll the dough off the grater so that you don't damage the dough, and more importantly, don't damage your fingers. Since I am used to cookies that I drop on the sheet and bake for 12 minutes, I was a little perturbed that each batch of these had to cook for 25 minutes. That's because these cookies are more like bread or pastry dough rather than usual cookie dough. You'll notice that when all the ingredients are mixed together. I guess the time worked out perfectly though because the extra time it takes to make the cookies is taken up by the extra time they are baking. So you can form more cookies and get them in the baking pan while you are waiting for the oven to ding. Finally, you need to wait overnight for them to soak in the syrup before you can complete them with the topping. So, not an easy cookie. Would I make them again? YES. They are that good ;)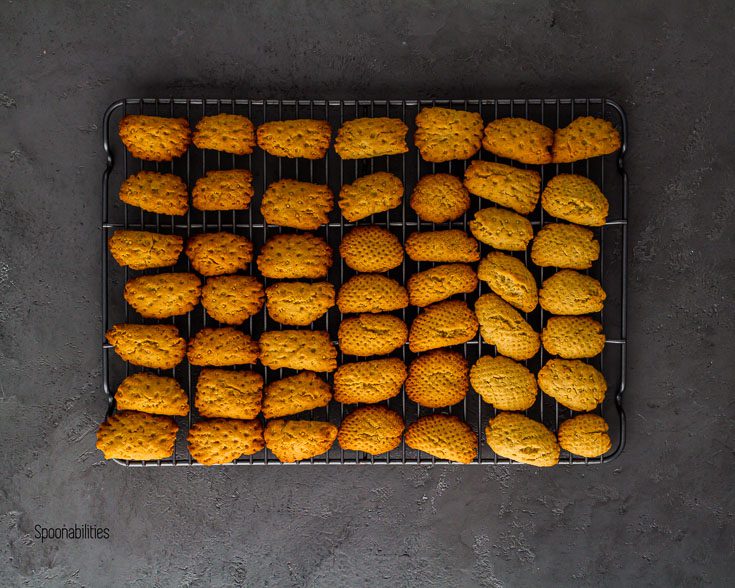 Baking Melomakarona Greek Cookies
The first few steps in this melomakarona recipe are pretty easy and straightforward. Mix the wet ingredients, mix the dry ingredients, and then mix them together. Then you need to form the cookies with a cheese grater which I described above. After they are baked and cooled, you want to give them a syrup bath. Take all your cookies from the cooling racks and turn them upside-down and place them snugly in one or two baking pans. You can try to fit as many as you can in each pan, but make sure all the tops of the cookies are flat touching the bottom of the pan. Don't put any cookies on top of each other. This is so they all have equal chance to soak up the yummy honey syrup.
Like this recipe so far? Be the first to know when we release new ones!
Greek Extra Virgin Olive Oil Baked in a Christmas Cookie
At first I "pooh-poohed" the idea of olive oil in a Christmas cookie, but just like Carlos's other ideas of using olive oil in unusual creations, I was wrong. These cookies are delicious, and I don't even taste the olive oil except when I purposely think about the olive oil being in there. I'm sure part of that is because we use the highest quality PDO Sitia olive oil from Hellenic Farms, which you can purchase in our online pantry.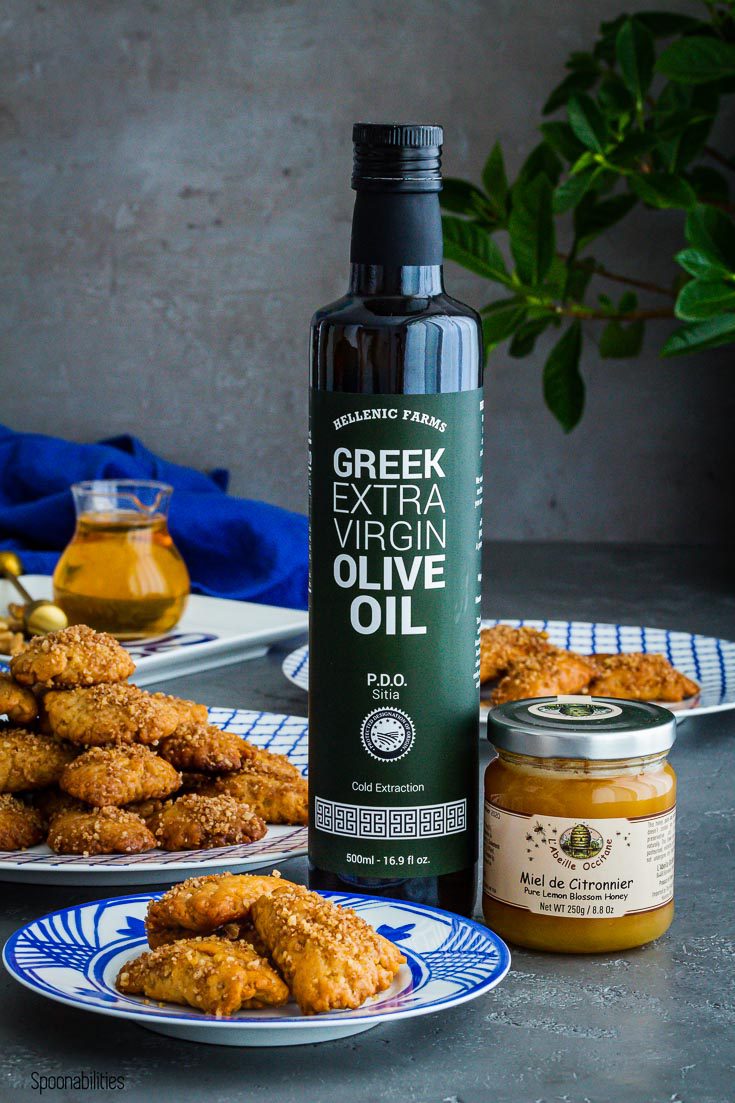 What does "PDO Sitia" mean?
It means that the olive oil comes from Sitia Lasithiou in Crete. "PDO" stands for "Protected Designation of Origin," meaning that the product has been prepared, processed, and produced only in the region of, in this case, Sitia. This Cretan Extra Virgin Olive Oil is a very natural product that comes from the simple crushing of olives without any additives. The olives are cultivated with the utmost respect for the environment and customer, and the olives grown in this area have gifted the olive oil with a unique taste and aroma.
How to Avoid Buying "Fake" Olive Oil
Here is a news clip about how to avoid olive oil fraud, but the best way we know is to make sure you get the olive oil from a reputable source, and well as looking for the PDO designation if it says it comes from a country in Europe.
French Honey Takes Melomakarona Greek Honey Christmas Cookies Over The Top
After the cookies are baking, you make a simple syrup from water, sugar, and honey. You can use any high quality honey, and we use L'Abeille Occitane Lemon Honey from France. The quality of this honey just makes the syrup a specialty all on its own. The lemon flavor of this honey is attributed to the bees feeding on lemon flowers. A wonderful addition to any kitchen, this lemon honey is wonderful drizzled over melon slices, added in a sauce or vinaigrette, and used with a white fish. If you don't order this honey from our online pantry, I highly recommend you use another high quality honey for these cookies.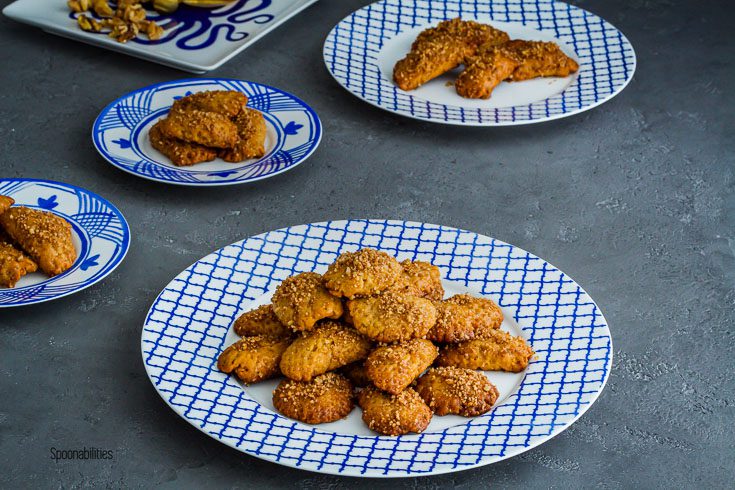 Soaking and Topping these Greek Christmas Cookies
When making the syrup, I found a few recipes that say to boil the syrup for five minutes, some for ten minutes. However I put less water in my syrup so I only bring it to a full boil and then boil a few minutes after that just for good measure. I never understood why a simple syrup of honey, sugar and water needed to boil for a while. If you want it to boil down some, just put in less water. If anybody has a logical reason for adding more water and letting it boil longer, please let me know in the comments below. I am curious to know.
Next, pour the syrup all over the cookies, filling the pan with all the syrup. I also took a teaspoon and poured some extra over the cookies to make sure that I got them all at least once. Then let the cookies soak in the honey syrup bath overnight. Some recipes I found said 2-3 hours is enough. I was worried that overnight would make them all soggy. Not true.
I actually did one batch for 2-3 hours and one batch overnight. I highly recommend letting them sit overnight. The cookies don't soak the liquid as much as you might think. When ready, take the cookies out of the syrup baking pan and put right-side-up in another clean baking pan. Once you have them all in there, sprinkle them all with the cinnamon walnut topping. All done and ready to serve and eat... although I'm sure like me you have been sampling the whole way through the recipe.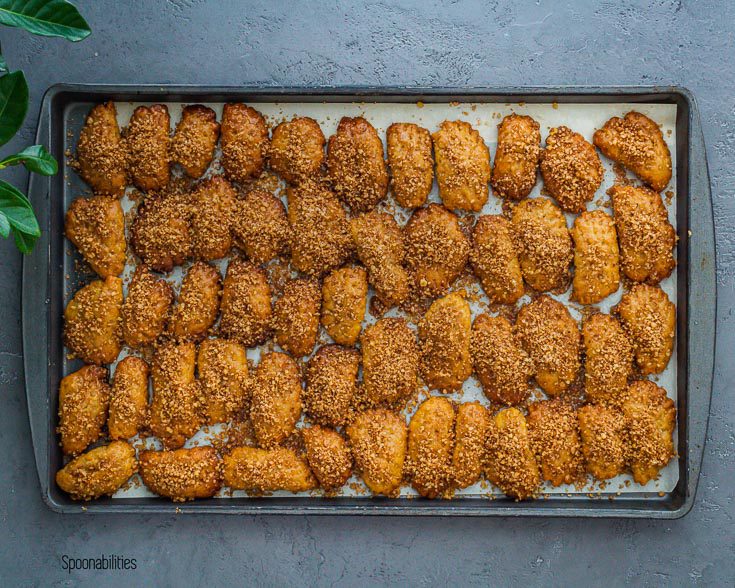 No Syrup Left Behind
After you are done pulling these delicious Greek honey cookies out of the syrup bath, you have two baking pans with leftover honey syrup. Keeping with our Spoonabilities motto of "no jars left behind," don't throw that syrup away. Pour it all into a container and keep it. It's just honey, sugar and water so it will keep well in the cupboard. You can use it for many other things. The obvious use is in your next cups of tea, but you can also:
There are many different places you can use this leftover syrup. Where else do you regularly use honey?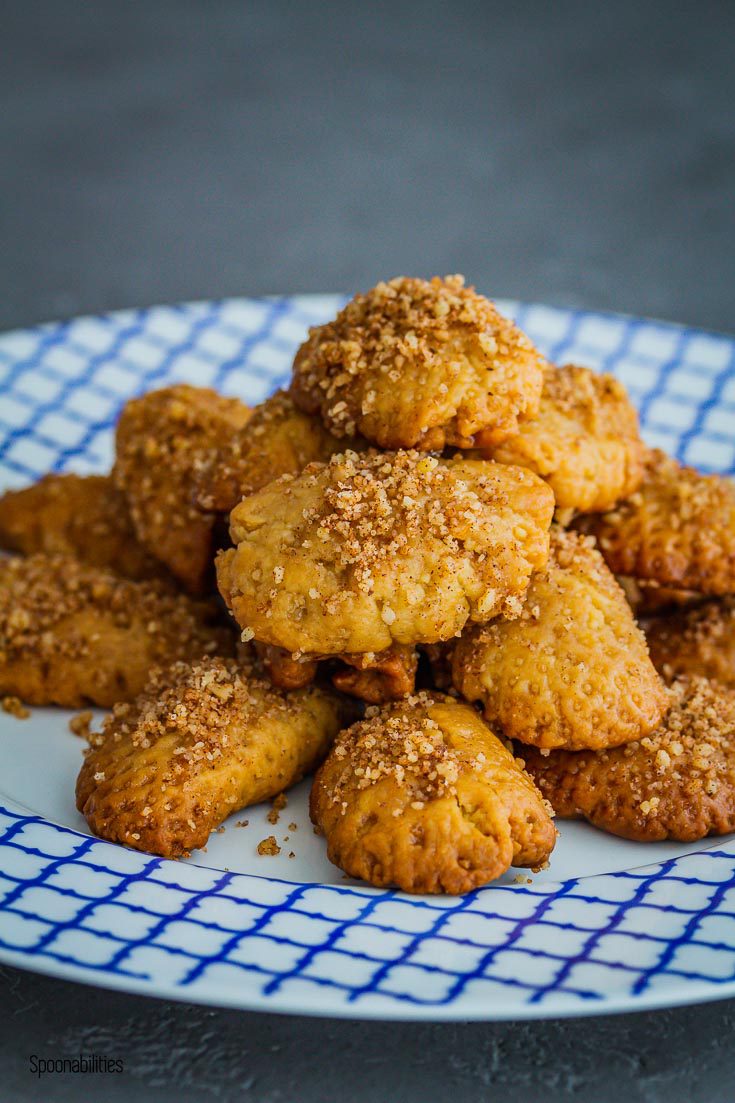 So I hope I didn't discourage you from making these delicious Melomakarona Greek Honey Christmas Cookies. They really are scrumptious and look so special. I'm sure you and your family and friends will love them. Give them a try. If you want a more traditional, easier Christmas cookie, try my Chocolate Chip Cookies.
I would love to hear from you and let me know if you are making these Greek Christmas cookies. Especially leave a comment if you know an easier way to make the pretty grate marks on the top of the cookies, and also tell me what other uses you have for the leftover honey syrup. Remember to not leave any jars behind. ;)
Have a wonderful holiday season!
Geoffrey, the official cookie maker and eater.
Print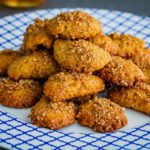 Melomakarona Greek Honey Christmas Cookies
---
Description
Melomakarona is a Greek Christmas Cookie made with olive oil instead of butter and eggs, and a honey syrup with a walnut and cinnamon topping. This holiday cookie is great to make for any of your Christmas and New Year parties, dinners, or gifts for family and friends.
If you like this recipe, why not be part of our newsletter community
---
For the Cookies:
For the Syrup:
For the Topping:
½

cup

finely chopped walnuts

1 teaspoon

cinnamon
---
Instructions
Preheat oven at 350 degrees F.
In a large bowl, mix the olive oil, brandy, orange juice, sugar, cinnamon, and orange peel. Stir until sugar is mostly dissolved.
In another bowl, sift together flour, baking powder and baking soda.
Gradually add the flour mixture to the olive oil mixture.
Roll the dough in little balls about the size of a walnut. Press the balls on a grater flattening them like a small pancake. Carefully roll the dough off the grater so that the cookie is in an oval shape with the top having the design of the grater.1
Place the cookies on a cookie sheet lined with parchment paper. Bake each batch for about 25 minutes. Cool on cooling racks.
Once all the cookies are done, flip them so that the bottom part is facing up, and arrange them tightly in a one or more of the baking pans.
For the syrup, bring the honey, sugar and water to a boil and boil for at least 5 minutes.
While the syrup is hot, pour it over the cookies, making sure all cookies are covered with syrup. Let the cookies sit for at least 2-3 hours, preferably overnight, with the top side facing down so that they absorb the syrup2
For the topping, mix the walnuts and cinnamon. Turn the melomakarona right side up again and sprinkle the topping over the cookies.
Equipment
Notes
This is done so that the honey will be better absorbed as opposed to just shaping the cookie in a solid oval shape.
Leave soaking over night. They don't get soggy
Prep Time:

20

Cook Time:

25

Category:

dessert, holiday

Method:

Bake

Cuisine:

Greek, Mediterranean
Keywords: Greek food, Mediterranean food, Greek dessert, baking, Christmas cookies
Recipe Card powered by
Available via these Amazon links:
Disclaimer: Links that open in another site, i.e. Amazon, may be affiliate links where at no additional cost to you, we may receive a small commission should you decide to purchase the item. Read our Disclosure Policy.