This Pumpkin Overnight Oats recipe is the ultimate go-to breakfast for the fall and winter seasons. Creamy, hearty and oh so delicious, this meal will provide you with everything you need in the morning!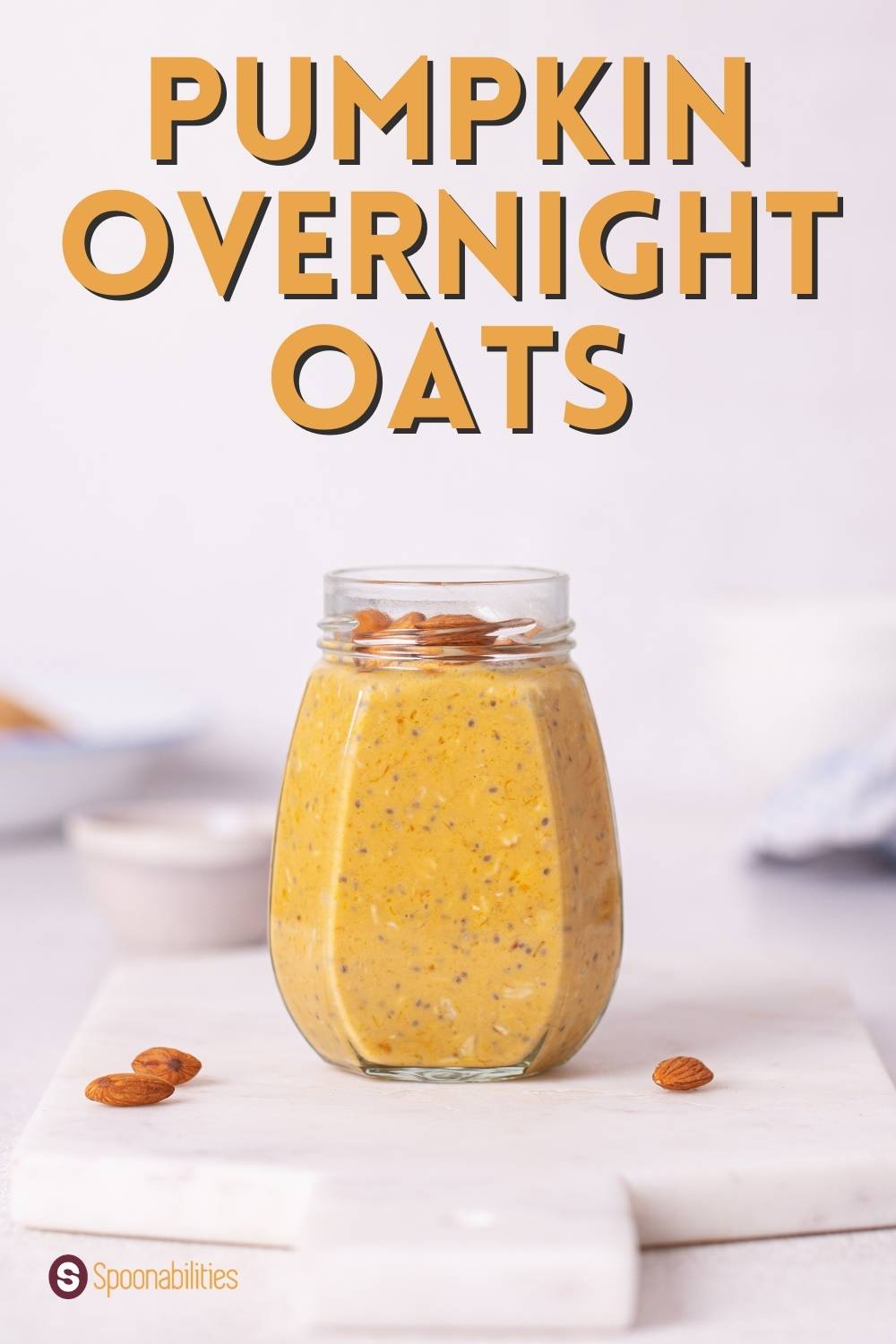 The Ultimate Autumn Breakfast
Pumpkin Overnight Oats are a quick way to make a nutritious breakfast. This is perfect for those who are in a hurry and don't feel like making breakfast in the morning.
All you have to do is simply take it out of the fridge - and that's it! Truly, there's no faster breakfast. During chilly autumn mornings, when every minute in bed is so precious, this pumpkin overnight oats recipe can help you snooze a bit longer!
That's not all there is to enjoy! This recipe is also a great choice to take with you on your way to work, school, or anywhere else. This breakfast is packed with nutrients and vitamins, and the oats, which have a low glycemic index, will keep you feeling full throughout the entire morning.
Seriously, what more could you want? Now that I think about it…how about more fall pumpkin recipes?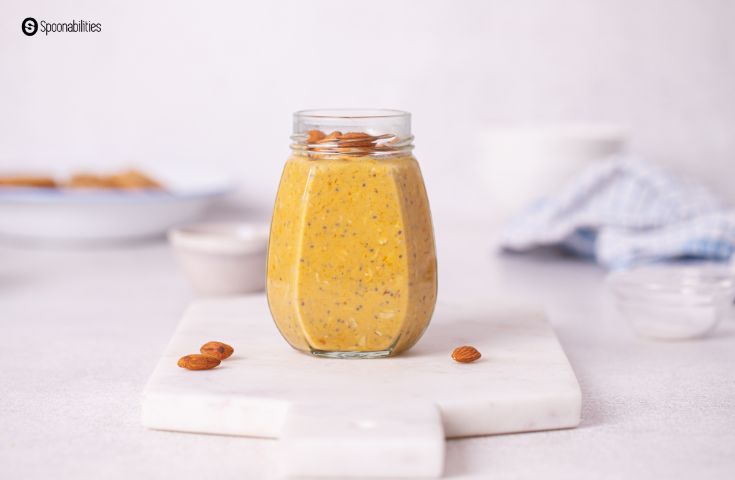 Pumpkin Overnight Oats - What Flavor Should You Expect?
Well, to begin with, these taste like.... pumpkin! Nothing too revealing, right? ;) But in addition to pumpkin, you'll also find notes of cinnamon and almonds, as almond milk and almond butter are used here too, and they add even more flavor and even more nutritional value to this breakfast.
Key Ingredients
The magic of these pumpkin overnight oats is that you only need to use a few simple ingredients to pull off such a delicious treat! All you need is rolled oats, almond milk, pumpkin puree, almonds, chia seeds, maple syrup, and a dash of cinnamon.
If you wish, you can also easily adjust the ingredients to your own taste. If you aren't vegan, you could use Greek yogurt and regular milk. You can substitute regular milk for plant-based milk (I recommend almond milk or oat milk). To switch it up even more, swap almond butter for peanut butter, and almonds for pecans or walnuts.
There are also other ingredients that go well with pumpkin, so if you don't want to use cinnamon, you can experiment with pure vanilla extract or orange extract.
Let your creative juices run wild!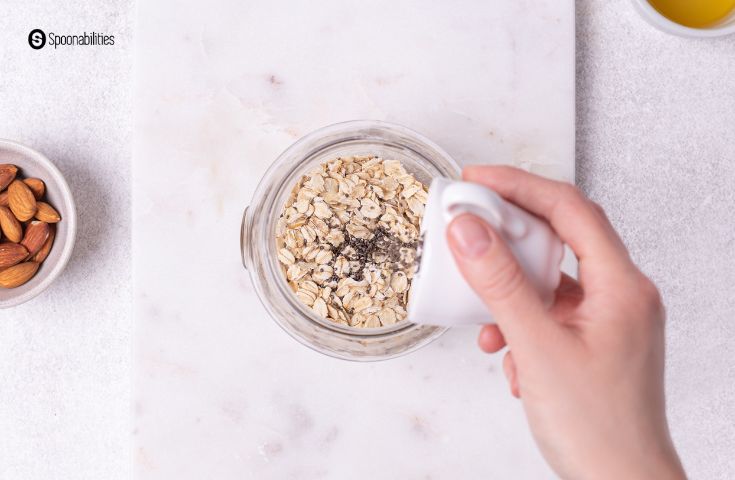 Drooling over this recipe? Be first to receive new recipes!
What's Healthy About This Pumpkin Overnight Oats Recipe?
Pumpkin
Pumpkin, which is high in vitamins and minerals (including A, E, C, iron and folate) is also low in calories and rich in beta-carotene and antioxidants that protect the body cells from free radicals. It also boosts immunity and protects the eyes from vision loss.[1]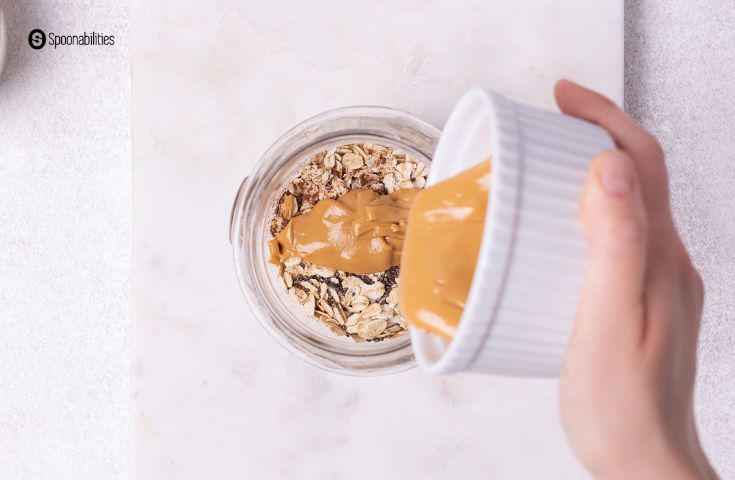 Cinnamon
Cinnamon contains anti-inflammatory properties and antioxidants which can help prevent cancer.[2]
Almonds
Almonds are high in protein, fiber, Vitamin E, magnesium and antioxidants that can protect the cells from oxidative damage. Eating almonds regularly can also reduce the risk of heart disease.[3]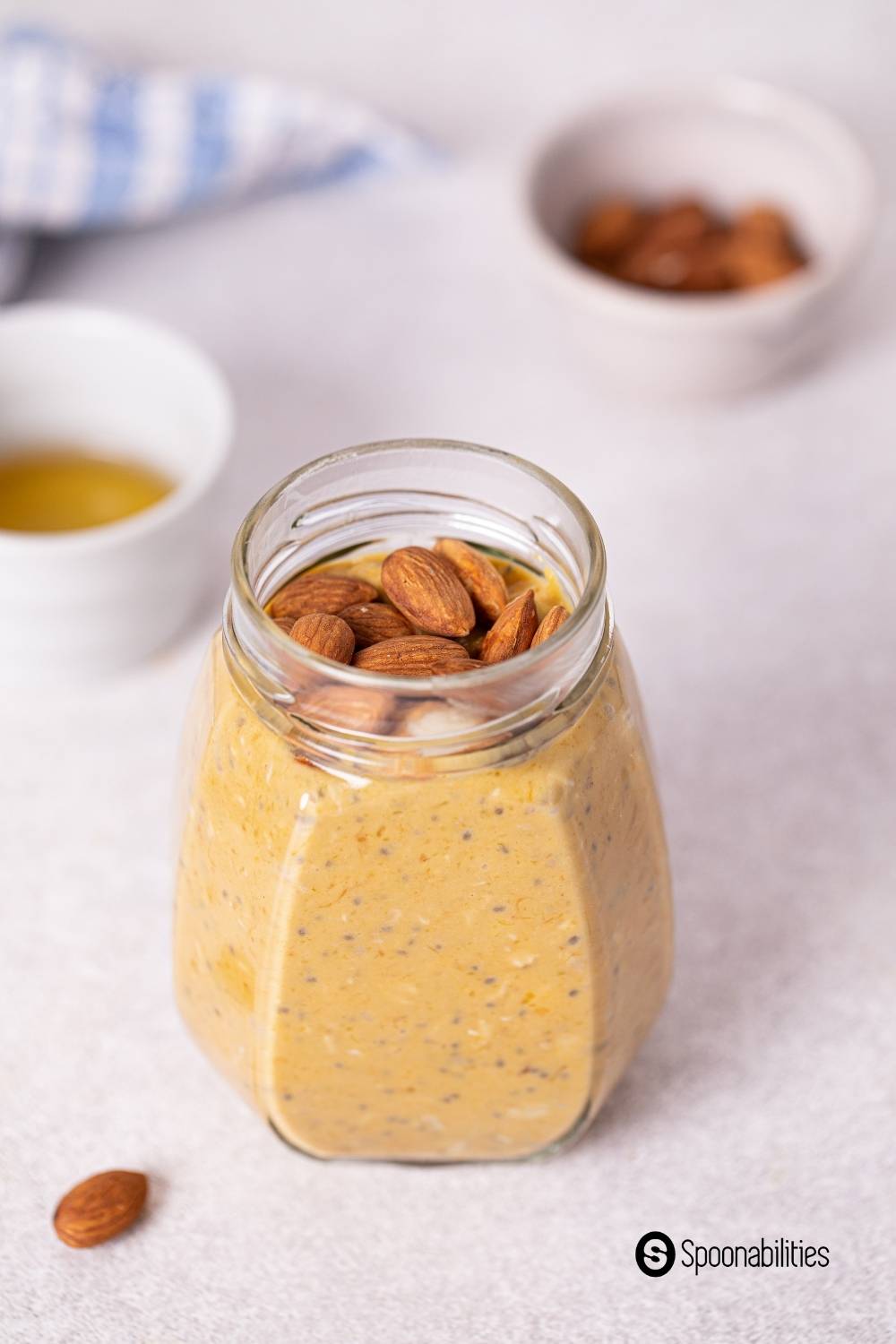 Making Overnight Oats Vegan - Is It Possible?
Although it may seem to be too good to be true, this recipe is already completely vegan! Instead of regular milk, it uses almond milk, and in place of the honey that is so common in overnight oats recipes, I use real maple syrup from Mansfield Maple. You can also use agave syrup or date syrup if you are looking for vegan alternatives to the sweetener.
Pumpkin Overnight Oats Step By Step
This autumn breakfast recipe is easy. To start making Pumpkin Overnight Oats just:
Soak rolled oats in almond milk mixed with pumpkin puree, almond butter, chia seeds, maple syrup and cinnamon.
After mixing thoroughly, place your pumpkin spice oats in the refrigerator and keep them covered for about 5-8 hours, or preferably overnight. This will allow them to soften enough for you to digest them easily.
In the morning, just take them out of the fridge, sprinkle them with almonds and enjoy your nutritious breakfast.
What Is The Best Liquid For Overnight Oats?
Using regular milk will give your oats a nice thick texture. However, if you are looking for a non-dairy alternative you could try using almond milk or oat milk in this recipe. I would look into how to make almond milk because store-bought nut milks have tons of preservatives, added sugars and gums. Making homemade nut milk is a much healthier alternative.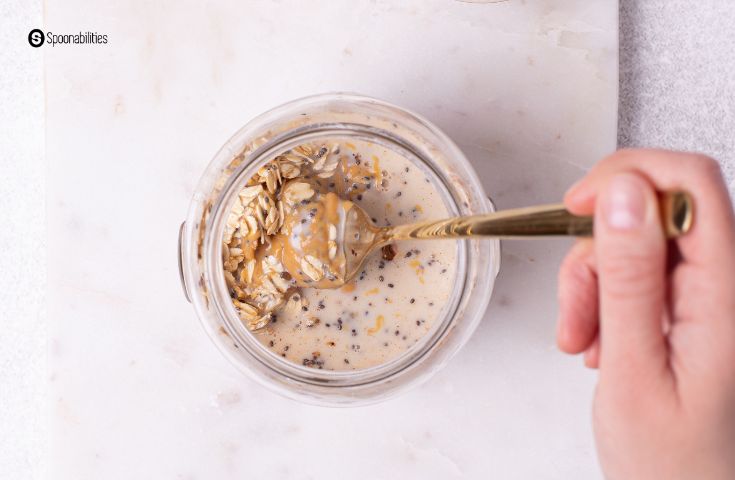 3 FAQs about Overnight Oats
Why Add Chia Seeds To Overnight Oats?
Chia seeds add a nice texture to the oats. Topping your overnight oats with chia seeds and mixing them in is a great way to get more added fiber to your diet.
Can You Omit Chia Seeds in Your Pumpkin Overnight Oats?
Yes, since chia seeds aren't the key ingredient, you can definitely leave them out, Although keep in mind that it will change the consistency a little and your oats won't be as creamy.
How Do You Store Your Overnight Oats?
Pumpkin Overnight Oats can last in the refrigerator for up to 3 days - but only if they are tightly closed or covered, so make sure you store your overnight oats properly. If you like, you can store them in a mason jar.
We can't wait for you to try this easy recipe for overnight oats with pumpkin puree. Let us know what you think by leaving a comment below. Also, please share this recipe and/or your creation on social media tagging @Spoonabilities on Instagram or comment on this pin.
Happy Pumpkin Season,
Carlos Leo
Your Recipe Concierge!
Print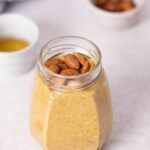 Healthy Pumpkin Overnight Oat Recipe
---
Author:

Carlos Leo

Total Time:

10 minutes

Yield:

1

1

x

Diet:

Vegan
Description
Pumpkin Overnight Oats is the ultimate go-to breakfast for the fall and winter seasons, providing you with everything you need in the morning! Simply take it out of the fridge and eat! Perfect when you are in a hurry and don't feel like making breakfast in the morning.
If you like this recipe, why not join our newsletter list.
---
⅓

cup old-fashioned rolled oats or steel cut oats

½

cup almond milk

¼

cup pumpkin puree

1

teaspoon chia seeds

2

tablespoons almond butter

1

tablespoon maple syrup (Get real maple syrup from our past supplier, Mansfield Maple)

½

teaspoon cinnamon

2

tablespoons almonds
Add vanilla protein powder (Optional)
---
Instructions
Mix thoroughly all the ingredients except almonds in a big jar or bowl.
Cover the jar / bowl and refrigerate overnight.
Serve in the morning with some almonds on top.
Prep Time:

10 minutes

Category:

breakfast

Method:

no-bake

Cuisine:

American
Keywords: Pumpkin recipes, overnight oats, easy breakfast, fast breakfast, healthy breakfast, vegan recipe, vegan breakfast
Recipe Card powered by
Suggested Ingredients & Equipment
Links that open in another site, i.e. Amazon, may be affiliate links where at no additional cost to you, as an Amazon Associate we may earn from qualifying purchases, should you decide to purchase the item. Read our Disclosure Policy.