Protein Energy Bites are super easy and quick to make, with no baking or food processor required. These healthy bites are perfect for a breakfast on the go, mid-morning snack, an afternoon pick-me-up, or even to satisfy your craving for dessert.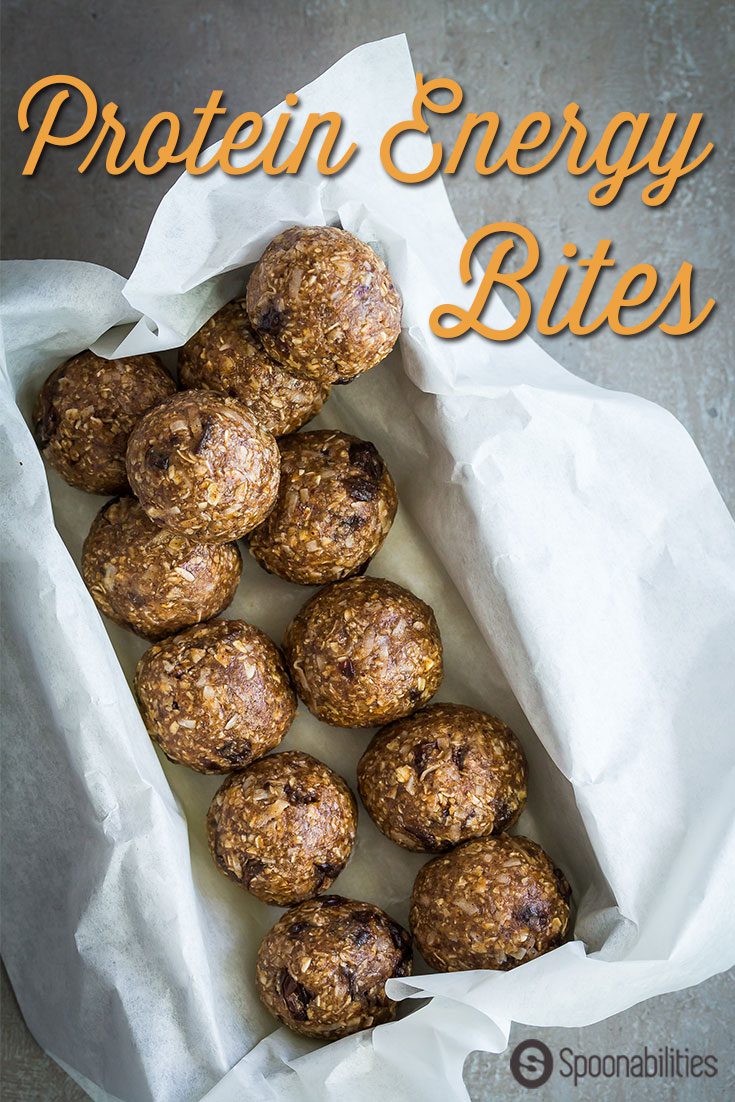 Blog post may contain affiliate links. Read our Disclosure Policy. All photographs are copyright Carlos Leo, Spoonabilities
Hello my friends. I'm so happy to get back to a normal weekly schedule of sharing recipes with you. Last week, besides making these Protein Energy Bites, I cooked and photographed four Mexican recipes in two days and I'm planning to make two margarita recipes tonight? after I'm done writing this post for you. One of the margaritas is inspired by the HBO series Game of Thrones. Make sure to follow us on Instagram to see a preview of the "Blue Ice Dragon" margarita and the Mexican recipes. But don't worry - we will share the recipes here and in our Tasty Happenings foodletter soon.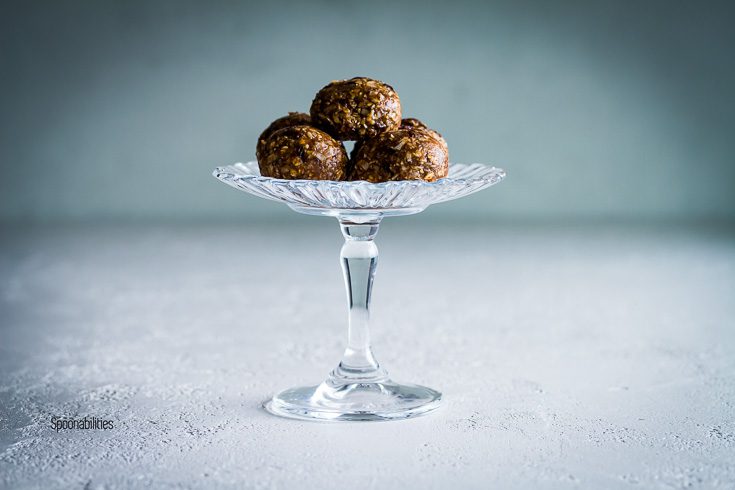 For this recipe, I partnered with Naked Nutrition to bring you these protein energy bites using their new product "Meal Replacement Shakes Powder". Before this recipe I never made any kind of protein bars or energy balls. But now I'm totally hooked because they are easy to make, (I even put them on my Easy 1-2-3 recipe list), loaded with protein and satisfy my craving for sweets. In the afternoon when I get really hungry, I pop one or two of these protein energy bites in my mouth and they hold me until dinner time.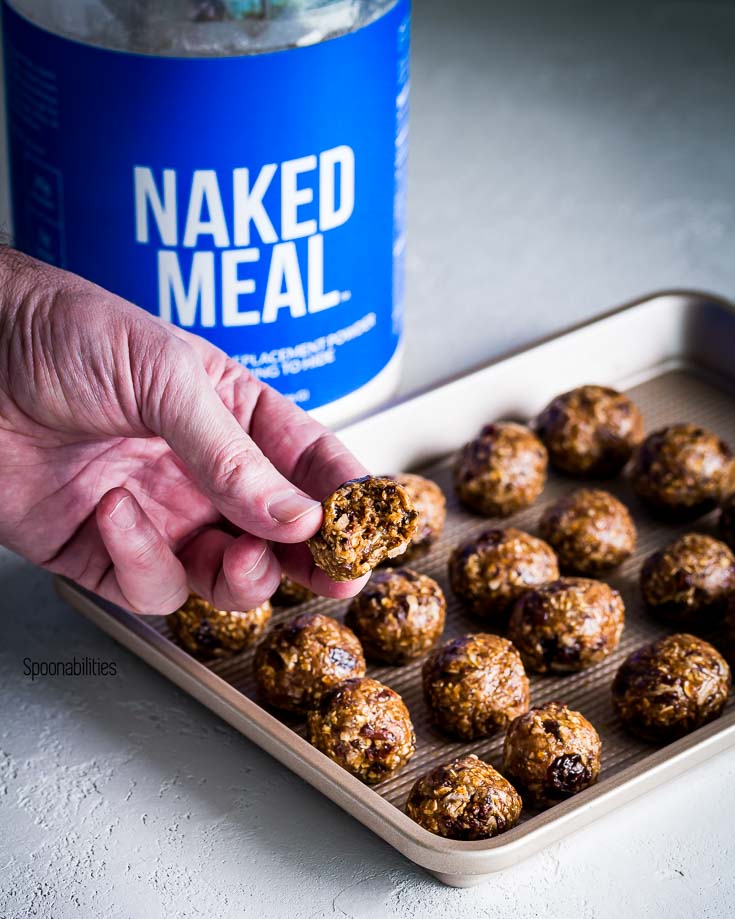 These protein energy bites are full of wholesome ingredients which should be easily available in your pantry. The recipe is very versatile because the ingredients are interchangeable for any other ingredients you might have in your pantry. Another benefit of this recipe is that you don't have to bake or use a food processor... just a bowl and the ingredients. In my case, I didn't have quick-oats and I used the food chopping bowl attachment from my Hamilton Beach Immersion Hand Blender.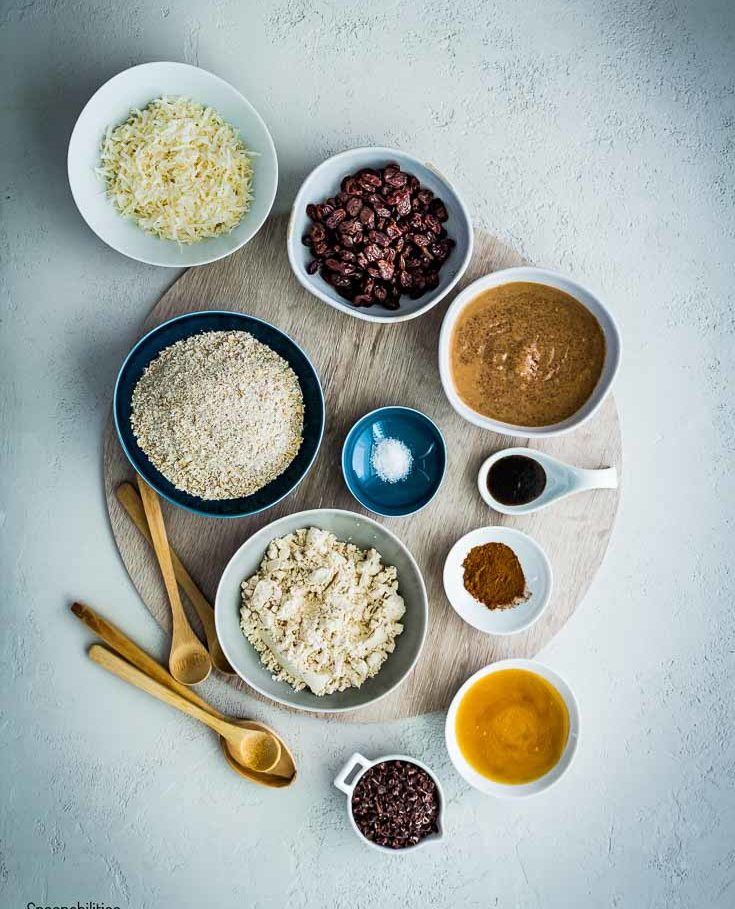 The ingredients for these protein energy bites are honey, ground cinnamon, vanilla paste, sea salt, quick-oats, unsweetened coconut flakes, raisins, cocoa nibs, and creamy almond butter. You of course can use peanut butter instead of almond butter if you like.
Like this recipe so far? Be the first to know when we release new ones!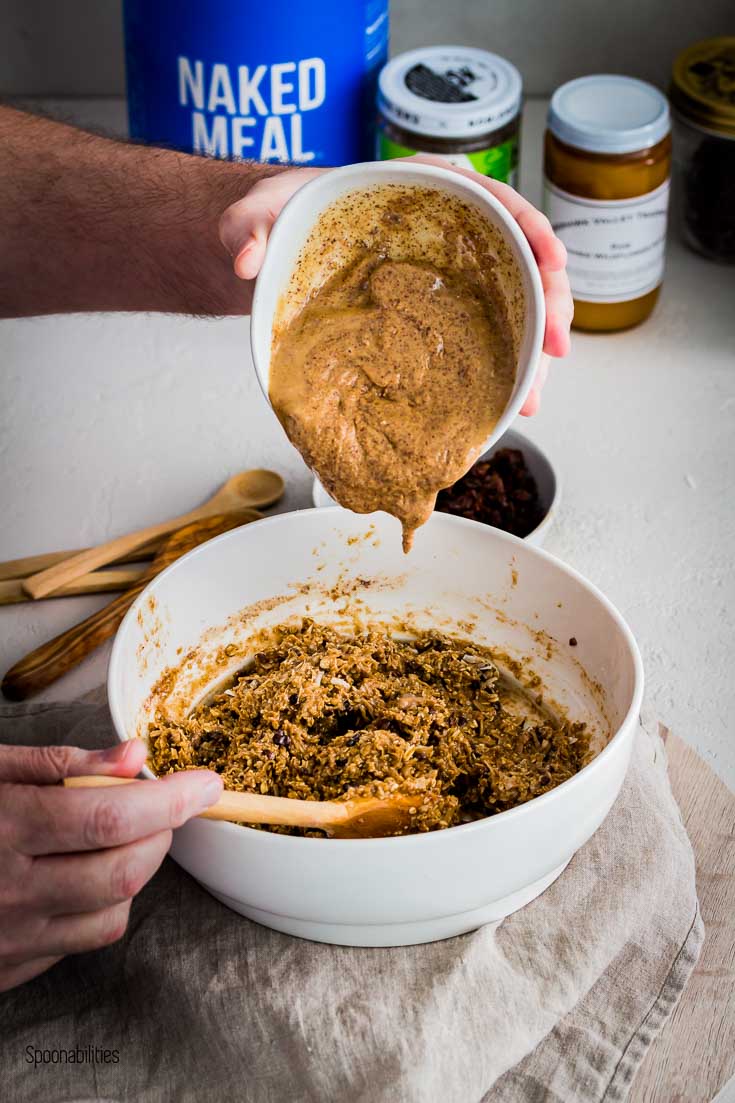 About Naked Nutrition Meal Replacement Protein Powder
The best ingredient of these protein energy bites is the Meal Replacement Shake Powder because using this amazing product you add extra protein and other nutrients. I honestly love this product and I don't say that just because I partnered with them for this post. The collaboration agreement was only for an Instagram post and giveaway, but after trying this product for over two months, I decided to do a full recipe/blog post.
Here are some great benefits that you will get using this protein shake. Note: I took most of this information from the Naked Nutrition website and Amazon.
On-the-go nutrition: Meal replacement shakes for people serious about health and fitness - no soy, only 1g of naturally occurring sugar and 20g of protein from grass-fed whey from small dairy California cows.
Real food ingredients: Only 15 ingredients made from real food with names you can understand. No added flavors, colors or sweeteners - no Stevia, Monk Fruit or Sugar Alcohols. No GMOs, Soy Free, Gluten Free, growth hormone free - no rBGH or rBST.
Maximum nutrition: Naked Meal Replacement Powder contains only 150 Calories per serving while containing 20g of Protein, Only 1g of Natural Sugar, 5g of Health Fat, Only 6g Carbs (4g of Dietary Fiber).
Support healthy digestion: Our low carb meal replacement shakes do more than just fill you up or give the right amount of protein, fat and carbs. Keep your gut healthy with Prebiotic Organic Inulin (plant-based fiber) and our natural Probiotic Blend.
Diet or workout recovery: Use Naked Meal to make weight loss meal replacement shakes or have with a light meal to promote lean gains after a workout. For the best taste, mix with a flavored beverage such as almond milk to create keto meal replacement shakes for weight loss for women or men. For a more in depth understanding about weight loss and more, make sure you visit a fitness or diet blog to get help.
Whey protein: Naked Meal starts with our best-selling grass-fed whey protein and adds in organic fiber, organic fruits and vegetables for vitamins and minerals, probiotics for gut health, and coconut cream powder for healthy fat. Our meal replacement powder is perfect for those with a busy lifestyle and need well-rounded nutrition in a convenient package.
Only Fifteen Ingredients with both Pre and Probiotics, and organic food-based vitamins and minerals
Keto Friendly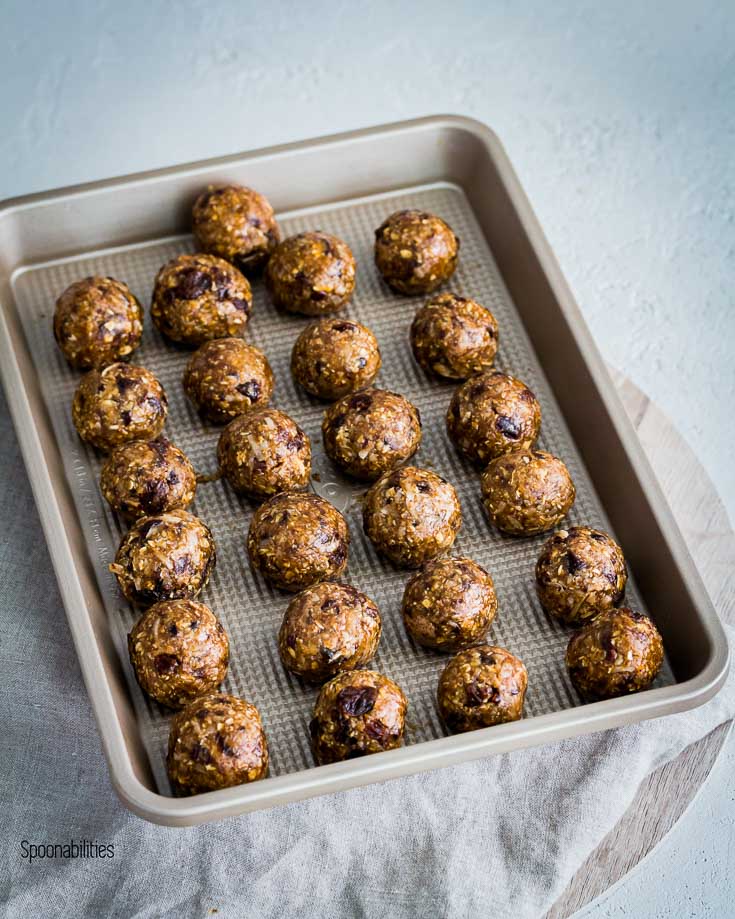 Answers to common questions about oats & protein energy bites:
How long can I keep protein energy bites before they are no longer good?
You can keep protein energy bites in the fridge for 10 days, and 3 months in the freezer.
Are protein energy bites good for you?
Protein energy bites boost your metabolism and help to burn fat. The healthy fats from the no-bake protein energy bites help to fill your stomach.
Can you eat raw oats?
You can eat raw oats, but you need to soak them in liquid/water for a least 30 minutes to release the phytic acid and make it digestible. For more information on the different types of oats, check out our Chocolate Oatmeal recipe.
What phytic acid?
Phytic acid weakens the absorption of iron, zinc and calcium. It may contribute to mineral deficiencies over time, but this is rarely am issue for people who have well-balanced diets. Methods for reducing phytic acid in foods include soaking, sprouting and fermentation. View this article for more information about phytic acid.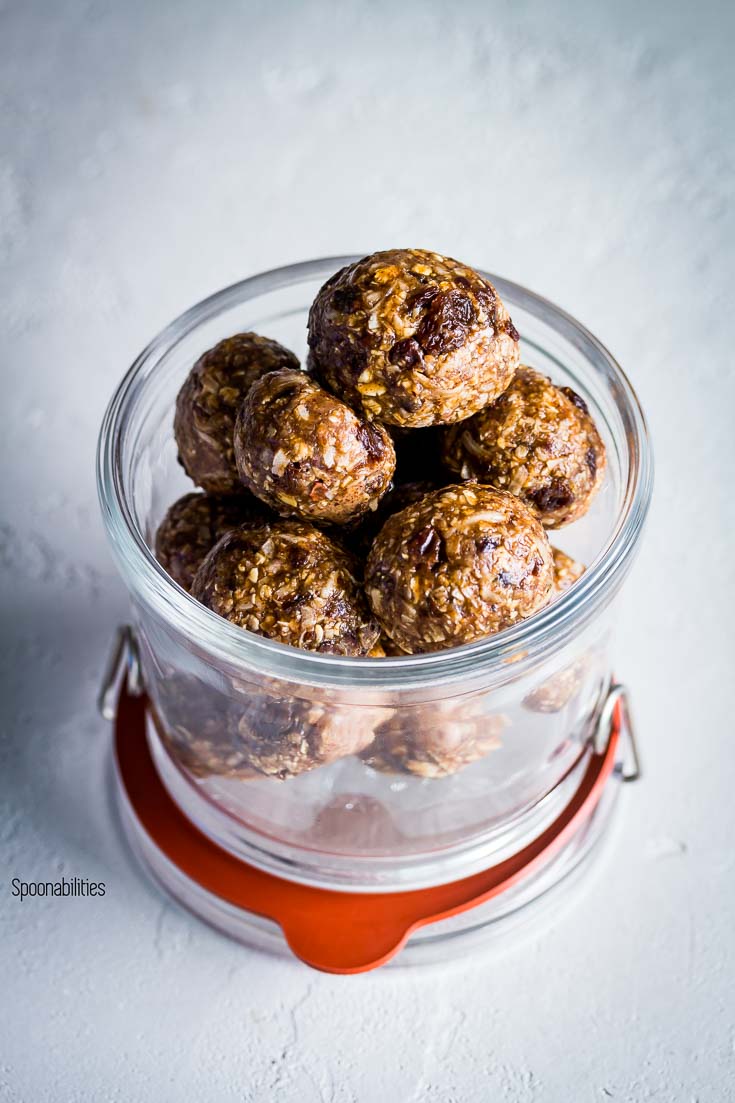 15 Ideas for what else to make with Protein Powder
You normally use your protein powder for shakes & smoothies. As part of our "No Jars Left Behind" motto, we always want to give you many options for using the ingredients that you have at home. Although we don't specifically use protein powder in these recipes, here are 15 more ideas to help you be creative and add some extra protein to your diet:
Fudge Brownies or Caramel Apple Blondies
Low Carb Vanilla Mug Cake
Healthy Banana Bread
Superfood Protein Bars
Strawberry and high protein breakfast
Green Smoothie Protein Pops
Date Protein Cranberry Truffles
Maple frosted banana bread protein donuts with caramelized bananas
Edible Protein Cookie Dough Recipe
Almond Butter Berry Power Protein Smoothie Bowl
I hope you get to make these Protein Energy Bites or any of our other recipes. Let me know in the comment section what you think about this recipe, and if you try it. If you share this recipe or your creation on social media, tag @Spoonabilities on Instagram and other social media, and use the hashtag #Spoonabilities. Thank you.
Have a wonderful week!
Carlos
Your recipe concierge
Update: This recipe is part of our Homemade Healthy Snacks for Virtual School Breaks collection that are also great for work-at-home virtual office breaks too!
Print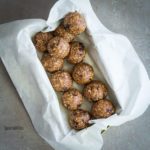 Protein Energy Bites, No-Bake Recipe
---
Author:

Carlos Leo

Total Time:

25 minutes

Yield:

25

bites

1

x
Description
Protein energy bites is a no bake recipe that is easy to make and no food processor required. Perfect for a healthy morning or afternoon pick-me-up or when you are craving for dessert. Protein packed snack with quick-oats, protein meal replacement, almond butter, cocoa nibs, raisins, and unsweetened coconut flakes.
---
¼

cup

honey

1 teaspoon

ground cinnamon

1 teaspoon

vanilla extract

¼ teaspoon

sea salt

3 Tablespoon

hot water

1

cup

quick-cooking old-fashioned oats. If you don't have quick-cooking old-fashioned oats use the food processor for a fine oat.

½

cup

unsweetened coconut flakes

¾

cup

coarsely chopped raisins

¼

cup

cocoa nibs

½

cup

creamy almond butter (or peanut butter)

½

cup

Naked Protein Meal Replacement or your favorite plain or vanilla protein powder.
---
Instructions
Stir together honey, cinnamon, vanilla, salt, and hot water in a medium bowl until smooth and incorporated.
Stir in oats and coconut and let sit for 10 minutes.
Fold in raisins, cocoa nibs, almond butter, and protein powder. Stir thoroughly to combine.
Scoop about a Tablespoon amount of the mixture and roll into balls with your hands. Transfer to a plate or baking sheet.
Chill for at least 30 minutes before serving.
Notes
Bites can be made 10 days ahead. Transfer to an airtight container and chill, or freeze for up to 3 months.
You can add more protein powder if you want, and then you just may need to add a little more water as well.
Calcium 2%, Iron 3%, Vitamin E 4%
Prep Time:

15 minutes

Category:

Snack

Method:

no-bake

Cuisine:

Healthy
Nutrition
Serving Size:

30.5 gr (1 ball)

Calories:

83

Sugar:

5.74 g

Sodium:

24.3 mg

Fat:

4.1 g

Carbohydrates:

10.54 g

Fiber:

1.66 g

Protein:

2.7 g
Keywords: energy snack, protein snack, protein powder recipe, bite-size snack
Recipe Card powered by
Available via these Amazon links:
Disclaimer: Links that open in another site, i.e. Amazon, may be affiliate links where at no additional cost to you, we may receive a small commission should you decide to purchase the item. Read our Disclosure Policy