Chamomile Pear Vodka Punch is a fizzy, boozy, fruity, and flowery punch with mood-boosting properties that is also a crowd-pleaser, a perfect holiday punch, and a fantastic challenge for cocktail enthusiasts. This vodka punch has three distinct elements. First, we're infusing vodka with pear and chamomile, then we'll make our own homemade honey syrup, and last we make the punch bubble with prosecco.
Making this punch looks like a long process and an advanced home bartending recipe, but it will be worth your while; a large batch cocktail recipe perfect for the holiday seasons of Thanksgiving, Christmas, or New Year's Eve.
Blog post contains products you can purchase in our online shop, and affiliate links.
Read our Disclosure Policy.
Hello my friends.
I have been dying to make another punch bowl since our top recipe here at Spoonabilities and Pinterest is our Caramel Apple Cider Vodka Punch. When we first made that recipe, we never imagined that people would love it so much. So we are listening to what you want, and today bringing you this Chamomile Pear Vodka Punch.
I got the inspiration for this vodka prosecco punch from Maria Del Mar Sacasa's recipe book Winter Cocktails. The original recipe is called 'Sweet Surrender,' and it truly honors its name. I naturally made a few tweaks, and changed the proportions for a more intimate party sample punch.
Imagine an entire bottle of Prosecco adding fizz to a vodka fueled punch bowl suggestive of wildflowers and pears with just the right sweet kiss of honey. Besides, who doesn't love punch bowls? We're taking the punch bowl out of the high school gym prom scenario and taking it to the new Golden Era of home craft cocktails.
There's something cool and retro about scooping your own drink from a punch bowl. Don't think so? It's probably because if you've had a punch before, the drink wasn't likely very good in the first place. That's why I knew this had to be a fabulous cocktail first, and only then would I turn it into a punch bowl drink.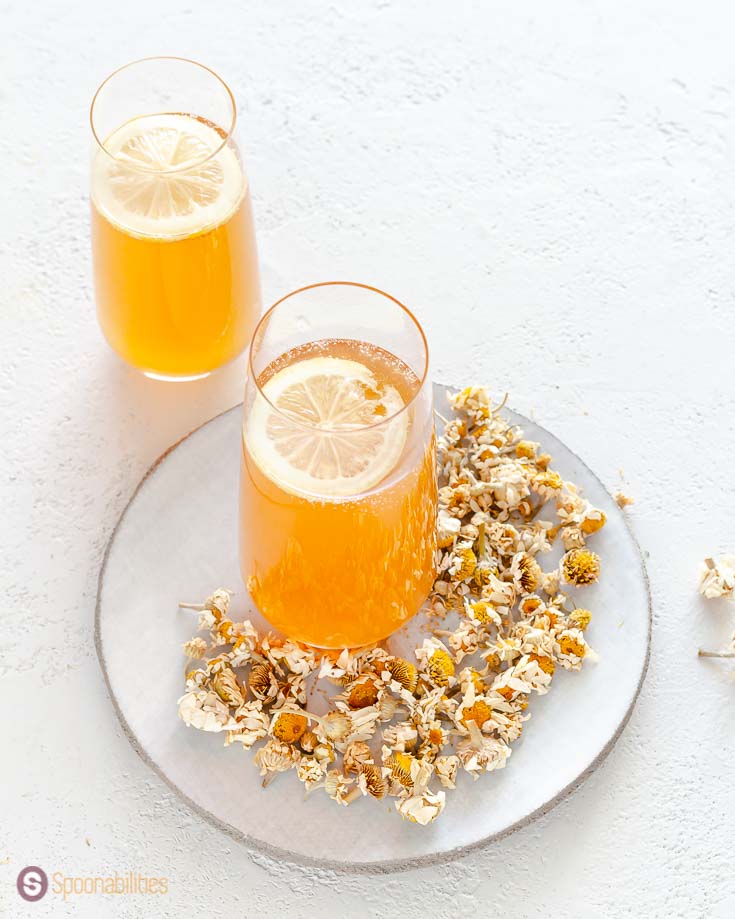 There are two particularly exciting parts to this Chamomile Pear Vodka Punch recipe:
One is the chamomile-pear infused vodka, which is excellent with tonic too. Once you get a hold of the process, I assure you'll be infusing your favorite vodka with all kinds of flavor combinations.
The second part is the honey syrup, which is super easy to make and has lots of versatility for drinks. Like simple syrup, which is equal parts of sugar and water, you can make honey syrup using honey instead of sugar. Honey itself dissolves great in hot drinks, however, if you want to use honey in cold drinks, you need to make some honey syrup. You can use it to sweeten any cocktail and infuse them with the characteristic warmth of honey. However, honey alone is just too thick to mix well in cocktails, but making honey syrup beforehand will take your cocktail making to another level.
By the way, I use TREA Greek Forest Honey, which is intensely aromatic and woody, and I definitely can say you can taste the difference in the drink. If you want to try it, you can get it in our online shop.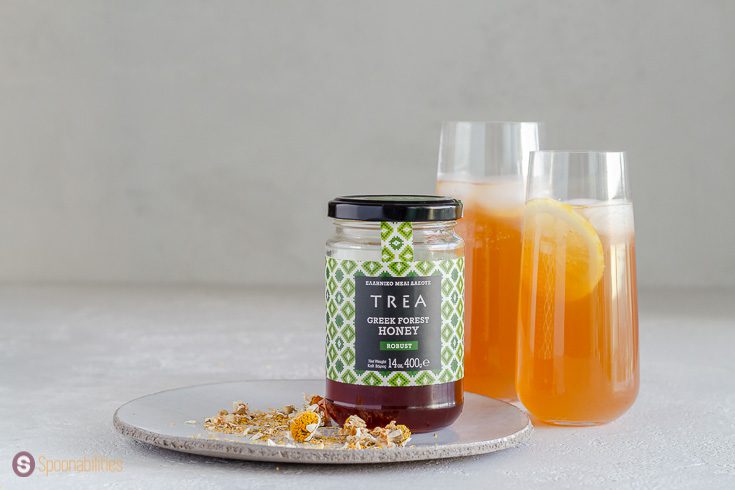 Steps to Make Chamomile Pear Vodka Punch
This vodka punch recipe is easy but takes time and patience. I say that because the instructions in the recipe card may look long and daunting, however we want to provide you with the most detailed steps to make this holiday punch easy to follow and make to perfection. Let me give you the short version of how to make this vodka punch recipe.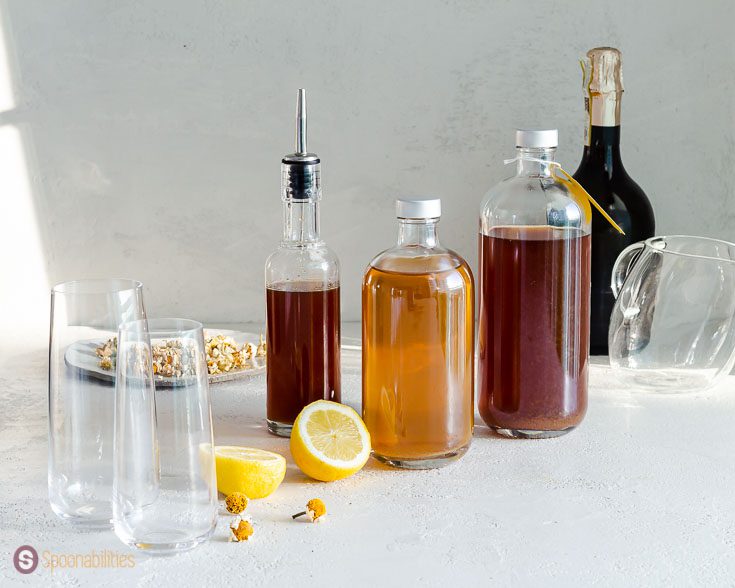 You must prepare all the ingredients in advance to allow the best infusion and refrigeration.
Infuse the Vodka
The first step is to make the pear-infused vodka. But even before that you need to select your ingredients.
Collect Your Ingredients:

Pears: You can purchase any pear variety. I chose the Asian pear. Make sure they are ripe. Peal, dice and remove any seeds.
Chamomile flowers: I recommend buying the loose whole chamomile flowers. But if you cannot find them, you can use chamomile tea bags and remove the flowers from the package. The only problem is that the infusion won't be as strong using the tea bags.
Vodka: Any kind of good vodka will work. We typically use Stoli vodka.
Vessel/Container: To mix all the ingredients to infuse the vodka, select a wide mouth container so when the vodka is ready you can remove the solid ingredients easily. I use the Luigi Bormioli Lock-Eat containers.

Combine & Store: Place all the ingredients in the jar and infuse the chamomile pear vodka for five days. Store in a dark place. Shake the container two or three times a day, if you remember, during the five days to redistribute the ingredients.
Make Honey Syrup
In a saucepan add honey and water and heat until honey is dissolved. We read that the honey syrup will stay fresh for five days, but we leave it longer than that in the fridge (if we don't use it before that time). We use TREA Greek Forest Honey for this particular recipe.
Make Chamomile Tea
Boil water in a saucepan. Then add the chamomile flowers or tea bags. Turn off the heat and let it steep until the mixture come to room temperature. Strain through a fine-mesh sieve, pressing down on the solids to release all the good stuff. Discard solids.
Compose the Vodka Punch
Stir infused vodka, chamomile tea, honey syrup, and lemon juice together in a punch or other serving bowl. If you are ready to serve, stir in prosecco and slide in an ice mold (large chunk of solid ice). If you are not ready to serve, place the punch mixture and bottle of prosecco in the refrigerator to keep cold until you are ready.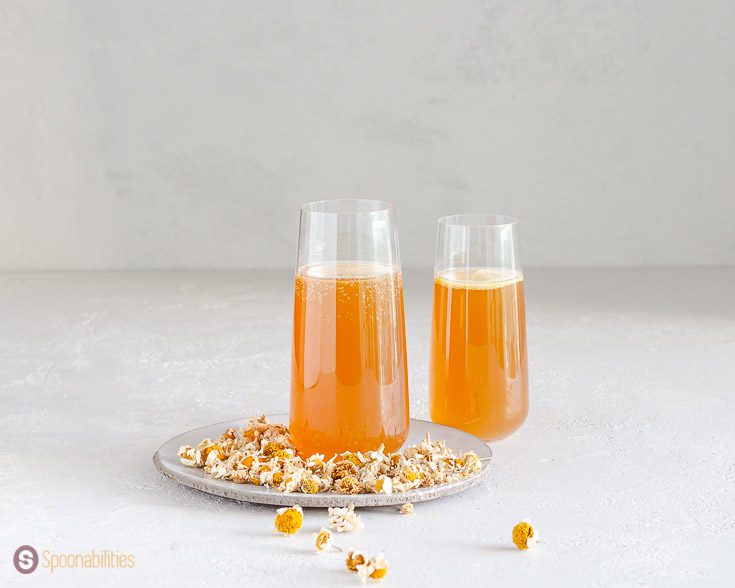 Like this recipe so far? Be the first to know when we release new ones!
---
Fun Facts About Chamomile
We don't always have the opportunity to talk about ingredients like chamomile, and that's too bad because we should all cook and make drinks with flowers more often. Here are a few facts about these heartwarming tiny flowers.
There's no such thing as chamomile tea, but chamomile infusions, or tisanes. Authentic tea needs leaves of the tea shrub Camellia Sinensis.
Ancient Egyptians held chamomile flowers above all other herbs and dedicated them to the sun god Ra. They certainly knew the good stuff when they saw it.
Chamomile might have several health benefits, including improving your sleep quality, promoting digestion, and even anti-inflammatory properties!
Now that we've all learned a bit more about chamomile flowers, let's get started with our vodka infusion, chamomile tea, and honey syrup.
I hope you get a chance to make this Chamomile Pear Vodka Punch. Did you make this or another recipe? Tag @Spoonabilities on Instagram or add a photo or comment on Pinterest, so we can find you! And we love to hear from you in the comment section below.
Happy Punch Bowl Making!
Carlos Leo
Your Recipe Concierge!
Interested to see more punch & cocktail recipes?
Print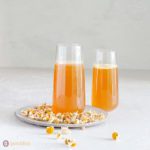 Chamomile Pear Vodka Punch | Holiday Punch
---
Author:

Carlos Leo

Total Time:

32 minutes

Yield:

6

1

x
Description
For this Chamomile Pear Vodka Punch, we've infused vodka with pear and chamomile, then we'll make our homemade honey syrup, and the last element is to make the punch using prosecco. This large batch cocktail looks like a long process and an advanced home bartending recipe, but we'll break it down easily for you and it will be well worth your while.
---
7

oz

Chamomile-Pear Infused Vodka1

½ cup dried chamomile flowers

1

pear, peeled and diced

½

(375-milliliters) bottle vodka

½

cup

brewed chamomile tea, chilled2

2

cups

water

½

cup

dried chamomile flowers

½

cup

Honey Syrup, chilled3

½

oz

fresh lemon juice, strained

½

bottle (375 milliliters) of champagne / prosecco, chilled
Ice mold
---
Instructions
NOTE: First 3 steps must be done ahead of time
#1. Make Chamomile-Pear Infused Vodka
Place flowers and pear pieces in a 1-quart airtight glass jar or another lidded container.
Pour in vodka, close tightly, and shake.
Store in a cool, dark place for 3 to 5 days, shaking jar twice a day to redistribute ingredients.
Taste infusion every day until the flavor intensity is at the level you like.
Strain infusion through a fine-mesh sieve into a clean container, discarding the solids. Use a funnel to put the vodka infusion into a pourable liquor bottle.
NOTE: Infused liquor will keep indefinitely.
#2. Make Chamomile Tea (2 cups – you won't need it all for the cocktail)
Bring 2 cups water to a boil in a small saucepan. Add ½ cup dried chamomile flowers or 8 chamomile tea bags. Turn off the heat and allow it to steep until the mixture comes to room temperature.
Strain through a fine-mesh sieve, pressing down on solids to release all that liquid. Discard solids.
 #3. Make the Honey Syrup
In a small saucepan, bring water to a boil and add the honey. Lower the heat and stir until honey dissolves completely. Pro Tip: To get out every bit of honey from the measuring cup, pour in some of the hot honey-water to dissolve what is in the cup and then pour the liquid back in the pot.
Let cool to room temperature and store in the refrigerator in an airtight container.  The syrup will last five or seven days in the refrigerator.
 Make the Chamomile Pear Vodka Prosecco Punch
Stir vodka-pear infusion, tea, syrup, and lemon juice together in a punch or other serving bowl. When ready to serve, stir in champagne or prosecco and slide in the ice mold. Serve.
Notes
We partner (affiliate links) with Drizly delivery service, so if you don't have the alcoholic ingredients you can have them delivered.
Drink responsibly. If you are under the legal drinking age limit for your state or country, this recipe is not for you. Sorry.
Prep Time:

30

Cook Time:

2

Category:

Drinks/Cocktail

Method:

Infused

Cuisine:

International
Keywords: punch recipe, vodka recipe, cocktail recipe, holiday punch, Christmas punch, holiday cocktail, chamomile recipe, chamomile cocktail, infused vodka, chamomile tea, prosecco punch, champagne punch, punch bowl, vodka cocktail, vodka punch, fall cocktail, herbal cocktail, herbal drink
Recipe Card powered by
Available via these affiliate links:
Disclaimer: Links that open in another site, i.e. Amazon, may be affiliate links where at no additional cost to you, as an Amazon Associate I earn from qualifying purchases, should you decide to purchase the item. Read our Disclosure Policy.