Shiitake, cremini, and white mushrooms are the mushrooms that make up this earthy and meaty mushroom stuffing. Combine that with fresh herbs like sage, thyme, parsley and a few veggies for a flavorful and satisfying side dish for your Thanksgiving dinner and other gatherings during this holiday season. Sourdough bread is the perfect matching bread for this recipe with its health benefits along with its crusty crust and airy inside for a perfectly moist bite. This stuffing recipe is butter free and made with the highest quality Extra Virgin Olive Oil from Greece: "LIA".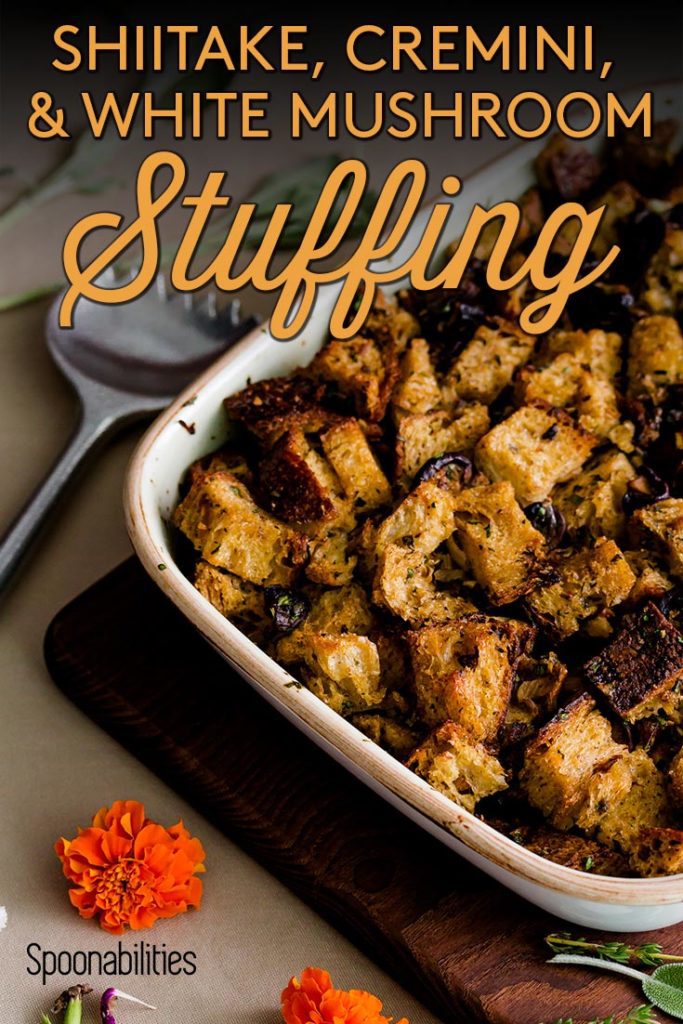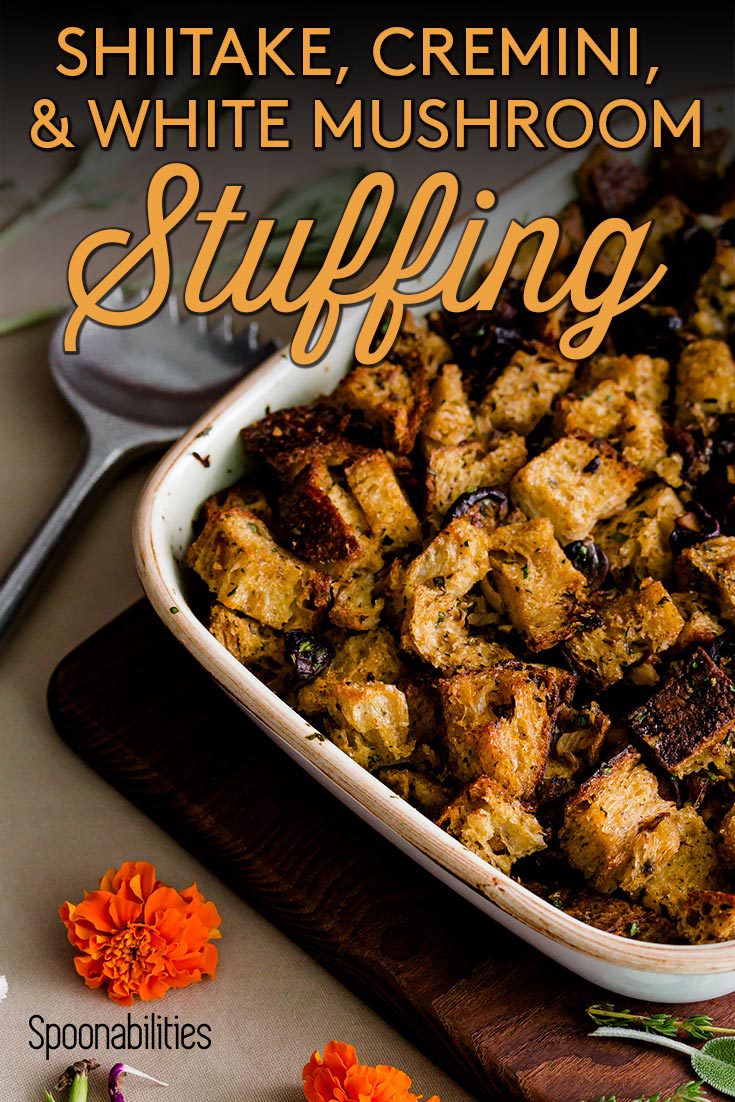 Hello my friends. This week we will be sharing three recipes with you. Yes, you heard right. As I mentioned in my previous post, I was thinking to release a bunch of recipes in the next couple of weeks, and I finally decided to do it because Thanksgiving is right around the corner and you are probably already looking for side dishes recipes. This first side dish is the Shiitake Cremini White Mushroom Stuffing with a beautiful earthy, meaty taste with fresh and aromatic herbs and a rustic sourdough bread.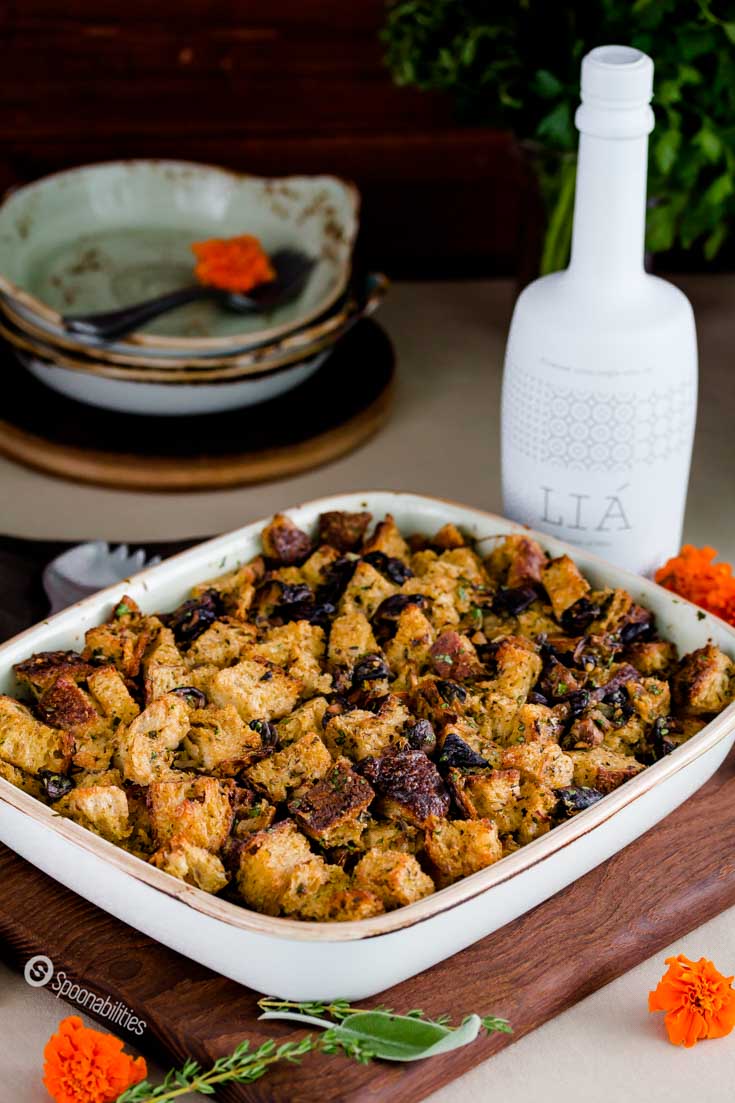 Three Mushroom Stuffing Variations
For this mushroom stuffing recipe, I'm giving you three variations to match your liking. The options are vegan, vegetarian, and one with Spanish chorizo for those who can't live without meat:). See details on the recipe card.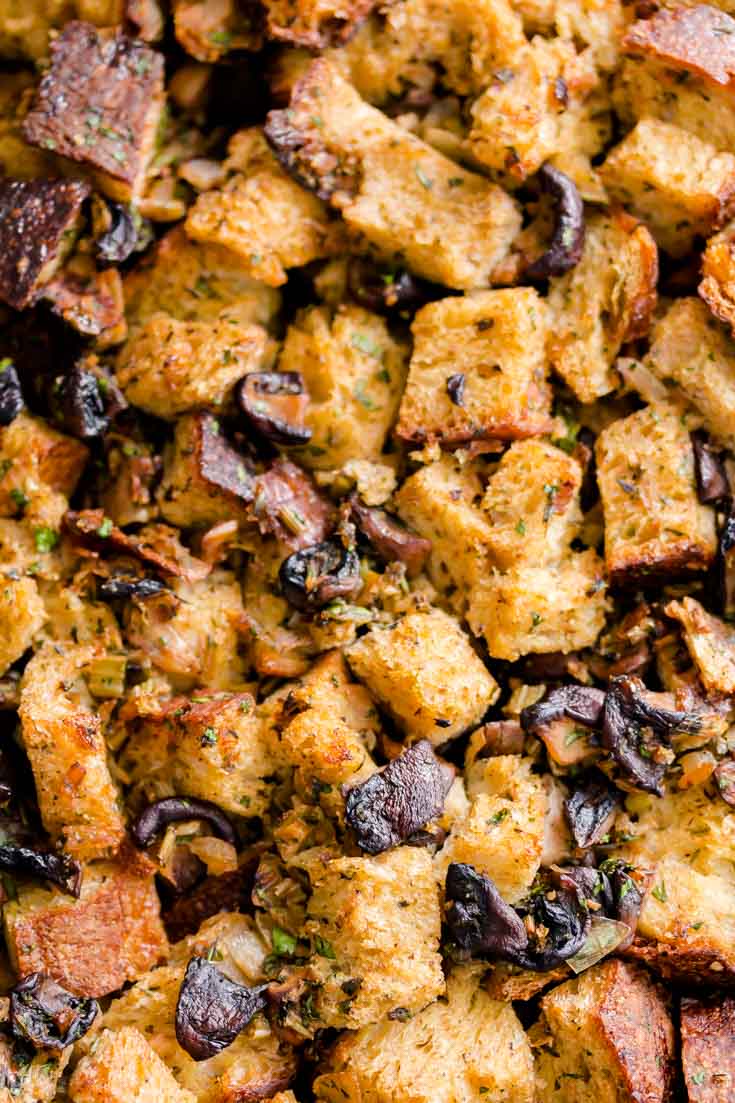 It's my first-time cooking stuffing, and this mushroom stuffing was super simple, easy and quick to make. First cut the sourdough bread into cubes, and pop it in the oven for 30 minutes. After the bread cubes are done, put them in a large bowl. The next step is to sauté the mushrooms with salt for about 5-7 minutes and then mix them with the bread. Meanwhile, cook the onion, celery, thyme, oregano, and garlic with a sprinkle of the sea salt, and add that mixture to the rest.
In a large mixing bowl combine chicken stock, olive oil and eggs. Pour half of the stock mixture over the bread mixture and toss; add the rest of the stock mixture and toss again. Add salt & pepper and toss again. Place the mushroom stuffing mixture in a greased baking dish. Leave it for 30 minutes to let the bread soak up the liquid, stirring halfway to make sure every piece of bread gets moist. Bake for 30 minutes. Ok, so that sounds like a lot of steps, but it's really fast and easy.
Interesting Facts about Sourdough Bread
I always like to find interesting facts about each ingredient I use in my recipes. Today for the mushroom stuffing recipe I was curious about Sourdough Bread.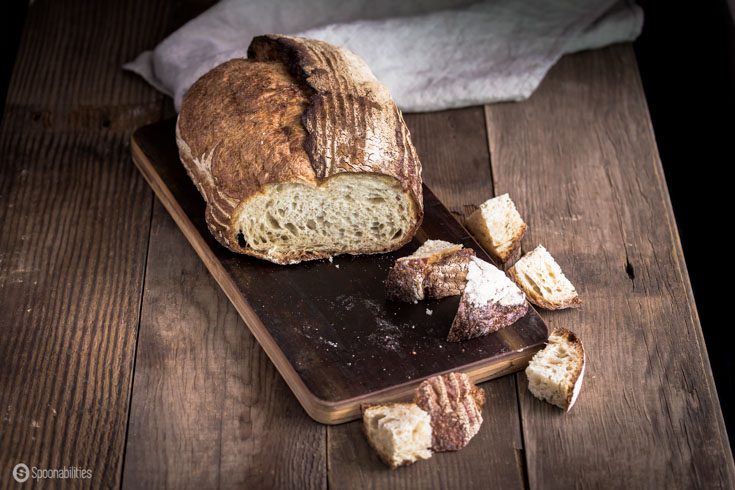 Do you know Sourdough Bread is one of the healthier breads?
Sourdough Bread is easier to digest due to the combination of bacteria-yeast working to predigest the starches in the grains. The more prolonged soak and rising times in the preparation of sourdough breaks the protein gluten into amino acids, making it more digestible. It's beneficial for people who eat a lot of bread products, except for the gluten-free people because this bread is not gluten-free.
Sourdough Bread has acetic acid, which inhibits the growth of mold, which is produced in the making of sourdough. So, sourdough naturally preserves itself.
Sourdough Bread has lactic acid bacteria (LAB) which produces beneficial compounds: antioxidants, the cancer-preventive peptide lunasin, and anti-allergenic substances, some of which may help in the treatment of auto-immune diseases.
Sourdough Bread contains a lot of nutrients and vitamins like B1-B6, B12, folate, thiamin, niacin, riboflavin, vitamin E, selenium, iron, manganese, calcium, magnesium, phosphorus, zinc, and potassium and uniquely equivalent proteins and fatty acids.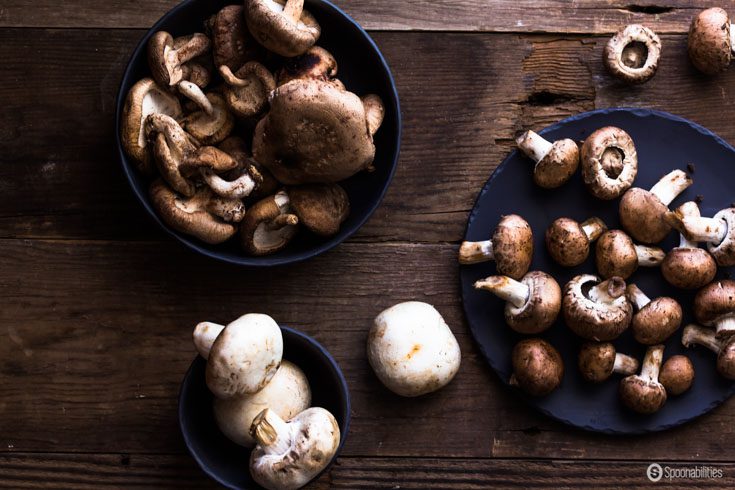 Benefits of Eating Mushroom Stuffing - Shiitake, Cremini, & White Mushrooms
These are only a few of the benefits of eating mushroom stuffing, and each variety of mushroom contains unique benefits. Mushrooms:
Fight Cancer
Improve Immunity
Reduce Inflammation
Fight Obesity
Help control blood sugar levels
Have an antiviral, antibacterial and antifungal properties.
Boost Energy and Brain Function
Promote Skin Health
Contain many chemical compounds that protect your DNA from oxidative damage.
Provide Vitamin D
Are loaded with nutrients and antioxidants
You can find these and more benefits of eating mushrooms at Draxe.com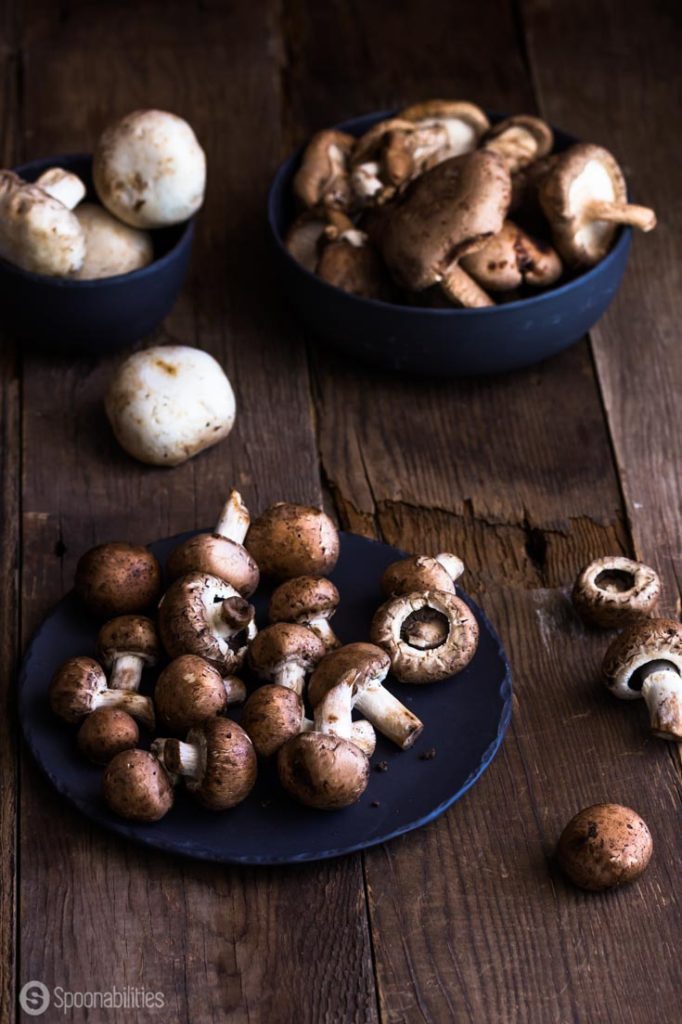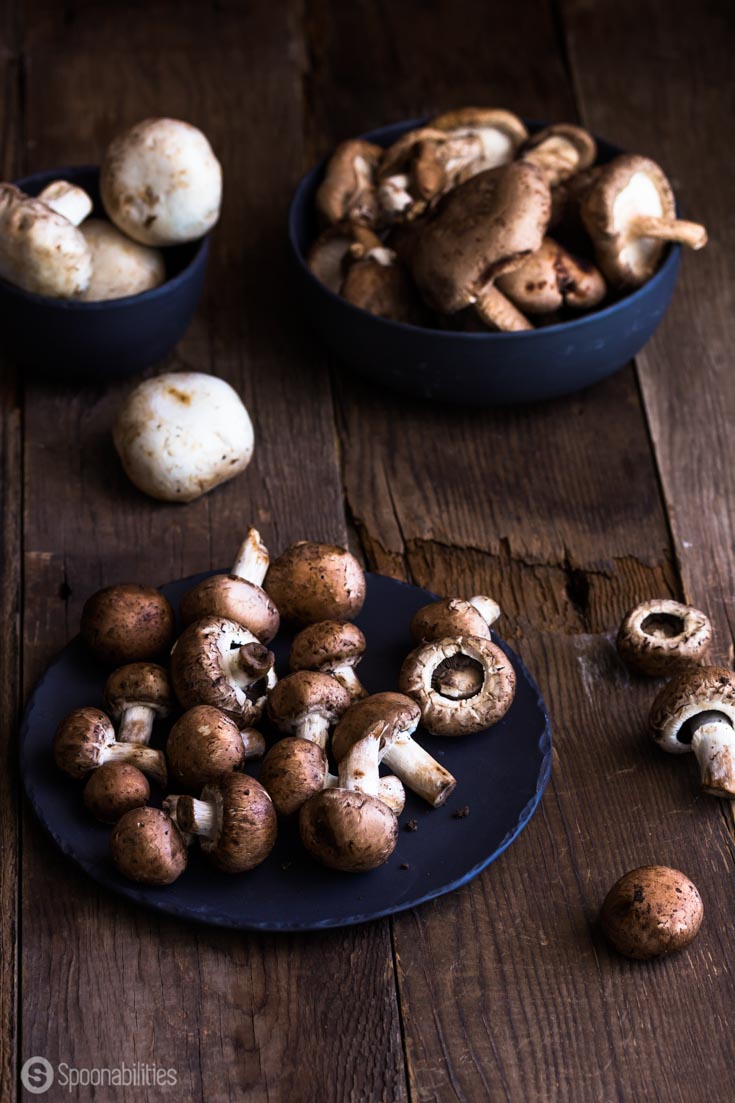 How to store & clean mushrooms
When preparing to make mushroom stuffing, you want to make sure you have the best mushrooms, and they stay fresh. As per my past experiences and not all were good experiences, here is what I learned trying to extend the life of these precious delicatessen.
Put the mushrooms in the refrigerator as soon you return from the supermarket.
Don't clean them until you are ready to use them.
You can keep them in the container that you got from the supermarket, but the best idea is to place them in a container with a paper towel on the bottom and on the top. I use a rubber band to hold the paper towel on top of the container. This will prevent the mushrooms from getting slimy and still will allow air to flow in and out the container. Do not close with a tight lid. Do not use a plastic bag. My last batch of mushroom lasted 10 days in these conditions.
The best way to clean mushrooms is with a damp paper towel. Never put mushrooms under water because they absorb liquid very easy.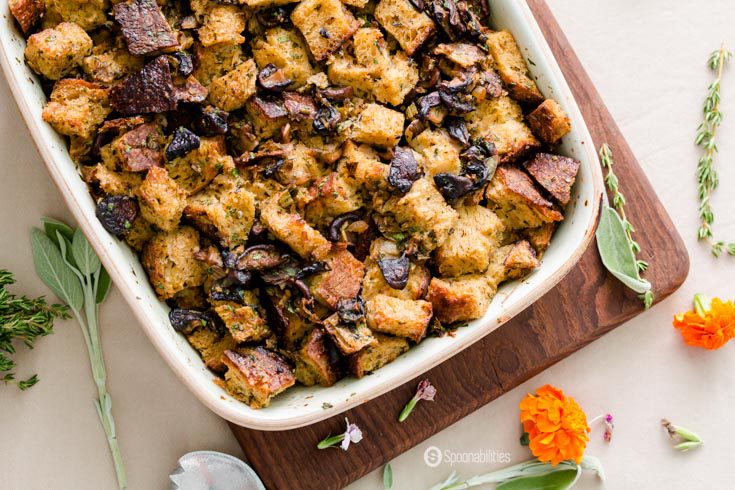 For this three mushroom stuffing, I didn't use butter at all and instead made this side dish only with olive oil. I used an exquisite Greek extra virgin olive oil called 'LIA." At this moment I have 3 or 4 different bottles of extra virgin olive oil open that I used for previous recipes like Eleon EVOO from Navarino Icons that I used with the yellow pea shoot salad & roasted pumpkin bisque, and Melies EVOO with the fresh stuffed squash blossoms and the Instagram recipe stone fruit caprese salad. Honestly, if you haven't noticed, I'm in love with Greek products from our friend Vivianna at Hellenic Farms. She imports top quality Greek products like honey, herbs, tea, spread, balsamic vinegar, olive oil, gourmet salts, and other tasty snacks. We used to have her products in our e-pantry, but we recently closed that part of Spoonabilities.
But Hellenic Farms was generous enough to give our customers and followers 10% off her entire inventory. Just join our email community and we'll send you the 10% off coupon and link to her shop.
"*" indicates required fields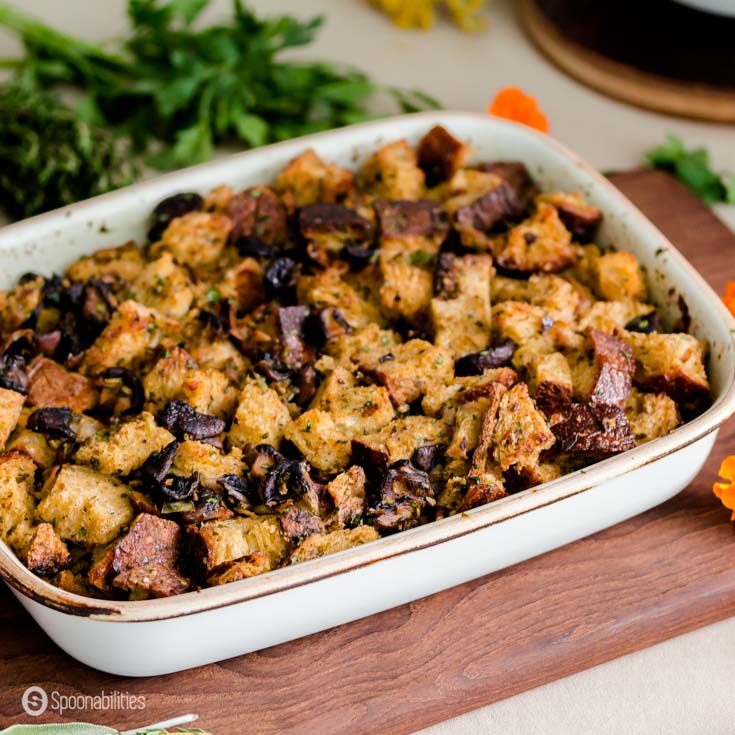 Since I started working on this mushroom stuffing recipe, I made several changes because I kept going back and forth to my pantry to check what I have open from previous recipes. Remember there are "no jars left behind" in this house. I always check my refrigerator for opened jars or for other products I used in previous recipes that I can re-purpose. Tell me, have you had any problems trying to find a good use for a half-empty jar that's in your pantry or your fridge right now? I can help! Send me an email or tell me below in the comment section the name of the product, what kind of product it is, or even a picture of the label. I can provide you with some ideas or recipes. I can even test the recipe before I send it over to you. What do you think about this idea? Do you think this idea will be beneficial for you or your friends? Let me know what you think. This is how I am becoming know as "Your Recipe Concierge."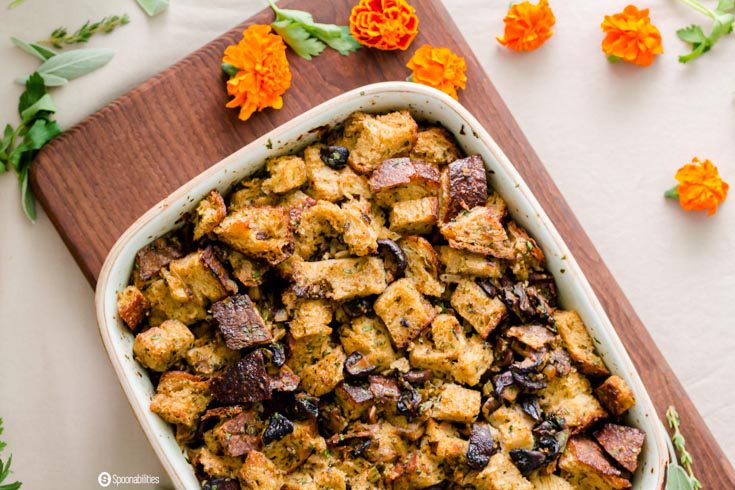 November is a busy month for me at work traveling to the Caribbean. Two weeks ago, I was in the Bahamas. Right now I just left Jamaica. Next week I probably will be writing the blog post from Grand Cayman, and for the last leg of my traveling season I will be in my lovely country of Dominican Republic. If you want to check out my traveling adventures, follow me on Instagram and check out my stories. This is tough work, right?
If you are thinking of making this side dish for Thanksgiving, and if you are looking for a main course for your special holiday dinner, check out either Roasted Turkey Breast with Chili-Herbs Brown Butter | Thanksgiving Dinner for Two or Roast Leg of Lamb with Herbs, Honey & Mustard.
Let me know if you get to make this shiitake, cremini, white mushroom stuffing recipe, and share your pictures, tagging us on Instagram or on our Facebook Page.
Carlos Leo
"Your Recipe Concierge"
Print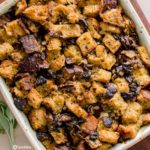 Shiitake Cremini White Mushroom Stuffing Recipe
---
Description
This Mushroom Stuffing Recipe is loaded with fresh herbs, and flavorful with the meaty and earthy taste of Shiitake, Cremini, and White Mushrooms. The sourdough bread cubes are moist on the inside but still crispy on the outside. For this recipe, I offer both vegan and vegetarian options.
---
12

ounces

sourdough bread, cut into ¾-in. cubes

7 Tablespoons

Extra Virgin Olive Oil, divided (3,

2

& 2) I use Lia Greek Olive Oil - buy in our online shop

8

ounces

cremini mushrooms, cleaned & chopped

8

ounces

shiitake mushroom caps, cleaned & chopped

4

ounces

white mushrooms, cleaned & chopped

1 Tablespoon

sherry vinegar

½

cup

Riesling wine +

2

tablespoons

1 ½

cups

chopped yellow onion

½

cup

chopped celery

2 Tablespoons

chopped fresh thyme

1 Tablespoon

minced garlic

¼

cup

chopped fresh flat-leaf parsley

3 teaspoons

fresh sage, chopped

2 teaspoons

oregano

¾ teaspoon

ground black pepper, divided in ¼

¾ teaspoon

kosher salt, divided in ¼, I use Sea Salt with Oregano and other herbs from Salt Odyssey - buy in our online shop

2 ½

cups

chicken stock, unsalted

2

large eggs
---
Instructions
How to Make It
Preheat oven to 400°F. Arrange sourdough bread cubes in a single layer on a rimmed baking sheet. Bake at 400°F for 20 minutes. Leave aside. Reduce the oven temperature to 350°F.
Heat a large skillet over medium heat. Add 3 Tablespoons olive oil and add mushrooms, add a ¼ teaspoon of salt (Salt Odyssey) & pepper. Cook for 5 minutes until the juice from the mushrooms evaporates. Add 1 Tablespoon sherry vinegar, scraping pan to loosen browned bits and add the ½ cup of Riesling wine and keep scraping the pan. Add this mushroom mixture to a large bowl.
Return skillet to medium heat and add 2 Tablespoons extra virgin olive oil. Add onion, celery, thyme, oregano, and garlic. Sprinkle a ¼ teaspoon of salt (Salt Odyssey) & pepper; sauté 5 minutes. Add the chopped sage and stir, and add 2 Tablespoons of wine; cook until the liquid evaporates.
Remove pan from heat; stir in parsley. Add onion-herb mixture to the large bowl with the mushroom. Then, add the bread to the mixture; toss to combine.
Combine chicken stock, 2 Tablespoons olive oil and eggs in a bowl, stir. Pour half of the stock mixture over bread mixture and toss; add the rest of the stock mixture and toss again. Add a ¼ teaspoon of salt (Salt Odyssey) & pepper and toss again.
Spoon mushroom-bread mixture into a 2-quart ceramic baking dish coated with olive oil.
Let stand 10 minutes or until liquid is absorbed, stirring occasionally. Drizzle more olive oil on top before putting in the oven.
Bake at 350°F for 25 minutes.
Notes
Vegetarian option:
Use vegetable stock instead of chicken stock.
Vegan option:
Egg Replacement: Use flaxseeds for binding. For each "egg" combine 1 Tablespoon of ground flaxseeds with 3 Tablespoons of water to make a thick and gelatinous egg replacement. Another substitution is to use canned pumpkin puree
Bread Replacement: Check the ingredients because some stores have vegan whole wheat bread - no milk added.
Meat option:
Add dried cured Spanish Chorizo in the mix before putting it in the oven.
Vitamin A 2%
Vitamin C 32%
Calcium 9%
Iron 20%
Vitamin B12 2%
Vitamin E 1%
Vitamin K 61%
Prep Time:

30 minutes

Cook Time:

1 minutes

Category:

Dinner, side dish

Cuisine:

American
Nutrition
Serving Size:

⅔ cup

Calories:

282

Sugar:

4.4 g

Sodium:

320 mg

Fat:

13.2 g

Saturated Fat:

13.2 g

Carbohydrates:

33.9 g

Fiber:

2.9 g

Protein:

4.6 g

Cholesterol:

38.4 mg
Recipe Card powered by