Greek Green Olive Crostini is an easy and quick party appetizer for any occasion. With just a few ingredients you can surprise your guests with a tasty party bite. These crostini are made with toasted baguettes, crushed Chalkidiki Greek green olives, grated Parmigiano-Reggiano, Greek extra virgin olive oil, and chopped garlic. One of my Easy 1-2-3 recipes.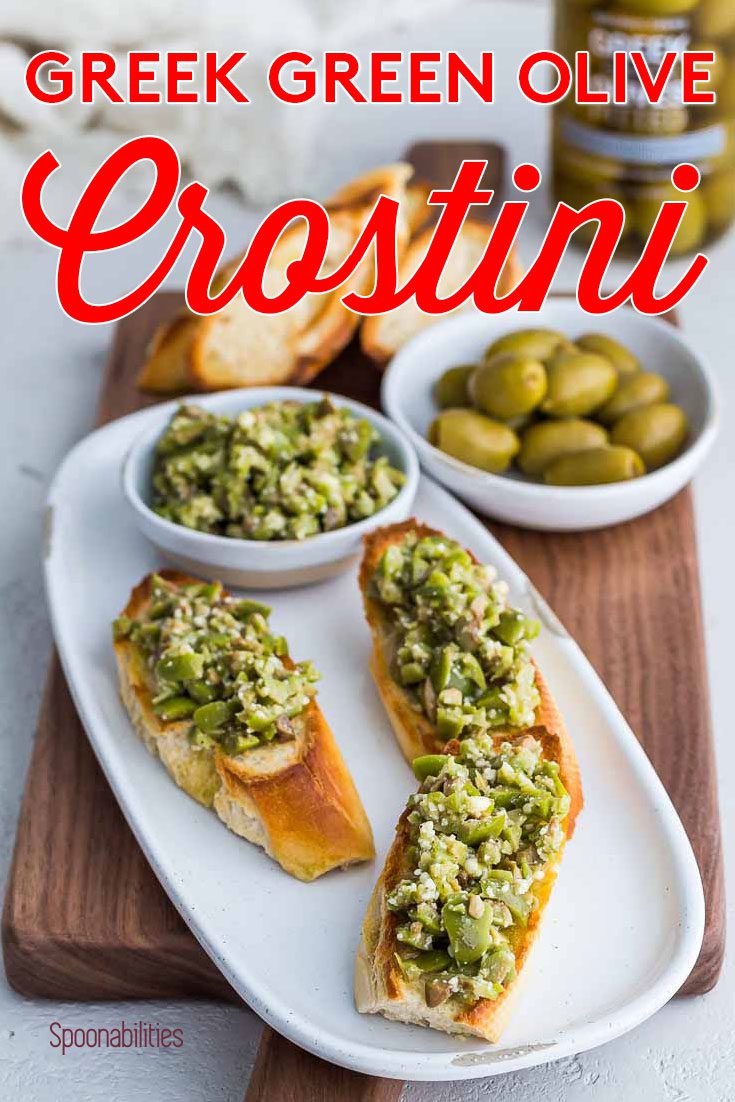 Blog post contains products you can purchase in our online shop, and affiliate links.
Read our Disclosure Policy
Hello my friends. Every time I'm in a rush and have to make something delicious for friends and family coming over, I pull out something from my infallible repertoire of go-to appetizers and one of my favorites are the crushed Greek Green Olive Crostini.
Imagine two bite-sized, savory, briny, and aromatic treats people can enjoy with their hands. That's a recipe for success right there. The best part is you can make this recipe in less than fifteen minutes, and you'll end up with colorful crostini topped with the most luscious Mediterranean-inspired spread you can imagine.
Try making them and see for yourself. With every bite your guests will again and again be delighted with the complex, yet straightforward combination of flavors. Perfect for How to Build a Mediterranean Mezze Platter.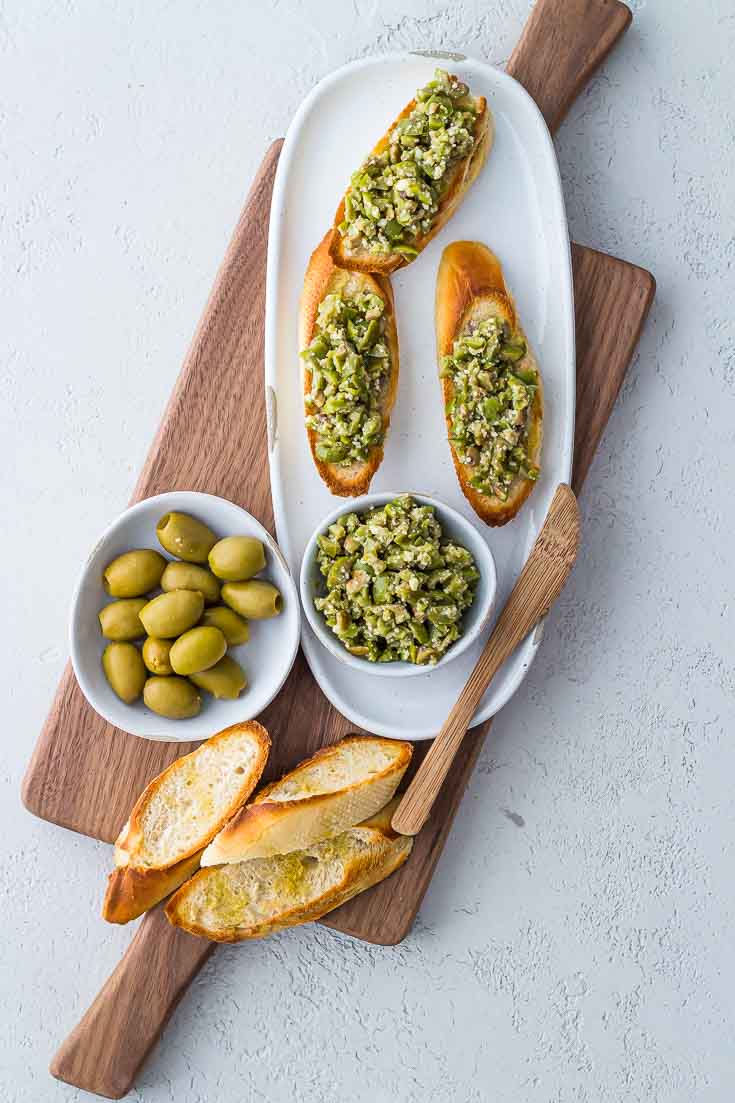 What You'll Need for these Greek Green Olive Crostini
Bread is essential here, but don't stress out over getting the perfect bread. A fresh loaf of white bread like a baguette will toast nicely. Avoid the store-bought, ready-made crostini slices though; the thin crunchy bread slices are too fragile.
Some people often overlook the garnish in appetizer recipes. In this case, we're topping our Greek Green Olive Crostini with grated Parmesan cheese which will add color, flavor and aromatics to our savory treats. Half a cup of grated Parmesan is more than enough, and for such small amounts, you better get the good stuff. I'm sure you've tried that flavorless Parmesan-like cheese you often find in supermarkets. Pay a visit to your local cheese monger instead, or if you're not clear on which Parmesan is high quality, ask somebody at your supermarket before picking up the cheapest kind. Parmigiano-Reggiano is a good option if you can't find somebody to ask.
Having said that, today the real stars of the Crushed Greek Green Olive Crostini are the Greek Green Olives by Hellenic Farms, which are available in our online pantry. These Greek green olives come from the gourmet Chalkidiki variety olives. Learn more about the Chalkidiki olives in the Mediterranean Chicken Thighs with Lentils & Greek Olives recipe post. Also, in that post you will find out what else to do with the leftover green olives and the brine.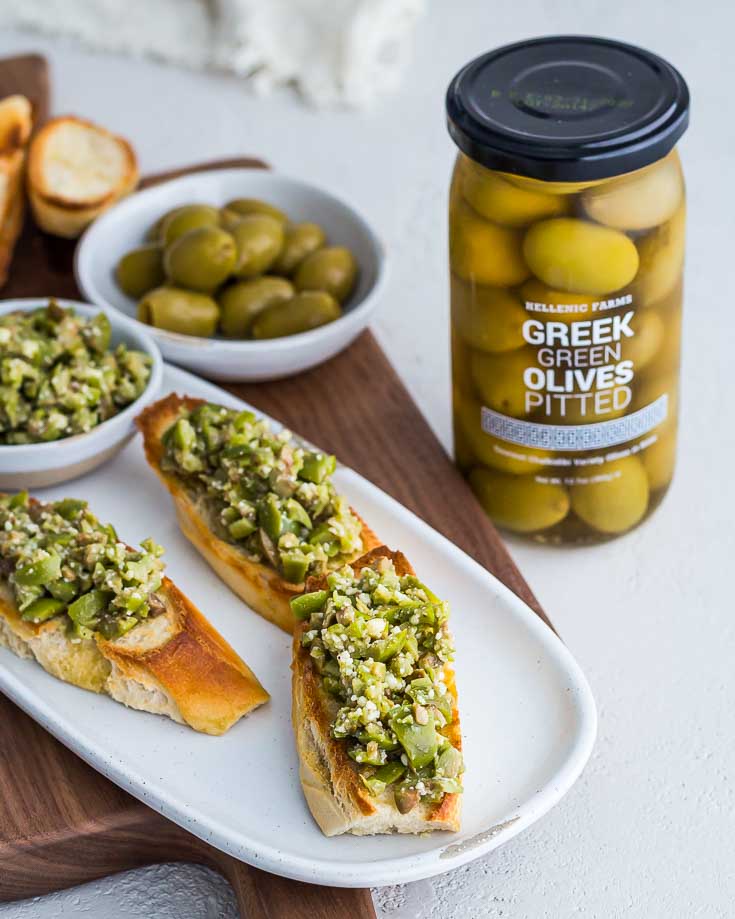 Olives are Seriously Good for You
Olives are heavenly bites of flavor, pleasing bitterness and tang, but they're super-good for you too.
Olives help you stay in shape. Olives are very low in calories. You'd have to eat 16 of them to get just 100 calories.
Olives are filled with good fats. Olives are extraordinary sources of the good kind of fat; the monosaturated fats that lower your cholesterol levels.
Olives help you feel young and healthy. High in vitamins and minerals, olives have lots of fiber and oleic acid, a powerful antioxidant.
Did you know…
90% of olives grown around the world become olive oil? And the silky golden liquid with green hues is as healthy as olives. We use and sell Hellenic Farms Extra Virgin Olive Oil PDO Sitia Crete. It's extra virgin, cold-pressed, and its quality is guaranteed by European law. You can buy it from us, and we sell their olives too!
Like this recipe so far? Be the first to know when we release new ones!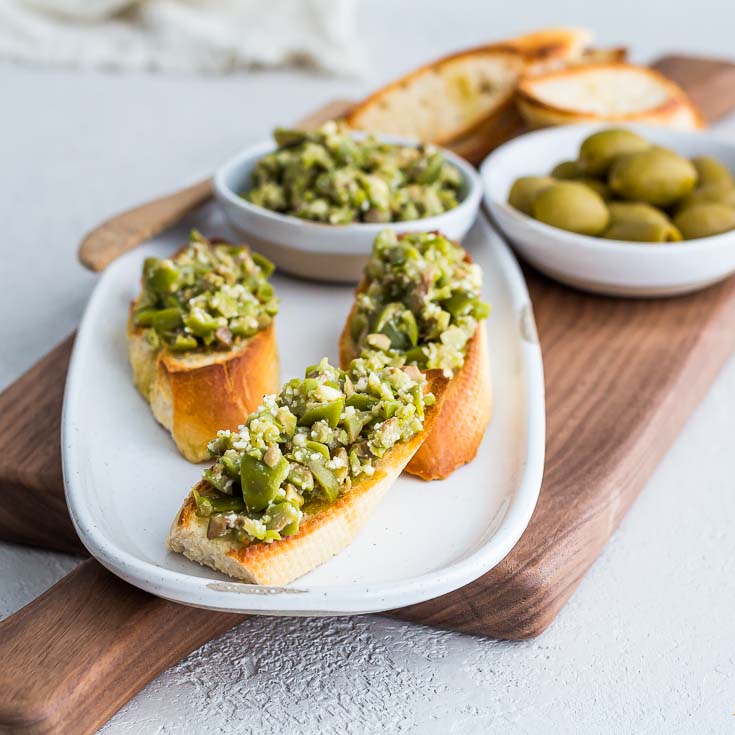 4 Easy Steps to make Greek Green Olive Crostini
As far as easy party food goes, it doesn't get much easier than these Greek Greek Olive Crostini. In four easy steps you can have them all ready for your guests in no time. Once you have your toasted bread slices, all you need to do is:
Take the green olives and garlic and give them a rough chop. Then transfer them to a medium bowl.
Add the Greek EVOO, and salt & pepper to taste if needed. Toss until combined.
Top the toasted bread with the olive mix, and then grate some Parmesan on top.
But what about the bread slices? Here's how to prepare the bread. If you are using a French baguette, you want to cut the pieces about an inch thick diagonally. Cutting them diagonally gives more surface area to hold the toppings, and simply looks more professional. Brush the tops with the olive oil so they come out of the oven more crispy and golden color. Grill or broil the slices for about 2 minutes each side, or you can bake them for about 10 minutes at 350F.
We suggest cutting your baguette slices diagonally. But how do bakers get those wonderful baguettes to have that rustic look? Watch this video on how they make those perfect cuts:
What Drink to Serve with Greek Green Olive Crostini?
Now that your appetizers are ready, let's talk about what to serve with your Greek green olive crostini.
Sparkling wine elevates every occasion to celebratory heights, so a good Brut Champagne or a less expensive (but equally thirst-quenching) Spanish Cava or an Italian Prosecco will do the job.
Rosé is a beautiful partner for all things Mediterranean. Pop open a bottle of pink wine, and feel like you are on the sunny shores of the fancy French Côte d'Azur.
Finally, let's not waste that precious olive brine left in the jar and make decadent dirty martinis with it. Gin or vodka, shaken or stirred... your bar rules.
More Easy Pantry Staple Recipes:
Try out these Greek Green Olive Crostini with your loved ones and let us know how it goes! Share this recipe on social media and tag us @spoonabilities and use the hashtag #Spoonabilities. If you like this crostini recipe, check out our Avocado & Black Bean Crostini recipe where I also talk about what a crostini is, and the difference between crostini and bruschetta. Between these two recipes you should have your whole party buzzing around for your appetizers. They don't need to know how easy they are to make.
Wishing your Tasty Happenings,
Carlos Leo
Your Recipe Concierge
Print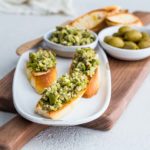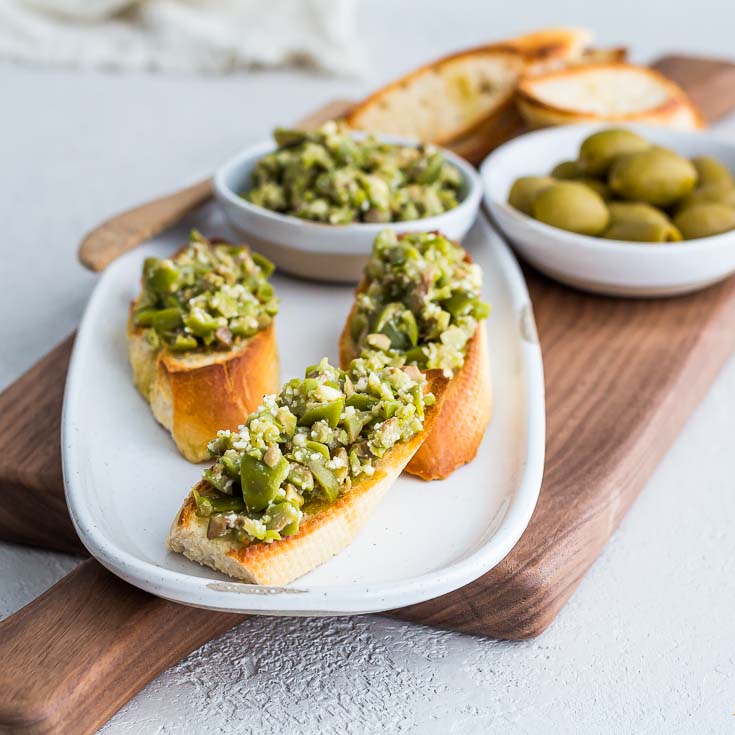 Greek Green Olive Crostini
---
Description
Greek Green Olive Crostini is an easy and quick party appetizer for any occasion. With just a few ingredients you can make an amazingly tasty party bite. These crostini are made with toasted baguettes, crushed Greek green olives, grated Parmigiano-Reggiano, Greek olive oil & garlic.
---
---
Instructions
Grill or broil slices of baguette brushed with olive oil. (See recipe post for suggested instructions)
Roughly hand chop the green olives and garlic, and transfer to medium bowl.
Add olive oil, and salt & pepper if needed. Then toss until combined.
Top with olive mix, and then grate Parmesan cheese on top.
Prep Time:

10

Cook Time:

4

Category:

party appetizer

Method:

bake

Cuisine:

Italian
Keywords: party bites, easy party appetizer, bruschetta, dinner party, cocktail party appetizer
Recipe Card powered by