This Mediterranean Mezze Platter includes a selection of assorted traditional Greek appetizers, including Kalamata olives, feta cheese, eggplant dip, stuffed grape leaves, vegan fig salami, graviera cheese spread, hummus, and other Mediterranean spreads. An authentic small-bite feast to surprise your guests during the holidays or any time of the year. Let's learn how to put together your mezze platter using high-quality, store-bought ingredients, fresh fruits and vegetables!
Hello my friends. Have you ever heard about mezze? If you haven't, let me tell you, mezze is one of the most exciting food experiences you can offer to your guests (even if your "guests" are your spouse and kids).
Jump to:
FAQs: Mezze Frequently Asked Questions
What is a mezze platter?
A mezze platter is a selection of small dishes, often served before a meal, to get the conversation started and break the ice. While Spaniards call their small appetizer plates tapas, people in Middle Eastern countries love their mezze, and this first course is also very popular in Greece. That being said, we often create our mezze "as dinner" for just the two of us.
What is the difference between a mezze platter and antipasto platter?
Mezze platter is commonly found in Mediterranean and Middle Eastern cuisine, while antipasto platter is typically found in Italian cuisine, however they are both types of appetizer platters that consist of a variety of small dishes or bites. The key difference is that Mezze platters tend to focus more on vegetarian and plant-based options, while antipasto platters often include more meat and cheese.
What does a mezze platter usually have on it?
A Mediterranean Mezze platter could include dishes such as babaganoush, falafel, hummus, tabbouleh, halloumi cheese, red pepper dip, pita chips, veggie sticks, feta cheese, olives, and figs, featuring a variety of flavors and textures.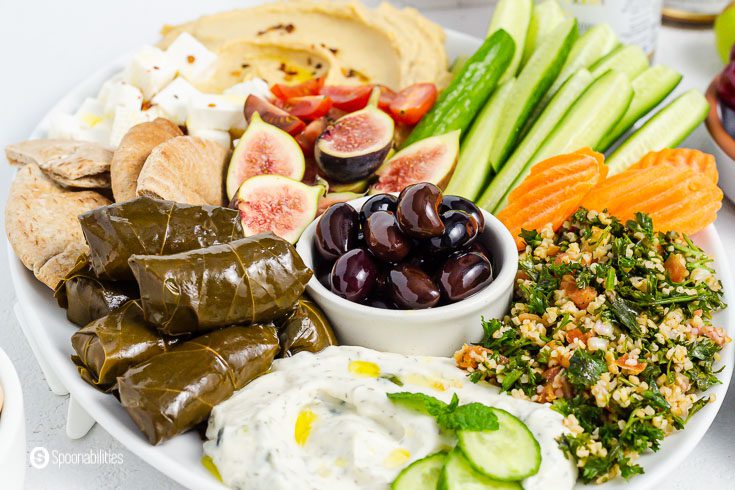 How to Create a Stress-free Mediterranean Mezze Platter
So, how to put together a stress-free Mediterranean mezze platter? There are many ways to approach this; you can literally add anything you want, but to keep with the mezze plate theme, it's best to keep all the components Mediterranean. A fantastic mezze platter may seem a bit hard to put together, but the secret here is quality. The single most effective way of putting together a mezze platter with a WOW factor is selecting the different elements with quality in mind.
Some popular mezze platter ideas can comprise of a few Mediterranean appetizers like tabbouleh, tzatziki dip, hummus, and stuffed grape leaves (dolma). These need some prep work if you make them at home, but today we will be using store-bought ingredients to have stress-free prep work. The best part is that you can put together this Greek platter in less than 10 minutes.
There are no Mediterranean appetizers without olives, for example. Still, supermarket olives just do not have the same impact as a varied selection of Greek olives, the finest on the planet. So this is why we are using my favorite gourmet Greek black Kalamata olives.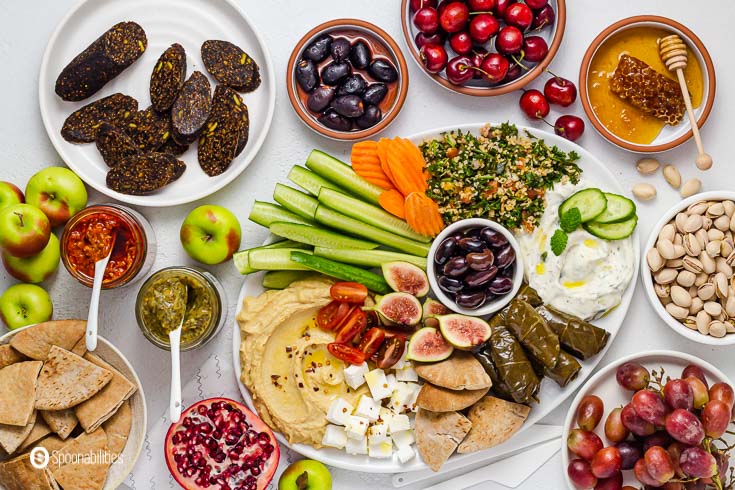 Then there's color: some fresh cucumbers, cherry tomatoes, carrots, and perhaps some pomegranate seeds, feta cheese, and of course some crunchy pita chips. Do you see where we're going? A mezze platter achieves its goal when no one wants to leave the table. Just one good appetizer after another. Your guests won't even know where to start!
Tips How to Build a Mezze Platter
There are no specific rules on how you can create your mezze platter. But there is some guidance that you need to follow to create a memorable culinary experience. Serve what you love to eat, and it's all about texture, flavors, shapes, and colors. Most of all for your sanity, all your mezze platter ideas must be easy to put together with no cooking necessary. Make the main platter ahead of time and cover with plastic wrap in the refrigerator, and before serving add the garnishes and the rest of the ingredients.
Pro Tips for your Mediterranean Appetizer Platter
The most important tip for this mezze platter is to have something for everyone; the vegan, the meat lover, and the healthy eater. Add an empty bowl for everyone to put the olive pits, cherry pits or pistachio shells, a small glass with toothpicks, and small plates if your guests want to create their own little meze plate.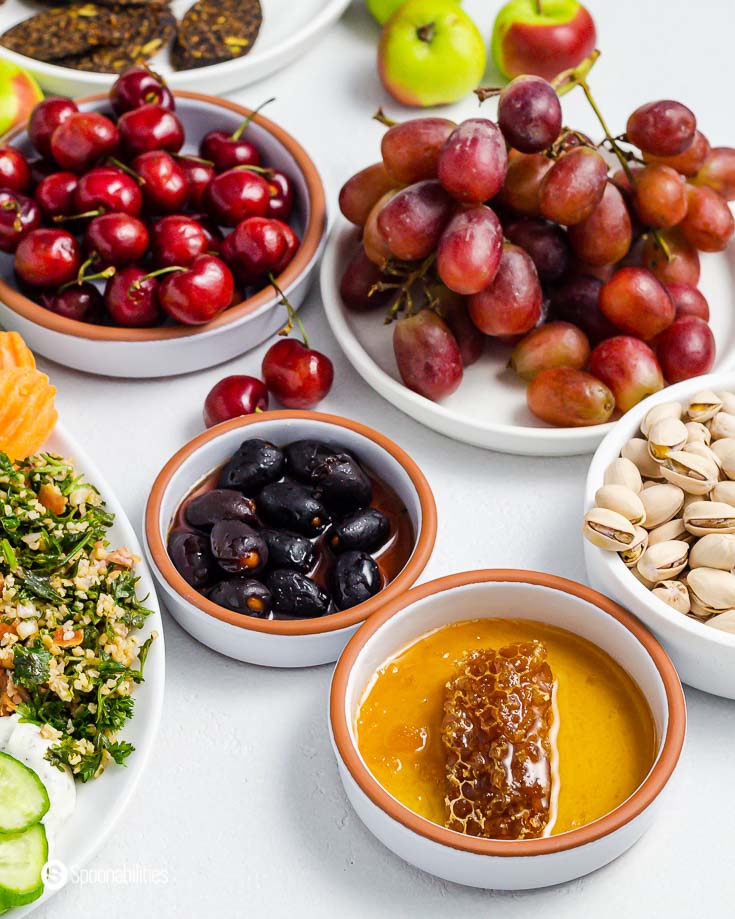 Steps Putting Your Mediterranean Appetizer Platter Together
Mezze Platter & Plate Selection
First, select a large plate and a combination of small bowls. You could use a round or oval plate, or a wooden serving board. If you don't have a large plate, just serve the ingredients in small bowls. You know the presentation is everything to draw your guest's eyes to the food. If you need additional serving ideas, we got you covered with our Best Boards for Charcuterie blog post. Remember, mezze is meant to be shared.
Choose your Mediterranean Dips and Appetizers
Pick your dips and appetizers. They will be your anchor ingredients on the platter that will set up your presentation. Our selections today are Mediterranean traditional dishes like hummus, tzatziki, tabbouleh, and stuffed grape leaves (Dolmades). You can also find chickpea salad or other dips at your local supermarket. Get all your ingredients pre-made.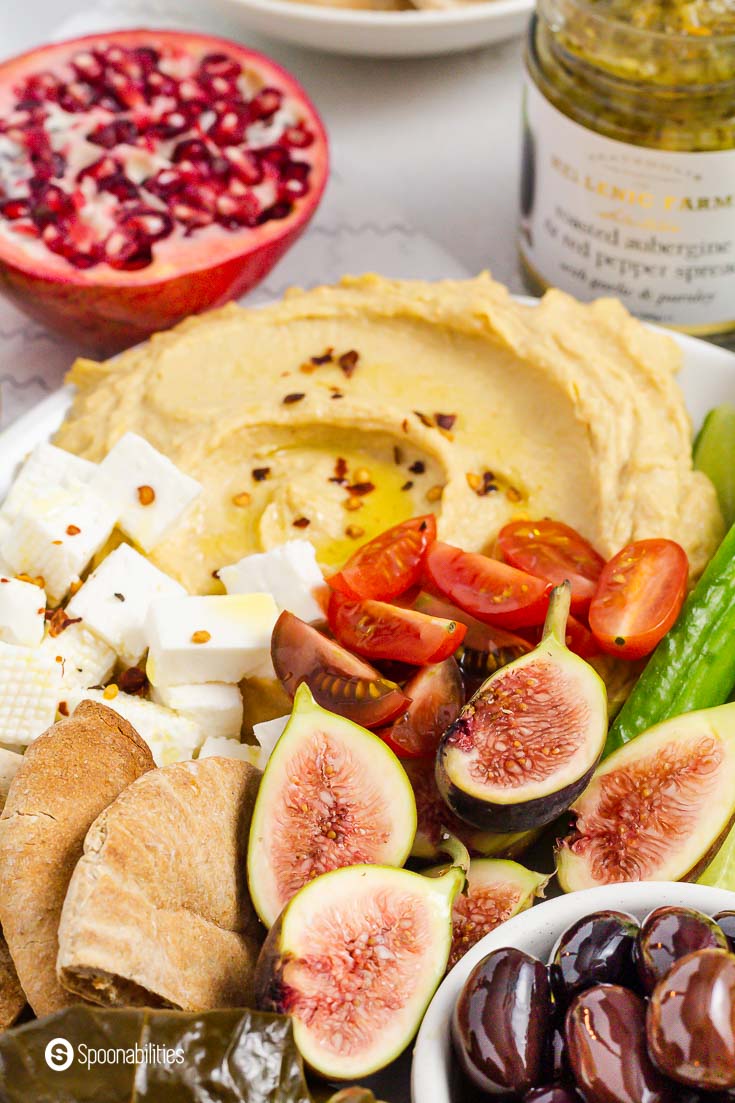 Place the cubed feta cheese and pita chips near the hummus and with the empty spaces on the plate, start adding the halves of cherry tomatoes and figs. This platter will be your centerpiece on the table and surrounding the plate. Place your other ingredients in small bowls, and leave the gourmet spreads in their jar so your guests know what each spread is.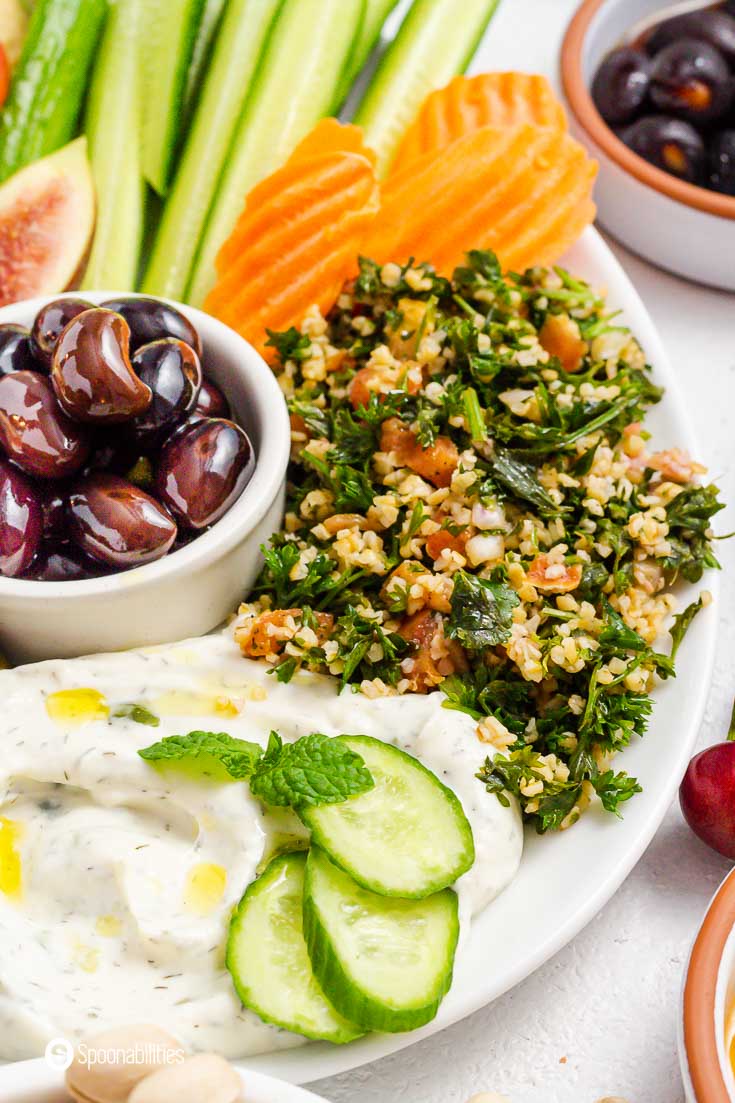 Remember Mediterranean Spreads for your Mezze
Roasted Aubergine and Red Pepper Spread is a delight. Think of a meaty, well-seasoned spread that simply tastes like the Mediterranean. This spread tastes like Baba Ghanouj (baba ghanoush), but is better than your traditional roasted eggplant dip. I have tried many jarred products, and I never was satisfied until I tried this spread. It's flavorful, fresh, and you can taste the clean, real, quality ingredients.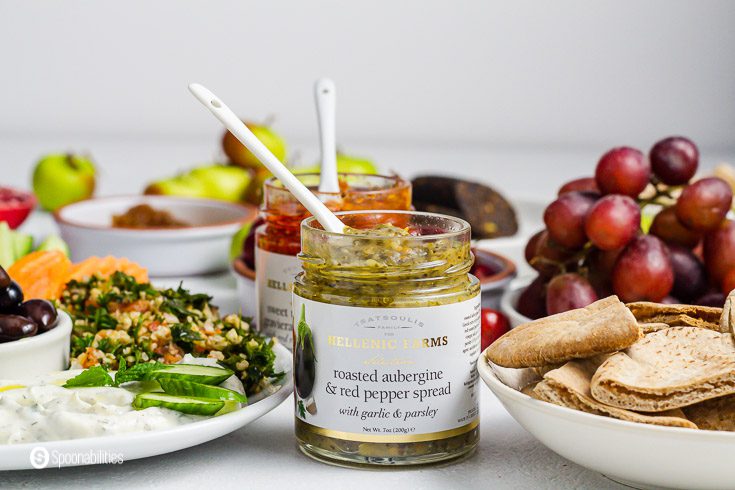 Also make sure you check out the Sweet Red Pepper and Graviera Cheese Spread. This spread is a blend of PDO Cretan Graviera cheese and roasted red peppers, capers, olive oil, and spices. This one is just creamy and immensely satisfying. Spread on bread; this is one good bite.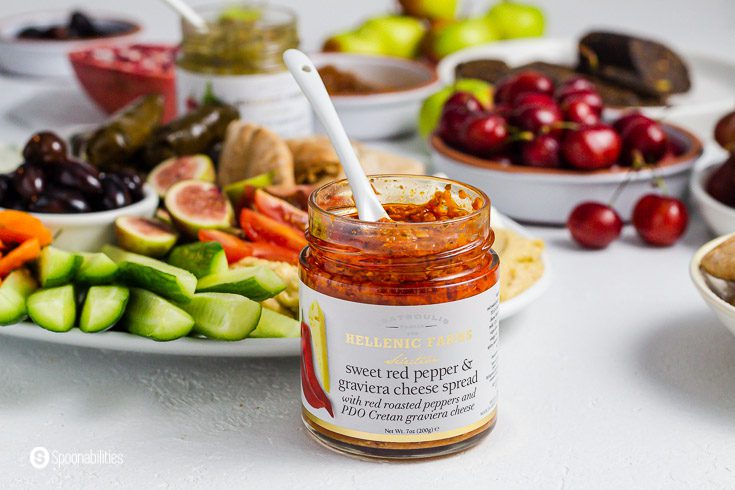 Meet Our Partner with Special Mezze Ingredients
Hellenic Farms is an elite importer of the highest quality Greek products, is a 100% woman-owned business, and were our partner almost since the beginning of Spoonabilities. They supplied all our Greek products when we had a gourmet shop, and their passion for fine Greek products is a given.
You can find ALL of the Mediterranean spreads, extra virgin olive oil, fig salamis, honey, sea salts, and anything Greek on the Hellenic Farms website. AND, when we closed our shop, they agreed to give our visitors (that's you) 10% off your orders. Just be part of our email community, and we'll send you the link and coupon code.
"*" indicates required fields
---
Mezze Platters Need a Little Sweetness
To round out your mezze platter, and balance the spreads, dips, and other Greek appetizers, remember to add some sweet flavors. Some options could include honey with honeycomb, Olive Spoon Sweet, and fig salami.
Your guests will thank you when they discover you included Vegan Fig Salami on your Greek platter. This beauty is made with Greek figs, Aleppo pepper, and crunchy pistachios. There are no artificial additives or flavorings here, and there are lots of different fig salami varieties!
Greek Honey with Honeycomb is naturally thick and golden. This honey is unheated and unfiltered to preserve its nutritional benefits and highlight its delicate taste and aroma. Cold packed by hand, this honey is without the addition of artificial additives or flavorings. A piece of fresh honeycomb straight from the hive is added to the jar.
Navarino Icons Olive Spoon Sweet Topping is a traditional welcome treat in Greece made with Kalamata olives stuffed with almonds. These delicious olives are cooked in a syrup made of Greek honey, fresh orange juice, wine, herbs, and spices. In Greece, spoon sweets are offered as a gesture of hospitality accompanied by a glass of water.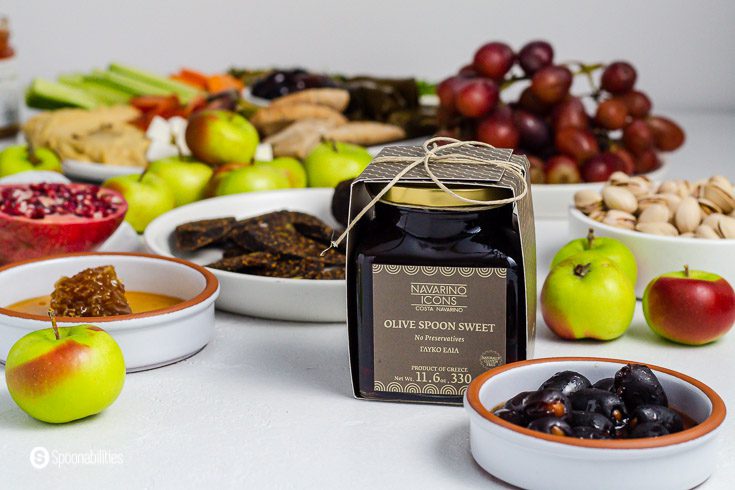 Spoon sweets are sweet preserves made from almost any fruit (and some made without fruit), usually offered to guests served on a teaspoon in a small porcelain or glass dish, in Greece, parts of Eastern Europe, parts of the Middle East, and Russia. Olives, grapes, berries, apricots, pears, cherries, oranges, lemons, and figs are just a few of the fruits that are used.
Additional Ingredients to Add to Your Mezze Plate
Here are a few more suggestions to add to your mezze platter. You don't want to go overboard, but if you have a lot of guests coming, and especially if some of them are, let's say, particular, you want to have plenty of options.
Olive bruschetta
Marinated artichokes
Roasted red peppers
Kalamata olive & oregano spread
Crushed roasted eggplant
pickled vegetables like Greek green peppers.
Add Garnishes and Condiments
Garnish the hummus with a drizzle of extra virgin olive oil and smoked chili flakes. You can add a couple of chickpeas or chopped parsley. If you notice in the photo above, I place the ingredients on the opposite side of the plate. Then I put a small bowl with the kalamata olives in the center. From there, I start to place the vegetables creating a contrast of color.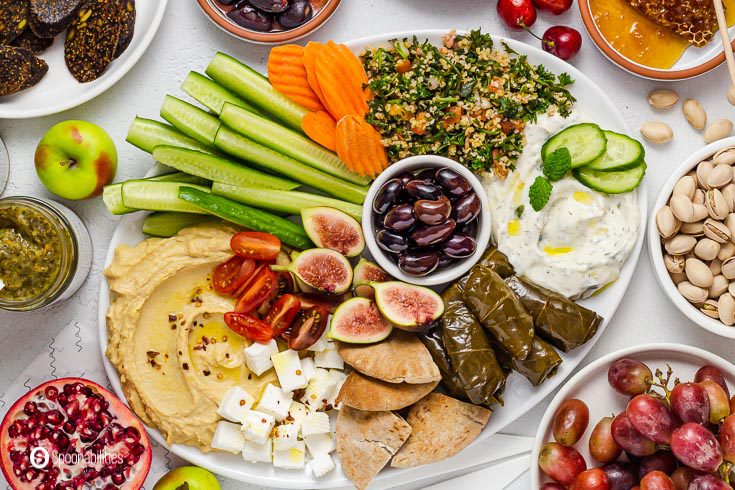 Putting the Finishing Touches on your Mezze Platter
The other ingredients to complement the platter are fresh fruits and vegetables like grapes, cherries, pomegranate, cucumbers, and small-sized apples. Also, pick your nut of choice; I'm using pistachios.
This Mediterranean appetizer platter is vegetarian, but if you want to add an animal protein, you can add store-bought mini lamb meatballs. Also, if you are vegan, then check out our Vegan Appetizer Board, and if you're not afraid of meat, check out our Charcuterie Board Ideas.
Make It Your Own !
It's time to put together our mezze platter. Remember that even though we're showing you what we did, feel free to put together your very own! Once you do, you'll never offer a dinner party without a mezze course ever again!
Mezes are traditionally all served together, creating the experience of a small buffet of flavors and textures. If a round of fun drinks like fig vodka martinis or a solerno cocktail are something you're serving with a mezze platter, you can guarantee everyone will have a great time.
I hope you make this Mediterranean Mezze Platter, and when you do tag @Spoonabilities on Instagram or make a comment on Pinterest, so we can find you!
Carlos Leo
Your Recipe Concierge!
Print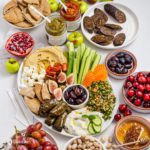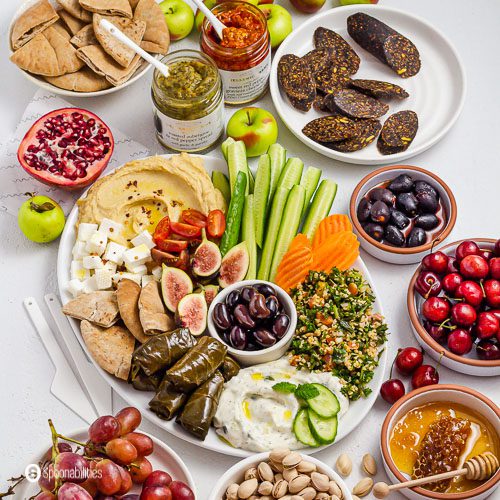 How to Build a Mediterranean Mezze Platter Recipe
---
Author:

Carlos Leo

Total Time:

10 minutes

Yield:

8
Description
This Mediterranean mezze platter includes a wide selection of traditional Greek appetizers. Learn how to build your own stress-free mezze platter and impress your guests with a fantastic spread of tasty appetizers that they won't forget.
If you like this recipe, join our newsletter.
---
Kalamata Olives
Vegan Fig Salami with Pistachio & Pepper
Navarino Icons Olive Spoon Sweet Topping
Pure Greek Honey with Honeycomb
Roasted Aubergine and Red Pepper Spread
Sweet Red Pepper and Graviera Cheese Spread
Pre-made or fresh ingredients:
Fresh cucumbers
Feta cheese
Pita chips
Tabouleh
Tzatziki
Fresh pomegranate
Stuffed grape leaves
Hummus
Grapes
Cherries
Apples
Pistachios
Carrots
Fresh figs
---
Instructions
Spread the hummus and tzatziki on a large platter. Spoon the tabbouleh into a pile on the platter. Add the olives in a small bowl in the center of the platter and the feta in cubes next to it.
Arrange the cucumbers and carrots next to the tabbouleh. On the other side of the plate, place the stuffed grape leaves, and pita chips. Near the hummus add some halves of cherry tomatoes and fresh figs.
Place the fig salami, honey with honeycomb, cherries, and pistachios in small bowls; and in a larger bowl, more pita chips. Open the jars of spreads and stick a spoon in each jar.
Before serving, drizzle the hummus with olive oil and top with smoked chili flakes.
Notes
You can make the platter 3 hours before serving and cover with plastic wrap. Remove the platter from the refrigerator 15 minutes before serving.
You can get most of the Greek products shipped to your door from Hellenic Farms.
Prep Time:

10 minutes

Category:

appetizer

Method:

arranging

Cuisine:

Greek, Mediterranean
Keywords: Greek meze, Greek tapas, meze ideas, olives, platter, appetizer, mezze platter, middle eastern food, Greek food, grazing platter, food platter, grazing tables, grazing board, vegetarian recipe, Mediterranean Food, mazza
Recipe Card powered by
More Mediterranean Appetizers for your Mezze Platter
If you are inspired to cook, here are some more Mediterranean recipes that are good mezze platter ideas.