Summer Antipasto Salad in a Jar is a great meal prep idea for your busy week. With five different variations, you can take this salad to work every day of the week, or keep for easy week-night dinners. This salad recipe is the perfect candidate for barbecues, potlucks or parties anytime of the year. It's easy to make and no cooking involved. You just need to chop some provolone cheese, hard salami, black olives, roasted red pepper, artichokes, capers, and celery, and toss in Italian vinaigrette.
Hello my friends. If you are looking for an easy and delicious salad, you have come to the right place. When I decided to make this antipasto salad, I had two ideas in mind. The first idea is to present the salad in a big serving plate as Italians do before a big meal with friends. The second concept is as a meal prep idea for busy people who don't make time to have a peaceful lunch at work. These people eat at their desk while they keep working (Geoffrey is one of these people). This is great also for people like me who prefer to have meals planned out and ready for a quick light lunch or an easy weeknight dinner.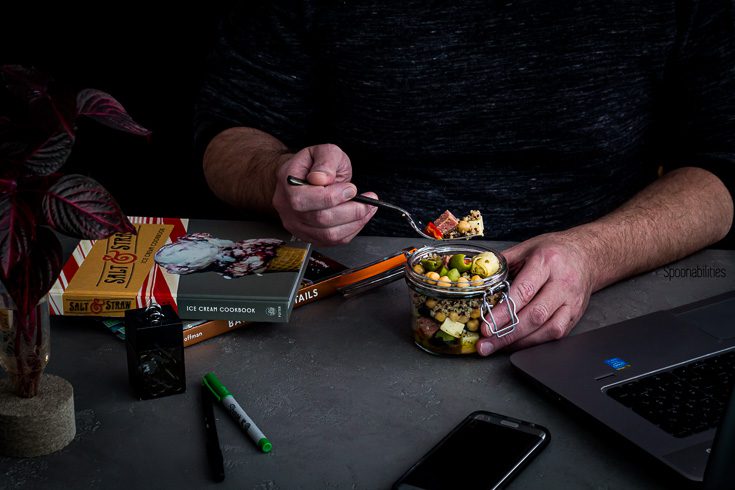 If you are like me, you can get bored quickly eating the same thing for five days. So I created five variations, just adding an extra ingredient per day without complicating the dish or your plan. You can cook those additional ingredients the same day you are making the antipasto salad in a jar, and have everything ready for the week.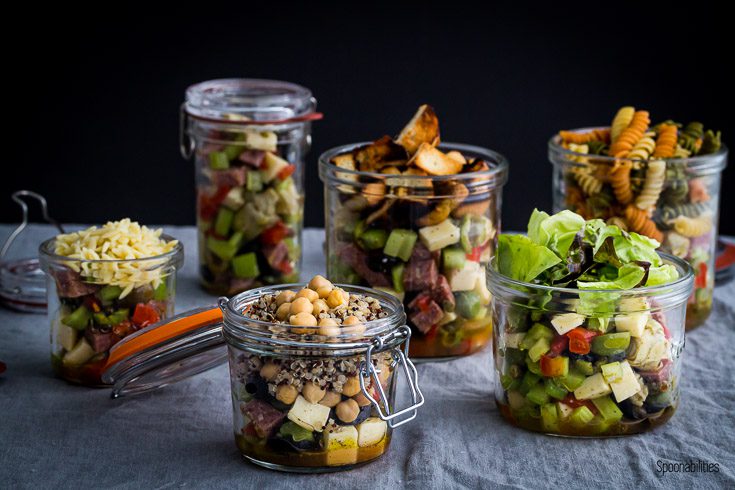 Before I get into all the details of this recipe, I want you to know I'm using products from Flora Fine Foods as part of my monthly recipe collaboration with them. I know I said it before... working with Flora Fine Foods has been a pleasure because they give me not only free products to use, but free rein to select my recipe ideas and create my recipes on my own time-frame. I feel proud because the work I have done with them has been high-quality with delicious bulletproof recipes including some of my proudest photography and styling moments. We also do a monthly giveaway on Instagram. The last giveaway was an amazing Gourmet Food Basket. Be sure to follow us at @Spoonabilities so you know when the next giveaway is.
Like this recipe so far? Be the first to know when we release new ones!
More Recipes made with Flora Fine Food
If you haven't read (or made) the other recipes made with Flora Fine Food products, after you read this post, check out the following mouthwatering recipes inspired by Italian & Mediterranean food: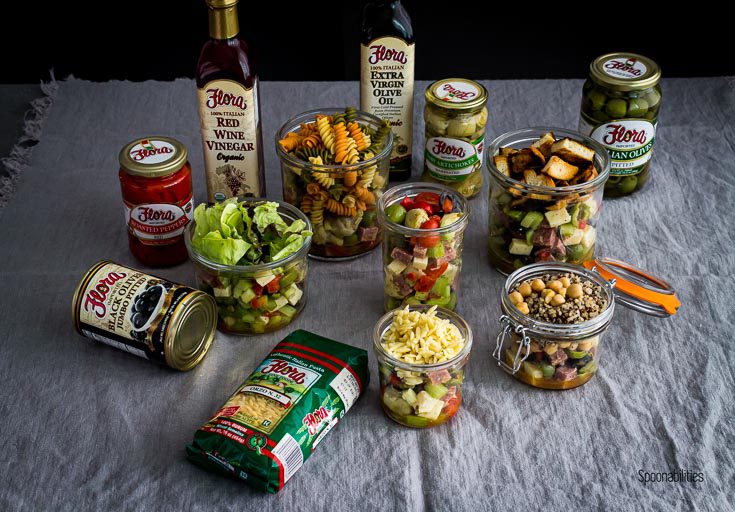 What is Antipasto, Antipasta, and Charcuterie?
Before I continue explaining this recipe, I want to make some clarifications about antipasto salad – welcome to English class, or rather Italian class.
What is antipasto?
Antipasto is the traditional first course of a formal Italian meal. Typical ingredients for a classic antipasto include cured meats like salami, olives (green, black or any kind), marinated vegetables in oil or vinegar like pepperoncini, mushrooms, roasted red pepper, baby artichokes or artichoke hearts, capers, anchovies, and various cheeses like provolone and mozzarella.
What is antipasta?
Although it has 836,000 search page results on google, including recipes on the FoodNetwork website, antipasta is not a word. It is a very common misinterpretation or misspelling of antipasto.
What is the difference between antipasto and antipasti?
Antipasto (singular) means "before the meal" and is the Italian equivalent of appetizers, not a salad or fried foods served by many Italian American restaurants. Antipasti (plural) is a simple assortment of meats, cheeses, and vegetables.
When to use the words antipasto (singular) and antipasti (plural)?
The plural is used to indicate the first section of a huge meal like a wedding lunch or a big event, and the singular is when you order a simple appetizer or starter before the first entry.
What is the difference between charcuterie and antipasto?
Charcuterie is a French word meaning "cooked meat." But a charcuterie can also include cured meats like ham, bacon, salami, sausage, terrines, pâtés, confit, cheeses, pickles, mustard, and bread.
Antipasto platter includes cured meats, cheeses, marinated vegetables, olives, and bread (explained above).
Now, don't get confused because antipasto is the appetizer served in a platter or wooden board, and today's recipe is antipasto salad which is served with a delicious Italian dressing in a platter or a jar. If you want to know more on how to set up a perfect party feast, check our fabulous Wine and Cheese Tasting Party that we made with very detailed explanations for every choice and pairing options made for this party.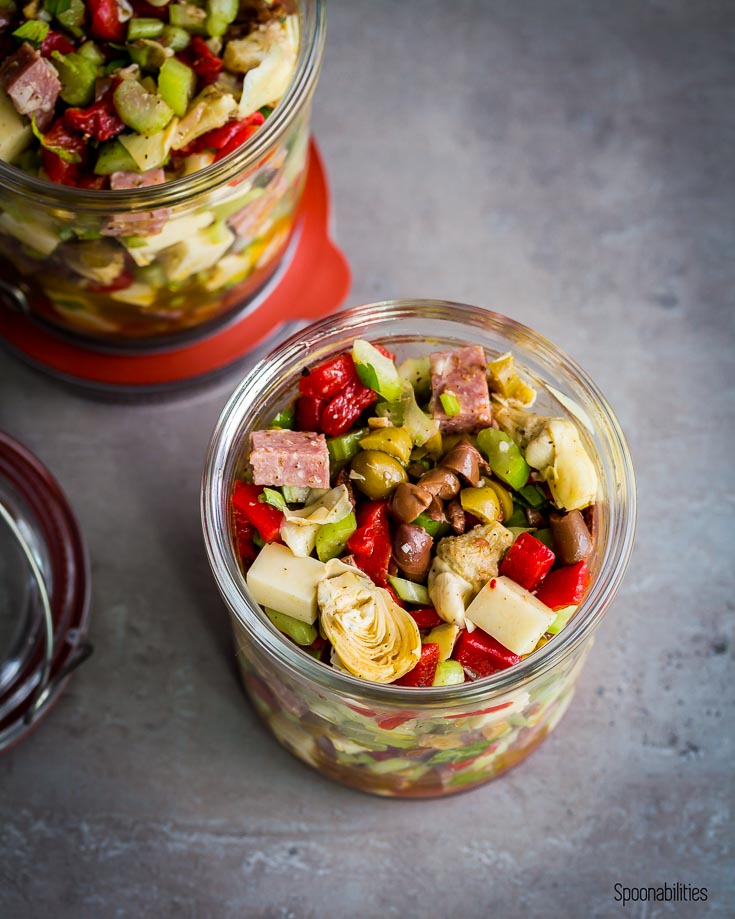 How to make THE BEST Antipasto Salad in a Jar:
Ok, now let's get to business making this delightful and light antipasto salad. First, you need to select your favorite cured meat & cheese.
For the Cured Meat: Select a cured meat with bold flavor like hard salami, genoa, mortadella or pepperoni. If you want to go with a lighter meat, use turkey ham. Cut the meat in 1-inch bite-size cubes and try to keep everything uniform around the same size. My selection was hard salami because the flavor of this cured meat gives a delicious meaty punch.
For the Cheese: Select a firm cheese that will hold its shape like smoked mozzarella, regular mozzarella, Manchego, Bocconcini, and provolone. You can use any hard cheese, and try to select one with a mild flavor. You don't want the cheese to fight with the other ingredient flavors. You want a well-balanced flavor when they are all combined with the Italian dressing. I selected provolone because of the mild flavor, firm texture, and it pairs perfectly with the hard salami.
The Vegetables: Here you have an extensive and wide variety to choose from, and it will mostly be up to you to pick your favorite marinated vegetables. The vegetables can be marinated in vinegar or oil. Try to keep a balance between tangy vegetables and limit the vegetables marinated in oil because you don't want an oily antipasto salad. You can use any variety of pitted olives, roasted red pepper, baby artichokes or artichoke hearts, pepperoncini, mushrooms, capers, eggplant, giardiniera, piquillo peppers, or any pickled vegetables you love. I tried to keep it simple and economical and used Flora's products of roasted red pepper, capers, whole baby artichokes (I also selected these because I don't have to chop them), black olives & green olives. Don't forget to add your fresh vegetables for a fresh and crunchy element. I chose celery using both the stalks and leaves.
The Vinaigrette: The dressing can be a basic Italian vinaigrette or Greek vinaigrette. They are both very similar. The salad dressing for this salad has extra virgin olive oil, sea salt, red wine vinegar, grated garlic cloves, dried oregano, and sugar for a perfect balance. The recipe for the vinaigrette yields enough for this antipasto salad, but I made an extra portion to keep in the refrigerator to add more vinaigrette to the different variations.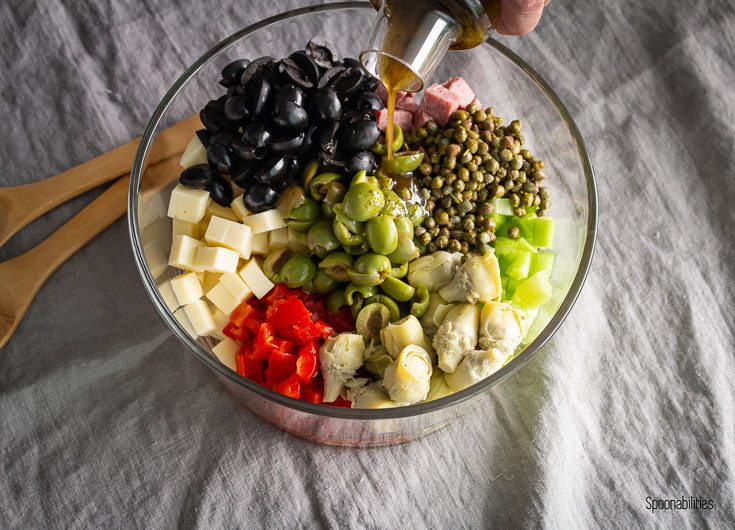 As I mentioned earlier, I prepare other ingredients and I keep them in separate containers in the refrigerator. I also store the salad in different size jars, some for one serving, some for two servings, and some for more than two servings. You can use any mason jars, and I recommend using wide mouth jars for easy access to eat right out of the jar. Also, use jar sizes that will allow you to add the other ingredients for the different variations. If you have read past recipes from me, you know I only use one brand, Luigi Bormioli Lock-Eat Handy Jar, because they are easy to clean, stackable, and they look fantastic. I highly recommend them!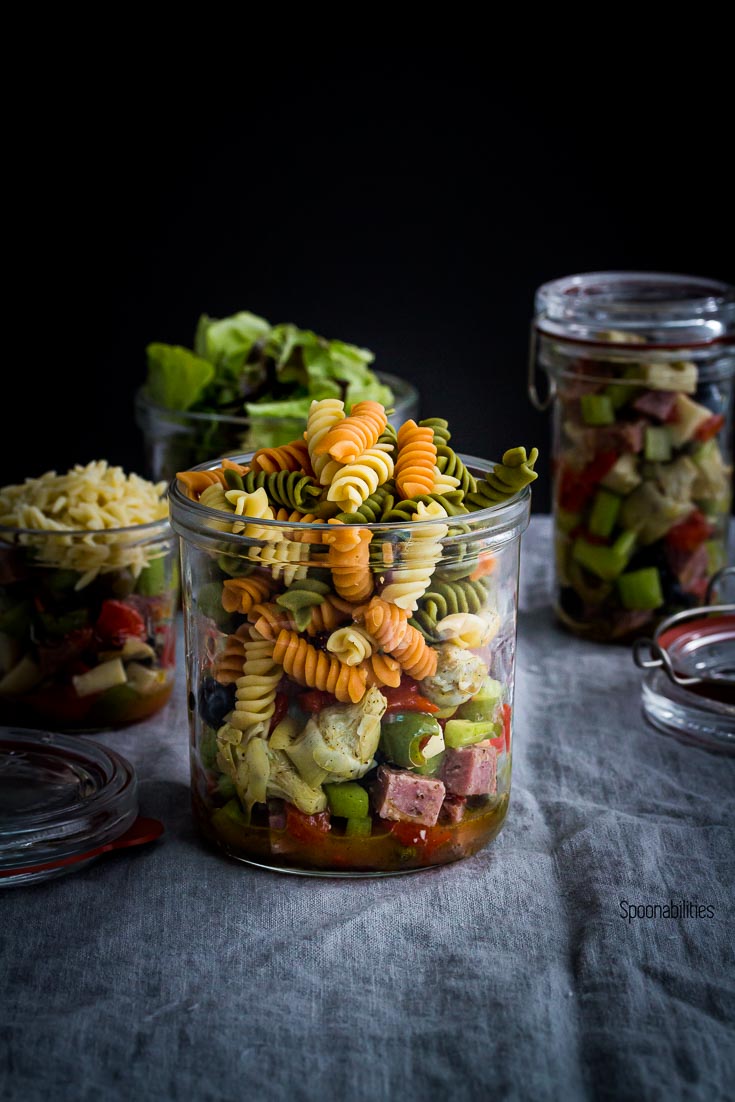 Preparing & Scheduling the Different Antipasto Salad Variations
For the different salad variations, I prepare the following ingredients and put them in a separate container: cooked quinoa, cooked orzo, cooked tricolor fusilli pasta, hard boil eggs, pre-packaged green butter lettuce, red butter lettuce, cherry tomatoes, garbanzo/chickpeas, and bread in cubes. You may think this is a lot of prep work, but it's not!! And, remember you are preparing meals for the whole week.
Here is how I schedule my meals using the Antipasto Salad in a Jar as a base. Remember I made extra vinaigrette to add more to any of these variations if necessary:
Monday for Lunch: I mixed the antipasto with cooked orzo & hard boil eggs. I used Orzo N.32 from Flora.
Tuesday for Dinner: I mixed the antipasto with green butter lettuce & red butter lettuce, and cherry tomatoes.
Wednesday for Dinner: I mixed the antipasto with tri-color fusilli pasta for a cold pasta antipasto salad.
Thursday for Dinner: I mixed the antipasto with quinoa & garbanzo/chickpeas from Flora.
Friday night: I sautéed cubed bread with olive oil & sea salt until golden and crispy, and served as a Panzanella salad my way ?.
As you can see, I made meals for five days x 2 people for a total of 10 servings. And you will spend around $36.00 +/-. I did the sum just for the Flora products, celery, and for the salami & provolone. I'm assuming you already have in your pantry some of the essential ingredients & seasonings. So each meal came to around $3.60. Tell me where you can get this delicious antipasto salad for this price?
More Easy Pantry Staple Recipes: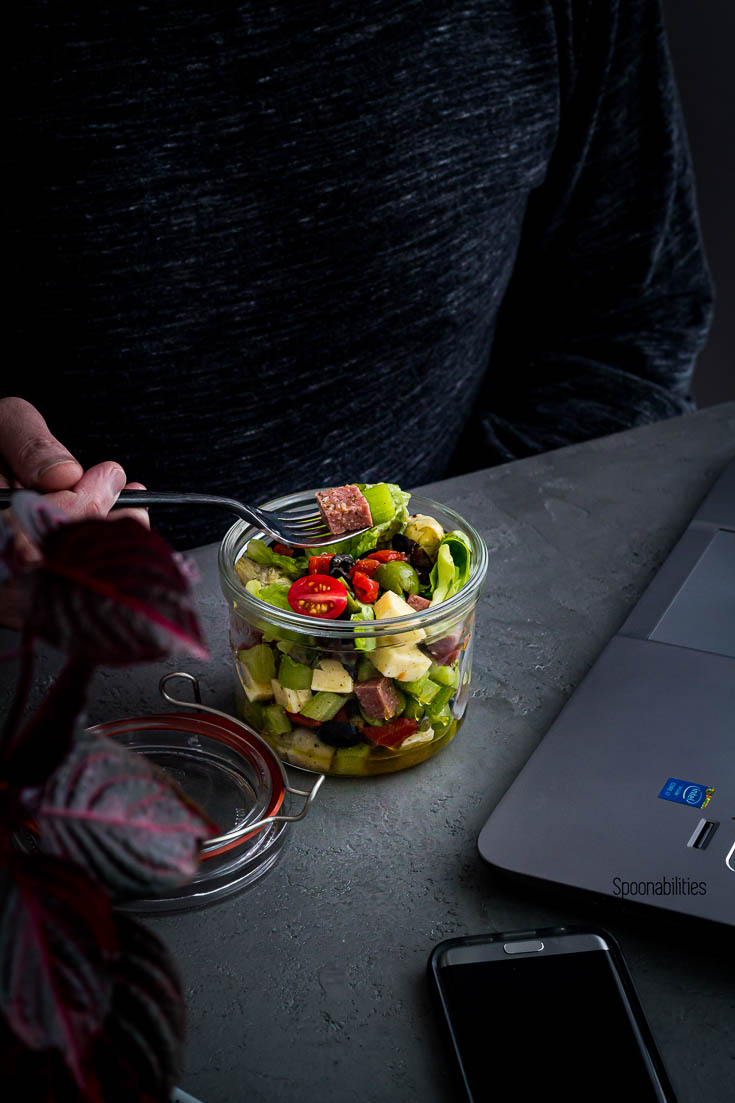 I hope you get to make this Summer Antipasto Salad in a Jar, or another recipe I mentioned in the beginning of this post. Leave me a comment below with what you think about this recipe, and let me know if you are willing to give it a try. Share this recipe on social media and tag us @spoonabilities and use the hashtag #Spoonabilities. Thank you.
Carlos Leo
Your Recipe Concierge!
Update: This recipe is part of our Homemade Healthy Snacks for Virtual School Breaks collection that are also great for work-at-home virtual office breaks too!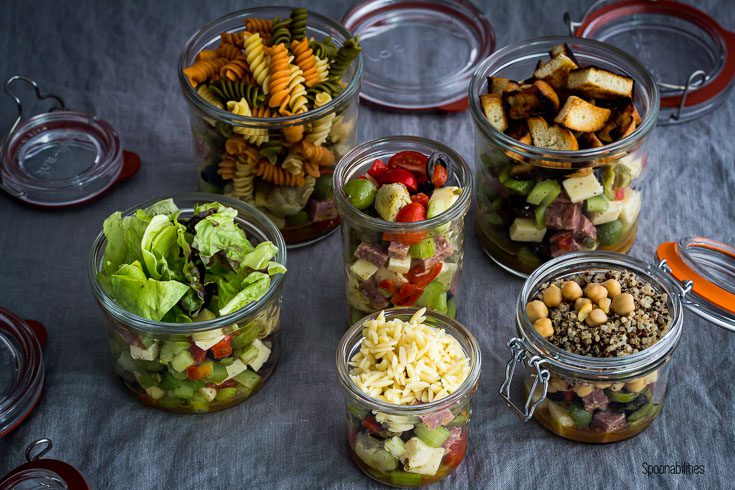 Print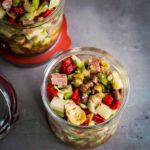 Summer Antipasto Salad in a Jar
---
Author:

Carlos Leo

Total Time:

30 minutes

Yield:

10

serving

1

x
Description
Summer Antipasto Salad in a Jar, with five variations, for an assortment of meal prep ideas to take to work for lunch every day of the week, or for easy weeknight dinners. This salad recipe is the perfect candidate for barbecues, potlucks, and patio parties.
---
1

cup

halved black olives

1

cup

halved pitted Sicilian olives

7oz

jar of chopped roasted red peppers

10oz

jar of marinated baby artichokes - no chopping necessary

⅓

cup

capers

2

+

½

cups

celery chopped including the leaves

2

cups

provolone, in ½ inch cubes

2

cups

hard salami, in ½ inch cubes
For the Vinaigrette:
½

cup

extra virgin olive oil

¼

cup

red wine vinegar

2

garlic cloves grated in a microplane.

1 teaspoon

dried oregano - I use Dominican oregano

1 teaspoon

sea salt -

½ teaspoon

sugar
Additional ingredients for Antipasto Salad variations: The below items were not calculated in the nutritional info.
Cooked quinoa
Cooked orzo
Cooked tricolor fusilli pasta
Hard boil eggs
Pre-packaged green butter lettuce & red butter lettuce
Cherry tomatoes
Garbanzo/chickpeas
Crusty bread like baguette in cubes.
---
Instructions
In a large glass bowl, add the chopped ingredients in any order: hard salami, provolone, celery, black olives, Sicilian olives, roasted red pepper, baby artichokes (whole), capers (whole).
Make the vinaigrette: In a mason jar, add the extra virgin olive oil, red wine vinegar, sea salt, oregano and sugar. Shake until is well-combined.
Pour the vinaigrette over the antipasto mixture and toss until is well coated.
Store the salad in individual jars or airtight containers.
Before eating, add any additional ingredients you love or just toss before eating to coat again with the vinaigrette.
Store in the fridge for up to five days.
Notes
Vitamin A 3%, Vitamin C 15%, Calcium 21%, Iron 10%, Vitamin D 1%, Vitamin B12 15%, Vitamin E 2%, Vitamin K 17%
Prep Time:

30 minutes

Category:

Lunch

Method:

tossing

Cuisine:

Italian
Nutrition
Serving Size:

1 cup

Calories:

275

Sodium:

1513.8 mg

Fat:

23.6 g

Carbohydrates:

6.6 g

Fiber:

2.7 g

Protein:

11 g

Cholesterol:

27.5 mg
Recipe Card powered by
Available via these Amazon links:
Disclaimer: Links that open in another site, i.e. Amazon, may be affiliate links where at no additional cost to you, we may receive a small commission should you decide to purchase the item. Read our Disclosure Policy