Roasted Pork Porchetta is a spicy, tasty and moist pork belly roasted until the skin is crackling and crispy. This traditional Italian recipe is heavily seasoned with salt, and other spices like fennel, oregano, sage, pepper and garlic. We use Greek Sea Salt Smoked in Beechwood instead of regular salt. This pork porchetta is perfect to eat with roasted potatoes, broccoli rabe or any kind of vegetables. It's fantastic on a sandwich with arugula and Italian salsa verde.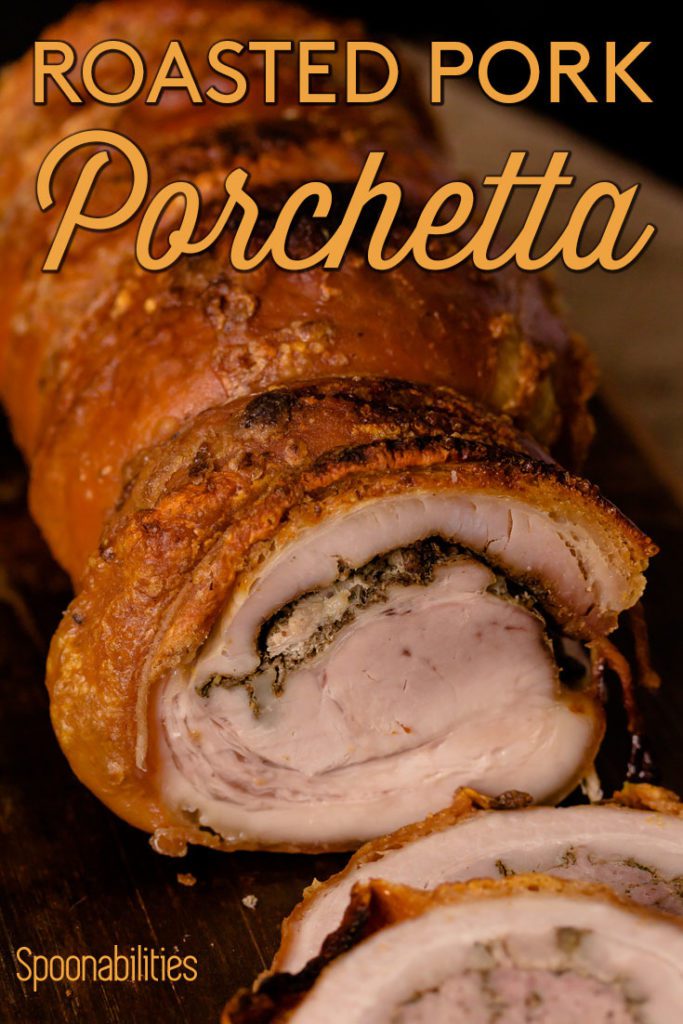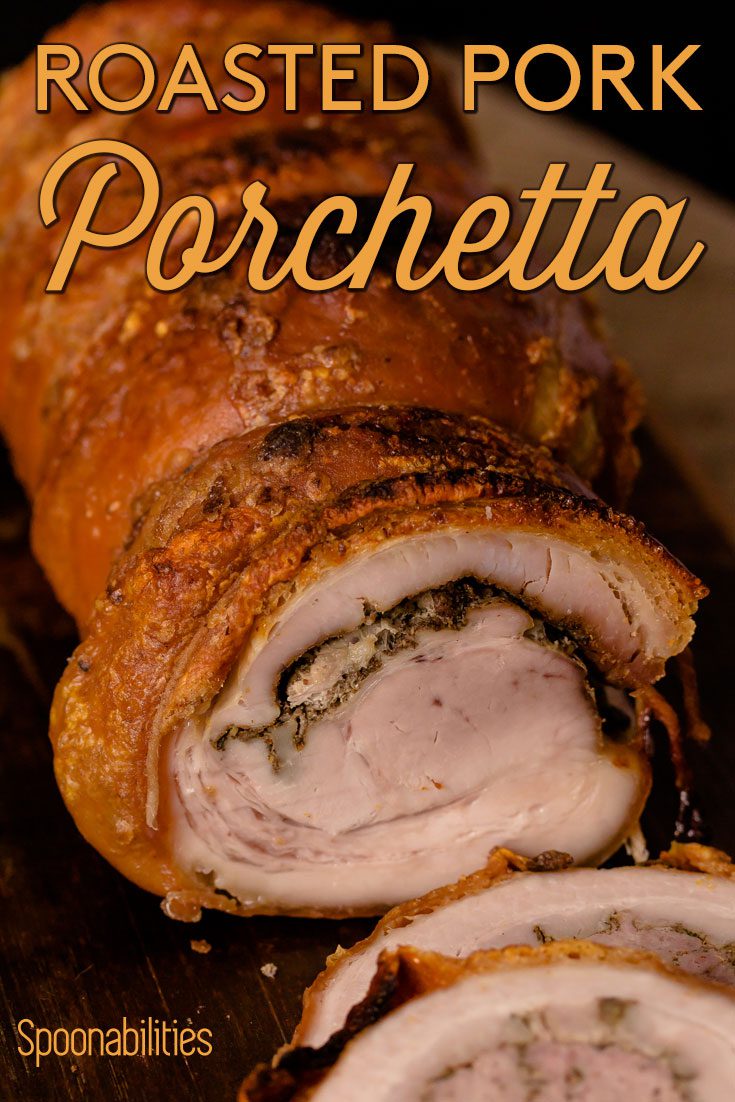 Hello my friends. Sorry that I haven't been very consistent posting new recipes like I promised at the beginning of the autumn/holiday season, but an unplanned situation prevented me from writing or even being in the mood to write. All in one month, I went through three surgeries: an umbilical hernia, a carpal tunnel release in my left hand, and a carpal tunnel release in my right hand. Finally today I got my last stitches out. So, I can officially type freely. I declared that this was the year to get everything fixed in my body, and next year will be the year to taking care of my body through exercising, meditation, and yoga. It will be well-needed rest for my body after all the yummy savory and sweet food we made and ate during the holiday season. Wait... the holiday season is not over yet. I still have a couple of days left to enjoy more of the addicting Almond Thumbprint Cookies filled with Jam (my favorites) made by Geoffrey.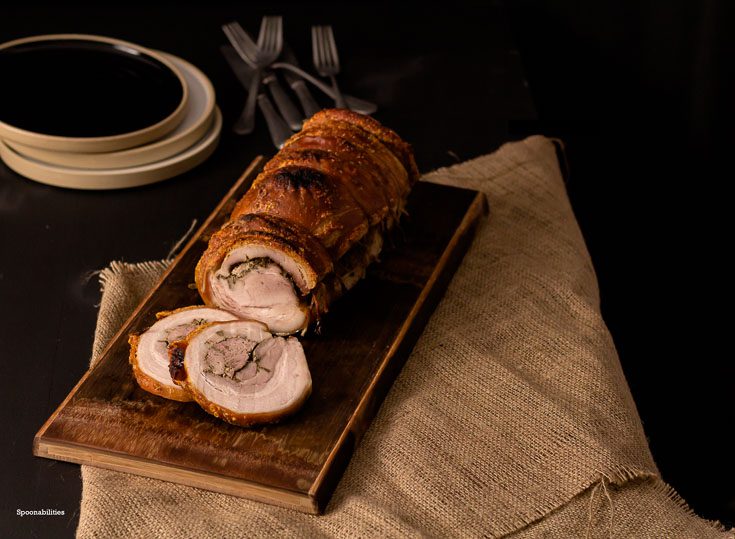 Now let's talk about this impressive, fatty and delicious Pork Porchetta. I heard a lot of people talking about how moist the meat is inside, and how crispy the skin is outside. This traditional Italian recipe is made with a huge piece of pork belly. I'm talking about between 10-12 pounds of meat and around 22" inches in length. I think that I didn't do this pork porchetta before, because I was intimidated by the size of the meat.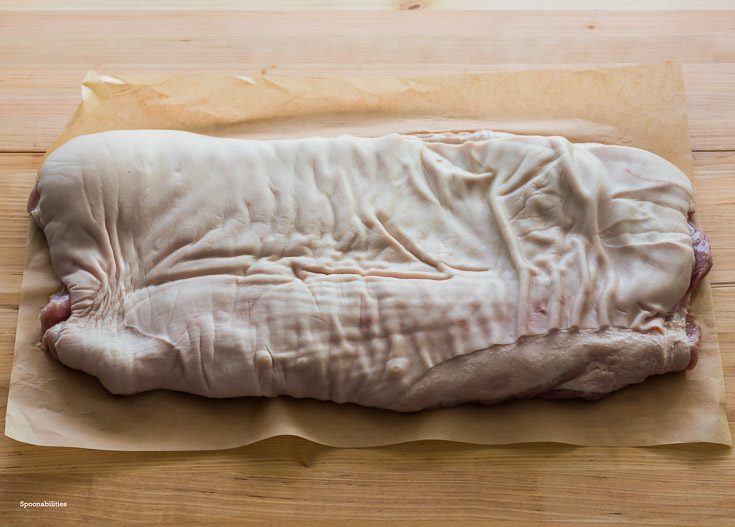 If you buy a whole pork belly around ten pounds, it will cost you around $44.00. Yes it sounds expensive, but from this big piece of meat you can serve between 12 to 15 people, and if you divide by the total amount of servings, the cost per person is only $3.66. One meal of this Pork Porchetta will satisfy even the hungriest guest. If you can't find pork belly, then get a boneless pork roast. But, it won't be the same experience.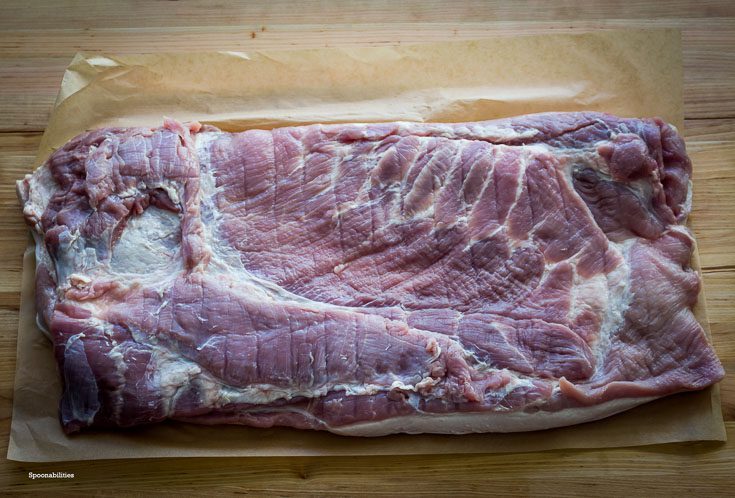 The process of making this Pork Porchetta is smooth with no complications. I laid out the instructions in the recipe card below with an easy to understand, step-by step process. The best part of this recipe is that you can make it two days in advance and pop it in the oven on the day of your special dinner or dinner party.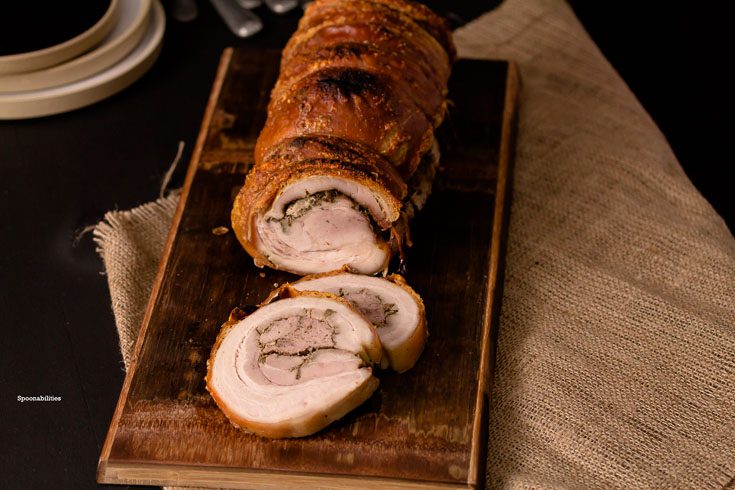 Finding the Whole Pork Belly
When you get to the supermarket, ask the butcher to give you the whole pork belly because in the refrigerated section outside they only display the pork belly in small pieces. In my local supermarket, I had to go twice because they didn't have the whole pork belly when I was there. They told me to come back around a specific time when the truck arrives to the store with all the fresh meats.
As soon as I got my beautiful pork belly, I removed it from the wrapper and placed it in the sink. I washed the belly with water and then I squeezed on it the juice of a lemon and a lime, and rubbed the juice all around the pork to let the acidity of the juices do their work. Meanwhile, let's prepare the seasoning...
Preparing the Pork Porchetta Seasoning
For the seasoning, I went with the classic combination of fennel seeds and peppercorn. I toasted them until the fragrances came out. I finely grinded the seeds in a coffee grinder and I kept them in a small bowl while I prepared the other spices. You can use herbs like rosemary and thyme, but I chopped up some sage because I had some leftover from the recent Shiitake, Cremini & White Mushroom Stuffing recipe, and you know there are no ingredients left behind in our kitchen. Using a microplane, I grated ginger and garlic, and placed them in separate bowls.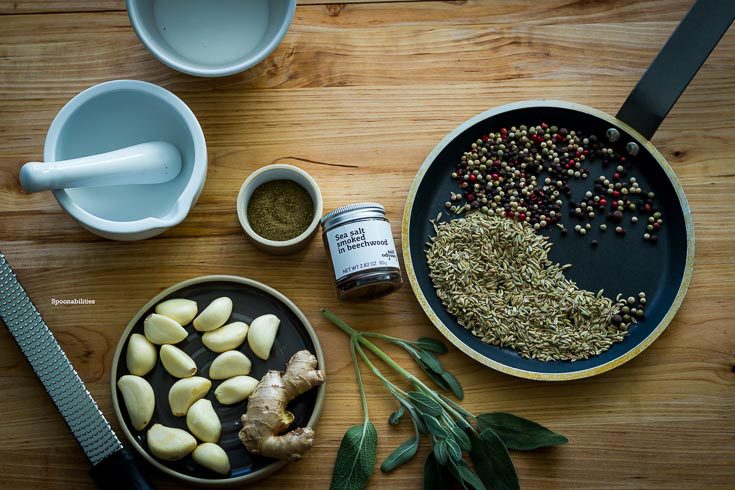 I crushed red pepper flakes in my pestle but you could add the red pepper flakes in the grinder along with the fennel and peppercorn. The last ingredient is one of my pantry staples that I use for most of my recipes: oregano, but not the one you buy at the store with no fragrance. I use my Dominican Oregano, and if you try this oregano you will never go back to the boring stuff from the supermarket. My mother brings mine from Dominican Republic, but I just did a quick search and you can get Dominican Oregano through Amazon. I haven't tried this particular brand, but I read wonderful reviews there.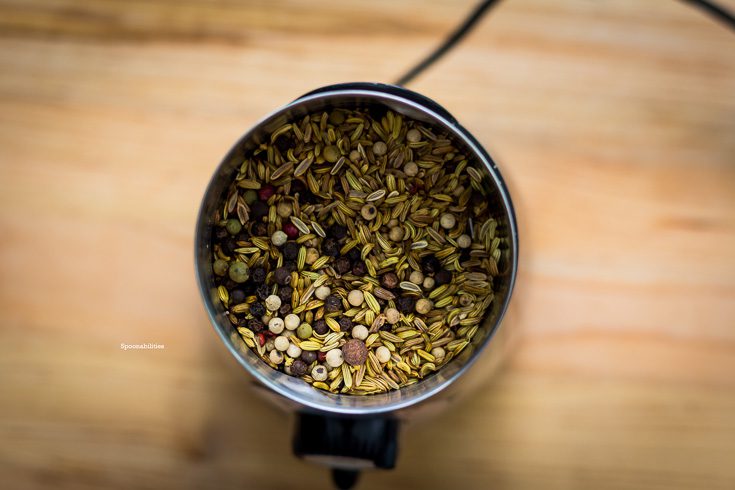 One extra ingredient I use to give an extra kick of smokiness is Greek sea salt smoked in beechwood. This salt has a deep, smoky flavor, a unique golden-brown color, and a distinctive aroma. This special salt from Greece has no artificial smoke flavoring or coloring added. It's ideal for meat, BBQ, baked beans, roasted potatoes, legumes, soups and much more. We get ours from Hellenic Farms, one of our previous suppliers.
Like this recipe so far? Be the first to know when we release new ones!
---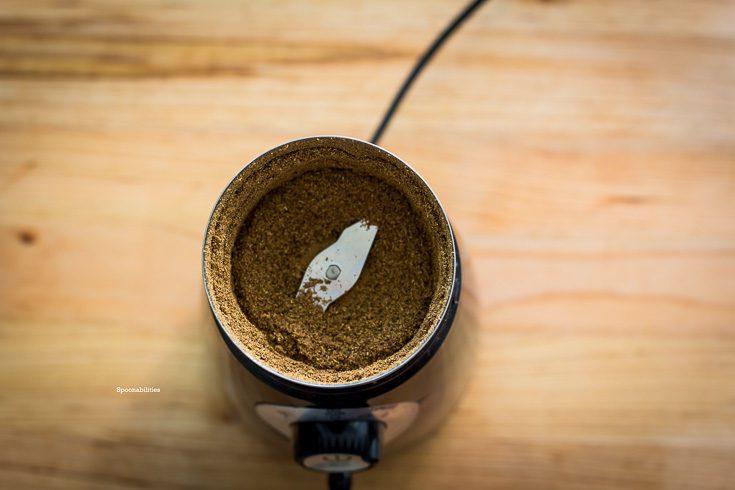 Preparing the Pork
Let's start the process of making this pork porchetta by laying out all the ingredients on the board. Pat dry the pork belly and place the skin side up. Using a sharply pointed knife, stab the skin several times. Then, turn the pork belly skin side down and make long incisions like diamond shapes.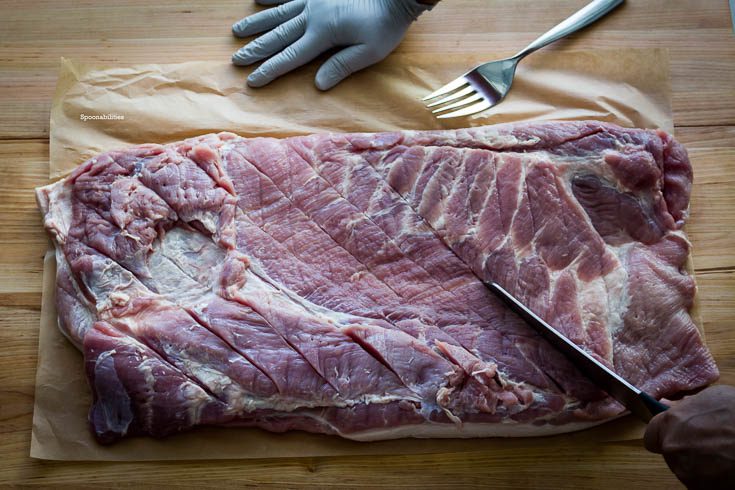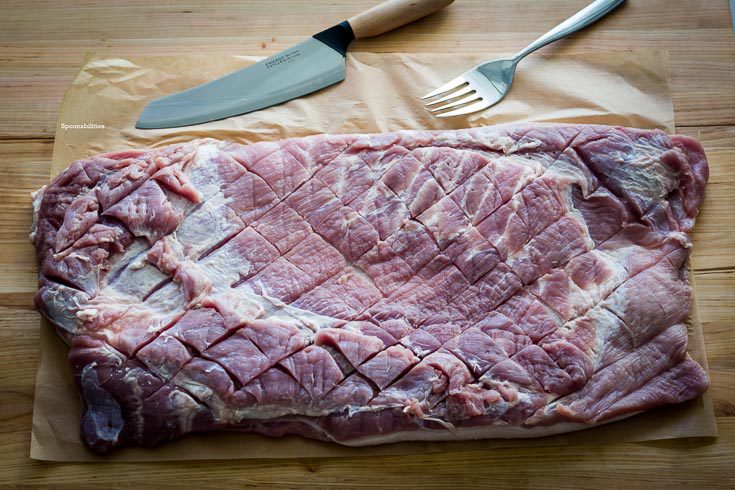 Sprinkle with sea salt generously and follow with the peppercorn-fennel mix, the crushed red pepper, chopped sage, grated ginger & garlic, and dry oregano.
Use your hands to rub the mixture deeply into the cracks and crevices of the meat. If you use an inside layer of ground pork as I did, lightly season the ground pork with the same seasoning and spread the ground pork onto the pork belly. In my honest opinion, after I tasted the pork porchetta, I don't think it's necessary to have the addition of the ground pork rolled inside.
Roll the pork now, or let it sit?
As you can see in the pictures, I prefer to use gloves for all my food handling, even at home. At this point, you can roll it and place it in the oven as per the next instructions, or you can do what I did. I placed a kitchen towel in a baking sheet and I laid the pork porchetta skin side down and I left it in the refrigerator uncover for 24 hours. The salt and spices will slowly penetrate the meat. The salt will also reconstruct the composition of the meat so that it's able to preserve moisture more efficiently as well as providing it a slightly bouncier, more resistant texture.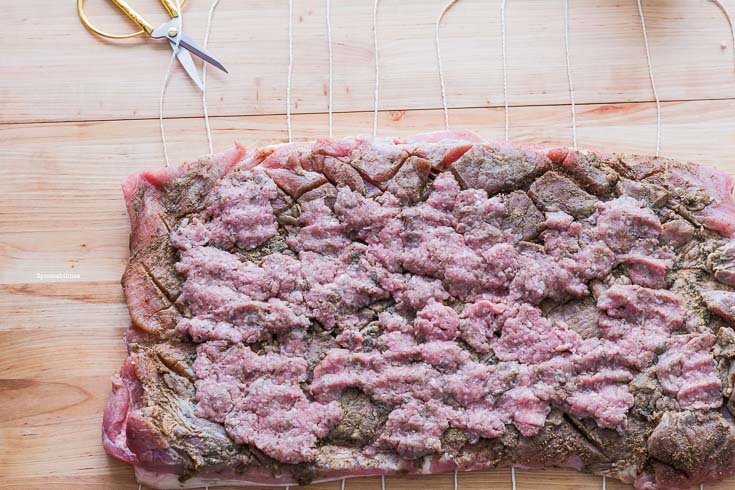 Rolling your Pork Porchetta
On the cutting board, arrange 10 long pieces of kitchen twine about 1-inch apart from each other and place the pork belly on top. Roll the pork belly lengthwise and working from the outermost strings towards the center, tie the roast up tightly. Place the seam-side down in a baking sheet with a flat rack or in a roasting pan with a V-rack. Now, this is the most key step to get a crispy and cracking skin: mix 2 Tablespoons of Sea Salt with 2 teaspoons of baking powder. Rub mixture over entire surface of porchetta.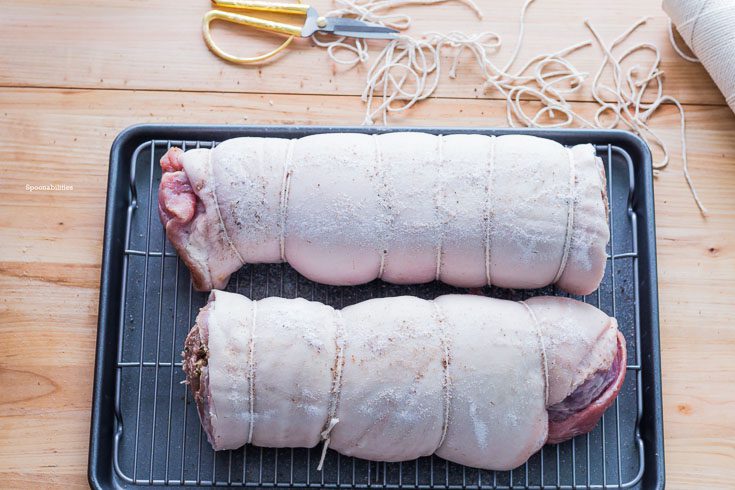 Place in the oven for about two hours but check after 1.5 hours in case the pork porchetta reaches the temperature of 160 degrees. After the porchetta reaches that temperature, crank the oven up to 500 degrees Fahrenheit for 30 minutes until the skin is all blistered, golden & crispy. Remove from the oven and make a tent with tin foil and allow the meat to rest for 15 minutes. Use a serrated knife and slice in 1-inch thick pieces.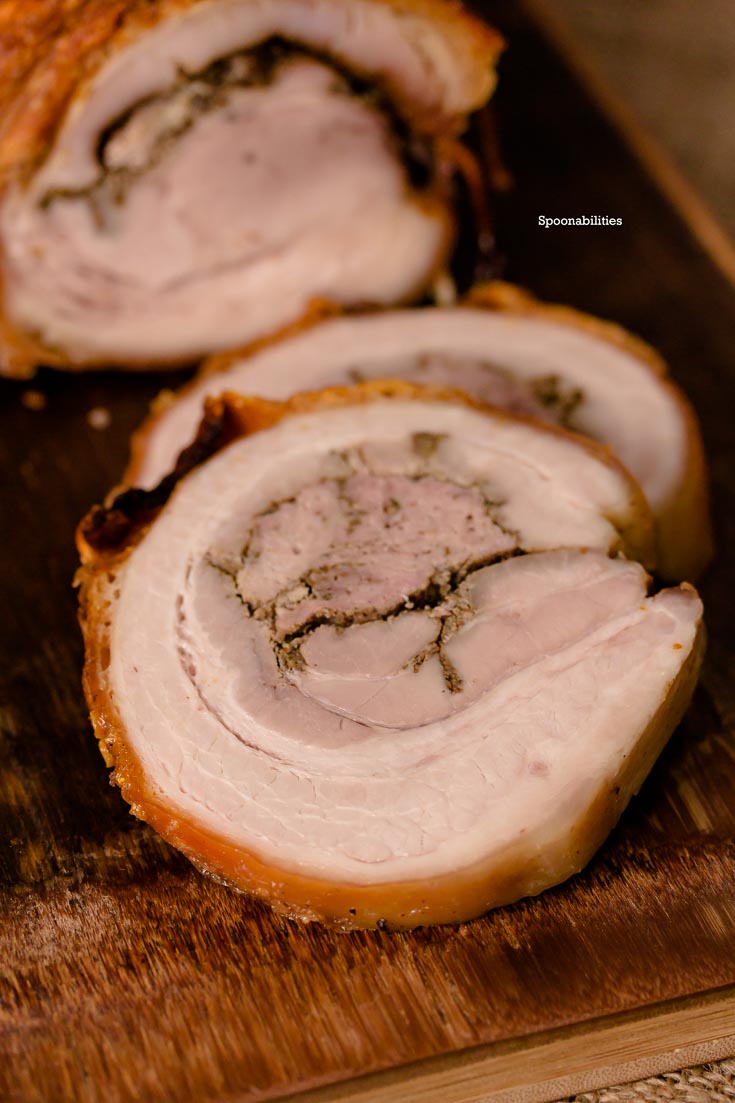 Side dishes for Pork Porchetta
Now the fun part is to eat it, and I have plenty of side dishes that will complement the fatty and crispy pork porchetta, or make a wonderful sandwich.
Potato: potato salad, mashed potatoes, hasselback potatoes, roasted potatoes and bake potatoes.
Sweet potato: hasselback sweet potatoes, butter-roasted sweet potatoes and baked sweet potatoes
Braised or sautéed greens like spinach, broccolini, and kale
Roasted vegetables like broccoli rabe and roasted potatoes, brussel sprouts, and cauliflower
Simple green salad
Sandwiches with Pork Porchetta
Use ciabatta bread and add the porchetta, arugula and Italian salsa verde (parsley, olive oil, capers, anchovies, vinegar, lemon juice, garlic, and lemon zest)
Make a panini in round buns with mustard
Shred like pulled pork and put in soft round buns
Place in ciabatta bread with rapini or spinach and provolone cheese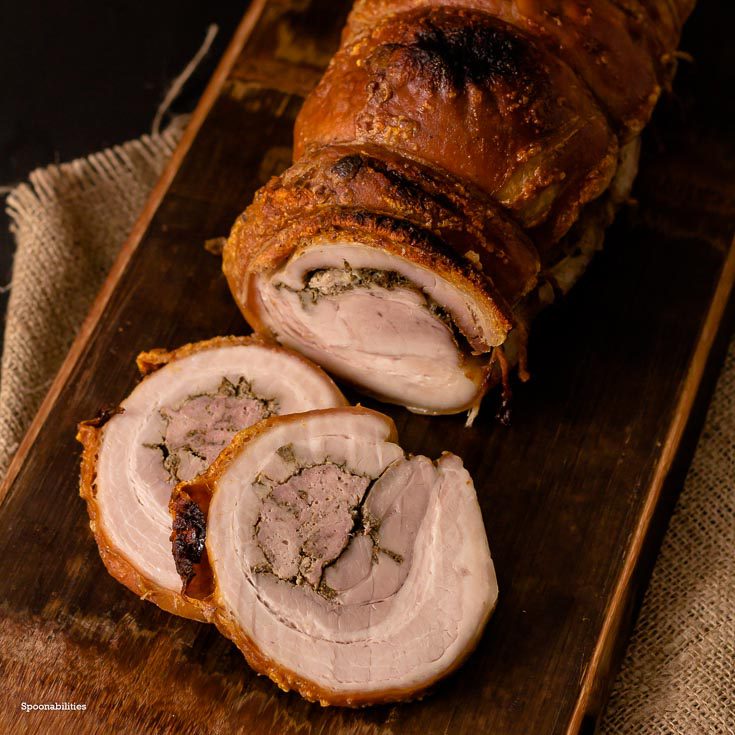 You don't need to strictly stick with the seasoning and herbs from this recipe. Feel free to adjust or change to your favorite seasoning, or the different seasonings available in your country or region. Pork Porchetta is an all-year-round dinner recipe for any occasion; perfect during summer to eat as a sandwich, for a special birthday or Valentine's dinner, or during the fall/winter holiday season. This dinner recipe is a crowd-pleasing dish.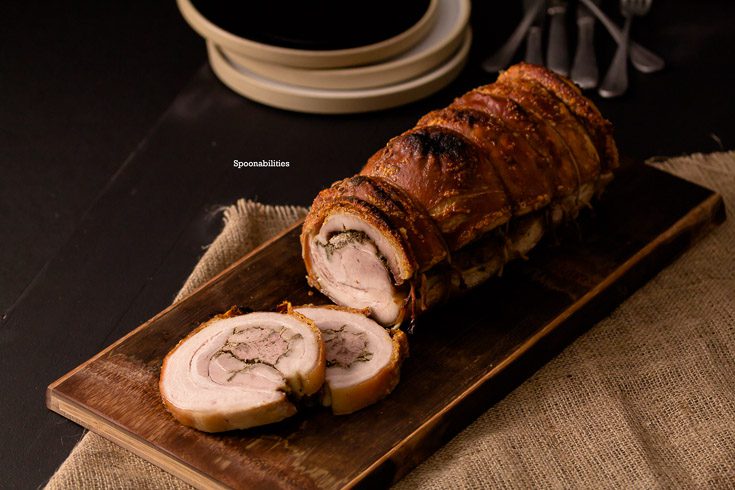 I think I got too excited about this pork porchetta, and I wrote a very long post. Ok, for a final inspiration to make you jump to the kitchen and get excited to cook this recipe, here is my last statement: ? Pork porchetta is a moist, tender, tasty and spicy boneless pig stuffed with fennel, garlic and other spices with a delightfully crispy, crunchy golden pork skin. YUM!
If you get to make this recipe, share your pictures in the comment section below, and tag us in social media especially @Spoonabilities on Instagram and use the hashtag #Spoonabilities.
More Pork Recipes
Check out some of our other pork recipes. Some are perfect to eat during the Super Bowl.
WOW, I didn't realize how much I love pork that I made all these!  Ok, yea, I know I love pork.
Happy New Year!!
Carlos
Your Recipe Concierge
Print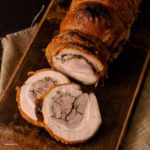 Roasted Pork Porchetta
---
Author:

Carlos Leo

Total Time:

27 hours 30 minutes

Yield:

20

slices

1

x
Description
Pork Porchetta is a savory, moist and flavorful pork belly stuffed with herbs like fennel, oregano, sage, pepper, garlic and other spices. Then, rolled & roasted until the fatty skin gets crispy and blisters or crackles. This classic Italian pork recipe is heavily salted with Greek Sea Salt Smoked in Beechwood. Recipe adapted from Serious eats.
If you like this recipe, why not be part of our newsletter community
---
1 whole boneless, rind-on pork belly, about 10-

12

pounds

The juice of one lime & one lemon

2 teaspoons

ginger, grated

2 Tablespoons

whole black peppercorns

3 Tablespoons

whole fennel seed

3 teaspoons

crushed red pepper

2 Tablespoons

sage, finely chopped

1 Tablespoon

dry oregano. I love Dominican Oregano - This is the "real thing."

3 Tablespoons

finely chopped sage

12

cloves garlic, grated, then mashed in a pestle
Sea salt. I use a combination of pure sea salt and Sea Salt Smoked in Beechwood

I use around 2 Tablespoons inside the meat and 2 Tablespoons for the skin, but you should use at your discretion. Make sure you season heavily because it's a lot of meat

2 teaspoons

baking powder

1

lb

. ground pork (optional)
---
Instructions
Place pork belly skin-side down on a large cutting board. Using a sharp chef's knife, score the flesh at an angle using strokes about 1-inch apart. Rotate knife 90 degrees and repeat to create a diamond pattern in the meat.
Flip the belly skin side up and using a sharp pointed knife, poke the meat all-over. It will be tough, so be aggressive?.
Squeeze the juice of the lime and lemon and rub all over the pork. Leave it for 10 minutes. Then pat dry before applying the seasoning.
Toast peppercorns and fennel seed in a small skillet over medium-high heat until lightly browned and aromatic; about 2 minutes. Transfer to a spice grinder and grind until finely ground. Put in a separate bowl.
Grate in a microplane the garlic and the ginger. I use this microplane.
Finely chop the sage. Keep it in a separate small bowl.
Season pork liberally with the mixtures of pepper & fennel, crushed red pepper, chopped sage, grated ginger & garlic, dry oregano, and sea salt (I used Sea Salt Smoked in Beechwood). Use your hands to rub the mixture deeply into the cracks and crevices in the meat.
At this point you have two option:
First option: continue following the steps below
Second option: place the seasoned pork belly skin side down and uncovered in the refrigerator for one or two days to allow skin to dry; pat occasionally with paper towel. Let the pork porchetta sit at room temperature for 2 hours before roasting. Continue with the remaining steps below.
Season the ground pork VERY LIGHTLY with the same ingredients, and place on top of the pork belly
Roll the belly lengthwise into a tight log. Cut 10 pieces of kitchen twine long enough to tie around the pork and lay them down in regular intervals along your cutting board, about 1-inch apart each. Lay rolled pork seam-side down on top of strings. Working from the outermost strings towards the center, tie up roast tightly.
Combine 2 Tablespoons sea salt with 2 teaspoons baking powder. Rub mixture over entire surface of pork Porchetta. This is a key element to get a crispy and cracking skin.
Preheat oven to 300°F and adjust the oven rack to the lower-middle position.
If you are baking half of the pork porchetta, you can use a V-rack in a roasting pan. So, you can baste with the dripping every half hour. Because I forget to do this process, I opted to use the below method
I used a baking sheet and a flat rack. Because the whole pork belly is too long, I cut it in half to be able to fit it in a tray pan and in my oven.
Place roasting pan in oven and roast until internal temperature of pork reaches 160°F; about two hours.
Increase oven temperature to 500°F and continue roasting until completely crisp and blistered skin; about 20 to 30 minutes longer.
Tent with foil and allow to rest for 15 minutes. Slice with a serrated knife into 1-inch thick disks and serve.
Notes
You won't need all the peppercorn-fennel mixture. So, be generous seasoning but be careful to not over season the pork belly.
Secret ingredient for crispy skin is baking powder
If you Freeze or Refrigerate: Wrap the rolled and tied pork tightly in plastic and refrigerate up to three days before cooking. If desired, Pork Porchetta can also be frozen at this point for future use.
Equipment Needed:
Roasting pan with V-rack or rimmed baking sheet with metal rack
spice grinder
butcher's twine & scissors
sharp knife
Prep Time:

1 hours

Cook Time:

2 hours 30 minutes

Category:

Dinner

Method:

roasting

Cuisine:

Italian
Recipe Card powered by
Available via these Amazon links:
Disclaimer: Links that open in another site, i.e. Amazon, may be affiliate links where at no additional cost to you, we may receive a small commission should you decide to purchase the item. Read our Disclosure Policy.