Warm marinated olives are super compatible with cured meats. When cooked all together with Mediterranean classics like garlic, rosemary, coriander seeds, smoked chili flakes, and black peppercorn, you end up with a mélange of comforting flavors that are just perfect together. We're also learning a bit more about olives! How cool is that?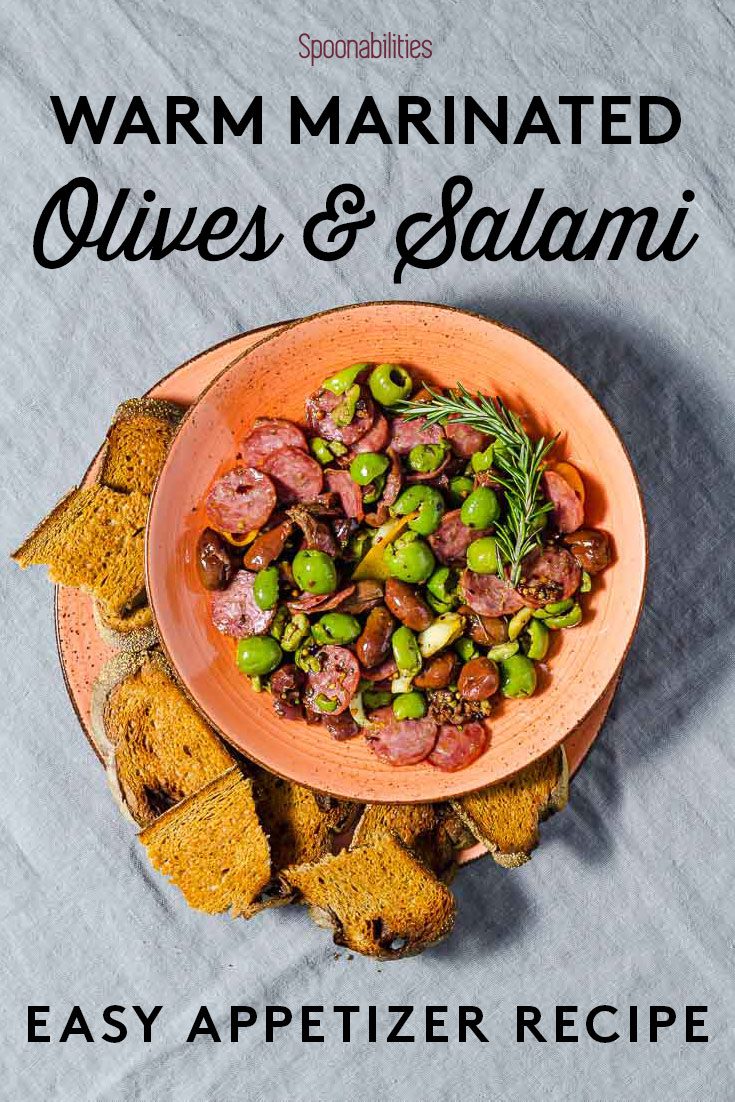 Blog post contains products you can purchase in our online shop, and affiliate links.
Read our Disclosure Policy.
Hello my friends. You might already know Geoffrey and I are absolute olive fanatics. The round, bite-sized fruits (yes! fruits) are pleasantly bitter, silky smooth, meaty, and addictively tangy. What's not to love?
Well, today olives will be the stars of the show in what we call Warm Marinated Olives and Salami. You can use your favorite cured meats, so the name is still a work in progress.
What we DO know is that when you put together premium-quality olives in a thick-bottomed skillet with cured meats and liven the whole thing with garlic, herbs, and spices, you end up with a perfect postcard of the Mediterranean. A gorgeous spread / appetizer that's gorgeous over a slice of artisan bread.
This Marinated Olives Recipe Yearns for Quality Ingredients
The first thing you'll need is premium olives; they're the recipe's heart and soul. We're all about Greek olives, both the tangy green varieties and the meaty Kalamatas.
Also, you need a premium Greek extra virgin olive oil and we are using LIÁ Premium Extra Virgin Olive Oil from Greece. This dish is all about top quality ingredients!!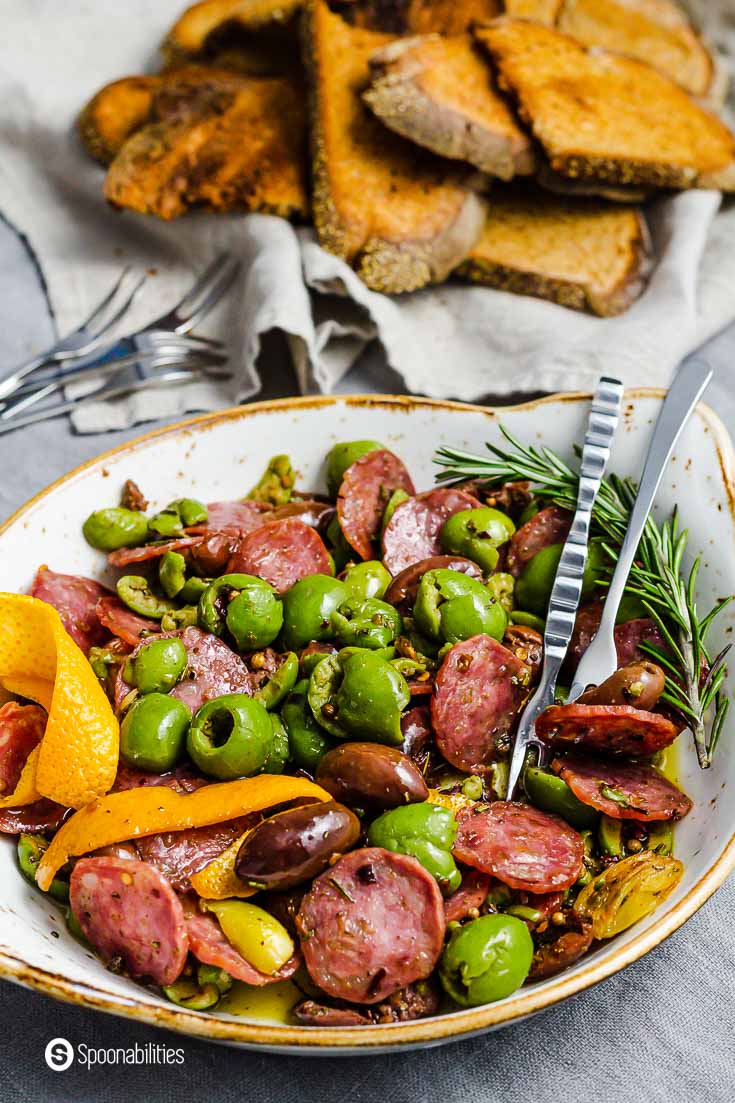 Olives are one side of the coin in this easy appetizer recipe; the other one is cured meats. The hearty French saucisson sec is a fantastic choice. But I'll tell you what, go pay a visit to your local butcher or deli and see what they've got in the back. Salami is another splendid option. Any classic cured sausage will work wonderfully.
When cooked together, marinated olives and cured meats, along with some garlic, herbs, and spices, become a colorful appetizer to start your dinner party on the right foot, a picture-perfect side dish, and a great amuse-bouche. These warm marinated olives are a perfect match to include in a cheeseboard, charcuterie board, mezze platter for a tapas party, or an antipasto platter.
With such few ingredients, you know quality matters more than anything. So, besides letting your neighborhood butcher hook you up with great cured meats, you'll want to source the finest olives you can. We can help you with that.
Like this recipe so far? Be the first to know when we release new ones!
---
How to Make Warm Marinated Olives?
There are no step-by-step instructions for this recipe. It's that easy! The most important part is to "mise en place" your ingredients. Believe it or not, Geoffrey just taught me that mise en place means preparing all your ingredients before cooking, literally "setting up." You know - cutting, pealing, preparing and measuring so everything is ready before you start to cook. I've always done that, but didn't know it had a special French name.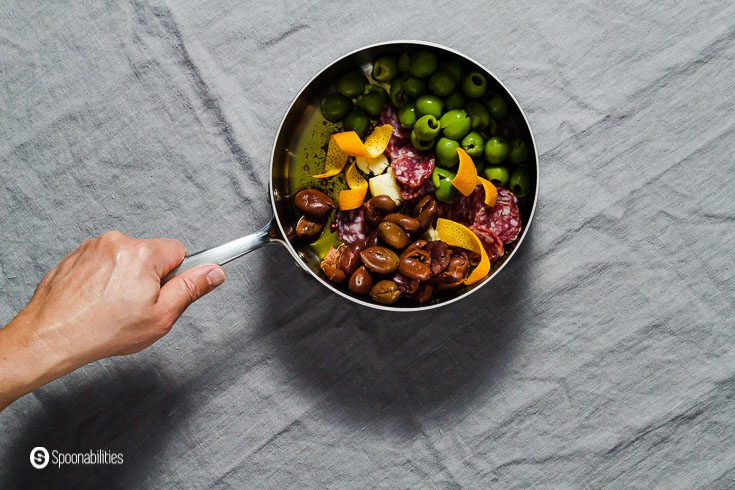 Once you do your mise en place, you just need to put all the ingredients in the saucepan. But I recommend using a 10" skillet so all the ingredients get in touch with the heat. Let it warm up for 7 or so minutes at low heat until you see that the garlic starts to brown, and stir to prevent the garlic from burning.
You can make this appetizer recipe ahead of time - earlier that day or even the day before. Just reheat it at low heat before serving. You can also reheat it for 30 seconds in the microwave. You can store the marinated olives in the refrigerator for about two weeks or more, but I know you won't let them last that long.
You can serve these marinated olives warm or at room temperature. I tried both ways and my favorite way is warm. Serve with a loaf of good rustic bread to suck up all the delicious olive oil flavored with all those spices.
This appetizer is very versatile and you can customize it by adding any of your favorite spices. I honestly love the Greek green olives and the kalamata olives for this appetizer recipe but you can use any olive that you have on hand. Here are other olives varieties that you can use in this warm marinated olive dish: Castelvetrano, Cerignola, Sicilian, Niçoise, Gaeta, and Manzanilla.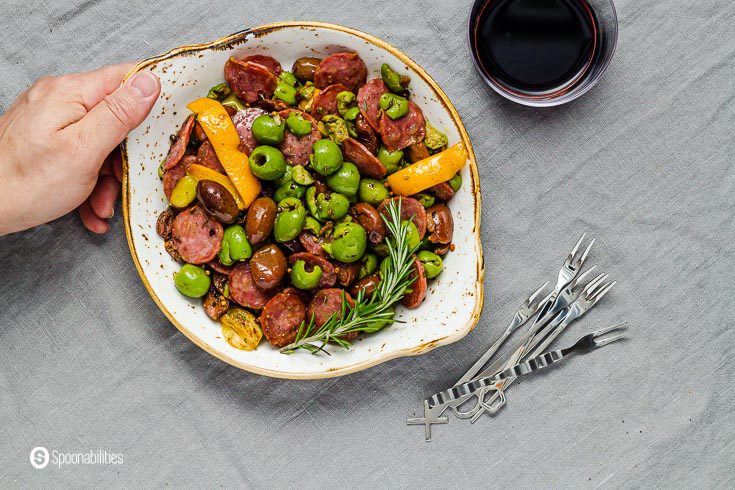 Are Greek Olives Really the Best?
Along with Spain and Italy, Greece is a powerhouse for harvesting olives, but unlike other countries, Greece is all about quality. There are literally dozens of native olives in Greece; the olive tree has called the Mediterranean country home for thousands of years. Amongst all these pearly treasures, there are two types of olive you might want to try.
Greek Pitted Green Olives. These bright green beauties come from Chalkidiki, the place where according to Greek mythology, Olympian gods fought the giants some time ago. Hand-picked and artisan processed, these tangy olives are fruity and herbal. There's no comparison for these green olives from Hellenic Farms.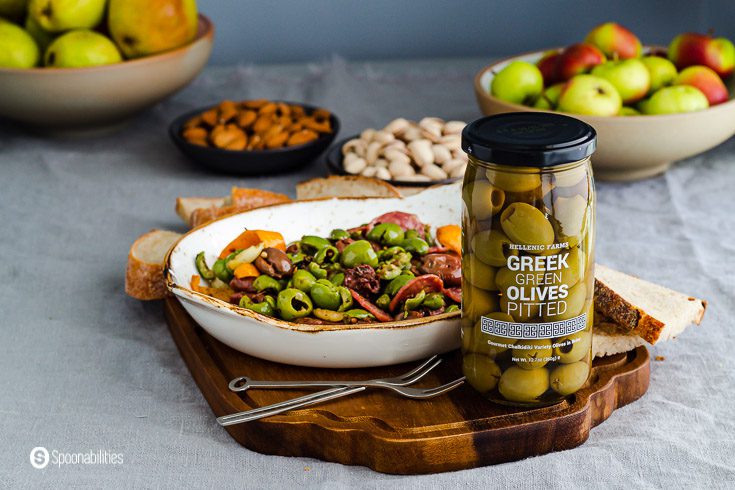 Greek Pitted Kalamata Olives. You don't really know olives until you try Kalamatas. These exclusive, violet-hued, fat olives have tons of flavor and an enticing meatiness that's just love at first sight. Kalamatas are only grown down south in the Peloponnese peninsula, and they're famous worldwide.
If you've ordered your premium Greek olives already, let's proceed with today's recipe. These marinated olives are so good you'll want to make them every time you have guests coming over.
I hope you get a chance to make this Warm Marinated Olives recipe. Did you make this or another recipe? Tag @Spoonabilities on Instagram or add a photo or comment on Pinterest, so we can find you! And we love to hear from you in the comment section below.
Carlos Leo
Your Recipe Concierge!
Looking for more recipes using Greek olives?
Here are some for you:
Print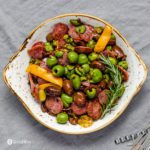 Warm Marinated Olives and Salami
---
Author:

Carlos Leo

Total Time:

12 minutes

Yield:

8

1

x
Description
Warm marinated olives sauteed with saucisson sec (salami), garlic, rosemary, cumin seeds, peppercorn, smoked chili flakes, orange peels, other spices. This hors d'oeuvre goes great over crusty bread. We are using Greek green olives and Kalamata olives for a rich Mediterranean flavor for this easy appetizer recipe; a fantastic way to start a dinner party.
---
---
Instructions
Heat a large skillet or frying pan over medium heat.
Add the salami, olives, olive oil, garlic, orange peels, chopped rosemary, coriander seeds, and whole black peppercorns. Stir frequently until the garlic is golden around the edges, around 5 to 7 minutes.
Let it sit in the skillet to allow the flavors to infuse, for about 20 minutes. Before serving, heat through until warm, and serve warm.
Pour into a serving bowl. Serve with toothpicks and crusty bread for dipping.
Prep Time:

5 minutes

Cook Time:

7 minutes

Category:

Appetizer

Method:

Warm/Stove

Cuisine:

Mediterranean
Keywords: Appetizers, Cocktail Party, olive recipe, hors d'oeuvre, apéro, aperitif, snacks, tapas, mezze
Recipe Card powered by
Available via these affiliate links:
Disclaimer: Links that open in another site, i.e. Amazon, may be affiliate links where at no additional cost to you, as an Amazon Associate I earn from qualifying purchases, should you decide to purchase the item. Read our Disclosure Policy.