A vegan appetizer board must be colorful and varied. Finding vegan appetizers year-round is hard enough, but we'll also help you by providing some tips on making it tasty and easy to put together. You'll find lots of ideas to put together the perfect vegan board; a fantastic appetizer and a great starter course. It's all about the quality of the ingredients.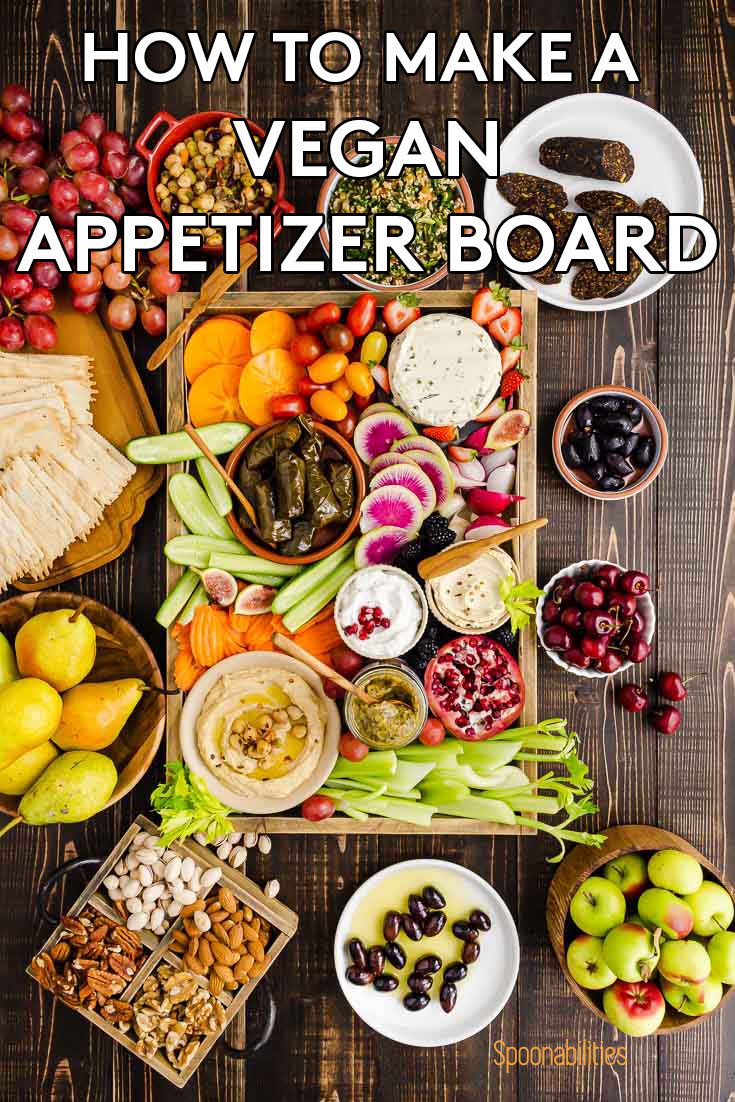 Recipe post may have affiliate links; read our disclosure policy. Photographs ©Carlos Leo, Spoonabilities
Hello my friends. Being vegan might be the right first step into a sustainable future and a healthier lifestyle, but special occasion dinners still have a long way to go, vegan-wise. Our Mediterranean Mezze Platter and Charcuterie Board Ideas aside, appetizer boards are typically just cheese and cured meat, one beside the other. But there are many other vegan-friendly foods you can use to put together a great vegan starter platter.
Thinking about this, we thought we'd make our own contribution to all our vegan friends with a special vegan grazing table. I invite you to see below how we put together a board of vegan appetizers Spoonabilities-style, and we'd love to know how you build yours. With ingredients like these, there's no lousy vegan board, don't you agree?
How to Make a Healthy Vegan Appetizers Board
The short answer is: It all starts with quality ingredients.
For starters, how about some Kalamata Olives? We have those at our store, and I will be honest. They are my favorite olives, along with the Magnificent Five Greek Olives, a selection of Kalamata, Chalkidiki, Nafpliou, Amfissa, and Thassos Greek olive varieties, and they're fantastic. Kalamatas are definitely the meatiest olives on earth.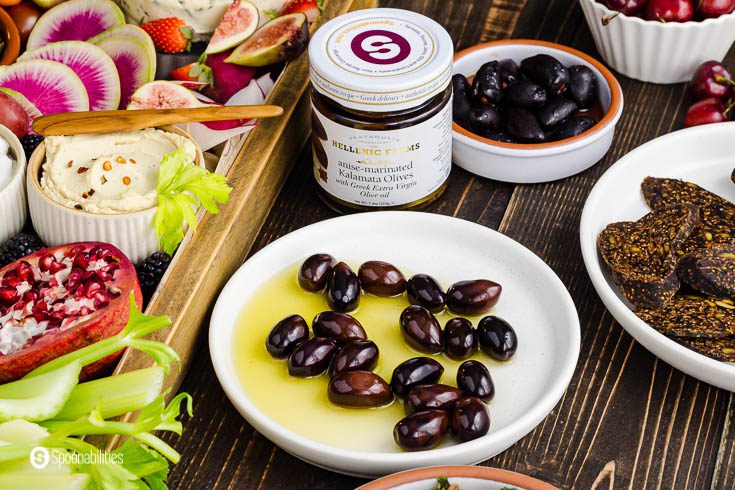 We also want to introduce you to a unique vegan selection called vegan fig salami with smoked paprika. This vegan salami is a genius product that comes in six different flavors, and has become my favorite snack. The ingredients for this vegan snack are Greek dried figs seasoned with Aleppo pepper, cinnamon, and smoked paprika. It has a fantastic smoky and spicy combination; the perfect addition for your salads, cheese plates, and glass of wine.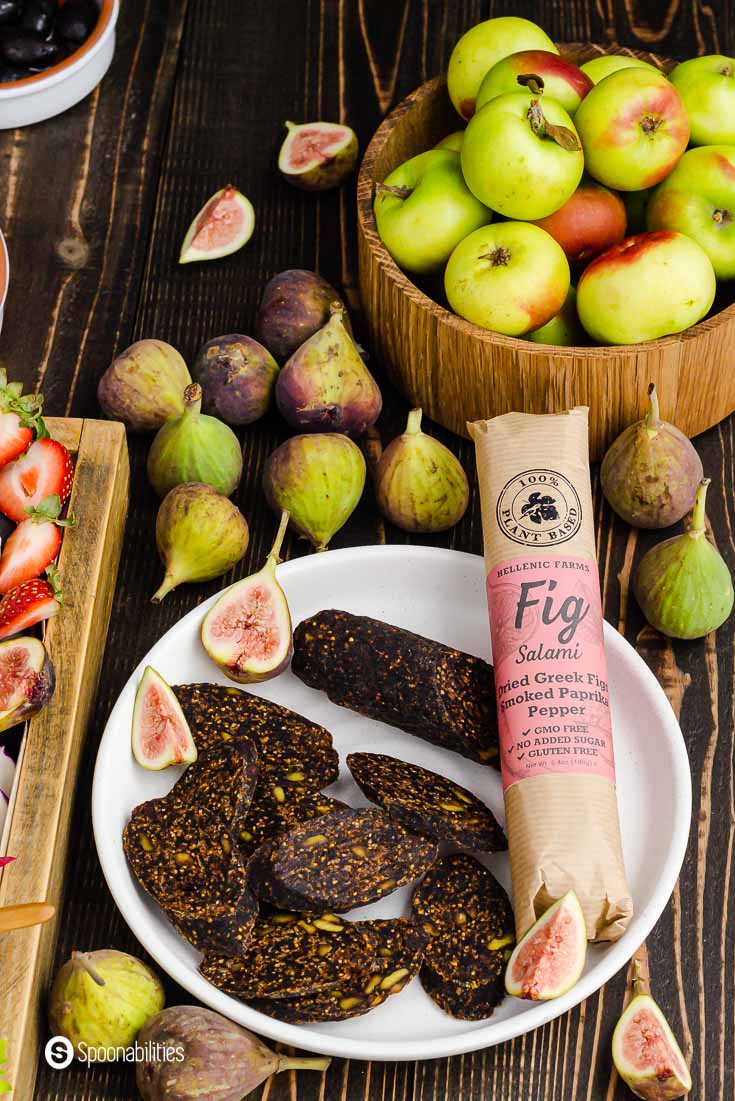 You might also want to source some good vegan cheese, and my favorite is a cashew milk cheese flavored with chives. You will find other vegan options in the same section at the supermarket, and you can grab a cashew spread with roasted garlic and a plant-based tzatziki dip. With those three selections, you are all set in terms of spreads and cheeses for this vegan appetizer board.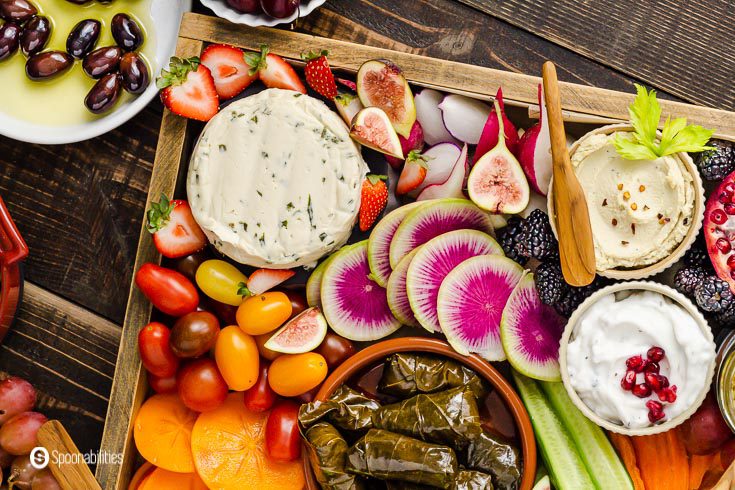 Like this recipe so far? Be the first to know when we release new ones!
---
You know you must have hummus, right? It's the single best vegan food that no one can say no to, and along with it, some puffy pita bread. You also want to add some traditional middle-east salads like tabbouleh and chickpeas salads. But don't forget to grab some stuffed grape leaves (dolma). They make a perfect addition, and they are a very filling vegan appetizer.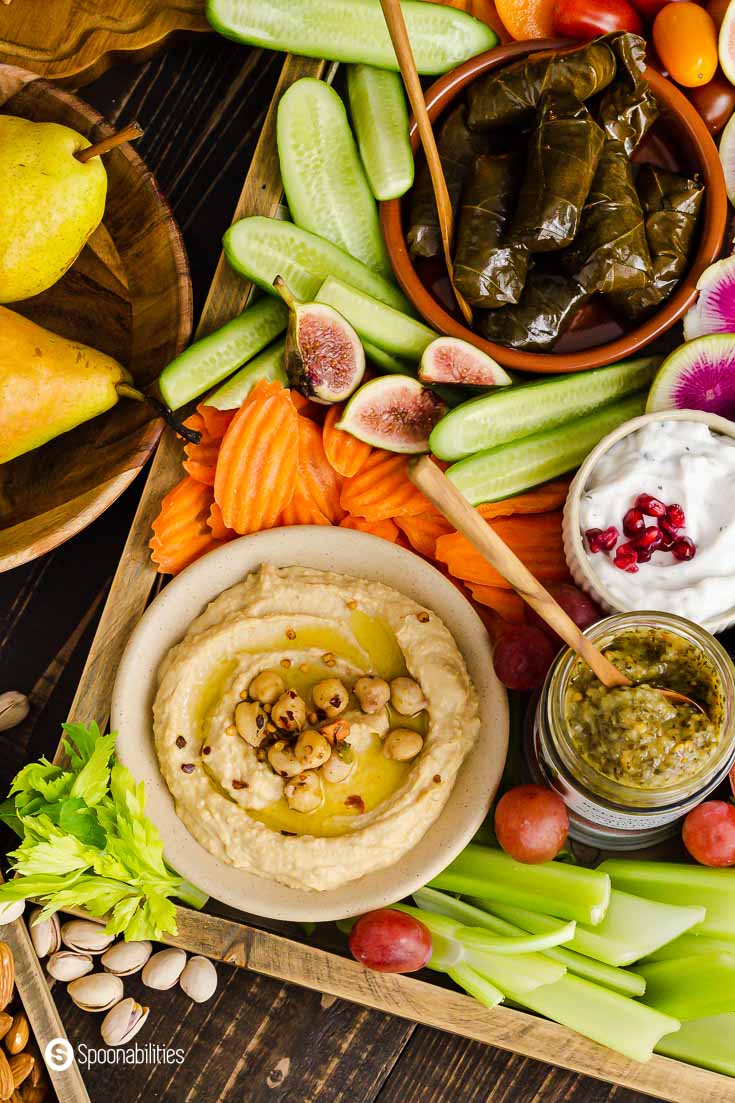 You should never miss when you are planning a vegan appetizer platter to add the smoky flavor of Baba ghanoush. Your board will not be complete without this delicious roasted eggplant blended with tahini and other spices. We are saving time and using the BEST gourmet store-bought roasted aubergine and red pepper spread in our board.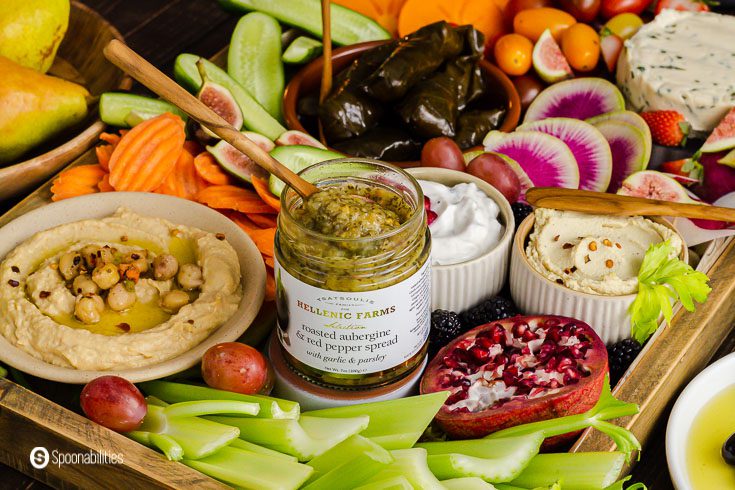 This roasted eggplant dip is combined with roasted sweet pepper, herbs, spices, and high-quality olive oil bringing it together for a savory, extremely versatile spread with Greek personality. The taste of this Greek spread is clean and flavorful, very similar to Ajvar Dip, a very popular dip in Southeastern Europe. You can add this spread to toast, serve along with meats, and eat it over hummus and pita chips.
Your Vegan Appetizer Platter's Success Depends on Fresh Vegetables and Fruits
Bring color and life to your vegan party platter by selecting the freshest vegetables and fruits you can find. Remember you eat with your eyes first. Make sure to pick different colors, textures, and flavors that will complement your dips and spreads. You will be using the vegetables and fruits to scoop up the dips.
Here is the list of fruits, vegetables, and nuts that I use for this vegan appetizer board.
Vegetables: Cherry Tomatoes, Carrots, Celery, Cucumbers, Watermelon Radish, Radishes.
Fruits: Grapes, Apples, Cherries, Strawberry, Blackberries, Pomegranate, Pears, Figs, Persimmon.
Nuts: Pistachios, Almonds, Pecan, Walnut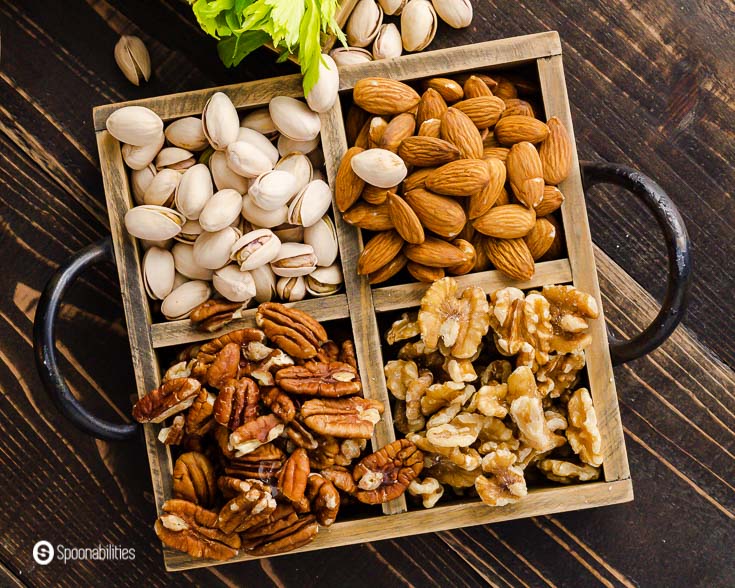 Remember this is a guide for you to craft your vegan grazing table, but feel free to add or remove any ingredients. Use what you have on hand, or store-made, or in season, and most importantly what you and your guests love. If you get a chance to plan ahead, check out our shop for the fantastic products listed in this post. If you haven't subscribed to our newsletter, go and do that now and you will receive a special discount for your first purchase.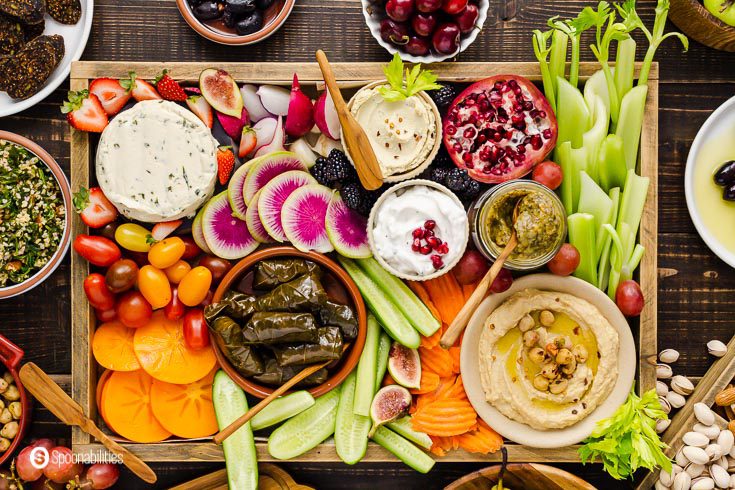 Because grazing tables are all about mixing and matching flavors, always remember that your vegan appetizer board's success depends on picking high-quality ingredients. Don't overcomplicate things. Try to keep your special occasion vegan board varied, using foods of different colors, flavors, and textures; that's what works best!
If you want to dive deep, learn how to make a charcuterie board and apply what you learn to the vegan side of life, and if you want to branch out and add some other appetizers for your party, check out our entire appetizer section for ideas including Air Fryer Vegan Egg Rolls and our Best Vegan Nachos.
I hope you get a chance to make this Vegan Appetizer Board and tag @Spoonabilities on Instagram when you do, or leave us a comment below.  If you're on pinterest, why not add a photo or comment on Pinterest, so we can find you!
And we love to hear from you in the comment section below.
Happy "Vegan-ing"
Carlos Leo
Your Recipe Concierge!
Print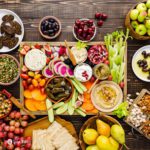 How to Make a Vegan Appetizer Board | Vegan Mezze
---
Author:

Carlos Leo

Total Time:

15 minutes

Yield:

12

Diet:

Vegan
Description
This vegan appetizer board has a combination of flavors, aromas, and textures to please every palate, and it's all vegan! With Greek kalamata olives, vegan fig salami with smoked paprika, roasted eggplant and red pepper spread, hummus, vegan cheese, nuts, and veggies, you need nothing else for a great starter.
---
Greek Kalamata Olives
Hummus
Roasted Aubergine and Red Pepper Spread
Classic Chive Cashew Milk
Vegan Fig Salami with Smoked Paprika
Tabbouleh Salad
Chickpeas Salad
Plant Based Tzatziki Dip
Cashew Spread - Roasted Garlic
Stuffed Grape Leaves - Dolma
Vegan Crackers
Vegetables: Cherry Tomatoes, Carrots, Celery, Cucumbers, Watermelon Radish, Radishes
Fruits: Grapes, Apples, Cherries, Strawberry, Blackberries, Pomegranate, Pears, Figs, Persimmon
Nuts: Pistachios, Almonds, Pecan, Walnut
---
Instructions
Place small bowls with the cashew spread, hummus, stuffed grape leaves, and plant-based tzatziki on a large tray. In a small plate, place the cashew milk cheese. Place the jar of Roasted Aubergine and Red Pepper Spread with a spoon.
Arrange the fruits and vegetables in between the small dishes.
Place the apples, cherries, pears, and grapes in bowls and plates. Then arrange them around the large tray.
Add the salads in small tapas plates and place them near the tray.
Add the kalamata olives in a small dish.
Put the Vegan Fig Salami with Smoked Paprika on a small plate. Cut some slices to invite your guest to take the first piece.
Notes
There is no rule here. Pick any vegan product that you like at your local supermarket or buy at our shop.
Pick any fruits or vegetables that you prefer.
Prep Time:

15

Category:

Appetizer, vegan

Method:

arranging

Cuisine:

Mediterranean, middle-eastern
Keywords: vegan recipe, vegan snack, vegan food, Greek meze, Greek tapas, meze ideas, olives, platter, appetizer, mezze platter, middle eastern food, Greek food, grazing platter, food platter, grazing tables, grazing board, vegetarian recipe, Mediterranean Food, mazza
Recipe Card powered by
The Spoonabilities Guide to Charcuterie Boards
Available via these affiliate links:
Disclaimer: Links that open in another site, i.e. Amazon, may be affiliate links where at no additional cost to you, as an Amazon Associate I earn from qualifying purchases, should you decide to purchase the item. Read our Disclosure Policy.