From a traditional Greek salad, we are elevating the presentation with heirloom tomatoes lying on top of a creamy feta mousse, thinly sliced red onions, and Hellenic Farms Greek kalamata olives. Give the finishing touches with fresh herbs, a drizzle of high quality Greek extra virgin olive oil, and a sprinkle of Greek Sea Salt.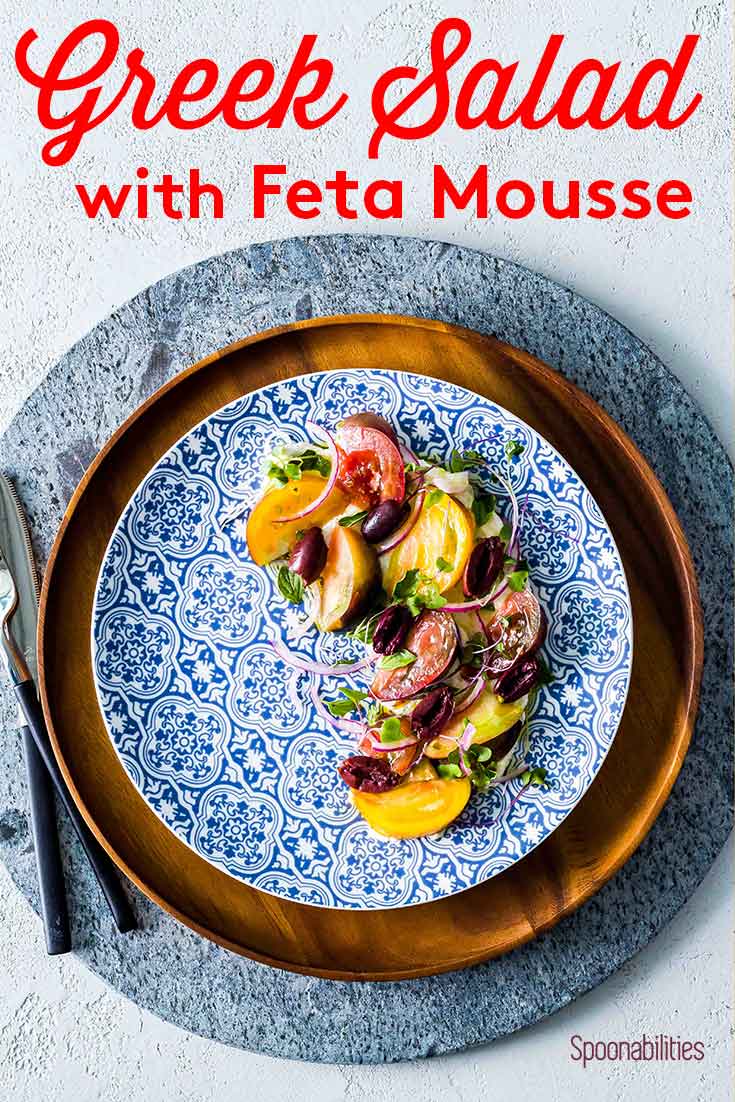 Blog post contains products you can purchase in our online shop, and affiliate links. Read our Disclosure Policy
Hello my friends.
When you think of clean eating and a healthy lifestyle, salads are probably the first thing that comes to your mind. I'm whipping up an utterly delicious Greek salad that is both fresh and flavorful. With few ingredients and an uncomplicated recipe, you can enjoy the best of this tossed veggie salad. Combining your favorite ingredients is the most exciting part of preparing this delicious salad. There are numerous ways to make delicious versions of salad.
The idea behind this salad is to let the fresh vegetables shine by themselves with a simple preparation. Even though we add the feta mousse, the flavor is mellower with a smoother taste for those who don't like much the unique taste of feta cheese.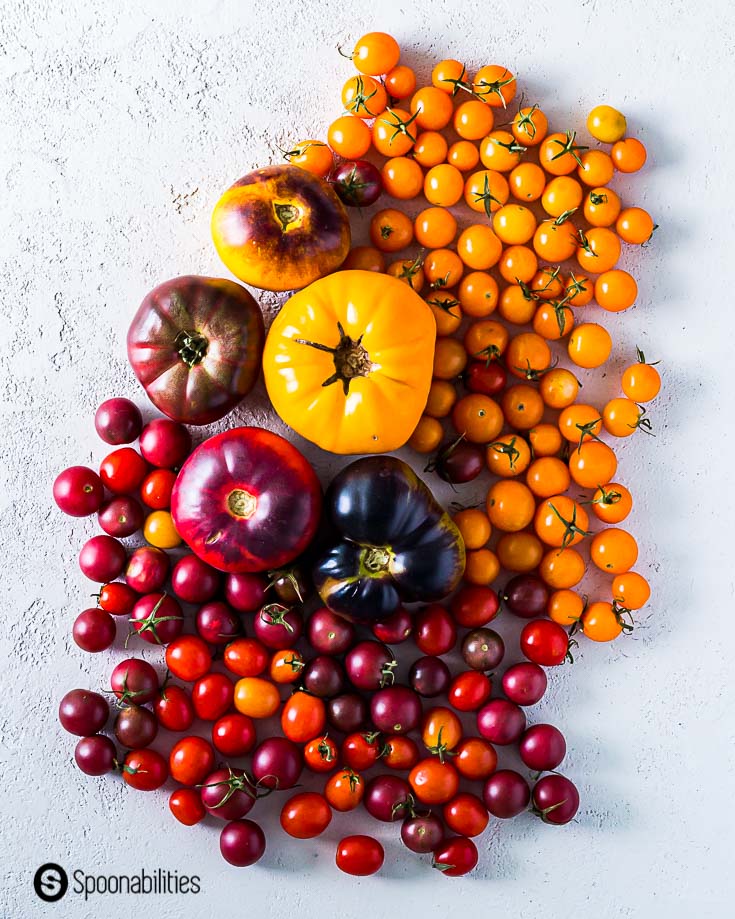 Why Greek Salad?
Besides we just love the taste, Greek salad is your ultimate dish that has plenty of healthy elements. The traditional twist of Mediterranean green salad includes a bunch of vegetables that contain high nutritional value. The veggies used in the salad contain low-calorie elements and are nutrient-dense. They are the best source of Vitamins A and C, potassium, iron, and antioxidants that protects your heart health. Another key element of Greek salads are olives that are considered to be a source of unsaturated fat.
Now to the hero ingredient, feta cheese. Compared to other cheese versions, feta contains lower fat and calories. It's also a good source of calcium and can help boost your immune system. There's no better way of consuming vitamins and minerals that your body deserves. No wonder it has become one of the world's most loved salad. While there are several different variations of Greek salad, this is our favorite. Here's a quick and easy recipe to add nutritional value to your food habits.
Traditional Greek salads feature juicy tomatoes, cucumbers, red onions, and green bell peppers. This iconic dish is then seasoned generously with olive oil, dried oregano, and salt to taste. Olives and creamy feta cheese that are exclusively prepared from sheep's milk are added to the mix. For this simple salad we are omitting the cucumbers and peppers, and adding some microgreens.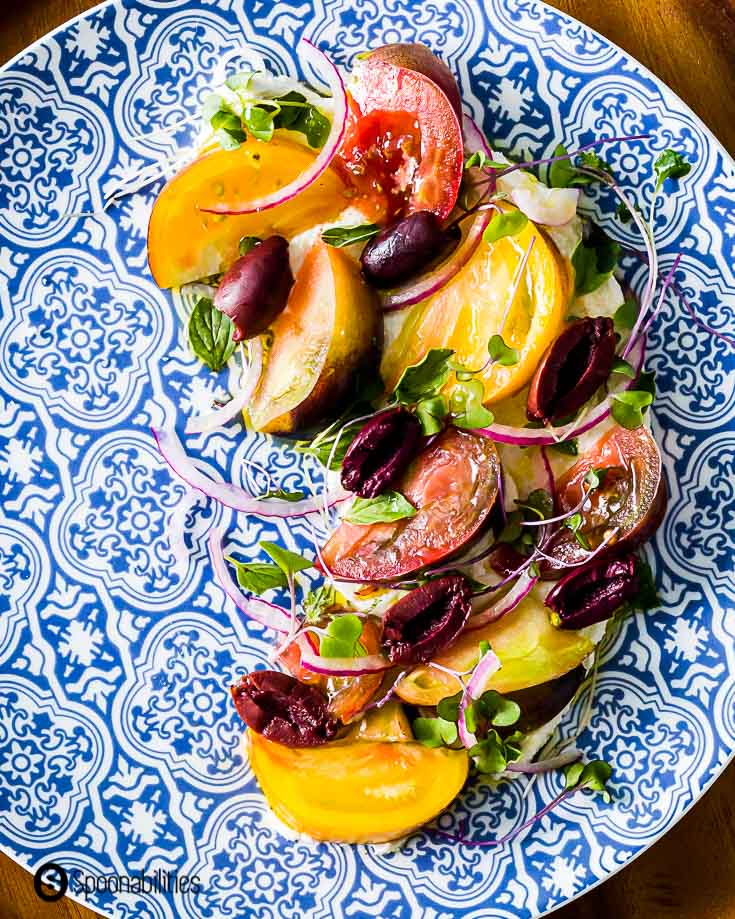 Preparing the Feta Mousse for your Greek Salad
Let's make the feta mousse by first softening the unflavored gelatin in water. Then melt feta and cream in a small saucepan for about a minute or two. Stir the softened gelatin into the saucepan. Add the mixture to the blender and puree until relatively smooth, and season it with white pepper. Blend it well and transfer it into a bowl to refrigerate until the mixture is set - about 30 minutes. Before you start whisking the feta mousse, ensure it is brought back to room temperature about 20 minutes before you start. More details on the recipe card below.
Like this recipe so far? Be the first to know when we release new ones!
---
Plating your Simple yet Gourmet Greek Salad
Let's plate the Greek salad now. Spread the mousse on one side of your plate, forming a half moon and place the heirloom tomatoes, red onions, Kalamata olives, and fresh oregano leaves on top. Drizzle on some high-quality Greek olive oil, and sprinkle on some Fleur de Sel Sea Salt. Adjust the salt to your taste but remember the feta mousse is a bit salty already. Your salad with feta mousse is now ready to serve.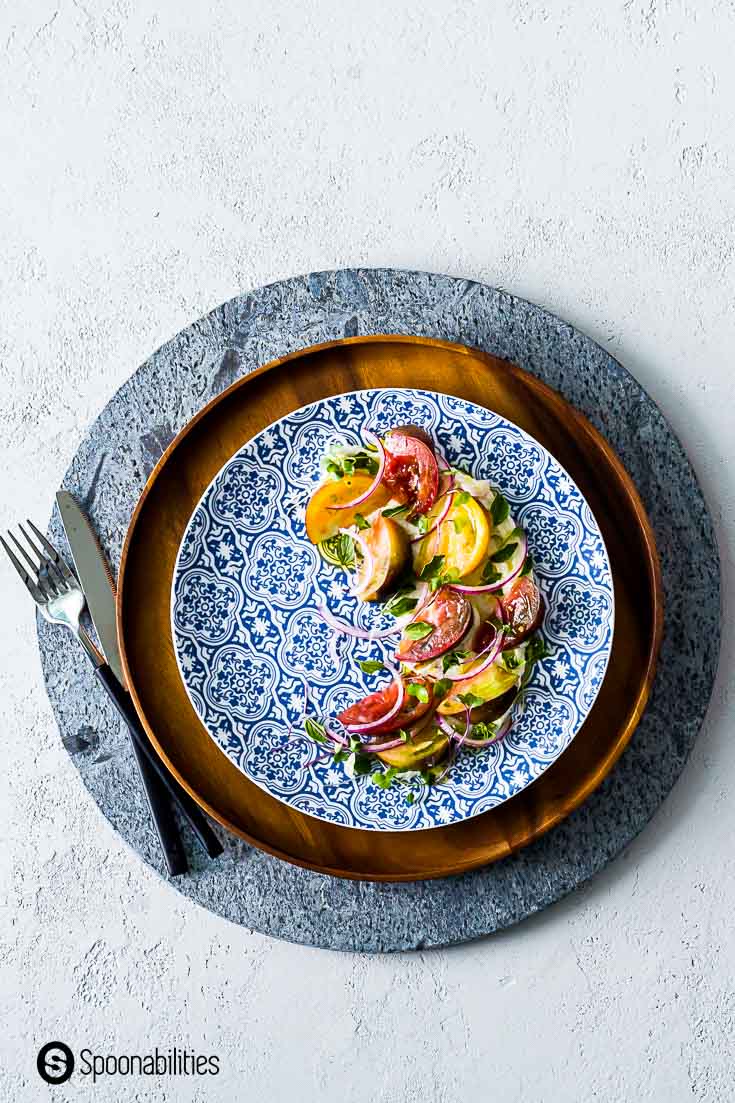 Like this recipe so far? Be the first to know when we release new ones!
---
What can I do with Leftover Feta Mousse?
This creamy-tangy mousse is an extra special tasty twist that will make you gobble this salad down and leave you craving for more. After this recipe you will have some extra feta mousse. But don't worry, I will give you a couple of ideas on how to use it. Remember, "no jars left behind" here, or in this case, no ingredient is left behind without providing great recipe ideas on how to use it.
Compile a veggie sandwich. Spread the feta mousse over two slices of bread. Add a cucumber slice, a large tomato slice, avocado slices, shredded carrot, lettuce, and sprouts. Drizzle on olive oil and some sea salt.
Use the feta mousse as a dip. Add the feta in a bowl, drizzle on some olive oil, and place the bowl on a large plate. In the outside circle, place some freshly cut carrots, cucumbers, or some pita chips.
Serve with fresh watermelon or a Marinated Watermelon Salad with Whipped Feta Dip
Spread on toast to make a crostini with fresh fig.
Change up the feta mousse recipe by adding blended roasted red pepper and mixing both together.
Create a fresh Greek Pizza on toasted pita bread by spreading on the feta mousse; add tomatoes, cucumber, red onion, and kalamata olives.
If you are adventurous, maybe you can add a spoonful of the mousse to a tomato soup.
This recipe was adapted from Food and Wine Magazine's recipe from Chef Gavin Kaysen. The beautiful plating was my creation inspired by the design of the plate with Mediterranean accents. This recipe was posted last summer on Instagram, and finally decided to publish it here at Spoonabilities.com.
More salad recipe ideas for this summer:
Thank you for sharing your time with me, reading this post and supporting us. I hope this recipe inspires you to make this Greek salad with feta mousse. If you decide to make it, please share about it in the comments below or share your creation on social media tagging @Spoonabilities and using the hashtag #NotJarsLeftBehind. Much appreciated. Enjoy!
Carlos Leo
Your Recipe Concierge
Print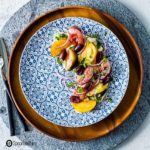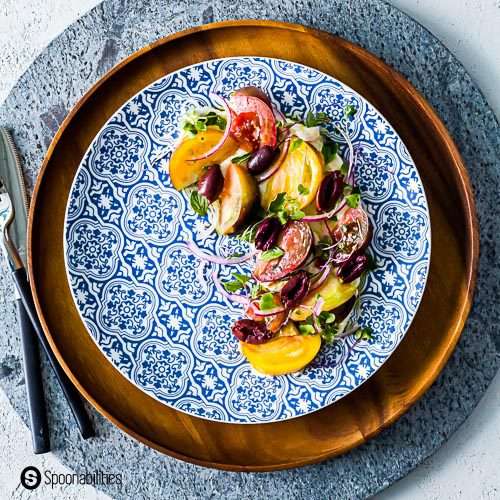 Greek Salad Recipe with Feta Mousse
---
Author:

Carlos Leo

Total Time:

33 minutes

Yield:

4

1

x

Diet:

Vegetarian
Description
This traditional Greek salad has an elevated presentation with a creamy feta mousse and with high-quality ingredients. For this salad, I'm using heirloom tomatoes, Hellenic Farms Greek kalamata olives, thinly sliced red onions, fresh oregano with a few leaves of microgreens. It's lightly dressed with high quality Greek extra virgin olive oil & Sea Salt Fleur De Sel.
---
6

ounces

(1+½ cups) crumbled Greek feta cheese

½

cup

heavy cream

¾ teaspoon

unflavored gelatin softened in 1+½ Tablespoons of water
Freshly ground white pepper

2

+½ pounds sliced & quartered mixed heirloom tomatoes
Sea Salt Fleur De Sel available now in our online shop
Coarsely ground black pepper. Adjust to your taste

¼

cup

LIÁ Premium Extra Virgin Olive Oil available now in our online shop

16

halved pitted kalamata olives available now in our online shop

¼

cup

thinly sliced red onion

1 Tablespoon

fresh oregano leaves
Microgreens - optional
---
Instructions
Dissolve unflavored gelatin in water, in a small bowl. Set aside.
Combine the feta cheese and heavy cream in a small saucepan, and simmer over moderate heat until the feta is slightly melted, about 1 minute. Stir in the softened gelatin and transfer to a blender.
Puree until fairly smooth. Season with white pepper. Scrape the mixture into a bowl and refrigerate until set, about 30 minutes.
Bring the feta mousse back to room temperature - about 20 minutes. Whisk the mousse until loosened.
Spread the mousse on one side of each plate. Top with the tomatoes, halved kalamata olives, thinly sliced red onion, and fresh oregano. Lightly season with fleur de sel sea salt and black pepper.
Drizzle with the Greek extra virgin olive oil
Notes
The feta mousse can be refrigerated for up to 2 days.
Read recipe blog post for more ideas on what else to make with the feta mousse.
Prep Time:

30

Cook Time:

3

Category:

Salad

Method:

blending

Cuisine:

Greek
Keywords: cheese blending, making mousse, Mediterranean salad, vegetarian salad
Recipe Card powered by
Available via these Amazon links:
Disclaimer: Links that open in another site, i.e. Amazon, may be affiliate links where at no additional cost to you, we may receive a small commission should you decide to purchase the item. Read our Disclosure Policy