Mediterranean Orzo Salad is a healthy recipe inspired by the Italian flavors of artichoke hearts, sun-dried tomatoes, capers, and orzo pasta. This summer salad is a great choice to bring to your summer gathering, for a light weeknight meal, and is also a great meal prep idea. Mix this Italian orzo pasta salad with a simple lemony Dijon vinaigrette.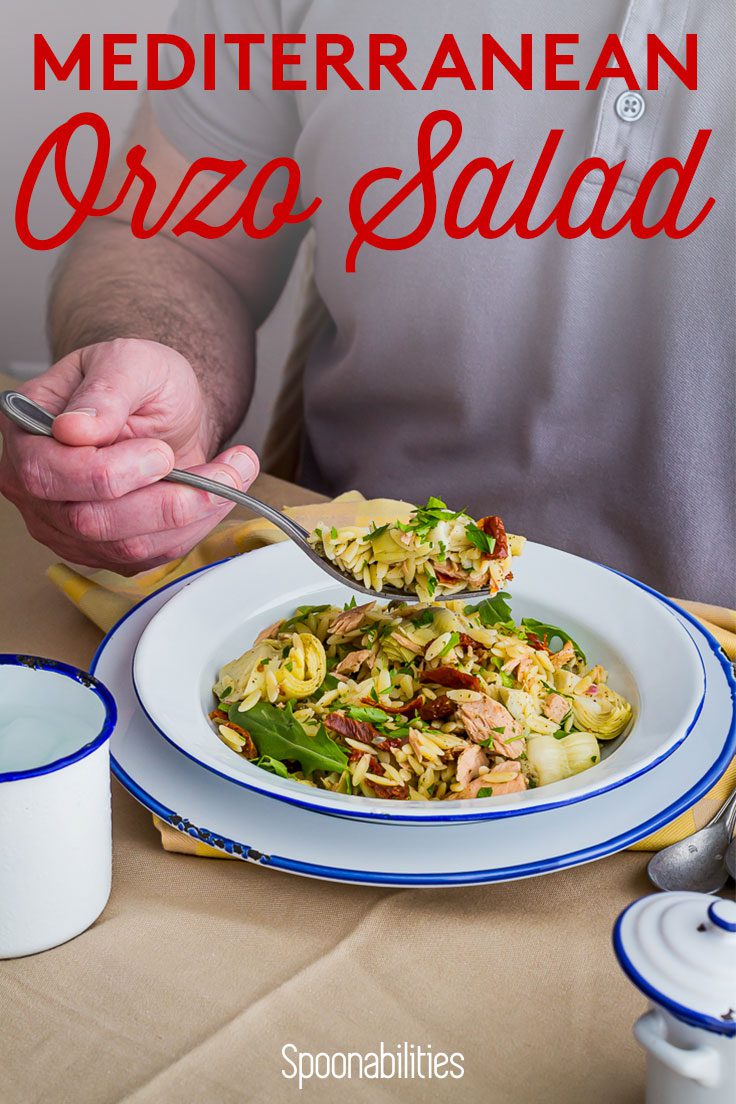 Blog post contains products you can purchase in our online shop, and affiliate links.
Read our Disclosure Policy
Hello my friends. How have you been doing this summer? Here in Miami the weather is SO hot and humid that I prefer to stay in the house near my comfortable air conditioner. Also during the summer season, I like to cook light meals, like cold pasta salad or any effortless recipes like this week's recipe of Mediterranean Orzo Salad. It's effortless because all the ingredients for this salad are pantry staples and you probably already have all or most of them in your home.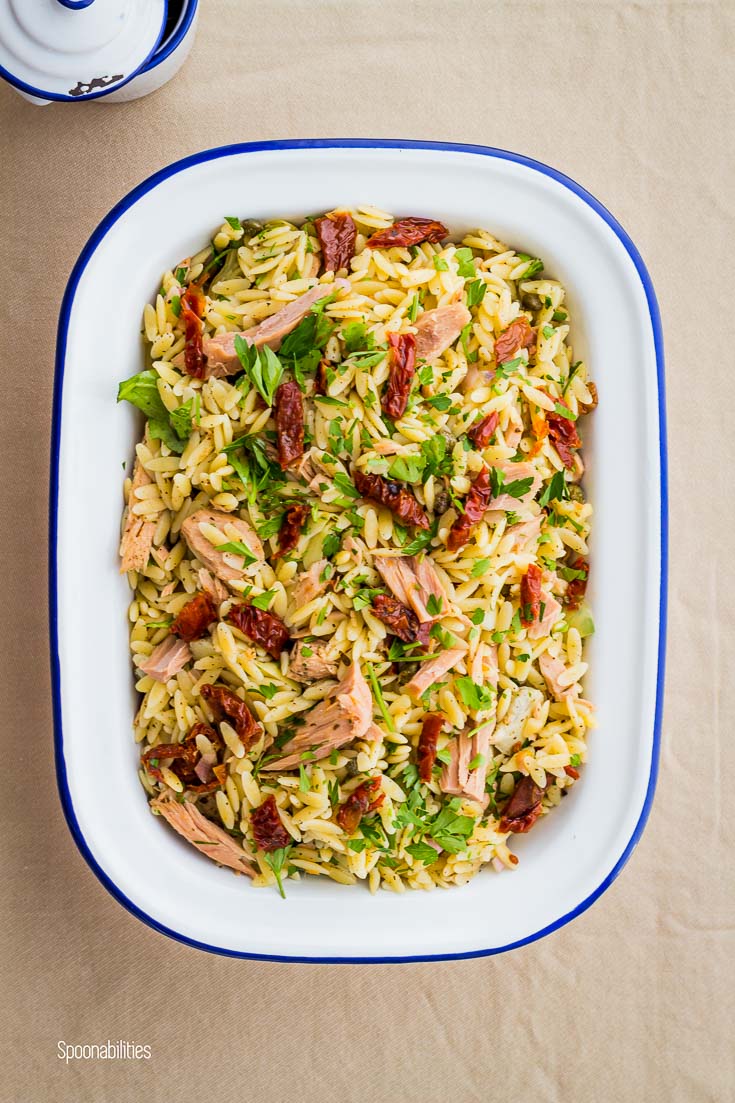 As you all know, I do a monthly collaboration with Flora Fine Foods where I make mouthwatering recipes with their products, and we do a fabulous giveaway each month on Instagram. Make sure you follow us to have the chance to win a Gourmet Basket full of their amazing Italian products. Take a look at these past giveaways on our Instagram feed to see what you have been missing during the months of October, December, January, May & July. As you can see in each contest, the basket is getting bigger and bigger each month, so don't miss out.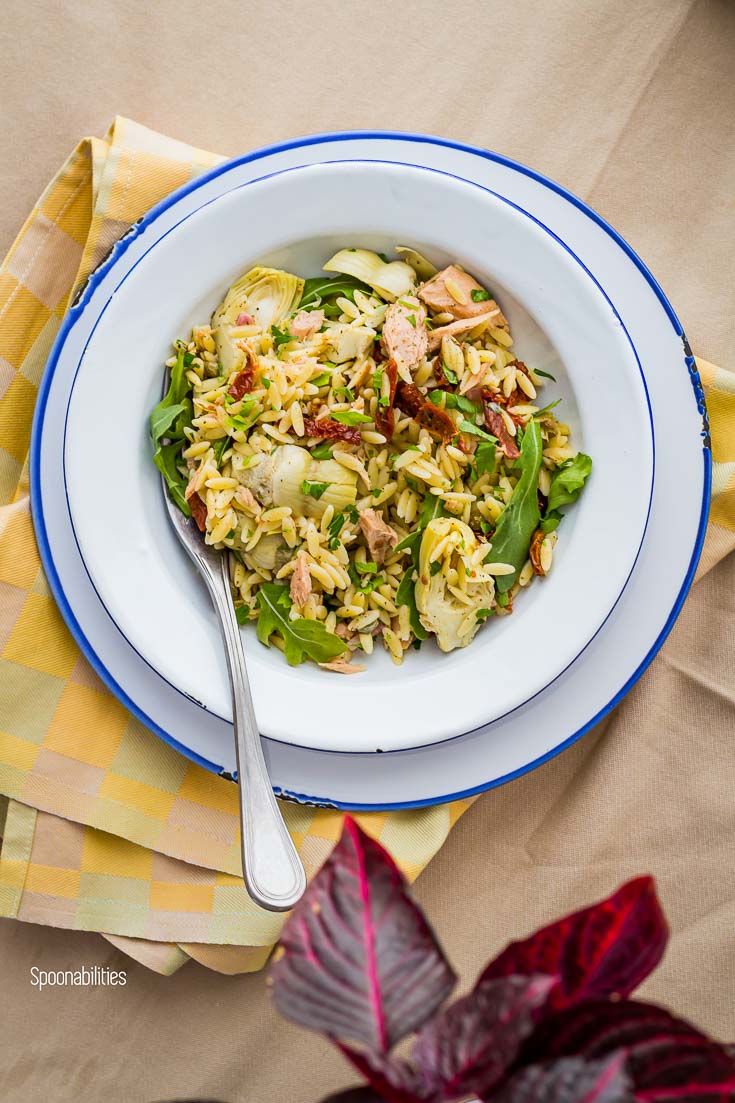 Mediterranean Orzo Salad Ingredients
For this month's Mediterranean Orzo Salad recipe, I selected Orzo Pasta N.32, artichoke hearts, sun-dried tomatoes, capers & olive oil from the Flora Fine Foods pantry. I added chopped parsley and high-quality tuna to add some protein to this salad. All the flavors come together perfectly with a lemony Dijon Mustard Vinaigrette. I cannot tell you enough that for a simple salad like this one you must use high-quality ingredients. As a side note, buy the best canned tuna you can find. I personally use Tonnino Tuna Fillet in Water. The price tag is a little high, but you get what you pay for. Geoffrey gets upset with me because with what I pay for one jar, we can buy 3 or 4 of the other canned tuna. He sure doesn't complain when he's eating my tuna creations though.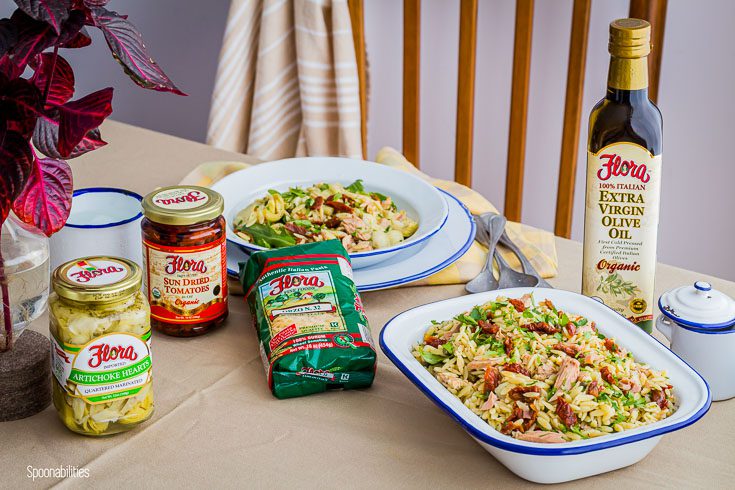 Lemony Dijon Mustard Vinaigrette
This vinaigrette is super simple. In a mason jar, add chopped shallot, dried oregano, Organic Olive Oil, grated garlic, black pepper, lemon juice, and from the Spoonabilities shop I use Greek Sea Salt and Edmond Fallot Traditional Dijon Mustard. Close the jar and shake until all that goodness is well combined. TIP: As a side note, I don't add onions because Geoffrey doesn't like the raw onion flavor. But instead I use shallots in the vinaigrette, and when the shallots marinate in the vinaigrette their flavor gets mellowed out.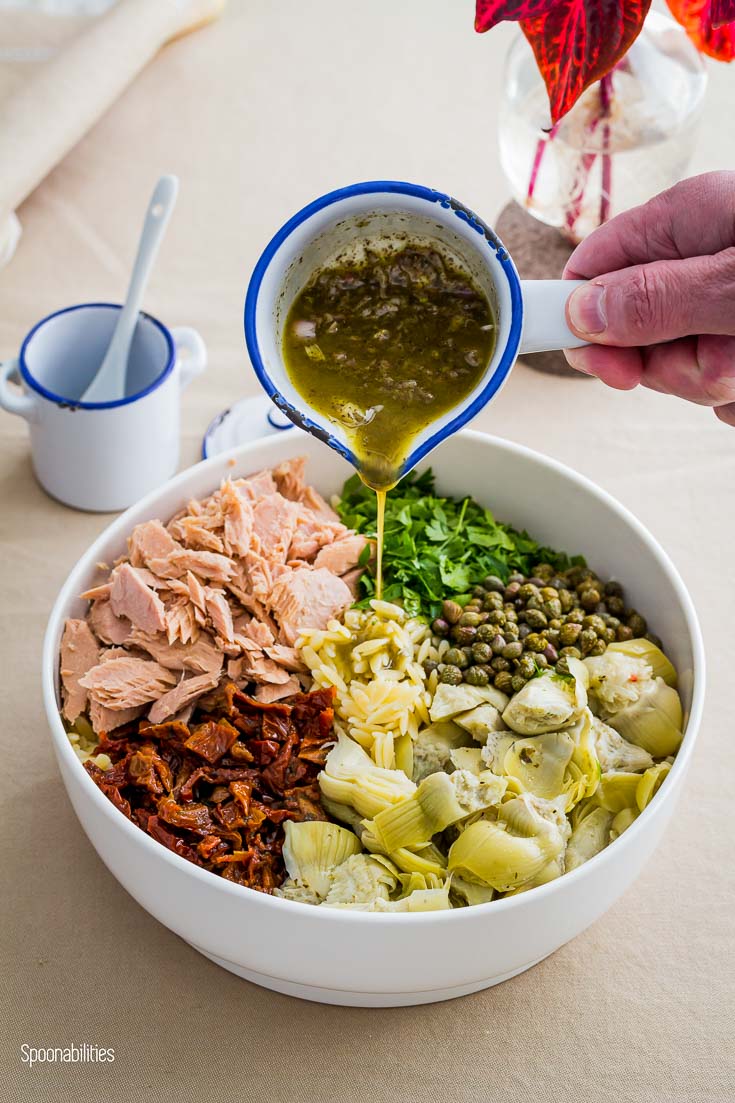 How to keep your salad from getting too oily
Here's a tip to keep your Mediterranean Orzo Salad on the light side and prevent it from getting too oily. When you take the sun-dried tomatoes out of the jar, place them on a plate with a paper towel to remove the excess oil. You can do the same with the artichoke hearts and capers to remove some of the brine. The salad dressing is very light, lemony and complements the other flavors perfectly. You can adjust the dressing ingredients to your taste or add some other of your favorite ingredients. The best part about this salad is that it's "mayonnaise free."
How to customize your Mediterranean Orzo Salad
What I mean by "customize" is you can substitute some of the ingredients or add extra ingredients to the current recipe. But be careful because some ingredients can overlap each other. Some suggestions are:
You can add vegetables or lettuce to the orzo salad like celery, red onion, arugula, watercress, scallions, spinach, and/or roasted red pepper. Also, at the moment of serving you can add fresh tomatoes.
You can add herbs like basil, dill, cilantro, wild thyme, tarragon and sage.
You can add feta cheese or bocconcini (small mozzarella balls) to the orzo salad.
You can add different spices like Cajun seasoning, dried thyme, garlic powder, or lemon herb seasoning.
You can add any kind of nuts. I think toasted pine nuts are a great match.
You can add other proteins to the orzo salad instead of tuna, such as cooked chicken, shrimp or hard boiled eggs.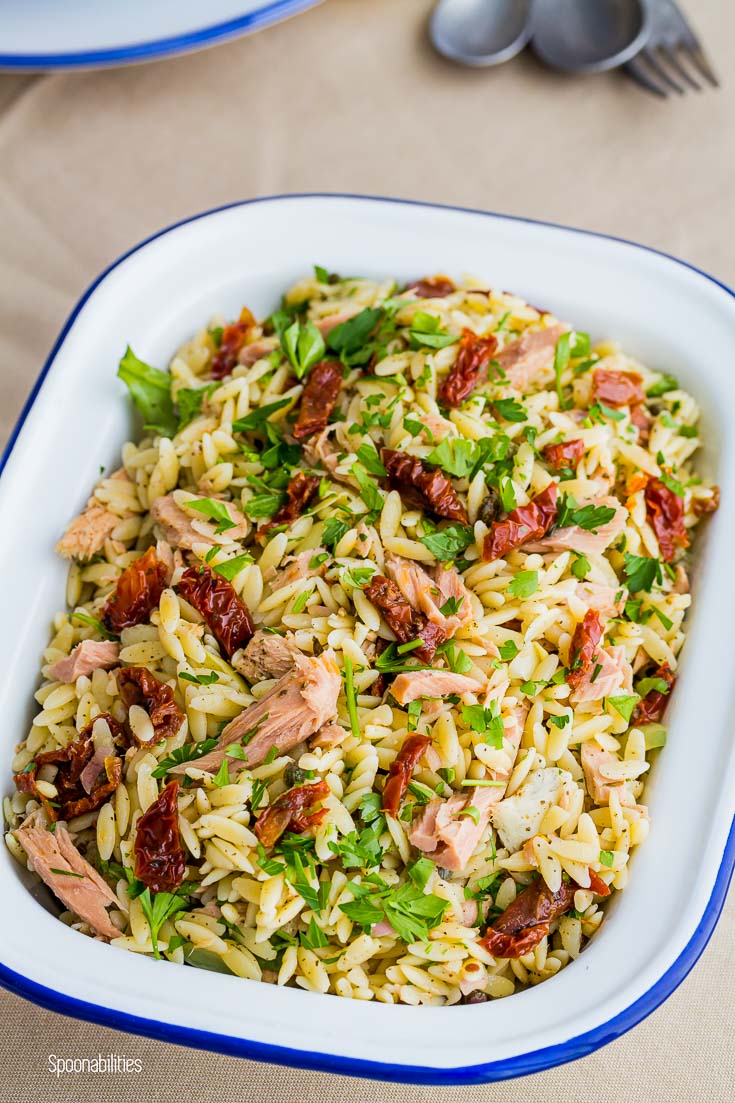 What should I make with leftover Tuna Orzo Pasta Salad ingredients?
For this recipe, in most cases you will use the whole jar of the ingredient. But in case you don't, here are some recipes you can make to use your leftover jar of…
I hope you get to make this delicious recipe for Mediterranean Orzo Salad with Tuna, Artichoke & Sun-dried Tomatoes, or one of the other recipes above. Leave me a comment below with what you think about this recipe, and let me know if you will give it a try. Share this recipe with your social media friends and tag us @spoonabilities and use the hashtag #Spoonabilities. Thank you.
Wishing your Tasty Happenings,
Carlos Leo
Your Recipe Concierge!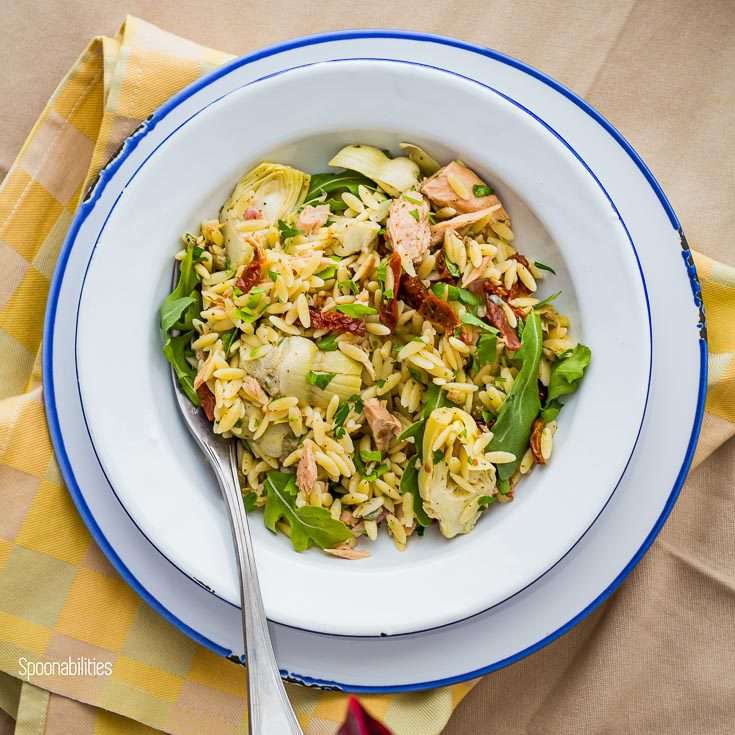 Print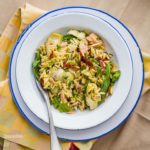 Mediterranean Orzo Salad with Tuna, Artichoke & Sun-dried Tomatoes
---
Author:

Carlos Leo

Total Time:

28 minutes

Yield:

8

serving

1

x
Description
Mediterranean Orzo Salad is a great make-ahead summer pasta recipe with Italian flavors like artichoke hearts, sun-dried tomatoes, capers, orzo pasta, and high-quality tuna. All these wonderful ingredients are mixed together with a light and lemony Dijon Mustard Dressing.
---
For Orzo:
1

-

½

cups

dried orzo (about 9 oz.)
1

14

-

oz

. can of artichoke hearts, drained and quartered

½

cup

oil-packed sun-dried tomatoes drained and cut in julienne style.
1

6.7

-

oz

. can water-packed solid white tuna, drained. I added two for extra protein.

¼

cup

capers, drained

3 Tablespoons

flat leaf parsley, coarsely chopped
Sea salt
For the lemon Dijon Mustard Dressing:
3 Tablespoons

olive oil - See if need more.

1 Tablespoon

freshly squeezed lemon juice

1 teaspoon

Traditional Dijon Mustard which you can purchase in our online shop

1 teaspoon

dried oregano

1

small clove garlic, grated

½ teaspoon

fine sea salt

¼ teaspoon

ground black pepper

1 Tablespoon

shallot, finely chopped
---
Instructions
Bring a large pot of well-salted water to a boil. Add the orzo and cook according to the package. Drain well and transfer orzo to a large mixing bowl.
Prepare the dressing: In a mason jar add the chopped shallots, olive oil, lemon juice, Dijon mustard, oregano, grated garlic, sea salt, and black pepper. Shake well and set aside.
In the mixing bowl with the orzo, add the tuna, quartered artichoke hearts, julienned sun-dried tomatoes, capers & parsley. Pour the dressing & toss until evenly combined.
Taste and season with salt and pepper as needed. You are ready to serve.
Leftover pasta salad can be refrigerated in an airtight container for up to 3 days.
Prep Time:

20 minutes

Cook Time:

8 minutes

Category:

Lunch

Method:

tossing

Cuisine:

Italian
Recipe Card powered by
Available via these Amazon links:
Disclaimer: Links that open in another site, i.e. Amazon, may be affiliate links where at no additional cost to you, we may receive a small commission should you decide to purchase the item. Read our Disclosure Policy