This aromatic spongy Persian Almond Cardamom Pistachio Cake has been freely spiced with cardamom and is heavy on the eggs for a dense but moist cake. Instead of vegetable oil, we use LIA Greek Extra Virgin Olive Oil. We also have below a video to walk you through the steps.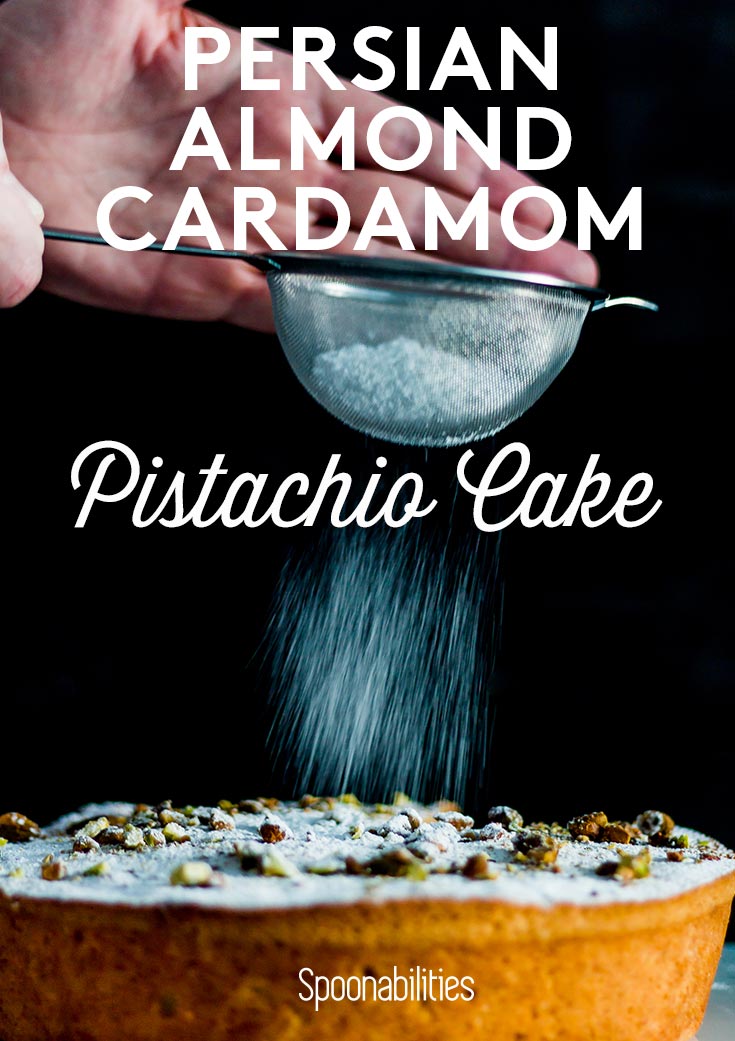 Blog post may contain affiliate links. Read our Disclosure Policy. All photographs are copyright Carlos Leo, Spoonabilities
Hey my friends, this week I have for you my new "favorite" coffee cake. I originally found it during my research for Passover desserts and unique desserts of Jewish holidays throughout the year. This cake recipe was featured in an article by An Iranian Seder in Beverly Hills with the name "Almond Cake With Cardamom and Pistachio." This article is about an Iranian Jewish family who settled in California in 1979.
Almond Cardamom Pistachio Cake Video
Here is a little history lesson I learned from reading this article:
"Iran has one of the oldest known Jewish communities, going back over 2,500 years to when Jews fled the land of Israel after the destruction of the First Temple."
It's pretty amazing to learn other country's traditions. "Food and feasts were a part of life for us," said Angella Nazarian, one of Mrs. Maddahi's daughters, who has just published a memoir of the Iranian Jews' arrival in the United States, titled "Life as a Visitor". If you want to read more about this fantastic article, go to the New York Times.
Persian Almond Cardamom Pistachio Cake Photoshoot
This cake is easy to make, but the best part was taking the photographs of the cake.  Most of the time when I shoot food, I do it in the morning because the sunlight is more stable. My condo faces the city of Miami – the west side - and after 12:00 pm the sunlight hits my whole place and the light is too intense. So the mornings are best for a lot of indirect sunlight. Sometimes when there are a lot of clouds, the quality of lighting is unstable as the sun comes out, then behind a cloud, then back out again. Besides being extremely frustrating during the picture taking, the post-shoot editing part becomes too difficult to achieve the look I want.
This time I decided to shoot for the first time early in the evening to get a dark background with a bright food. It was a lot of fun and I got so excited that I ended up taking over 200 pictures.  It was crazy!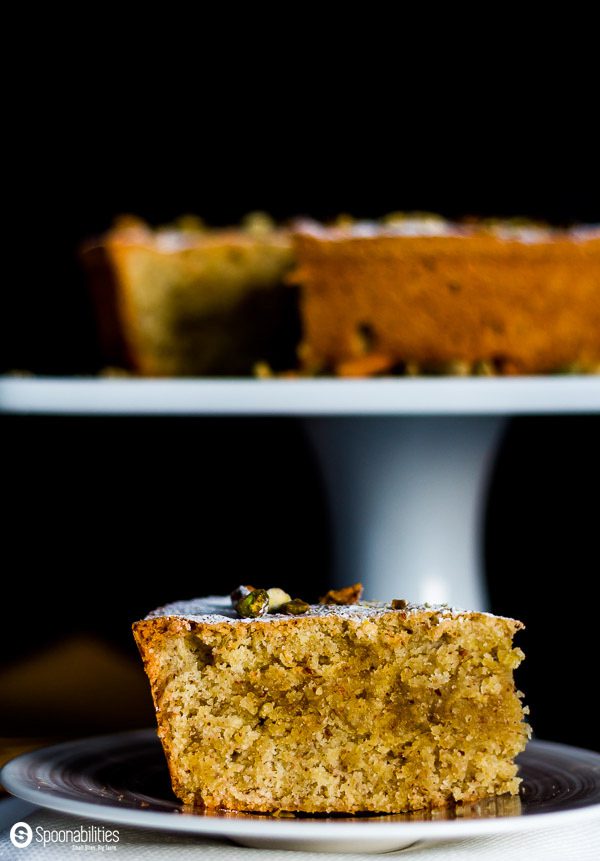 I really love the flavor of this Persian Almond Cardamom Pistachio Cake. I love adding cardamom to any dish, savory or sweet, to give it an extra warm taste and aromatic fragrance.
Like this recipe so far? Be the first to know when we release new ones!
---
If you are looking for more Jewish traditional dessert recipes for Hanukkah or Passover, check out these recipes.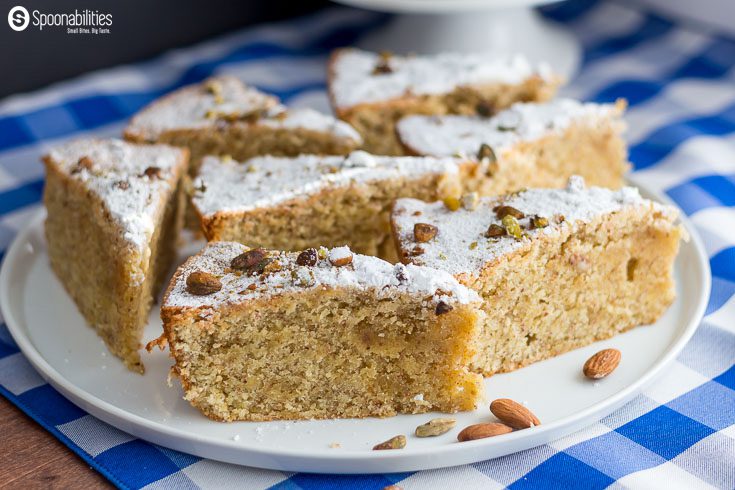 This is a flour-less cake made with almond meal, and to accentuate the flavor I added almond extract. One thing that is different from the original recipe is that I use LIÁ Premium Extra Virgin Olive Oil instead of vegetable oil. We have a number of baking recipes here using EVOO instead of vegetable oil or cooking oil.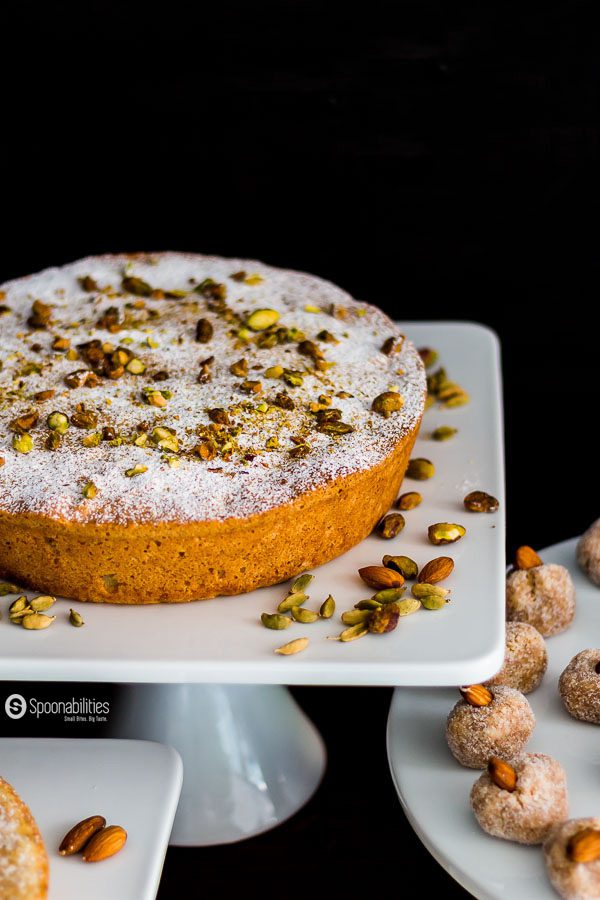 I hope you get a chance to make this Persian Almond Cardamom Pistachio Cake. Did you make this or another recipe? Tag @Spoonabilities on Instagram or add a photo or comment on Pinterest, so we can find you! And we love to hear from you in the comment section below.
Have a fun week!
Carlos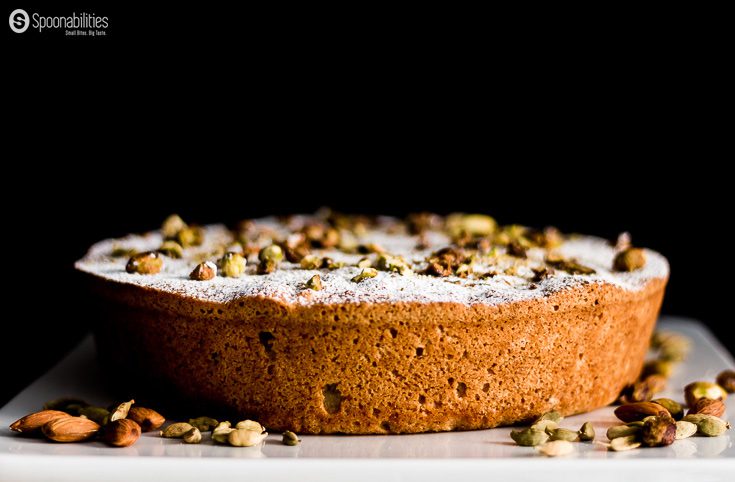 Interested in more cake recipes?
Print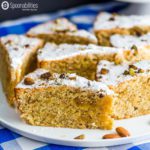 Persian Almond Cardamom Pistachio Cake
---
Total Time:

90 minutes

Yield:

1

2

1

x
Description
Persian Almond Cardamom Pistachio Cake is a moist and aromatic dessert recipe. It can be served during Passover using Kosher's confectionary sugar and matzo meal instead of almond flour. If you want more of an Iranian flavor, add two Tablespoons of rose water. This cake is delicious with a hot Persian Tea (Chai) or Turkish coffee.
---
½

cup

LIÁ Premium Extra Virgin Olive Oil, plus additional for pan which you can order from our past supplier, Hellenic Farms

7

large separated eggs

1

cup

sugar

1 Tablespoon

almond extract

4 ½

cups

plus

1

tablespoon

almond flour

2 teaspoons

ground cardamom

1

to

2

Tablespoons confectioners' sugar, for dusting

3

to

4

Tablespoons finely chopped pistachio nuts, for garnish
---
Instructions
Heat oven to 350 degrees. Oil a 9-inch round or square pan and set aside.
Whisk egg whites using a stand mixer until stiff but not dry, and set aside.
Combine egg yolks and sugar in a medium bowl, and whisk to blend. Whisk in almond extract and oil. Add almond flour and cardamom.
Gently stir a third of the whites into the batter, then gently fold in the rest until just incorporated.
Pour batter into prepared pan. Bake until a toothpick inserted in the center comes out clean, about 50 minutes.
Allow to cool for 10 minutes, then remove from pan and finish cooling on a rack. To decorate, dust with confectioners' sugar and chopped pistachios.
Prep Time:

30 minutes

Cook Time:

50 minutes

Category:

Dessert

Method:

baking

Cuisine:

Middle East
Nutrition
Serving Size:

1 slice

Calories:

524

Sugar:

2 g

Sodium:

55.1 mg

Fat:

29.4 g

Carbohydrates:

61.4 g

Fiber:

25.7 g

Protein:

20.8 g

Cholesterol:

108.5 mg
Recipe Card powered by
Available via these Amazon links:
Disclaimer: Links that open in another site, i.e. Amazon, may be affiliate links where at no additional cost to you, we may receive a small commission should you decide to purchase the item. Read our Disclosure Policy.