This Easy Vanilla Homemade Ice Cream Base takes 2 minutes to make. It's the perfect quick, "Easy 1-2-3" way to make vanilla ice cream or be the base to use for all your favorite ice cream flavors. Just add one of your favorite jams or fruit preserves or other flavoring to make it your own. It's a no-cook, no-egg, no-stress recipe that will have you making ice cream every time you get a craving for it, which in this house is all the time.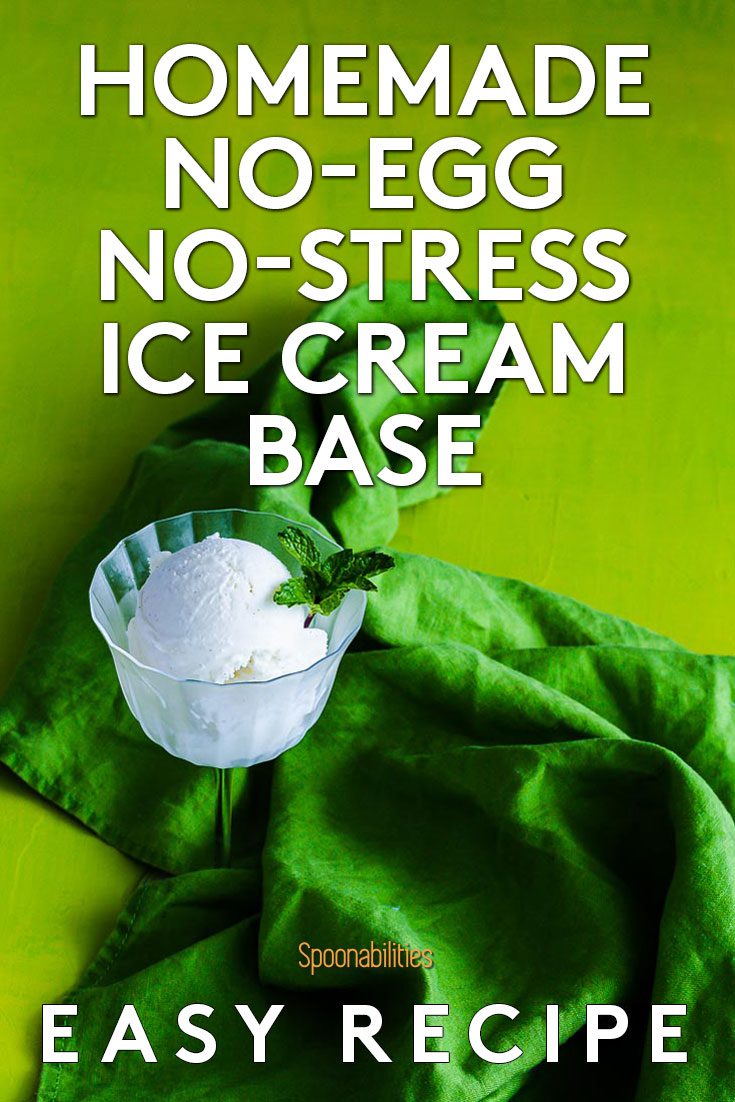 Recipe post may have affiliate links; read our disclosure policy. Photographs ©Carlos Leo, Spoonabilities

Hello my friends. Today we're bringing you a very easy, no-cook, eggless, vanilla homemade ice cream base. Wow, that's a lot of adjectives, but they are all necessary to rightly describe this dessert recipe. You probably have no idea how vast the subject of ice cream is. We are actually in the middle of compiling a comprehensive guide to everything ice cream, and we didn't realize all the intricacies of this delicious frozen dessert. To begin, here are the basics that you may want to know, and which types of ice cream recipes we have available here at Spoonabilities.
What is Ice Cream?
In the simplest terms, ice cream is a sweet frozen food usually eaten as a dessert or snack/treat. It typically is made from cow's milk or cream, sugar, and some flavoring. However that is just a base line. There are many possible alternatives to cow's milk including soy or any nut milk; alternatives to sugar including honey, corn syrup, and artificial sweeteners; and thousands of different flavoring agents that you can use. The mixture is usually stirred or churned to add air, and then frozen and enjoyed.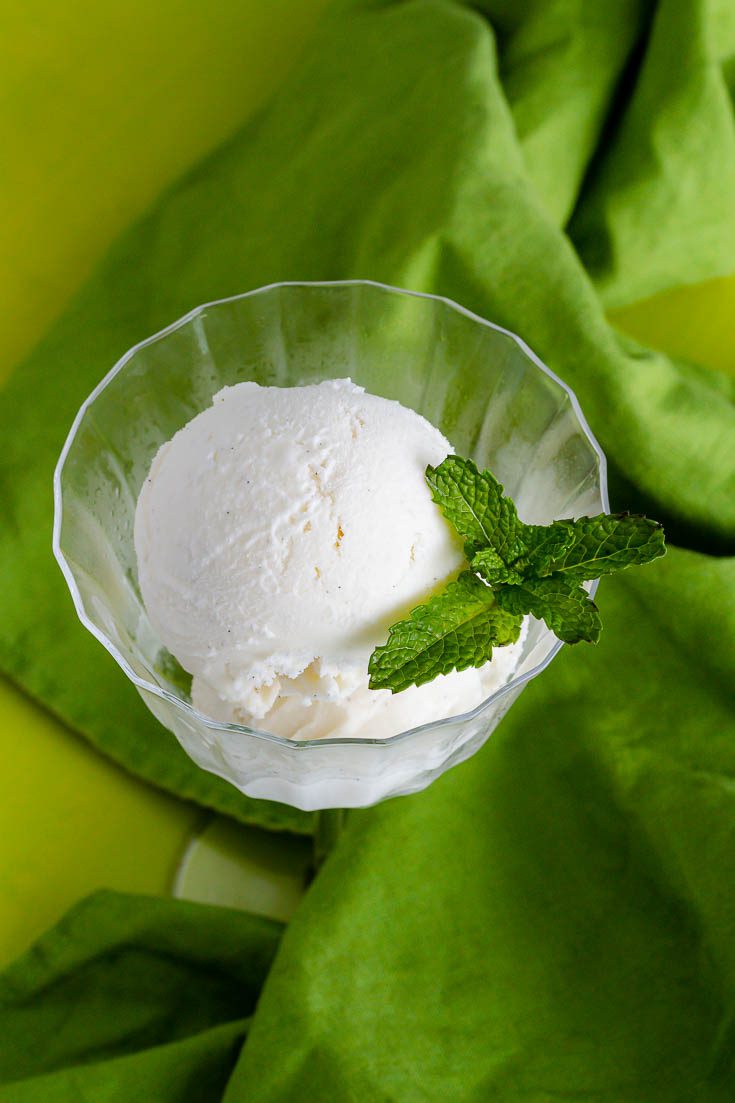 What kinds of Ice Cream are there?
This is a very basic list, but will help you understand a little what different ice cream recipes we have here for you.
With or Without Eggs, that is the question
Almost all store bought ice cream, or that you would get at a restaurant or ice cream shop, has eggs in it. Egg yolks are mostly fat and protein. Fat freezes differently than cream, and creates a softer, creamier, and more stable ice cream. Egg yolks also have emulsifiers that leverage the butterfat in cream and milk to create more of a creamier texture than eggless ice cream. Egg yolks also make ice cream more stable so it doesn't melt as quickly, giving you a few extra minutes to enjoy before it turns back to cream in your bowl, or dripping down your hand, and this extra stability increases the shelf life on your ice cream in the freezer. And of course, ice cream with eggs tastes better than without.  That being said, eggs do add extra fat and cholesterol to your ice cream. They also compete with the other flavors in your ice cream, so if you are making an ice cream with delicate flavors, those flavors may not be that strong with a lot of eggs.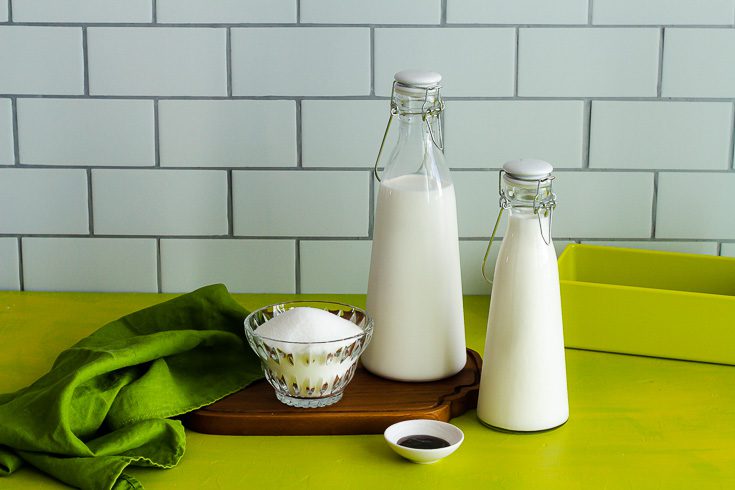 What's the difference between Homemade and Semi-homemade Ice Cream?
Homemade ice cream is pretty self-explanatory. It is making the ice cream completely from scratch, mixing all the raw ingredients together and churning the mixture with an ice cream machine. Most of the ice cream recipes here at Spoonabilities are homemade.  Semi-homemade makes the process much easier. Instead of creating your own homemade ice cream base, you just take some store-bought vanilla ice cream, thawing it out a little bit, adding your own flavoring, mixing and re-freezing. For a quick and easy ice cream, this is the fastest way to create your own flavors.
Here are some semi-homemade ice creams for you to try:
Like this recipe so far? Be the first to know when we release new ones!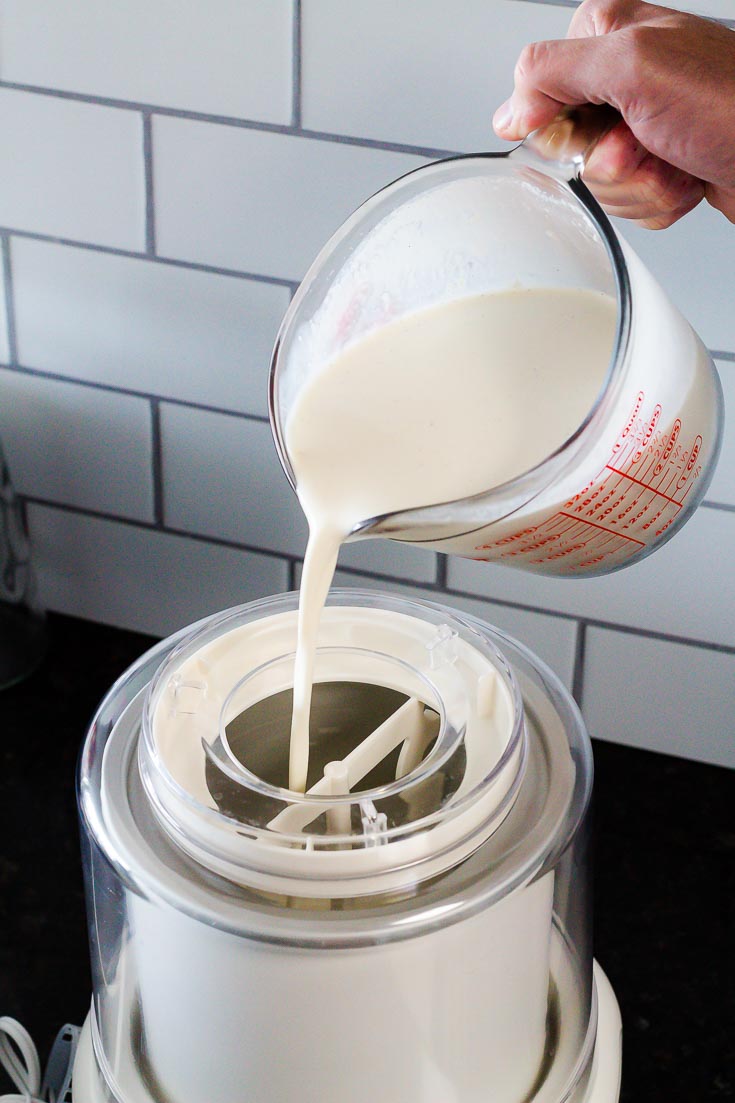 Do I need to turn on the stove to make a Homemade Ice Cream Base?
There are several different processes to make ice cream. Here at Spoonabilities we have two different base processes. Below we have the no-cook homemade ice cream base that you can use with many ice cream recipes we made for you. Basically you mix all the cream and sugar together, churn the mixture with your favorite flavoring, freeze, and enjoy. We also have some ice cream recipes where you heat up corn syrup, sugar, dry milk, xanthan gum, and whole milk on the stove. After they are all combined you add the cream and refrigerate before churning. The process and ingredients we use for our heated ice creams is direct from the Salt & Straw Ice Cream Cookbook. The goal is creating a base that is approximately 58% water, 17% fat, 11% milk solids, and 14% sugar, because "less fat means a denser texture and flavor that hits your pallet more quickly."  Some of the ice creams we have done using this process are:
What flavors can I make with this no-cook, eggless, homemade, Homemade Ice Cream Base?
The amount of different flavored ice cream you can create is almost endless, especially with this eggless base which will bring out the full flavor of whatever flavor you add.  The recipe card below creates a perfect vanilla ice cream. If you use this vanilla ice cream recipe as a base for more flavors, you should reduce the amount of vanilla from 1+½ teaspoons to just a ½ teaspoon. You want your intended flavor to shine.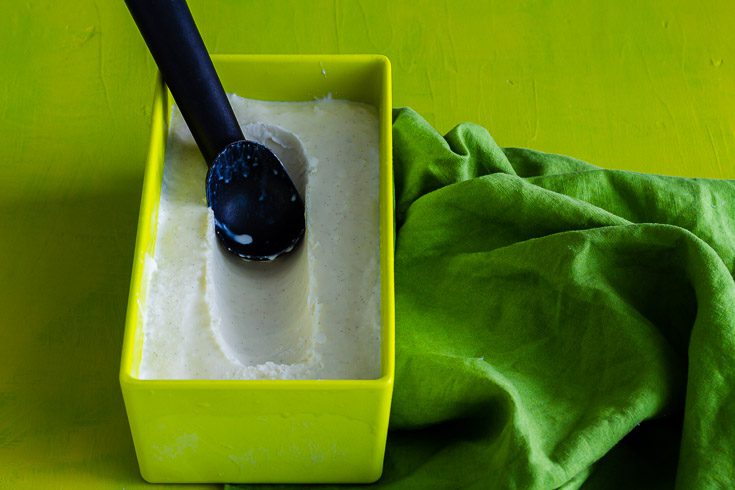 I am happy that you are interested in making your own ice cream at home. It's a great way to have a chilly delicious dessert whenever you want it at home, plus you can control the amount of sugar yourself. Beyond the ice creams we mentioned already, we also made some variations to make a Honey Labneh Ice Cream with Leatherwood Honey and some Coconut Cream Lingonberry Pops.
If you have any questions about this homemade ice cream base, or any of our ice creams, please let us know in the comments below. We are here to assist you.  If you do make an ice cream from this vanilla ice cream base recipe, please share some pictures of what you created and let us know how it went for you. Tag us @Spoonabilities on Instagram and on all social media. We would love to hear from you.
Happy Churning!
Geoffrey & Carlos
Print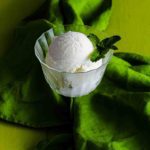 Easy Vanilla Homemade Ice Cream Base, and add any other flavor
---
Description
This Easy Vanilla Homemade Ice Cream Base is a no-cook, no-egg, no-stress recipe. It takes 2 minutes to make (the base, not the ice cream). Just add your favorite flavoring near the end of the churning and freeze. If you are curious about the difference between egg and no-egg, cook and no-cook, homemade and semi-homemade ice creams, check out the recipe post above. We also give many flavoring ideas so you never have to run out of ice cream in your freezer.
---
2

cups

half & half

1

cup

heavy cream

½

cup

sugar

1 ½ teaspoons

vanilla paste
pinch of sea salt
---
Instructions
Combine all ingredients in a bowl, and mix well until sugar is incorporated fully. Chill in refrigerator for several hours before churning.
Start ice cream maker and pour in mixture. Churn for 20-40 minutes or until desired consistency.
Put in plastic container and freeze
Notes
Variations: Add in any of our jams or chutneys for a special treat, or any other flavors you like. I recommend only using ½ teaspoon of vanilla if you are using different flavors
This is for use in an ice cream maker that holds a max of 1 quart (4 cups) of mixture.
Freeze the freezer bowl for 24 hours prior to use, and chill prepared mixture in refrigerator before churning
Prep Time:

2 minutes

Category:

Dessert

Method:

freezing

Cuisine:

International
Recipe Card powered by
Available via these Amazon links:
Disclaimer: Links that open in another site, i.e. Amazon, may be affiliate links where at no additional cost to you, we may receive a small commission should you decide to purchase the item. Read our Disclosure Policy.