This delectable olive oil ice cream has a silky texture with a balanced consistency, and an unforgettable taste & luxurious mouthfeel. In addition to how to make this mildly sweet ice cream, you will learn tips to help you pick the best extra virgin olive oil for ice cream, and watch an inspirational video of the story about LIÁ premium extra virgin olive and its flavor profile.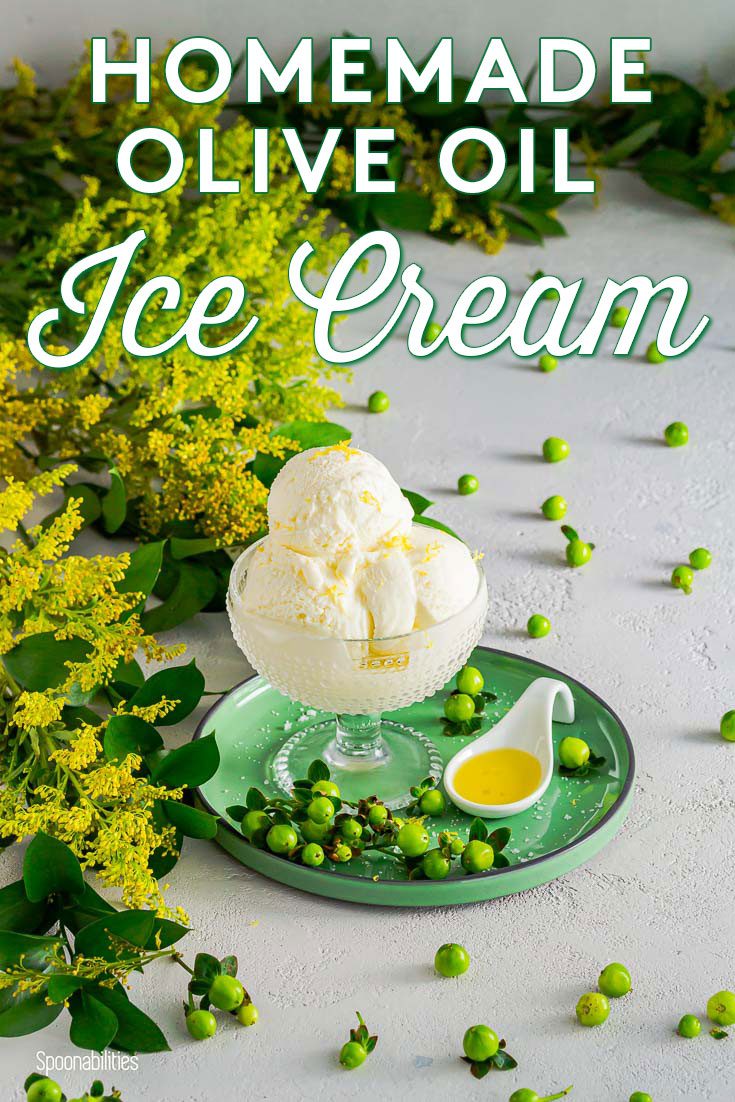 Blog post contains products you can purchase in our online shop, and affiliate links.
Read our Disclosure Policy
Hello my friends. I can't believe how fast the months of summer went. I still have three summer recipes to share with you including this Olive Oil Ice Cream. But at the same time, last weekend I started to make and photograph Autumn recipes, and I'm still in the planning stage of selecting pumpkin recipes and Fall recipes. I know I always get a little bit behind planning my recipes ahead a time, but it takes me a long time to decide which recipes I want to make for you. One of my dreams is to share a least two recipes per week, but having a full-time job doesn't give me a lot of time to write more than one blog post per week. I used to make and photograph several recipes in one or two days, but lately my body doesn't give me that luxury and at the end of the day I feel as if a truck ran over me. Also, the creativity starts to fade away when I get tired.  Maybe you have the same issues after a long day?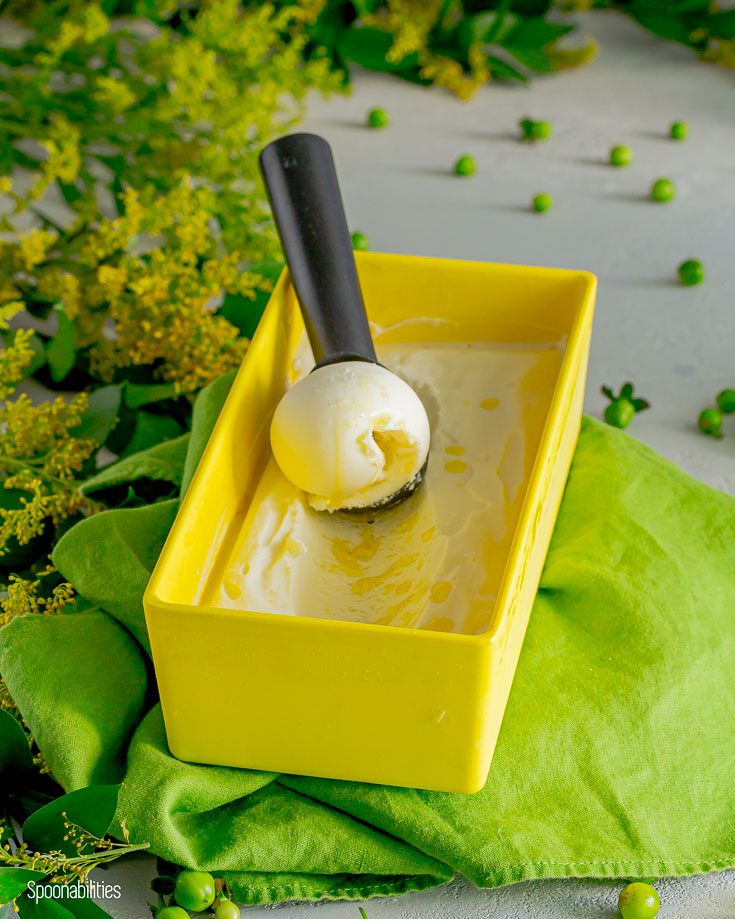 It has been a while since I first thought about making this olive oil ice cream, but I never was able to add it into my recipe calendar for the summer. If you notice all the ice cream recipes I shared this summer, I use an eggless ice cream base. The basic ice cream base was inspired by the "Salt & Straw" cookbook. I love the simple recipes and how they transform a simple ice cream base into a flavorful and incredible flavor combination.
It's important to highlight that the quality of your ingredients and the perfect ice cream base gives this olive oil ice cream an incredible delicate, smooth, silky like texture, balanced consistency, and an exquisite flavor with unforgettable taste & luxurious mouthfeel.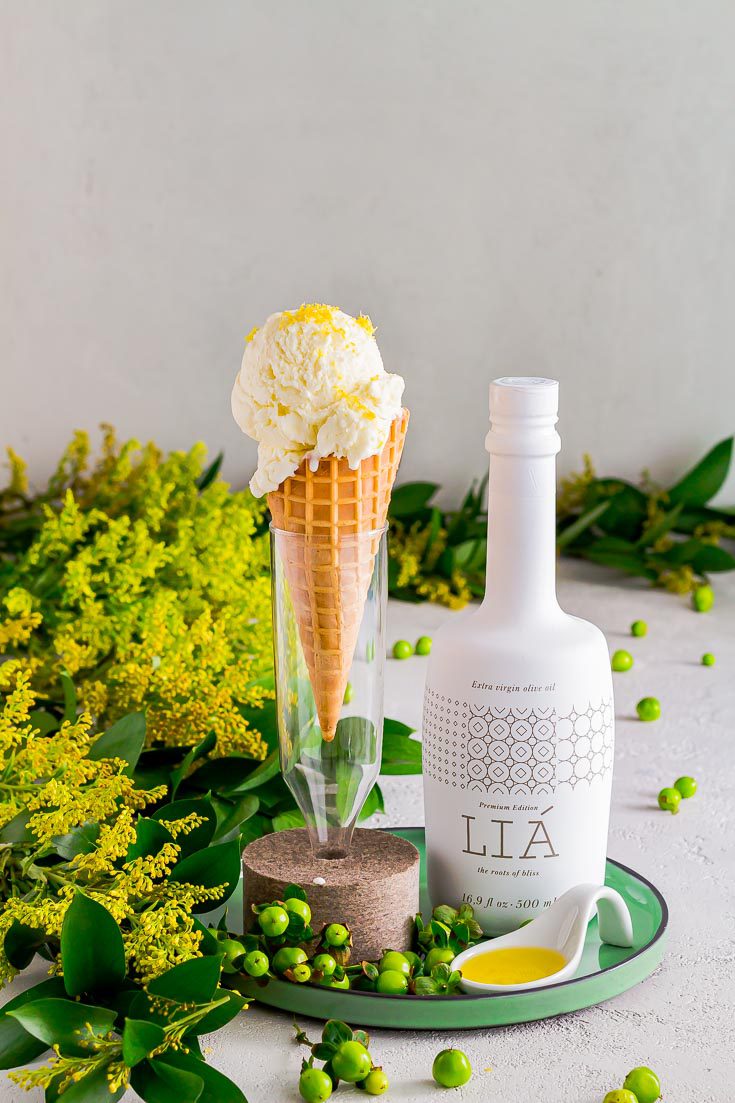 Finding the BEST extra virgin olive oil for your olive oil ice cream
Before you start to make your ice cream, you need to find the best extra virgin olive oil because this is the key for a fantastic olive oil ice cream. I'm talking about a REALLY good EVOO, and the standard cheap olive oil that you find at your supermarket just will not work if you want to achieve amazing taste. For this olive oil ice cream, we selected LIÁ Extra Virgin Olive Oil because of the balanced original smell and delicate fruitiness. Read on for more about the complete flavor profile of LIÁ EVOO, which by the way you can buy LIA EVOO in our online shop.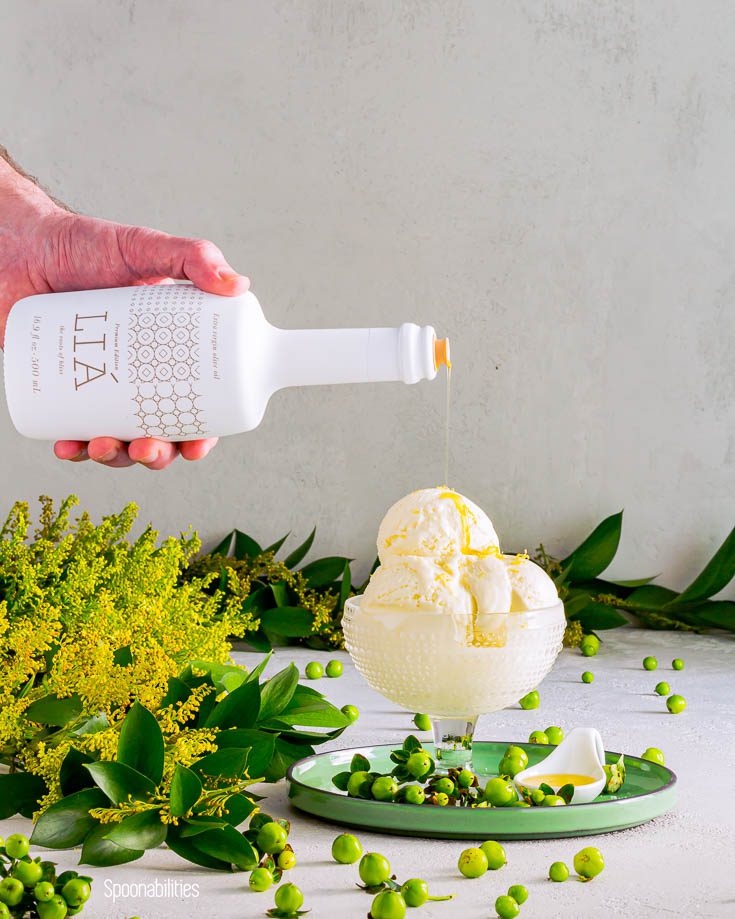 Key EVOO Characteristics to know for your Quest to Find the BEST Olive Oil
First, you don't need to go too far because we got you covered with our online shop's selection of premium Greek extra virgin olive oil. We are very proud to offer the best Greek products, and any of our extra virgin olive oil will meet the requirement to achieve the absolutely most flavorful, creamy, sweet, silky smooth and subtly fruity olive oil ice cream. Watch the video below and see the special offer on our EVOO Collection.
But if you find easier to go to your local specialty food store, here are the key elements that you should look for, or ask the salesperson at the store when choosing the best extra virgin olive oil.
Ask for olive oil made with an olive variety like Koroneiki or Arbequina
Fruity, not peppery. You will get the best fruity olive oil when the label says "cold-pressed" or "cold-extraction"
Light-bodied
Low acidity level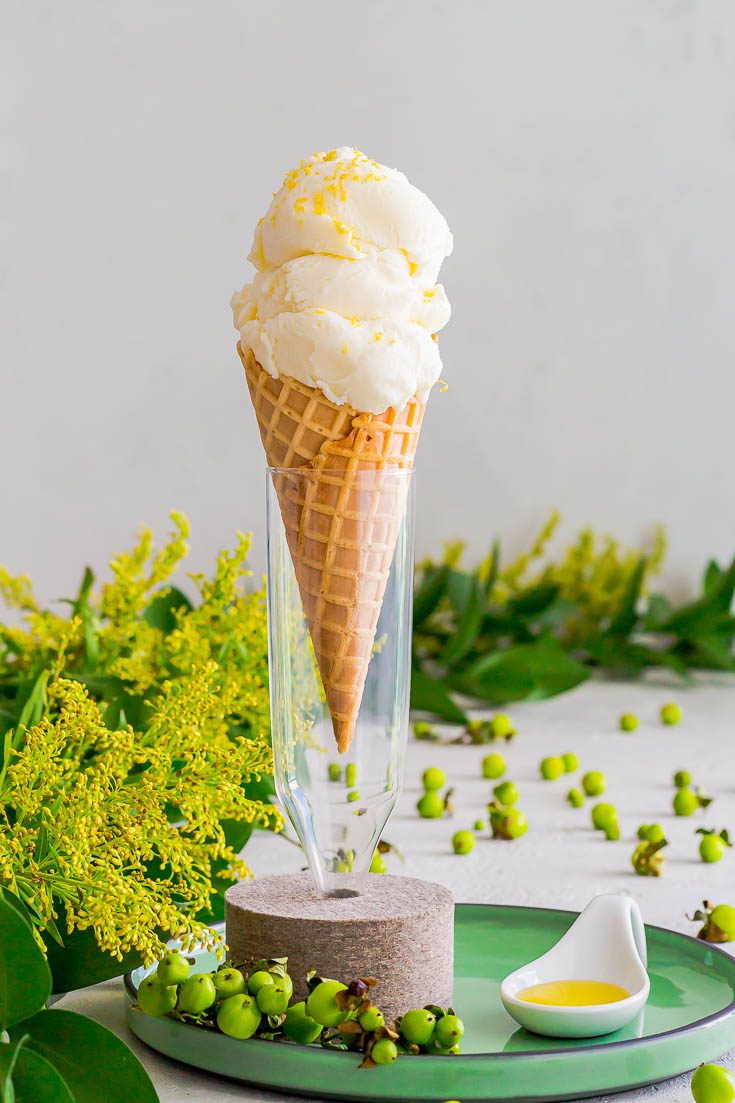 Things to know about Extra Virgin Olive Oil
Extra virgin olive oil results from the first pressing of olives and keeping the processing to a minimal. It's high in monounsaturated fats, which makes it a healthful choice for cooking.
Fruity olive oil is excellent for flavoring food toward the end of cooking and just before serving. The best use is to drizzle over fish, steak, soup, mashed potatoes, fresh tomatoes, or grilled vegetables, and, in vinaigrettes.
The term "fruity" is used to describe the aroma that's suggestive of the olive fruit itself.
Fruity olive oil carries certain flavors and aromas, such as green apple, apricot, pineapple, or banana.
Olive oil varies in flavor depending on the olive variety
We recommend keeping your olive oil in a cool place and away from the stove/heat to help preserve the quality, taste, and longevity.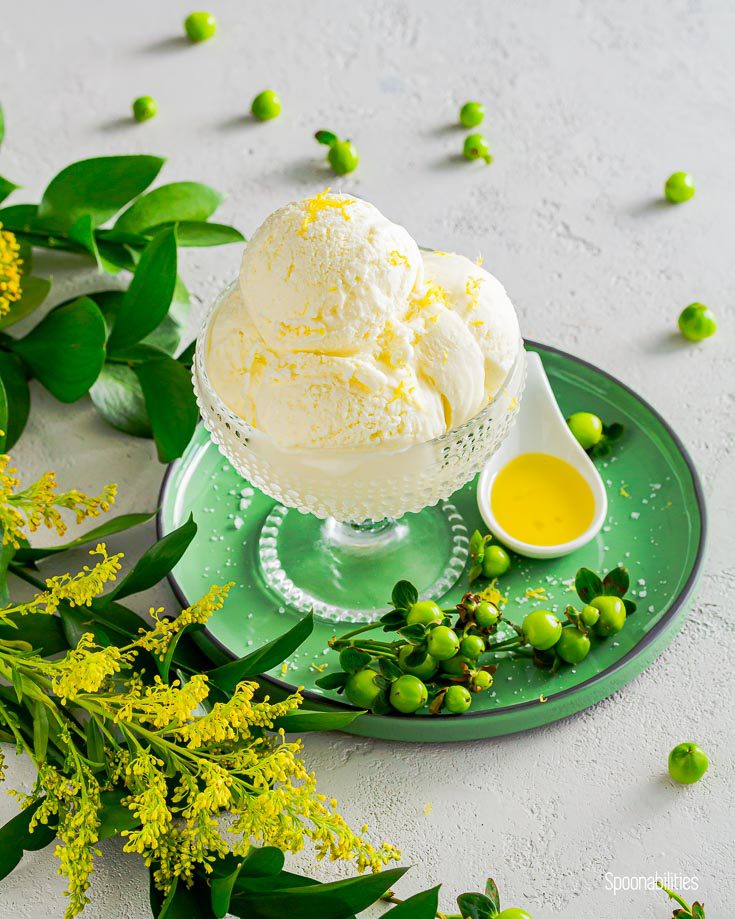 Two Steps to Make Homemade Olive Oil Ice Cream
Ice Cream Base: The first step is to make your ice cream base and refrigerate it for 24 hours. We have a separate recipe detailing how to make the best homemade eggless ice cream base. This ice cream base is easy to follow and has the perfect ingredient ratio combination for a beautiful creamy texture. Read more about why the ideal ratio of the ingredients is vital for a creamy base in our recipe Homemade Goat Cheese & Raspberry Jalapeño Ice Cream.
Flavoring: In this step, you will add the LIA premium extra virgin olive oil, and the sea salt (I use Sea Salt Fleur De Sel) to the chilled base and whisk until it is well combined. Pour the mixture into an ice cream maker (I use one from Hamilton Beach) and turn on the machine, following the manufacturer instructions. Churn just until the mixture has the texture of soft-serve. Add the olive oil ice cream into a freezer safe container.
Recipe Notes:
¼ cup of extra virgin olive oil is the perfect amount for this ice cream. This measurement will give you the perfect silky, velvety texture to the mouthfeel, and not be an overpowering olive oil taste.
Serve this olive oil ice cream with a topping of a little lemon zest, a pinch of Fleur De Sel Sea Salt, and a quick drizzle of LIA extra virgin olive oil. These topping bring out the ice cream's mouthwatering flavor.
Like this recipe so far? Be the first to know when we release new ones!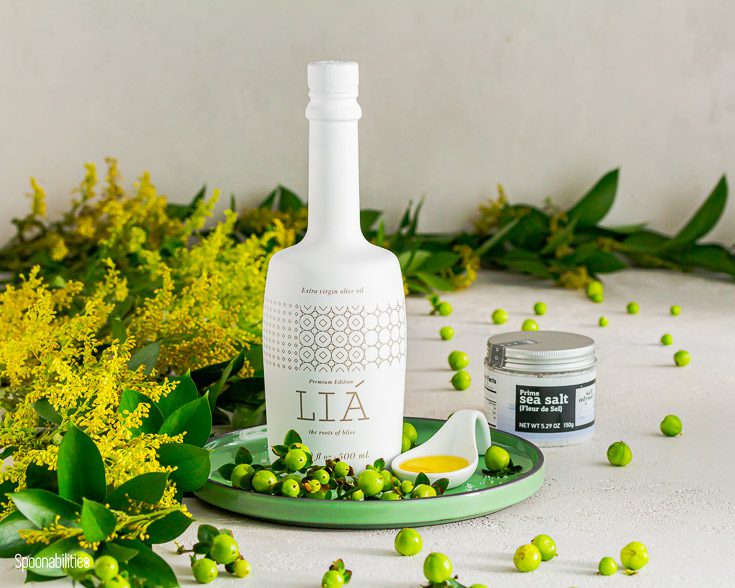 About LIA Extra Virgin Olive Oil from Messenia, Greece
LIÁ Premium Extra Virgin Olive Oil comes in a beautifully designed white bottle. The bottle was created with opaque color to prevent the light from affecting the quality of the olive oil. The land where LIA is cultivated and harvested has been in the same family for years, and they use traditional methods of cultivation with modern techniques to respect the sustainability of the ecosystem. They still pick the olive fruits by hand like their parents used to do to prevent damaging the tree or the fruit. They use linen sacks to transport the olives to the oil press in just a few hours after they are harvested. This ensures that the olives retain all their properties. LIA only uses a cold extraction technique to make sure that the nutritional values, as well as the taste and flavor attributes of the fruit, are transferred into the oil pulp.
LIÁ Extra Virgin Olive Oil is well balanced with the original smell and taste of Koroneiki variety olives, and an acidity level of less than 0.4%. It has a medium, delicate fruitiness, and notes of green and ripe banana, red apple, artichoke, and herbs. During the aftertaste, it gives notes of avocado, nuts and almond. LIA is perfect to pair with fresh fish, soups, salads, spaghetti, vegetables, and dark chocolate ice cream!
Ever since we started Spoonabilities, we have continually gained a better understanding of the quality of good olive oil and the different characteristics to look for in a high-quality olive oil. Some of the cheap olive oil at the supermarket is a blend of a low-grade olive oil and soybean or seed oil, or mixed with lower-grade olive oil that's been chemically refined.
We are very impressed by LIA's Premium Extra Virgin Olive Oil, and their process. Watch this video and we're sure you will be impressed too:
Ice Cream Recipe Collection
Here at Spoonabilities, we are committed to creating a very unique series of ice cream flavors with quality ingredients and a delicious taste, and at the same time, taking eye-catching photographs. In our beginning days, we made semi-homemade ice cream using store-bought vanilla ice cream and adding flavor (jam, fruit spread, preserve, and even chutney). When we started to feel more comfortable in taking a risk, we started making fully homemade ice cream with a no egg base as a starting point and from there adding the flavoring. This year for flavoring we used Goat's Milk Caramel Sauce, jam, preserves, honey, cheeses, balsamic vinegar, extra virgin olive oil, and rose water. Next year we will try our hand at gelato, vegan, and non-dairy options. Here are some of the recent ice cream recipes:
I hope you get to make this summer treat of olive oil ice cream, or one of the above recipes. Drop me a comment below with what you think about this recipe, and let me know if you are willing to give it a try. It's easy, so you can do it. When you share this recipe with your social media friends, tag us @spoonabilities and use the hashtag #Spoonabilities. Thank you.
Wishing you Tasty Happenings,
Carlos Leo
Your Recipe Concierge!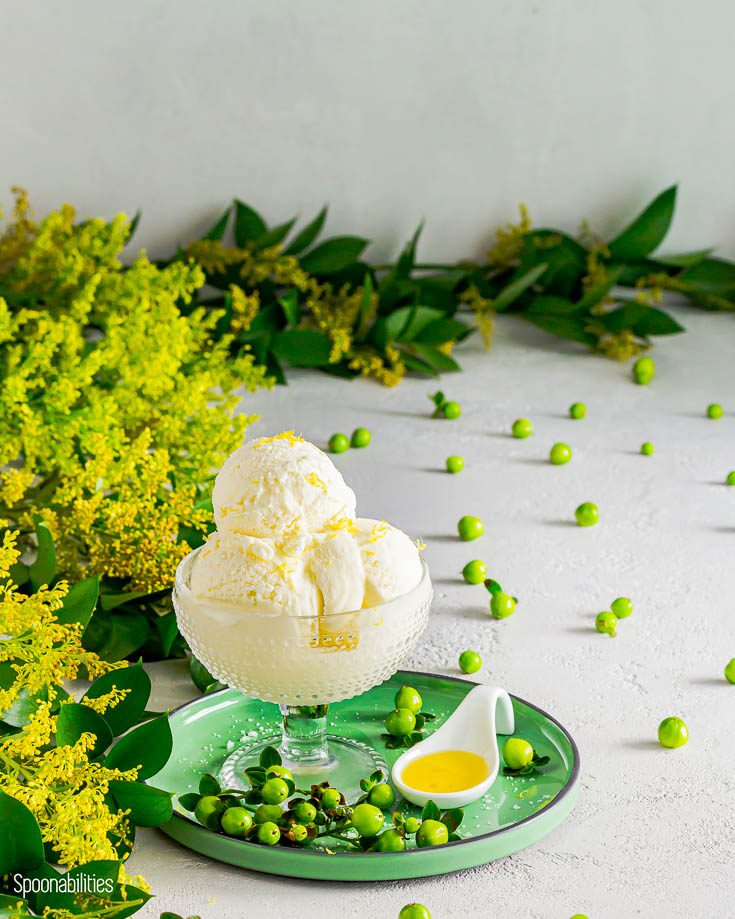 Print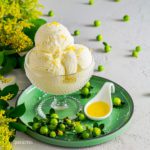 Olive Oil Ice Cream Recipe with LIÁ premium extra virgin olive oil
---
Author:

Carlos Leo

Total Time:

6 hours 22 minutes

Yield:

2 Pints

1

x
Description
This refreshing olive oil ice cream has an incredibly delicate, smooth, silk-like texture with a hint of fruity olive oil flavor. For this no egg ice cream, the selection of the right extra virgin olive oil is the key to reach the best results. The olive oil should be extra virgin with medium & delicate fruitiness, and low acidity.
Recipe inspired by Salt & Straw Cookbook and modified by Carlos Leo.
---
---
Instructions
Whisk together the chilled eggless ice cream base, olive oil, and sea salt until well combined.
Add mixture to your chilled ice cream maker bowl and set the ice cream maker according to the manufacturer instructions.
Churn for about 23-25 minutes until the texture is that of soft-serve ice cream. (Instructions and times may vary.)
Quickly transfer ice cream to a freezer safe container, and press parchment paper directly onto surface of the ice cream. Cover container and freeze until firm - at least 6 hours. Ice cream can be stored in freezer up to 3 months.
Serve with garnish of olive oil, lemon zest and flaky sea salt.
Prep Time:

22 minutes

Category:

Dessert

Method:

churning

Cuisine:

International
Recipe Card powered by
Available via these Amazon links:
Disclaimer: Links that open in another site, i.e. Amazon, may be affiliate links where at no additional cost to you, we may receive a small commission should you decide to purchase the item. Read our Disclosure Policy