If you are looking for the best homemade strawberry ice cream, you came to the right place. This rich and fruity ice cream has roasted strawberry puree with honey, and a swirl of strawberry preserves. To help reestablish the acidity of the strawberry, we add white balsamic vinegar, and ground black pepper to bring out the fruitiness.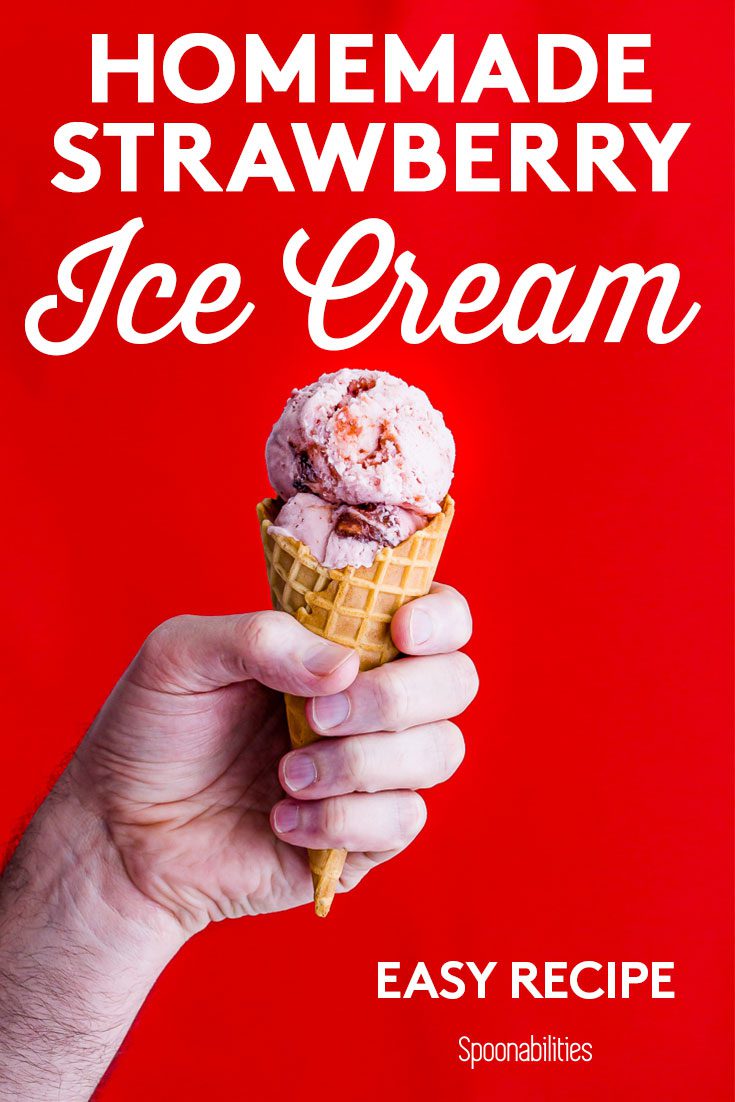 Blog post contains products you can purchase in our online shop, and affiliate links.
Read our Disclosure Policy
Hello my friends. Welcome to the second week of our ice cream month. This week's ice cream recipe is homemade Strawberry Ice Cream. This popular frozen dessert has a wonderful depth of flavors which I have been trying to find the right words to describe. Let's start with how flavorful, creamy, and fruity this ice cream is with hints of white balsamic vinegar & black pepper. But what makes this ice cream over the top is the addition of one of our new favorite jams, Very Strawberry Jam from L'Epicurien.
I know you may say that there are too many layers of flavor in this ice cream. But in this case, each flavor complements the others and creates an explosive flavor combination. The making of strawberry ice cream has a three-step process which will create different layers of flavor for the final result. Throughout our conversation, I will explain why each ingredient plays an essential role in this ice cream recipe.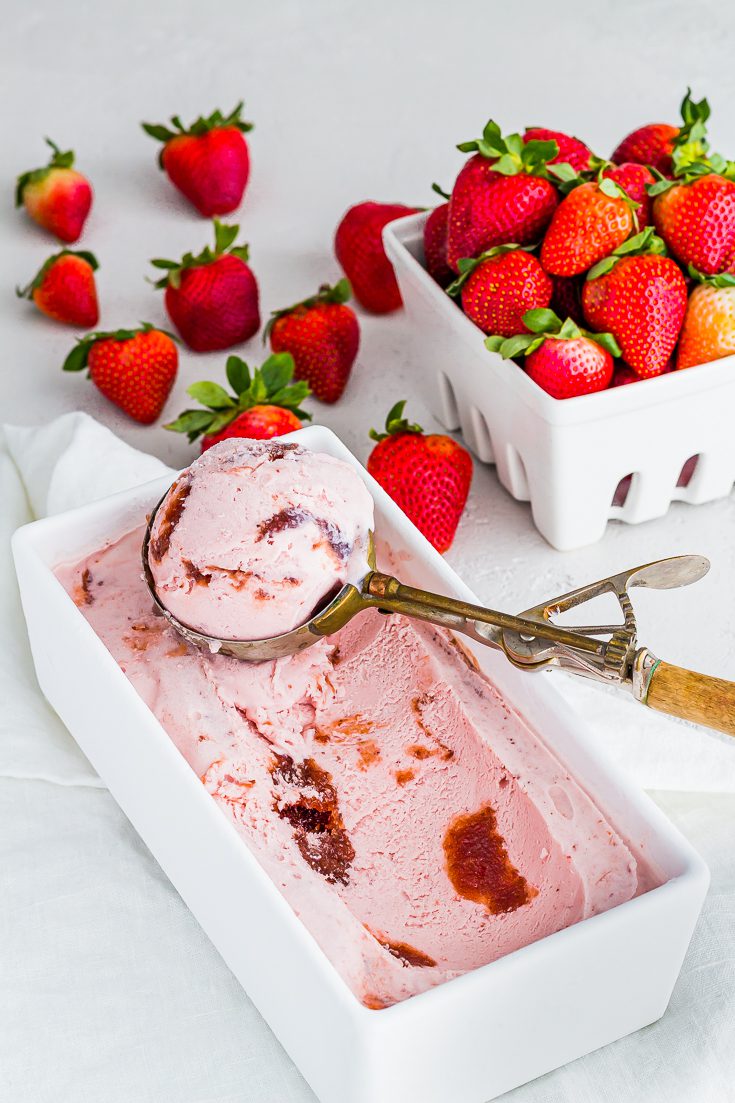 Steps to Make Homemade Strawberry Ice Cream
Ice Cream Base: The first step is to make your ice cream base and refrigerate it for 24 hours. In the recipe card below, you will find the detailed instructions for a homemade base. This ice cream base is easy to follow and has the perfect ingredient ratio combination for a beautiful creamy texture. Read more about why the ideal ratio of the ingredients is vital for a creamy base in our recipe homemade goat cheese & raspberry jalapeño ice cream. Also, if you want to take a short cut and make a base without turning on the stove, use our Easy Vanilla Ice Cream base, but it won't be quite the same.
Roasted Strawberry Puree: The second step is to make the strawberry puree. Hull and half the strawberries and place them in a baking sheet with honey drizzled over them. Roast the strawberries at 300 degrees Fahrenheit for twenty minutes or more. Roasting the strawberry will intensify the flavor and will give the ice cream base a rich, fruity flavor and the recognizable pink color. Make the strawberry puree during the same time (or right after) you make the base, so they both can be cold and ready at the same time. Remember to put the ice cream maker bowl in the freezer for 24 hrs. The recipe card below has a detailed explanation.
Strawberry Ice Cream: This is the third step. Combine the ice cream base, the roasted strawberry puree, white balsamic vinegar and finely ground black pepper. Mix well until everything is completely incorporated. Add the mixture to the ice cream maker and turn on the machine. Churn until the strawberry ice cream has the texture of soft-serve. In my ice cream maker it takes around 23 minutes. Check the manual of your ice cream maker for instructions.
Strawberry Jam Ice Cream: In this last step, use an ice cream container or a freezer-friendly container and in alternating layers spoon layers of the soft-serve strawberry ice cream and dollops of the strawberry jam.
As I explained above, we roast the strawberry with honey to intensify the flavor of the strawberry. The addition of the white balsamic vinegar, available for you to buy online in our shop, helps to reestablish the acidity, and the ground black pepper plays up the fruitiness. This strawberry ice cream is an upgrade from the classic strawberry with a more complex flavor. Adding the strawberry preserves to the ice cream after it churns is a great way to infuse more fruity flavor into the ice cream because jams, fruit spreads and preserves have a high concentration of fruit. Also, because of their higher sugar content they will not freeze solid. So each jam swirl hits your taste buds with flavor immediately just before the rich ice cream melts around your tongue. If you really get crazy, when you serve your ice cream you can add a little more jam on top like I did in the picture below.
Like this recipe so far? Be the first to know when we release new ones!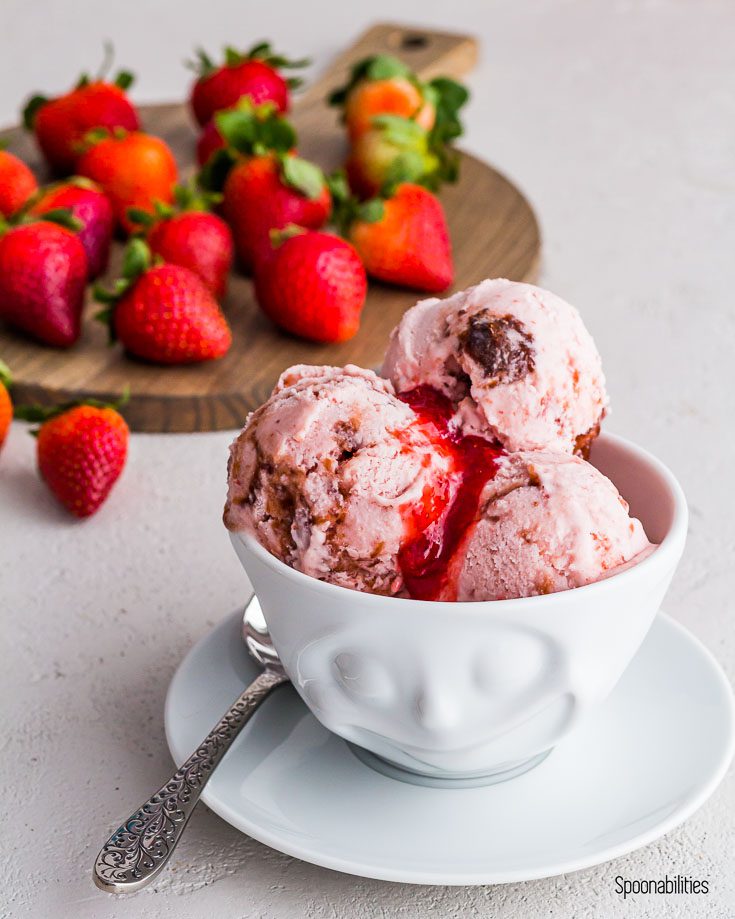 About Very Strawberry Jam from L'Epicurien
Made with the highest quality ingredients, L'Epicurien Very Strawberry Jam contains strawberries (53%), cane sugar, and wild strawberries. This amazing jam is the perfect complement to a peanut butter and jelly sandwich, pastry, or cookie. Use Very Strawberry Preserve on toast, salad dressing, cocktails and virgin mocktails, as a glaze for meats, and add it into any of your baking recipes. All it takes is one spoonful of this jam for your taste buds to start dancing.

Part of the Very Berry Jam Gift Options in our Gift Guide for your Favorite Foodies.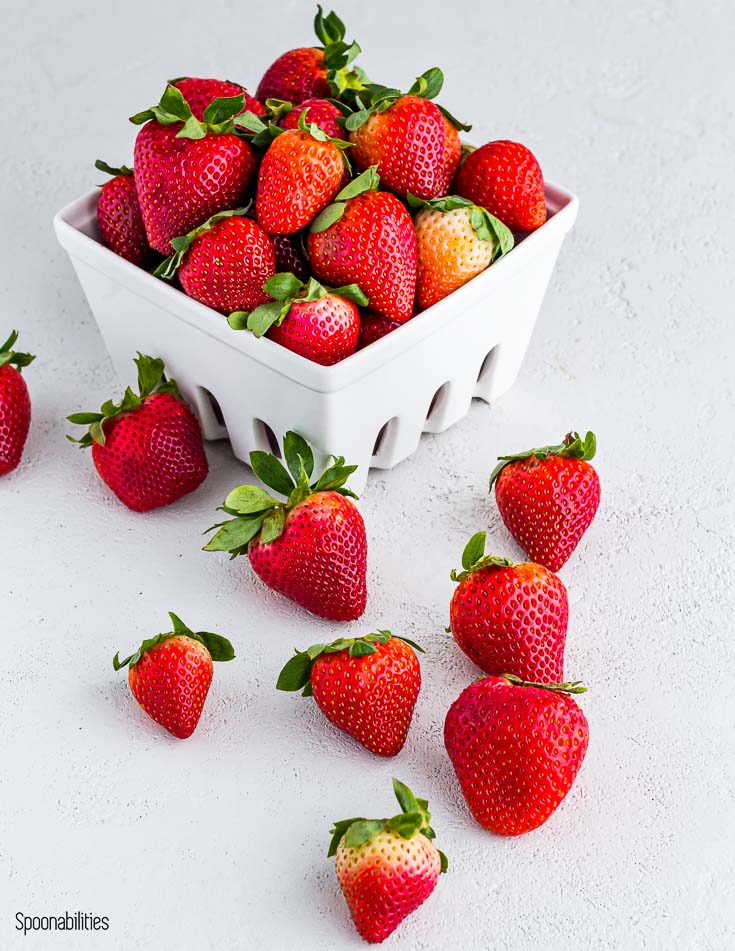 More Ice Cream Recipes you will enjoy this Summer
Here are some delicious homemade & semi-homemade ice cream recipes that we have made, and a special blog post about 3 Fun & Tasty Ice Cream Toppings. Give them all a try:
I hope you get to make this delicious recipe for Homemade Strawberry Ice Cream with White Balsamic Vinegar or one of the other recipes above. Leave me a comment below with what you think about this recipe, and let me know if you will give it a try. Share this recipe with your social media friends and tag us @spoonabilities and use the hashtag #Spoonabilities. Thank you.
Wishing your Tasty Happenings,
Carlos Leo
Your Recipe Concierge!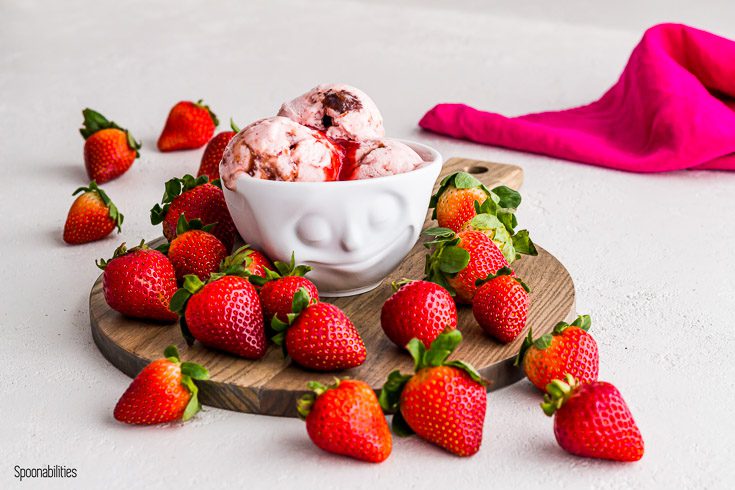 Print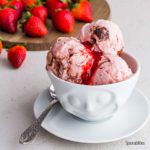 Homemade Strawberry Ice Cream with White Balsamic Vinegar
---
Author:

Carlos Leo

Total Time:

6 hours 44 minutes

Yield:

1 Pint

1

x
Description
Homemade Strawberry Ice Cream has a rich, fruity flavor from roasted strawberry puree with honey and a swirl of strawberry jam. The addition of the white balsamic vinegar helps to reestablish the acidity and the ground black pepper plays up the fruitiness. This eggless ice cream base has a wonderful creamy texture.
Original recipe concept from Salt & Straw Cookbook and modified by Carlos Leo
---
---
Instructions
Heat the oven to 300°F. Line a sheet pan with parchment paper.
Spread the strawberries out evenly on the lined sheet pan and drizzle them with honey. Bake for 15 minutes. Stir the berries and continue baking until they just barely begin to caramelize and get a little bit of roasted color to them - about 20 minutes more. Remove from the oven and let them sit until they're cool enough to handle.
Transfer the strawberries to a blender along with the yummy sticky stuff on the parchment paper and puree to make a smooth sauce. Chill in the fridge until cold.
When strawberry puree is cold, transfer it to a bowl with the vinegar, black pepper, and the ice cream base. Whisk as needed to get everything completely incorporated into the base.
Pour the mixture into an ice cream maker and turn on the machine. Churn just until it has the texture of soft serve.
Stir the jam with a fork to loosen it. Quickly alternate spooning layers of the mixture and dollops of the jam in freezer-friendly containers.
Cover with parchment paper, pressing it to the surface of the ice cream so it adheres, then cover with a lid. It's okay if the parchment hangs over the rim, and you can use plastic wrap to cover if your container doesn't have a lid. Store it in the coldest part of your freezer (farthest from the door) until firm, at least 6 hours. It will keep for up to 3 months, but you will surely devour it before then.
Notes
Vitamin A 8%, Vitamin C 40%, Calcium 8%, Iron 3%, Vitamin D 10%, Vitamin B12 6%, Vitamin E 1%, Vitamin K 3%
You can store the strawberry puree in the fridge for up to 2 weeks or in the freezer for up to 3 months.
Prep Time:

22 minutes

Cook Time:

22 minutes

Category:

Dessert

Method:

churning

Cuisine:

International
Nutrition
Serving Size:

1 cup

Calories:

339

Sugar:

45.3 g

Sodium:

40.6 mg

Fat:

12.9 g

Carbohydrates:

52.9 g

Fiber:

1.2 g

Protein:

4.9 g

Cholesterol:

38.8 mg
Recipe Card powered by
Available via these Amazon links:
Disclaimer: Links that open in another site, i.e. Amazon, may be affiliate links where at no additional cost to you, we may receive a small commission should you decide to purchase the item. Read our Disclosure Policy