Pineapple Habanero Pork Carnitas is a delicious spin on the traditional carnitas recipe (Mexican Slow Cooker Pulled Pork). The pork is braised on the stove in Roasted Pineapple Habanero Sauce, garlic, and cumin until it's tender and then pulled apart. For this recipe, I use the pork carnitas in tacos with a lot of tasty toppings.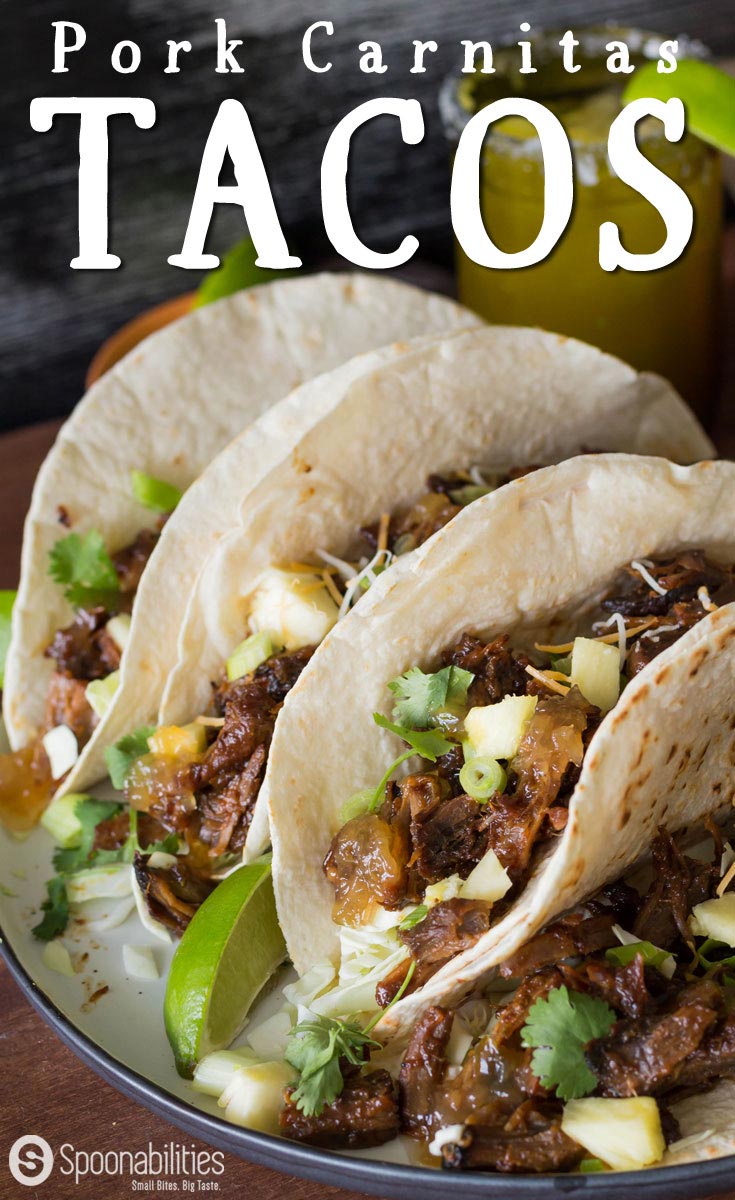 Blog post contains products you can purchase in our online shop, and affiliate links.
Read our Disclosure Policy
First, we start with a beautiful piece of pork with a lot of marbling. I chose a Boston Butt cut, but you can use pork shoulder too. Cut it in 2-inch pieces and rub with the juice of one sour orange or lime. In Dominican, we always clean the pork with the bitter orange and let it sit with the juice for 10 minutes to let the juices penetrate the meat. The acidity will help to eliminate any bacteria on the pork, and any strong smell of the animal. This cleaning technique is very common in the Caribbean Islands.
What's the difference between Pork Shoulder and Boston Butt?
Boston Butt is the cut from the pork located above the shoulder blade and contains a lot of juicy marbled fat. Marbled fat is the main reason why this cut is the preferred part of the pork to slow cook or braise. When the fat melts, it adds flavor and keeps the meat moist. "Marble" is the white specks of fat within a piece of meat. Boston Butt is very inexpensive and feeds a lot of people for the money.
Pork Shoulder is the cut of meat below the Boston Butt. This cut includes most of the pork front leg section. The meat in this area is tougher than the Boston Butt because the front side of the pig works harder and creates more muscle. You will need more cooking time to get the pork shoulder to be tender.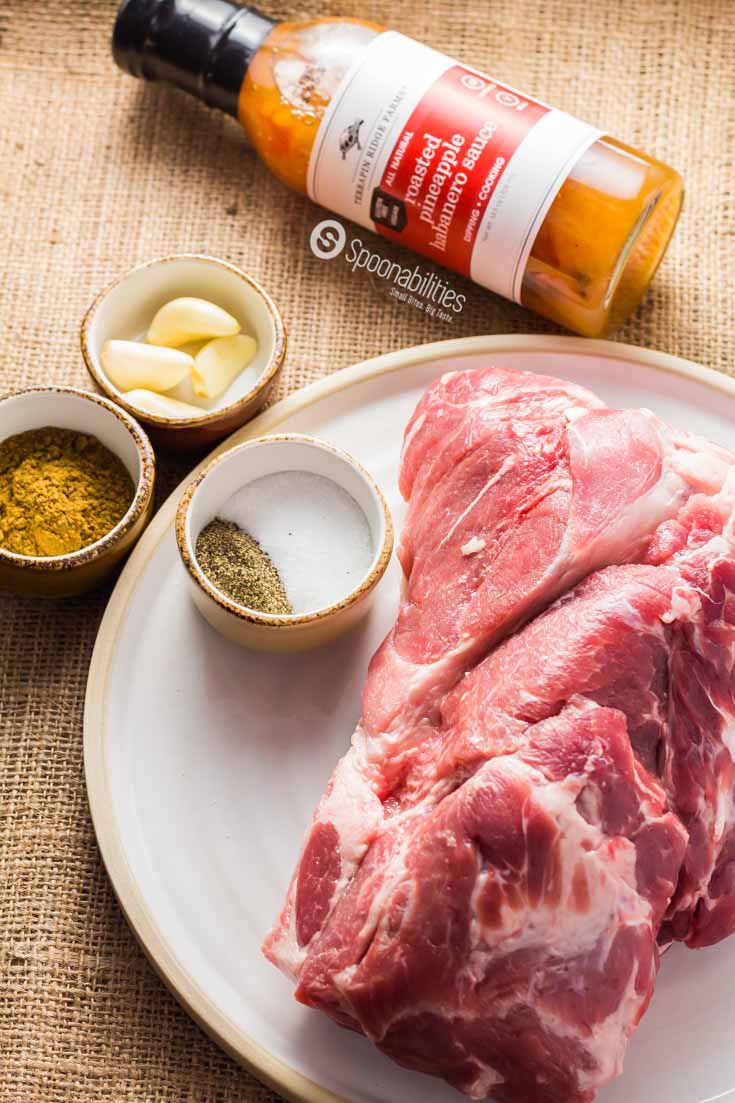 For this pork carnitas recipe, I used two of my favorite ingredients: garlic and cumin. I combined them with salt and pepper, and I rubbed the pork well. Into a Dutch oven the pork goes, and then on the stove. Pour in the Roasted Pineapple Habanero Sauce and cover with chicken or vegetable stock, until the liquid barely covers the pork.
Cook the meat for about 2.5 or 3 hours at medium-low heat. I do recommend checking the pot after two hours just in case you need to add a little bit more liquid. Note: before adding more liquid, taste the pork to find out if it's already tender.
When the liquid has evaporated completely, let the pork cook in the fat long enough until you brown each side. The key to this recipe is to let the juices evaporate and create caramelized and crusty edges.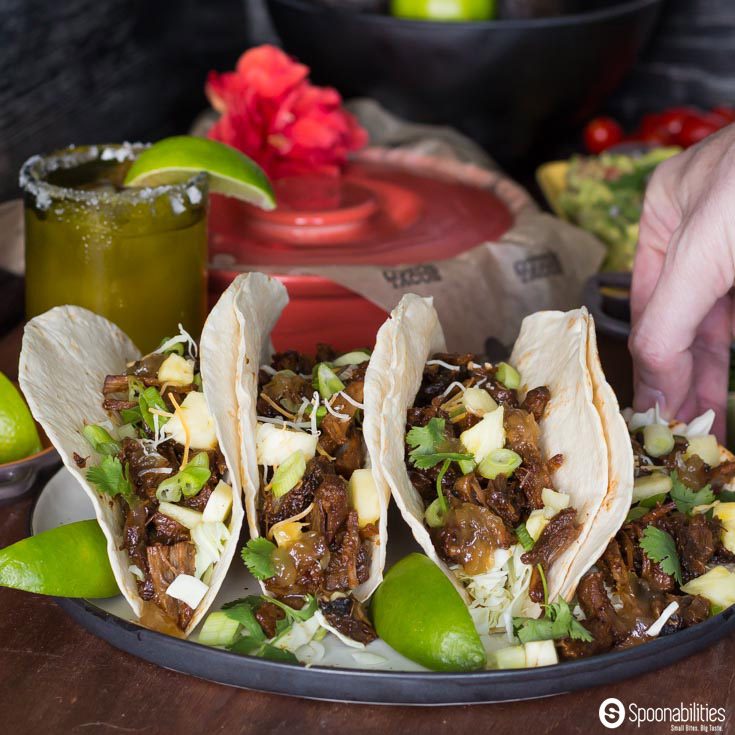 What's the difference between braised pork and pork carnitas (Mexican Slow Cooker Pulled Pork)?
When I started making this pork carnitas, I didn't know what the difference was between braised (or slowly cooked,) and carnitas. Turns out the difference is that carnitas has the crispy and golden edges. So whereas a braised pork you take out of the pot as soon as it's done, this Mexican dish gives you a tender and juicy meat with crispy and golden edges. What else can you ask for in this dish?
Like this recipe so far? Be the first to know when we release new ones!
---
Also, there is not a strict or proper way to cook pork carnitas. You can make it in a slow cooker, crock pot, pressure cooker or a Dutch oven, on the stove or in the oven. By the way, this is not the authentic pork carnitas you will eat in Mexico. This recipe has the twist of the Roasted Pineapple Habanero Sauce.
Here are also some other recipes where I use the braising method: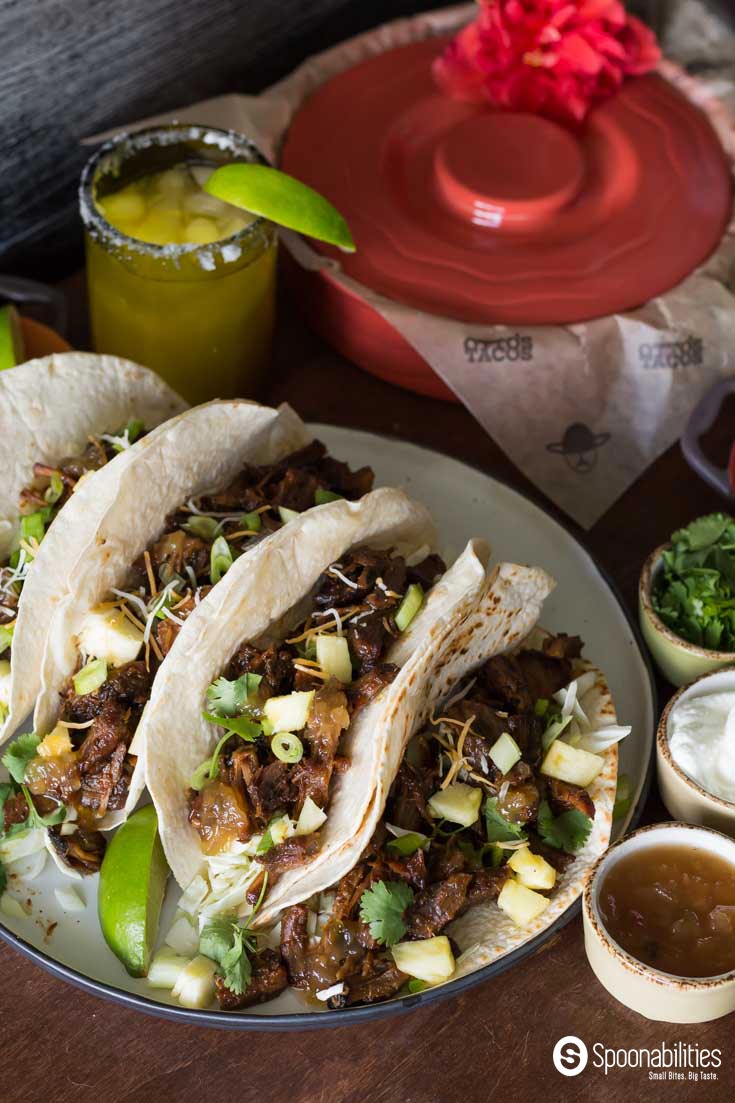 What to serve with pork carnitas
Now, let's talk about the infinite Spoonabilities (possibilities and combinations) to serve and eat with this amazingly delicious pork carnitas.
Use the pork carnitas as a filling for tacos, tamales, enchiladas, Mexican Lasagna, tortas, burritos, and wraps. Also, you can add the carnitas to this Fiesta Roasted Red Pepper Dip and serve it as a main dish, or make a pulled pork slider.
Today I served lunch with warm flour tortillas, cabbage, a few Spoonfuls of carnitas, cilantro, Roasted Pineapple Habanero Sauce, sprinkled some Mexican-blend cheese and topped with cilantro. You can use any other taco toppings of your preference such as salsa, sour cream, guacamole, cotija cheese, pico de gallo, tomatillo salsa, black beans and red onion. OH, and don't forget the margaritas!
Viva Mexico!!!
Carlos
P.S. - Below is the background I setup for this photo shoot. I love it, and wanted to stick it in this post somewhere, so here it is ;)
UPDATE: This recipe is part of the 9 Mexican food recipes to celebrate Cinco de Mayo
Check out other fantastic sweet/savory pork recipes: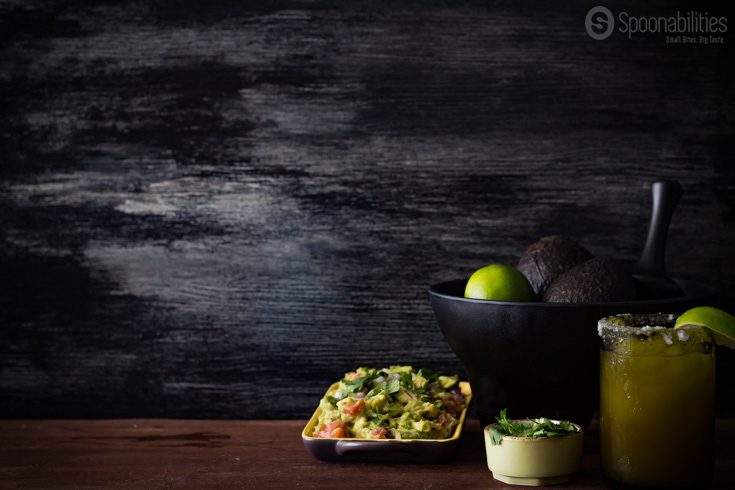 Print
Pork Carnitas with Roasted Pineapple Habanero Sauce
---
Author:

Carlos Leo

Total Time:

10 minutes

Yield:

8

-

9

servings

1

x
Description
Pork Carnitas is just the right filling for tacos, burritos, tortas and tamales. Carnitas helps you creates the perfect Mexican themed dinner party, or a fun taco night at home. Tacos are the best food ever because they are easy, fun, and delicious with infinite combination possibilities. Slowly braised on the stove in Roasted Pineapple Habanero Sauce until tender and pulled apart, this pork carnitas recipe or Mexican Slow Cooker Pulled Pork produces all the sweetness and smokiness from the pineapple, and gives the pork a punch of flavor and a kick of heat from the habanero peppers. The outside of the pork is crispy and caramelized. 
---
3

lbs

. boneless pork shoulder or boston butt, cut into 2-inch cubes

1

bottle Roasted Pineapple Habanero Sauce Click to buy in our online shop

4

cloves garlic, peeled and mashed in a paste

2 teaSpoons

powder cumin

1

-

½

teaSpoons salt

1 teaSpoon

pepper

1

sour orange or lime

1

carton chicken stock or vegetable stock - low sodium
Toppings
1

small cabbage, thinly sliced

1

bunch of cilantro, chopped

1

cup

sour cream

1

package of corn or flour tortillas, fajita size
salt and pepper, to taste
---
Instructions
Cut pork butt into 2-inch cubes and wash with the juice of the sour orange or lime. Leave it for 10 minutes.
Rub the pork with the mashed garlic, cumin, salt & pepper. Then, put the pork in a large Dutch oven
Pour in the Roasted Pineapple Habanero Sauce and enough chicken stock to just hardly cover the meat.
Bring the pot to a boil and then reduce the heat to medium-low.
Simmer uncovered for about 2 ½ - 3 hours. Don't touch the meat.
Check after two hours in case you need to add a little bit more liquid. Note: Before adding more liquid, taste the pork to find out if it's already tender.
After 2 ½-3 hours, increase the heat to medium-high. Stir and turn meat occasionally and continue to cook until all of the water has evaporated.
Let it sizzle in the fat long enough to brown at the edges. Should look crispy.
When done, take out of the pot, and pull meat apart.
Serve with warmed tortillas and add additional toppings.
Notes
Vitamin A 1%, Vitamin C 63%, Calcium 5%,  Iron 13%
Prep Time:

10 minutes

Category:

Lunch, Dinner

Cuisine:

Mexican
Nutrition
Serving Size:

⅓ lb per person

Calories:

436

Sugar:

8.9 g

Sodium:

646.3 mg

Fat:

28.7 g

Saturated Fat:

9.8 g

Carbohydrates:

13.9 g

Fiber:

1.2 g

Protein:

29.4 g

Cholesterol:

110.7 mg
Recipe Card powered by
Available here today in our online shop:
Available via these Amazon links:
Disclaimer: Links that open in another site, i.e. Amazon, may be affiliate links where at no additional cost to you, we may receive a small commission should you decide to purchase the item. Read our Disclosure Policy