Instant Pot Short Rib Tacos with a tropical tequila sauce are a fantastic plan for a hearty lunch or a Mexican themed-dinner. Using a pressure cooker, dinner practically cooks itself. We're also putting together a crisp celery, fennel, and cucumber slaw to contrast the short rib's fatty richness! You'll learn when to use instant pot quick release vs. natural release, and if you have to brown the short rib meat first? Finally, we'll see what Terrapin Ridge Farms's Tropical Tequila Sauce all is about.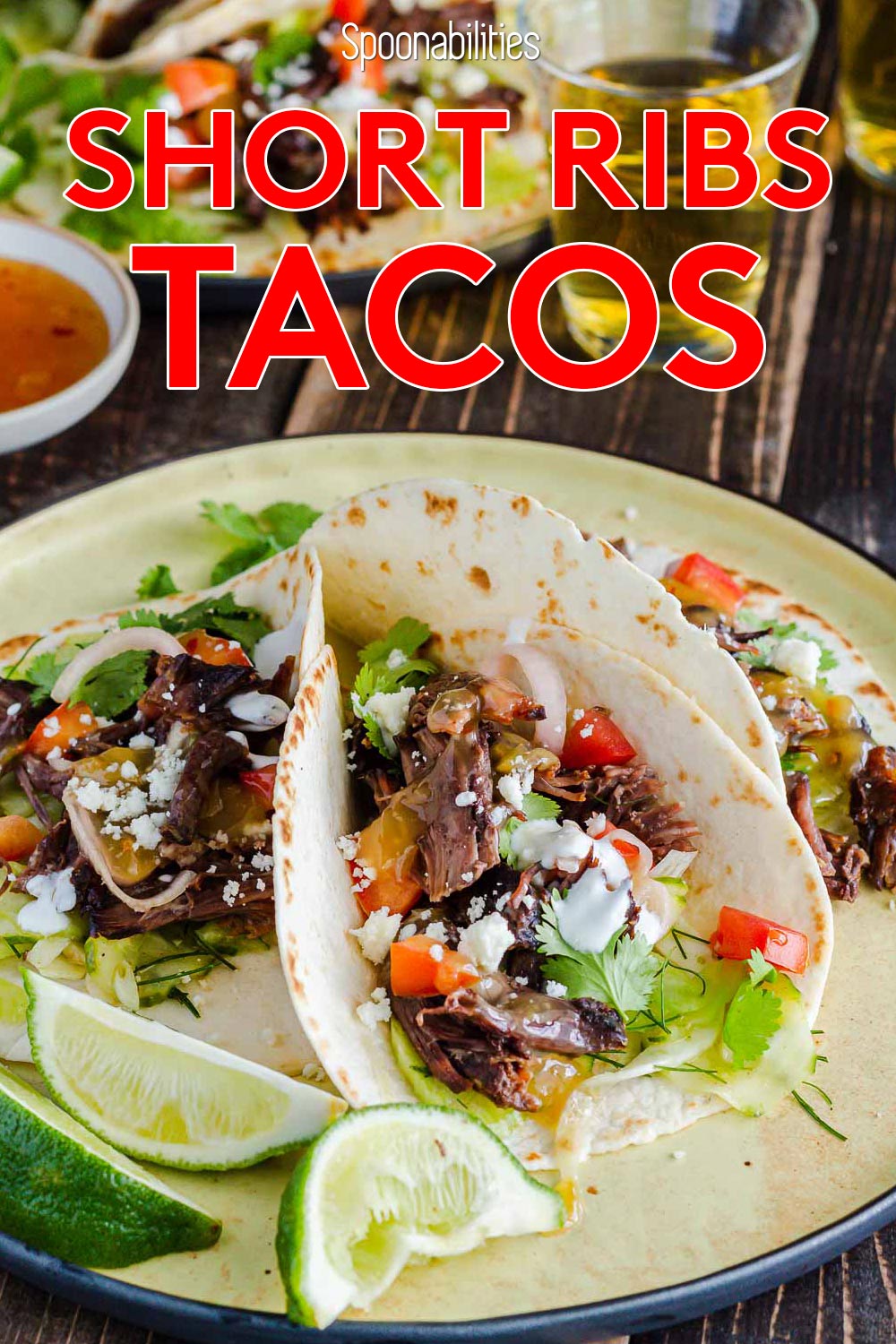 Blog post may contain affiliate links. Read our Disclosure Policy. All photographs are copyright Carlos Leo, Spoonabilities
Hello my friends. Let me know if I'm wrong, but I think if there's something that nobody can say no to, it's Instant Pot Short Rib Tacos. Making tacos is an art-form, and putting together proper tacos is easy if you have the right ingredients and toppings. For this recipe, we are getting the help of a pressure cooker where you can cook fork-tender short ribs that melt in your mouth with every taco bite. And that's a perfect taco right there.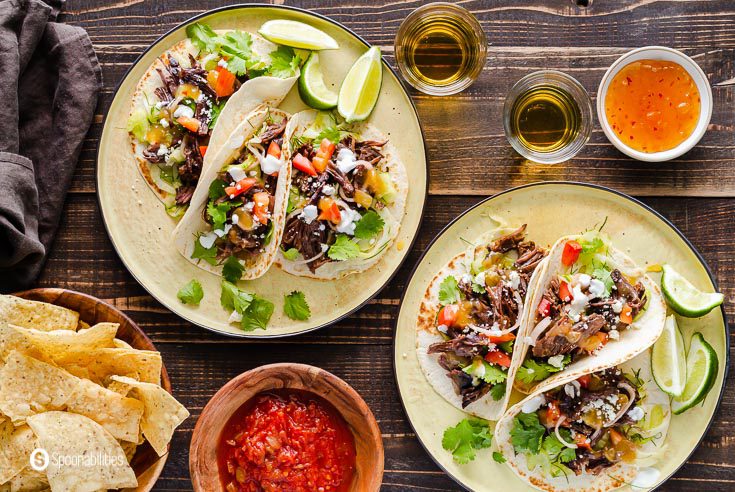 How to Make Instant Pot Short Ribs
Today you'll need three pounds of bone-in short ribs. If you buy boneless, you only need one pound. The flavor is in the bones though, so really consider getting bone-in ribs from your local butcher.
Searing the ribs in the very same pressure cooker for practicality, and seasoning the short ribs generously with sea salt and pepper is the way to go. Using your instant pot, start by selecting the sauté setting and sear the meat on all sides. Make sure to do this step in batches because you don't want to crowd the instant pot and steam the short ribs instead of browning the meat. Then add an entire jar of Tropical Tequila Sauce, plus a little bit of water, and you're good to go. Set the pressure-cooking option on your instant pot. If you use boneless short ribs, cook for 40 minutes and bone-in short ribs for 50 minutes. I always do "natural release" and it takes between 10 to 25 additional minutes depending on the amount of food.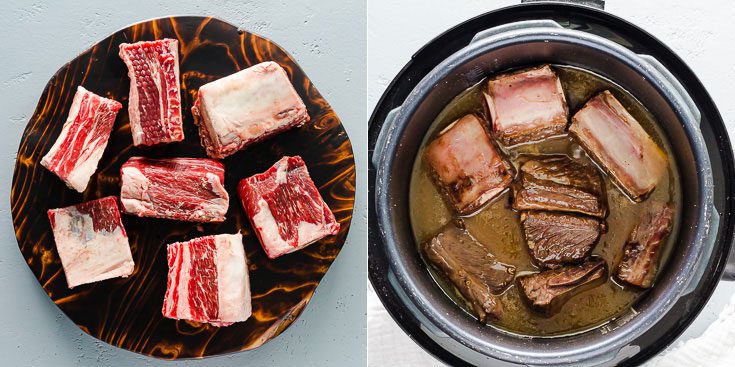 Tips for Instant Pot Quick Release vs. Natural Release
I recommend using quick release for delicate food like vegetables and seafood to prevent overcooking. Do not use quick release if your food has a lot of liquid or high starch food like oatmeal or soup. It may splatter out from the pressure release valve. For those kinds of food, use natural release.
Do not use quick release for foamy foods because it may clog the pressure release valve. For example, I do a natural release for beans. When you quickly release beans, they may break apart and get mushy due to the sudden change in pressure and temperature.
If the recipe instructions you are preparing say to use natural release, don't try to speed up the process by using quick release because your food may get undercooked.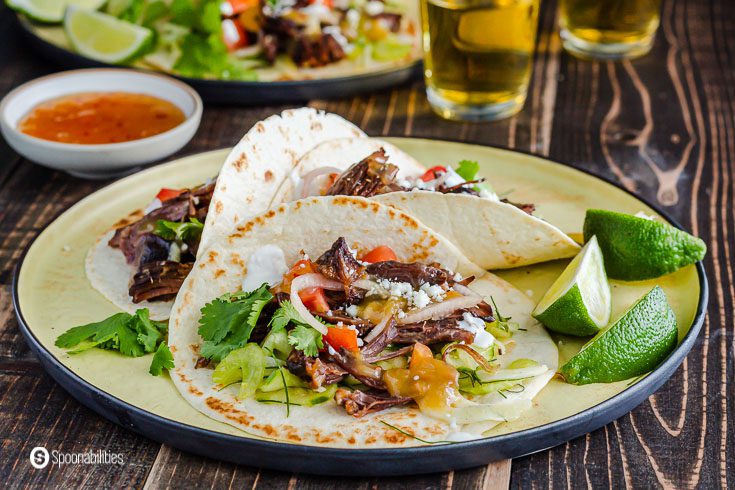 Do You Need to Brown the Short Ribs First?
I know some of you may ask: "do I have to brown the short ribs first?" The short answer is no, you don't have to brown them first. But browning the meat takes only a few minutes, and this process allows for the sealing in of the seasoning for more flavorful short ribs, and for creating a nice crust and a beautiful color.
Searing the meat also creates the Maillard reaction, which brings additional textures and different flavors. Per Wikipedia, "in the cooking process, Maillard reactions can produce hundreds of different flavor compounds depending on the chemical constituents in the food, the temperature, the cooking time, and the presence of air. These compounds, in turn, often break down to form yet more flavor compounds."
Like this recipe so far? Be the first to know when we release new ones!
---
Short Rib Taco Toppings
A key element in today's meal is our celery, fennel, and cucumber slaw. The thing is, when you serve wholesome, fatty dishes like short ribs, you need a contrasting topping or side dish - something to keep things balanced, and that's where the slaw comes in.
If you think slaws are dull, wait until you try this one. Our full recipe for Fennel Cucumber & Celery Slaw includes stalky celery along with aromatic fennel, a sliced shallot, some fresh mint, herbs, spices, and a splash of lemon juice. The secret to excellent slaws is using fresh ingredients. They all come together for a fantastic, mouthwatering slaw that might just give our tender short ribs some competition for the spotlight.
More optional taco topping ideas: Chopped tomatoes, cilantro leaves, Mexican crema or sour cream, queso fresco, and avocado or guacamole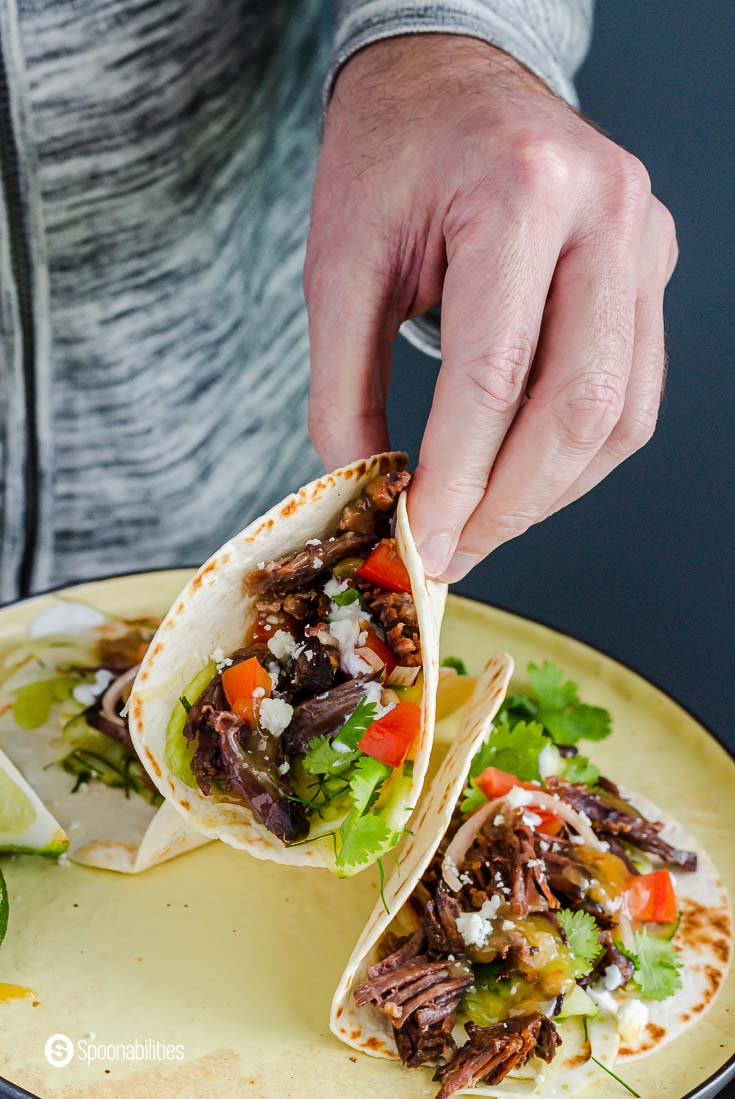 Tropical Tequila Sauce That'll Blow Your Mind
We all know a refreshing margarita goes great with tacos. Well, Terrapin Ridge Farms puts together a colorful sauce with coconut, mango, pineapple, and just a splash of tequila to liven things up. Saying this sauce packs an awesome flavor would be an understatement; it's a real beauty.
Tequila sauce is quite versatile too. You can cook with it like we're doing today, but you can also use it to add the liveliest tropical flavors to anything... not just tacos. From meatballs to brisket, it all tastes better with this exciting condiment.
Now check this out, this Tequila sauce is gluten free, oil-free, dairy-free, vegan, and it's low in sodium. What's not to love? If you want to know more or get yourself a couple of jars of Tropical Tequila Sauce, please visit our store.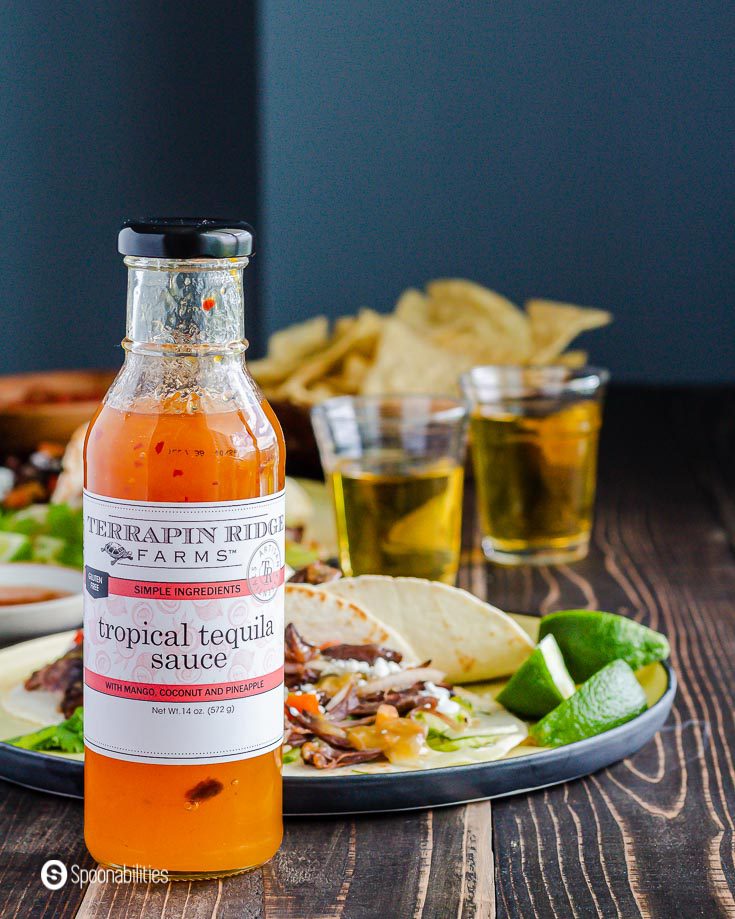 3 More Tacos & 3 Cooking Methods
We have a small collection of tacos recipes, but they all are amazing. For the following tacos recipes, we use three different cooking methods: the traditional braising method, in the air fryer, and grilling.
Now if you are looking for more fabulous recipes made in the pressure cooker, I have two more options for you. Check out Pressure Cooker Short Ribs with Brown Butter Mashed Pumpkin-Cauliflower, and Salted Caramel Pulled Pork Sliders. For these two recipes, you can also serve them as a taco.
Instant Pot Short Rib Options to Consider
If you are not in a rush, you can always use the slow cooker option for your instant pot. Set everything up in the morning on low for approximately eight hours, or four hours on high. But why wait that long if you can have short ribs ready in 50 minutes in the instant pot or pressure cooker.
You can certainly freeze the cooked instant pot short ribs in a freezer-safe container. You can add the sauce on top or in a separate container. I prefer in a separate container. Sometimes, I repurpose the sauce with other kinds of animal proteins.
If you don't want to make tacos, serve these instant pot short ribs as a tostada, or with polenta, mashed plantains (Dominican Mangu), mashed potatoes, or even as a sandwich.
I hope you get a chance to make these instant pot short rib tacos. Did you make this or another recipe? Tag @Spoonabilities on Instagram or add a photo or comment on Pinterest, so we can find you! And we love to hear from you in the comment section below.
Carlos Leo
Your Recipe Concierge!
Print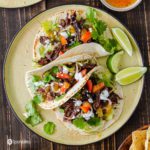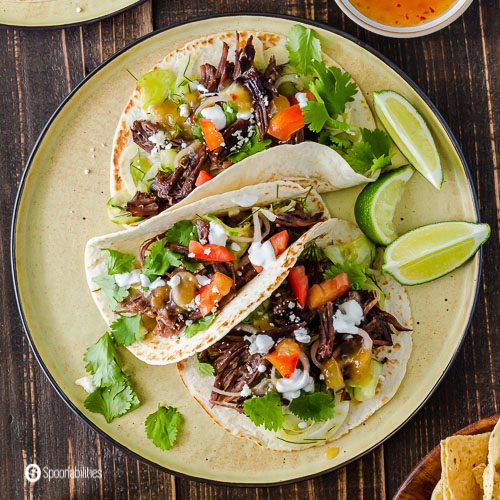 Instant Pot Short Rib Tacos with Tropical Tequila Sauce
---
Author:

Carlos Leo

Total Time:

55 minutes

Yield:

10

tacos

1

x
Description
This recipe for Instant Pot Short Rib Tacos is incredibly easy, mainly because we're making the most out of our pressure cooker. We're also putting together a fabulous cucumber & celery slaw for a complete meal that's just utterly satisfying.
---
---
Instructions
Season the short ribs with salt and pepper.
Set the instant pot / pressure cooker to the sauté setting on high. Add the olive oil and sear the short ribs, about 2 minutes per side. Don't overcrowd the pot or you won't get the nice caramelization - sear in two parts.
Add a ¾ of the jar of the tropical tequila sauce and water, and close the instant pot. Select the manual high-pressure function and set it to high. Set to high pressure + 50 minutes + natural release.
Remove from the bones and break apart the short ribs when instant pot is completely done cooking.
Serve with tortillas as tacos and top with celery, cucumber & fennel slaw.
Prep Time:

5 minutes

Cook Time:

50 minutes

Category:

Main Dish

Method:

Instant pot / Pressure cooker

Cuisine:

Tex-Mex
Keywords: Instant pot recipe, pressure cooker recipe, braised short ribs, Short Rib Tacos, short ribs recipe, Mexican street food
Recipe Card powered by
Available via these affiliate links:
Disclaimer: Links that open in another site, i.e. Amazon, may be affiliate links where at no additional cost to you, as an Amazon Associate I earn from qualifying purchases, should you decide to purchase the item. Read our Disclosure Policy.