Jalapeño Raspberry Glaze for Pork Chops is a quick and easy recipe you will definitely want handy.  The contrasting flavors of the delicate sweet yet zesty zing of the raspberry pairs perfectly with the spicy kick of a jalapeno. When both flavors mingle with the natural juices of a piping hot pork chop, your taste buds will celebrate with every bite.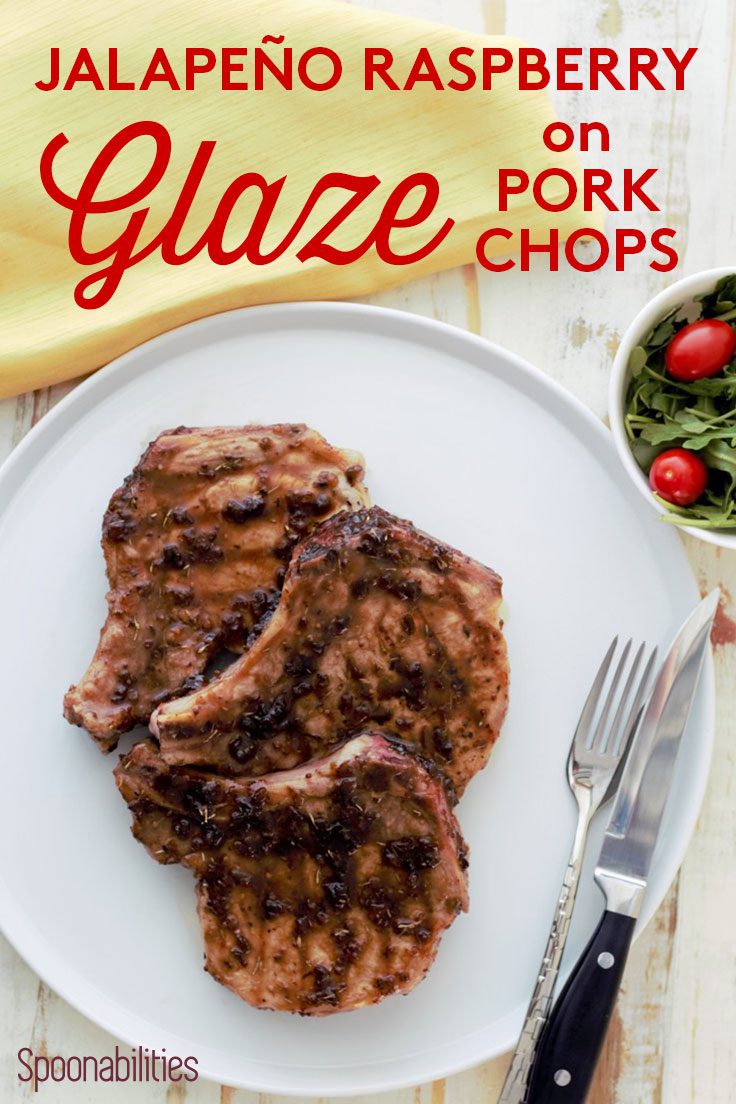 There is really nothing like freshly seared pork chops on a Sunday afternoon. That homey smell of sizzling pork meat, accompanied by a creamy and cheesy potato salad and some crunchy green beans straight from the garden is really to die for. I promise you, your family won't be able to rush to the dinner table quickly enough once they get a waft of that delicious scent.
Homemade Glaze Mixes for Pork Chops
I'm sure you will agree that what really pulls everything together in a pork chop recipe, making your taste buds sing with excitement, is definitely the glaze on the pork chops. There are so many pork chop glaze varieties for you to try that I think you will simply fall in love with. Some of my favorites would certainly be pork chops with one of the following homemade glaze mixes:
Ketchup, honey, soy sauce and garlic for a sweet and sour oriental mix, perfect to accompany with boiled rice, or new potatoes and some crunchy veggies such as mangetout or bok choy.
Balsamic vinegar, bbq sauce and a brown sugar rub, that goes well with a hearty all American macaroni and cheese, garlic and herb creamy mash with roasted vegetables.
Paprika, black pepper and ground onion rub with a side of garden peas and wild lemon and thyme rice.
All of the above mentioned sides and glazes are simply fantastic for you to try out on your favorite batch of pork chops. But I have saved the very best glaze until last. Do you feel like you have tried all of the run-of-the-mill glazes out there but are looking for something with a little extra kick and that special certain pizzazz that will really get your mouth watering? Then have a look at this all-new jalapeno raspberry glaze that will really tantalize those taste buds.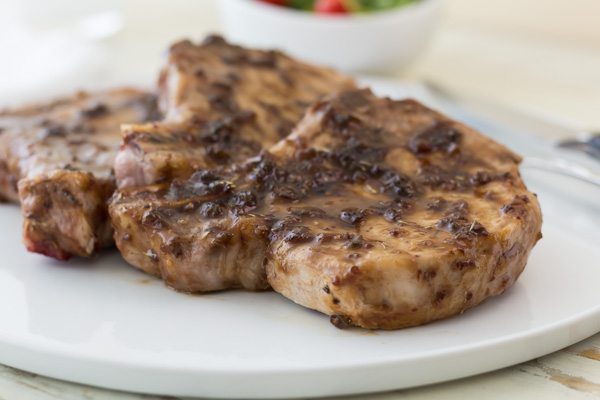 Jalapeño Raspberry Pork Chop Glaze
I simply love this glaze because of the contrasting flavors that are in it. Sweet and sour spices are so popular nowadays and this is the latest and tastiest one to hit the market. You will want to be sure you get a hold of it. The delicate sweet yet zesty zing of the raspberry is such a great contrast to the spicy kick of a jalapeno, and when both flavors nestle into the natural juices of a piping hot pork chop, there is really no better way to describe the taste sensation than saying it is pretty darn good.
If you are cooking for a large party this weekend, then I promise they will be nothing but impressed when you pull out this marvelous mix for them to try. The jalapeno raspberry glaze has a slight punch to it, but you can easily use less in order to make it mild enough for the littlest members of the family to enjoy, or add a few extra teaspoons of the raspberry jalapeno mix if you are preparing it for those who are a little more daring and like a spicy kick.
Ok, but what if you have family and friends coming over for dinner that will arrive shortly and you simply do not have the time to mix together a jalapeno and raspberry rub. Or perhaps you just don't have the ingredients and, let's face it, making a glaze can be time consuming. That is why I really love this recipe, as the jalapeno raspberry is all packed away into a superb JAM, meaning that all of the mixing has been done for you! So there's no stirring, chopping or tasting necessary. Tastiness has just got a whole lot simpler and quicker! As the jam is ready to be used on opening, it cuts the preparation time on this meal in half, taking it down to a mere 5 minutes. With the cooking time of only 10 minutes, that tangy, sweet and spicy jalapeno jam glaze goodness with pork chops can be cooked and plated up on the table in less than 15 minutes. Now there's a tasty weeknight dinner solution that is both scrumptious and super speedy to put together.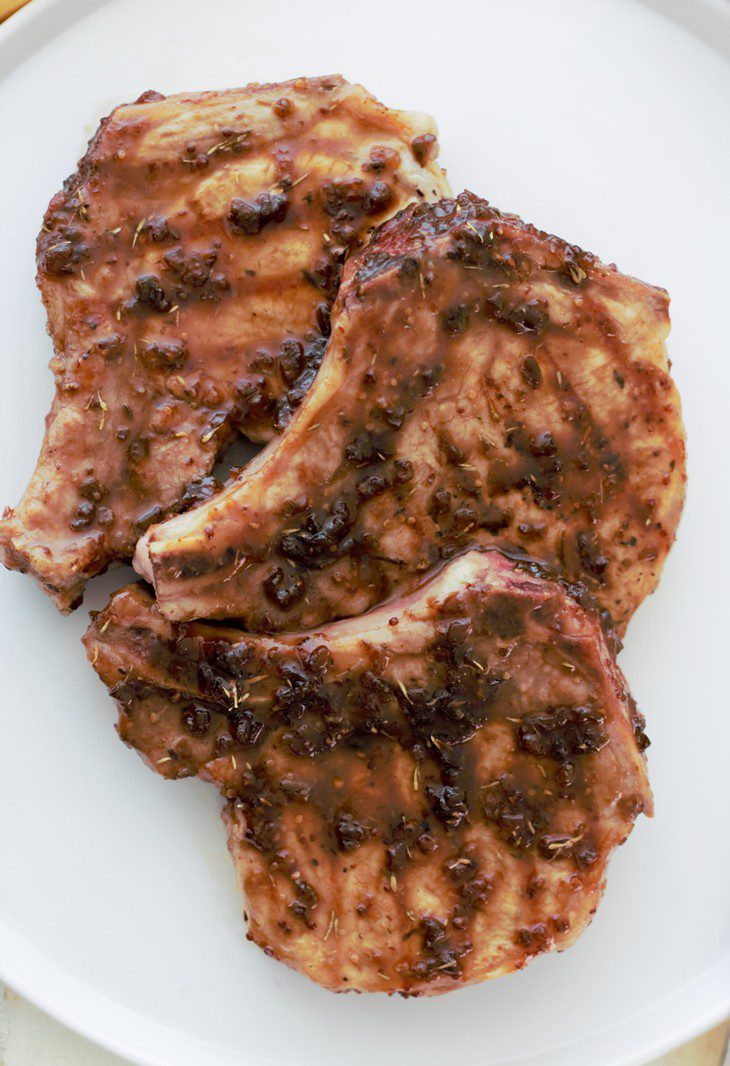 Very Best Sides for Your Pork Chops
Make sure you have the very best sides to really compliment the zingy, sweet glaze and the scrumptious tenderness of the pork chops. Try your hand with the following sides or even combine a few if you are cooking the chops for a party and want your guests to have a few options to choose from. Side options:
Grilled corn on the cob with butter and fluffy couscous
Roasted parsnips and carrots with a creamy garlic mash
Garlic and herb risotto and shiitake mushrooms
Easiest Pork Chop Glaze - You Can Do This!
Apron on, frying pan at hand, ready to give this jalapeno jam recipe a whirl? Great, as here is a list of all of the ingredients you will need to make the most succulent jalapeno raspberry pork chop glaze known to man, ready for you to whisk together for your family this weekend.
4 boneless pork chops
Raz-Pepper Preserves available today in our online shop
Dijon Mustard available today in our online shop
Balsamic vinegar available today in our online shop
Seasonings (salt, black pepper, garlic powder, and dried thyme leaves)
That's it. Go ahead, give it a try and then let me know what you think in the comments section below.
Enjoy!
Carlos
Your Recipe Concierge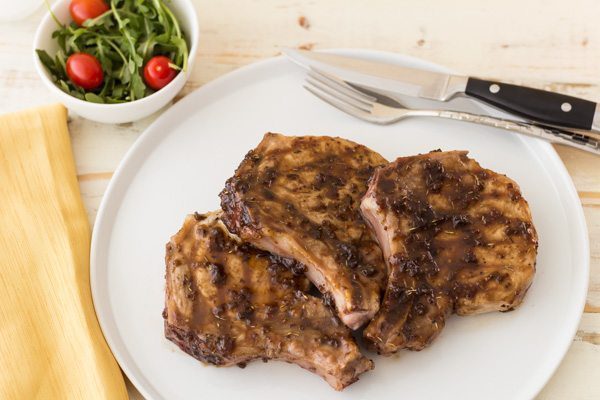 Check out other fantastic sweet/savory pork recipes:
Print
Jalapeño Raspberry Glaze for Pork Chops Recipe
---
Author:

Carlos Leo

Total Time:

15 minutes

Yield:

4

1

x
Description
Jalapeño Raspberry Glaze for Pork Chops is a quick and easy recipe you will definitely want handy. Sweet zesty raspberries with jalapenos on a pork chop will have your taste buds celebrating. This glaze will also go very well with chicken or steak. As a side dish for this glaze, I recommend a baked potato, roasted root vegetables, green salad with a simple dressing or white rice.
If you like this recipe, why not be part of our newsletter community
---
Seasoning Mix:
1

cup

salt

¼

cup

black pepper

¼

cup

garlic powder
Mix ingredients together and store in an airtight container for up to 6 months
---
Instructions
Sprinkle pork chops with Seasoning Mix on both sides.
Grill pork until done - about 4 minutes per side or until it reaches the internal temperature of 145F.
Combine remaining ingredients in a saucepan; cook on medium heat 5 minutes or until sauce is reduced to glaze consistency, stirring occasionally.
If you don't like much thyme, reduce the amount of thyme and increase jam from ¼ to ½ cup.
Before serving, spoon sauce evenly over chops while they are still hot.
Prep Time:

5 minutes

Cook Time:

10 minutes

Category:

Dinners

Cuisine:

International
Recipe Card powered by
More Recipes with Pepperlane Raz-Pepper Preserves