Leek and Potato Gratin is the ultimate comfort food with creamy and delicious flavor. This side dish recipe will pair well with any meat, chicken or fish, being a great addition to your table during Thanksgiving, Christmas or any special dinner throughout the year. Thinly sliced potatoes are gently cooked for 5 minutes in milk, bay leaves, salt and crushed garlic. Then bake with a layer of sautéed leeks, Gruyere cheese, Parmesan cheese, white pepper, and Honey Balsamic Dijon Mustard. Finally broil for a crispy, cheesy top.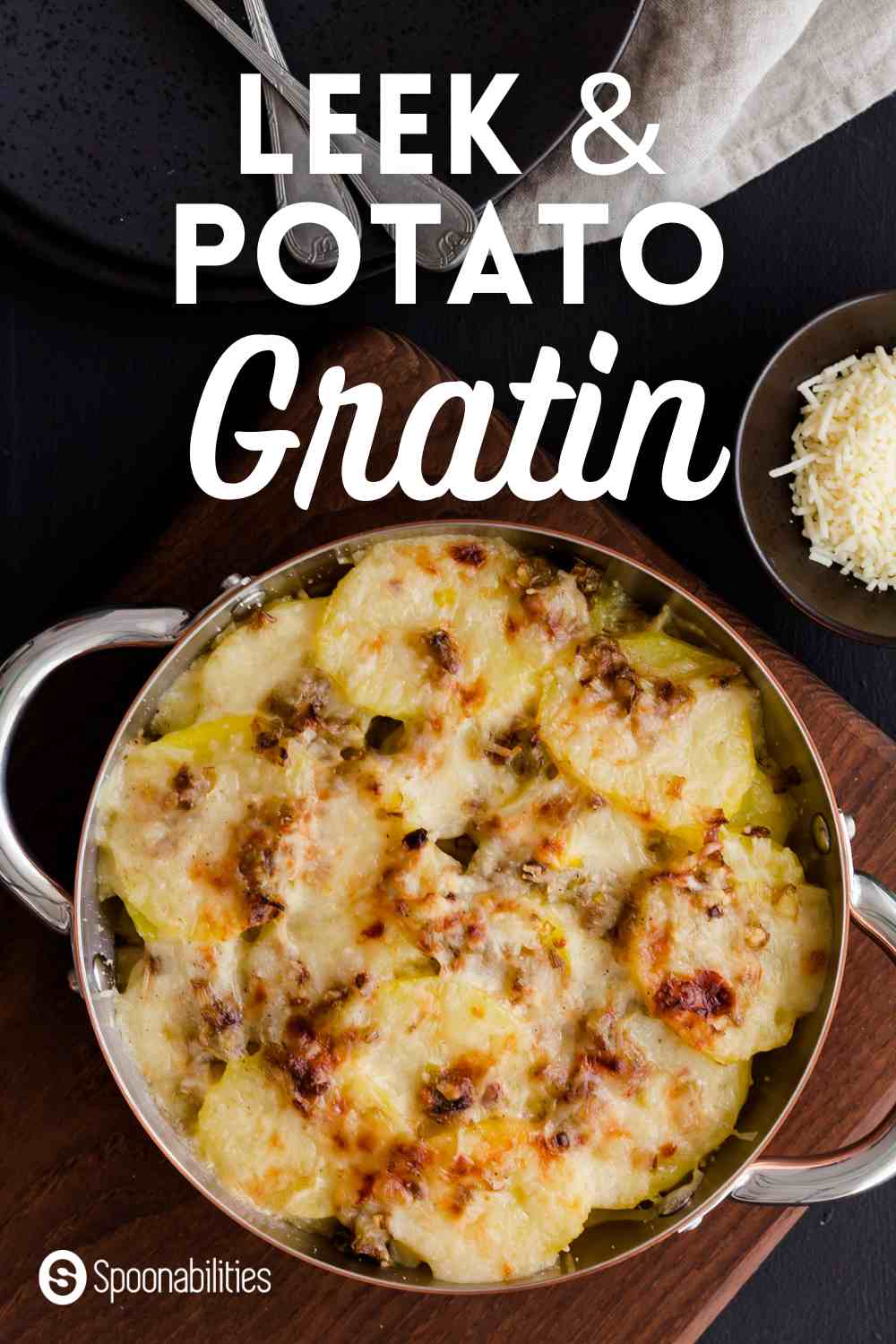 Hello my friends. Leek and Potato Gratin is my favorite recipe from my Fall-Winter side dish series. Geoffrey will say of course that anything with potatoes would be my favorite meal. And, it's very true. I love potatoes and I can eat them every day. My favorite way to eat potatoes is both mashed potatoes and potato salad.
Related: Spanish Style Baked Potato | Mushroom Stuffing Recipe with Shiitake, Cremini & White Mushrooms
My favorite meal combination is spaghetti, rice, and mashed potatoes topped with a fried egg! Everyone tells me that I'm out of control. This plate is a carbs overload and no protein, but it's SO GOOD! Do you have a favorite combination like this one? Let me know in the comment section.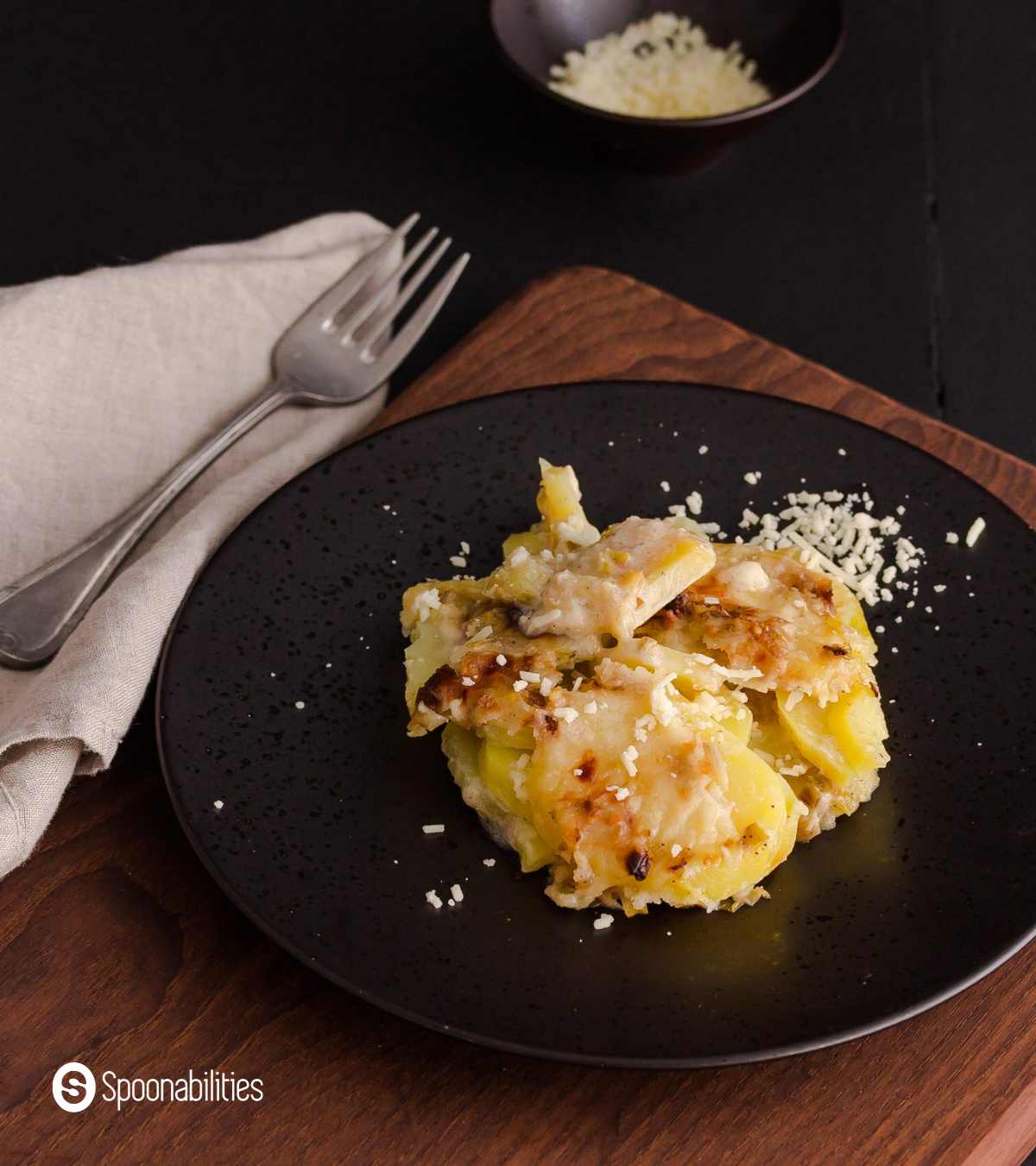 You know I always find something interesting when I'm writing the blog post every week and this time is no exception. I got a bit confused trying to find the best name for this recipe because when I searched "potato gratin," I got a lot of results for "potato scallop" and the recipes were almost identical with minor differences. So of course that started my research to find out what the difference was between scallop potato and potato gratin.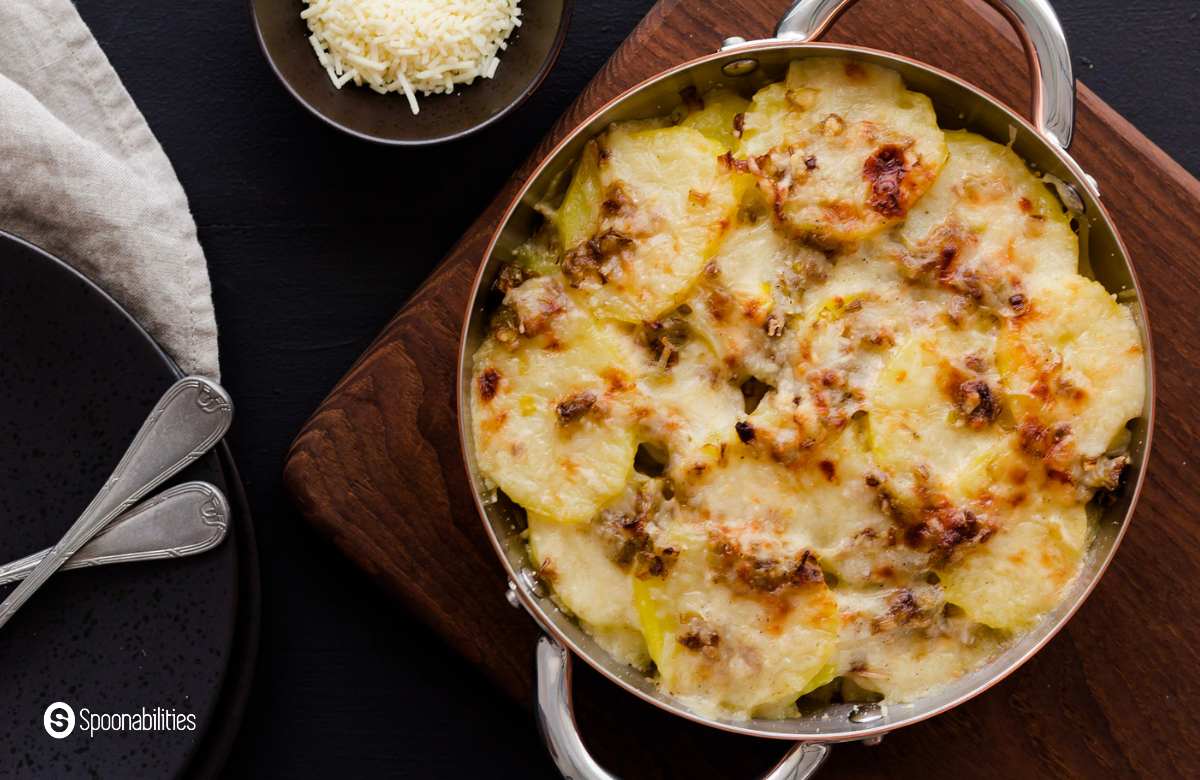 What's the difference between scallop potato and potato gratin?
Both scallop and gratin are dishes made with thinly sliced potatoes and baked in cream or milk sauce and topped with breadcrumbs and broiled until brown.
Au gratin is a French culinary technique, which means an ingredient covered in breadcrumbs or cheese and broiled until the crust is browned. Au gratin always includes cheese, and the gratin technique can be used with other vegetables.
Scallop is the same French technique but doesn't involve grated cheese on the top. So the main difference between the scalloped potato and potato gratin is the cheese!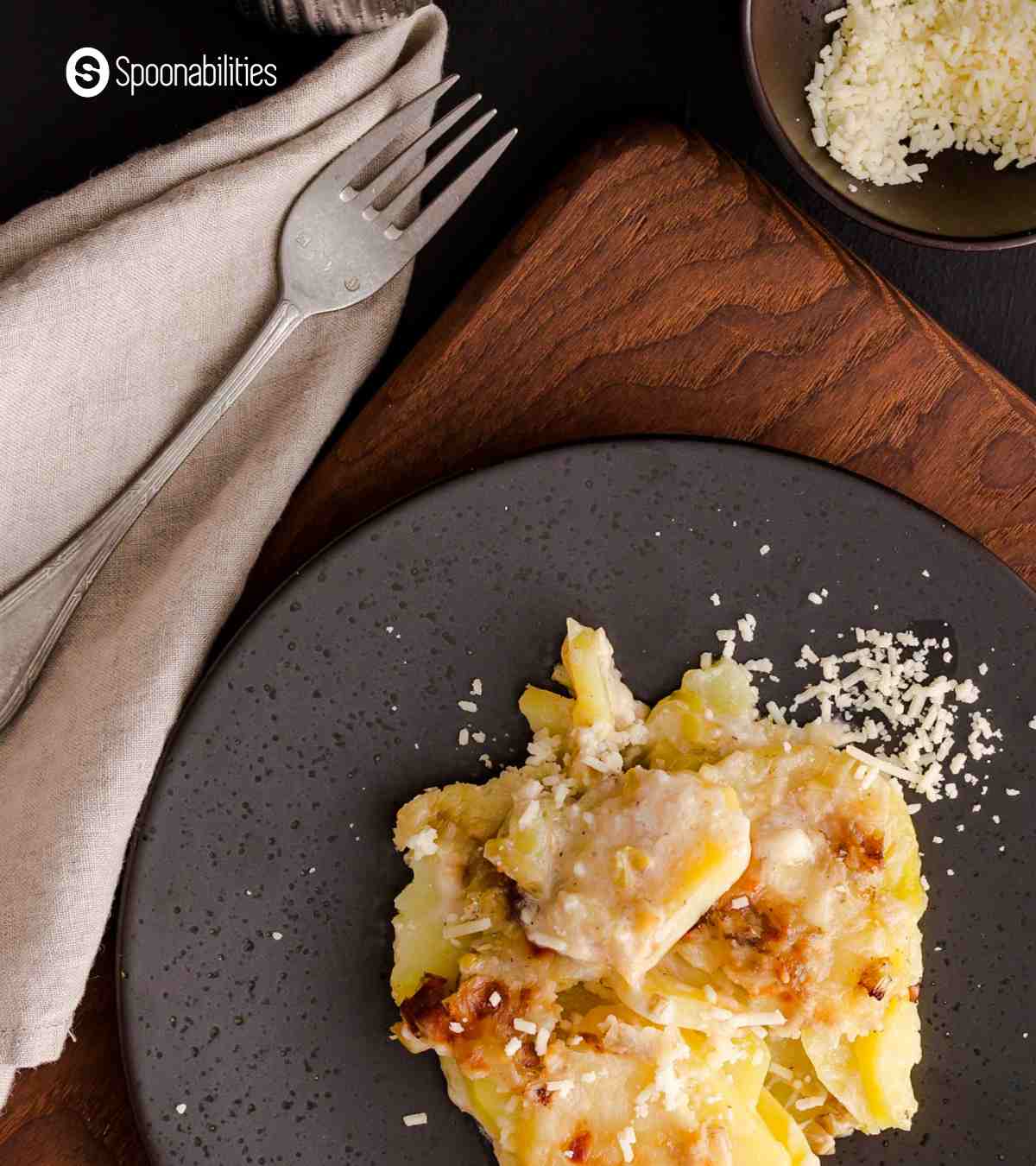 Like this recipe so far? Be the first to know when we release new ones!
Best potatoes to make a Potato Gratin
To make scallop or gratin potato it is very important to pick a potato that will hold its shape when it's baking in the creamy liquid. I recommend using a starchy potato, and the starch will help to thicken the cream. Some of the best potatoes for potato gratin are russet potatoes and Yukon Golds. The russets will give you a more creamy texture, and the Yukon Golds will hold their shape beautifully. I chose Yukon Golds for this Leek and Potato Gratin.
To cut the potatoes thin and evenly, I highly recommend getting a mandolin. I purchased one called the Paderno World Cuisine kitchen slicer, with 4 blades. Always use the protective finger guard. I personally find it a bit difficult to cut big pieces with the protective guard. So, I purchased a cut resistant glove which works perfectly for me. Again, DO use a protective finger guard or glove. You don't want to get your fingers in the middle of that blade because it won't be pretty.
Potato Gratin Ingredients
The way I did this leek and potato gratin recipe is very different than previous recipes I have made before. Usually, I boil the whole potato and then cut them into slices. This time I cut the potatoes with the mandolin and cooked them in a medium saucepan with milk, garlic, and bay leaves.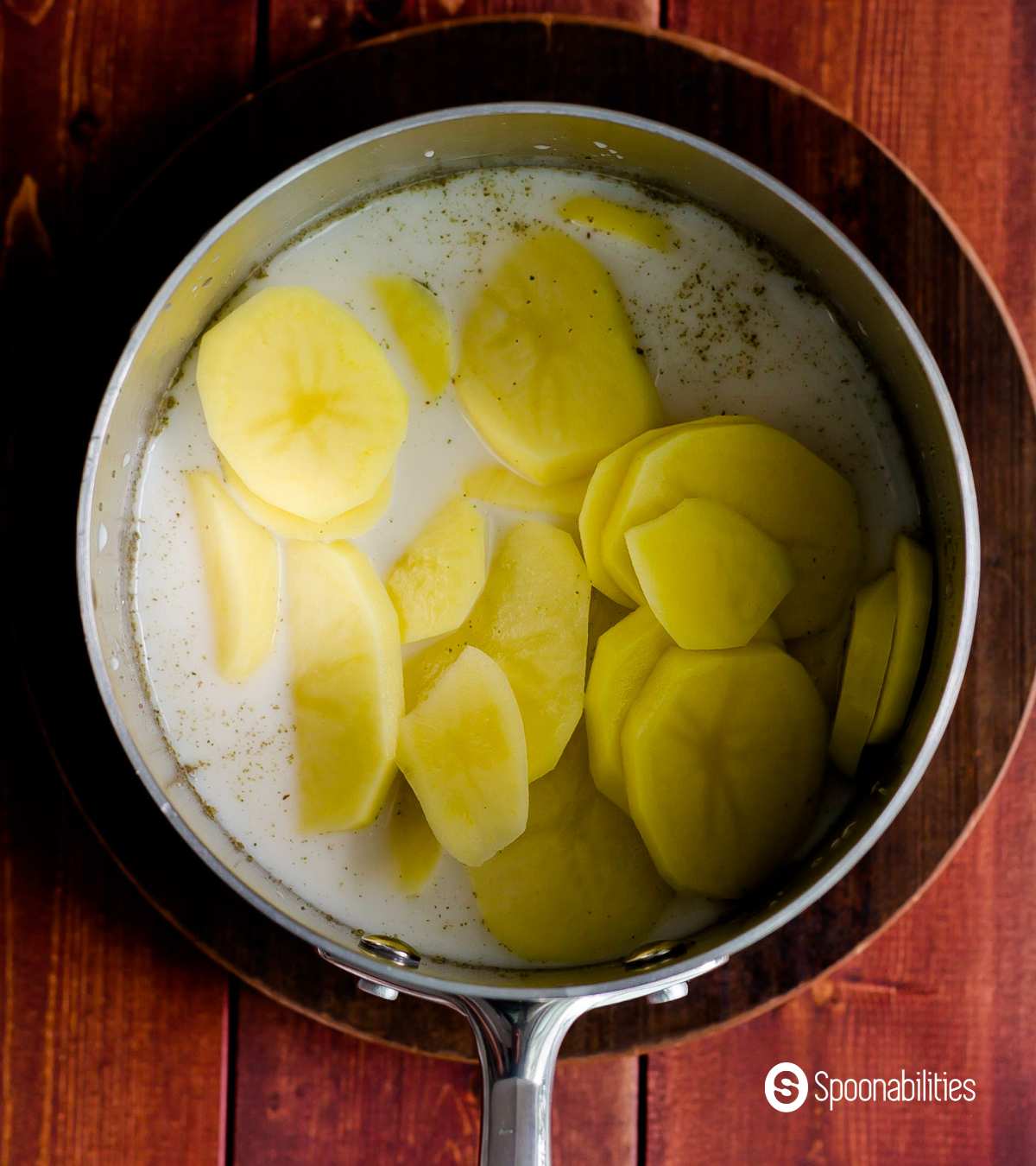 Bring them to a quick boil and then reduce the heat to a simmer for only about 5 minutes because they will finish cooking in the oven. Make sure to reserve one cup of milk and discard the bay leaves; take the garlic and mash it and put it back into the milk. This milk mixture will be added on top of the completely setup dish before putting it in the oven.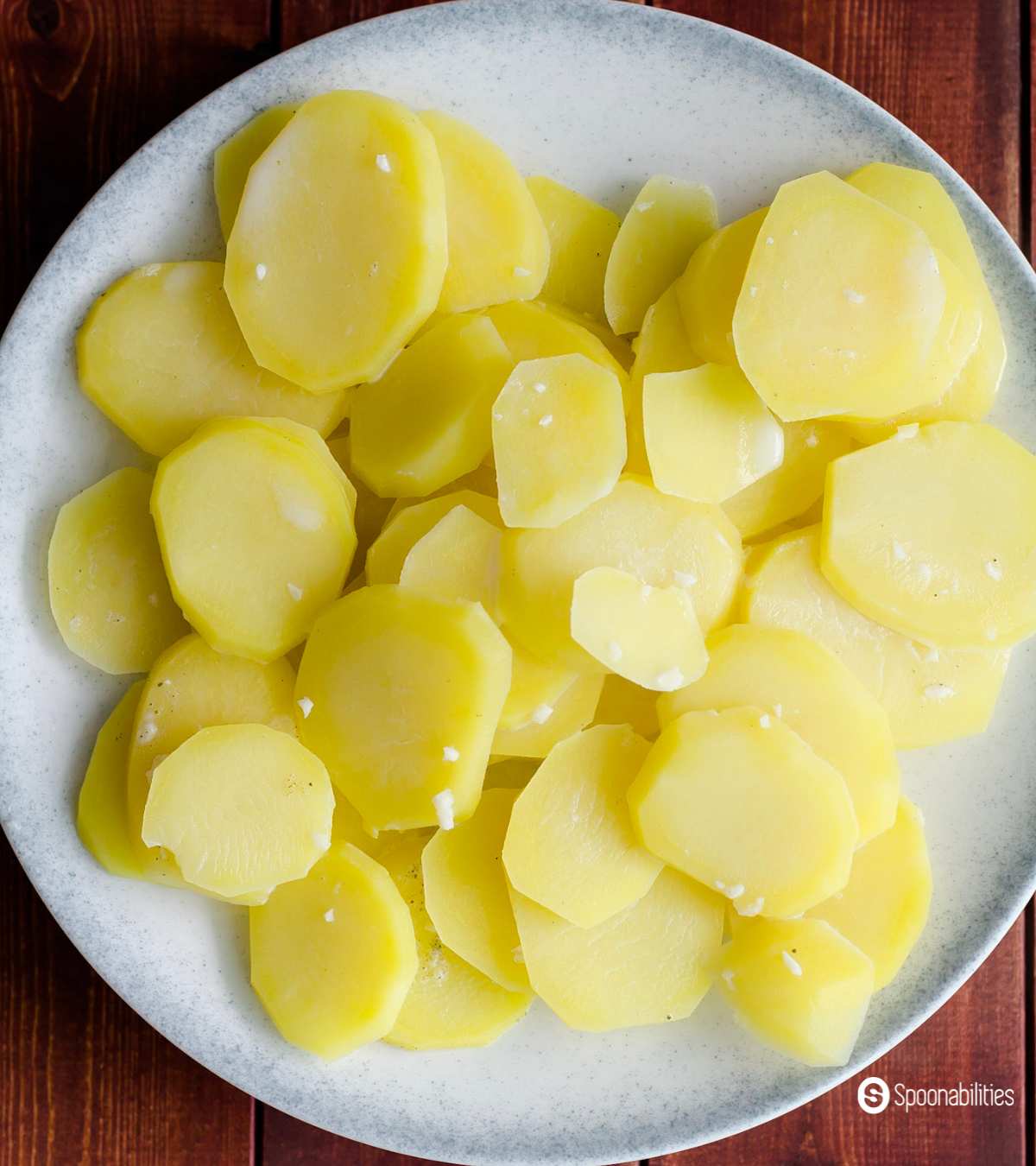 In a separate cup of milk, you will add some mustard, nutmeg and white pepper. I use Honey Balsamic Dijon Mustard, which you can buy in our online store. Then stir well until the mustard dissolves.
Meanwhile in a frying pan, add four Tablespoons of olive oil, add the leeks, sea salt with oregano and other spices. Sauté for about 8 minutes or until the leeks become tender. Keep the leek mixture in a small bowl until you are ready to assemble the dish.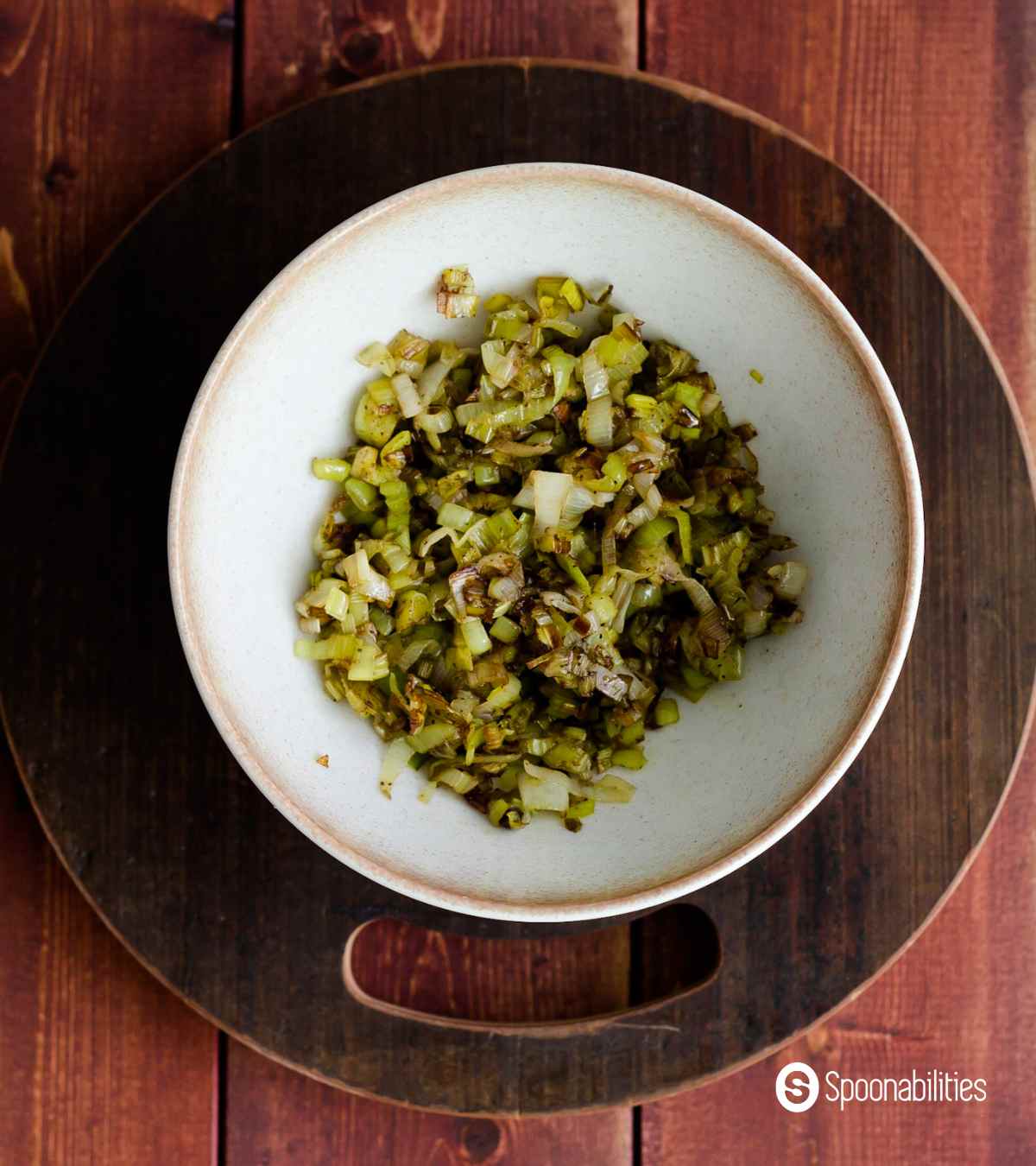 Assembly Procedure for Leek & Potato Gratin
In an oiled (I used Extra Virgin Olive Oil) 7-½" baking dish or round omelet pan, place the first layer of potatoes, add ½ of the sautéed leeks and spread evenly, then ¼ cup gruyere cheese. Repeat with another layer or potatoes, leeks and cheese. Then drizzle the ½ cup of reserved milk mixture, and top everything with the parmesan cheese.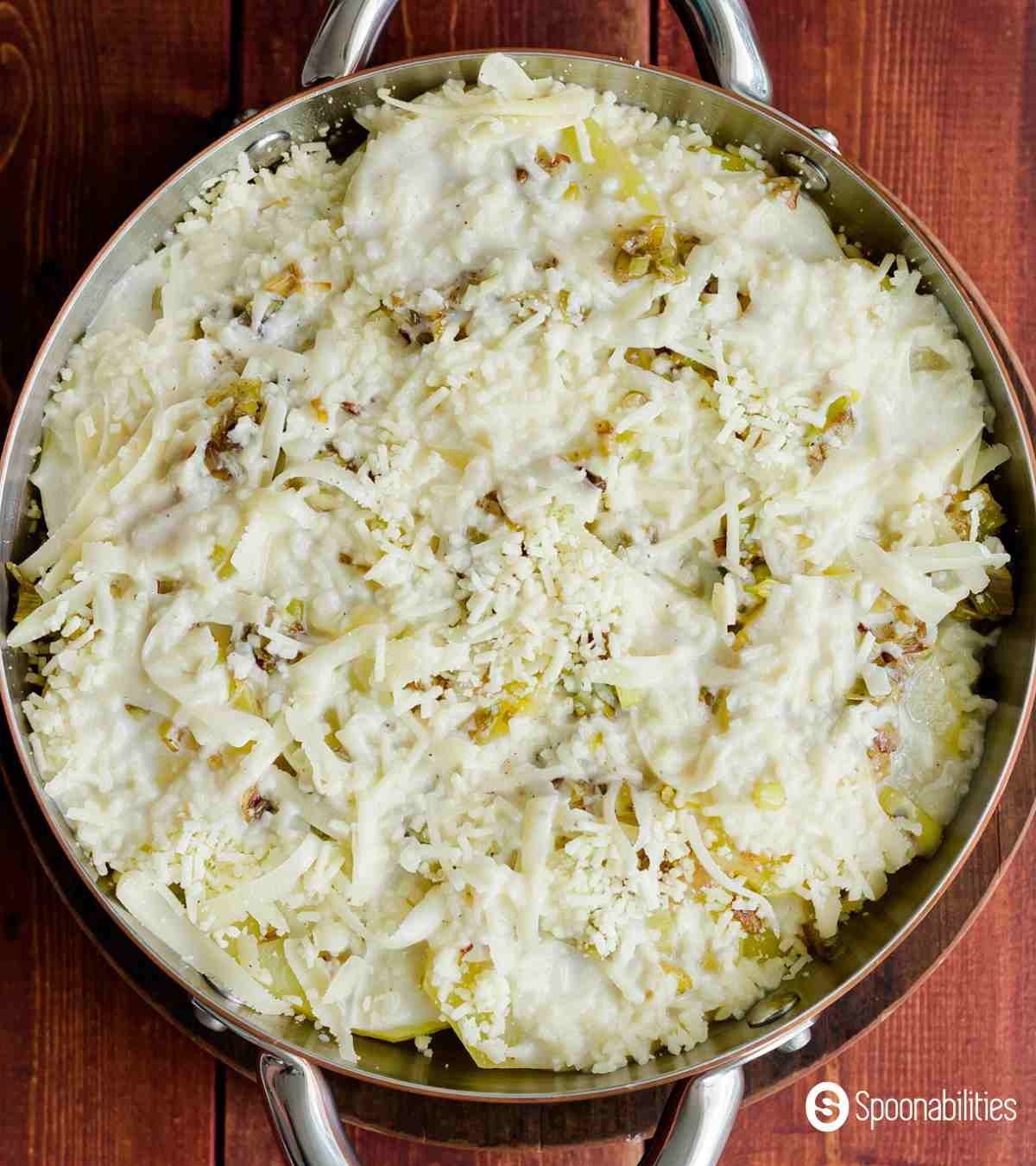 Cover with aluminum foil and bake for 25 minutes at 375 degrees Fahrenheit, and then broil uncovered for 5 minutes until the top gets golden. If you haven't noticed... I didn't use butter at all for this recipe.
I almost forgot to tell you which of the half jars from our pantry I used for this recipe. I used some leftover ingredients from the previous two side dish recipes I made recently. One of them is the olive oil that I opened for the Pecan Honey Mustard Dressing, and the other is the sea salt from the Shiitake Cremini White Mushroom Stuffing Recipe.
Although I used similar mustards, you could use the jar of Honey Balsamic Dijon Mustard you just opened for a Yellow Pea Shoot Salad Recipe with Mustard Vinaigrette, and the Apricot Chicken recipe.
This Leek and Potato Gratin Recipe is tasty, tender, cheesy, and amazingly delicious. I will definitely make it again either for Christmas or New Year's Eve. Maybe both.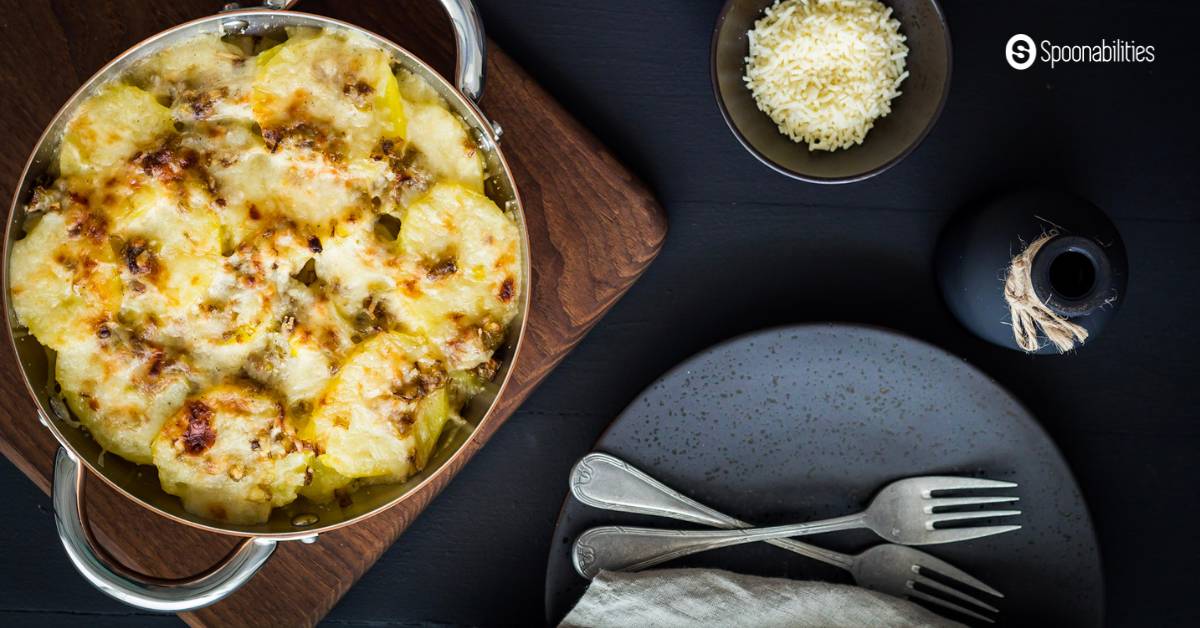 Did you make this recipe or another of our recipes? Don't forget to share your feedback and variations in the comments section below! Share your creations with us on social media by tagging us @Spoonabilities on Instagram.
Have a happy and thankful week!
Carlos Leo
Your Recipe Concierge
Print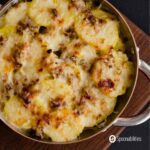 Leek and Potato Gratin Recipe
---
Author:

Carlos Leo

Total Time:

50 minutes

Yield:

6

1

x
Description
Leek and Potato Gratin is the perfect side dish to complement any dinner for special occasions, and holidays like Thanksgiving and Christmas. This recipe is simple with a rich, creamy taste from the beautiful combination of gruyere & parmesan cheese, milk, and other spices, and the deliciously sweet flavor of Honey Balsamic Mustard. Adapted from Cooking Light
If you like this recipe, join our newsletter to know about future ones.
---
2 ½

cups

whole milk

1 ½

pounds

peeled and very thinly sliced Yukon Gold potatoes

2

cloves smashed garlic

¼ teaspoon

ground nutmeg

1

bay leaf

2 teaspoons

Honey Balsamic Mustard

1 Tablespoon

unsalted olive oil

2 ¼

cups

sliced leeks

1 teaspoon

sea salt

½

cup

shredded Gruyère cheese

¼

cup

grated Parmesan cheese

½ teaspoon

freshly ground white pepper
---
Instructions
Preheat oven to 375°F.
Combine milk, potatoes, bay leaf, ¼ teaspoon salt, and garlic in a large saucepan; bring to a boil. Reduce heat and simmer 5 minutes or until potatoes are almost tender.
Drain in a colander over a bowl, reserving ½ cup milk mixture.
Add nutmeg to the milk mixture, and simmer for a few minutes. Before removing from the stove add mustard, stir well. Set aside.
Heat 4 Tablespoons of the olive oil in a 12-inch nonstick frying pan set to medium. Add the leeks, ¼ teaspoon of the pepper, and a ¼ teaspoon of the sea salt with herbs. Stir to coat the leeks with the oil. Stir occasionally until the leeks are tender - about 4-8 minutes. Remove pan from heat; place leek mixture in a bowl.
Arrange half of potato slices in a single layer on the bottom of a gratin dish; top evenly with half of leek mixture. Sprinkle with ½ teaspoon sea salt and ¼ cup of Gruyère cheese.
Repeat layers with remaining half of potatoes, remaining half of leek mixture, remaining ½ teaspoon salt, and remaining ¼ cup Gruyère.
Drizzle with reserved ½ cup milk mixture; sprinkle with Parmesan.
Cover pan with foil; bake at 375°F for 25 minutes.
Remove foil from pan, not removing pan from oven. Turn on broiler and broil for 5 minutes or until bubbly and golden brown.
Remove pan from oven, sprinkle with pepper; cool. Cut into wedges and serve.
Notes
Vitamin A 9%, Vitamin C 38%, Calcium 25%, Iron 6%, Vitamin B12 10%, Vitamin E 2%, Vitamin K 5%
Prep Time:

15 minutes

Cook Time:

35 minutes

Category:

Side Dishes

Method:

baking

Cuisine:

French
Nutrition
Calories:

229

Sugar:

6.1 g

Sodium:

461.5 mg

Fat:

10.2 g

Carbohydrates:

25.7 g

Fiber:

2.7 g

Protein:

9.6 g

Cholesterol:

23 mg
Keywords: leek and potato gratin, leek and potato gratin no cream, leek potato gratin, leek and potato side dish, potato leek gratin
Recipe Card powered by
Suggested Ingredients & Equipment
Links that open in another site, i.e. Amazon, may be affiliate links where at no additional cost to you, as an Amazon Associate we may earn from qualifying purchases, should you decide to purchase the item. Read our Disclosure Policy.
Interested in more related recipes?
Looking for similar recipes? Try these: