Summer is almost here, although in Miami it feels like it's been here for a while already. Today I have the perfect cold pasta salad for your BBQ summer party using some kid-friendly fun shaped Fusilli pasta. Artichoke Pesto Pasta Salad with Green Bean and Potato is a super easy recipe that is perfect to make ahead. This salad is packed with Mediterranean flavors from our creamy and tasty artichoke pesto. Also watch the video below to see how to make homemade pasta.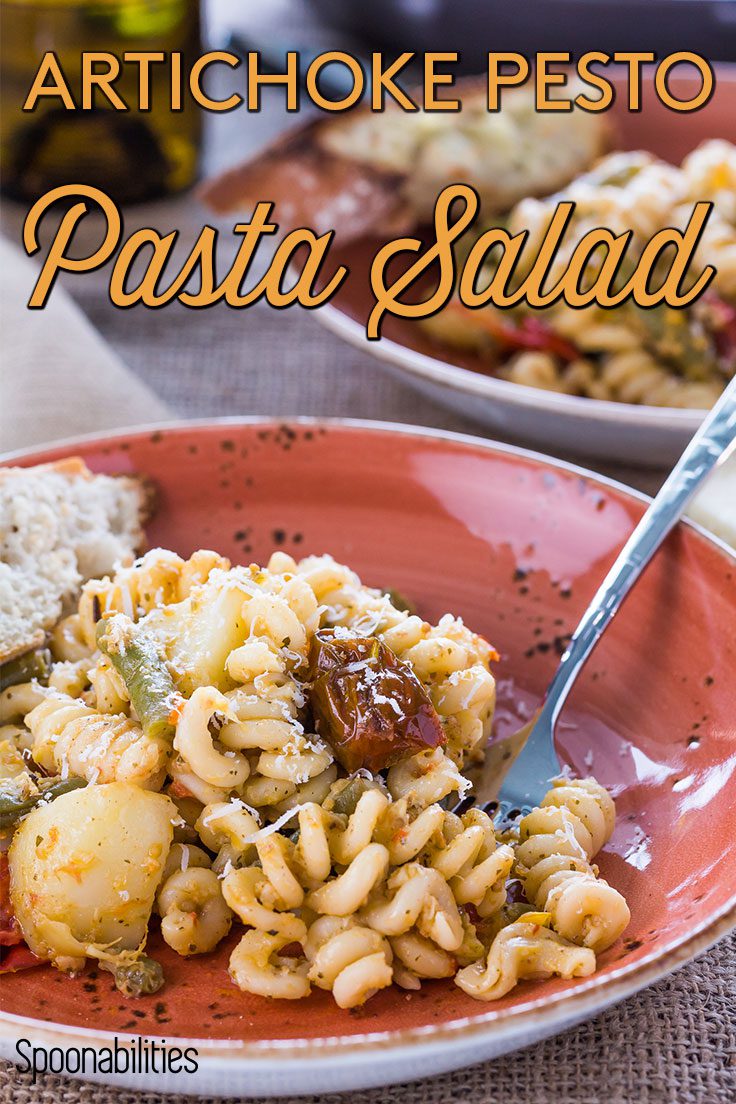 Blog post may contain affiliate links. Read our Disclosure Policy
Hey my friends, the pasta salad for today has an unusual combination of ingredients like pasta and potatoes. Yes, two starches. Maybe not the healthiest combo, but they taste so good together especially with the creamy texture of Artichoke Pesto. As a freshness element, I added tender & crispy green beans. I also included sweet roasted cherry tomatoes for a pop of color and sweetness. The combination of two starches (potatoes & pasta) creates a creamier base flavor. Crispy green beans and roasted cherry tomato add extra flavor and color to the dish.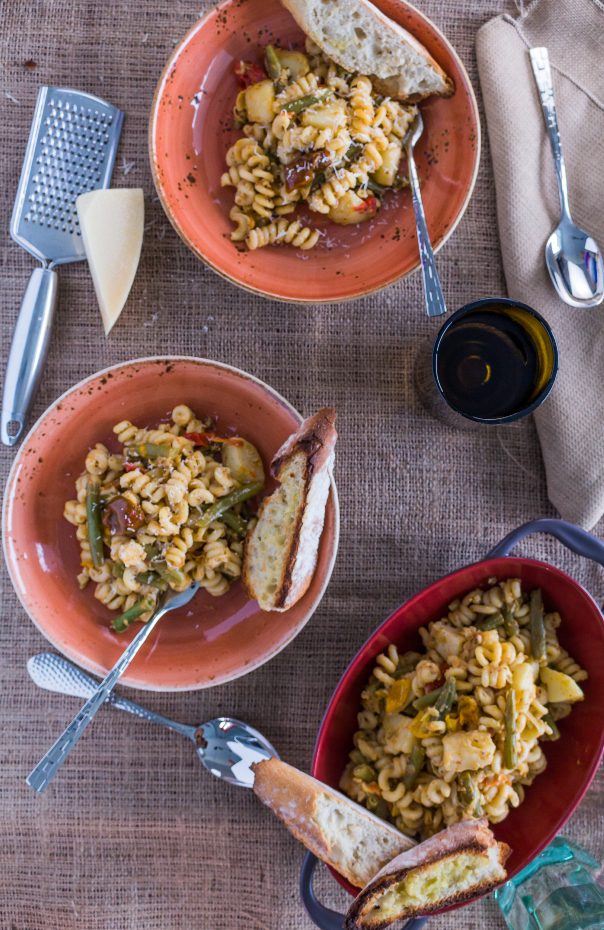 Inspiration for this Pesto Pasta Salad with Green Bean and Potato came from American Test Kitchen. This type of pesto pasta salad originally came from Liguria, Italy. People from Liguria traditionally use pesto in this region from Italy, and traditionally use trenette pasta. I didn't find this pasta in any supermarket around Miami. If you cannot get trenette pasta, use any pasta with the perfect shape to hold thick sauce or pesto. Fusilli pasta was my pick because it's easy to find in any supermarket, and has a fun shape.
What kind of pasta is Fusilli?
Fusilli is 1½ inches long, thick, corkscrew shaped pasta. Fusilli means "little spindles." The corkscrew-shape helps hold more pesto in each spoonful for extra flavor. In the United States, we are more familiar with the pasta called Rotini that has a twist or spiral shape.
Cooking time: 8 to 10 minutes.
Best for baked dishes, and salads.
Ideal sauces: tomato, pesto, seafood.
Watch the video below to see how to make different homemade pasta including Fusilli.
Cooking Pesto Pasta Salad with Green Bean & Potato
The traditional method to cook pesto green bean, potato pasta salad is cooking all ingredients at the same time in the same pot. Honestly, I prefer to cook the potatoes and pasta first for 10 minutes. Then add the green beans and blanch them for 3 minutes and shock them in ice water. This process helps to keep vibrant color and fresh flavor. You also have more control over each ingredient's cooking time and therefore the texture and tenderness of each ingredient. Cooking time will depend on how thick you cut the potatoes but make sure to check them at around the 8 minutes mark to prevent the potato from falling apart and losing their shape.
Always, remember to salt your water generously. It's very important to keep in mind when cooking pasta.
While the pasta is cooking, pop the cherry tomatoes in the oven with one teaspoon of sea salt and 1 Tablespoon of Extra Virgin Olive Oil. Roast them for about 30 minutes.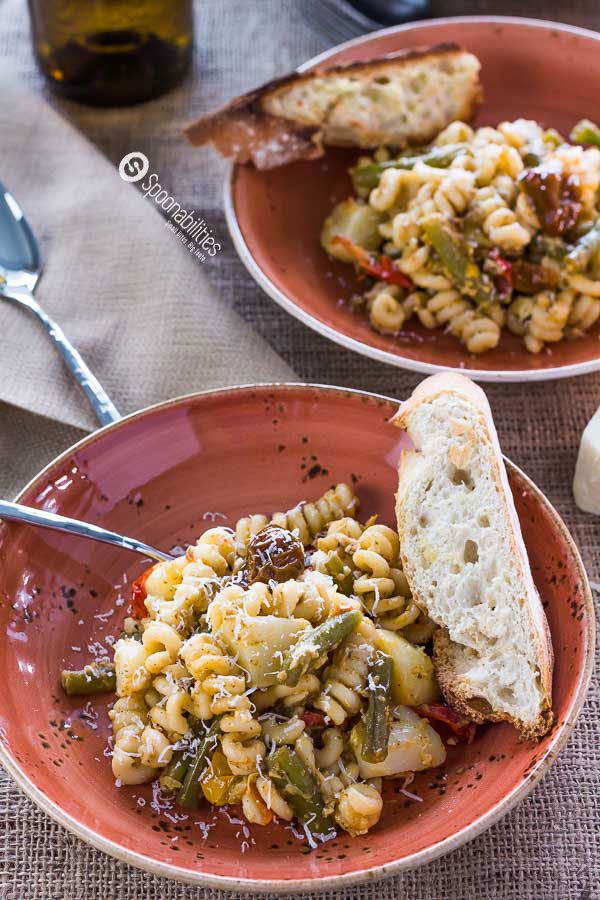 For the last step, heat a skillet with a Tablespoon of Eleon EVOO, add the garlic and cook until the fragrance is released. Now add the roasted cherry tomato, Artichoke Pesto and the cheeses (Asiago & Parmesan). Add two Tablespoons of crème fraîche. You can add a little of the pasta water if you find the sauce to be too thick - but I didn't do it when making this recipe.
Combine all the ingredients until all is blended. Serve in a salad bowl and drizzle some premium EVOO.
You can use this Artichoke Pesto Pasta Salad with Green Bean & Potato as a side dish with:
More Recipes with Artichoke Pesto
I use the Artichoke Pesto as a delicious part of an Asiago Crab Artichoke Dip recipe, which unfortunately was so good it didn't last very long in the house. Some other recipes you can find here that use this delicious Artichoke Pesto are:
I hope you get to try one, or all of these recipes. Let me know in the comments below which one you are going to try first.
Happy summertime!
Carlos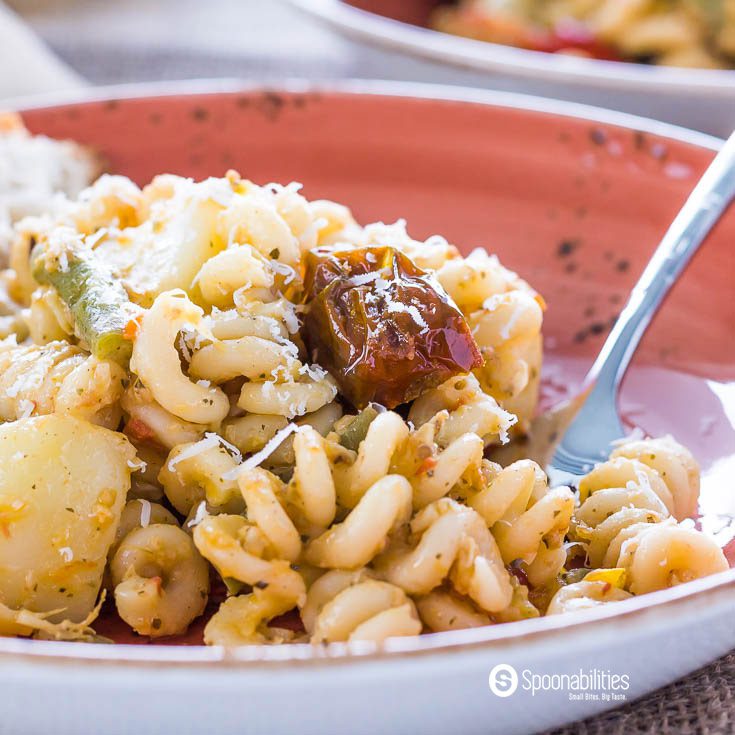 Print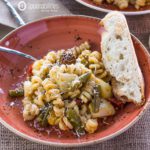 Artichoke Pesto Pasta Salad with Green Bean & Potato
---
Author:

Carlos Leo

Total Time:

27 minutes

Yield:

6

-

8

Serving

1

x
Description
Artichoke Pesto Pasta Salad with Green Bean and Potato is a delicious summer recipe with rich artichoke & Asiago taste, and creamy texture. Inspired by a recipe from the American Test Kitchen, this cold pasta salad is great as a side dish with BBQ meals, or even by itself for lunch.
If you like this recipe, join our newsletter
---
2 Tablespoons

Navarino Icons Eleon Extra Virgin Olive Oil

2 teaspoons

Fleur de Sel Sea Salt

2 Tablespoons

Crème Fraîche

3

garlic cloves

12

oz

green beans, trimmed and cut into 1+½ inch lengths

1

lb

red potatoes peeled and cut into ½ inch pieces.

1

lb

fusilli pasta

½

cup

Asiago cheese

½

cup

Parmesan cheese

2

-

3

cups

roasted cherry tomato. I made my own. See notes below.
---
Instructions
Heat 3 quarts water to boil and add salt.
Peel and cut the potatoes into ½ inch pieces or into 4 pieces if the potato is small or medium size.
Add the Fusilli pasta in the same pot with the potatoes.
Cook the potato and pasta for 10-12 minutes or until is cooked
After you remove the potato and pasta. Add the green beans and cook for 3 minutes
In another skillet, add the two Tablespoons EVOO.
Add the garlic for a minute until it is fragrant.
Add the roasted cherry tomato, Artichoke Pesto and the cheeses (Asiago & Parmesan). Add two Tablespoons of Crème Fraîche
Option: Add some pasta water if you want a more loose sauce.
Add the pasta, green beans & potatoes. Make sure that everything is coated well with the sauce.
Cook over low heat for a few minutes until the sauce gets creamy if needed
Serve in a salad bowl and drizzle on some Navarino Icons Eleon Extra Virgin Olive Oil
Notes
Vitamin A 40%,  Vitamin C 60%, Calcium 47% , Iron 32%
Prep Time:

15 minutes

Cook Time:

12 minutes

Category:

Lunch, dinner, salad

Cuisine:

Italian
Nutrition
Calories:

782

Sugar:

6 g

Sodium:

1036.5 mg

Fat:

51.4 g

Saturated Fat:

11.1 g

Carbohydrates:

61.9 g

Fiber:

6.6 g

Protein:

22.5 g

Cholesterol:

24.1 mg
Recipe Card powered by
Available via these Amazon links:
Disclaimer: Links that open in another site, i.e. Amazon, may be affiliate links where at no additional cost to you, we may receive a small commission should you decide to purchase the item. Read our Disclosure Policy