When you combine the sweet and fruity taste of Apricot Preserve with the exquisite gourmet flavor of Mustard with Herbs de Provence, you will end up with a winning dinner recipe for this delicious Ginger Apricot Chicken Breast garnished with chopped walnut. This dish is perfect for a special dinner with friends or family.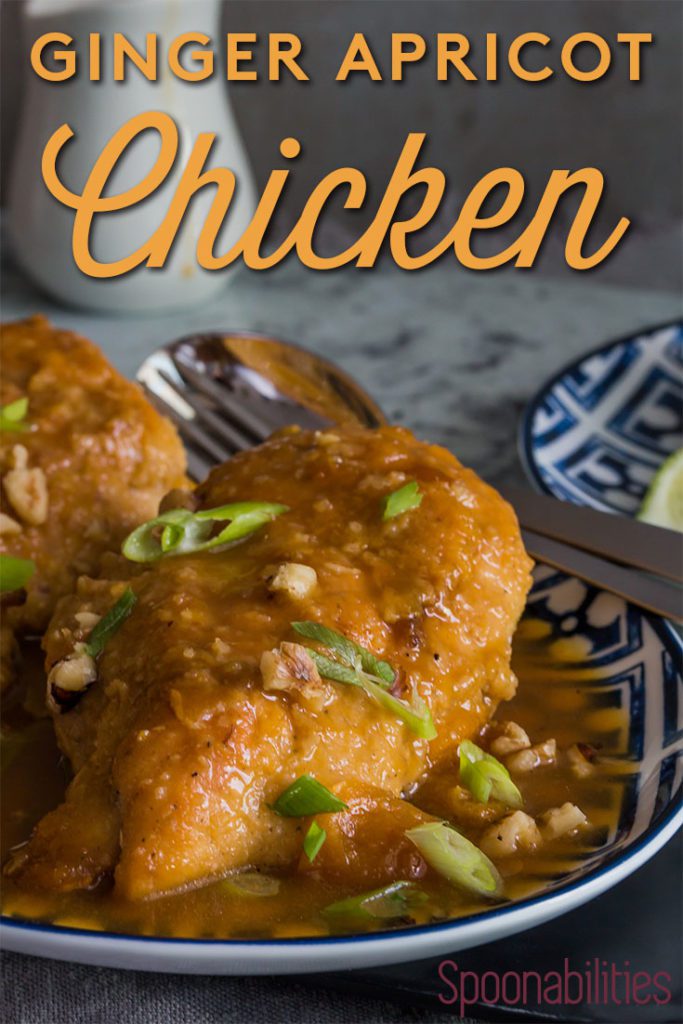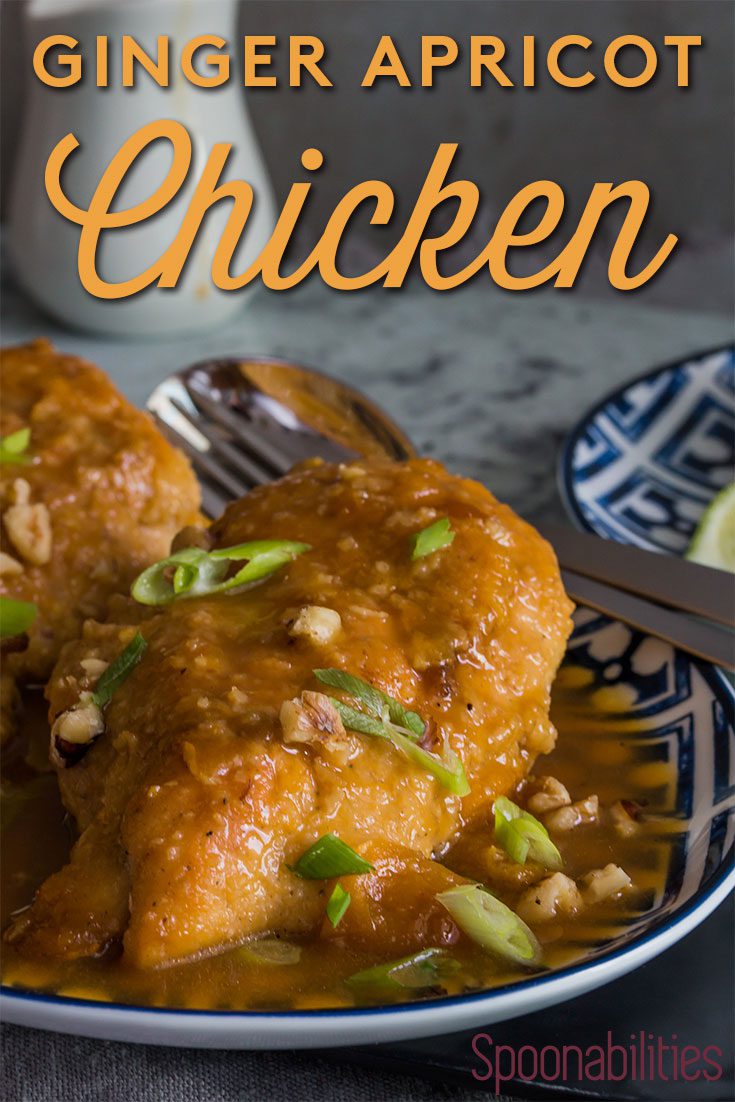 Blog post may contain affiliate links. Read our Disclosure Policy
Hello my friends,
I'm trying to find the most precise words to describe this comforting, casual yet elegant dish. Ginger Apricot Chicken Breast is one of those dishes with a WOW factor when you take that first bite. This chicken recipe is all about the quality of the ingredients, and the perfect combination of each of the ingredients in this dish.
Two Ingredients that make Ginger Apricot Chicken exquisite
There are two main ingredients that bring this dish together, and without those flavors you won't be able to get the fantastic gastronomic experience that comes out of this Ginger Apricot Chicken recipe. First, you need to find a good quality apricot fruit spread, jam or preserve with small pieces of fruit in the jar. You can get this kind of product in your local specialty food store. We LOVE and recommend that you use Apricot Preserve. It is quite good, and it happens to be Geoffrey's mom's and aunt's favorite jam. Check out other recipes we did with this jam: Rugelach & Apricot Brandy Brie.  But again, you can use any high quality apricot jam.
The second ingredient for the Ginger Apricot Chicken is Mustard with Herbs de Provence. Since I discovered this mustard, I'm using it for every recipe that calls for Dijon mustard. This mustard is one of the few types of mustard that I can eat all by itself. During the Fourth of July holiday, we put together a small appetizer plate, and this mustard worked wonderfully with dry cured meats and cheeses. Oh, and I also have excellent salads and salad dressings with this mustard coming to the blog in the upcoming weeks.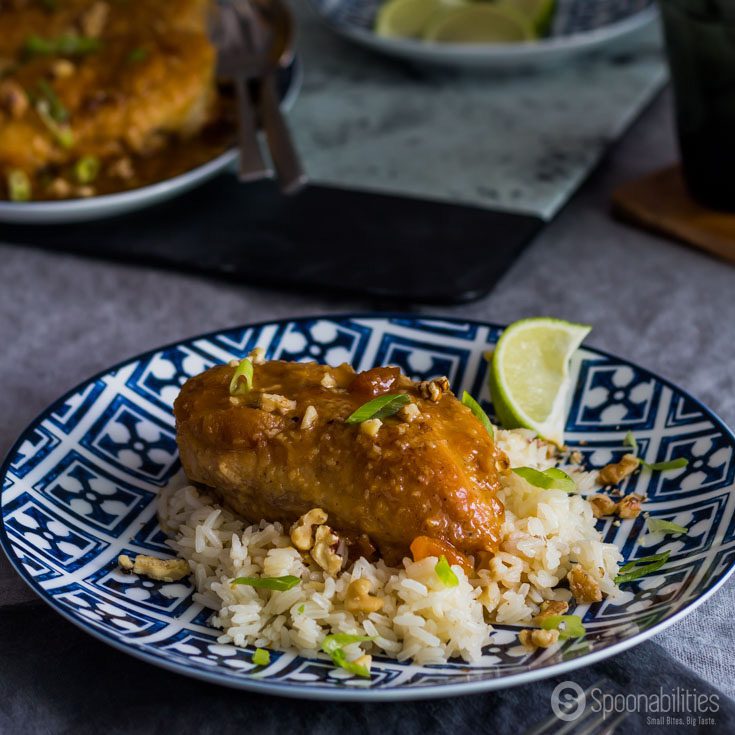 Simple Easy 1-2-3 Steps to Apricot Chicken
Back to the Apricot Chicken... the steps to make this easy 1-2-3 recipe are simple and easy. The first step is to season the chicken breast with salt & pepper. Then dredge the chicken by covering it in flour and shake off the excess of flour. Then in a large skillet, brown each side for about 4-6 minutes, set aside.
The second step is to make the sauce by pouring all the remaining ingredients into a mixing bowl and combine. In a baking pan, place the chicken and spread the mixture over the chicken and make sure it is well-coated; bake for 35 minutes. In my opinion, the best way to eat this apricot chicken dinner is with rice or mashed potato, and pour the remaining delicious sauce on top. Garnish with crushed walnut. The nutty taste adds a unique touch to the dish.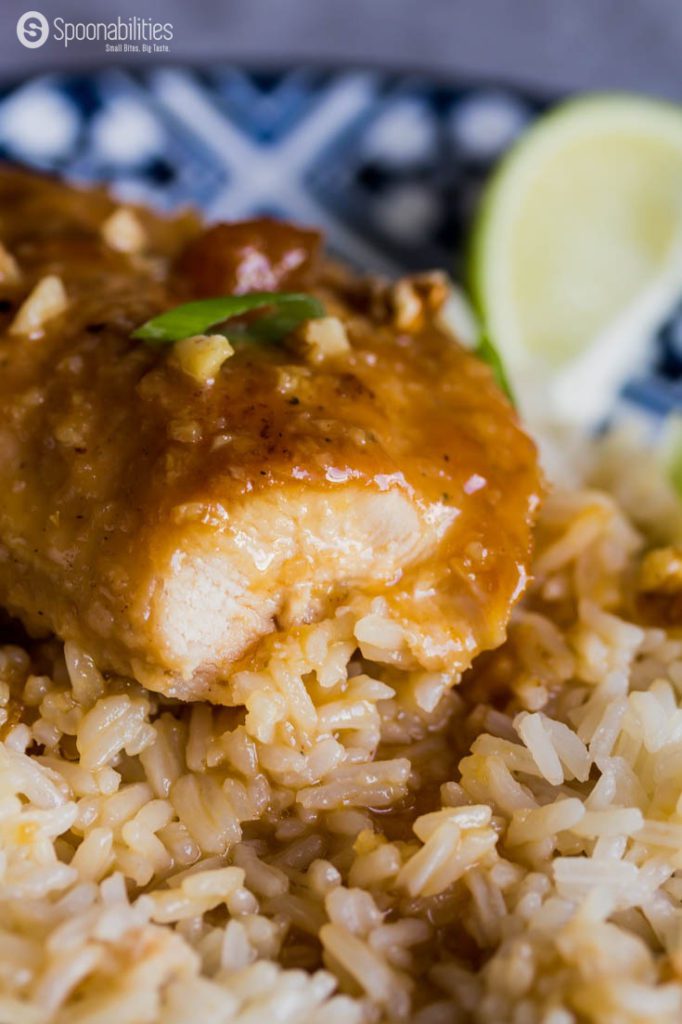 Spoonabilities: Growing back to the beginning
If you don't mind, I want to share with you what is on our mind right now. When we first created Spoonabilities, one of our ideas was to have a small online store selling specialty food products from small manufacturers; different jams, and spread, and other gourmet items that we tasted and used and shared with other people. We wanted to make sure we created relationships with, and helped support, small hand-crafted producers who were fun and easy to work with.
We also wanted to make sure that every product we offered had many recipes to make sure people had multiple ideas of how to use the products.  When I began cooking, I used to cook a lot of recipes from the Food Network, and every recipe I tried called for a special particular ingredient. Imagine, if I prepared five recipes each asking for one or two new ingredients that I didn't have, I ended up having from 5 to 10 new jars of seasonings or condiments in my pantry or refrigerator. Do you know how many half used jars I used to throw away because they were expired? More than I want to admit; and I believe you may see yourself having the same experience.
Now you may understand why you see several recipes at Spoonabilities.com using the same ingredient; or if you go to the shop you may notice that each product has a least three recipes. We want you to have many options of what else to cook using the product you have in your refrigerator, or the new product that you are planning to buy for your next recipe.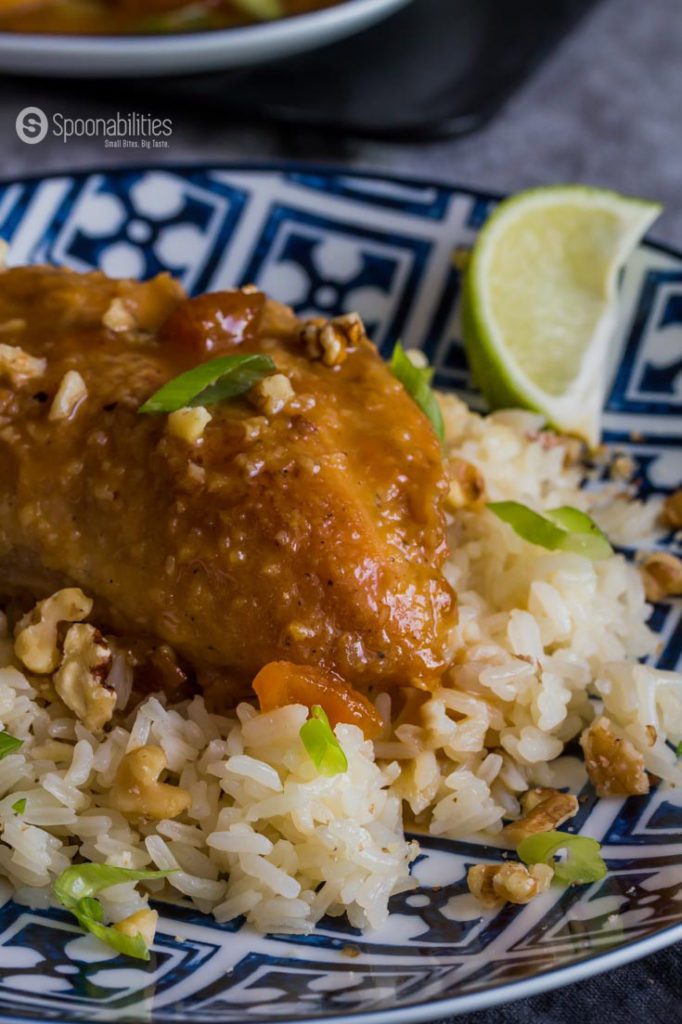 We never thought this adventure would be so challenging, and didn't realize how very competitive the food market is. I mean, we knew it was competitive, but had no clue what we were getting ourselves into. We are two guys with a huge passion for food, but both with full-time jobs, and this business/project called Spoonabilities demands more from us than a couple of hours on evening nights and all day on the weekends.
Throughout this process, I learned that adding recipes to the product page was not enough, and I have to do much more to succeed in this business. Suddenly, I discovered the world of food blogging in which I am learning how to describe the food, share my personal stories, and create a story through the lens of my camera. This creative process was WAY out of my comfort zone. I'm not a writer or a good story teller, and English is not my mother language. But day by day I am getting better, and most of all I am getting less and less frustrated with myself and my creative talent.
After several years, as a business, we finally admitted some things are just not working. One of our concepts was to help people prevent half jars of products from being expired and thrown away; yet opening Spoonabilities and buying inventory, we end up throwing full jars of expired product away because they didn't sell in time. Now, we can see possible reasons why "the store" is not selling products, and the food blog has only a few visitors, and why some of our readers leave the page after they read the recipes. Here are some of our thoughts and immediate changes we working on.
We have been targeting two different groups of people: recipe readers/makers, and product buyers. Both of these groups are looking for different solutions, and by trying to focus on both we are not helping either of them.
We started this store/blog without any knowledge of what we were getting into, or with a specific plan. We had the typical misconception of "buy inventory, open the shop, and people will come and buy" – NOPE! Also, in the e-commerce area, in the beginning, we didn't have the right people helping us create a well structured site.
We have been limiting our readers to use only the products from our store, not the products they have already in their refrigerator or that they typically buy. You may have noticed in the last couple of posts that I am shifting to provide ideas of what other products to use instead of only the ones we recommend and sell.
We have noticed our brand or brand message is very weak (if you can even say that we have one) and we are working to create a robust and clear message about what is Spoonabilities. Stay tuned:)
Acknowledging all this and sharing it with you will help us stay focused on our "new" brand message, and our original goal/concept to be a place where people can come to get ideas and recipes to help them get great taste plus use ingredients they already have at home sitting in their fridge.
Sorry if you got a little bored reading all this, but I thought it is important to share with you ours struggles and what hopefully is the bright future ahead of us. We sincerely appreciate your support! If you have ANY comments to help us out – things you notice on the site or ways to improve – please let us know. We would love to hear from you.
Smile, be happy, and enjoy life to the fullest!
(that's both for me and for you)
Carlos
Print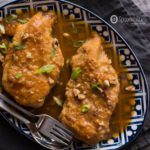 Ginger Apricot Chicken
---
Author:

Carlos Leo

Total Time:

1 hours 30 minutes

Yield:

3

serving

1

x
Description
This Apricot Chicken recipe will assist you in making a deliciously juicy, tender chicken breast that is slightly sweet with undertones of ginger flavor. The fantastic pairing of L'Epicurien Apricot Preserve and L'Epicurien Mustard with Herbs de Provence, is a winning combination!
---
---
Instructions
Preheat oven to 350 degrees F.
Combine flour, one teaspoon salt, and ½ teaspoon pepper in small baking pan. Dredge chicken in flour and shake off excess.
Heat oil in a large skillet over medium-high heat. Add chicken pieces and sauté for 4-6 minutes on each side, until golden brown.
Place the browned chicken pieces in a baking dish.
Mix in a bowl the Mustard with Herbs de Provence, Apricot Preserve, brown sugar, soy sauce, fresh ginger, lemon juice, and garlic. Pour over the chicken.
Bake 35 minutes until the chicken is cooked through, and has an internal temperature of 165 degrees F., and the juices run clear.
Serve with your favorite rice.
Prep Time:

10 minutes

Cook Time:

45 minutes

Category:

Dinner

Method:

skillet

Cuisine:

American, International
Recipe Card powered by
Looking for more Chicken Recipes?
Here are a few related recipe ideas you might enjoy: