Easy, pizza stuffed chicken filled with pepperoni and mozzarella cheese, topped with pizza sauce, and baked to perfection. This recipe is made with a few ingredients, in one baking dish, in under 45 minutes, and is simple enough to make for a weeknight dinner. Satisfy your craving for pizza with this delicious chicken recipe that has less carbs than pizza dough!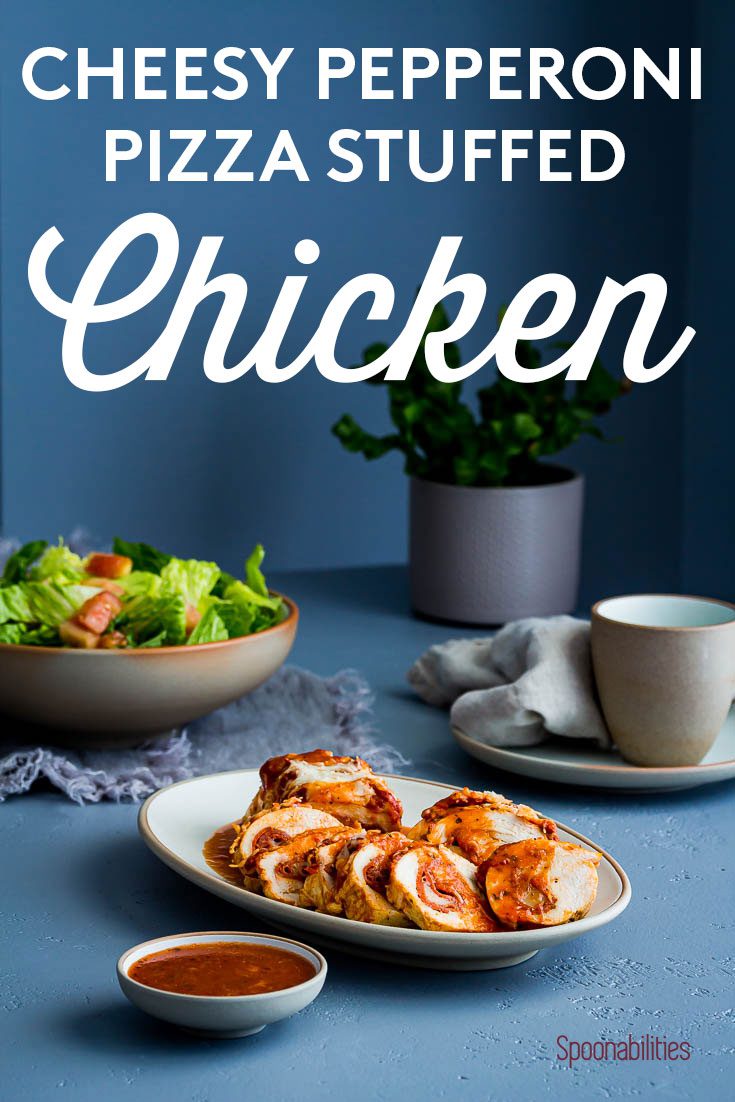 Blog post contains products you can purchase in our online shop, and affiliate links.
Read our Disclosure Policy
Hello my friends. This week I'm sharing a recipe in partnership with Flora Fine Foods. From their amazing Italian food product collection, I selected their pizza sauce for this pizza stuffed chicken. I previously used this pizza sauce in another easy recipe called Cauliflower Crust Pizza with Artichokes and Roasted Red Pepper. Both recipes are super easy and quick to make.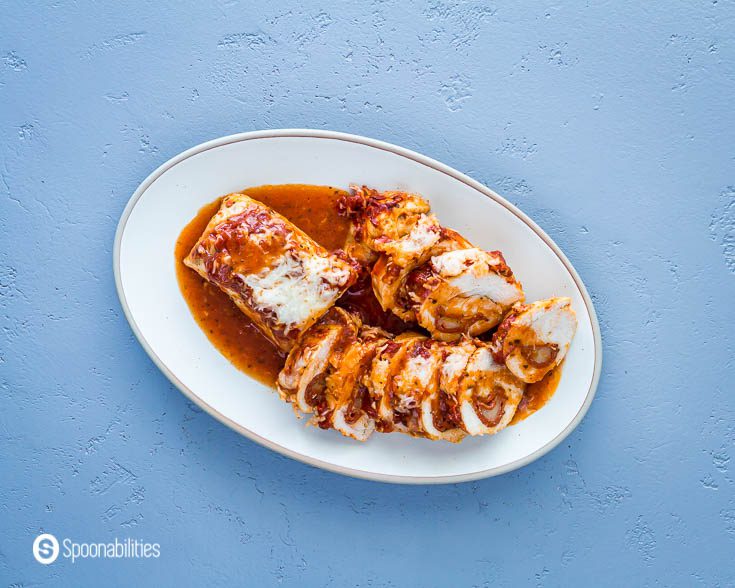 The pizza sauce has a ton of flavor that can turn any boring dish into a flavorful meal. Don't think just because the jar says "pizza sauce" that you can only use it for pizza. I will give you several options below on how to use your leftover jar of sauce.
I have been trying to make this recipe for several weeks, but when I tried to pick up chicken breast at the supermarket, they were only selling the chicken breast already cut in half. That doesn't work for this recipe because you have to butterfly the breast, and flatten it to be able to roll it up and hold the stuff inside. This week went to Whole Foods and finally was able to get what I needed. Sadly, not all my raw chicken pieces came out how I wanted them, so I decided to do two variations of this recipe using the same ingredients along with some other essential pantry staples.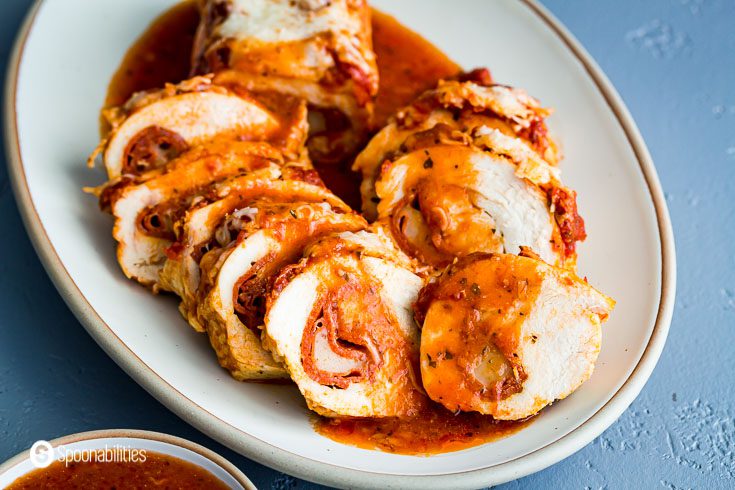 Luckily, from the eight pieces I cut perfectly I was able to make four cheesy pepperoni pizza stuffed chickens, and made a chicken parmesan recipe with pizza flavors with the rest of the chicken pieces. For the Chicken Parmesan, I breaded the flatten chicken breast first with flour, then with eggs, and finally with panko breadcrumbs. I like to season the flour with the panko bread to make sure the chicken gets good seasoning. After the chicken is ready, I topped with pizza sauce, two slices of mozzarella cheese, pepperoni, and more pizza sauce. Easy right?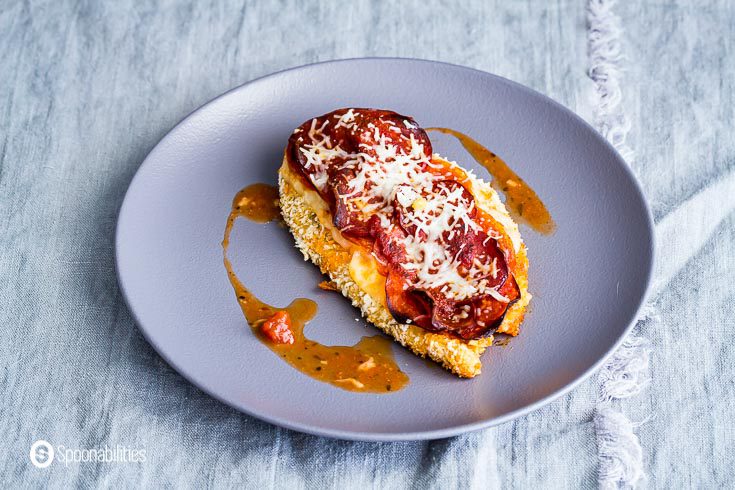 Solution for cheese running out the side
Ok, let's get back to the recipe of the week. When I tested this pizza stuffed chicken recipe, I used shredded cheese. But I found out that after it's baked, all the cheese runs out of the chicken. I did some research and all the recipes I found were using the same kind of cheese or sliced cheese, and in the comments, many people were complaining that the cheese disappeared. At first I thought to buy the mozzarella in a big chunk and cut it in thick sticks, thinking it might stay inside the chicken breast. Then at the supermarket I saw these cheese strings or cheese snacks, and I decided to give them a try for this recipe. The only thing is that this cheese doesn't melt perfectly, but while the chicken is hot, the cheese is soft. Regardless, it was a winner and I will use it again.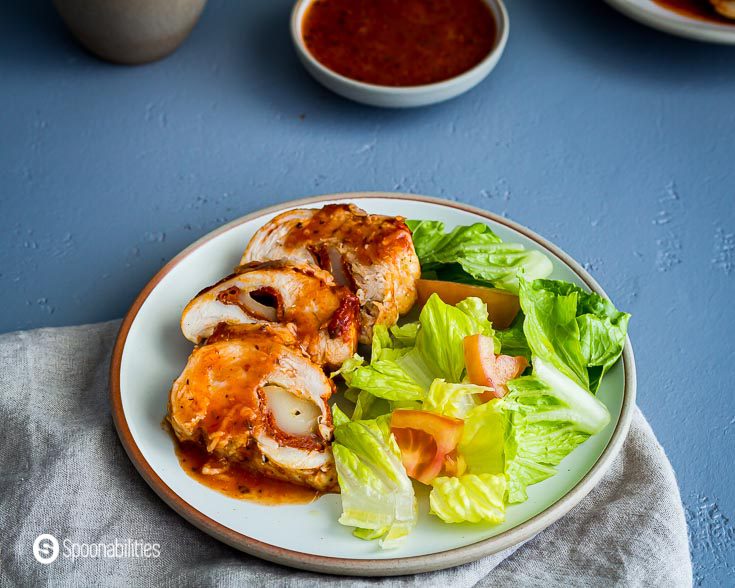 Pro Tips for extra flavor and extra cheese
Another trick that I'm doing for this recipe is to wrap the cheese with the pepperoni. This is another layer that will hold the cheese inside the pizza stuffed chicken. Another trick that I did, but this is optional, is to use two kinds of pepperoni, a small one with a kick of heat and a larger one. Having two varieties of pepperoni will give you a lot of flavors because when I tested the recipe with one, the pepperoni taste got a bit lost. My idea for this recipe is for you to get a punch of pizza flavor in each bite. In the Chicken Parmesan photos above, you will see both pepperonis.
Like this recipe so far? Be the first to know when we release new ones!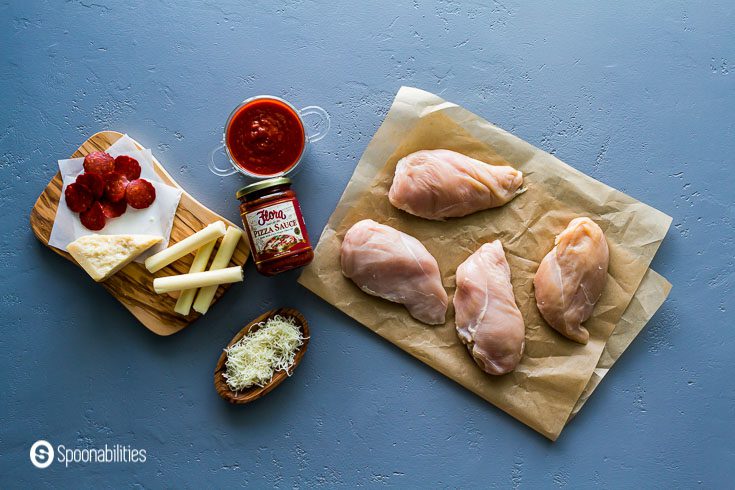 How to Make Pizza Stuffed Chicken
Butterfly and flatten the chicken. I use a kitchen storage bag, and I place the chicken inside before flattening the chicken breast.
Season both sides with our Greek sea salt with oregano, sesame, and other spices which you can check out in our shop. But if you want to make it right now, mix oregano, salt, and any other herb that you have in your pantry.
Stuff the chicken. Add the large pepperoni first, and then the smaller pepperoni, and the mozzarella cheese string. Wrap the cheese inside the pepperonis to prevent the cheese from running out of the chicken. After you roll-up the chicken, secure the it with a toothpick. Use as many as you need, and lock the corners.
In a baking dish, add some of the pizza sauce and then the rolled-up chicken. Top with more pizza sauce, and bake for 30 minutes. Check with a thermometer and make sure the chicken reaches 160 degrees.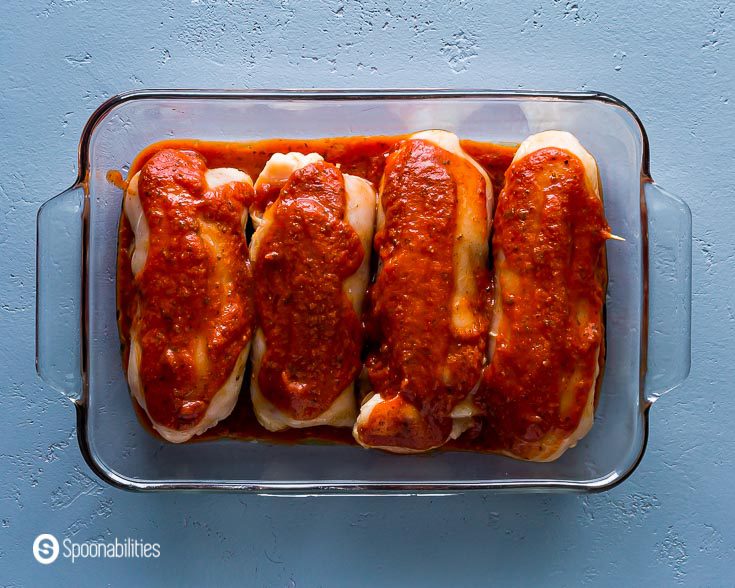 After the 30 minutes, add more pizza sauce and top with grated Parmesan cheese and shredded mozzarella cheese. Bake for 5 minutes more or until the cheese is melted.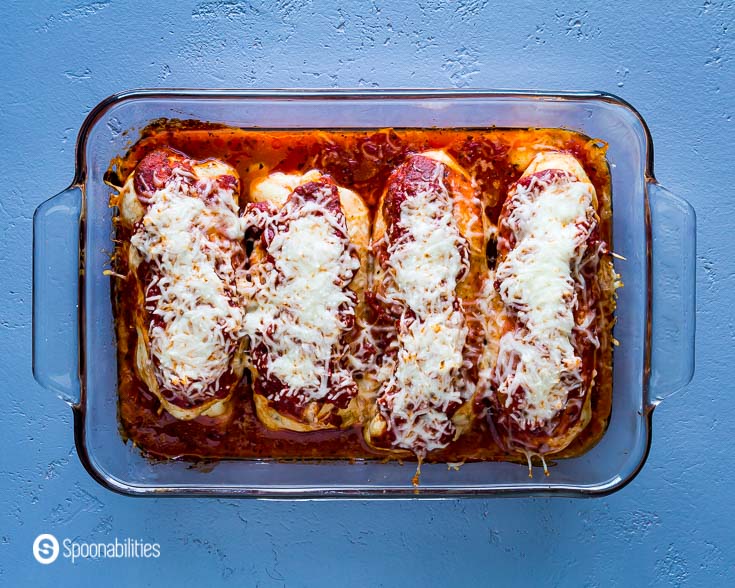 If you want to get the real pizza flavor in your pizza stuffed chicken, stop using a marinara sauce and grab a pizza sauce instead for a more in-depth and delicious taste. You can make this recipe as your meal prep for the week as it freezes well, and it's easy enough to make for your busy weeknight's dinner. It's also perfect for a single person, couples, or for a big family. Just freeze what you don't think you'll eat in the next few days. This recipe is cheap to make, filling, and flavorful.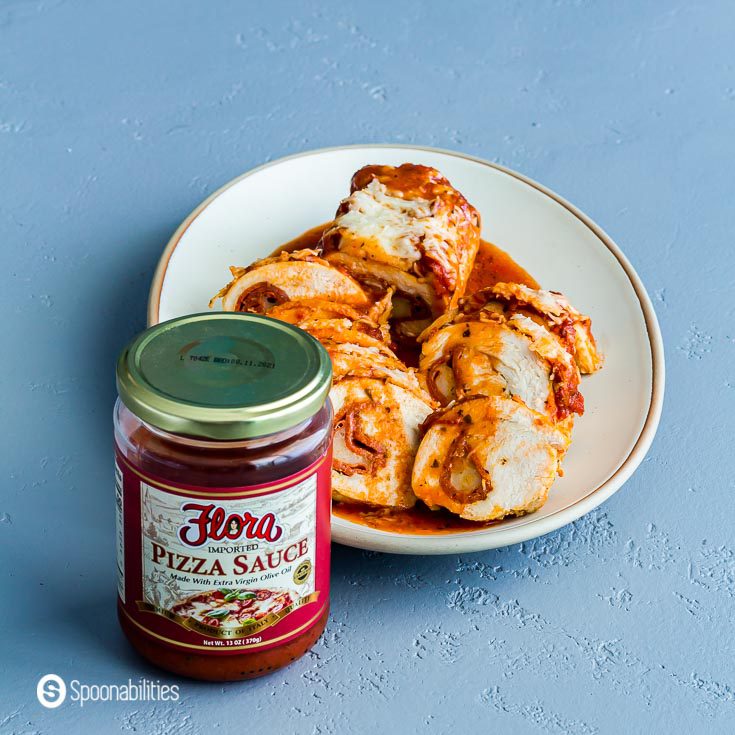 Ideas for Using Leftover Pizza Sauce
Add it to a risotto.
Add to picadillo or ground beef.
Use as dipping sauce for empanadas or any fried food.
Make a pizza-flavored soup.
Use it for meatballs as a sauce, or an appetizer dipping sauce for the meatballs.
Add it to stuffed zucchini boats.
Use it as you would use marinara sauce like in meatloaf, ratatouille, eggplant parmesan, egg purgatory, gnocchi, pasta, and seafood stew.
Make a pizza tomato vinaigrette
Looking for More Pizza?
Let us know in the comments if you get to make this cheesy, pepperoni pizza stuffed chicken. Also, share your creation with us on social media by tagging @spoonabilities.
Have a wonderful week!
Carlos Leo
Your Recipe Concierge!
Print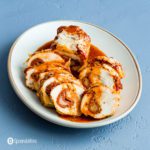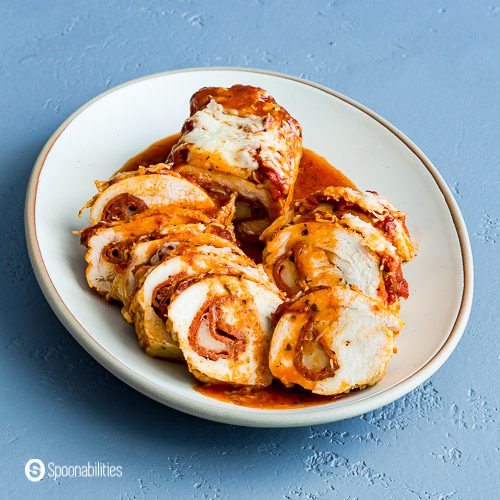 Cheesy Pepperoni Pizza Stuffed Chicken
---
Author:

Carlos Leo

Total Time:

45 minutes

Yield:

6

1

x
Description
Cheesy, Pepperoni Pizza Stuffed Chicken is a delicious recipe that brings the flavor of baked pizza to a chicken dinner. This recipe is easy to make with just a few ingredients, packed with flavor, and only takes 45-minutes from beginning to plate.
---
4

boneless skinless chicken breast - butterfly & flatten.

16

small spicy pepperoni slices - 4 in each chicken

12

large pepperoni slices(deli) - 3 in each chicken

4

part-skim mozzarella cheese snack sticks

1

cup

shredded mozzarella cheese to top the chicken during the last 4 minutes

1

jar (13 ounces) Flora pizza sauce

½

cup

parmesan cheese.

2 teaspoons

Salt Odyssey Sea Salt with Oregano and Sesame.

Homemade mix: Mix sea salt-50%, oregano-25%, and Italian seasoning-25%.
---
Instructions
Grease a 9" x 13" (3 quart) baking dish
Butterfly the chicken breast. Flatten the chicken by putting the chicken in between plastic wrap, or inside a Ziploc bag and pound flat to about a ¼-inch thickness. Season both sides with Sea Salt with Oregano and Sesame, or homemade mix of the same.
Lay the chicken cutlets on a work surface and in the center of each add the large pepperoni, the smaller pepperoni, and the mozzarella cheese string. Wrap the cheese inside the pepperonis to prevent the cheese from running out of the chicken when it cooks. Roll-up the chicken and with a toothpick, secure the chicken. Use as many as you need, and lock the corners.
Add pizza sauce on the bottom of the baking dish. Place in the chicken and top with more pizza sauce.
Bake until the chicken is nearly done, about 30 minutes. Remove the baking sheet from the oven, and top each roll-up with more pizza sauce, shredded mozzarella cheese and parmesan cheese.
Bake until the cheese is melted, and the sauce is hot, about 4-5 more minutes. Serve immediately.
Prep Time:

10

Cook Time:

35

Category:

Dinner

Method:

Bake

Cuisine:

Italian
Keywords: baked chicken, Pizza sauce recipes, low carb pizza, easy chicken dinner
Recipe Card powered by
Available via these Amazon links:
Disclaimer: Links that open in another site, i.e. Amazon, may be affiliate links where at no additional cost to you, we may receive a small commission should you decide to purchase the item. Read our Disclosure Policy.