Creamy celery root soup, or celery root bisque, is my new go-to soup recipe. I love the delicious combination of celery root, leek, garlic and parmesan cheese with a touch of heavy cream. The walnut-parsley gremolata gives the soup a wonderfully crunchy and nutty ending taste. This rich soup is excellent as a soup course or for a light main dish. Geoffrey asked me if celery and celery root is the same thing, so here's what I found out for him, and you.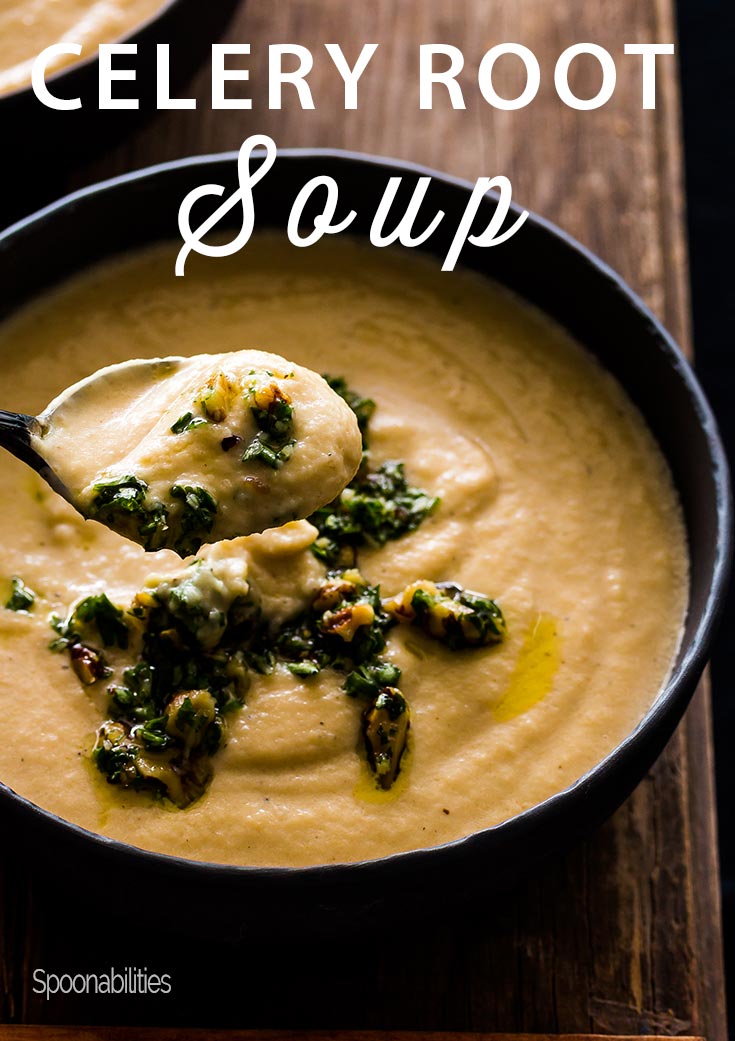 Hello my friends. I'm a soup lover for so many reasons. Soups are easy to make because you can just throw the ingredients in a pot and the soup doesn't need much supervision while it's cooking. Soup is also packed with a ton of flavor and very versatile because you can use a variety of ingredients like veggies, meat, chicken, seafood, different herbs, and use either stock or water. You can make thin broth soup, or thicker soups like a bisque or chowder. Read my Pumpkin Bisque post to find out the difference between soup, bisque, and chowder.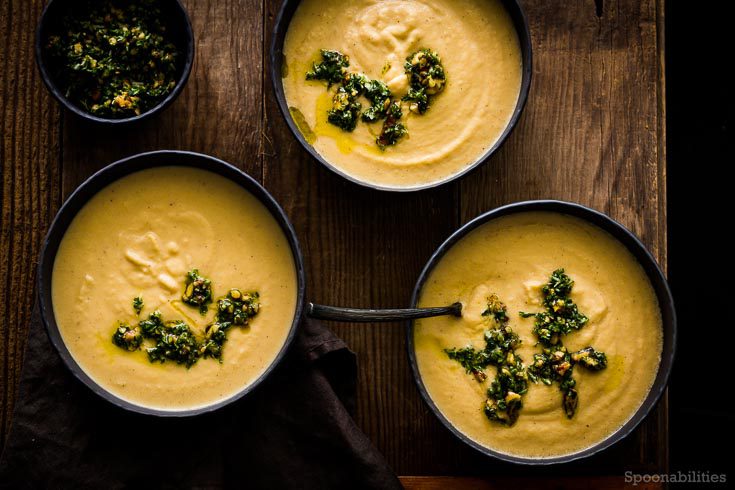 Since I made this soup recipe the first time early November, I made Celery Root Soup three times already. This thick and rich soup has a few ingredients; celery root, leek, garlic, and parmesan cheese, and they are simmered in chicken stock for 40 minutes. After the vegetables are tender, transfer them to a blender and puree in batches. For the last step, bring the creamy soup to the stove in a clean saucepan, pour in some heavy cream and re-heat it. Note: If you want a healthier version, instead of the heavy cream add cashew cream or any other nut cream or just leave out.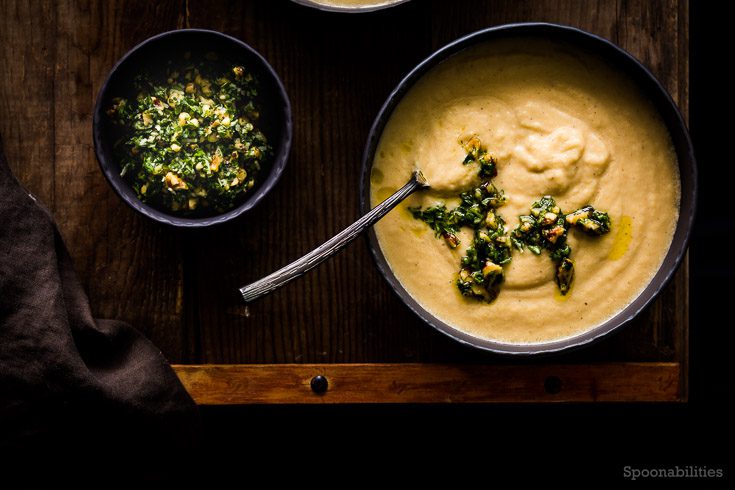 Adding a Gremolata to your Celery Root Soup
Celery Root Soup can be eaten just like that, but the walnut-parsley gremolata gives such a wonderful touch of flavor and nutty crunchiness. What is a gremolata you ask? Gremolata (or gremolada) is a chopped herb condiment that traditionally accompanies meats, and can be used as a garnish. There are many different variations. For our walnut-parsley gremolata, mix in a small bowl chopped walnut & parsley, grated parmesan cheese, and extra virgin olive oil. As always, I use one of my favorite Greek EVOOs. This time I used LIÁ Premium Extra Virgin Olive Oil.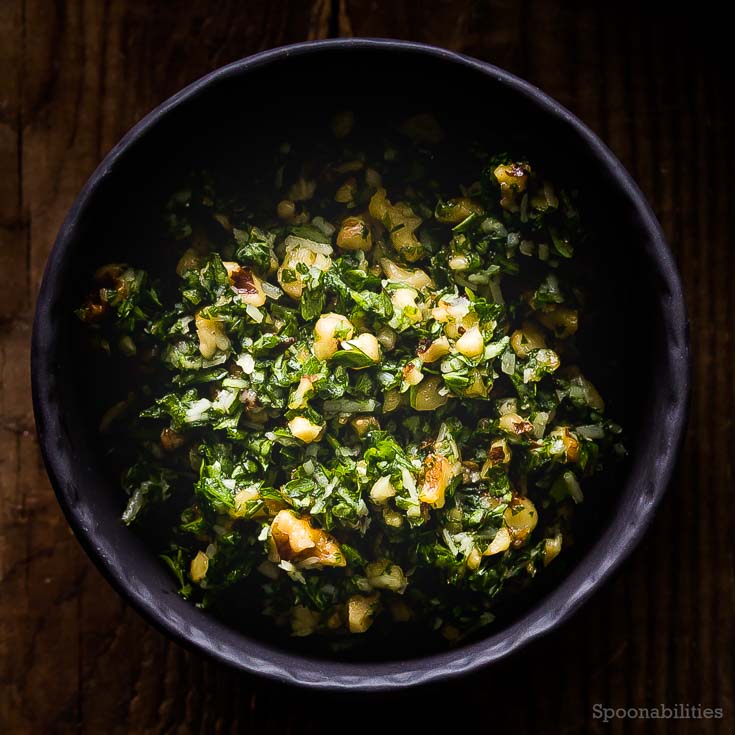 This is my first-time cooking with celery root. So, during my research, I found a lot of interesting information that I want to share with you. First, this is the perfect time of the year to make this Celery Root Soup because this is the season of celery root and leek.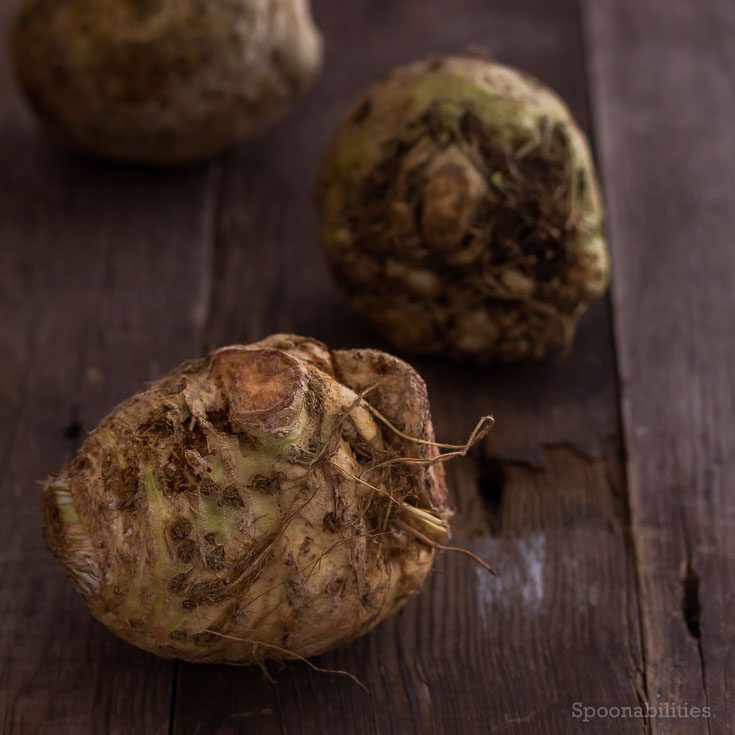 Celery root is an ugly looking root vegetable and an under-appreciated fall vegetable. I seldom see them in the supermarkets, and they are rare to find at the farmers' market. Back in November, the supermarkets around my neighborhood didn't have celery root. For a moment I thought I would have to wait for sometime in the future whenever celery root is in season. Turns out the harvesting season is late fall, so I didn't have to wait long. Soon after an appointment I had about 30 minutes from my house, I found this incredible mini supermarket with all kinds of vegetables that I have never seen before in the bigger supermarkets near my home. I was in heaven. Low and behold, there was my celeriac.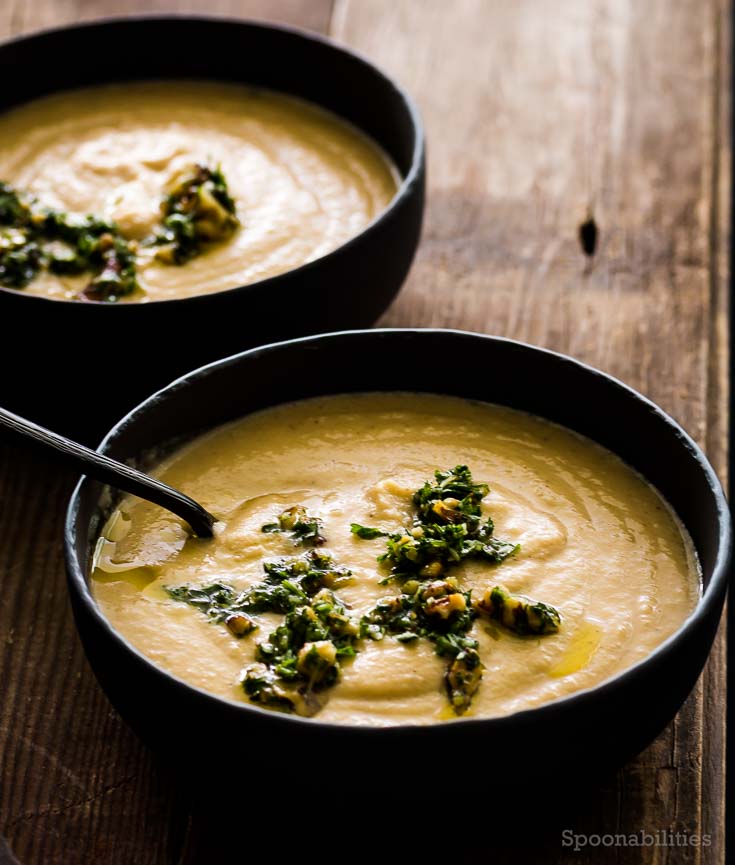 What is Celery Root?
Celery root is also known as celeriac, turnip-rooted celery, and knob celery. They are in season during the late fall, and if not allowed to dry out, can be kept for six to eight months. As its name suggests, it is a root vegetable, and it is very versatile. You can eat it raw in salads, roasted, in long-simmering soup, mashed, stewed, blanched, in a gratin or even make baked chips. Celery root is less starchy, and has fewer carbohydrates than other root vegetables. The taste of celery root is slightly sweet when it's cooked and has a mild celery flavor, or similar to a parsnip with a light celery flavor. The texture is like a potato but has less starch, more vitamin B6 and is in general healthier than potato.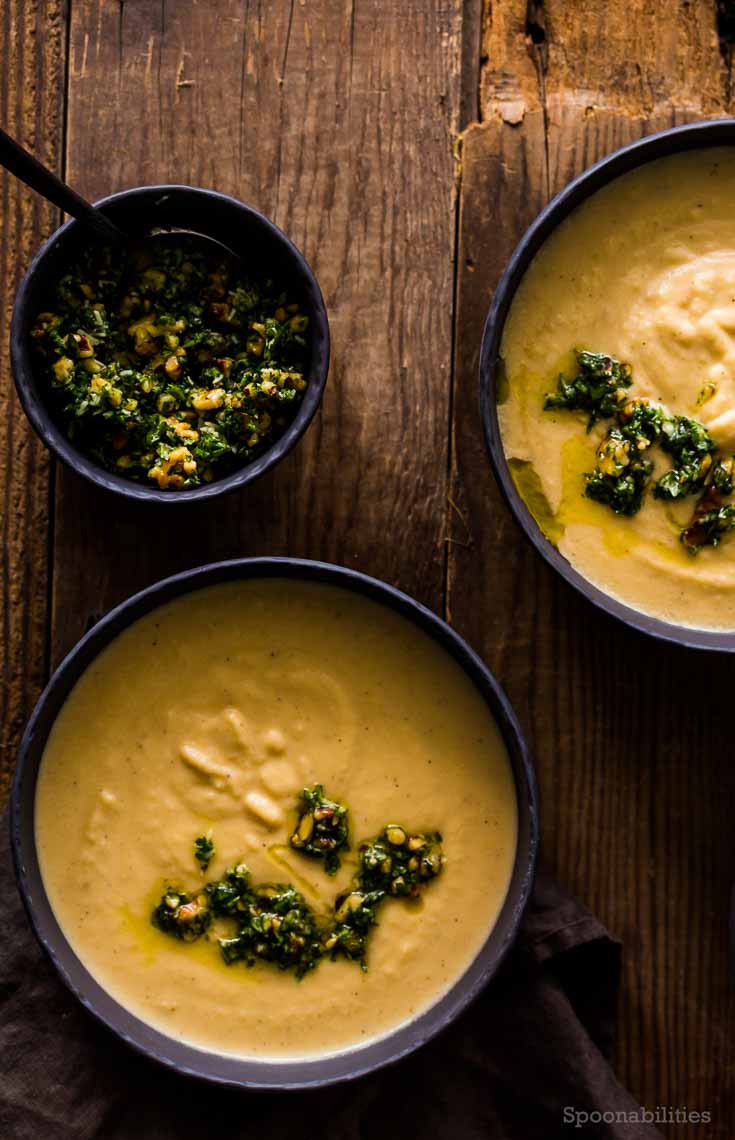 Is Celery Root (celeriac) and Celery the same plant?
Yes... and no. Technically celery root (the root vegetable we eat like a carrot, beet, or turnip), and celery (the long stalks we eat) are the same plant. However you will rarely fine the celery root and stalks attached in the supermarket. That's because growers use different techniques to make sure that each of the two parts of the celery get the best color, texture and flavor. In other words, they grow the best celery root they can and throw away the less appealing stalk; and grow the best celery stalks they can and throw away the less appealing root.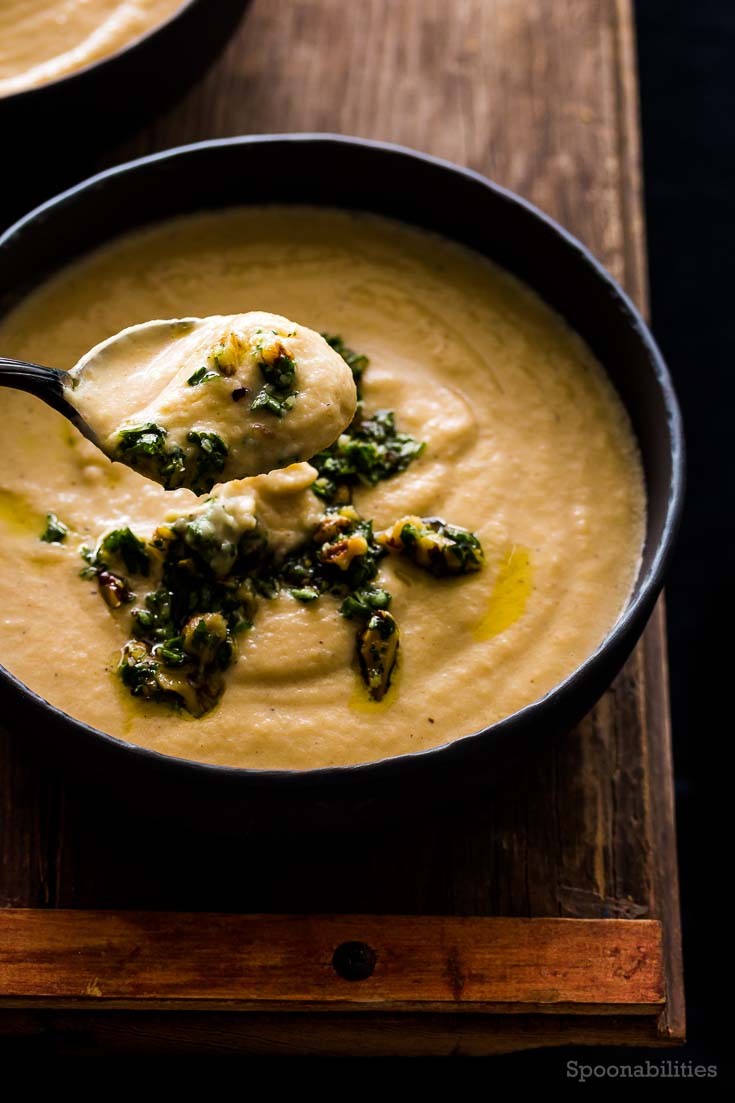 How to shop & storage celery root?
Shop for firm, unblemished roots that feel heavy for their size, with a greenish tinge.
Store in the refrigerator, unpeeled, in an unsealed plastic bag, with a dry paper towel to absorb excess moisture, for up to 3 weeks.
How to cut Celery root?
Scrub and wash the dirt-filled crevices of the celery root well, then trim the top and bottom with a sharp knife. Peel the skin using a knife, and a paring knife to remove any small divots. Cook immediately to prevent discoloration or wash it with lemon juice. Watch this video on how to cut celery root.
14 Health Benefit of Celery Root and Celeriac Juice
Low in calories
High in vitamins
Has anti-inflammatory & anti-arthritic benefits
Celery root has excellent calming, analgesic, antiseptic, anti-allergic and other therapeutic properties.
Help with the healing of the liver
Good for digestion & prevents constipation
Serve as a detox
Low in cholesterol & saturated fat
High in vitamin B6. Vitamin B6 is vitally important for proper immune health and is essential in the health of red blood cells, muscles, and nerves. Vitamin B6 could help prevent colon and rectal cancer in women.
Excellent source of riboflavin, calcium, magnesium, phosphorus, potassium, Vitamins A, C, and K, as well as dietary fiber.
The organic sodium in celeriac juice can help remove acid from the body, reduce stiff joints and make the muscular skeletal frame more flexible.
The high content of antioxidants in celeriac helps prevent cell oxidation.
The high content of iron in celeriac helps balance blood levels in anemic patients and pregnant women. It may also help with bleeding problems and restore blood levels to prevent illnesses.
Consuming celeriac juice revitalizes the brain and helps enhance memory and prevent dizziness. Celeriac juice calms nerves and induces deep restful sleep. The high potassium content helps improve neurotransmissions among nerves.
In summary, this creamy celery root soup is full of health benefits. So, why are you waiting to make this delicious soup? It's also a delicious, cozy and comfort food you will love.
Carlos
Your Recipe Concierge
Print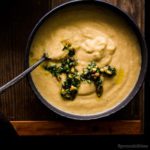 Creamy Celery Root Soup with Walnut-Parsley Gremolata
---
Author:

Carlos Leo

Total Time:

1 hours 15 minutes

Yield:

8

Serves

1

x
Description
Celery root soup recipe is creamy, flavorful and easy to make. This soup simmers for 45 minutes with celery root, leek, garlic and a chunk of parmesan cheese. In a blender, puree the soup until very smooth. Top this soup with a crunchy, nutty walnut and parsley gremolata.
Recipe adapted from Food & Wine Magazine.
If you like this recipe, why not be part of our newsletter community
---
1 Tablespoon

unsalted butter

1

large leek, slices thin, just the white and light green parts

5

crushed garlic cloves

2 ½

pounds

celery root, peeled and cut into 1-inch cubes (8 cups)
One

2

-inch chunk of Parmigiano-Reggiano cheese (

1 ounce

), plus ¼ cup freshly grated cheese

2

cups

chicken or vegetable stock

½

cup

chopped walnuts

¼

cup

extra-virgin olive oil. I use Lia Premium Extra Virgin Olive Oil

½

cup

coarsely chopped parsley

½

cup

heavy cream
Kosher salt
Pepper
---
Instructions
In a large saucepan, melt the butter. Add the leek and garlic, and cook over medium heat, stirring occasionally until softened – about 5 minutes. Add the celery root, Parmesan chunk, stock and 5 cups of water. Bring to a simmer.
Cover and cook over medium-low heat, stirring occasionally until the celery root is tender - about 40 minutes.
Meanwhile, preheat the oven to 375°. Spread the walnuts on a baking sheet and toast for 5 to 7 minutes, until golden. Let cool and then finely chop.
Transfer walnuts to a bowl. Add the oil, parsley and grated cheese and mix well. Set this gremolata aside.
In a blender, puree the soup in 2 batches until very smooth. Pour into a clean saucepan and stir in the heavy cream. Season with salt and pepper and reheat if necessary.
Serve topped with the walnut gremolata.
Prep Time:

30 minutes

Cook Time:

45 minutes

Category:

Dinner

Cuisine:

International
Recipe Card powered by
Check out some of our other comforting soup recipes: