Try these Southwest Veggie Quesadillas for an insanely easy, delicious, and hardy week-night dinner. Stuffed with skillet-charred corn & zucchini, black beans, and Fiery Jack Shredded Cheese, these quesadillas are then topped with scallions, cilantro and cherry tomato-avocado salsa. Perfect for a "Meatless Monday" dinner.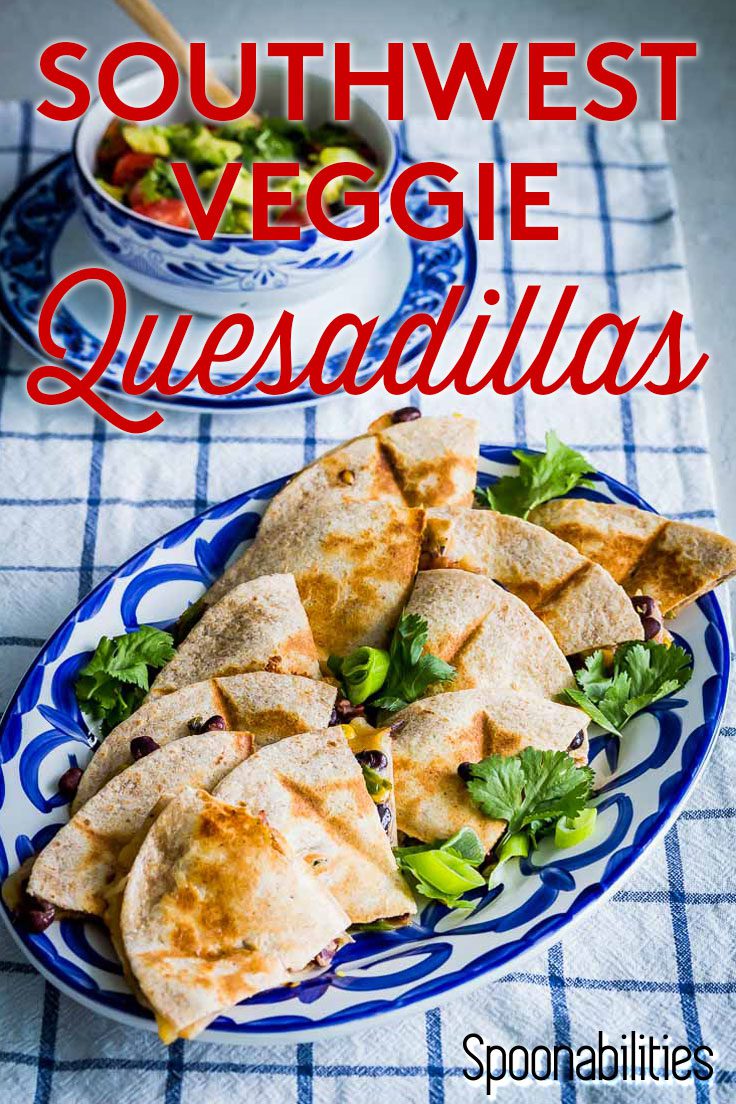 Blog post may contain affiliate links. Read our Disclosure Policy. All photographs are copyright Carlos Leo, Spoonabilities
Hello my friends. This week's recipe is healthy-ish, vegetarian, and packed with seasonal veggies charred in a skillet for an easy & quick week-night dinner. You only need one skillet and 15 minutes to make these delicious veggie quesadillas for a super-satisfying vegetarian dinner.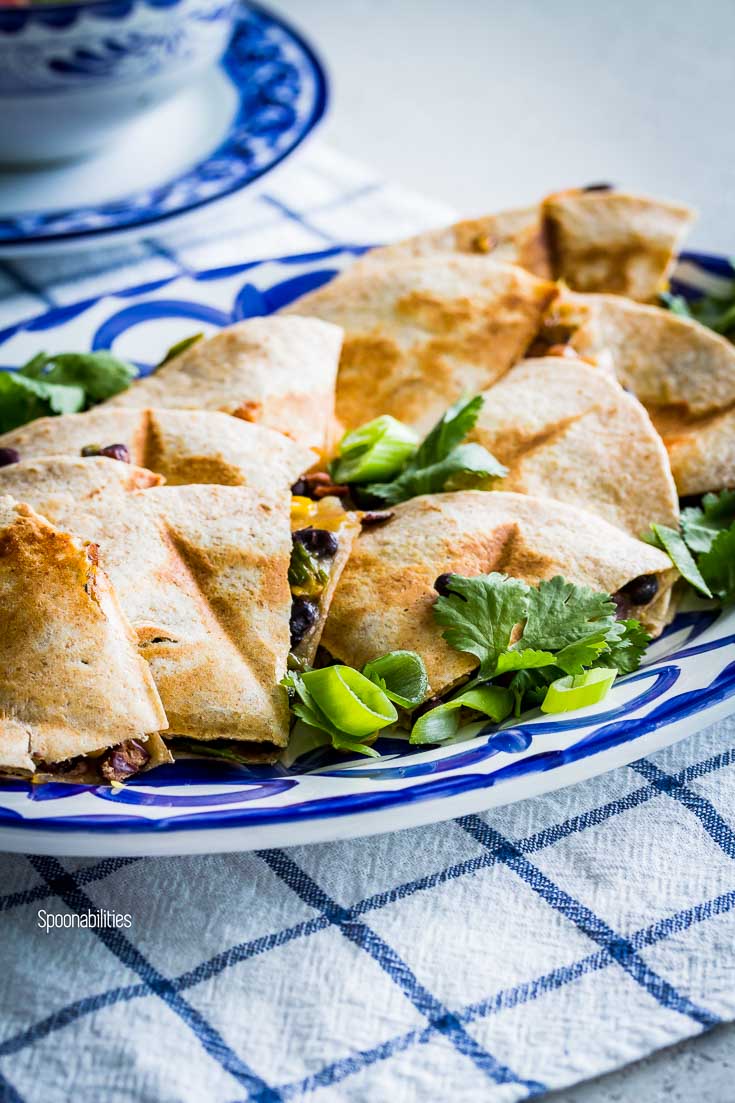 This recipe is one of my top Mexican recipes here at Spoonabilities along with the Best Guacamole with Charred Corn & Bacon, Pork Carnitas with Roasted Pineapple Habanero Sauce and the Skirt Steak Tacos. I just remembered that I made the pork carnitas when my family was visiting us last summer as part of an amazing Mexican themed dinner spread. They all loved the pork carnitas and they kept having seconds and thirds. Even my triplet nieces, who are a bit complicate with food, loved them.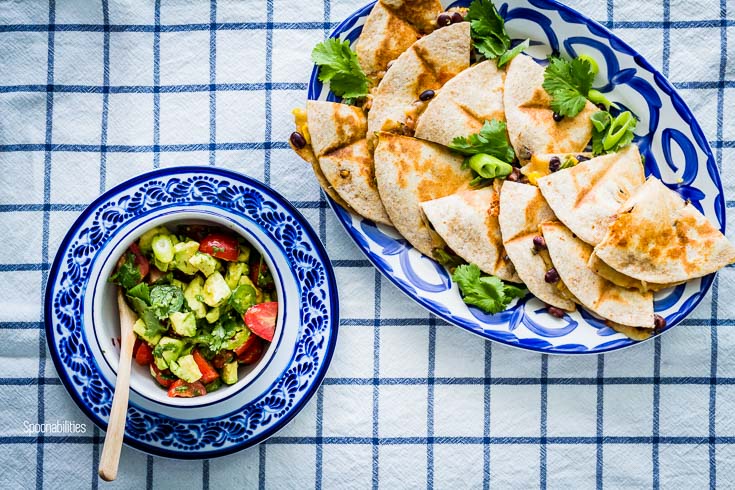 Turn into Chicken or Shrimp Quesadillas
You can add chicken or shrimp to these quesadillas if you want. To keep it quick and easy, you can buy an already roasted chicken from the supermarket, or defrost some frozen shrimp. If I'm adding chicken or shrimp, I prefer to cook shrimp, and you know shrimp takes just a few minutes to cook. But honestly, there is no needed to add anything else to this veggie quesadillas.
And if you are looking for a vegan alternative, try our Best Vegan Nachos with Fig Salami & Cashew Dip.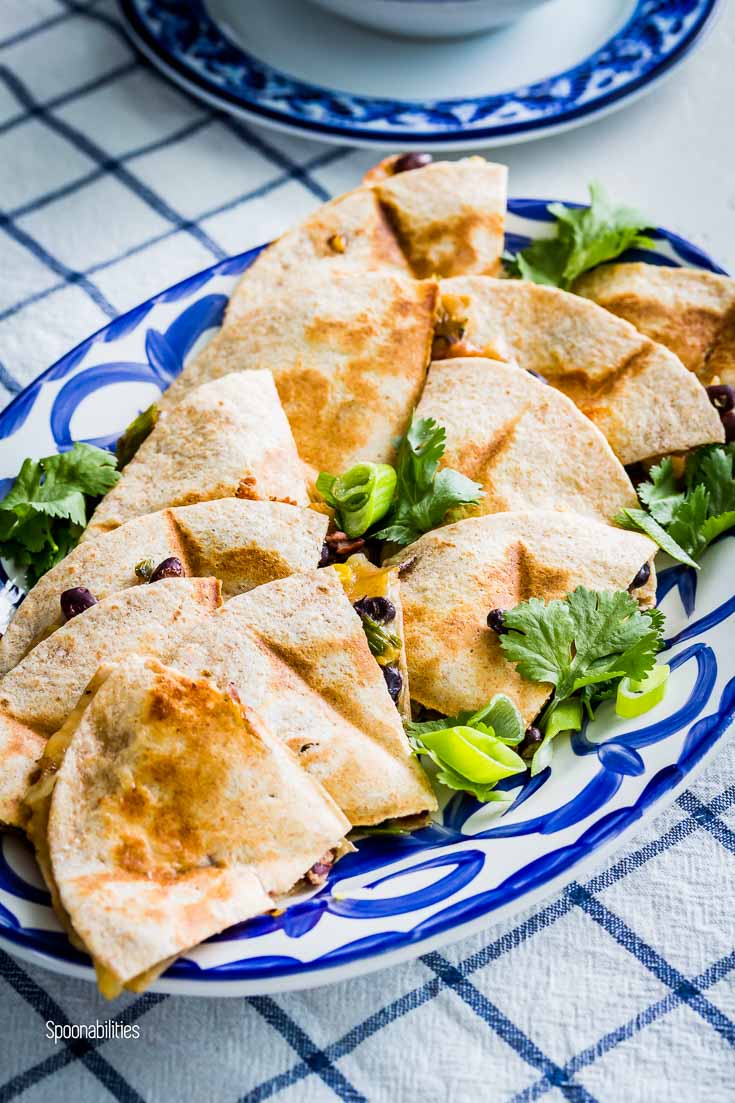 Vegetarian Meals have Protein too
Why do you need animal protein when you can make a satisfying, flavorful meal using vegetable proteins like black beans, corn, lentils, avocado, eggplant, zucchini and many others? Here is some additional information about the amount of protein in some vegetables which you can use interchangeably in these veggie quesadillas:
Black beans, ½ cup (cooked) = 7.6 grams of protein
Corn, 1 cup = 4.2 grams
Avocado, 1 cup cubed = 3 grams
Zucchini, 1 cup sliced (cooked) = 2.05 grams
Chickpeas, ½ cup = 6 grams
Lentils, ½-cup = 9 grams
Eggplant, 1 cup = 0.82 grams
Red Bell Pepper, 1 cup chopped (raw) = 1.48 grams
Kale: 1 cup (cooked) = 2.47 grams; and 1 cup (raw) = 0.68 grams
Mushrooms: 1 cup Portabella (grilled) = 3.97 grams; Shiitake (stir-fried) = 3.35 grams; White (boiled) = 3.39 grams
Sweet Potato, 1 cup (baked with skin) = 4.02 grams
Asparagus, 1 cup (cooked) = 4.32 grams
Spinach: 1 cup (cooked) = 5.35 grams; and 1 cup (raw) = 0.86 grams
After I looked at the amount the protein in each vegetable, I was inquisitive as to why in some vegetables the amount of protein increases when you cook them. I thought that raw vegetables always have more protein and nutrients. I searched this topic and I found this interesting article about Raw vs Cooked: The Healthiest Ways to Eat Your Veggies. I was planning to do a summary for you, but the information was too complex to reduce to a single paragraph. If you are interested in this topic, do click over and read the whole article.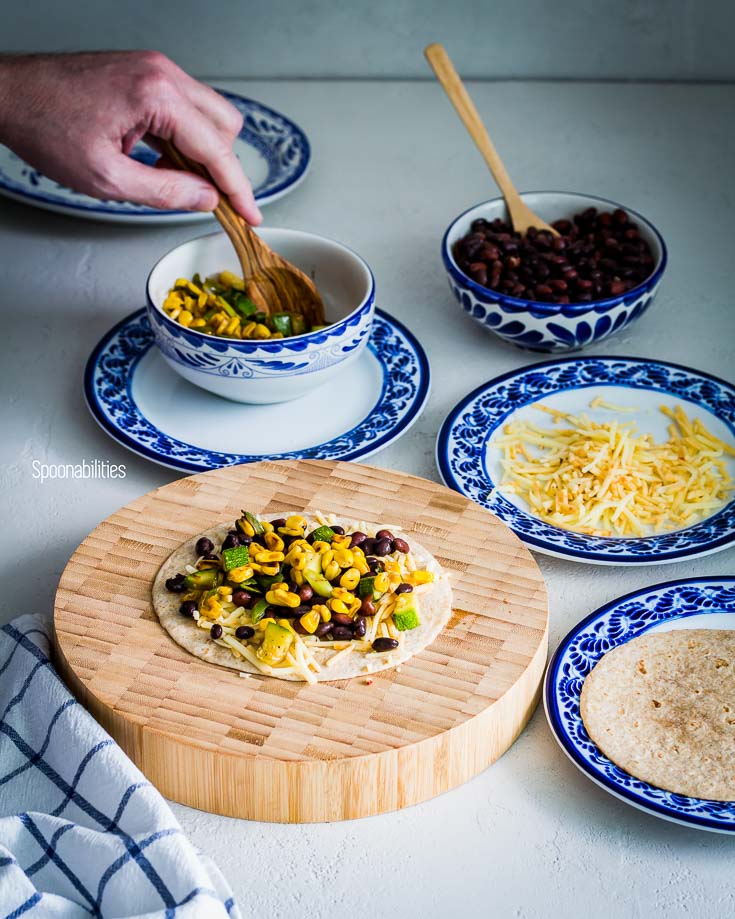 Why we are in Love with these Skillet-charred Veggie Quesadillas
These veggie quesadillas are perfect for a quick meal. You can enjoy making this vegetarian quesadilla recipe in under 10 minutes! If you don't have black beans, don't worry. You can use any type of beans or substitute any different vegetable. Some other reasons we love these veggie quesadillas are:
Veggie quesadillas are perfect for making ahead and freezing. All you have to do after a long day is take one out of the freezer, heat it, and enjoy. Love it!!
The quesadillas are packed with nutrients and protein, making them very healthy-ish.
They are a light, flavorful and filling meal.
They are very versatile because you can pick and choose the flavors you want.
You can even make the quesadillas vegan by using vegan cheese.
Skillet-charring the corn and all the other vegetables gives these vegetarian quesadillas so much incredible flavor. Charring the vegetables is so easy. If you don't want to use a skillet, you can also roast the vegetables in the oven, or grill them on your outdoor grill.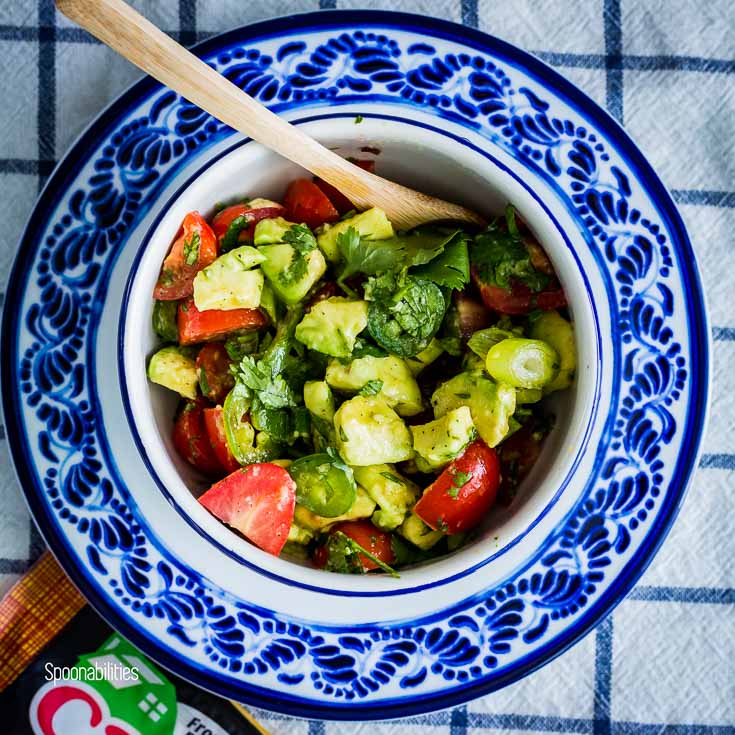 This vegetable filled quesadillas with avocado-tomato salsa are so quick and easy to prepare and are so satisfying, I know you are going to want them every day of the week! Leave me a comment below with what you think about this recipe, and if you try it. Share this recipe on social media and tag us @spoonabilities and use the hashtag #Spoonabilities. Thank you.
Carlos Leo
Your Recipe Concierge!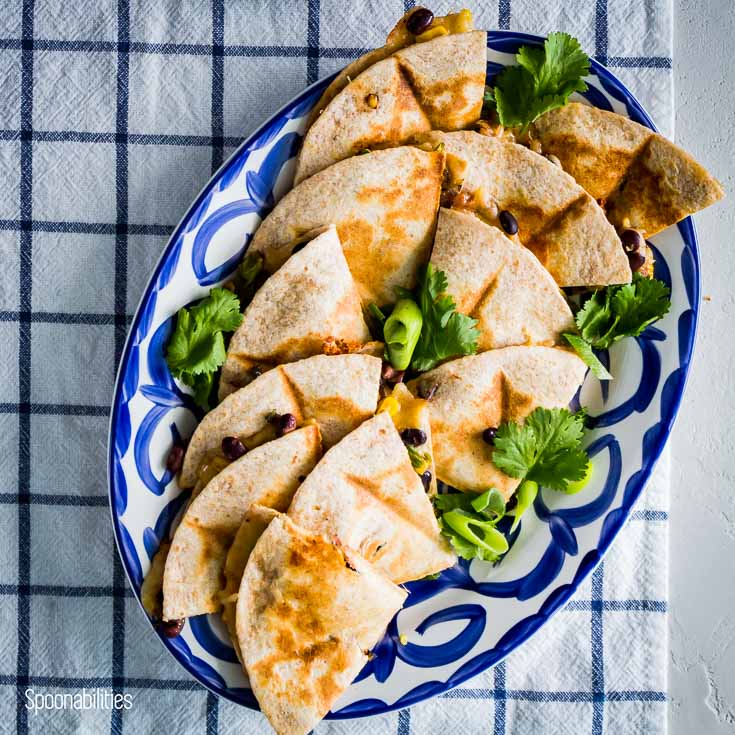 Print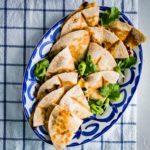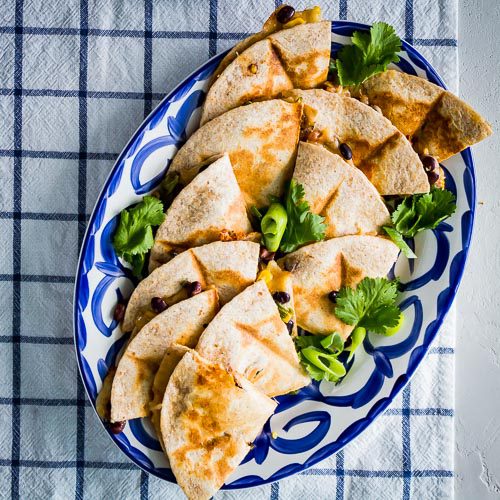 Southwest Veggie Quesadillas with Cherry Tomato-Avocado Salsa
---
Author:

Carlos Leo

Total Time:

25 minutes

Yield:

4

people

1

x
Description
Southwest Veggie Quesadillas stuffed with summer vegetables like corn & zucchini, black beans, and Fiery Jack Shredded Cheese. Garnish with cilantro, scallions, and Cherry Tomato-Avocado Salsa.
---
For the grilled vegetables:
For the salsa:
1

avocado, diced

1

scallion, thinly sliced

1

cup

cherry tomatoes, halved

2 Tablespoons

coarsely chopped fresh cilantro

2 Tablespoons

fresh lime juice

½ teaspoon

Natural Sea Salt from Messolonghi -
Half of a jalapeño pepper, sliced
For the quesadillas:
8

flour tortillas (8-inch)

1

+½ cups shredded Fiery Jack Shredded Cheese by Cabot Cheese

1

15oz

can

black beans, drained, rinsed

2 Tablespoons

Greek EVOO Hellenic Farms PDO Sitia Crete -
Cilantro leaves with tender stems (for serving)

1 Tablespoons

scallion, thinly sliced (for serving)
---
Instructions
Char the Vegetables in a Skillet:
Defrost corn
Add one Tablespoon olive oil to a large skillet and heat over medium-high heat. Add the corn, zucchini and scallions, then salt & pepper. Stir to cook evenly until the vegetables get charred.
Transfer veggies into a large bowl.
Make the salsa:
Combine avocado, scallion, tomatoes, cilantro, lime juice, salt, extra virgin olive oil and jalapeño pepper in a medium bowl, and mix.
Assemble the quesadillas:
Arrange tortillas on a work surface. Divide evenly a layer of cheese, then beans, then grilled vegetables on one side of each tortilla. Top it with another tortilla.
Heat one Tablespoon EVOO in a large heavy skillet over medium-low heat until hot. Then cook 1-2 tortillas (depending on the size of pan and tortillas you use), turning once, until cheese is melted and tortillas are brown. Approximately 1–2 minutes per side. Press slightly. I personally used a quesadilla maker. 
Transfer quesadillas to serving plates. Then cook remaining tortillas with remaining oil. Sprinkle quesadillas with cilantro leaves & scallions and serve with the cherry tomato-avocado salsa.
Notes
Vitamin A 7%, Vitamin C 24%, Calcium 46%, Iron 26%, Vitamin D 3%, Vitamin B12 4%, Vitamin E 4%, Vitamin K 28%
Prep Time:

15 minutes

Cook Time:

10 minutes

Category:

Dinner

Cuisine:

Mexican
Nutrition
Serving Size:

4 serving

Calories:

674

Sodium:

1032 mg

Fat:

37 g

Saturated Fat:

10 g

Unsaturated Fat:

26 g

Carbohydrates:

66 g

Fiber:

14 g

Protein:

25 g

Cholesterol:

38 mg
Recipe Card powered by
Available via these Amazon links:
Disclaimer: Links that open in another site, i.e. Amazon, may be affiliate links where at no additional cost to you, we may receive a small commission should you decide to purchase the item. Read our Disclosure Policy