Sourdough cinnamon rolls are an artisan version of the ever-popular baking treat, but they're easier and more fun to make than regular rolls; they're simply better! Learn how to make sourdough cinnamon rolls with this complete recipe, from the buns to the cream cheese icing. We're also talking about what exactly are cinnamon rolls, and I'll share with you some tips to get them perfect every time!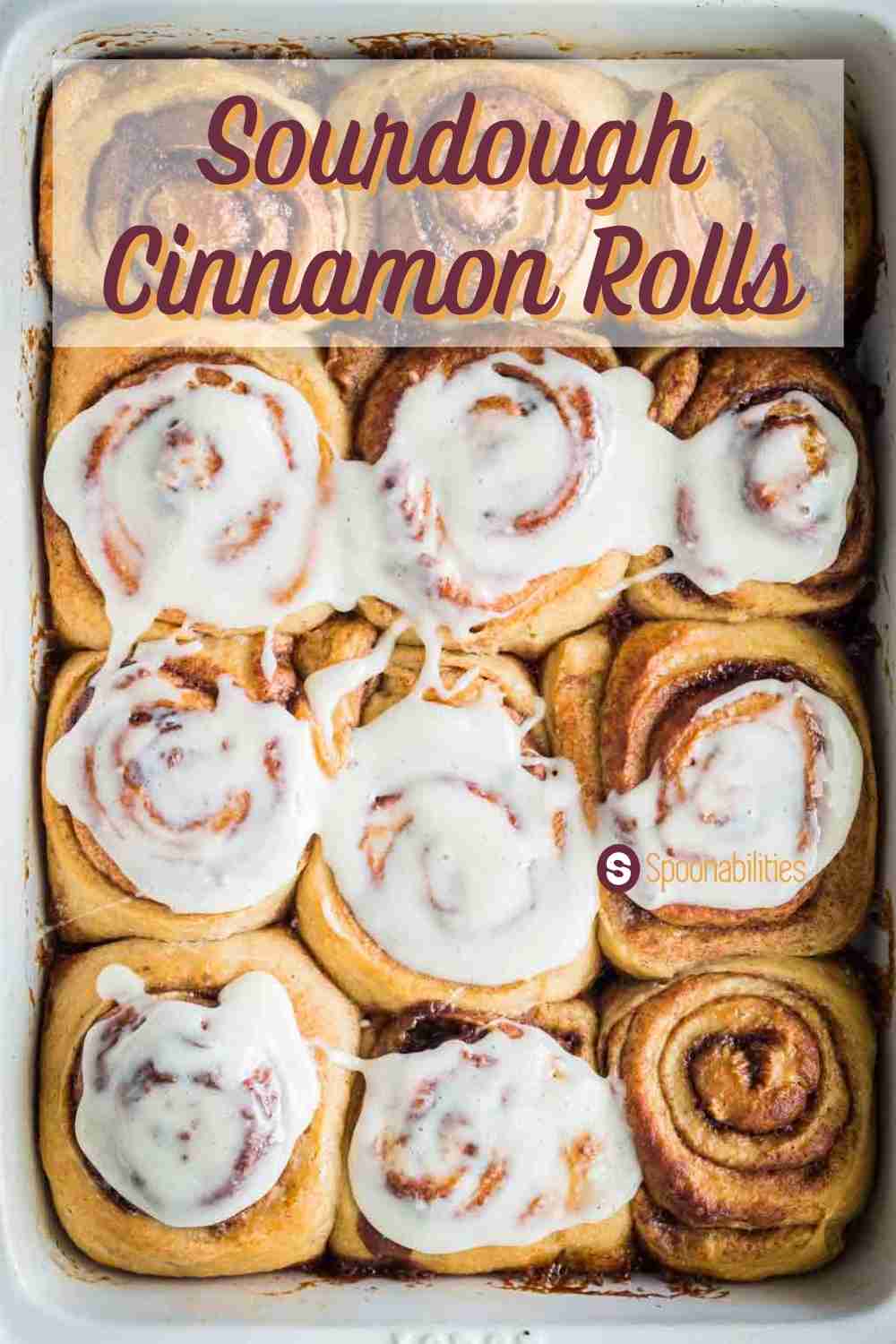 Hello my friends. Cinnamon rolls are amongst everyone's favorite bakes. There's something so comforting in the pillowy rolls blessed by the warmth of cinnamon. And then there's the yummy cream cheese icing!
I love cinnamon rolls, and Geoffrey's aunt and grandmother used to make "sticky buns" so this recipe has to pull its weight. I'm not always happy with what I find in bakeries around here; it's incredible how different freshly made cinnamon rolls can taste. The best ones in my opinion? I just discovered they're made with sourdough, so here's all you need to know about them. Today I'm sharing with you my sourdough cinnamon roll recipe.
Related: Pumpkin Cinnamon Rolls | Sourdough Banana Bread
Talking about a recipe with sourdough, this is a fantastic sourdough discard recipe. This means it's great for using all that sourdough you throw away while keeping your starter at a manageable size in the fridge.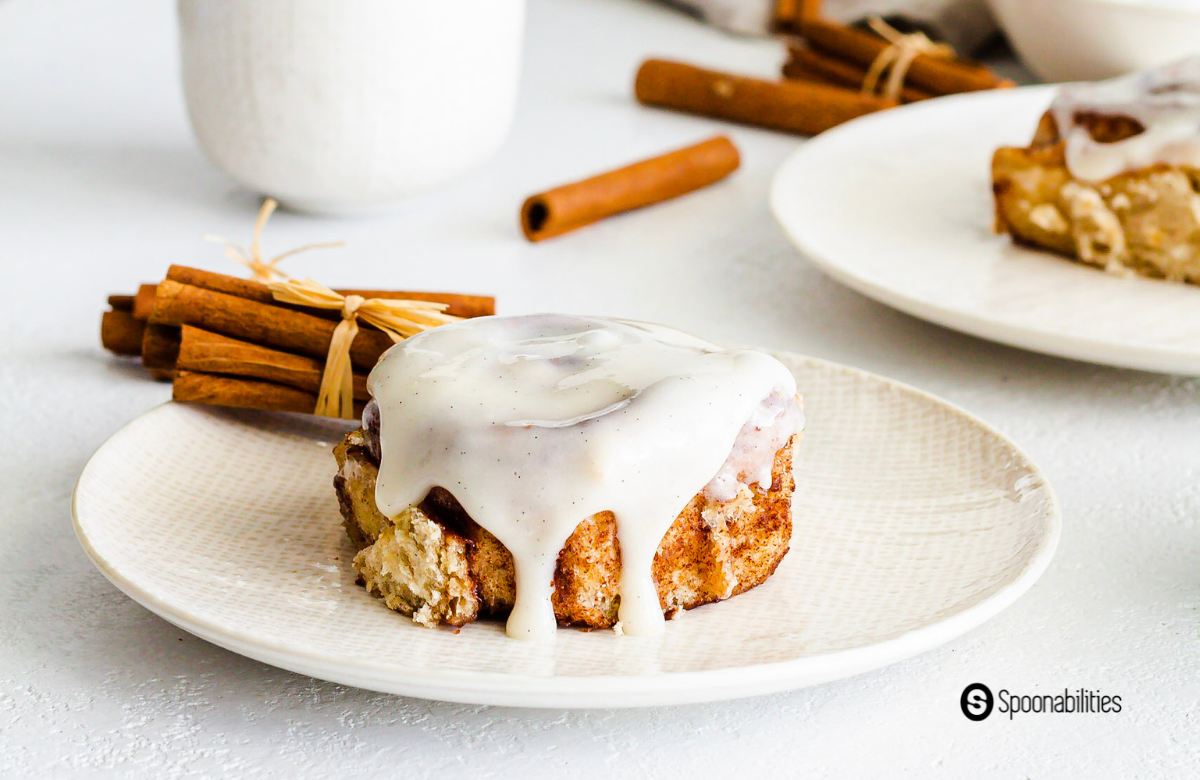 What Are Sourdough Cinnamon Rolls?
Sourdough cinnamon rolls are like regular cinnamon rolls, but the dough is made with sourdough, with no added yeast, but let's start with the basics.
Cinnamon rolls are an All-American classic, but they're originally from Scandinavia, where they've been baking rolls like these and coating them with cream cheese frosting for centuries! There's even a Cinnamon Roll Day in Sweden, celebrated every October 4th.
Sourdough Cinnamon Rolls are the new trend, but they're not new at all. You start with sourdough bread, which is made with spontaneously fermented dough – this is how people made bread since the beginning of time. The bread is richer, more flavorful, and complex!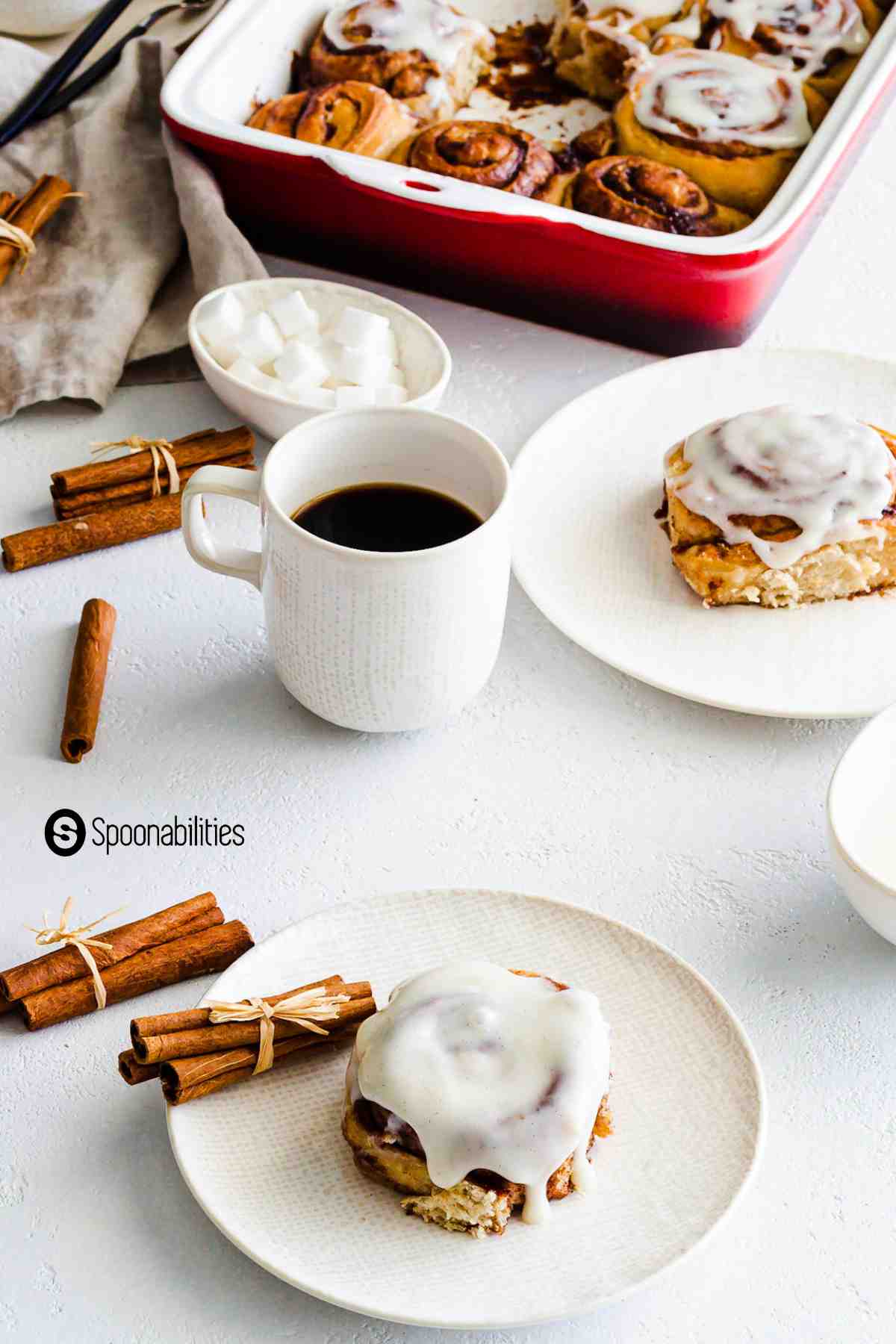 What's the difference between cinnamon rolls and cinnamon buns?
In theory, there's no significant difference between a cinnamon bun and a cinnamon roll; they're both made with rolled-up sheets of dough flavored with sugar and cinnamon.
The Internet seems to disagree, though. There seems to be a difference between cinnamon rolls, which have a glassy sugar icing, and sticky buns, served sans-icing but with an extra dose of sticky sugar syrup. Cinnamon buns? They might not even be a thing!
Like this recipe so far? Be first to know when we release new ones!
Tips for the Best Sourdough Cinnamon Roll Recipe
When making sourdough cinnamon rolls, things can get messy fast if you're not organized.
Make sure you have a large enough space to handle the sheets of dough. Clean up your counter before getting started!
Don't be shy with the cinnamon; the recipe below is great for Geoffrey and me, but you might like yours a bit more cinnamony, and that's the cool thing about making your own. As they say, season to taste.
When working with sourdough, be patient. A sourdough starter/discard is a living thing! And it needs time to acclimate to a new environment. The dough will rise, that's guaranteed, but help the dough out by stretching and folding it a few times!
Cutting the dough and rolling it while keeping it all nice and tight takes a bit of practice, but don't get discouraged! After you make a few cinnamon rolls, they'll look better and better.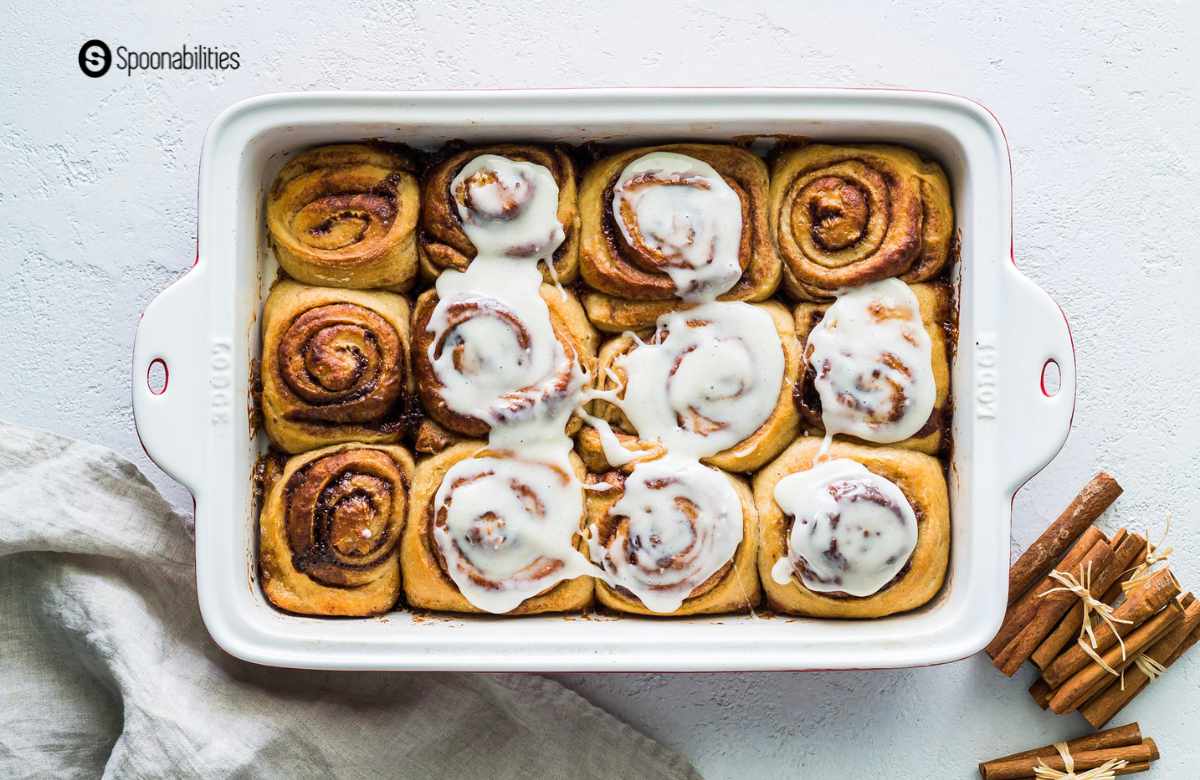 Don't forget to preheat the oven for at least fifteen or twenty minutes before baking the rolls. That's the secret behind that fantastic golden color.
I hope you get a chance to make these Sourdough Cinnamon Rolls. Did you make this or another recipe? Tag @Spoonabilities on Instagram or add a photo or comment on Pinterest, so we can find you!
And we love to hear from you in the comment section below.
Wishing you tasty happenings,
Carlos Leo
Your Recipe Concierge
Want more Sourdough Discard Recipes:
Print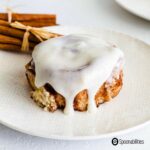 Sourdough Cinnamon Rolls Recipe
---
Author:

Carlos Leo

Total Time:

7 hours

Yield:

12

large rolls

1

x
Description
To make sourdough cinnamon rolls, you need a sourdough starter and a few readily available baking staples. We're making everything from scratch - the dough, the filling, and the icing. The result? The most flavorful cinnamon rolls you've tried! This recipe was inspired by a similar recipe from the King Arthur Baking Company.
If you like this recipe, join our newsletter to know about future ones.
---
Dough
227

g

(1 cup) fed sourdough starter or sourdough discard from the same day already fed.

¾

cup

room temperature milk

4 Tablespoons

room temperature butter

1

large egg

3

cups

all-purpose flour

½

cup

white whole wheat flour

¼

cup

granulated sugar

1 ½ teaspoons

sea salt
 Filling
¾

cup

firmly packed brown sugar

¼

cup

all-purpose flour

1 Tablespoon

ground cinnamon

⅛ teaspoon

salt

1 Tablespoon

melted butter
 Icing
1 ½

cups

powdered sugar

1

pinch salt

1 ½ Tablespoons

melted butter

½ teaspoon

vanilla paste

2 Tablespoons

whole milk
---
Instructions
Make the dough: Mix all the dough ingredients, except the salt, together - 2 to 3 minutes on the low speed of your stand mixer - until there is no dry flour remaining and the dough is sticky and sticks together.
Add the salt on top of the dough, without mixing it in. Then cover and let the dough rest for 20 minutes.
Mix in and fully incorporate the salt - about 1 minute on mixer speed low. Turn the mixer up one notch and knead the dough for about 2 to 3 minutes until it's smooth but still slightly sticky.
Cover the dough and let it rest in a warm (room temperature) place for 4 hours, stretching and folding it in the bowl each hour.
Make the filling by combining all the filling ingredients in a medium bowl.
Turn the dough out onto a lightly greased or floured work surface and gently deflate it, patting or rolling it into a 14" x 20" rectangle.
Spread the filling evenly over the top of the dough, leaving about ½" of exposed dough along one short edge.
Roll the dough in a log, starting with the filling-coated short edge. As you roll, the log will lengthen to around 18".
Cut the log into twelve 1+½" slices and place them in a lightly oil sprayed 9" x 13" pan.
Cover the pan and let the cinnamon roll dough rise for about 2-3 hours until they are puffy.
Bake the buns in a preheated 400°F oven for 20 minutes, or until golden. A digital thermometer inserted into the center of a middle bun should read 190°F.
Make the icing: While the buns are baking, stir together all the icing ingredients in a medium bowl until smooth.
Remove the buns from the oven and cool for about 10 minutes. Then spread the icing over each cinnamon bun, and enjoy!
Notes
Wrap the buns in plastic and store them at room temperature for a day or two - if they aren't eaten before then. You can freeze unfrosted buns for longer storage.
Prep Time:

25 minutes

Cook Time:

20 minutes

Category:

Breakfast

Method:

Baking

Cuisine:

American / Northern Europe
Keywords: sourdough discard recipe, easy cinnamon rolls, homemade cinnamon rolls, sticky buns, best cinnamon rolls, sourdough, sourdough recipes, sourdough cinnamon rolls, best sourdough cinnamon rolls, sourdough bread, sourdough starter, cream cheese frosting, cream cheese icing, sourdough discard cinnamon rolls, discard cinnamon rolls, king arthur sourdough cinnamon rolls, sourdough discard cinnamon rolls recipe
Recipe Card powered by
Available via these affiliate links:
Disclaimer: Links that open in another site, i.e. Amazon, may be affiliate links where at no additional cost to you, as an Amazon Associate I earn from qualifying purchases, should you decide to purchase the item. Read our Disclosure Policy.
Interested in more related recipes?
Looking for other similar recipes? Try these: