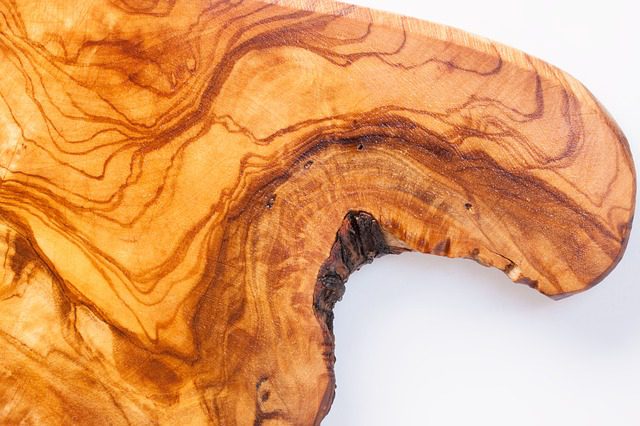 Even as we learn to live with "the new normal" and get back to safely practicing our usual activities, having guests over is still a great way to enjoy the company of family and friends. When you are the host of the gathering, it's important to provide the courses that people have become accustomed to, but that doesn't mean the food and drinks have to be traditional or boring. Appetizers can really set the tone for the rest of the party, and choosing the right board for charcuterie is a great place to start.
Appetizers are a way to delight your guests' palettes and tame their grumbly tummies before the main meal. Why not have a way to display them so that they are not only delicious but look amazing too? This is a fun reason to present a great charcuterie board. Here, we'll help you find just the right boards for your holiday gatherings in 2023.
Get ready to entertain like never before because you'll have just as much fun putting it together as you and your guests will have munching on the appetizers! Here, we're talking about the actual boards, but you can also check out some thoughts we have about what goes on a charcuterie board.
Why Choose a Charcuterie Board for Appetizers?
A charcuterie board is a creative serving option to present all the beautiful food you wish to offer your guests. It can even be a preview of what the rest of the party will look like. Make sure that you display it in a way that looks appetizing to your guests and creates anticipation for what's to come. Whether it's wood, stone, or some other material, when you want to order a charcuterie board it helps to know the benefits of your different options.
Wood Charcuterie Boards
When you are looking into charcuterie boards, consider several types of woods depending on your requirements. Generally, it's best to choose a non-porous wood or wood that has been treated to be non-porous. Ultimately, you'll want to pick the one that you feel the most comfortable with and that aligns best with your theme and budget. Here are various woods that can be used for appetizer boards, some more common and some more exotic.
Bamboo
There are several reasons to consider using a bamboo board for charcuterie. First, it has some natural antimicrobial properties. This doesn't mean skipping food safety rules, but it can be an added measure to ensure the well-being of your guests. Bamboo is durable and long-lasting. Cheese board knives won't easily mark it up, and the board also won't dull the knives. Finally, it's eco-friendly, known for its sustainability. According to EcoNation, it produces more oxygen than trees (bamboo is a grass, not a tree) and can be harvested every three to five years.
Walnut
Like bamboo, walnut is water and bacteria-resistant when treated properly. With regular maintenance and seasoning, a walnut charcuterie board will both resist odors and continue looking great for a long time. Walnut is another wood that is less likely to dull knives or end up with a lot of cuts and scores. It can essentially heal itself because the grain opens and closes on its own when cuts are made. While maybe not quite as eco-friendly as bamboo, most walnut used for charcuterie boards is sourced in the US, primarily from Virginia and Maine. If you are US-based, purchasing a walnut board can have a lower impact on your carbon footprint. On top of all of this, the natural grain of walnut makes for an absolutely beautiful board.
Hard maple
Hard maple charcuterie boards provide a one-of-a-kind look, each with its own natural grain and pattern. They are easy to clean and maintain, requiring only wiping down with mild soapy water and treating with food grade mineral oil after each use.
Olive Wood
Olive wood offers one of the most interesting and conversation-generating looks of all the wood for charcuterie boards. It's also a dense hardwood that shares a lot of the same self-healing and microbe-resistant properties of walnut and bamboo as long as it's properly maintained.
Acacia
Acacia is another sustainable wood used in boards for charcuterie. It is steadily gaining popularity because of its durability and longevity. While it is as easy to clean as other wood charcuterie boards, make sure to only wipe it down with a mild soapy solution or white vinegar diluted in water. Don't submerge an acacia board in water.
Cherry
Charcuterie boards made from cherry wood are great for creating a truly rustic look for your appetizer presentation. Some can be a bit more expensive than boards made from other woods, but there are often other benefits such as being reversible and offering easy hand grips. They can be cleaned with a mild soapy water solution and treated with a cream that typically comes with the board purchase, a cream that combines beeswax and food grade mineral oil.
Teak
Teak is another durable, natural wood that tends to be moisture resistant. In fact, it's not only used to make furniture, but even boats! It also offers a deep, rich, and unique tone that becomes even more beautiful over time as the wood oxidizes. While it's not a bad idea to treat a teak charcuterie board every so often with food-grade mineral oil, it's not necessary as often as it is with walnut, maple, or cherry because of teak's retention of its own natural oils. If sustainability is something that you watch carefully, however, teak may not be the right choice for you. You can ensure that you are purchasing teak from dedicated plantations rather than Burmese or Indonesian forests by checking for Forest Stewardship Council certification.
Like this guide? Be first to know when new content is released!
Examples of Wood Boards for Charcuterie in 2023
Here are some picks we find interesting for 2023, though we want to be clear that these are not official recommendations or endorsements. These are ideas to help prime your creative process. We're sure that you can find and order a charcuterie board that will make your party the best it can be, either using these choices or another search based on these ideas.
Design an epic appetizer presentation for any party with this cheese board board and 3-peice utensil set that includes a slide out drawer to store the utensils when not in use.
This is another great choice for a charcuterie board. Dress it up with cured meats, a variety of cheeses, pickled items, nuts, crackers, dips, and sauces. Guests are sure to come back for seconds - make sure they don't spoil the main course for themselves!
Complete with cheese knives, this is another fantastic board to consider in 2023. Made from sustainably-grown bamboo and large enough to serve a hungry crowd (13.3"L x 13.3"W x 1.4"H).
Made from handcrafted acacia wood, this board also comes with a hidden bracket and all the necessary hardware to hang it on the wall. This board is 34" long and 10.8" deep, so if it's a long board presentation you need, this fits the bill. Alternatively, you can put two of them together to extend the depth and add more appetizers or dips, spreads, and sauces.
This rustic board is made from walnut trees grown in Pennsylvania and features leather handles for moving from room to room. There are four rubber feet on the bottom to prevent the board from marking up any surface it sits on. The wood is treated with food safe mineral oil and buffered with beeswax.
This board is made with sustainably harvested teak and moisturized with 100% food-safe oil. It will be easy on your knives while it simultaneously resists scratching and warping. With the juice groove, this board works well for cutting roasted meats as well as serving appetizers.
Stone and Marble Charcuterie Boards
While stone and marble charcuterie boards can create an elegant look with a real "wow" factor, there's also a practical reason to use them. They absorb heat better than just about any other choice of board material, which means the heat will be drawn away from your ingredients and your cool ingredients will maintain their temperature longer. Cheese is less likely to soften too much or even melt because of this.
Care is a bit trickier for these boards, as the material is porous. Make sure to use food safe cleaners and sealers to avoid the board taking on odors (especially from pungent ingredients like blue cheeses). Finally, steel knives along with stone or marble boards aren't always a great combination. On these boards, it's wise to serve softer cheeses or limit the hard cheeses to ones that don't require a lot of pressure to cut. Marble is especially prone to etching and to discoloration from things like tomato sauce, so definitely weigh practicality and function against presentation when making this choice.
Examples of Stone and Marble Boards for Charcuterie in 2023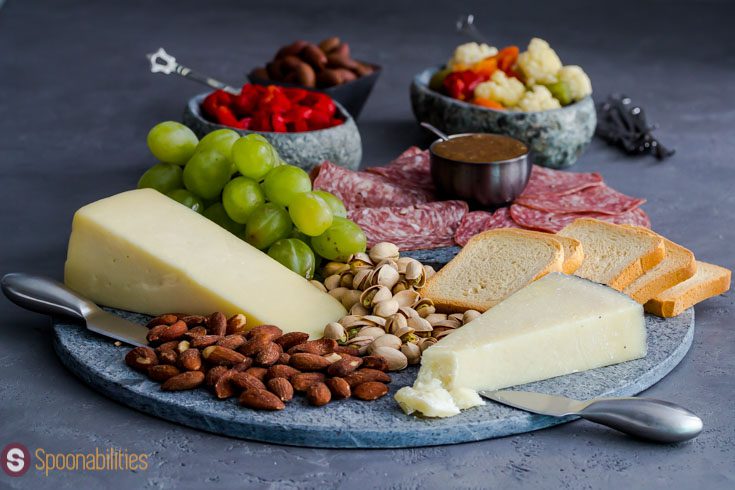 Want to really make a statement and ensure that the theme of the party is well-known? Try presenting your charcuteries on a personalized, engraved marble board. With ingredients and serving vessels strategically placed, you can display the message you want at the time of serving or have it revealed as appetizers disappear.
This sustainably-sourced acacia and white marble board features serving tools, four stainless steel cheese knives, and a wood cheese tool holder with integrated magnets.
Slate Charcuterie Boards
Slate charcuterie boards are a bit newer on the scene, but can be a great choice! Slate is non-porous and doesn't absorb odors or flavors; it's less prone to discoloration than stone or marble. Be careful to look for kitchen slate, though. Black slate doesn't share the same non-porous qualities and is also more likely to flake than kitchen slate.
Examples of Slate Boards for Charcuterie in 2023
This is a large natural slate board (16" x 12") with integrated handles for easy carrying. It comes with a chisel knife, cheese fork, cheese knife, and silver blade knife for slicing and serving all types of cheese.
This is an affordable set of six slate mini plates (under $20 at the time this article was published). These 9" x 6" all occasion plates are sure to make meats and cheeses stand out, as well as offer a nice dark contrasting background to baked brie or parmesan wedges. The set also comes with three pieces of chalk included so guests can add their names to the boards.
Plastic Charcuterie Boards
While plastic charcuterie boards are available, Spoonabilities does not recommend them. This is because small bits or shavings of plastic can come loose while items on the board are being cut, and we would rather not serve plastic to our guests. We assume you feel the same way!
Ordering a Board for Charcuterie
Prices will vary when you pick out a board for charcuterie. Order a charcuterie board now so you're prepared for your next gathering, basing your choice on cost, creativity, and goals. You can decide on the theme of your party and have fun putting it all together. You may find it's something that you really enjoy, and your guests are sure to love what you've put together for them. Need more inspiration? Check out some of our charcuterie board ideas.
The Spoonabilities Guide to Charcuterie Boards