Today we're making a proper strawberry mousse because what says summer better than dining al fresco, hearty food, and a decadent summer-scented dessert, right? To get it right, you only need two key elements: an all-natural wild strawberry flavor, and a creamy, airy texture. We're pulling out the big guns for this one; mascarpone, sour cream, and whipped cream. Together they make the richest mousse you've tried; a decadent and satisfying mousse that just screams summer.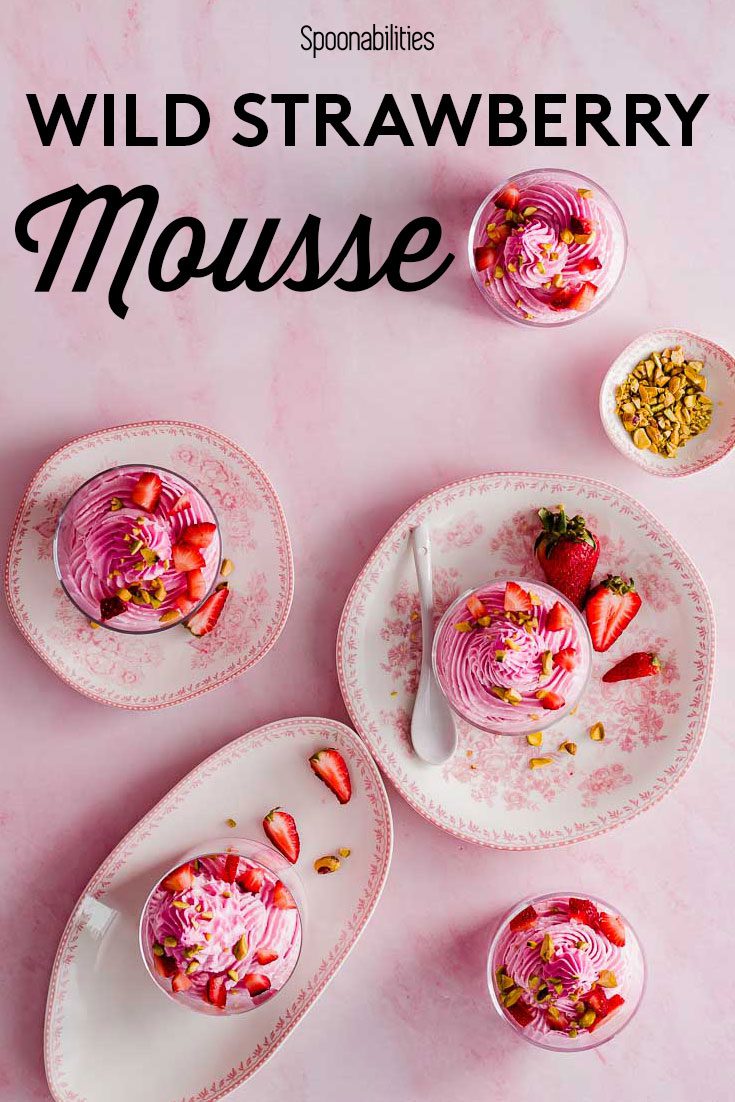 Blog post contains products you can purchase in our online shop, and affiliate links. Read our Disclosure Policy.
Hello my friends.
Desserts are all about the balance of sweetness and flavor, but let's not forget about the texture! The most decadent desserts out there are not only tasty, but they also have a unique mouthfeel. Today we're making a gorgeous wild strawberry mousse that's as satisfying to scoop as it is to eat.
We are at the peak of the summer, which means crafting colorful drinks, lighting up the grill, and dining outdoors. Summer is also the season for stone fruits like peaches and cherries, and berries like blackberries, blueberries, and of course, strawberries are the quintessential summer treats.
The warmest months of the year are also all about contrasts. We love fresh, light foods like salads, ceviche, and cocktails, but we go for hearty grilled meat and burgers. Right in the middle, you'll find strawberry mousse; fresh and sweet but creamy and luscious.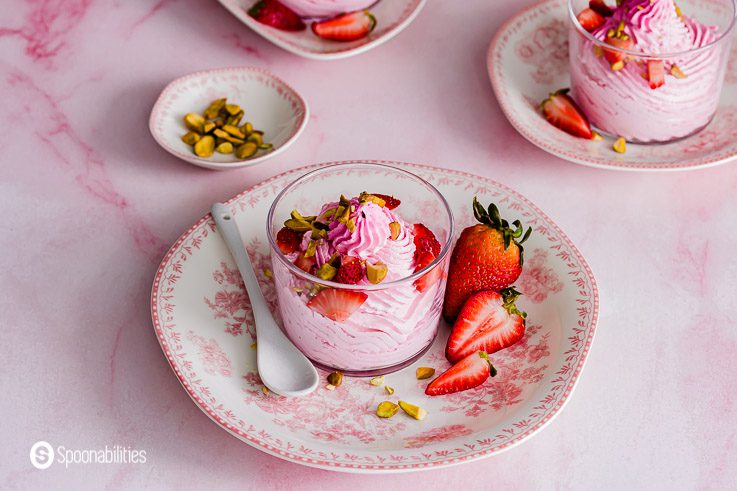 Let me tell you why I love to make strawberry mousse (which I make all year round, by the way). You get to adjust the sweetness to your liking, and you end up with a real 'mousse' texture completely different than the store-bought stuff that's more like milk-based Jello.
For the strawberry flavor, whenever I find fresh strawberries, I make my own roasted strawberry puree. If I don't, I use gourmet fruit jams like Very Strawberry Preserves, or all-natural Amoretti Wild Strawberry Artisan Flavor, but I'll tell you more about them in a minute.
You'll only need six ingredients plus toppings to create a wonderful mousse to crown your summer dinner parties or a summer-inspired supper with a special someone. Let's get started.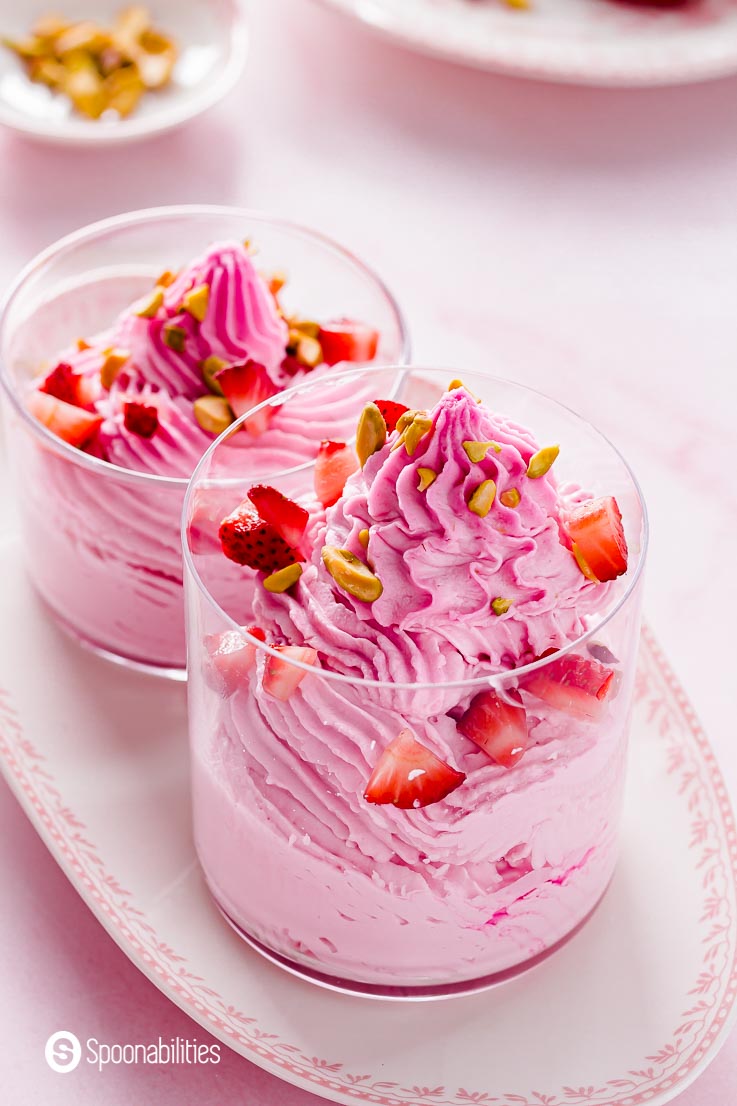 Like this recipe so far? Be the first to know when we release new ones!
---
What is Mousse? Some Basic Information
What is mousse? Mousse is a soft prepared food that incorporates air bubbles into a savory or sweet recipe to give a light and airy texture. The texture or consistency can be from light and fluffy to creamy and thick, depending on preparation techniques. Mousse is the lighter, fluffier cousin of pudding. Its light texture comes from whipping air into the mixture.
Mousse is Made Using Five Components
There are five general components to making mousse:
the base which is the sour cream for this recipe,
the aerator which is the whipped cream for this recipe,
the sweetener which is usually added to the aerator; we use powdered sugar for this recipe,
the flavoring which for this recipe we use the strawberry preserves or one of two other options provided below, and
the thickener or stabilizer which in this recipe we use mascarpone cheese. We also use a pinch of xanthan gum. But this is optional and if you don't have it, it's ok. You still will get a smooth, airy texture. Some people use gelatin, but I found it easier to use xanthan gum. A pinch will go a long way to help you to reach the right texture.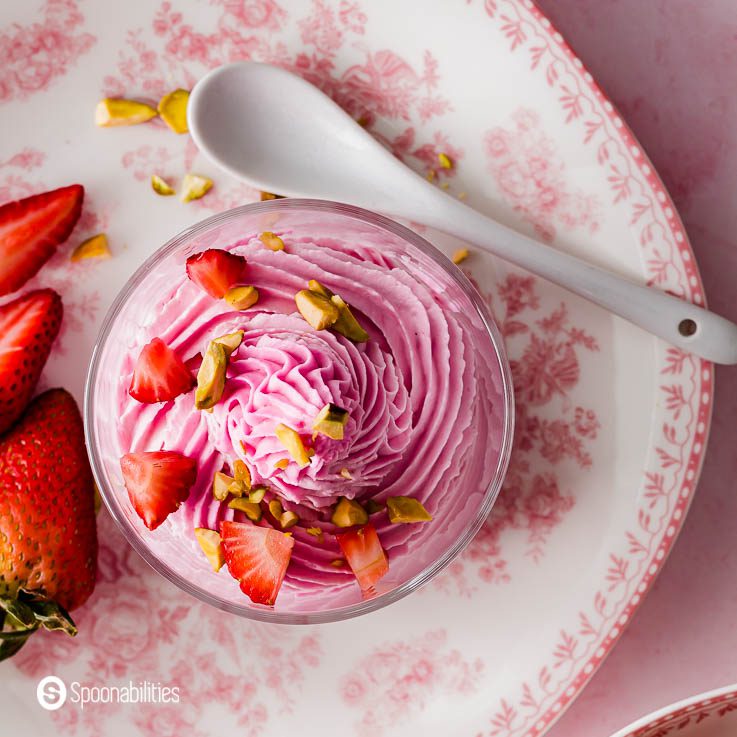 What is the Difference between a Mousse and a Pudding?
Usually people confuse pudding and mousse when referring to smooth and creamy desserts, but they have a few differences.
You make pudding by cooking a milk and sugar base, and adding cornstarch, or another thickening agent, to thicken the mixture. On the other hand, mousse is made incorporating air by folding whipped cream or beaten egg whites into a cold milk and sugar base. This base can be with yogurt, sour cream, or a dairy-free version. The main difference is that pudding is cooked, and mousse is not. Mousse has a fluffier consistency and lighter texture, and pudding is semisolid and denser. They are both no-bake desserts and on the top of my list of favorite desserts.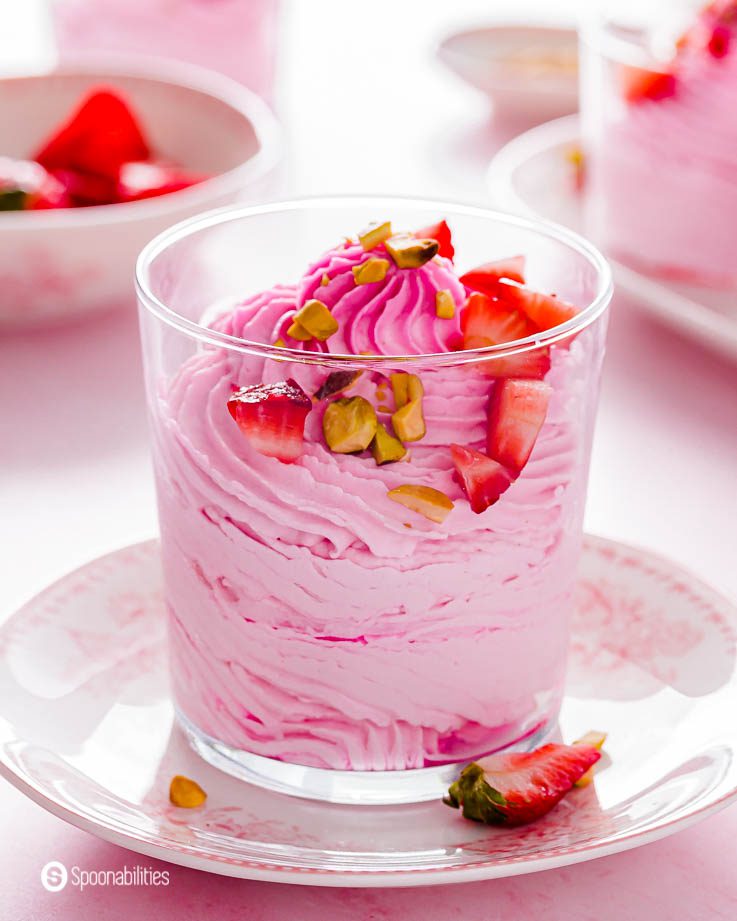 Three Ways to add Flavoring to this Strawberry Mousse
We are sharing three ingredients that will make your life easier when adding flavoring to this mousse. The base mousse recipe serves as a canvas to create any flavor, any time of the year. Because it's summer, we like to use ingredients that reflect the season.
The main flavoring option is Very Strawberry Jam from L'Epicurien that is .
Another option is called Amoretti Natural Wild Strawberry Artisan Flavor, and it's a strawberry puree substitute.
If you get your hands on seasonal ripe strawberries, below is an excellent recipe to make homemade roasted strawberry puree. We did this puree for our Homemade Strawberry Ice Cream with White Balsamic Vinegar.
Recipe for Homemade Roasted Strawberry Puree
Heat the oven to 300°F. Line a sheet pan with parchment paper.
Spread a 16oz package of ripe strawberries, hulled, and halved out evenly on the lined sheet pan and drizzle them with 3 tablespoons of White Balsamic Vinegar .
Bake for 15 minutes. Stir the berries and continue baking until they just barely begin to caramelize and get a little bit of roasted color to them – about 20 minutes more. Remove from the oven and let them sit until they're cool enough to handle.
Transfer the strawberries to a blender along with the yummy sticky stuff on the parchment paper and puree to make a smooth sauce. Chill in the fridge until cold.

We tested each of these three strawberry flavoring options to make sure we give you the exact information for the best balanced taste with each flavoring. We first did this recipe using the Amoretti Natural Wild Strawberry Artisan Flavor donating this dessert recipe for a fundraising event hosted by Amoretti in support of The National Pediatric Cancer Foundation. Find out more about this event on Instagram.
No matter which strawberry flavoring you use, this strawberry mousse recipe will give you an airy consistency you'll be able to pipe into your glasses for a bright-eyed presentation. Top it with pistachios and strawberries, or any crushed, roasted nuts you have on hand. Just make sure your topping is crunchy to contrast the mousse's silky texture.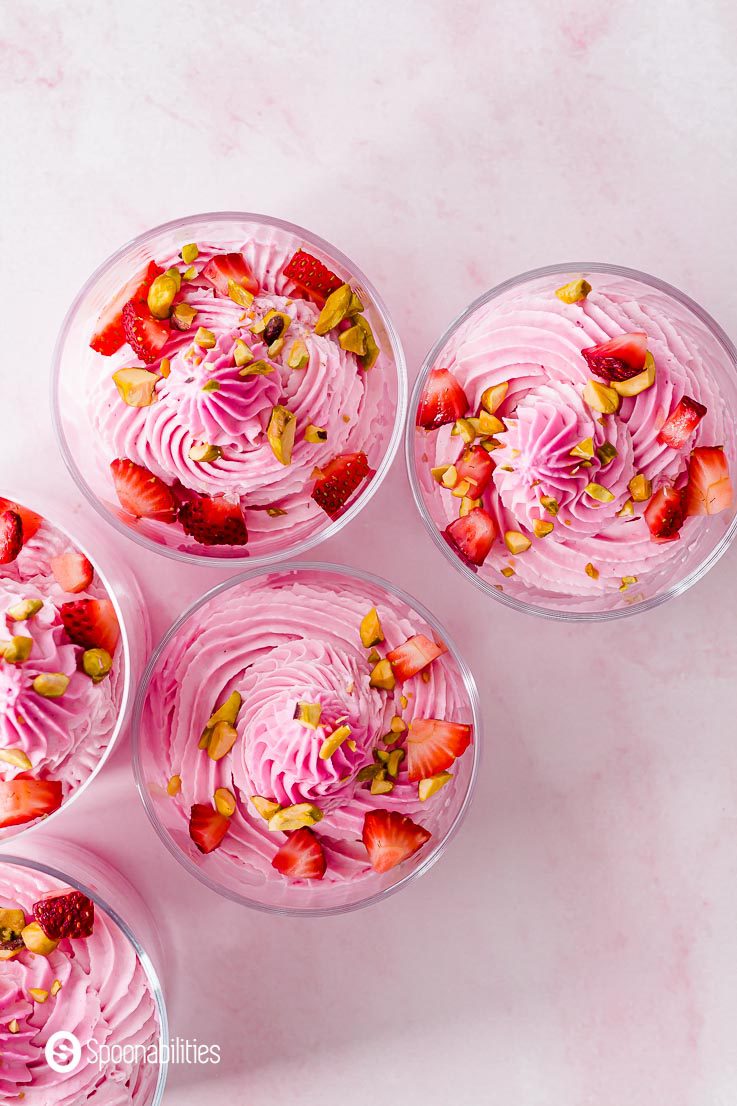 How to Make Strawberry Mousse with Three Easy Steps
In a large bowl, add the heavy cream, powder sugar, and xanthan gum (optional). Beat on high until creates soft peaks.
Add the flavoring to the whipped cream. Pick one of the following:

¼ cup of the Very Strawberry Preserve.
¼ cup of roasted strawberry puree.
3 Tablespoons Amoretti Wild Strawberry Artisan Flavor

Add the sour cream and mascarpone cream and beat just to combine. Do not over mix. Use a spatula and finish combining if needed.
To present this luscious strawberry dessert, add the strawberry mousse into a piping bag. Then pipe into small glasses for a fun shape presentation. If you don't have a piping bag, just add it with a spoon or spatula. Garnish with fresh chopped strawberries and nuts, and you're all set.
Check out more no-bake desserts:
I hope you enjoy reading and learning how to make the best strawberry mousse. This pretty pink dessert is easy and fun to make and I hope it excites and inspires you to make it this weekend. We would love to see your creations by tagging @Spoonabilities on social media and using the hashtag #Spoonabilities. Also, let us know your feedback in the comment section below.
Carlos Leo
Your Recipe Concierge!
Print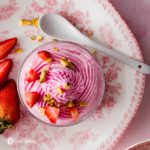 How to Make Easy Strawberry Mousse
---
Description
Strawberry Mousse is a quick and easy make-ahead dessert with a smooth and creamy mouthfeel. This summer treat has Wild Strawberry Preserves, heavy cream, sour cream, mascarpone, and sugar. They come together for an astonishing strawberry mousse adding an exciting ending to that special meal or make any regular meal special.
---
1

cup

sour cream

8

oz

softened mascarpone cream

1

cup

chilled heavy cream

½

cup

powdered sugar
A pinch of xanthan gum (optional) but this will give better texture to the mousse.
Flavoring options (pick one):
Garnish: Chopped nuts and sliced fresh strawberry.
---
Instructions
Combine in a large bowl the heavy cream, powder sugar, and xanthan gum (optional). Beat on high until creates soft peaks.
Add flavoring, choosing one of the following options:

¼ cup of the Very Strawberry Preserve
¼ cup of roasted strawberry puree (see blog post for recipe)
3 Tablespoons Amoretti Wild Strawberry Artisan Flavor

Add in the sour cream and mascarpone cream and beat just to combine. Do not over mix. Use a spatula and finish combining if needed.
Spoon (or use a pastry bag to pipe) the mousse into glasses.
Sprinkle with chopped pistachios and chopped strawberries.
Prep Time:

10

Category:

Dessert

Method:

No-Bake

Cuisine:

French
Keywords: No-bake dessert, pudding, mousse, fruit dessert, fruit preserves, fruit jam, easy recipe, easy dessert, eggless dessert, spring dessert, summer dessert
Recipe Card powered by
Available via these affiliate links:
Disclaimer: Links that open in another site, i.e. Amazon, may be affiliate links where at no additional cost to you, we may receive a small commission should you decide to purchase the item. Read our Disclosure Policy.