No-Bake Honey Cheesecake is a quick & easy dessert recipe with a light, mousse-like texture, naturally sweetened with raw wildflower honey. A wonderful crust made with Amaretti cookies holds this delicious cheesecake topped with a lemon honey-thyme drizzle. This is the perfect summer dessert!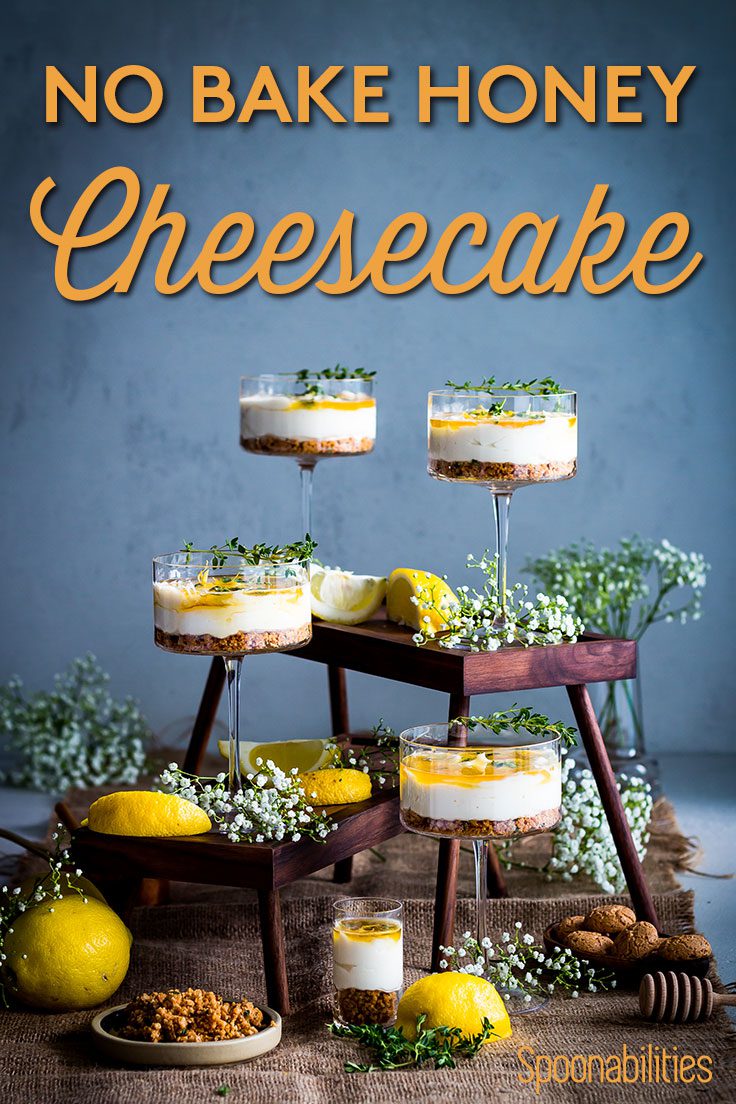 Blog post may contain affiliate links. Read our Disclosure Policy. All photographs are copyright Carlos Leo, Spoonabilities
Hello my friends. I'm bringing the summer vibes to you with an easy dessert, and the best part is you don't need to use your oven at all. I partnered with Mohawk Valley Trading Co. for this recipe to create a fantastic dessert made with honey. I was inspired by Ottolenghi's cookbook called "Simple" with his recipe Honey & Yogurt Set Cheesecake. I found the recipe interesting, and as always, I love to make a bunch of changes to add my personal touch.
You have the option to make this honey cheesecake in a pie mold or in individual serving glasses. I chose individual servings because they look pretty, and some Otis cocktail glasses I bought have been waiting for a while to be used. What better opportunity than this one, right? ?.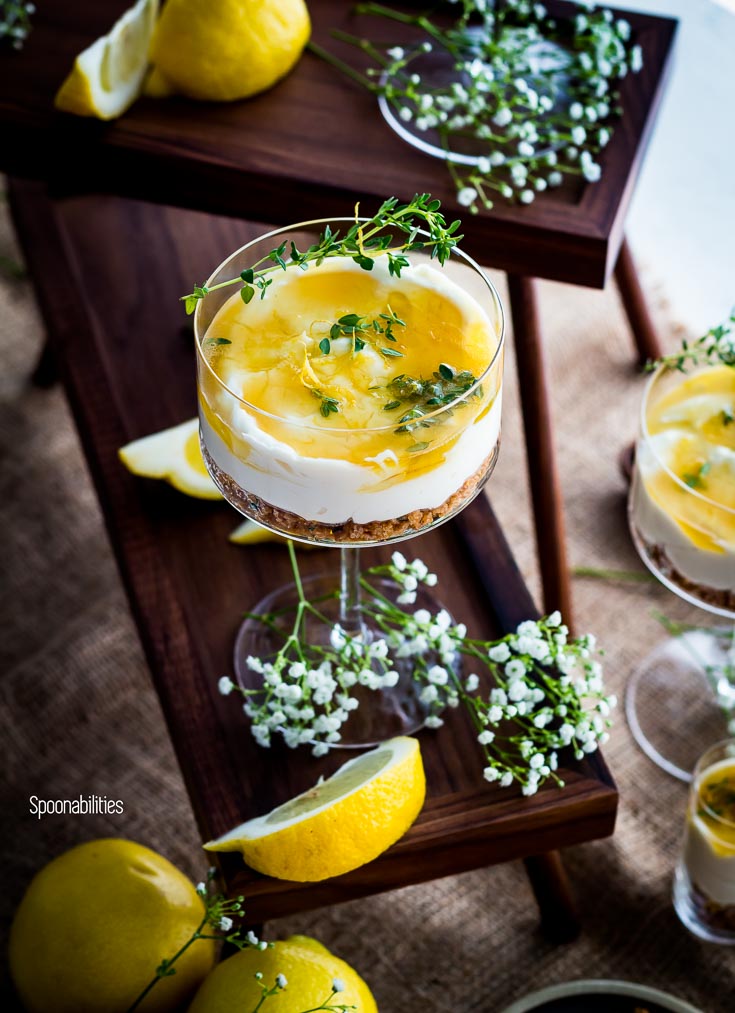 Let me tell you about some of the changes that I made from Ottolenghi's cookbook and why:
For the crust: He used Hobnobs or other oat-flour cookies. I think the flavor profile for this honey cheesecake pairs better with Amaretti cookies, and they create a flavorful crust with buttery, herby, lemon-thyme flavor.
For the cheesecake filling: He used Greek-style yogurt and I opted to use Labneh. This reason is because he said to strain & squeeze the yogurt with cheesecloth until all the liquid is out. Labneh is a time saving substitution because Labneh cheese is the final product after you do the process that he recommended. You can find Labneh at Whole Foods or a Middle East specialty store.
Major omission: He used melted white chocolate to serve as a thickening agent and help to set the honey cheesecake, but he said that the cheesecake will soften with time. In my case I didn't use the white chocolate (another time saving step) and my mini cheesecake set beautifully in the refrigerator.
Major change: To sweeten the cheesecake filling, he used confectioners' sugar. I use raw wildflower honey to sweeten the filling because I want the honey to be the only sweetener and the star of this dessert.
Minor addition: He added just lemon zest, but I also add lemon juice to give a better lemon taste to the filling.
Minor change: He used regular thyme, but I was able to find a different variety called Lemon Thyme Organic. I found this herb at Whole Foods from That's Tasty brand.
Like this recipe so far? Be the first to know when we release new ones!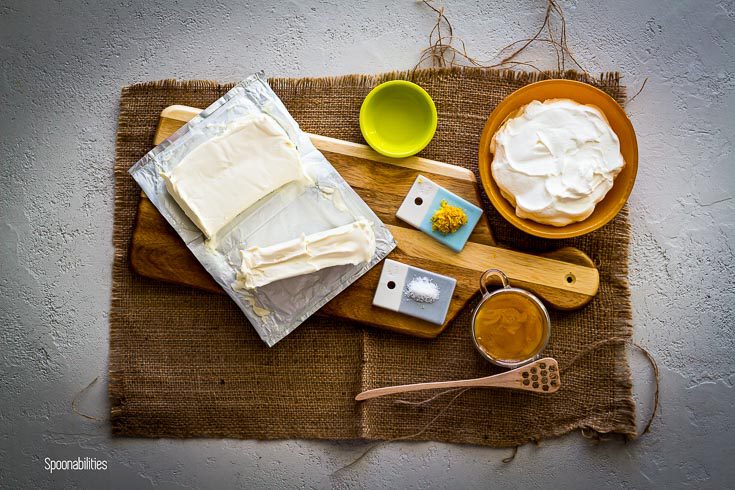 Notes when Making this Honey Cheesecake Recipe
Lemon Thyme Organic delivers a soft herbal thyme flavor with a subtle essence of lemon. This herb is better used during the last step of the cooking process, or as I used it for this recipe in the freshest way possible. You can use the lemon thyme herb in recipes that calls for lemon, lemon juice or lemon zest.
Cheesecake filling sweetness: If you taste the filling during the process and you find it is not sweet enough, don't worry. The sweetness of this dessert is apparent when you eat the cheesecake with all the elements together; the crust, the filling and the honey drizzle.
Amaretti cookie crust: You probably will have a small amount of the crust mixture left over. I sprinkle some on top of the cheesecake, and on top of vanilla ice cream. The crust is SO good that I ate with a spoon?. I saw Geoffrey do that too, but he doesn't know I saw him.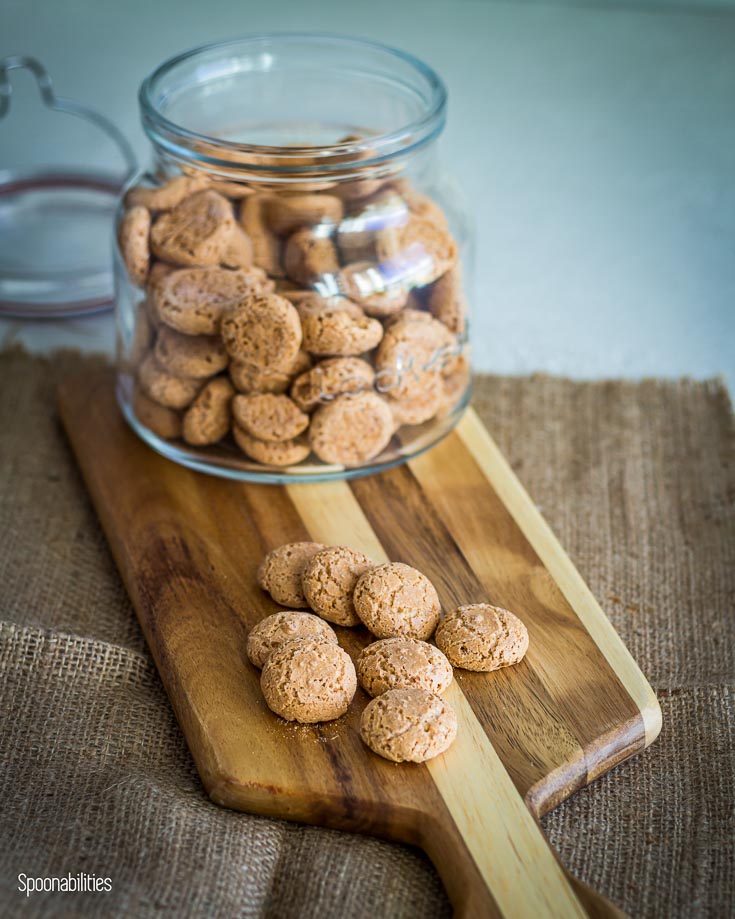 After all those changes, this honey cheesecake ended up with a mousse-like texture, an almond lemony herb buttery crust, a slight bit of tartness from the cheesecake filling, and to complete a wonderful taste bud experience, a drizzle of raw wildflower honey, lemon zest, and thyme. This is a rich tasting dessert which is still light and airy.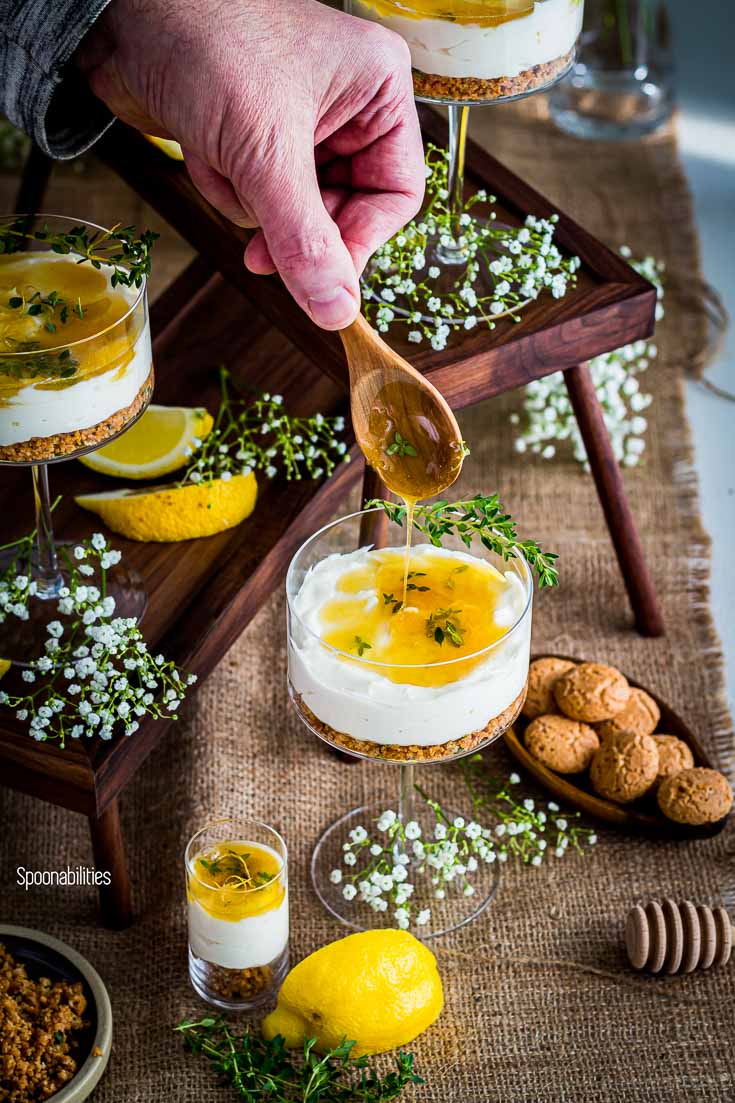 Honestly, this is a super simple and quick dessert just using a few ingredients, and the most exciting part is that there's no-baking or eggs required. You can make this dessert ahead of time for your BBQ parties this summer. For all these reasons, it made it on my list of Easy 1-2-3 recipes. Before serving, warm the honey with chopped lemon thyme and lemon zest, and drizzle over the individual servings. Your guests will love this heavenly honey cheesecake.
Raw Honey from Mohawk Valley Trading
As I mentioned, we partnered with Mohawk Valley Trading for this post. I have been having great pleasure trying some of their products since January. They concentrate on raw varietal honey, which is made predominantly from the nectar of a distinct type of blossom or flower. Their raw honey has not been heated, filtered, blended, or processed. All of the pollen, enzymes, propolis, vitamins, amino acids, antioxidants, minerals, and aromatics are in the identical form as they were in the hive. Besides these great honey varieties, they also have 100% Pure Beeswax Candles.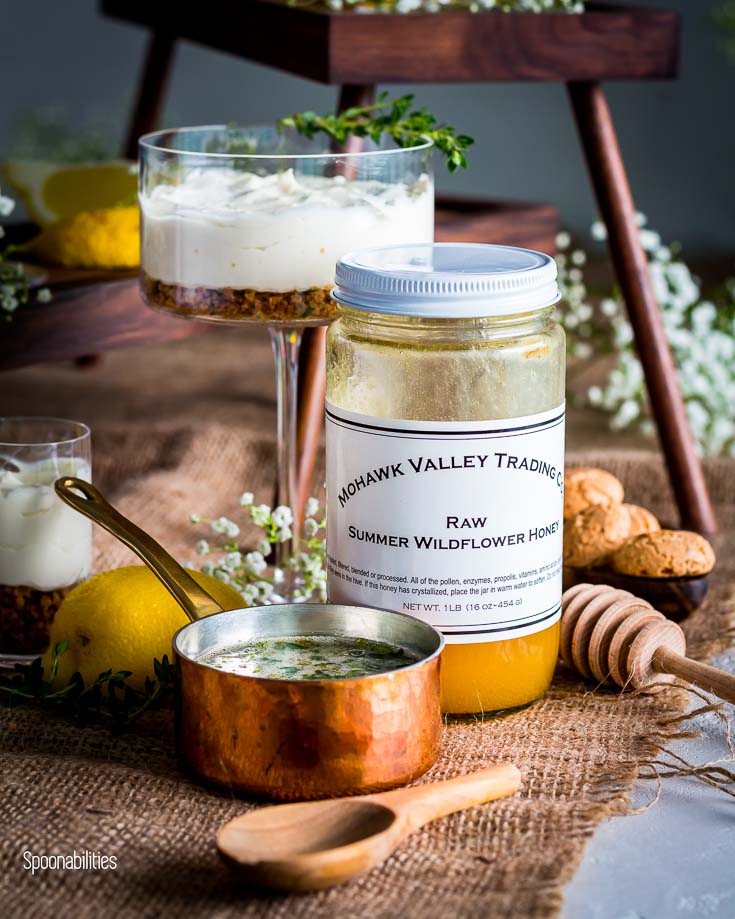 Raw Honey I Tasted and Chose for this Honey Cheesecake Recipe
Summer Wildflower Honey is derived from the nectar of numerous species of flowers or blossoms. The taste, aroma and flavor will vary from season to season, depending on which flowers are dominant at the time the nectar is collected, from April through mid-late August. This is my favorite from the three varieties because of the floral taste. I love spooning some in my tea, or I just eat it with a spoon (don't tell Geoffrey). I picked this honey for this recipe because it matches the flavor profile that I wanted for the honey cheesecake - flowery, herby and lemony.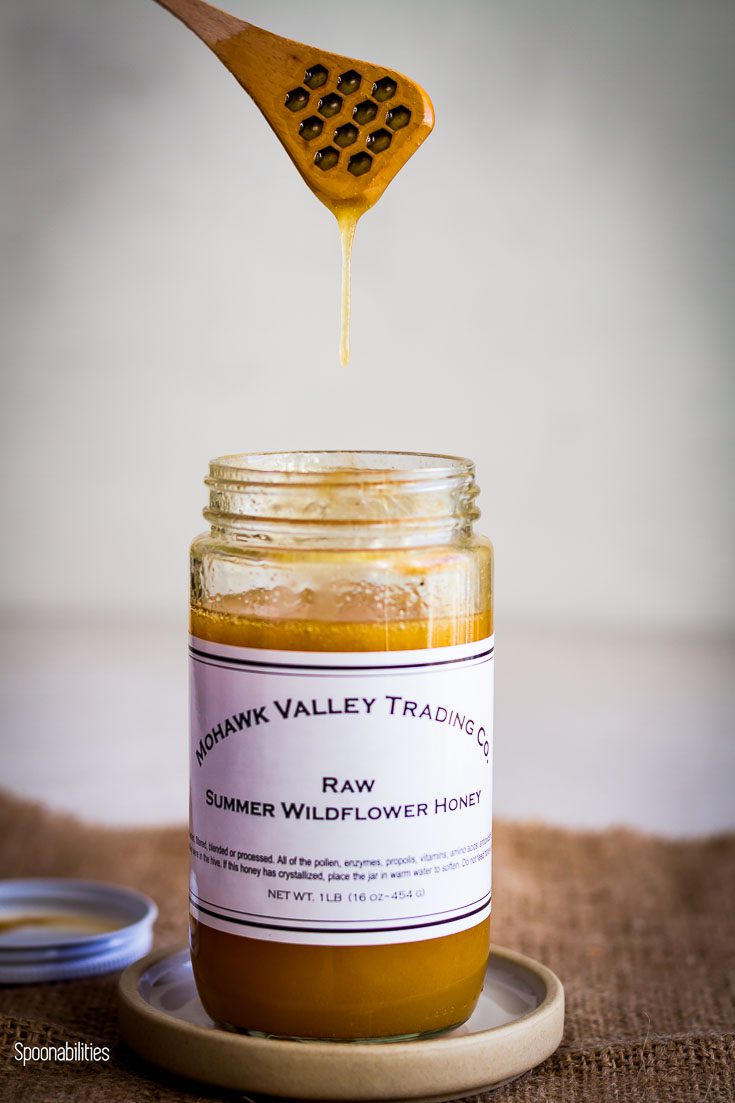 Raw Goldenrod Honey can be dark and strong due to the presence of other nectars. It's golden, spicy, mildly pungent tasting honey.
Raw American Bamboo Honey has a flavor that is much sweeter than that of buckwheat honey. This honey has a dark, molasses appearance, and also a pleasant sweet taste to it.
I also have been making delicious pancakes every weekend with their Pancake & Waffle Mix (Buckwheat & Buttermilk) with a drizzle of pure Vermont maple syrup.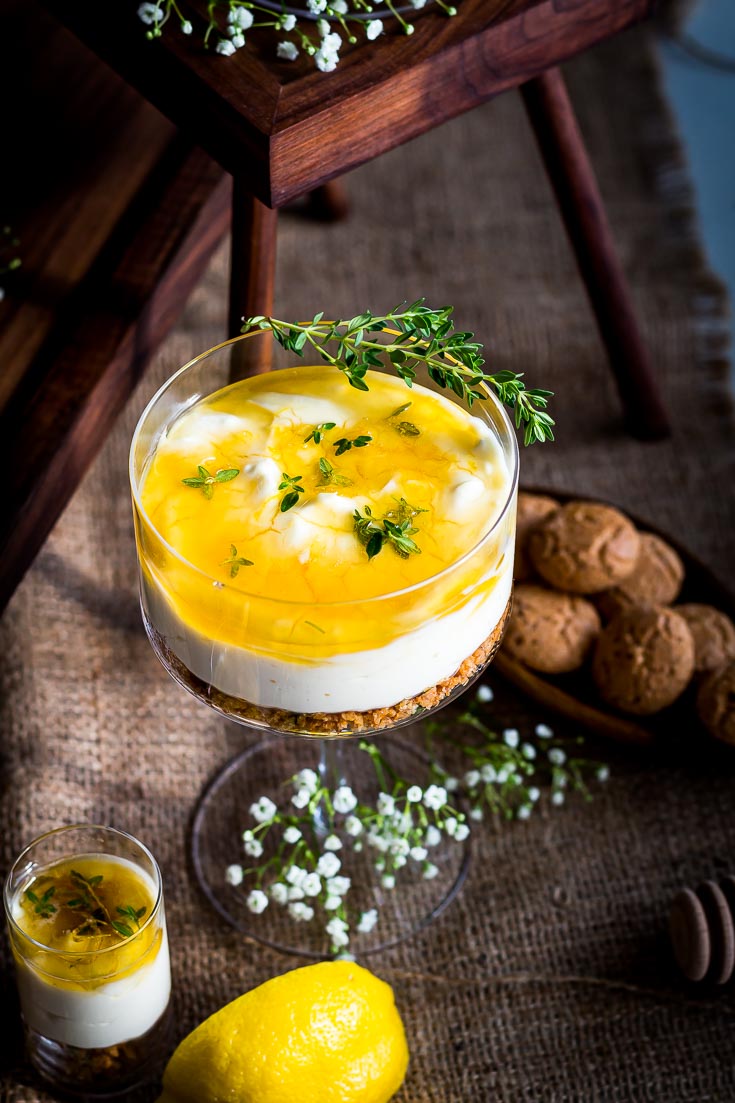 Tips on How to Make the Best No Bake Honey Cheesecake
The Crust: The idea of a no-bake dessert is to not bake anything at all. So for this recipe, all you have to do is pick what kind of crust base you want (biscotti, graham cracker, amaretti cookies, etc.). Then add a liquid ingredient that will help to form the crust like melted butter, brown butter, or coconut oil. The most crucial part is to refrigerate the crust for a least 15 minutes before adding the filling. If you notice in my recipe, I use a higher ratio of butter. This makes for a sturdier crust when refrigerated.
The Cheesecake Filling: Pick the base flavor by combining room temperature cream cheese, and any other component like mascarpone, Greek yogurt, Labneh, whipped cream, goat cheese, or your favorite other element. Make sure that if you use a loose ingredient like yogurt, you strain the liquid, or use gelatin if you want to be on the safe side. The best result is to mix the filling with a hand blender or stand mixer to prevent lumps.
Refrigeration: No-bake cheesecake must be refrigerated to be able to set. You need to keep it in the fridge for at least 4 hours or overnight.
The Toppings: This is the part where you can have a lot of fun. You can top with fresh fruits, maple syrup, fruit compote, your favorite jam, caramel sauce, preserve like this Apricot Preserve, a honey drizzle, some of the leftover crust as a sort of crumble sprinkle, and many more. Be creative.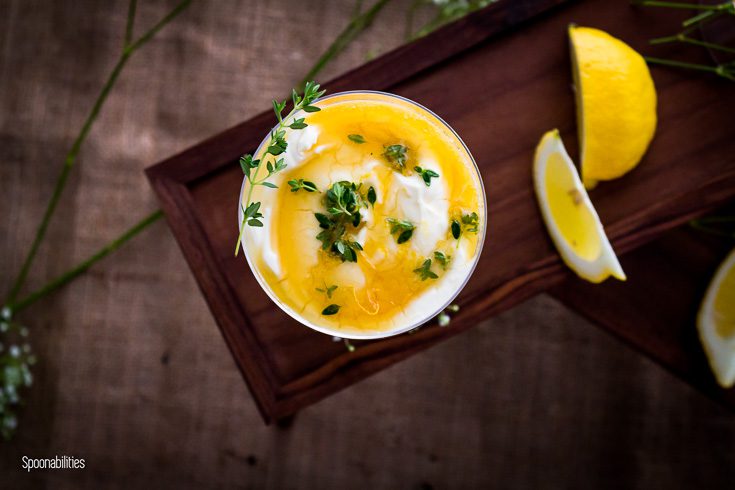 More Recipes with Honey as an Ingredient
If you love honey as much as I do, you'll want to know in which other recipes you can use honey. Some of the recent recipes we've made with honey are:
I hope you get to make this Honey Cheesecake with Honey-Thyme Drizzle, or one of the recipes above. Leave me a comment below with what you think about this recipe, and let me know if you give it a try. Share this recipe and tag us @spoonabilities on Instagram and other social media, and use the hashtag #Spoonabilities. Thank you.
Carlos Leo
Your Recipe Concierge!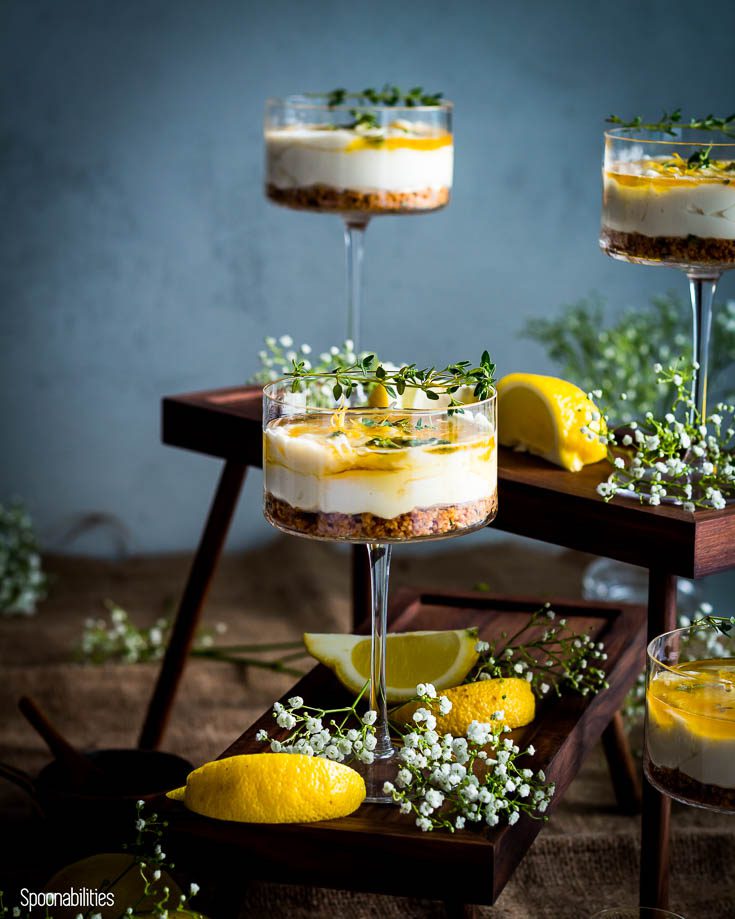 Print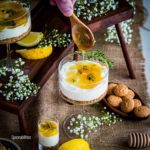 Honey Cheesecake with Honey-Thyme Drizzle | No-bake Dessert
---
Author:

Carlos Leo

Total Time:

4 hours 21 minutes

Yield:

8

servings

1

x
Description
Quick & easy no-bake honey cheesecake made with Labneh cheese and cream cheese filling sweetened with raw wildflower honey, with a crust made with amaretti cookies. Right before serving add the lemon honey-thyme drizzle.
Note: The recipe will have 8 servings if you make it in a 9" pie mold. Individual serving glasses will depend on the size of the glasses, and how full you make them. I personally serve an oversize serving and got 4 servings, and a tiny "cook's sample" for myself. The nutritional information & recipe is based on 8 serving.
---
Crust:
2

cups

Amaretti cookies

¼

cup

+

2

tablespoons

melted, unsalted butter

2 teaspoons

chopped lemon thyme herb
Cheesecake filling:
16

oz

(2 x 8oz packages) room temperature cream cheese

1

+

⅔

cups

Labneh Cheese (see alternative in blog post if you can't find)

¼

cup

raw honey - I use Raw Summer Wildflower Honey by Mohawk Valley Trading Co.

1 teaspoon

(

1

lemon) finely zested lemon zest

2 teaspoons

fresh lemon juice

¼ teaspoon

Sea Salt
Honey drizzle:
⅓

cup

raw honey - I used Raw Summer Wildflower Honey by Mohawk Valley Trading Co.

1

+

½ teaspoons

lemon thyme herb

1 teaspoon

lemon zest
---
Instructions
Place the Amaretti cookies in a clean plastic bag and crush them finely with a rolling pin.
Mix the melted butter and chopped lemon thyme together in a bowl. Combine well.
Add the cookie mixture to the bottom of 4 cocktail glasses or ramekins. The amount of crust will depend on the size of your dish, but should be around 3-4 Tablespoons per glass. Press it down to form an even layer. Set aside in the fridge.
Add the cream cheese to a large bowl, along with the Labneh cheese, honey, lemon zest, lemon juice, and sea salt. Mix using a handheld mixer until is well combined and a smooth texture.
Divide cheesecake filling between the four crusted cocktail glasses, and refrigerate for at least 4 hours.
When the cheesecake is set, in a small saucepan warm on low heat the honey, lemon thyme leaves & lemon zest. It will take less than two minutes.
Remove from the heat and let it cool just a bit. Then drizzle over the cheesecake in the glasses.
Notes
Vitamin A 13%, Vitamin C 3%, Calcium 9%, Iron 5%, Vitamin B12 4%, Vitamin E 3%, Vitamin K 8%
Prep Time:

20 minutes

Cook Time:

1 minutes

Category:

Dessert

Method:

no-bake

Cuisine:

International
Nutrition
Serving Size:

⅓ cup aprox

Calories:

408

Sugar:

27.5 g

Sodium:

586.3 mg

Fat:

25.7 g

Carbohydrates:

39.4 g

Protein:

7.3 g

Cholesterol:

59.9 mg
Keywords: no-bake recipe, no-bake dessert, no bake cheesecake, individual serving dessert
Recipe Card powered by
Available via these Amazon links:
Disclaimer: Links that open in another site, i.e. Amazon, may be affiliate links where at no additional cost to you, we may receive a small commission should you decide to purchase the item. Read our Disclosure Policy
Check out these other no-bake desserts: