This simple heirloom tomato salad is packed with fresh summer flavor like fresh sweet corn, colored, juicy heirloom tomatoes, microgreens, red onion, and feta cheese. This summer salad is lightly seasoned with Melies premium Greek Extra Virgin Olive Oil, freshly ground black pepper, and Fleur de Sel Sea Salt.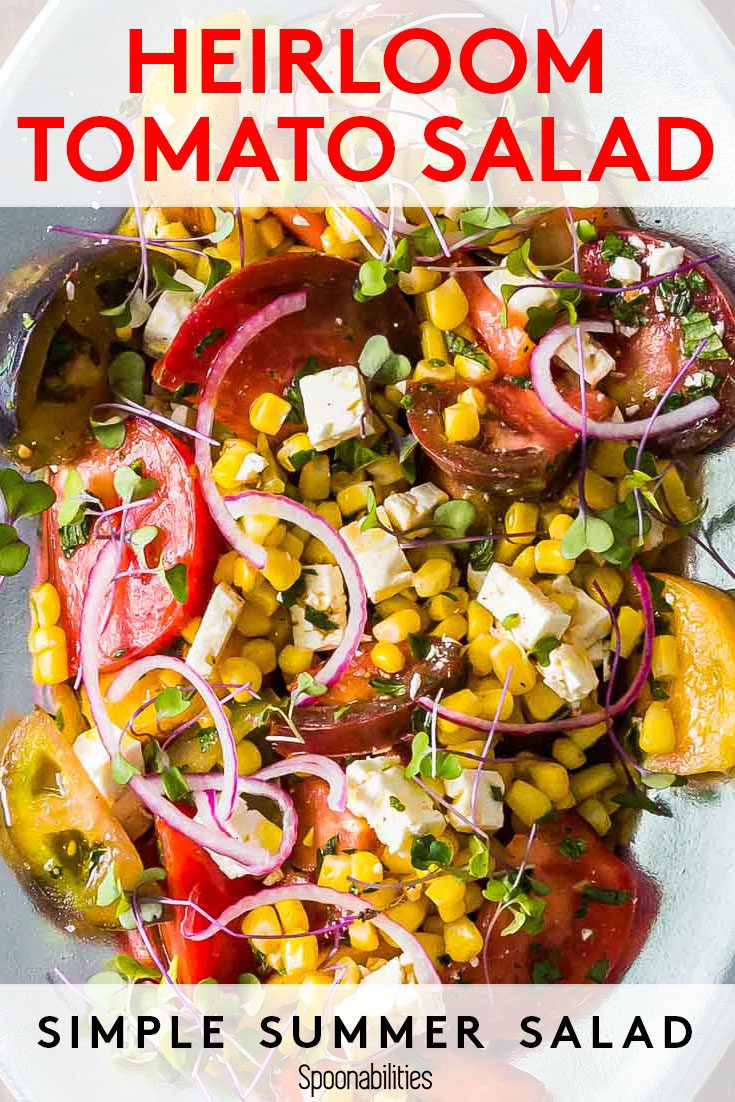 Blog post contains products you can purchase in our online shop, and affiliate links. Read our Disclosure Policy.
Hello my friends. Today we're making a tomato salad. Wait! Come back! This is not your average tomato salad, but the single most beautiful expression of heirloom tomatoes brought to life by feta cheese in cubes, crunchy red onions, sweet corn, and microgreens. Salads can sometimes be dull, but they can also be terribly exciting. The right simple ingredients tossed together can create a layered dish that allows you to play with flavors, textures, and colors. The perfect salad is out there somewhere, and we will find it. Today's salad might very well be it.
Your selection of salad dressing is equally important and can transform a good salad to an exceptional salad. The seasoning for this salad is a simple salad dressing made of a Melies Extra Virgin Olive Oil, which is a high quality Greek EVOO, freshly ground black pepper, and a finishing Greek sea salt... just enough to let the beautiful ingredients shine through without covering them up.
Let's make ourselves a summery salad and play with the flavors to see how far we can go on our quest for the perfect salad.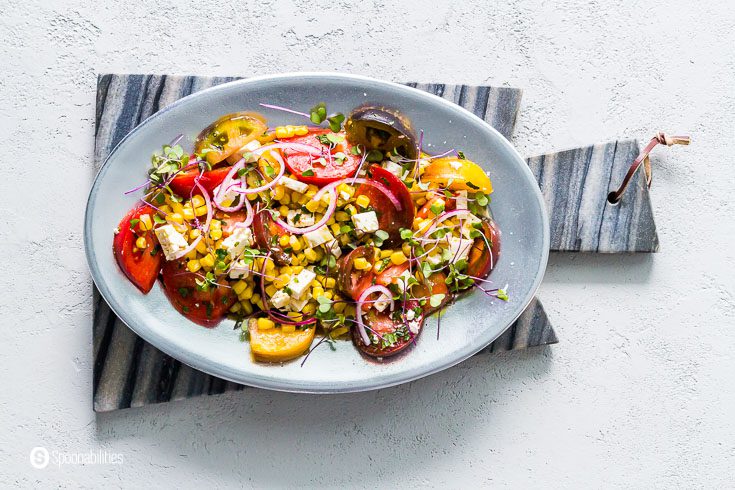 About Heirloom Tomatoes
Here's the deal with heirloom tomatoes. Commercial tomatoes are human made, designed to grow big, cheaply and easily. The downside is they lack full flavor. Also, the commercial tomatoes are created with a stronger skin to be able to extend the shelf life. Nobody wants bruised tomatoes.
Heirloom tomatoes are unique tomato varieties, grown every season with their own ancestor's seeds. No hybrids here. You might also know them as "ugly tomatoes" because they're irregularly shaped and odd-colored, but that's part of their charm! If you want flavor and texture, going heirloom is the only way. Visit your local farmer's market and see what's available.
Some Heirloom Tomato Varieties are:
Cherokee Purple,
Azoychka,
Brandywine,
Ferris Wheel,
Mortgage Lifter.
These are not Ben & Jerry's ice cream flavors, but some of the most popular heirloom tomatoes in the States. It's hard to get it wrong. Get the ones in season, and you'll be a happy buyer. Learn more about each variety in the 19 Most Delicious Heirloom Tomatoes in the World Good Housekeeping article.
Heirloom tomatoes are juicy and pleasantly sweet, which is why in this simple tomato salad we're contrasting them with salty, briny feta. Red onions add an attractive pungency and a crunch to your salad, and microgreens bring it all home.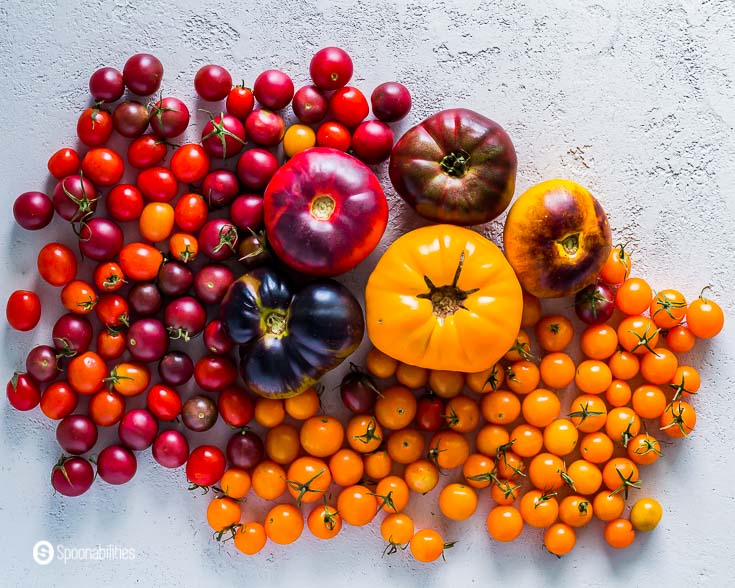 Like this recipe so far? Be the first to know when we release new ones!
---
All You Need to Know About Microgreens
Microgreens are barely sprouted herbs and veggies. They're harvested right after they have one or two tiny leaves. They're pretty for sure, and an essential part of modern restaurants' tweezer food, but they're flavorful too, and they all have a unique profile. Here are a few microgreens you should try:
Mustard leaves. These round, butterfly-shaped, brightly green leaves often come in pairs. They have a spicy, faintly pungent flavor reminiscent of real mustard.
Pea shoots. One of the most beautiful microgreens around, pea shoots have curly green shoots with a fresh taste and a slightly citrusy personality. Check our Yellow Pea Shoot Salad Recipe with Champagne Mustard Vinaigrette.
Radish leaves. You'll find these in both green and purple-ish varieties, and they're earthy and somewhat spicy.
Corn shoots. Bright yellow and long, these delicate shoots add color and a little sweetness to your salad!
These are only a few microgreens among very many options out there. All of them, and I mean you can pick any of them with your eyes closed, are tasty additions for your heirloom tomato salad.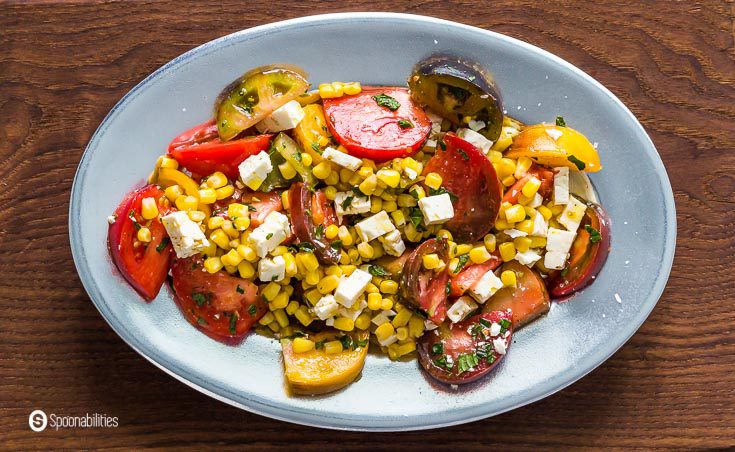 This simple tomato salad doesn't need a lengthy set of instructions or detailed recipe. It's free-form for you to create a wonderful tasty salad with what the summer season is giving you. Today's post is short but to the point, and I hope you found it informative as well. Thank you for your support and for making our recipes. We love seeing your creations on social media and remember to tag @Spoonabilities and use the hashtag #Spoonabilities.
Carlos Leo
Your Recipe Concierge!
Interested in More Summer Salads?
Print
Simple Heirloom Tomato Salad | Summer Salad
---
Author:

Carlos Leo

Total Time:

15 minutes

Yield:

4

1

x
Description
This Tomato Salad is an easy simple salad with lots of colors and textures. Heirloom tomatoes are sweet and juicy and contrast beautifully with briny feta. Add a bit of crunch with red onions and vividly colored microgreens, and you're good to go.
---
3

different colored heirloom tomatoes, cut into assorted slices and wedges

¼

cup

red onion, sliced

½

cup

corn, frozen or fresh.

1

cup

microgreens

½

cup

feta cheese, cut in small cubes

2 Tablespoons

Melia Extra Virgin Olive Oil

½ teaspoon

ground black pepper.

½ teaspoon

Fleur de Sel Sea Salt
---
Instructions
Place: In a serving plate, place the cut tomatoes, the corn, the sliced red onions, and the cubed feta cheese. Top with microgreens.
Drizzle with extra virgin olive oil, Fleur de Sel sea salt, and freshly ground black pepper.
Prep Time:

15 minutes

Category:

salad

Method:

tossing

Cuisine:

International
Keywords: summer recipe, tomato recipe, healthy salad
Recipe Card powered by
[products ids=" 44771, 47675,47677 "]
Available via these affiliate links:
Disclaimer: Links that open in another site, i.e. Amazon, may be affiliate links where at no additional cost to you, we may receive a small commission should you decide to purchase the item. Read our Disclosure Policy.