Stone Fruit Caprese Salad is a colorful dish that has clean flavors, seasonal ingredients, and is healthy at the same time! This easy summer salad recipe has a delicious assortment of stone fruits, heirloom tomatoes, fresh basil, and velvety fresh burrata seasoned with extra virgin olive oil and sea salt. The salad's gorgeous appeal, inviting aroma, and refreshing taste make it a befitting summer recipe to try at home.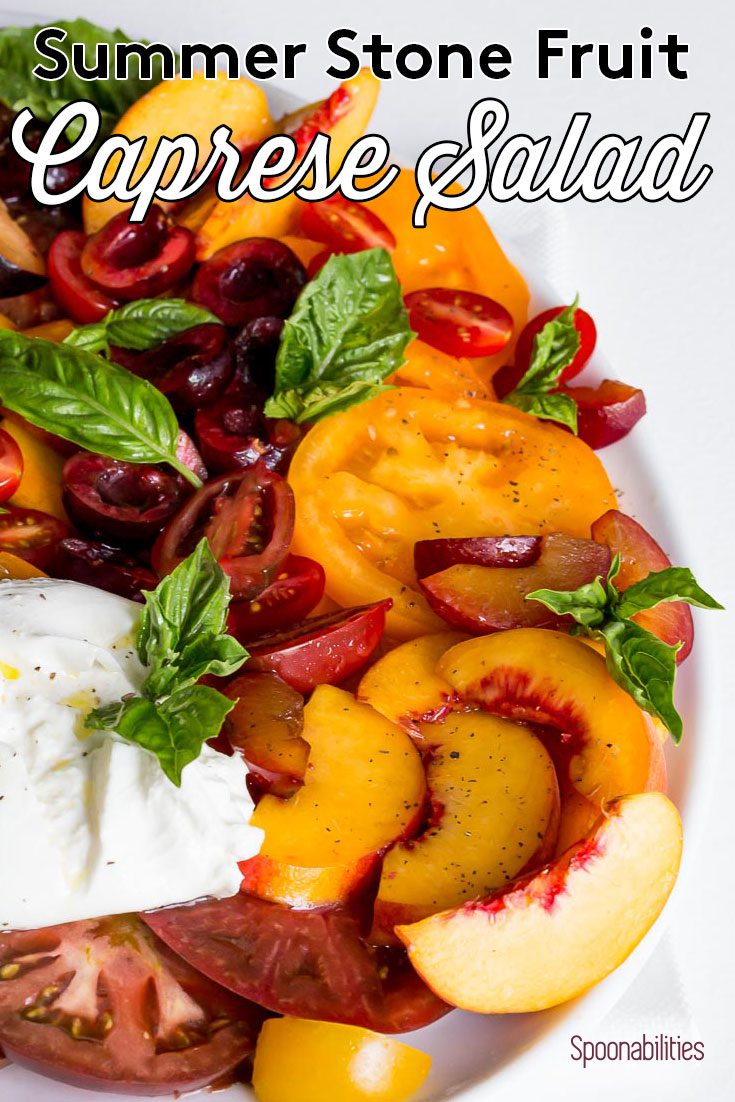 Blog post contains products you can purchase in our online shop, and affiliate links.
Read our Disclosure Policy
Hello my friends. Today I am bringing you a vibrant plate of stone fruit caprese salad lightly seasoned to sustain the natural fruit flavors. I add some fresh burrata cheese for a creamy effect to complement the juicy fruits. This salad recipe is inspired by the beautiful summer stone fruits like peaches, cherries, nectarines, plums, and apricots. These fruits have a soft bite that perfectly combines with the meaty and juicy heirloom tomatoes. The cream of the burrata gets to mix with the olive oil and create a beautiful dressing for this salad.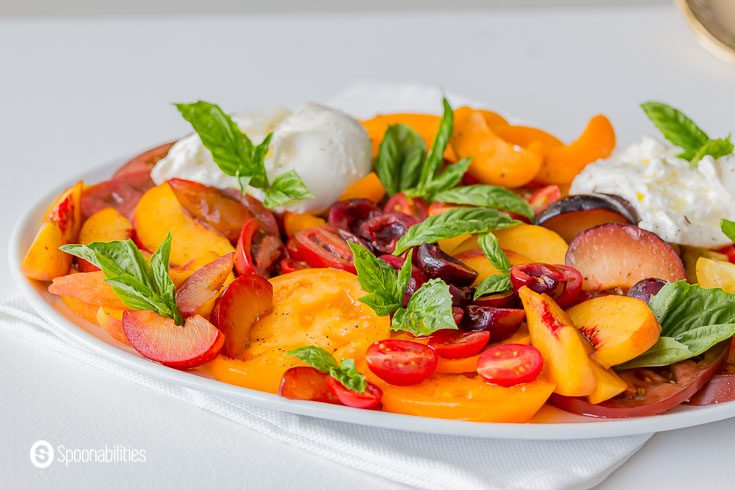 Stone Fruit Caprese Salad is the Perfect Summer Dish
Summers are all about breathable clothes, flip-flops, sipping chilled juices, and enjoying light, fresh cuisines. The Stone Fruit Caprese Salad perfectly fits the craving for a clean dish that rejuvenates the body! Fried recipes, soups, and rich desserts are gone with the winter. Summer recipes are easy, quick, and super light. Therefore, this salad is a top pick!
To make this dish, all you got to do is slice up the stone fruits (nectarine, peaches, plums, apricot, and cherries) after removing the stone (pit). Next, slice the yellow and red heirloom tomatoes along with the cherry tomatoes. It's so easy, right? Next, plate the salad in an oval white plate and place the tomatoes and stone fruits in free-form. Then, scatter some fragrant basil leaves on top. Place a couple of the creamy burrata allowing them to break up and let the cream drip. Drizzle with Greek EVOO, season with sea salt fleur de sel, and you are done!
You can have this salad as a starter, a yummy snack, or anytime you like. It's a fantastic side-dish to all your outdoor summertime grilled dishes. And if you love stone fruits as much as we do, also check out this Chilled Peach Soup with Fresh Goat Cheese recipe that is also perfect for summertime.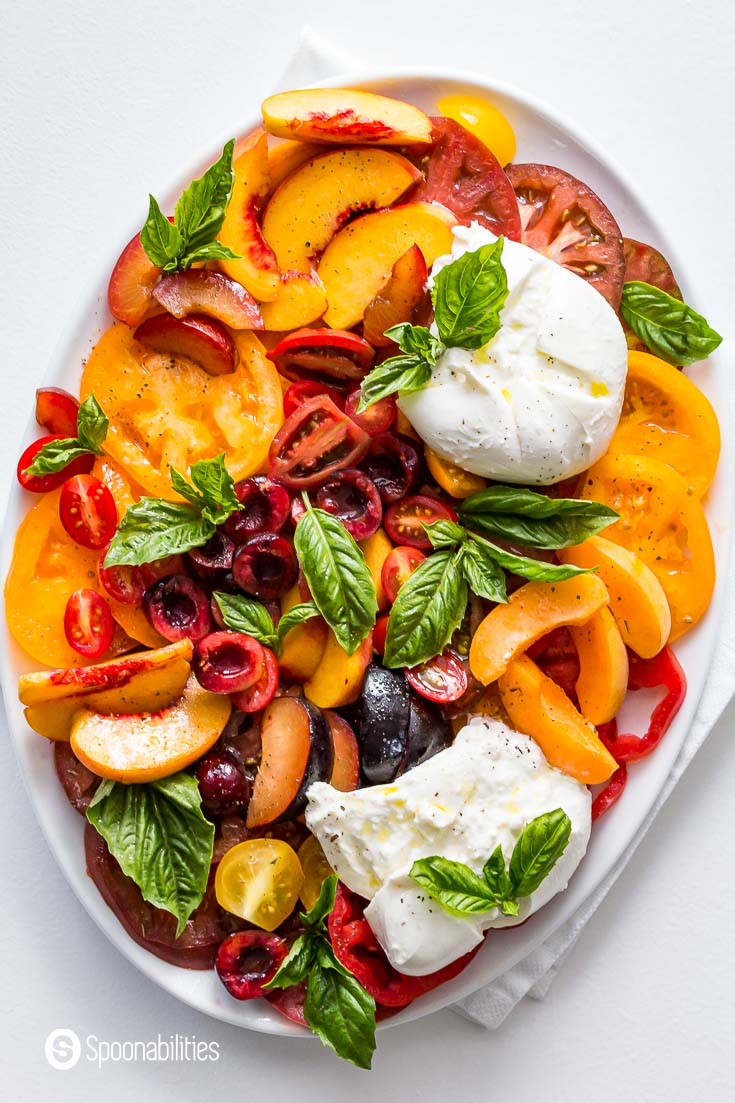 Health Benefits of Stone Fruits & Heirloom Tomatoes
This tempting Stone Fruits Caprese Salad's core ingredients are a delicious range of fruits, namely nectarines, peaches, plums, apricot, and cherries, multi-color cherry tomatoes, and 2 types of heirloom tomatoes (the red and yellow variety).
Stone Fruits
In this super easy appetizer, nectarine, peaches, plums, apricot, and cherries are the stone fruits. They are called stone fruits because inside each of these fruits there is a stone, or pit, instead of little seeds like apples. The seed lies within the stone.
The specialty of these bright juicy stone fruits is their yummy sweet flavor, fleshy texture, and exorbitant nutrition. Interestingly, the bright colors of the stone fruits are a sign that they are loaded with phytonutrients which helps keep inflammatory-troubles and aging-signs at bay. Stone fruits have great anti-oxidant properties too.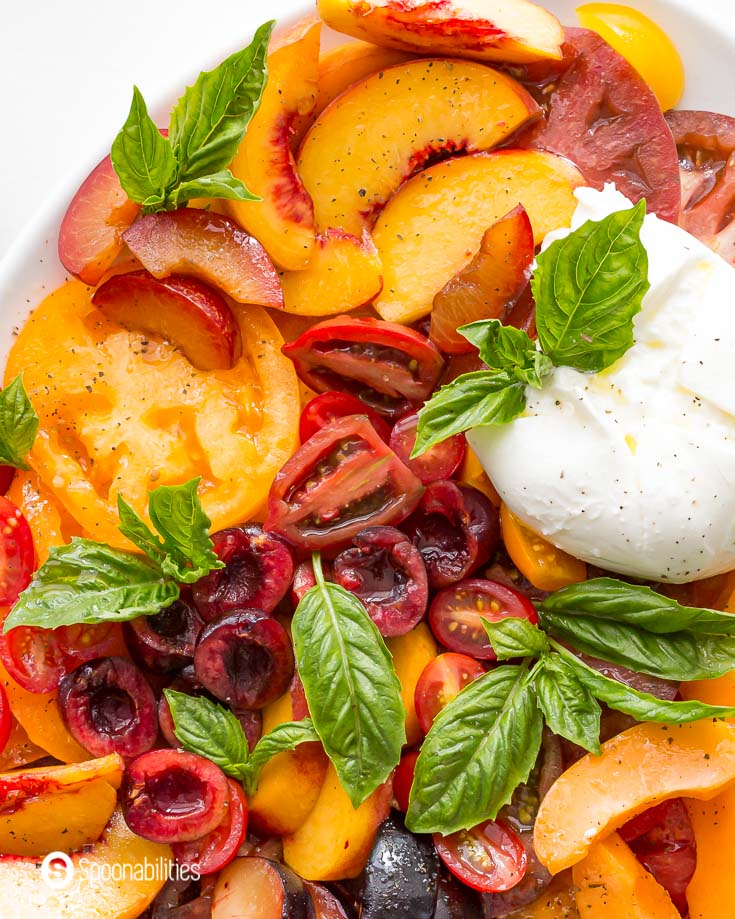 Here's how including stone fruits in your daily diet can make all the difference:
The beta-carotenes present in apricots help maintain our eye health. It's much needed as our eyes are often stressed due to screen exposure (phones, laptops, ipads, tv).
The sweet and low-calorie cherries and nectarines save us from putting on extra weight. They are a fabulous replacement for unhealthy sweet desserts.
The high fiber present in apricots, nectarines, and cherries helps in maintaining cholesterol levels and supports weight loss.
Plums and cherries fight off diseases. These stone fruits contain anthocyanins which helps fight against diabetes, cancer, as well as heart ailments.
Peaches and nectarines are perfect to get super smooth beautiful skin. Being rich in Vitamin C, these stone fruits safeguard from cell damage and offer healthy glowing skin.
Like this recipe so far? Be the first to know when we release new ones!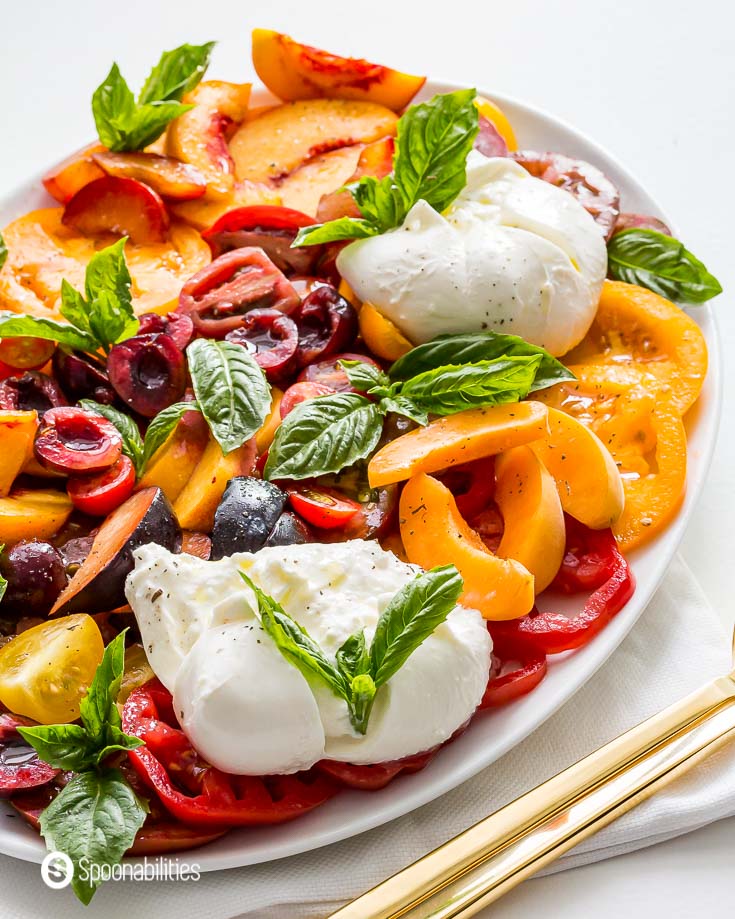 Heirloom Tomatoes
Heirloom tomatoes are seasonally grown as open-pollinated varieties of tomatoes. Their specialty lies in the fact that they are much juicier and yummier than the common tomato varieties. Moreover, they are rich in Vitamin K. Heirloom tomatoes come in a wide range of colors & shapes. In this stone fruits caprese salad recipe, I use both the yellow and red variety. I pick the yellow heirloom tomato for its alluring sweet taste, while the red heirloom tomato offers an intense tart flavor to the salad.
This summer, give your palate a pop of refreshing fruit flavors with this Stone Fruit Caprese Salad. To reap the benefits of stone fruits, you can also relish them as a salsa, add them to your breakfast bowl of oats and dry fruits, or even roast or broil them like I did for this Broiled Peaches with Black Cherry Preserve recipe.
More Summer Salads
Before I let you go, check out some of our other summer salads:
This Stone Fruits Caprese Salad is waiting for you. So the next time you are at your local supermarket, grab any stone fruits available and the rest of this salad's ingredients. Seriously, this salad can be assembled in less than 10 minutes and I know you will love it. Share your creation with us leaving a comment below, and share the photos on social media tagging us @Spoonabilities.
Have an awesome day and stay healthy!
Carlos Leo
Your Recipe concierge
Print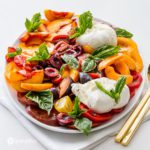 Summer Stone Fruit Caprese Salad with Heirloom Tomatoes
---
Description
Stone Fruit Caprese Salad is a summery dish made using fresh, seasonal heirloom tomatoes, colored cherry tomatoes, and stone fruits like cherries, nectarines, peaches, apricots, and plums. Topped with creamy burrata cheese and basil, this wonderful recipe is seasoned with Greek extra virgin olive oil and sea salt.
---
1

Nectarine

1

Peach

1

Plum

1

Apricot

1

bunch of basil

1

large (2 small) heirloom yellow tomato

1

large (2 small) heirloom red tomato

1

-

2

cups cherries

2

fresh burratas

Half a pint

multi-color cherry tomatoes

1 teaspoon

Sea Salt Fleur De Sel
Drizzle (about 1 Tablespoon) LIÁ Premium Extra Virgin Olive Oil
---
Instructions
Cut all fruits and vegetables.
Plate them at your liking. Suggestion: Plate first the larger pieces like the tomatoes. Then the medium size ones, and the last elements are the cherries and cherry tomatoes, the burrata, and the fresh basil leaves.
Prep Time:

10

Category:

Salads

Method:

slicing

Cuisine:

Italian
Keywords: fruit salad, cheese and fruit salad, burrata salad, summer salad
Recipe Card powered by
Available via these Amazon links:
Disclaimer: Links that open in another site, i.e. Amazon, may be affiliate links where at no additional cost to you, we may receive a small commission should you decide to purchase the item. Read our Disclosure Policy.