This watermelon salad checks all the boxes with a fantastic combination of juicy, sweet, salty, and sharp flavors. Salads aren't dull anymore; they can be a ménage of flavors, textures, and authentic artistic expression. Sweet and revitalizing watermelons form the base for this complex, yet, easy-to-make salad. Finely sliced onions and nutty almonds add a very satisfying crunch, and arugula brings a pleasantly bitter bite to the table. All brought together by a balsamic vinaigrette rich in umami with a nice tang. And there's more, blue cheese crumbles add an extra layer of creaminess, saltiness, and funk, and that's when you know this salad has all it needs.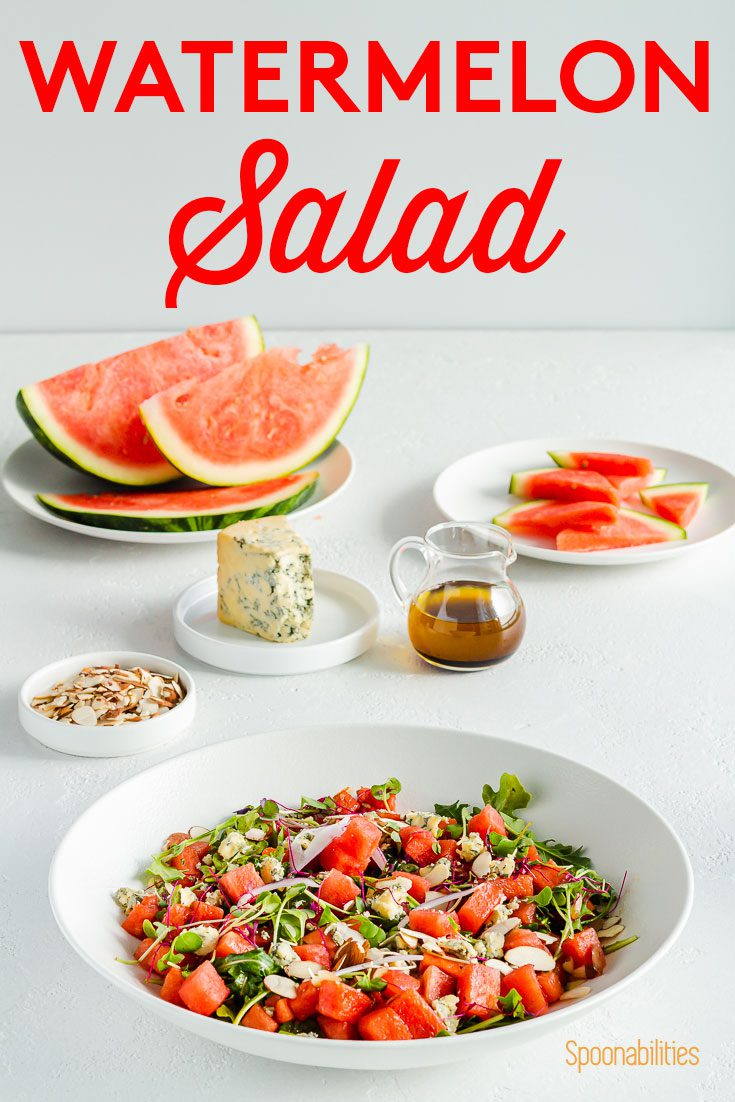 Blog post contains products you can purchase in our online shop, and affiliate links. Read our Disclosure Policy.
Hello my friends. Thanks for clicking through to check out this colorful and very exciting watermelon salad. I know we don't see the words 'salad' and 'exciting' in the same phrase often, but trust me on this one. This six-ingredient summer salad checks all the right boxes.
The inspiration for this salad was one of those 'what if' moments. This salad was supposed to be a bowl of tossed watermelon and arugula which started growing and getting more sophisticated as we added different textures and flavors.
Watermelon is a great salad base. It's refreshing, sweet, and colorful; its texture is quite pleasing too. Arugula is the perfect contrast because its pleasant bitterness balances the watermelon's sweetness. Green is also red's contrasting color. (For a proper salad, you have to consider everything!)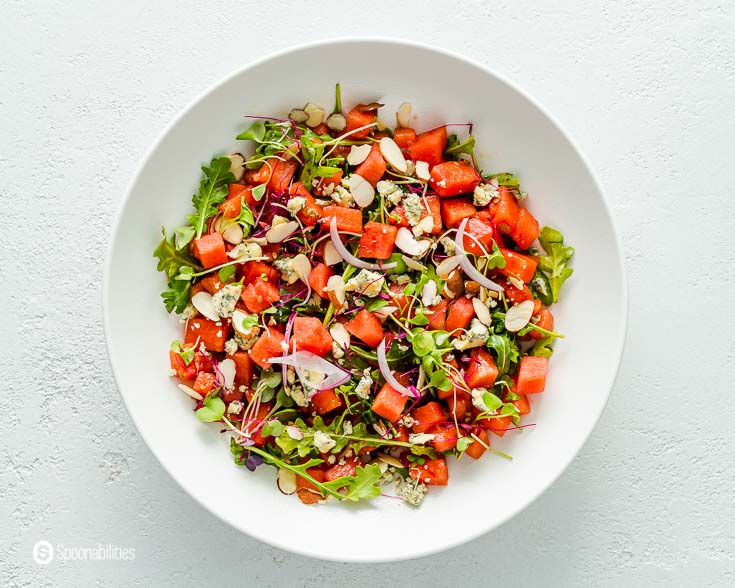 Then there are the red onions, always lovely on a salad, and a whole cup of slivered almonds. Then the salad comes to life with a homemade balsamic vinaigrette and its vinous tanginess which add color and an irresistible oily feel to the mixture, and the blue cheese transforms the dish altogether. I know what you're thinking; blue cheese is not everyone's cup of tea. It's salty and funky, but it does wonders in salads, especially the ones with fruit.
This watermelon salad is refreshing, light, complex in flavor but surprisingly harmonious. Cut the watermelon in small cubes, but if you want to have fun with shapes, use a melon baller.
Like this recipe so far? Be the first to know when we release new ones!
---
Basic Balsamic Vinaigrette with Correct Ratio
This basic balsamic vinaigrette is my go-to salad dressing because it's easy to make, and you just need three ingredients: a high quality balsamic vinegar, high quality extra virgin olive oil, and high quality sea salt. This is the essential combination. You should never forget the ratio combination, knowing that your vinaigrette will always be perfectly balanced in acidity and oil. The ratio is 3:1 - three olive oil to one vinegar. For example, 3 cups of olive oil and 1 cup of vinegar.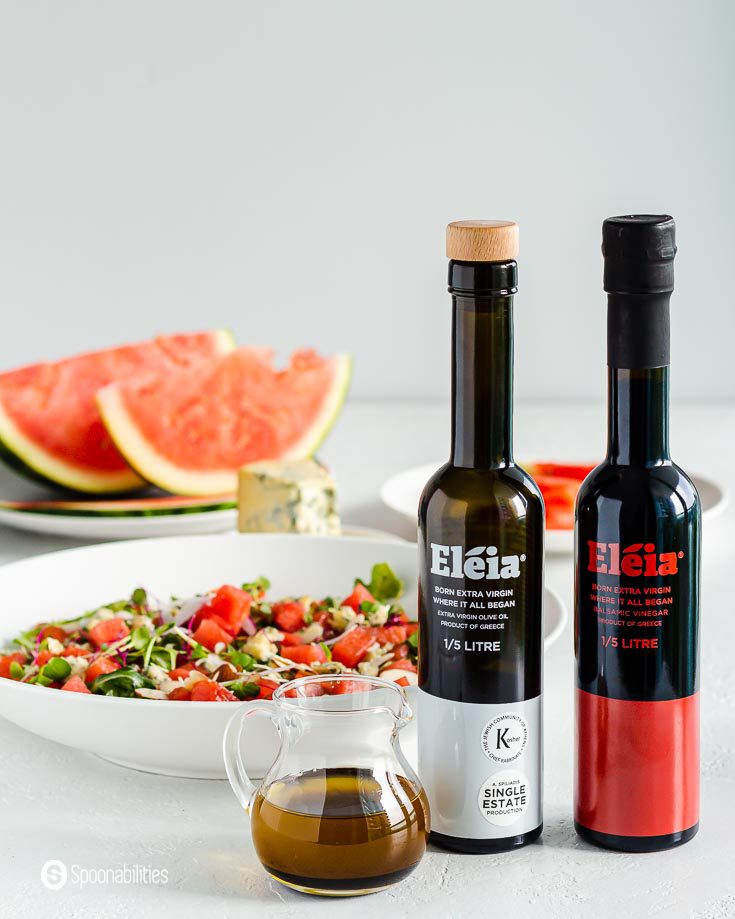 Balsamic Vinaigrette Combinations with Endless Possibilities
It's time to talk about this versatile balsamic vinaigrette. You can elevate this vinaigrette by adding a couple extra ingredients to add complexity to the final taste, and create many different variations. Starting with the base ingredients of extra virgin olive oil, balsamic vinegar, and sea salt, you can create new vinaigrettes by adding:
black pepper + shallots or onions.
black pepper + shallots or onions + garlic.
black pepper + shallots or onions + garlic + Dijon mustard, or other flavored mustards.
black pepper + shallots or onions + garlic + Dijon mustard + honey.
black pepper + shallots or onions + garlic + Dijon mustard + maple syrup.
black pepper + shallots or onions + garlic + Dijon mustard + dried herbs (oregano, thyme, Italian seasoning).
As I always say, for the best results, use high-quality ingredients and the final result will taste magnificent. At Spoonabilities, we proudly can say that in our online shop we have the best gourmet products from Greece, France, and small producers in the USA. For this recipe, we are using:
Eleia Balsamic Vinegar. This balsamic vinegar is slightly sweet and has been aged for two years in oak barrels.
Eleia Extra Virgin Olive Oil. Kosher certified and highly fruity, this EVOO has a well-balanced taste alluding to wild herbs and a peppery finish, with an acidity level <0.2%
Greek Sea Salt. This Greek sea salt is all-natural, unrefined crystallized sea salt that comes from an unpolluted, environmentally protected area of Greece. This salt contains no iodine, anti-caking agents or flow-improvers.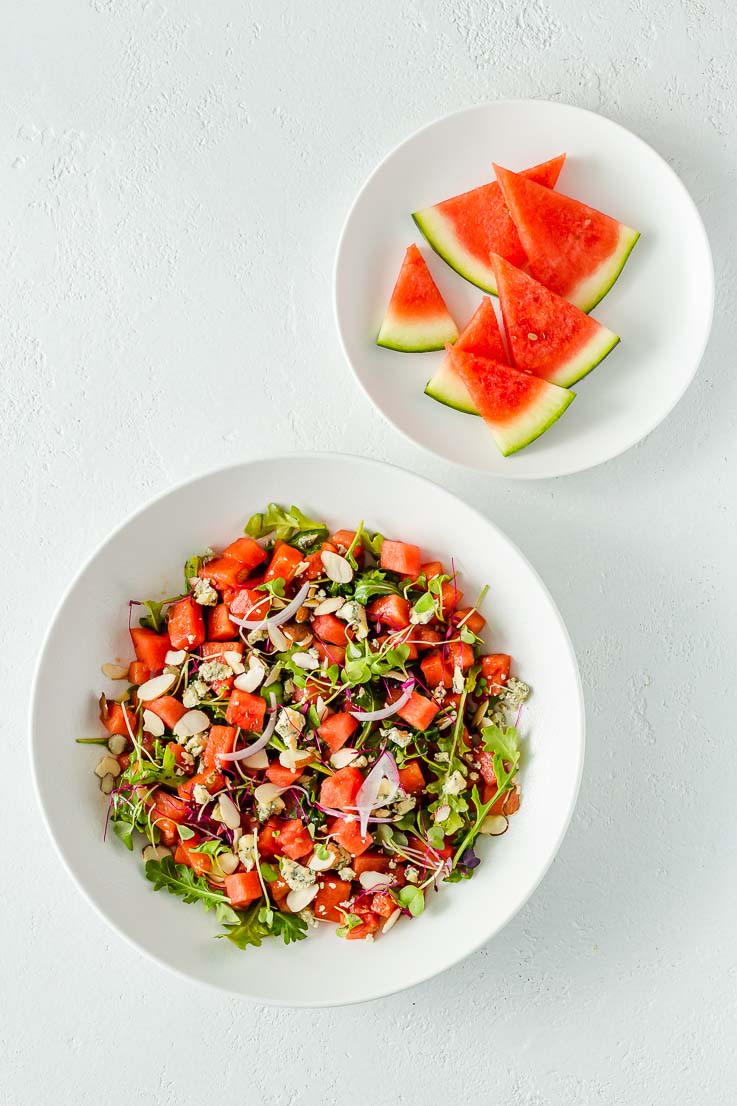 What Else Can You Use Balsamic Vinaigrette for?
These balsamic vinaigrette combinations are not only good for salads. You can use them to marinate chicken for roasting or grilling. I also love to marinate skirt steak before grilling. Use the vinaigrette as a sauce and drizzle over some steamed vegetables, steaks, pork, or chicken. Also, serve as an appetizer with a piece of crusty bread as a dip.
If you are looking to add flavor and brightness to almost any dish, this balsamic vinaigrette is an excellent vehicle to accomplish this goal. An exceptional balsamic vinegar has sophisticated sweet and fruity tastes, but with robust and woody notes from barrel aging, similar to fine red wine.
What is the best way to store this vinaigrette if you have leftover or make a big batch for the week? This balsamic vinaigrette is best to store it in the fridge. It should last for several weeks. Always make sure you remove it from the refrigerator with plenty of time for it to get to room temperature before serving, and give it a stir or shake to recombine the ingredients.
Want more salads with vinaigrette dressings? Here are a few to enjoy: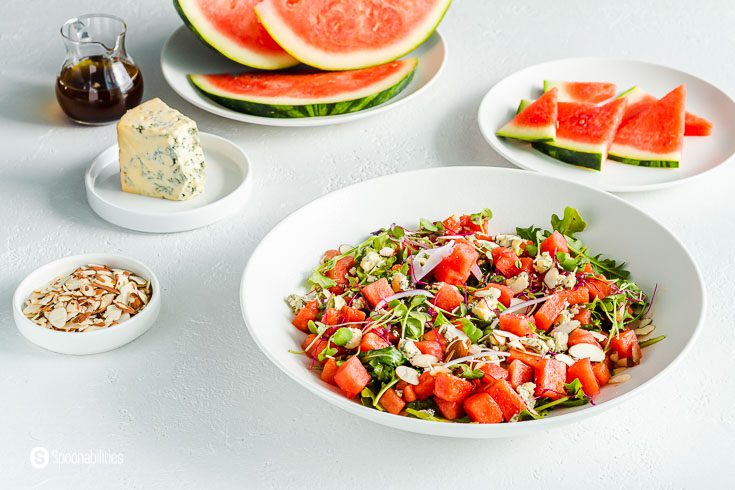 All You Need to Know for Now About Blue Cheese
Loved and hated, blue cheese is in its own category. It's exquisite over pizza, it's a great spread, and it can add life to a salad. I was a bit skeptical about adding blue cheese to this salad, but the saltiness of the cheese goes well with the watermelon. In the past, I used feta cheese or goat cheese for this kind of salad.
But what is blue cheese? And why should you give it a chance?
Blue cheese kind of starts like any other cheese, being produced of cow's, goat's, or sheep's milk.
Although the first blue cheese might have been discovered by accident, today, cheesemakers dose the cheese with Penicillium mold spores on purpose.
The Penicillium fungi eat off some of the cheese's fat, forming blue, moldy veins that infuse the cheese with hard to describe aromas and flavors.
Some of the most famous blue cheeses are protected by law, so their high quality is a given. Some of these are Stilton (UK), Roquefort (France), and Gorgonzola (Italy). The US makes great blue cheese too.
So we talked about all the ingredients of this watermelon salad including the blue cheese and all the balsamic vinaigrette variations. And that's how you end up with a textured, nuanced, sweet, tangy, slightly bitter, and crunchy watermelon salad in less than ten minutes. I must say, this is one of our favorite salads for outdoor get-togethers, mainly when it's hot outside... which is all the time here in Florida.
Give this watermelon salad a try and let us know what you think, or use one of these variations for your next balsamic vinaigrette. What would you add to this salad or vinaigrette to make it yours? Share with us your culinary creations by leaving us a comment below or on social media by tagging @Spoonabilities and using the hashtag #Spoonabilities.
Happy Summer!
Carlos Leo
Your Recipe Concierge
PS - If you have some watermelon leftover, why not make some:
Just an idea ;)
Print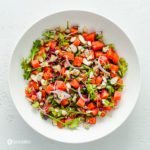 Watermelon Salad with Arugula, Blue Cheese & Balsamic Vinaigrette
---
Description
A refreshing watermelon salad with arugula and red onions, a salty and sharp blue cheese, topped with balsamic vinaigrette. Sweet, tangy, and a bit funky; this salad checks all the right boxes.
---
---
Instructions
In a large bowl, combine watermelon, onion and arugula
In a small bowl, whisk together vinegar, oil, salt and pepper. Drizzle over salad
Just before serving, add almonds and crumbled cheese, and additional vinaigrette if needed
Notes
Blue Cheese: Buy a whole block and crumble yourself. I find the quality of the cheese is better than the one that comes pre-crumbled.
Prep Time:

10

Category:

Salad

Method:

tossing

Cuisine:

International
Keywords: Summer salad, watermelon recipes, fruit salad, salad dressing, salad seasoning, easy salad recipes, summer recipes, Greek olive oil, balsamic vinegar, natural sea salt, light lunch, BBQ, barbeque, potluck
Recipe Card powered by
Available via these affiliate links:
Disclaimer: Links that open in another site, i.e. Amazon, may be affiliate links where at no additional cost to you, we may receive a small commission should you decide to purchase the item. Read our Disclosure Policy.